Affiliate Links: If you click on a link in this post, I may make a very small commission.
Another month has come and gone. March was full of a lot of ups and downs in my personal life, and I'm happy to report that it didn't seem to affect my shopping in a negative way. I did buy a few things towards the end of the month, so hopefully April won't be terrible… but with spring coming, I always find a few new trends I want to try, and it's hard to resist the end of the month sales.
Anyways, onto what I got with my allotted budget ($175) this month!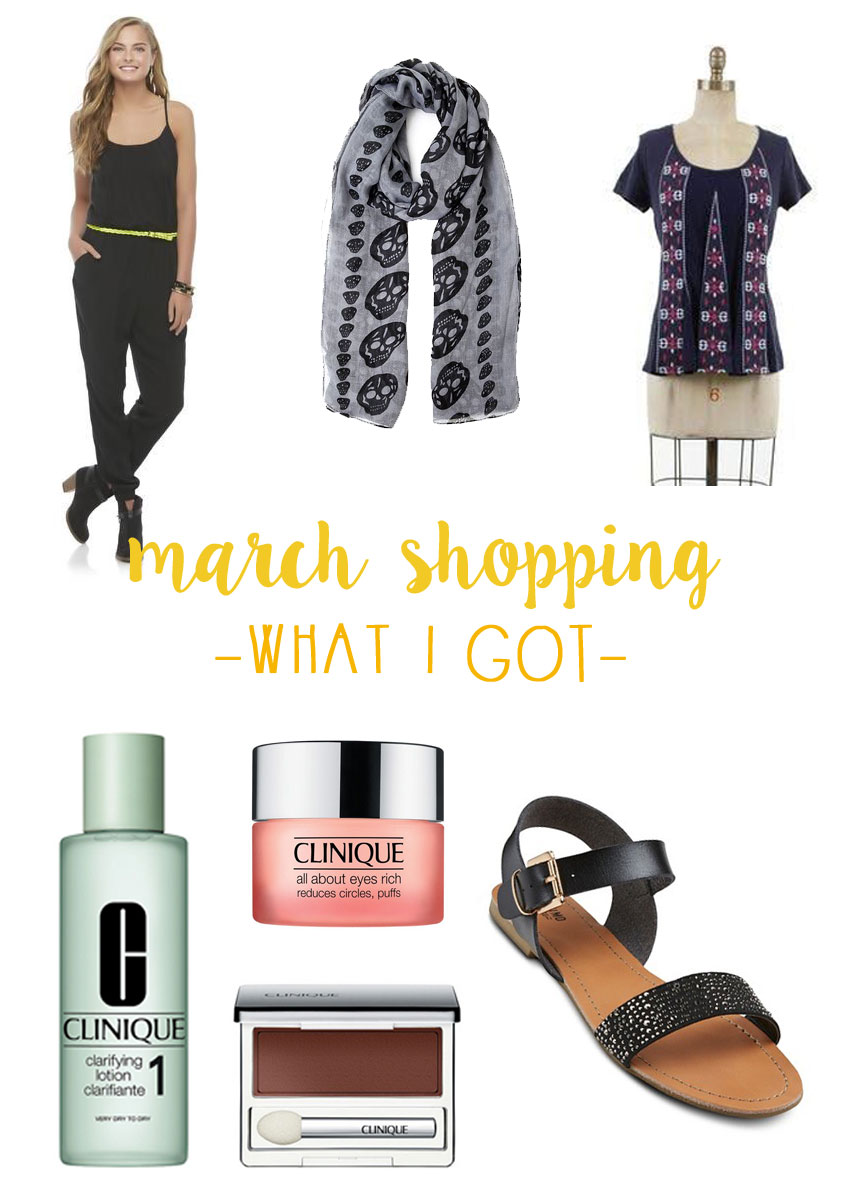 What I Bought
Sears: I bought a few things from Sears after seeing a fellow style blogger Instagram some items she was trying on there. I was shocked to see some cute pieces, including this jumpsuit. I have a few more items coming, but unfortunately they got broken into multiple shipments so I haven't been able to try them yet. Hate when that happens! (-$22)
DailyLook: When I originally signed up for DailyLook to try out the Elite Box, they apparently gave me $5 credit. They sent me an email letting me know my credit was about to expire, so I picked this Skull Scarf which ended up costing nothing! (Free)
Nordstrom: I hit up the Clinique #StartBetter Beauty Event early last month, and during the event they had a gift with purchase offer. Of course I had to stock up on a few new and old favorites like the All About Shadow Eyeshadow in Black Honey, Mild Clarifying Lotion, and All About Eyes Eye Cream. Two are replenishments, so my splurge here was the eyeshadow. (-$16.50)
Dibs! Kitten: Silly name, but fun Facebook boutique group that tempts me with some cute clothing and accessories. ;) I got a Skies are Blue top and a fox necklace this month. (-$40)
Target: You may recognize these Lakitia Sandals from Instagram if you follow me. While tempting to keep both, I decided to keep the black ones! (-$15)
What I Returned
Kohls: Everything I bought last month went back. The necklace arrived broken. While soft, the top had too much of that high-low thing happening. How I wish that trend would die off, it's really not flattering on petites unless tucked in. The jeans were not only unflattering, but also not the color I was looking for. The jogger pants were cute but my butt, for once, was too big for something. ;)
Target: I thought this black and white belt would be cute to belt my flare jeans. Unfortunately, the width was much smaller than expected, so I returned it. I also returned the brown version of the Lakitia sandals, as mentioned above.
Forever 21: I bought these gray jeans last month, but realized that they outside tags were mislabeled and they were 2 sizes too small. I returned them and picked up this embroidered denim shift dress. I didn't have time to try it on, and got it home and the fit was awful, so I returned it too. Whoops.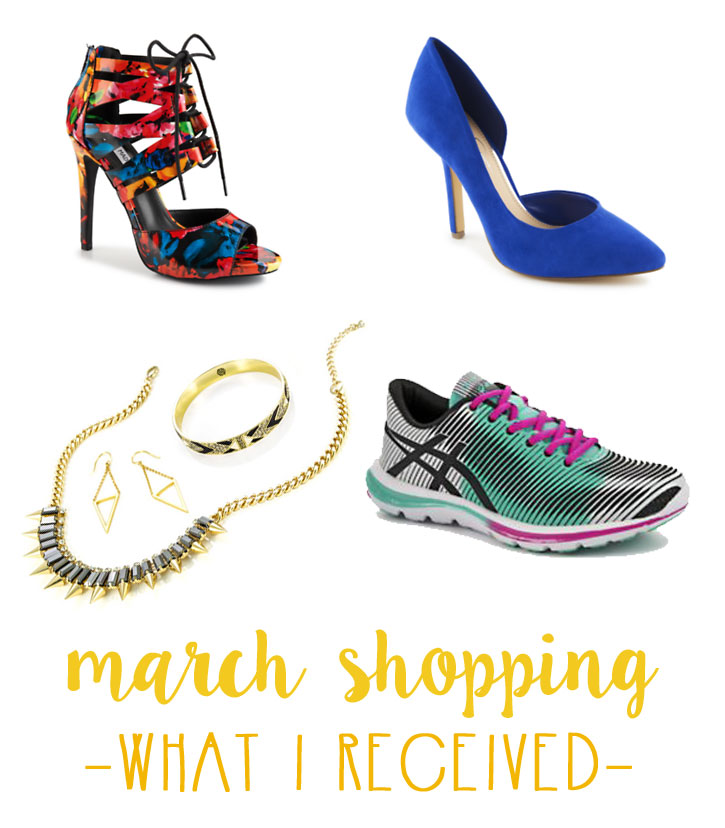 What I Received
I added this section a few months ago in the spirit of transparency, not to humble brag. I feel very fortunate for all the opportunities blogging has brought me, and I only wish to disclose that these items were gifted to me.
Rack Room Shoes: I absolutely love working with Rack Room Shoes! They have a great selection of all kinds of footwear, including athletic shoes like these Asics Gel Super J33 that I picked out and styled here, and some fun trendy shoes for spring like the Steve Madden Marlinn Sandals and these cobalt Jessica Simpson Jonii Pumps which you'll be seeing later this month. All of these fit true to size, and I wear my normal 6.5 in each of them.
Rocksbox: I've been a paid Rocksbox subscriber for about a year and a half now, but they recently contacted me to join their IT Girl Program and review their subscription. So while I did have an extra 3 months tacked onto my current subscription, I can easily recommend this to everyone regardless. I'll be doing a full review of my latest sets in the coming week. If you're curious to try it out now, use code HELLORIGBYXOXO for a free month.
Linking up with Fran for Budgeting Bloggers
…And if you're on a budget but want to trade in your current camera (or move past the camera phone with something a little shinier) how about entering to win a Canon T5i from The Freckled Fox and friends?
The nitty-gritty details:
– the giveaway will run for ten days after which the winner will be selected at random, contacted, and announced via this post, the post of the day, and all social media outlets! 
– Again this is open internationally! hooray!
– 
The winner will receive the Canon Rebel T5i in a kit with an 18-135mm lens, a battery and a battery charger, camera case, tripod, SD card, lens cleaner, and lens hood:) 
– Winner's entry will be verified before the public announcement.
---
How did you do with your spending budget this month? I'd love to hear about what you got!