It's been about a year since I started using Juice Beauty skincare, and now I can say I've added their makeup to my arsenal too. While I don't go 100% natural with my skincare or makeup products on an everyday basis, having options that perform that are kind to my body is kind of the greatest thing ever.
When it comes to what I'm putting on my skin (the largest organ of the body, after all) I most definitely want to put the best on it. For me, that has meant ingredients that do what they say they'll do (mostly hydrate and provide anti-aging benefits at this point in my life) without costing a ton of money. I mean, I still need to have money for clothes after all!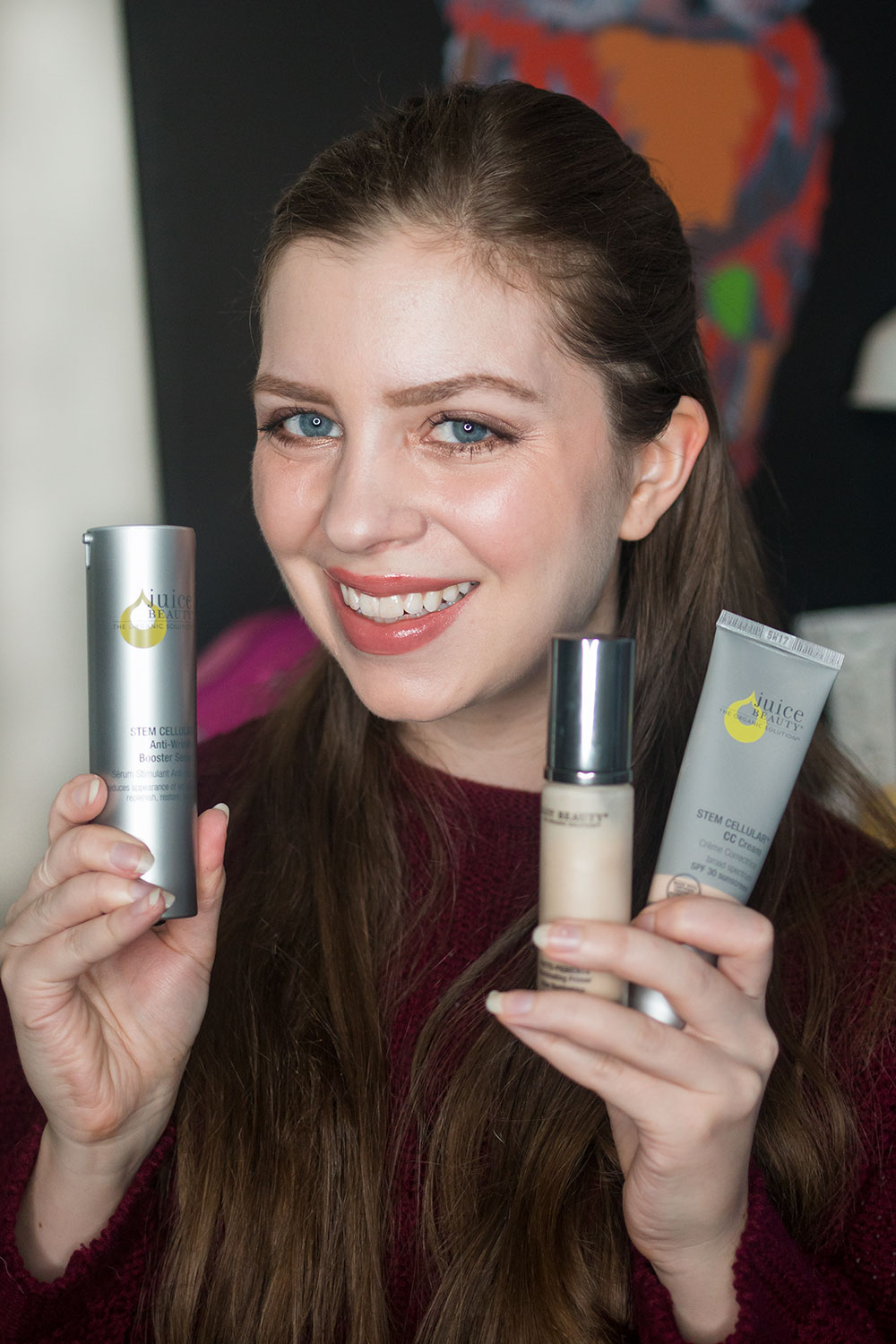 Disclosure: Product for consideration was sent by Juice Beauty but I was not obligated to make this post or video. Some links in this post may be affiliate and I may make a small commission at no cost to you.
I'd say Juice Beauty covers both my criteria with their makeup and skincare, plus some. I thought it would be fun to share a natural makeup tutorial for what I've been wearing for the past month or so on an every day, wear to work basis, and my thoughts on the products since I've been able to test them out thoroughly. If you're interested in even more skincare reviews from the Juice Beauty line specifically, you can read my original review here. Be sure to read to the end to win a set of products to try for yourself too! :)
Natural Makeup Tutorial featuring Juice Beauty
Juice Beauty Review
A lightweight serum, this product plumps and gently firms to diminish the signs of aging like fine lines and wrinkles. This is one of those products that I wish I had tried before noticing fine lines creeping onto my skin, but I'm happy it provides benefits to those who already have them as well. Because the product is lightweight, it works well under makeup and doesn't
A thick moisturizer, I find this Anti-Wrinkle Moisturizer is the perfect night cream. After I've toned and put on my serum, this cream locks it all in, and the serum helps it penetrate deeper layers of my skin. I especially focus blending this cream into any area on my face where I'm noticing fine lines and the start of wrinkles, and by morning, my skin is looking visibly plumped and hydrated. The only thing I noticed about this moisturizer is that it does have a distinctive scent that may not appeal to everyone, so if you're sensitive to scents (not artificial perfume, but this is made with fruit and plant ingredients), you may want to test this in person first.
If I had to pick one product out of all of these to recommend, it would be the Juice Beauty Illuminating Primer. If you have combination or dry skin and love to look glowy, you will love this. It's a lightweight primer that adds a beautiful illuminating effect to the skin. It's hydrating (I would still put a serum or lightweight moisturizer underneath if you do have dry skin) yet doesn't make your skin feel like it has a ton of product on it. You can see the illumination even with makeup on top, and it lasts all day. I would say this is very similar to the BECCA Backlight Priming Filter or even the luxury Burberry Fresh Glow, but at a better price and with more skincare benefits.
If you're in search of a mascara that won't clump your lashes into one mega lash, is made with natural ingredients, and doesn't irritate your eyes this may be it! I personally find it to lack a bit of volume that I crave from my mascaras, however it does a great job of making my eyelashes darker and on the second coat, really does make them pop.
If you're past the breakout stage of your life and are looking for an everyday foundation type of product that offers skin benefits and light coverage, check out the Stem Cellular CC Cream. It comes in a few shades (Natural Glow is a perfect match for my fair skin, and is the lightest offered) and blends beautifully into the skin almost like a skincare product. This CC Cream feels light on the skin, almost like you have no makeup on, and has a slightly dewy finish. I would recommend this to anyone with normal to dry skin, and especially those who suffer from dry patches in the winter as this does not seem to stick to them and make them more dry looking.
Not a fan of cream blushes? I didn't think I was either until I tried my first natural beauty cream blush. The first one I enjoyed was from Honest Beauty, but now that I've tried a second formula, I prefer the Last Looks Cream Blush from Juice Beauty. I find this to be much easier to blend out with my fingers alone, but it's even simpler when using a lightly damp beauty sponge. Dotting this on the skin and blending it out makes for a quick on-the-go application, and is most definitely travel or handbag friendly product since no brush is needed. The color Flush is the perfect beige-y nude on my fair skin.
A pretty nude beige with peachy-pink undertones, this lip crayon, goes on smooth, even on my dry lips. I find that this does not leave my lips feeling dry, even if I forget to apply a lip balm in the morning. The color stays on for several hours, even with light eating and drinking, but it is definitely not a long wear lip product. If I'm going to wear the same lipstick every day, I would say this one is both the perfect color and contains ingredients that I'm not afraid to ingest every single day. ;)
Juice Beauty Giveaway
And now for that giveaway I promised! Win all of the items mentioned above (and maybe a few extra fun things that I throw in) by entering the Rafflecopter widget below. Please note this is open through 12/13 and is open to the US only. Best of luck!
Have you tried Juice Beauty before? What type of makeup do you wear every day? Would love to hear about your beauty routine in the comments below!