Affiliate Links / Product Samples
With just a few short days to go before New Years Eve, I figured I'd continue the celebratory looks with a makeup look! I wore this in yesterday's post in the first outfit, though it might be a little hard to tell since there weren't any close-ups of my face. ;)
My goal with this makeup look was something shimmery and sparkly, with a dramatic lip. I pulled out my Pur Cosmetics Eye Polishes which are both super long-lasting (I've worn these to several special occasions and haven't had any creasing or movement) and beautiful! For the drama, I wanted to incorporate a really strong color, so I used my Charlotte Tilbury Lip Cheat Lip Pencil in Bad Romance and lipstick in Glastonberry. (Apparently this is the color that Rihanna wears most! Who knew.)
I'm also trying out a few other products from Pur Cosmetics in this look, as they were kind enough to send me a few to play with. I also received some extras that aren't my shade, so I wanted to pass them along to you – so if you're a bit darker complected then me, be sure to check out the widgets below in your shade!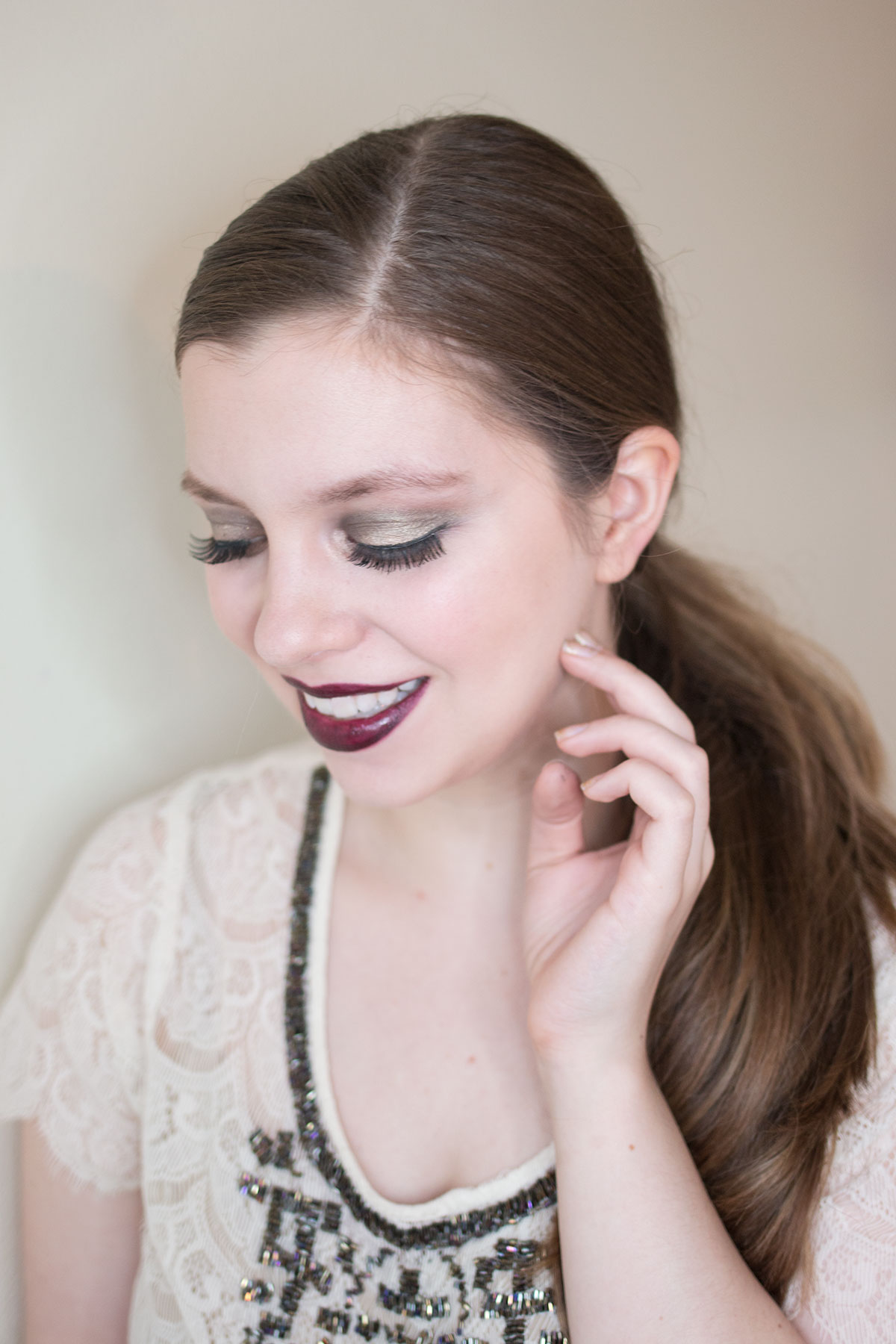 New Years Eve Makeup Tutorial
In this Tutorial:
– Kaplan MD Lip Mask
– Bite Beauty Agave Lip Mask
– Makeup Brushes
– Dermalogica Hydrablur Primer, c/o
– Pur Cosmetics Cameo Contour Sticks in Light and Medium, c/o
– Sigma Blush in Heavenly, c/o
– Pur Cosmetics Eye Polishes in Cashmere & Caviar, c/o
– Urban Decay Naked Smoky Palette (Shadows used: Slanted & Dirtysweet)
– Pur Cosmetics Browder in Medium Brown, c/o
– Physicians Formula Sexy Booster Cat Eyeliner in Black
– Maybelline The Falsies Push Up Drama Mascara
– Charlotte Tilbury Lip Cheat Lip Pencil in Bad Romance
– Charlotte Tilbury Matte Revolution Lipstick in Glastonberry
– Bite Beauty Lip Gloss in Kir Royal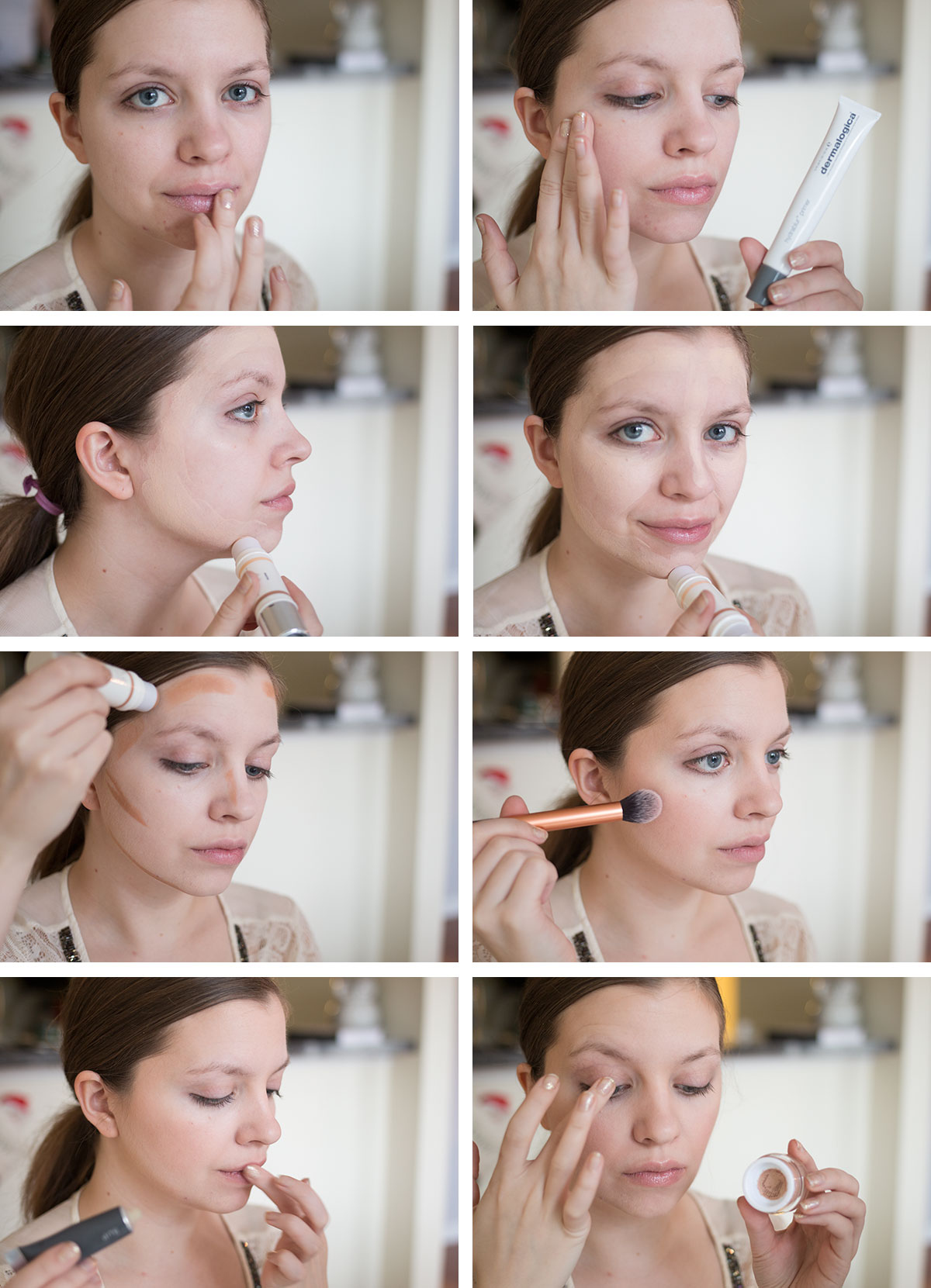 1. Since we're going to be wearing a bold lip, it's a good idea to prep those lips. Mine are incredibly dry this time of year, so I'm using an exfoliating mask to get started. This one from Kaplan MD works great.
2. While the lip mask is working its magic, I'm applying my face primer. This one from Dermalogica is great because it fills in my pores and makes my foundation go on smooth. I haven't used it a ton yet so I'm not ready to give it a ringing endorsement, but I definitely am liking it based on my first impressions.
3. Next up, I'm using the new Pur Cosmetics Cameo Contour Stick in Medium around the outside edges of my face. This is a dual ended stick, and I'm using the light shade as a foundation.
4. I'm taking the Pur Cosmetics Cameo Contour Stick in Light (the foundation side again) to highlight and cover any redness or darkness. Think under eyes, down the bridge of the nose, on the center of the forehead, and the center of the chin for this one! Then I'm blend blend blending this all in.
5. Next up, I'm taking the contour side of the Light stick and placing the color around the hairline, down the cheek bones, the outside of my nose, along the jawline, and at the temples. Then I'm blending it out real good with my beauty sponge.
6. I couldn't find my usual blush brush so I grabbed this setting brush to apply my blush. I'm using Sigma Blush in Heavenly.
7. At this point I may have realized that I forgot to remove my lip mask… and I've blotted it off with a tissue and am now applying a second mask, this time a hydrating one from Bite Beauty. Dave got me this for Christmas (Pinterest wish lists for the win!) and I've got my fingers crossed that it will solve all of my dry lip woes…
8. Now onto the eyes! First up is the Pur Cosmetics Eye Polish in Cashmere. I find it's easiest to apply these with your finger directly to the lid, so that's how I'm doing it.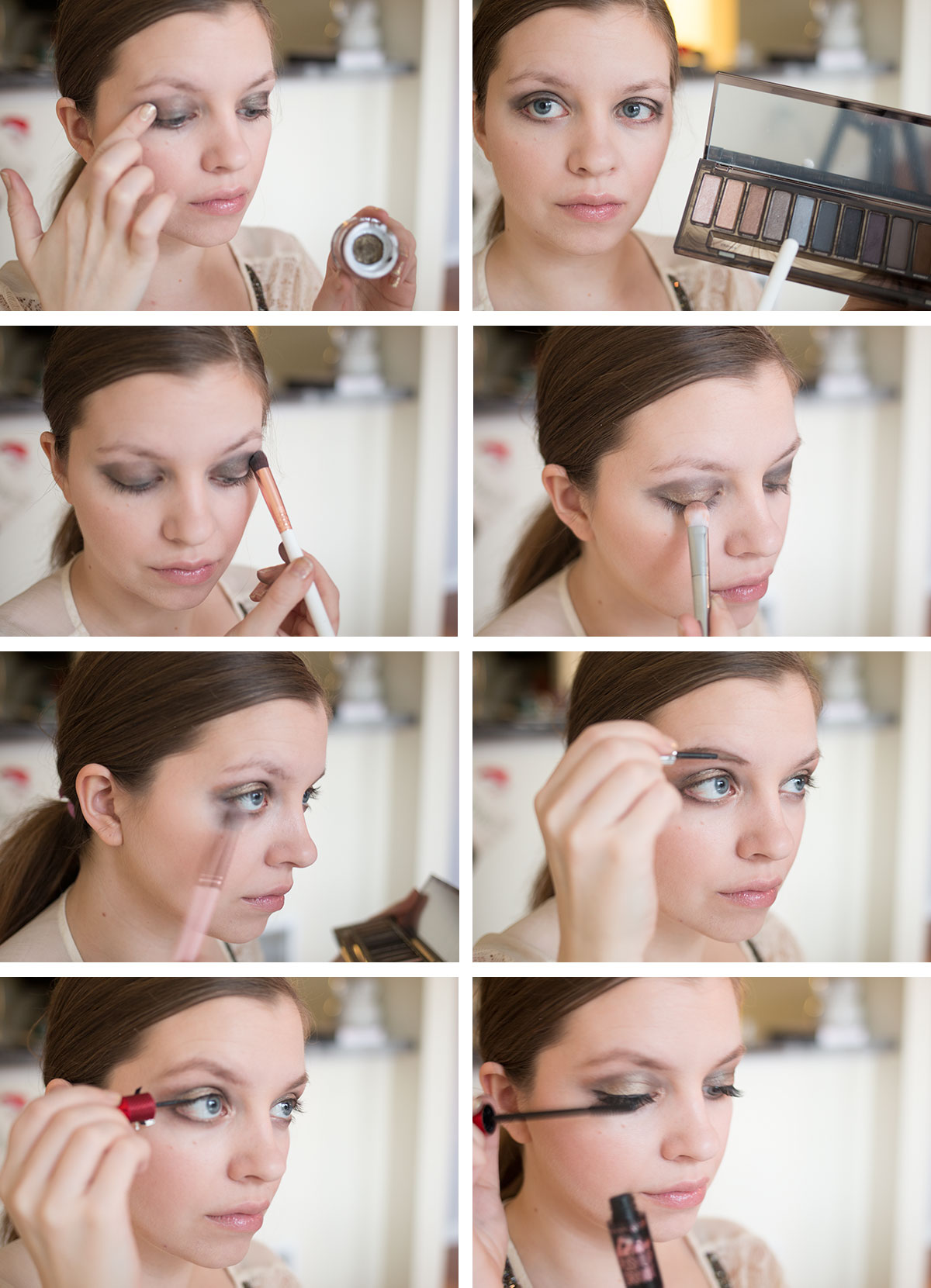 9. I wanted to add some dimension to this look, so I also grabbed another Eye Polish, this time in Caviar. I find Caviar to be even more shimmery and glittery then Cashmere, so prepare yourself. It's gorgeous and definitely not for everyday wear… but seriously. It's my favorite. I'm patting this in the crease and into the outer third of the eye. Don't worry about messiness, we'll be fixing this in the next step.
10. We're going to tie the two Eye Polishes together with a couple of shades in the Naked Smoky Palette. I wanted to play up the cool vibes in Caviar, so I took Slanted on my Sigma 3DHD Precision Brush and blended it into my crease.
11. Tapping off the previous color, I then took Dirtysweet and blended it above the crease to add some warmth.
12. I didn't want to lose any of the sparkle from my lid, so I patted Cashmere back onto the center of my lid with an oval shadow brush.
13. On a fluffy blending brush, take Slanted and run it along the outer half of the lower lash line. Blend Dirtysweet into the first half and into the inner corner.
14. With the eyes mostly done, it's time to pull things together with the brows. I'm adding Pur Cosmetics Browder in Medium Brown, then blending it in with a spoolie.
15. To complete the look, I'm adding Physicians Formula Sexy Booster Cat Eyeliner along the lash line, adding a small wing if you so choose.
16. I'm also opting to add false eyelashes, but that's up to you. Once in place, I coated my lashes and the falsies with a coat of Maybelline Push Up Drama Mascara.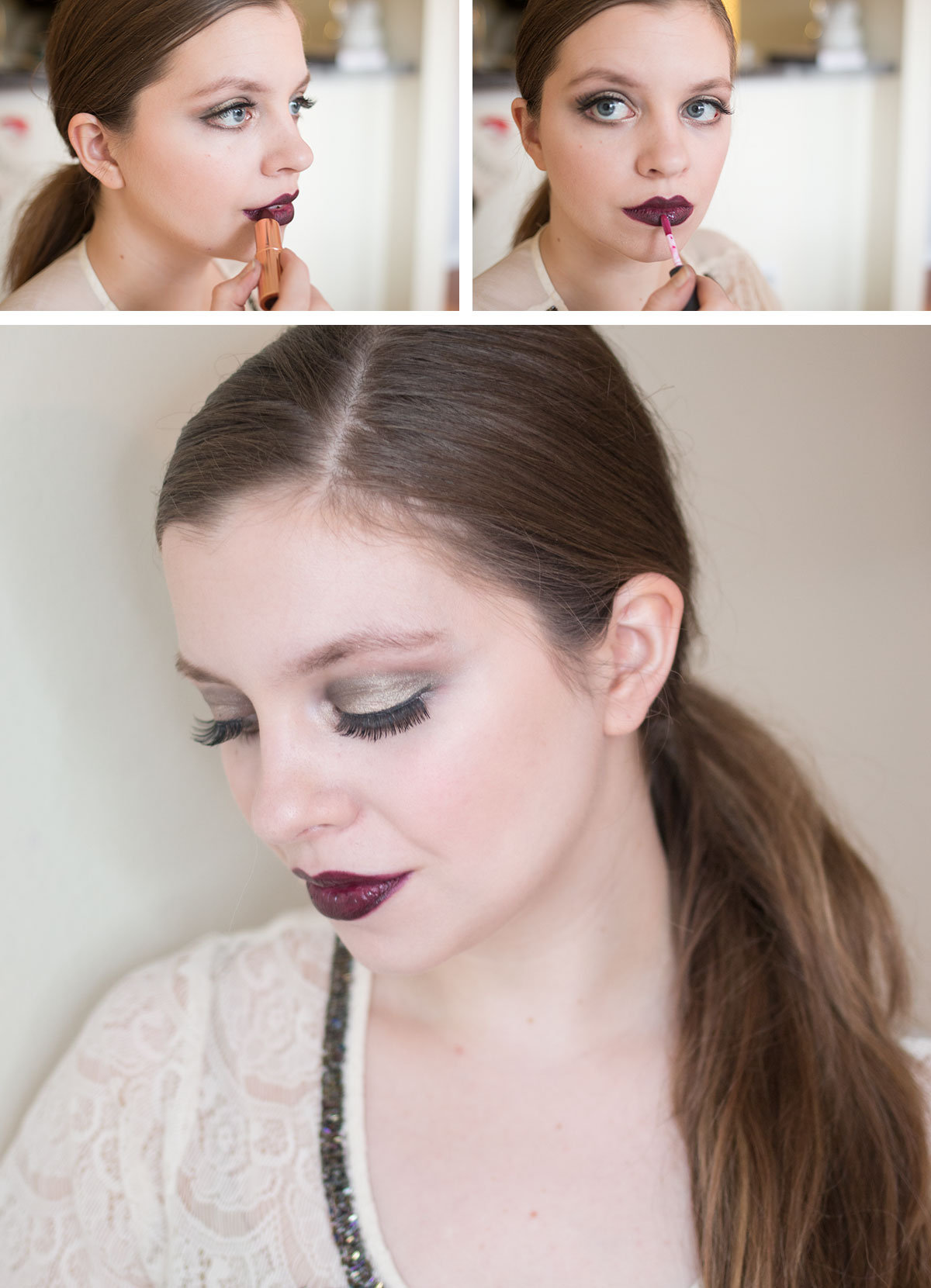 17. And coming to the end, it's time to add the drama with the lips! I'm lining my lips with Charlotte Tilbury Lip Cheat Liner in Bad Romance, then filling it in with the Matte Revolution Lipstick in Glastonberry.
18. To add a bit of dimension to this otherwise matte lip, I added a few pats of Bite Beauty Lipgloss in Kir Royal to the center.
And that's a wrap! Hopefully you enjoyed this champagne-smokey-dramatic-lip makeup look! If you're interested in trying out the Pur Cosmetics products yourself, be sure to enter below to the shade hat best corresponds to your complexion. Giveaway ends 1/6 and winner will have 48 hours to claim their prize.
Do you like to wear a different makeup look on holidays like NYE? What will you be wearing this year? I'd love to hear all about it in the comments!