I can't be the only one who loves creeping the cosmetics aisle anytime you find yourself at Target, or you know, on an intentional shopping trip to Ulta. Whatever. One of my favorite things to do is to peek at the drugstore cosmetics recent releases, and sometimes a few things catch my eye. Such was the case with the Maybelline Grafitti Nudes Palette, which was apparently released exclusively at Ulta.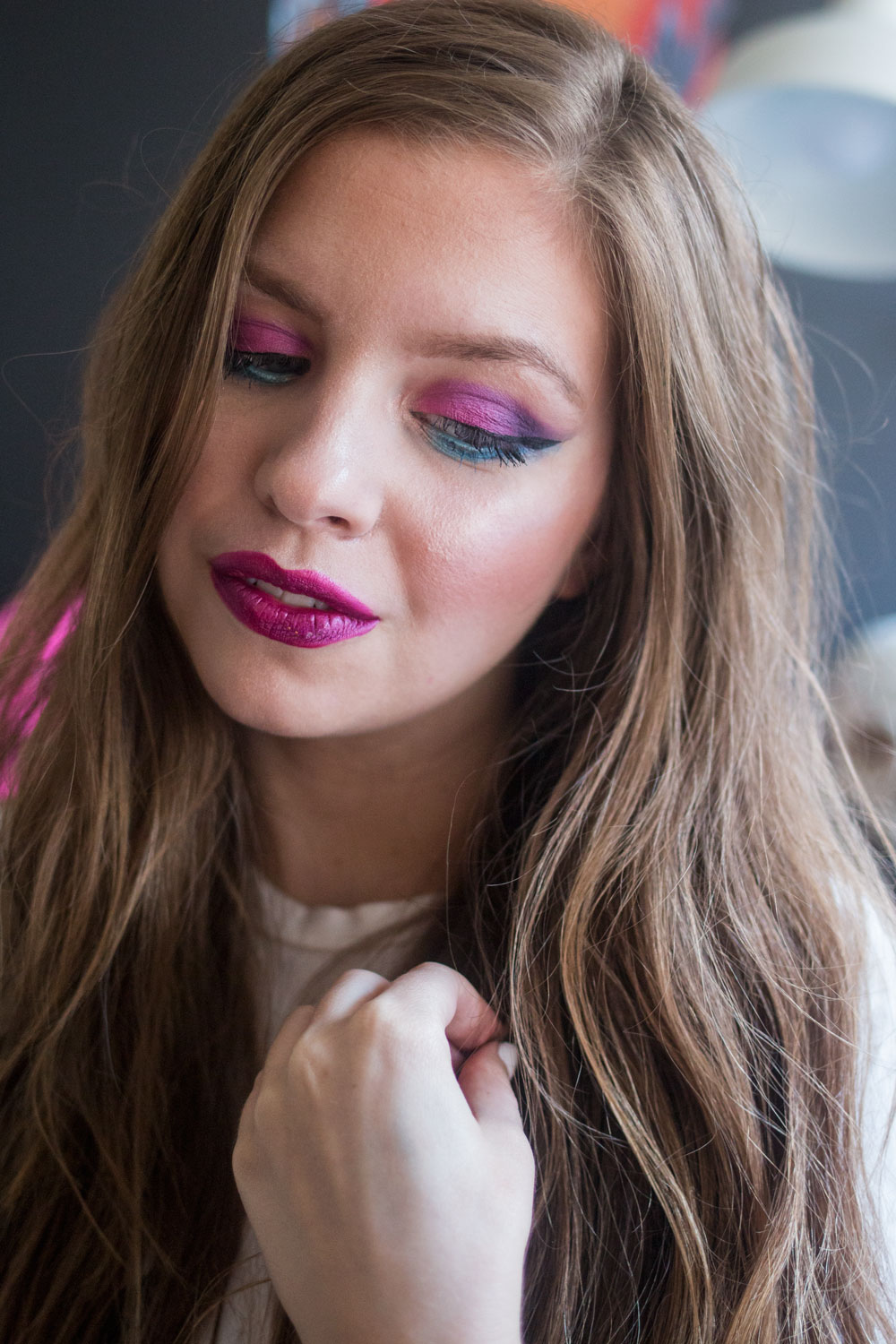 Disclosure: Some of the links in this post are affiliate links, and I may make a small commission on them if you make a purchase. All products were purchased by me unless otherwise noted!
When I saw it, I knew I had to see what kind of color pay-off Maybelline had up their sleeve. After all, drugstore cosmetics aren't really notorious for highly pigmented eyeshadow palettes, so naturally, I had to try it out. Along with the Graffiti Palette, I decided to gather a bunch of goodies that I hadn't used yet, try them all out, and take photos along the way and share my thoughts with you about them.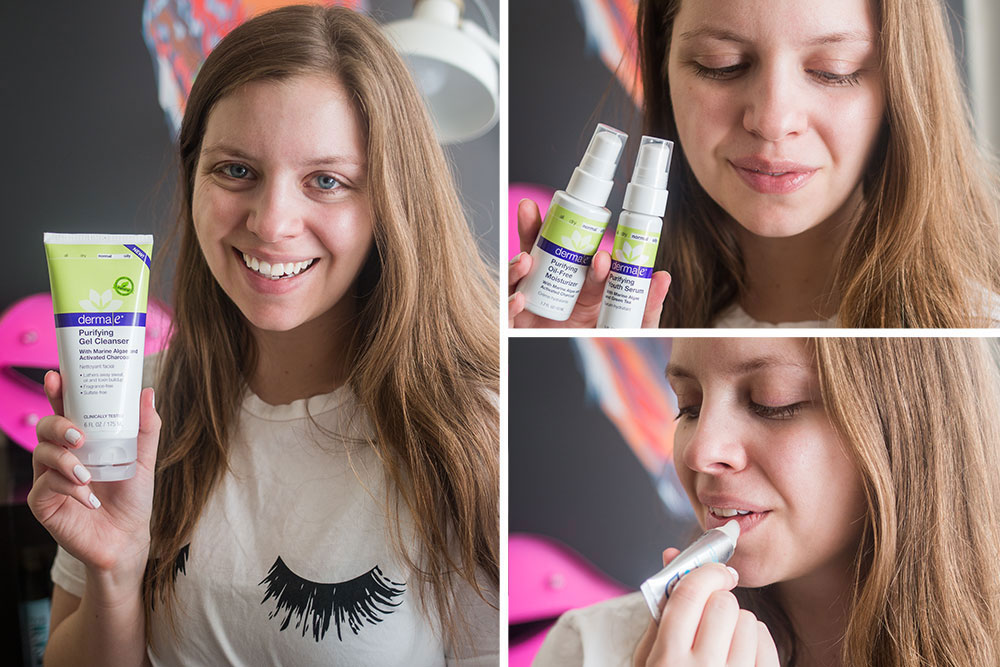 First up, I gave my skin a good rinse with Derma e's Purifying Gel Cleanser that they recently sent my way. I'm not usually a big fan of gel cleansers since it is a bit drying for my combination-dry skin, but I thought this one did a good job of allowing my skin to feel clean but not stripped. This is recommended for normal to oily skin types, so I will probably pass this along to a friend with oilier skin than mine to enjoy.
I also tried out the Derma e Purifying Youth Serum and Purifying Oil-Free Moisturizer, both of which I was sent, and ended up really enjoying. They made my skin feel comfortable and hydrated, and were perfect under makeup. I would definitely continue to use these for day wear, and would add a night cream at night. My personal favorites from the Derma e Purifying Line is the Purifying Toner Mist and the 2-in-1 Charcoal Mask that I use on my T-Zone once per week to gently exfoliate my oil-producing spots.
Finally, I soothed my dry lips with the Skinfix Lip Repair Balm. It reminds me quite a bit of Aquaphor or Vaseline regarding texture and feel. It's a lip balm that feels like it locks in whatever moisture my lips have, and I think it will be a good one as the weather continues to get colder.
With my skin all prepped, I added the L'Oreal Paris Infallible Pro Glow Foundation in 201 all over my face with a beauty sponge. I love the finish of this; on my combo-dry skin, it adds a beautiful luminosity and the longer I wear it, the better it looks. Kind of the opposite effect of most foundations, but this definitely performs unlike most any drugstore foundation I'm used to.
The only negative is that it may cause me to break out. I wore this when I filmed my Friendsgiving GRWM video (I took these photos before that) and both times I ended up with a couple of new "friends" after. I'll have to try it again and see if it continues, and if it does, will report back in my next Digs & Duds video.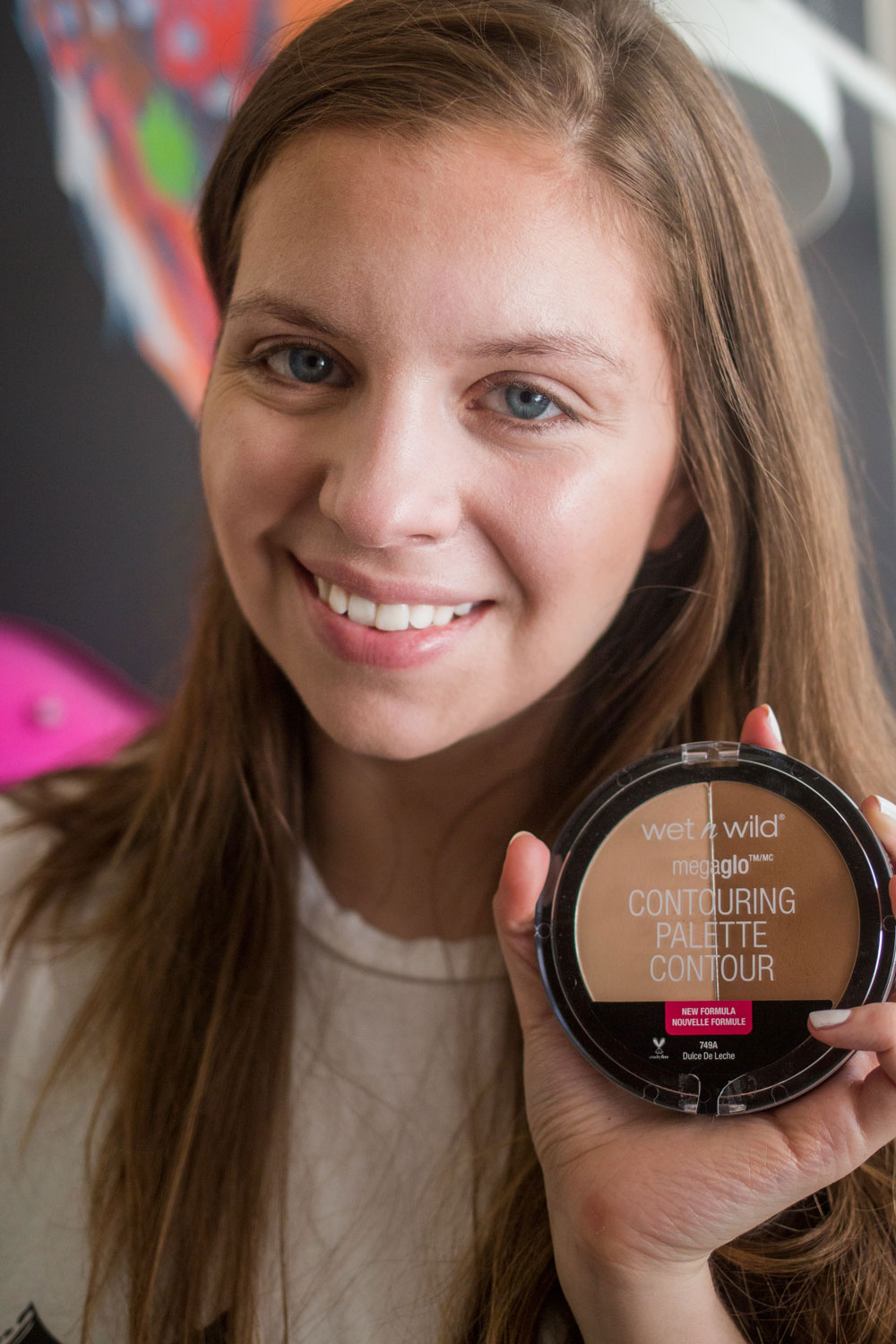 I also picked up the Wet n Wild Mega Glo Contouring Palette in Dulce de Leche. This palette is very generously sized and for a low price. However, I did find that the contour side definitely pulls warm on me and is more suitable for bronzing. I kind of used it for a bronze and contour – I pulled the color down my forehead, around the temples and gently brushed out on my cheeks for some color rather than a harsh contour. I used the "Leche" side as an undereye setting powder. It has a yellow undertone and on my fair skin works well as an alternative to a yellow banana powder. It really has no detectable shimmer so if you prefer that type of highlight, you might enjoy this shade.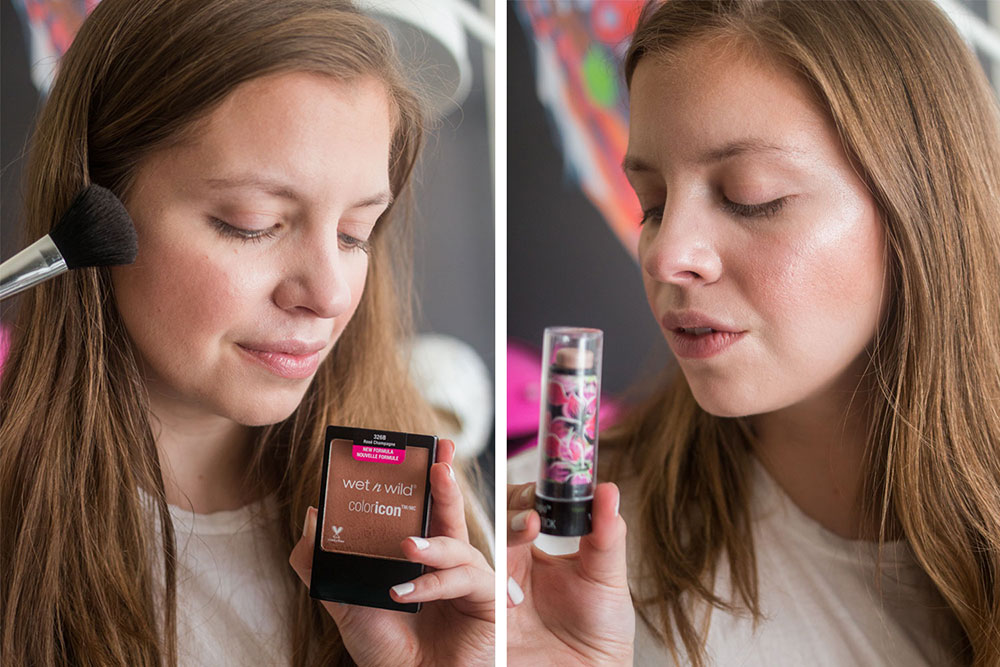 I also opted to pick up two more Wet n Wild products; the reformulated Color Icon Blush in Rose Champagne and the All-in-One Mega Glo Highlighter Stick in Marigold Round that was released this summer. The blush is a beautiful dusty rose nude that is generously pigmented (so tap off any excess on your brush). I applied it with a new-to-me LA Colors Blush Brush that I honestly can't recommend. The bristles are incredibly scratchy and it's not worth the $1 price tag. If you're looking for a budget-friendly brush set, I'd recommend the Wet n Wild Brushes, or for a bit more, the Real Technique Brush Sets are my absolute favorite.
The highlight is alright; it's a cream formula that is a bit thicker and harder to apply than some of the higher end cream highlighters I have tried like the Marc Jacobs Beauty Glow Stick, Benefit Watt's Up, or the W3ll People Bio Brightener. I'd say the tone is similar to all of those, but the formula is definitely not as nice. If you're new to highlighting and want to try out a cream formula, this would be a good one to try out to see if you might want to splurge on a higher end formula.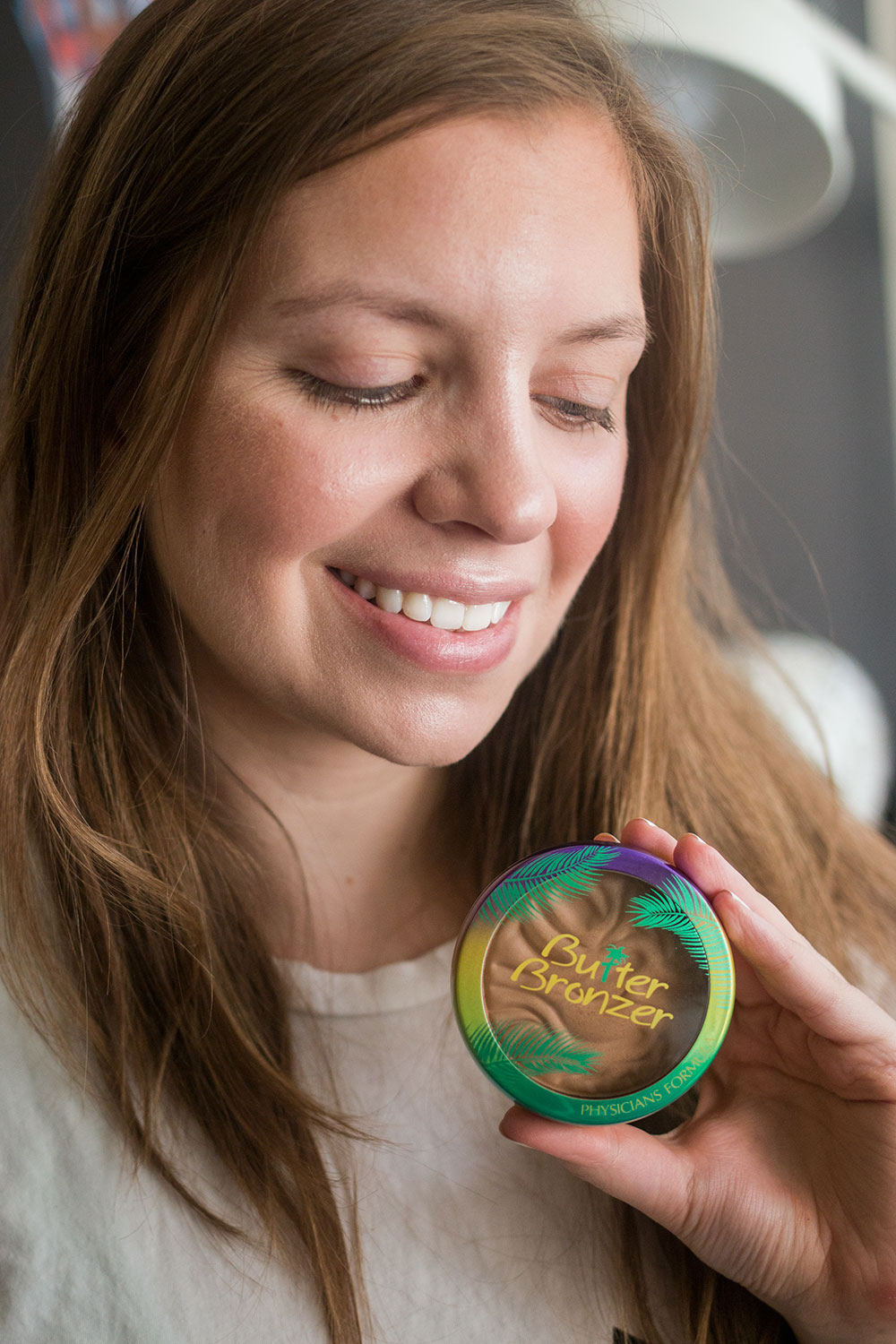 To bring the contour, blush, and highlight all together, I blended in some of the Physician's Formula Butter Bronzer in Bronze. This is an absolutely beautiful bronzer. Not only does it smell like summer, but the color is not too warm and not too cool. It will suit a wide variety of skin undertones, and is excellent for us with more fair to light skin tones, which can be hard to find when looking at bronzers. For more porcelain skin tones, they also offer a Light Bronze shade as well.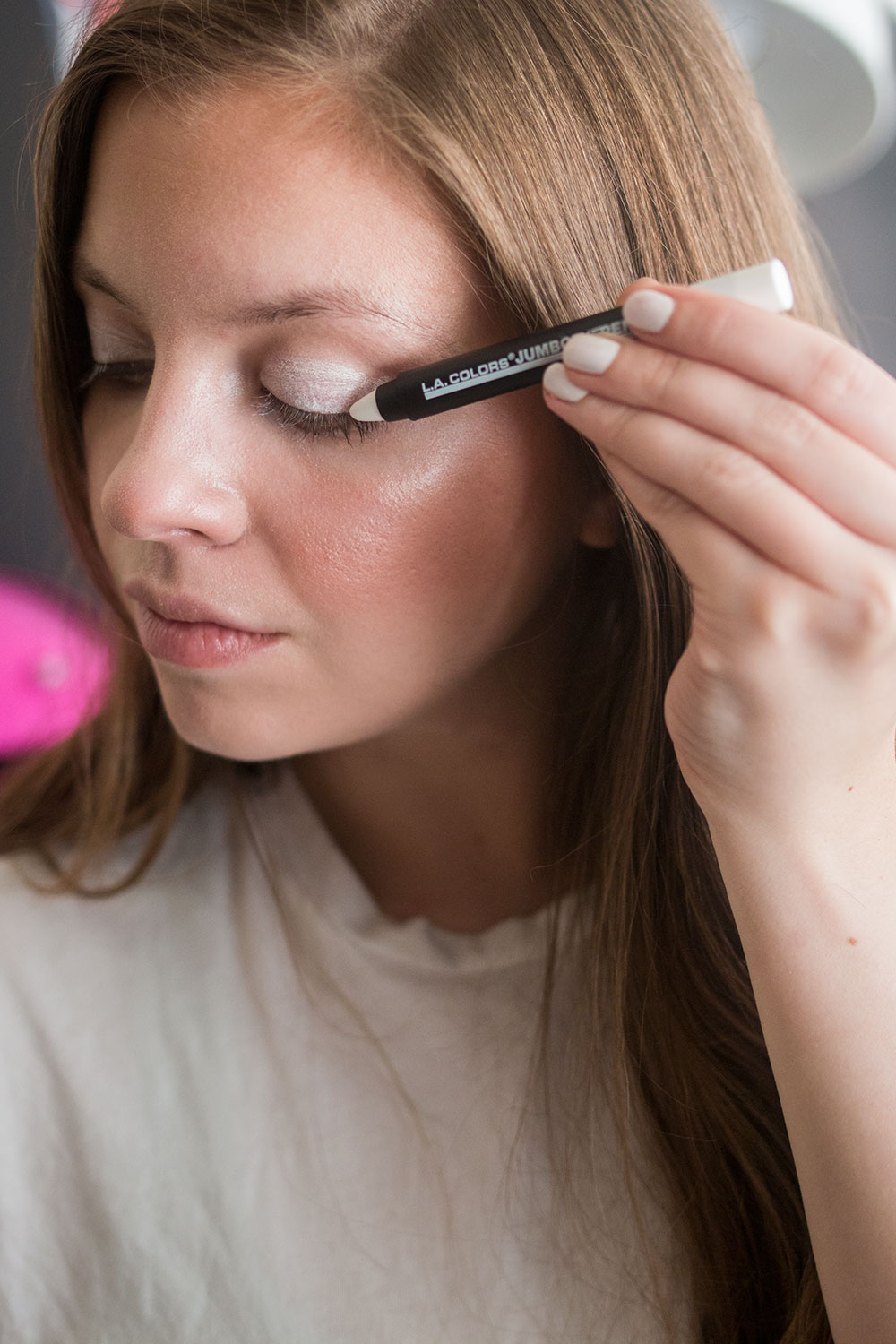 To prime my eyes for the bright shadows, I used the LA Colors Jumbo Eyeshadow Crayon in Sea Shells. I find this to be very similar to the NYX Eyeshadow Crayon in Milk, if not maybe a little less pigmented. For the lower price, I'd say this is a good dupe if you'd like to save a another dollar or two.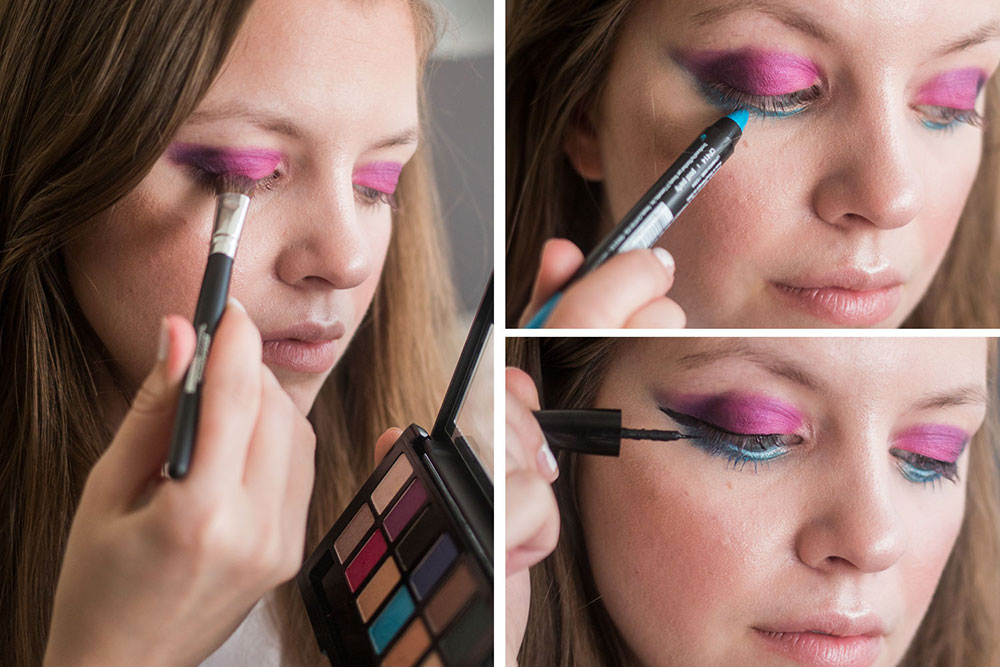 I didn't have a plan in mind with the eyeshadow but knew I wanted to see how the pink shades perform. Pinks can sometimes stain the eyelids, and I was curious whether this one would. (It didn't.) I blended pink into my crease, then all the way onto the lid. I blended the purple shade into the outer v and onto the outer third of my lid.
With another LA Colors Eyeshadow Crayon in Pool Party, I ran it along my lower lashline. Then, to set the eyeshadow crayon, I pressed the teal shade in the Graffiti Palette along my waterline. To the inner corner, I added the bright peach shade in the top left of the palette.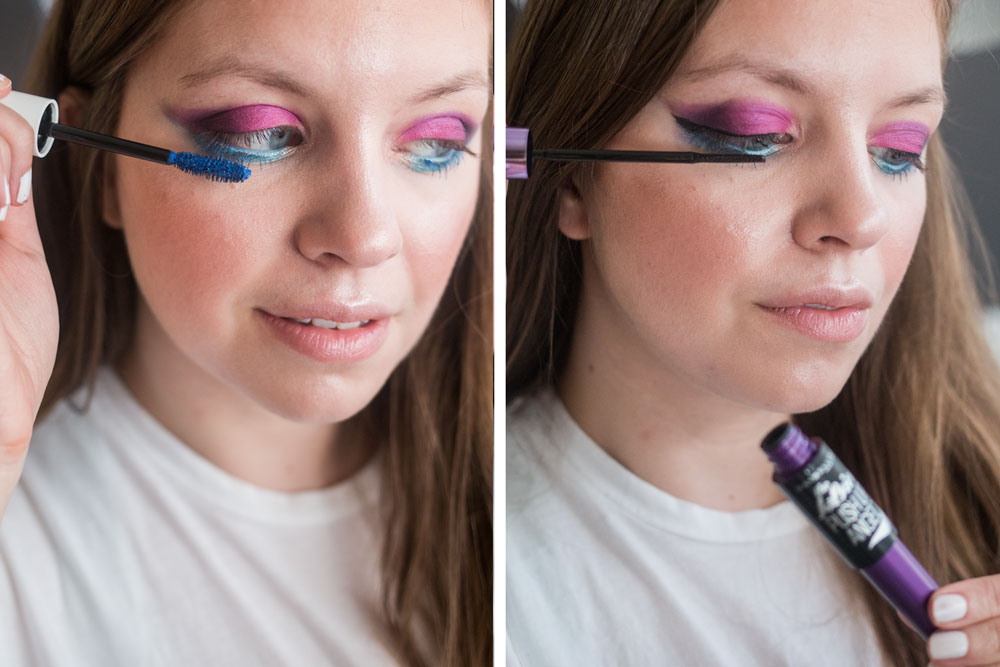 I thought it would be fun to try the Covergirl Katy Perry Blue Mascara on my lower lashes, and on my top lashes, I opted to line with a LA Colors Liquid Liner, then apply the new Maybelline Falsies Push Up Angel Mascara. This is kind of a strange wand, with very small bristles that are meant to lengthen and keep lashes clump free. I like that aspect of it, but felt like it could have done more in terms of adding volume and thickness to my lashes. Those focused on clump-free length will probably really like this one over the original Push Up Mascara.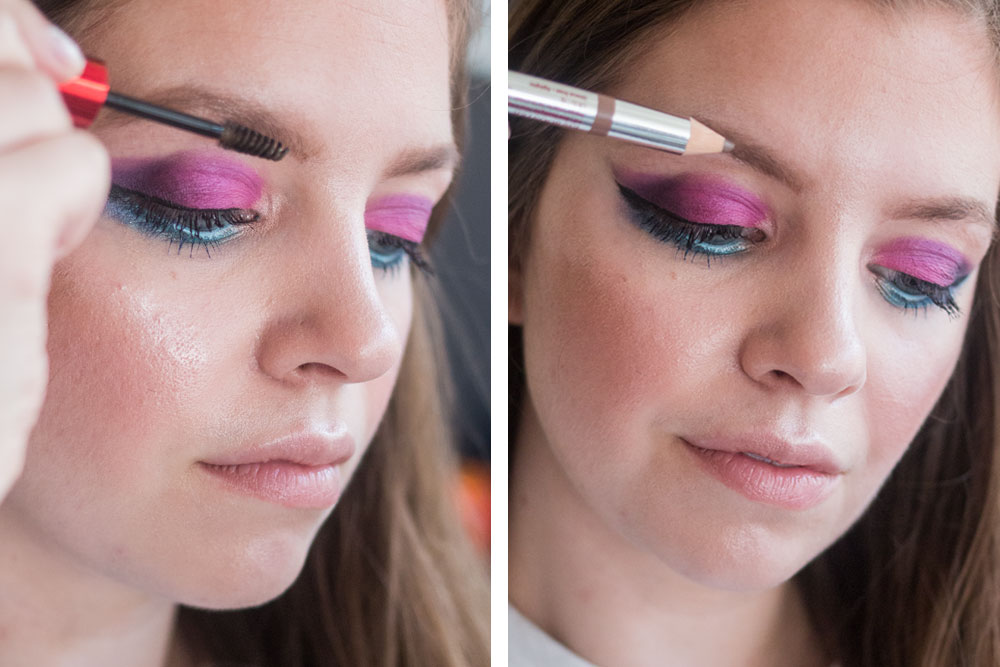 To my brows, I added a bit of the Physician's Formula Tinted Brow Gel from the Brow Boosting Kit, then filled in the rest of my brows with the Brow Pencil included in the same kit. I'm pleased with the natural tone and overall look that this product provides.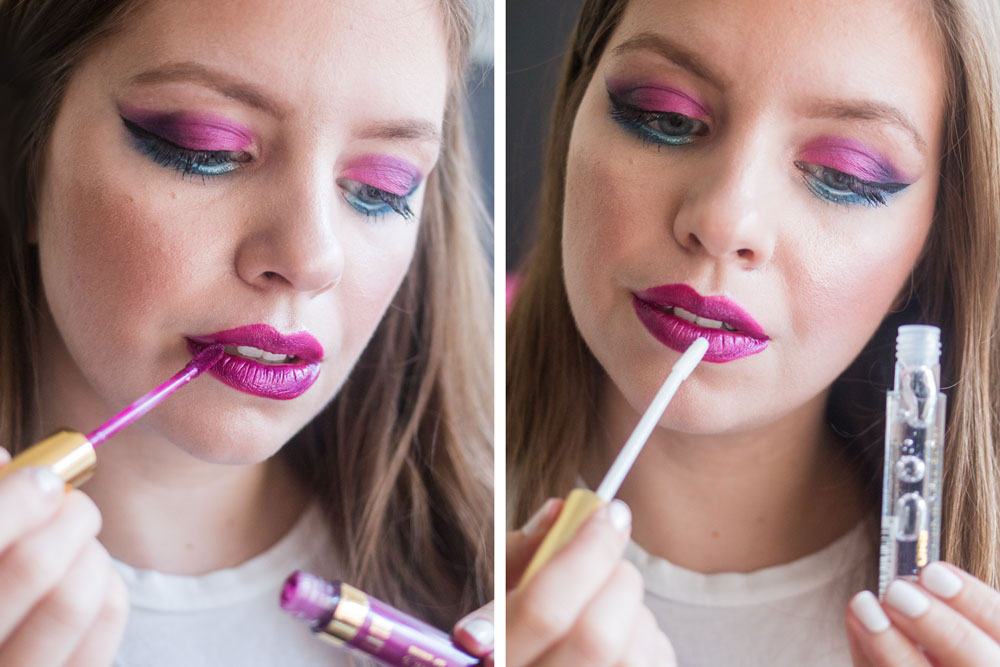 Finally, to finish off the makeup, I had to add a pop of color to my lips. Since I was going all out, I figured I'd keep the bright colors going with a pop of purple on my lips. This one is the Milani Amore Matte Metallic Lip Creme in 08 Raving Matte. These metallic liquid lipsticks from Milani are my favorite; so pigmented, gorgeous, and long wearing without being terribly drying. Don't get me wrong, they're not moisturizing by any means, but they are no worse than any other liquid lipstick I've tried and are about half the price of some of the popular brands like Kat Von D or Jouer.
To add a bit of hydration back to the matte lip. However, I added a few dots of LA Colors High Shine Lipgloss in Clear to the center of my lips. I've been incredibly impressed with these high shine glosses from LA Colors. They come in many colors, are pigmented, and are very inexpensive. Highly recommend them!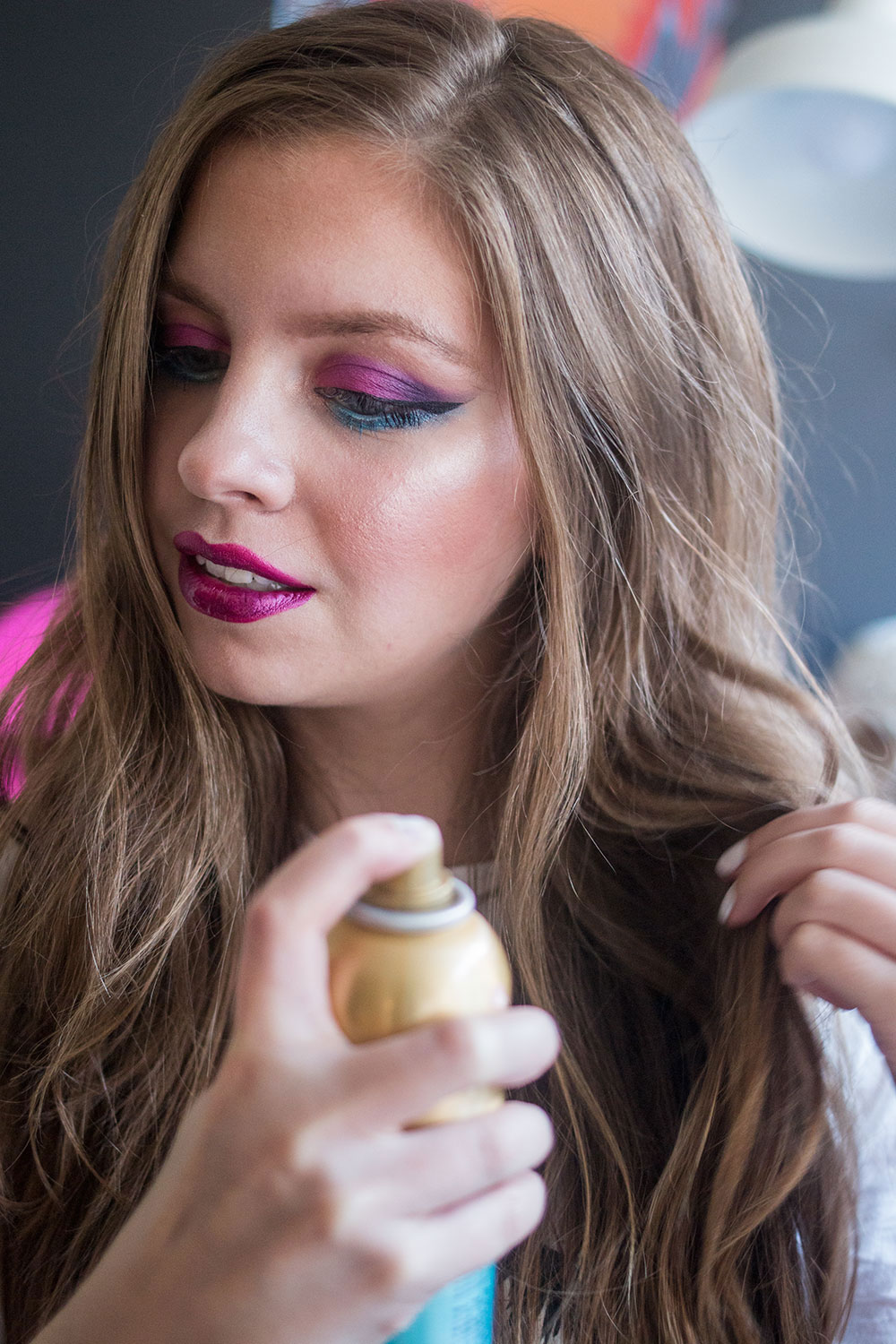 Finally, I added a few sprays of the OGX Argan Oil of Morocco Elevated Finish Spray to the underlayers of my hair. When I find my hair is lacking a bit of volume or texture, this is my go-to. It reminds me a lot of the Oribe Dry Texturizing Spray which is at least 4x the cost. Drugstore products for the win!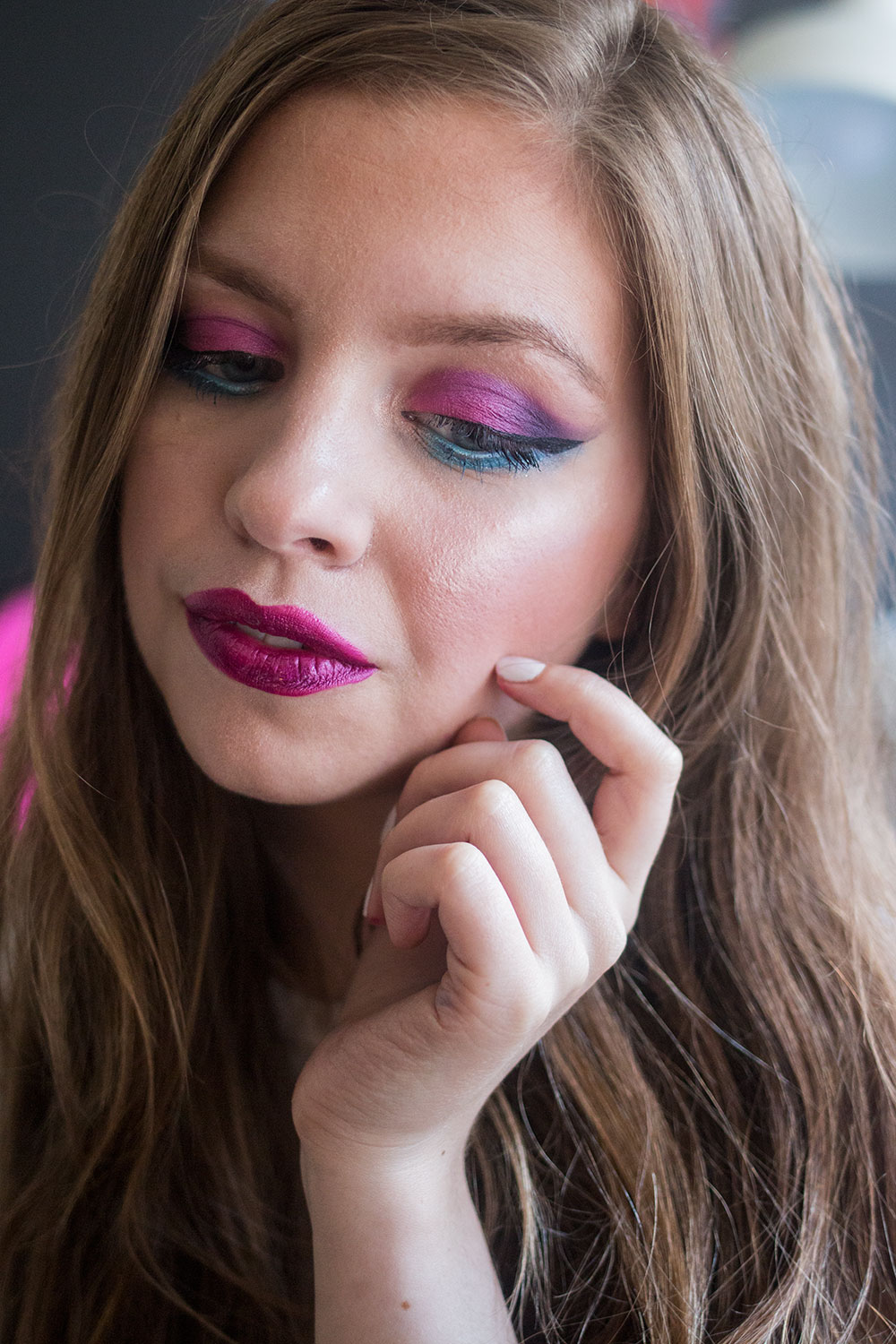 And with that, my bright, colorful, and very not-holiday-esque drugstore makeup look adventure comes to a close! I had a lot of fun trying all of these products out and sharing my initial thoughts on them. Overall, I'm always pleased when I can find a couple of new drugstore favorites to add to my makeup arsenal, and it's even better when they are dupes or near dupes for my higher end favorites!
Let me know in the comments if you've tried any of these products, or if there's something new at the drugstore you'd like me to try out! I'd love to hear what drugstore products you've been loving too.