I'm sharing my budget a little earlier this month than normal… I guess that's a good thing considering some of it may get thrown out the window due to the fun shopping fiasco that is Black Friday and Cyber Monday. The funny thing about the holidays that I've noticed since blogging? In real life and in blog life, things at the end of the month get a little hectic.
I'm going to do a bit of a different breakdown this month. Inspired by some other budgeting bloggers, and after my co-worker mentioned being curious why I didn't share the things I bought that I didn't keep, I figured I'd add a few new categories.
What I Bought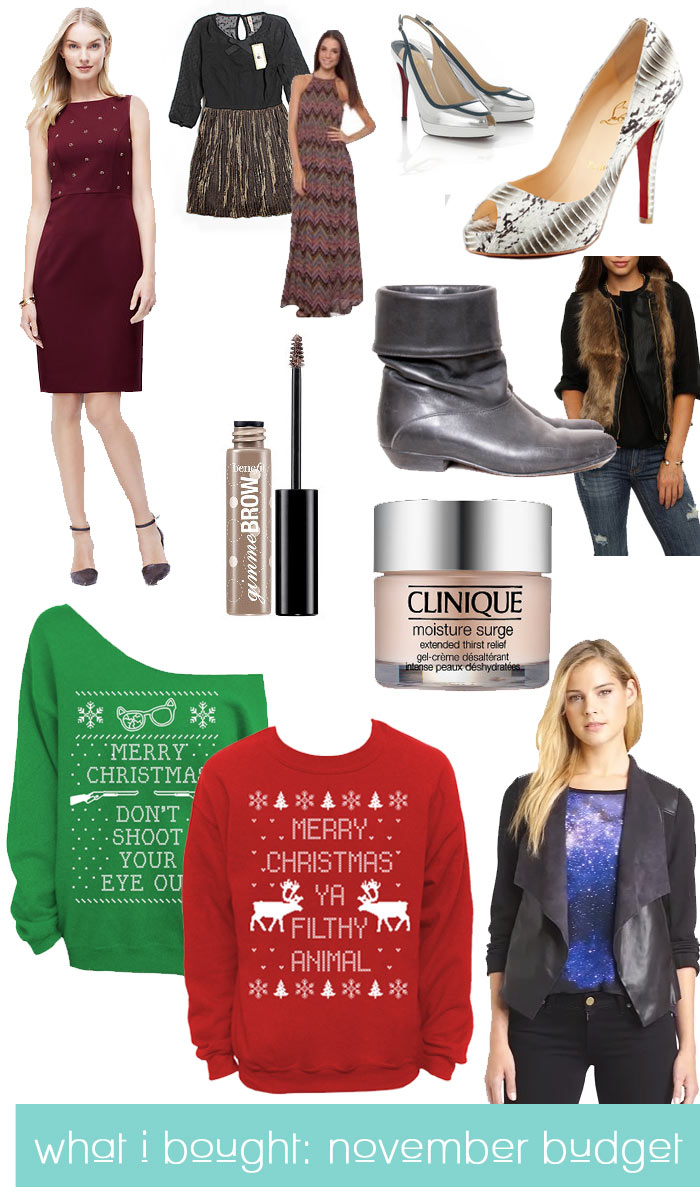 Ann Taylor: I had to find a dress the night before the Goodwill Gala after winning some tickets from their Facebook page! I had a heck of a time finding a classy "glitter" dress, but I ended up really loving the Beaded Ponte Sheath Dress. If you're petite like me, I highly recommend their petite section for tailor-free dresses in a pinch. I purchased this in a 2P. After trying on the 4P, it was just a better fit around the waist and hip area.
Swap Group: I purchased a couple of dresses from a swap group I'm in. Unfortunately neither worked out, which is the risk you take while swapping, but I paid $19 for both so I can't complain too much. I'll probably make a few bucks back from ThredUp for next month. ;)
Goodwill Glitter Sale: I had ridiculous good fortune at the Goodwill Glitter sale. Seriously, if you're in Seattle, go go go next year. I picked up these Christian Louboutin Very Prive Snakeskin Peep Toe for $25, these Christian Louboutin Fox Trot Slingbacks for $15, a 70s vintage reversible fur/leather vest for $40, some art deco costume jewelry for about $15, and a pair of Vintage Frye slouch booties for $25 that you've seen me wear a few times here and here.
Sephora: I ran out of Benefit Gimme Brow (my favorite, despite trying a few other products over the last few months) and I picked up a new moisturizer for winter, Clinique Moisture Surge with a gift card.
Etsy: I ordered Dave and I "ugly" Christmas sweaters from Dentz Design this year. I picked up a Chirstmas Story themed one for me, and a Home Alone themed one for Dave, at $19 each. They aren't here yet… shipping so far seems to be a little slow, but fingers crossed they show up soon!
Nordstrom: I picked up a few items during the Nordstrom Clearance sale, but this Kut From the Kloth Lincoln Jacket is the only thing I kept. I loveee it. See it in action here.
What I Returned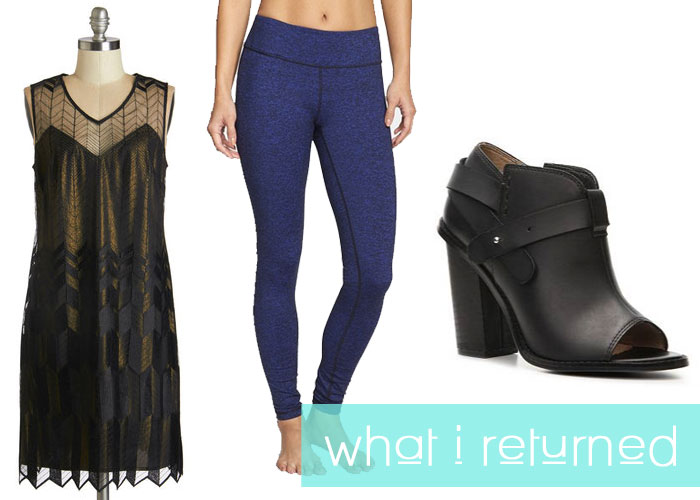 ModCloth: I fell in love with the Deco with the Flow Dress. It's gorgeous, but it was too long and too wide on my petite (read: short) frame. It's too detailed to have hemmed, so back it went.
Nordstrom: Okay, so yes, these Zella Reversible Live In Leggings are really comfortable, but they're too long on me. I wish they came in petite lengths, because they pool at my ankles (you can see this happens on the model too, but it's worse on me). I may actually try the Big Girls for a better fit in length. ;)
DSW: I've been obsessed with these Crown Vintage Lacy Booties, so I bought them. If only they came in half sizes… the 37 is too big, and no doubt the 36 would be too small. They're not carried in store, otherwise I would try them. Boo.
What I Received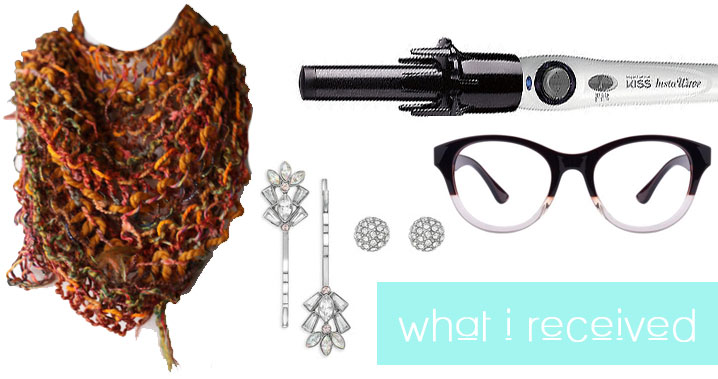 I feel really fortunate to be able to work with companies and small business owners who have really, really awesome products!
Henry Pete's Pasture: This funky fringe triangle scarf came from my friend Stef. Do me a favor and check out her shop – she's got a ton of scarves and beanies that would make perfect holiday gifts!
Kiss: I received the Instawave Automatic Curling Wand for review… demo and tutorial coming soon!
Chloe & Isabel: Alysia reached out to me about the new holiday collection from Chloe & Isabel, and the pieces are just gorgeous. She sent me their Pave Ball Stud Earrings and the Celestial Frost Hair Pin Duo. Styling and giveaway is coming soon!
Firmoo: I also scored a new pair of glasses for review from Firmoo. These are great, and you can win frames of your own for just a couple more days here!
This is the first month in a while that I actually didn't sell any clothes. I have a few bags to send to ThredUp and I'm also going to send one to Twice soon as well, so hopefully that will help off-set any damage done during Black Friday! I can't believe that's almost here… and luckily, I really don't have any big shopping plans. Here's to keeping my personal shopping in check this next month! ;)
What did you buy last month? I'd love to hear about it in the comments!