I swear I say this every month, but I really can't believe October is just about over. I won't lie, I'm getting excited for my favorite holidays… Thanksgiving and Christmas, of course. I like Halloween, but I feel like when you don't have kids and are too old for trick-or-treating and kind of over the party scene, it's not quite as fun.
Anyways, enough about holidays (though admittedly, it does relate to budgets. I mean, I basically blow all of mine on Black Friday yearly…) because the real reason we are here today is to look at what I bought with my clothing budget last month.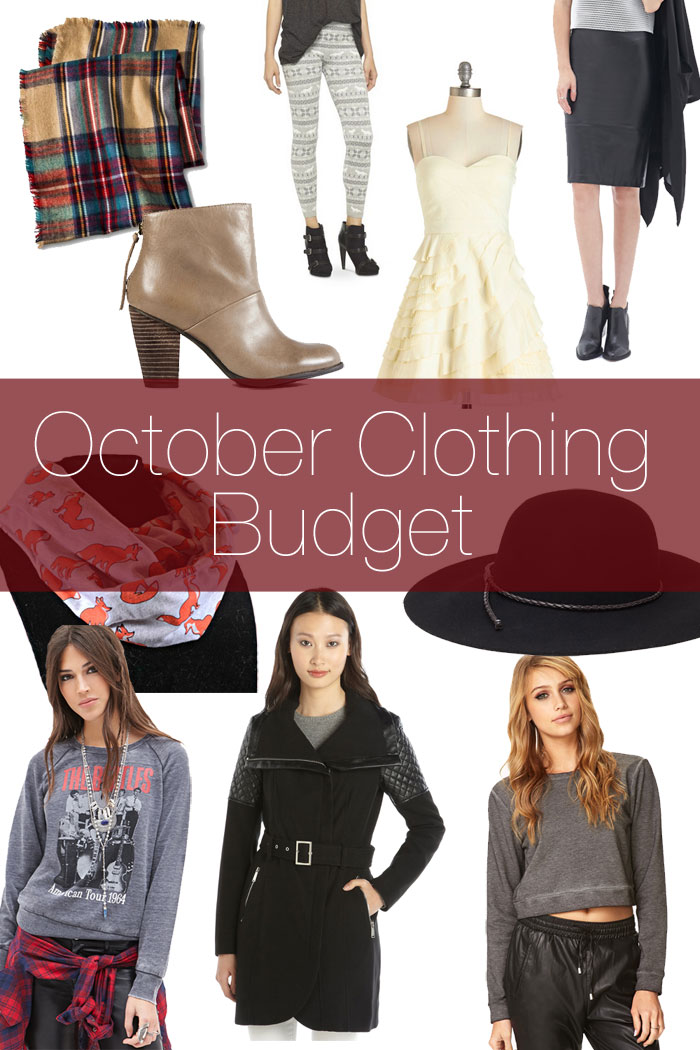 October Clothing Budget
Target: I bought the "inspired by" version of the blanket scarf that everyone in blogland has been clamoring for. It's super soft and will be perfection come frosty temperatures. I also found some adorable fair isle fox leggings (these are similar, but the ones I bought are fox faces and remind me of a certain doggie.) Spent $35

Etsy: Fellow Seattle blogger Kendra of Simply Darrling makes these adorable infinity scarves, and she happened to have a fox print one. Of course I had to pick it up! Spent $15

Forever 21: I went to return something and ended up exchanging and then some… oops. I picked up this Beatles Sweatshirt, a Cropped Sweatshirt (similar), and a Pleather Skirt. Oh, and then during their Columbus Day (or Indigenous Peoples' Day if you're a local) sale I got this hat too. Love it! Spent $72
Modcloth: I got lured in by the Stylish Surprise, and got this cute dress. Too bad it's far too small to even zip over half of my boobs. Free to a good home! :) Spent $10
JustFab: My first experience with JustFab was a good one, I got the Pierce Booties for 75% off for the low, low price of $22! I'd say it's a crazy deal for genuine leather, and they look great for the price. Spent $22
Nordstrom Rack: Okay, I did not plan to go here and shop. I was dragged by family, and didn't want to be rude. Well, that may be a slight stretch, but I was doing SO well until this sad, lonely coat (similar) was calling my name at the end of a rack. I tried it on, and it started screaming, so I just had to buy it. Spent $99
Total Budget: $175
Total Spent: $253
Total Sold: $199
October's Damage = $54
And now I can breathe a sigh of relief. My wallet is scared for next month though.
And in favor of trying new things, how would you guys feel about doing a video of these budget posts? Any interest, or am I just a little too video happy lately? Let me know, and also tell me what you bought last month!