My mom is a pretty special lady. At 50, she decided to take on a whole new career and hit the books so that she could do it. I think my leaving for college may have had something to do with that, but I appreciate her drive and can-do attitude. She's one of those people who thinks of others first and rarely spends time or money on herself. If anyone deserves a special Mother's Day, it's mine, which is why I wanted to pamper mom this Mother's Day!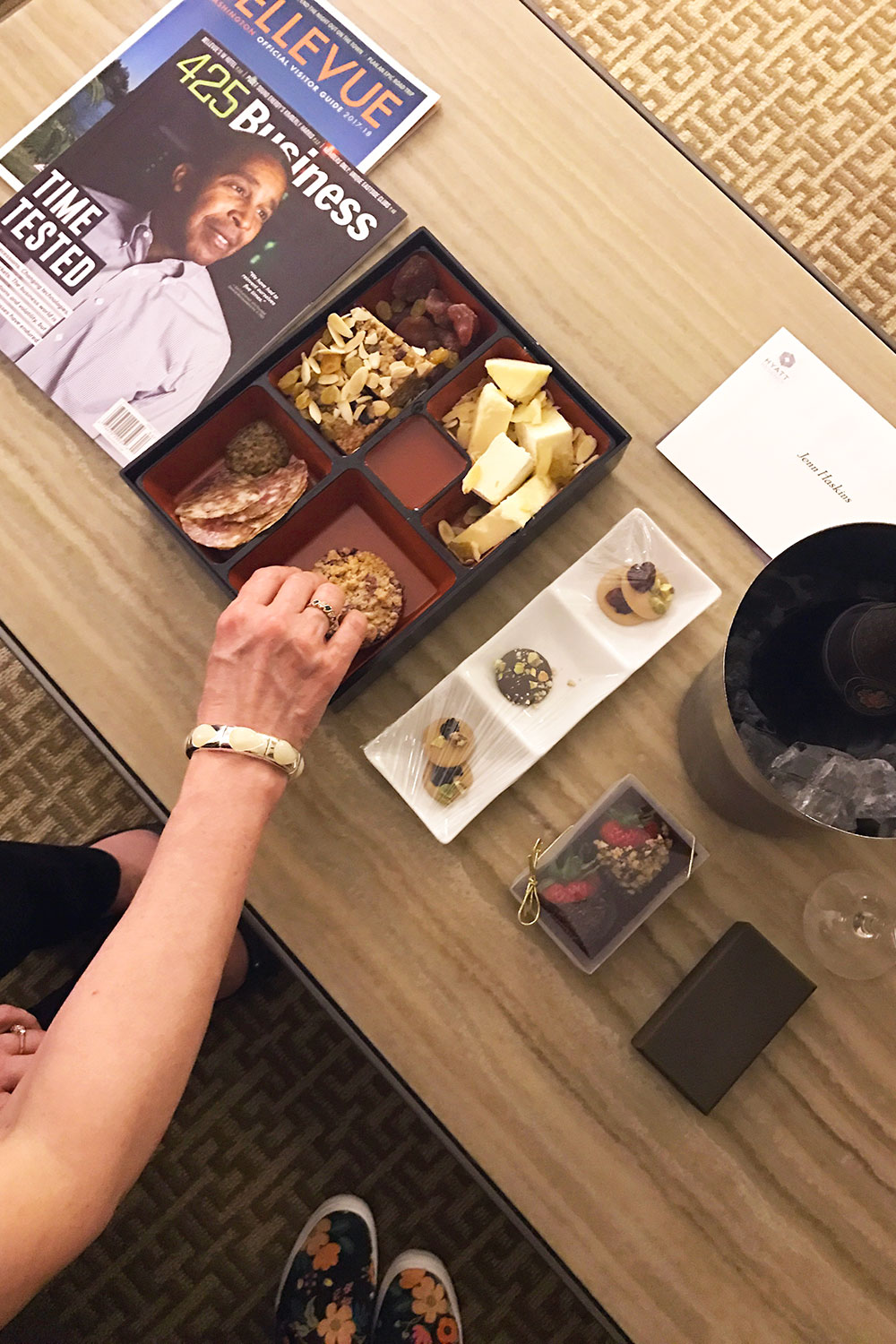 Disclosure: The Hyatt Regency Bellevue treated us to the Shop Play Dine Package in exchange for this blog post. All opinions are mine and my mom's! :)
5 Ways to Pamper Mom This Mother's Day
Mother's Day always reminds me to be appreciative of the skills and life lessons she has taught me. Because my mom works so hard and seems to always be doing something, whether it's working, helping someone out of some type of financial or tax pickle (she's a Tax Advisor and bookkeeper for small businesses and organizations), or off to take Rigby for a walk, I wanted to be sure Mother's Day for her this year would be something where she didn't have to do anything.
Fortunately, the Hyatt Regency in Bellevue came to my rescue and offered us the perfect solution: a Mother's Day staycation in one of their suites. I thought I'd share what we were up to in hopes that it might inspire a Mother's Day Staycation of your own for your and your mom (or another special lady in your life, be it grandma, aunt, daughter, sister, or someone else!)
Check in at the Hyatt Regency Suites
First on our list was to check in at the Hyatt Regency, where we could drop our bags, kick up our feet, and enjoy the beautiful view of Downtown Bellevue and Seattle off in the distance. It was a beautiful sunny evening and we loved being able to open up the curtains and enjoy the sun going down!
The Hyatt Regency is a wonderful place to kick up your feet and relax, and it's so close to everything in Downtown Bellevue that there's really no reason to even have to hop in your car. Across the street is both Lincoln Center and Bellevue Square Mall. A few blocks away is the Bellevue Collection with even more to offer (especially if Mom is into luxury shopping!). There are also some great amenities like the StayFit Gym, Regency Club (with free continental breakfast and snacks), and a lap pool. With rooms starting at around $200 depending on the night and stay duration, you can plan a budget-friendly weekend trip or splurge on a high-end suite and stay in the lap of luxury!
Cheers to dinner and drinks
My mom and I don't get to have a "girls night" too often, so we were excited to treat ourselves to tacos and Sangria over at Cactus at Bellevue Square. With cocktail plans, it was nice not to worry about driving and just walk right across the street to Bellevue Square to indulge!
Whether you opt to try Cactus or are craving something else, there are so many yummy options in Downtown Bellevue! Some other suggestions are dim sum at Din Tai Fung at Lincoln Center, a pub experience at XXX (their pretzels are delicious!), pizza and sundaes at Vivo53, or treat you and Mom to cheesecake at The Cheesecake Factory.
Then indulge your shopping itch at Bellevue Collection
Our hotel stay was included in the Shop Dine Play package, so we also had a little gift card to burn! Wandering around Bellevue Square, Lincoln Center, and the Bellevue Collection always satisfies that need to shop, even if you don't end up buying anything! Some of my favorite places to visit include LUSH, Paper Source, Sephora, Aritizia, Nordstrom, and the new Kendra Scott boutique!
Relax and take a load off
When my mom asked what we were up to for the weekend, I told her "nothing!" April was a busy month for us both and I figured a little rest and relaxation is really what we both needed. It was nice to not have to rush home after work to do chores, cook dinner, or have to work.
Instead of planning a bunch of activities, I thought getting cozy in bed and watching a movie would be the perfect way to end our night. My mom hadn't seen Hidden Figures yet, so I suggested that and we both really enjoyed it. There were tons of options for the whole family on demand at the Hyatt! When we returned to our room, we also found that the hotel had left a few goodies, perfect for our movie night plans! We enjoyed cheese and accouterments and chocolate covered strawberries. Yum!
Top it off with a morning brunch
After a restful night's sleep, the only thing this girl and her mama were in need of was some morning brunch! Brunching on the weekends is one of my favorite activities, so I was thrilled to head to Eques for brunch. If you live in the Seattle area and haven't tried Eques, you're missing out! They offer a brunch buffet, or you can order off their menu. My mom and I weren't super hungry (as it was pretty early, I had to head out a bit early to catch the tulip festival up north!) so we indulged in some golden waffles with strawberry rhubarb compote. Is anyone else thrilled it's rhubarb season?!
Eques will also be hosting a Mother's Day Brunch this coming Mother's Day Sunday, May 14th. Here are all the details in case you and mom are still in need of some brunching plans:
Eques at Hyatt Regency Bellevue is celebrating mom the best way they know how – with a fabulous brunch buffet! Serving up classic brunch favorites like eggs benedict, a variety of fresh and local fruits, meats and cheeses and a classic Waldorf salad, Eques is also adding a unique variety of offerings. With selections like chukar cherry chip pancakes, serrano & lime scallop ceviche, herb spring peas with crispy prosciutto and a variety of decadent desserts including mini almond Frangipane & Nutella tarts, mom's taste buds are sure to leave happy. Make it a day all about mom and hit some of the shops in the Bellevue Collection as a post-brunch treat.
Price: $55 for adults, $27.50 for kids ages 5-12
Time: 9:30 a.m.-2:30 p.m.
Reservations: To make reservations, please call (425) 698-4100.

So what did my mom have to say about the whole experience? She said the "escape allowed her to wake up renewed and refreshed from a busy work week!" She especially loved savoring the sweet treats left for us, and settling in for an old-fashioned mom and daughter movie night. (She likened it to our days of binge watching Gilmore Girls. #throwback) Overall, we had an amazing time at the Hyatt Regency in Bellevue and we can't wait to treat ourselves to another staycation!
How are you celebrating Mom this Mother's Day? Have you ever treated yourself and your mom to a little staycation? I'd love to hear all about it in the comments!