Disclosure: Thanks so much to Universal Pictures Home Entertainment for sponsoring this post! All opinions are my own!
Calling all Pitches! The Bellas are back for one last call in Pitch Perfect 3. And it's time to celebrate because Pitch Perfect 3 is now available on Blu-ray. Own it with all new musical performances, a gag reel, and extended scenes never seen in theaters!
To celebrate the occasion the best way I know how, I had to invite a few friends over to snack, lots of laughs, and to enjoy each other's company! After all, isn't it more fun to share great movies, good food, and fun drinks with friends? I think so!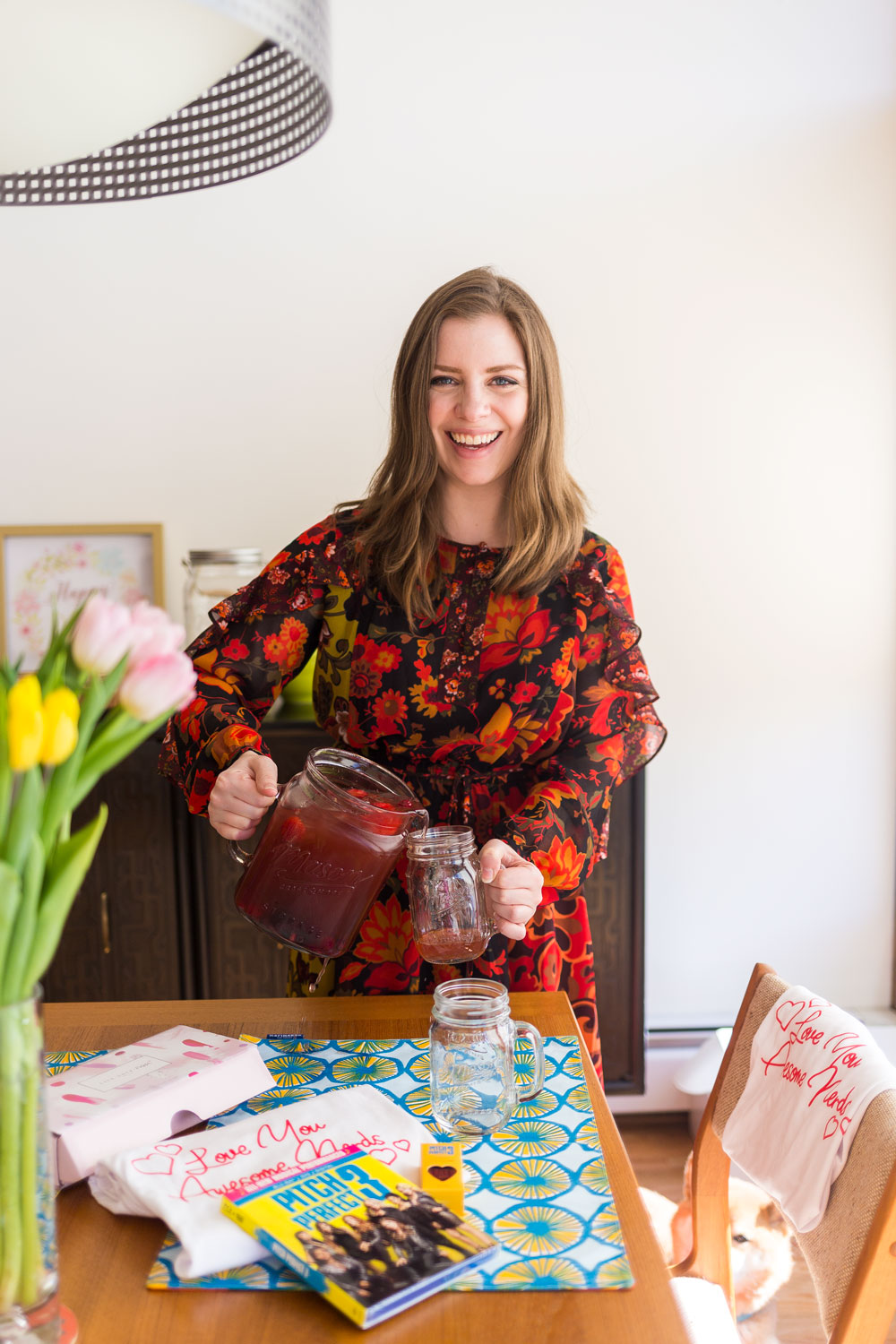 If you're ready to host a movie night with your best gal pals and are in need of some inspiration, read on! This is a party you can host no matter how much time you have or your entertaining skill level.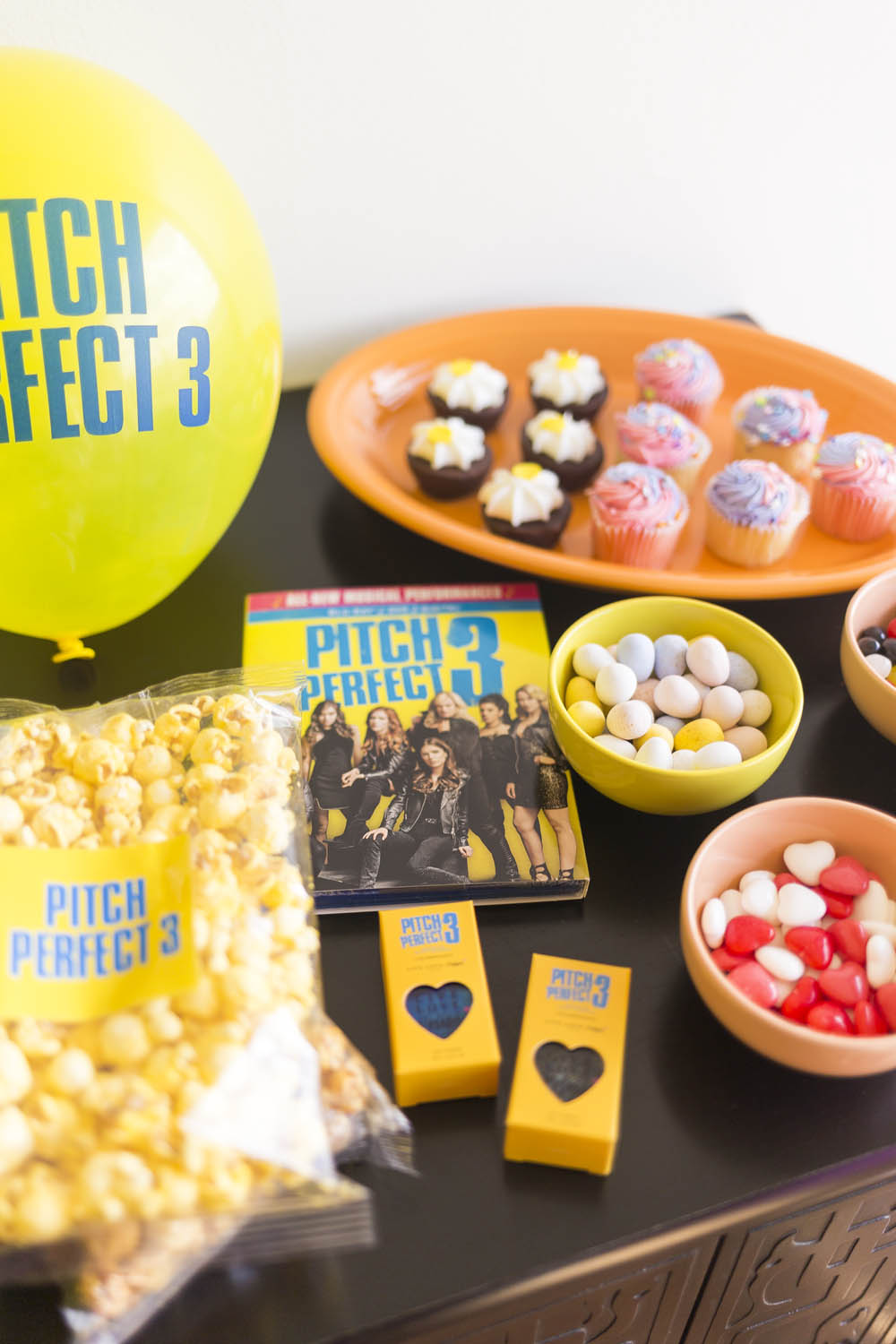 Grab your awesome nerds
Of course, the first step in hosting any party is to gather your friends and plan a date! Fortunately, my friends and I already had plans to get together, and they were game to come to a Pitch Perfect Party, so it didn't take too much coordination. But, if you're like my extended group of friends and me, then coordinating schedules can be rough. Honestly, the best thing to do in my experience is to start a Facebook Chat, propose a date, and cross your fingers that everyone can make it work!
And, hey, why not this weekend? With the Pitch Perfect 3 Blu-ray freshly released, it's the perfect time for a get-together!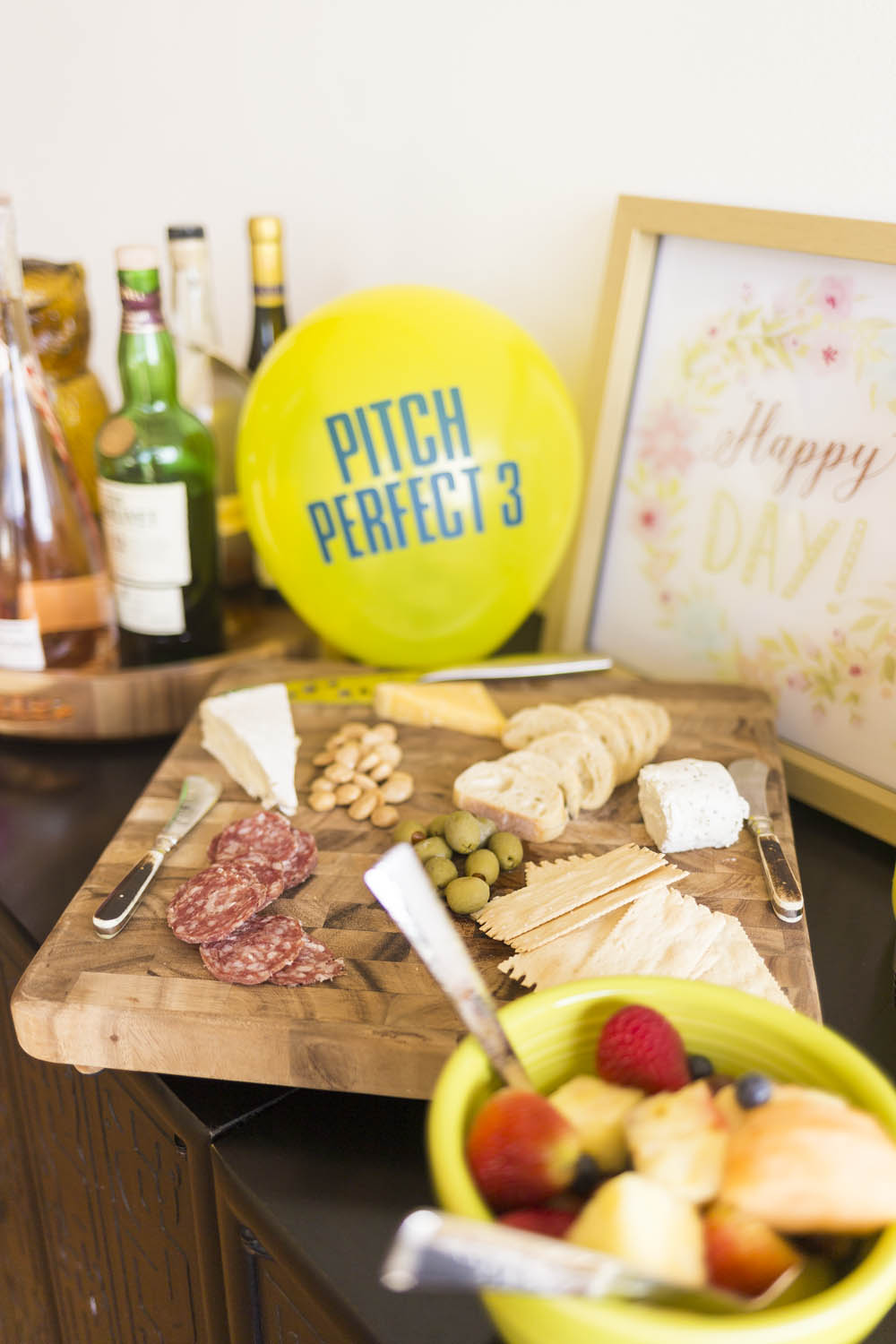 Gather the goods
And by goods, I mean food, of course! No party is any fun without some yummy snacks and treats! I wanted to be sure my guests had lots to choose from, no matter what they were craving.
We had a late afternoon/early evening party, so I wasn't sure how hungry everyone would be. For that reason, I opted for finger foods and small bites, with plenty to spare in the fridge in case anyone got a second wind!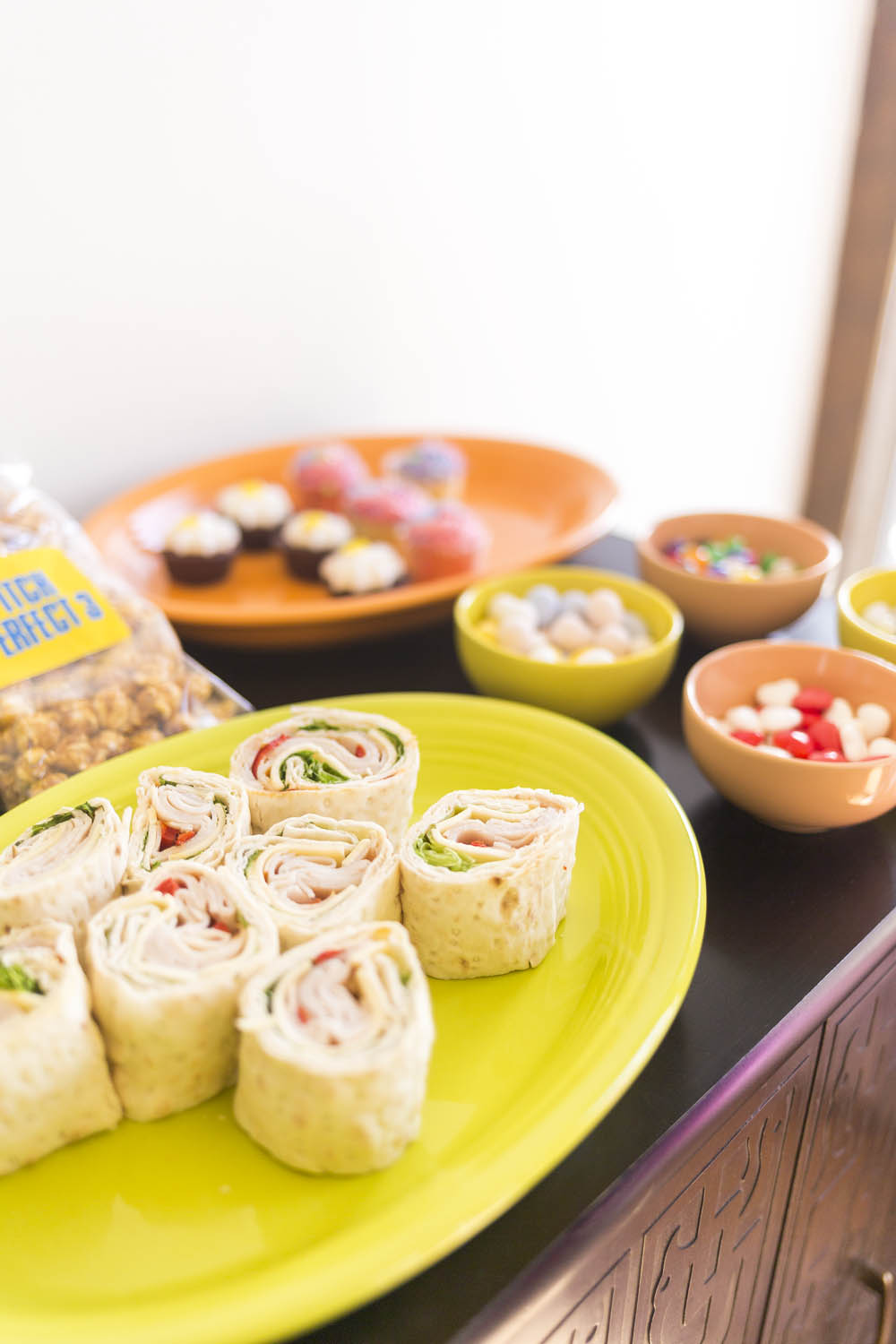 The menu consisted of:
– a cheese plate with accouterments like olives, Marcona almonds, baguette, and crackers
– turkey and cheese pinwheel wraps
– a popcorn bar, with butter and caramel popcorn, and candy to mix in like mini chocolate eggs, jelly beans, malt balls, and more
– sweet treats, like brownie bites and unicorn cupcakes
No time to cook? No problem! I popped into my favorite grocery store to make sure we had plenty to snack on. From there, I just assembled the cheese plate, then plated the rest of the goodies for quick serving. Don't let a lack of time or cooking skills hold you back!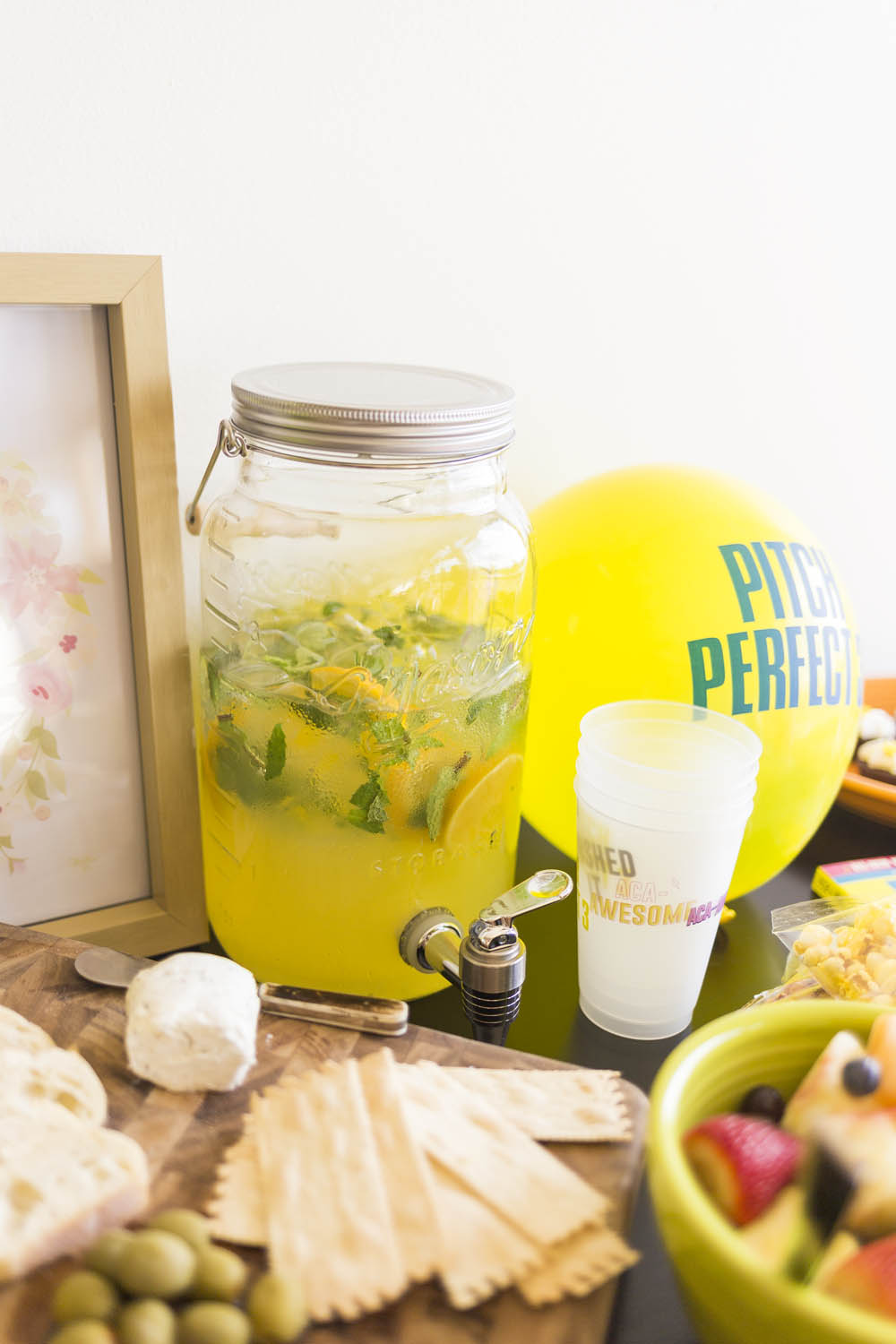 Pop open a bottle of bubbly
Sparkling water, that is! For the first beverage, I created a mocktail I've called the Bella Mint Fizz. It's the perfect refreshing palette cleanser to enjoy with a variety of savory and sweet treats and will keep your guests hydrated on a warm spring day. See below for the complete recipe!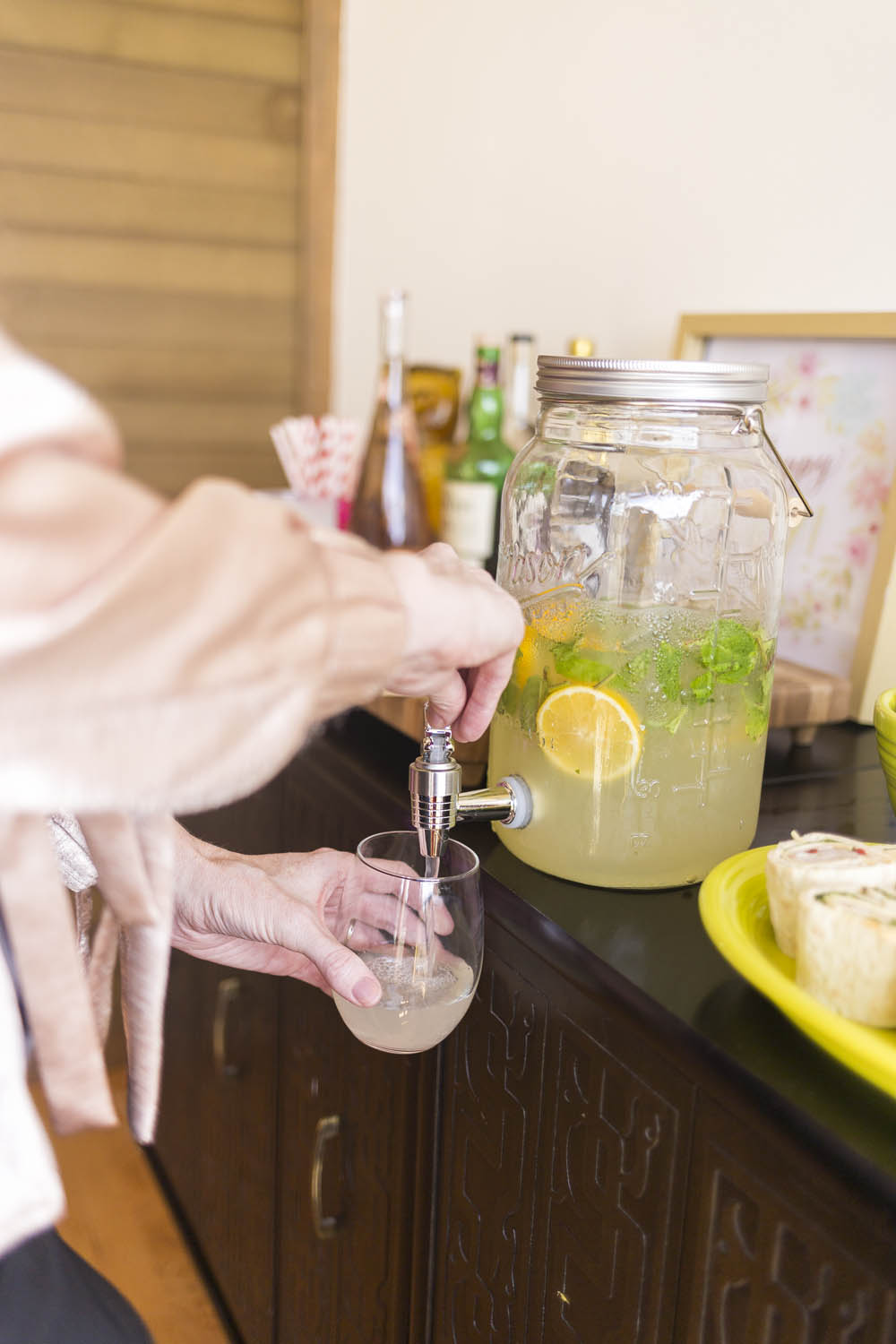 Bella Mint Fizz
– 20 oz sparkling water
– 20 oz Italian Lemon Soda, or lemonade
– 2 Meyer Lemons
– A handful of fresh mint
– Ice Cubes
In drink dispenser or pitcher, pour in all of the lemon soda or lemonade, and about 3/4 of the sparkling water to taste. Wash lemons, then slice one and place into the dispenser. Juice the second into the beverage. Finish by chopping the fresh mint and filling the remaining pitcher or container with ice cubes. Then, stir and enjoy!
If cocktails are more of your thing, then keep scrolling because I made one of those too!

Turn on Pitch Perfect 3
It wouldn't be a Pitch Perfect 3 party without the movie! And good news, because Pitch Perfect 3 is now out on Blu-Ray. Find it at your favorite store, or order it online. The choice is yours, but be sure you grab a copy to share with your aca-awesome besties! The movie, as usual with the Pitch Perfect series, is hilarious and celebrates our favorite girl squad.
This time around, the Bellas are out of college and in the real world where it takes more than a cappella to get by. After the highs of winning the World Championships, the Bellas find themselves split apart and discovering there aren't job prospects for making music with your mouth. But when they get the chance to reunite for an overseas USO tour, this group of awesome nerds will come together to make some music, and some questionable decisions, one last time!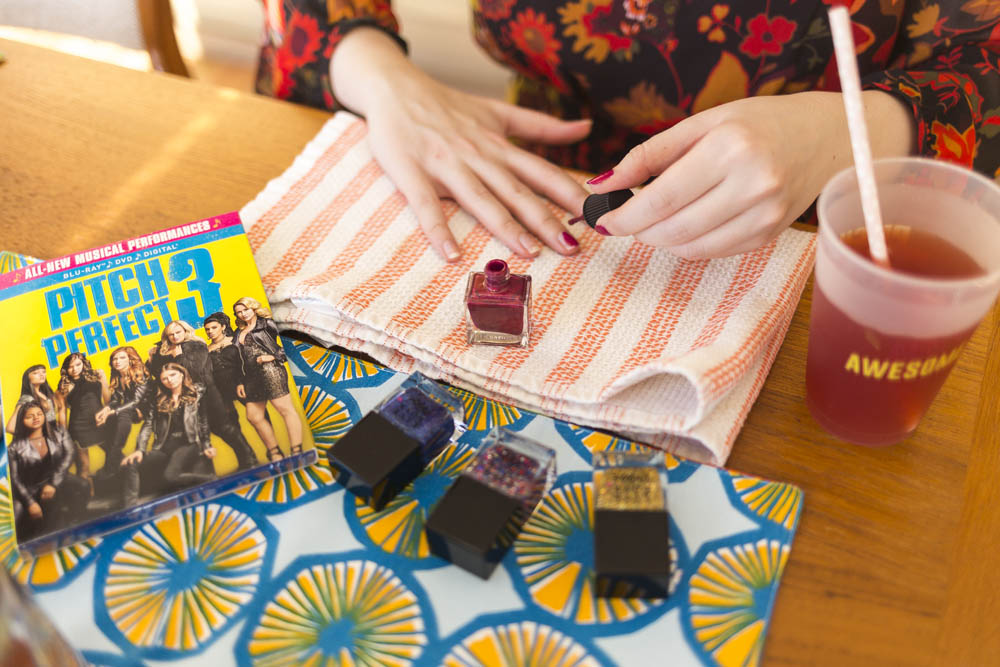 Treat your girls with a fresh mani
After we had some time to enjoy the movie, eat, and get hydrated, the girls and I divided up the Pitch Perfect 3 themed nail polishes from Live Love Polish. We loved all of the fun names, and the glitters and shimmers are perfect for spring! I couldn't help but paint my nails for the occasion with Awesome Nerds! I topped an accent nail with U-S-OMG too. I love the colors, and every time I look at my nails I remember how much fun we had and the laughs we shared!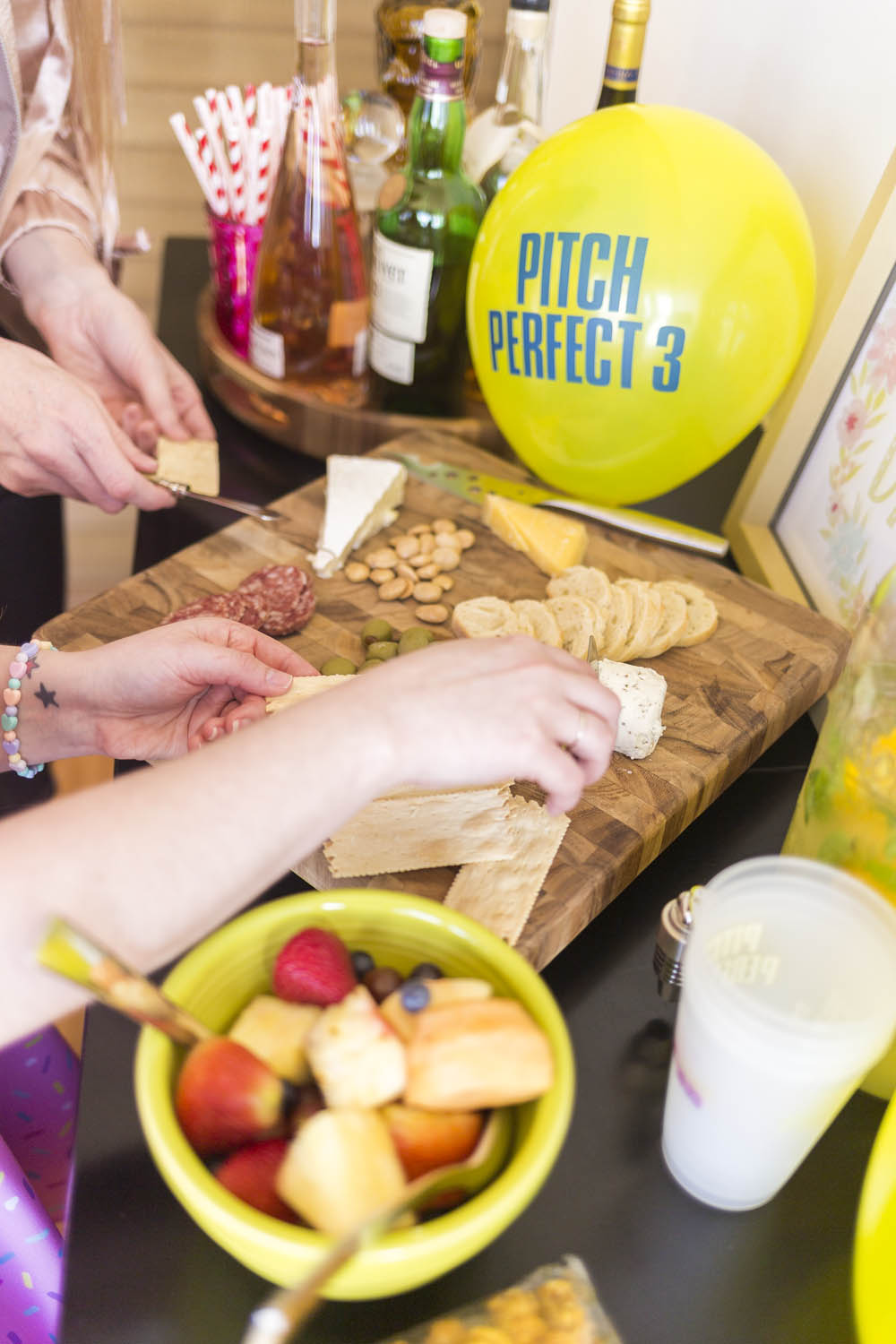 Enjoy some girl time
Speaking of laughs, is there anything better than catching up with your favorite "nerds" over good food and drinks? As I've gotten older, I've realized more and more how special friendships are. I always feel reinvigorated and re-energized after spending time with close friends.
And there's nothing better than enjoying each others company over a delicious, refreshing cocktail! My friends and I love wine, so I whipped up this simple Pitches Punch made with white wine, tea, and berries for a springtime treat!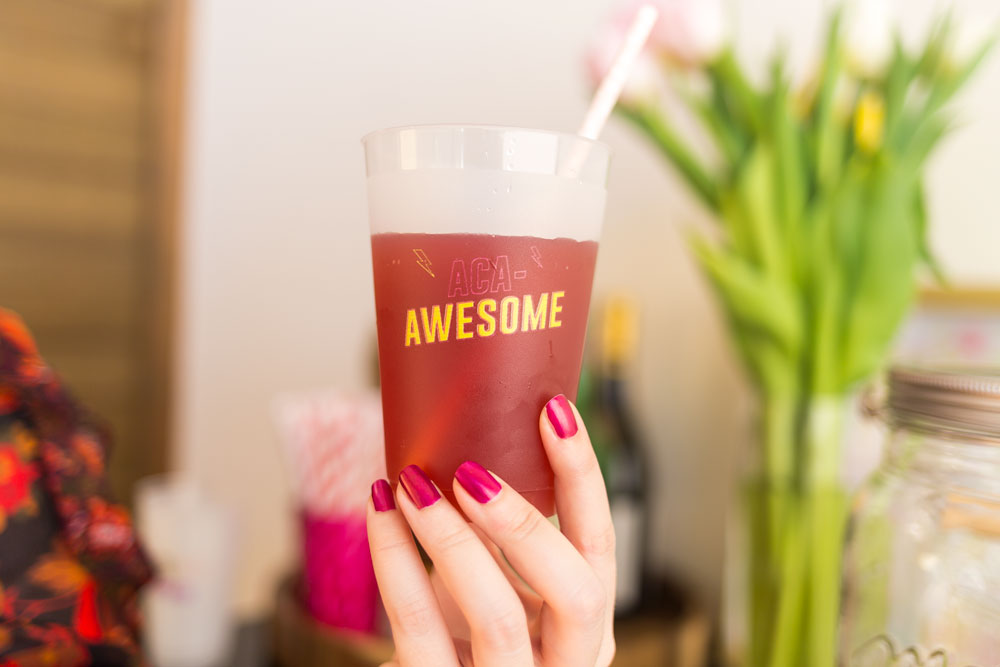 Pitches Punch
– 1 bottle of white wine, preferably something crisp and fruity
– 12 oz of iced tea
– A handful of fresh or frozen berries
– 1 Meyer lemon, washed and sliced
– Ice Cubes
In a pitcher, combine all ingredients. Mix, and if not serving immediately, chill in the refrigerator. This beverage is best icy cold!
It can be easy to get swept up into entertaining and snapping photos, so don't forget to sit down, relax, unwind, and enjoy the time with your close friends!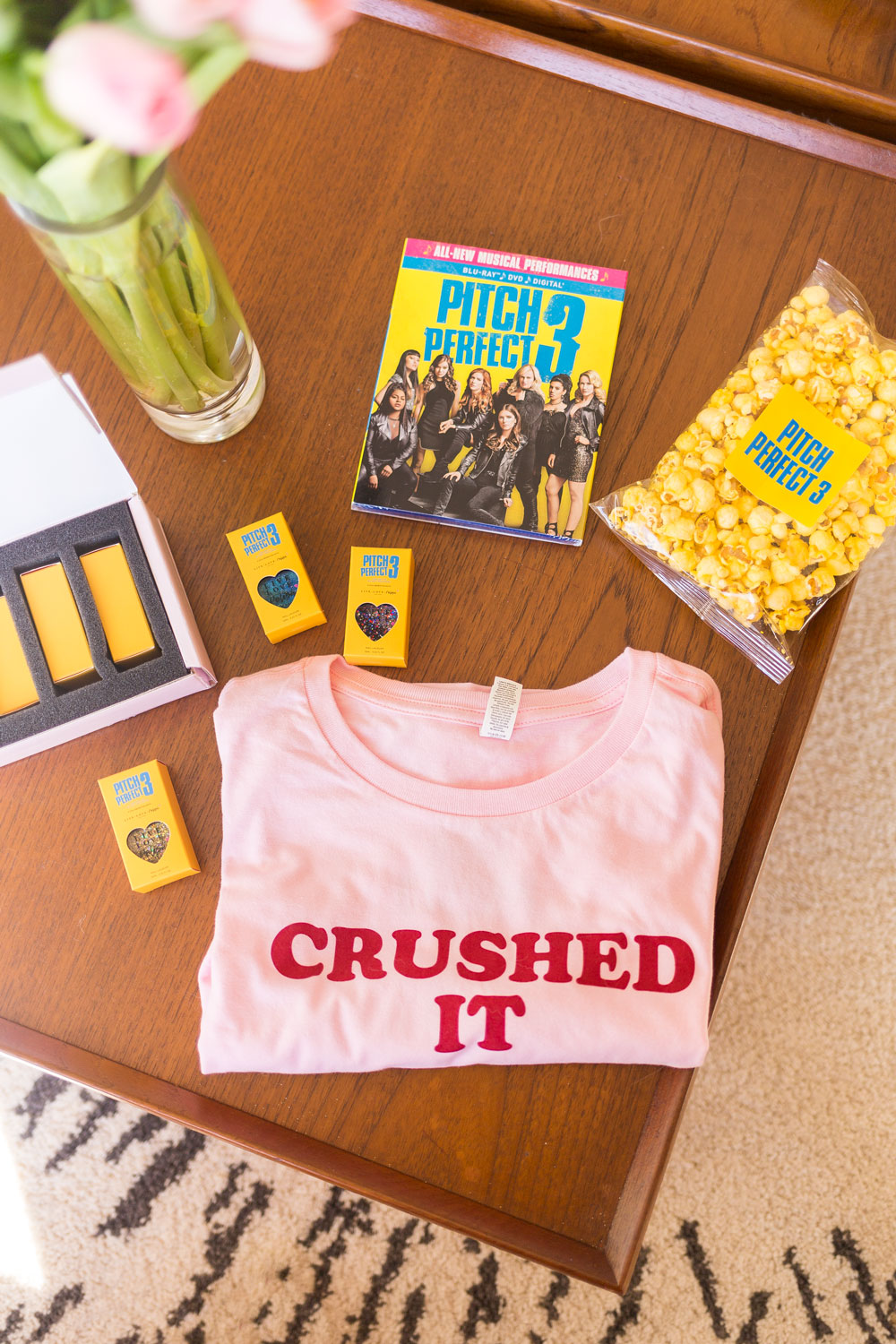 And with that, I hope you enjoy an aca-awesome party with your friends. Don't forget to grab Pitch Perfect 3 on Blu-ray for the occasion, indulge in some sweet treats, crack open a bottle of sparkling something (water or wine, your choice!) and most of all, enjoy yourself!
Have you seen Pitch Perfect 3 yet? Do you have any tips and tricks for hosting a movie night? I'd love to hear about it in the comments below!