And just like that, spring is here! It seems like just yesterday Seattle was experiencing snow flurries. There's nothing to mark the start of spring quite like Easter weekend. Whether you celebrate or not, I can't help but love the cheery Easter Bunny, watching children collect Easter Eggs, and of course, adding a new dress to my closet for the spring occasion!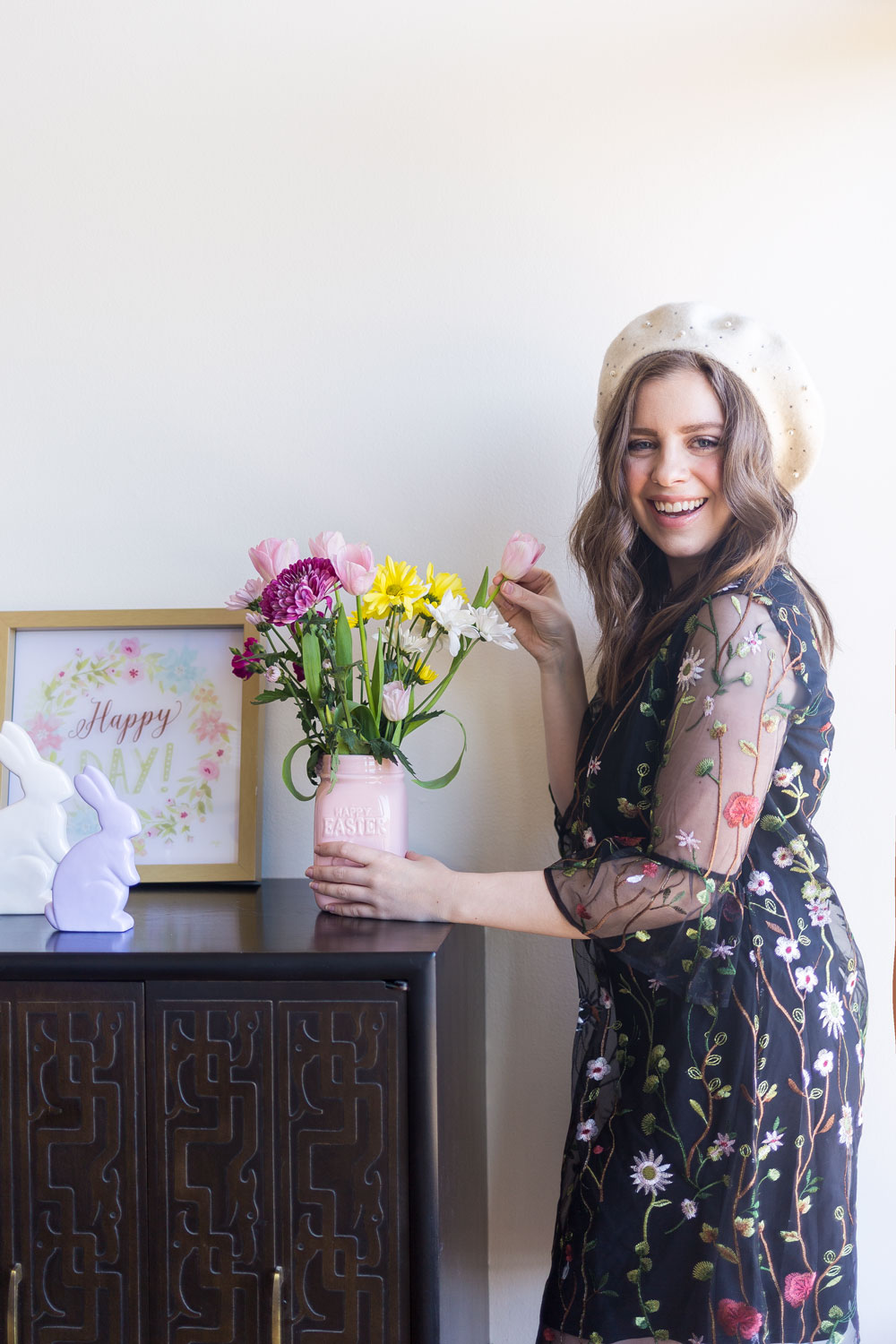 I'm thrilled today to partner with my friends at Fred Meyer on this sponsored post to share your one stop shop for all things Easter. Even better, their Easter Event is on now! Save on everything you need, whether you're serving Easter Brunch, planning an elegant Easter Dinner, are looking to do something new this year, or anything in between.
If you're in need of some holiday inspiration, you're in the right place! I have a few fun ideas for your Easter celebration, from Easter basket making to brunching and shopping for the perfect outfit.
Bond over Easter Fashion
One of my favorite things to do with the women in my family is going shopping for an occasion! Why not use Easter as an excuse to bond with your favorite people? I had a great time styling a few looks from Fred Meyer's spring collection that I think you'll love!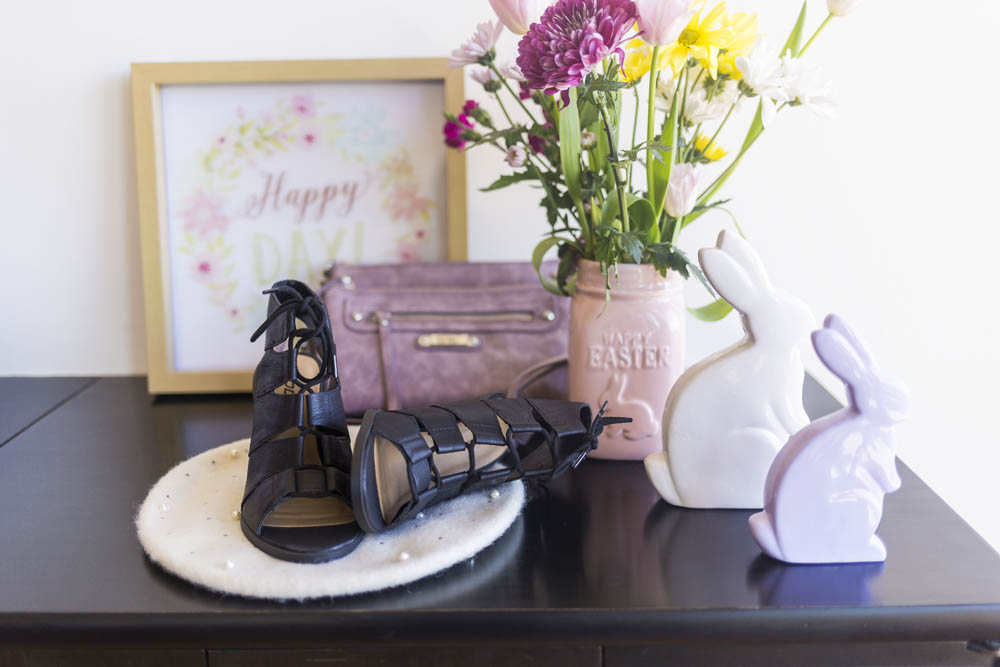 The first outfit features the beautiful black dress above, complete with on-trend floral embroidery, mesh sleeves, and a shift shape that flatters most body types. I've paired the look with a white pearl beret from David and Young and a Nicole Miller NYC lavender crossbody bag (both found in the accessories department!). To complete the look, a pair of black block heel sandals from SODA will have you looking chic and ready for spring!
I've also highlighted a few other great looks in this post. Yes, everything I'm wearing in this post came from Fred Meyer!
Decorate the House
Am I the only one who loves to decorate for the holidays? There's something so fun about adding a few new items to your home to dress it up for the season! Whether you're going for a general spring look or Easter-specific, I found some fantastic decorations for our dining room and credenza from the Holiday Home line at Fred Meyer.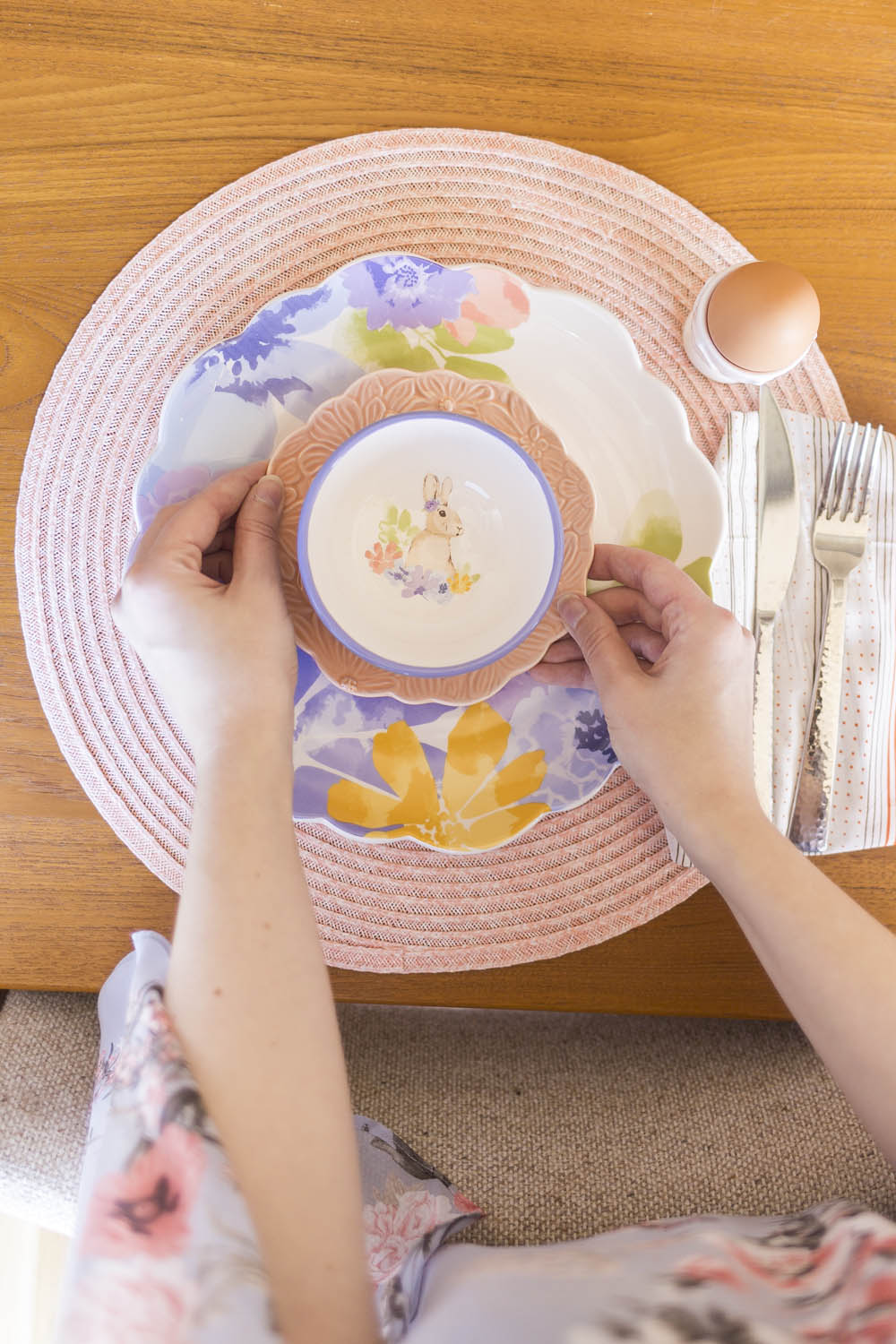 Holiday Home offers premium decorations at a price you really can't go wrong with. My favorite pieces from the collection are the pastel ceramics and the fun jumbo eggs. I picked up a white and lavender bunny, a coordinating "Happy Easter" vase for some pretty blooms, and a purple chevron jumbo egg to go on my bar tray! I also can't get enough of the tableware. The floral ceramic plates and egg cups are probably my favorite! Pro tip: Don't forget to check the standard home decor department for seasonal finds too! I found the "Happy Day!" sign there and think it's the perfect touch of spring for my wall decor.
While you're shopping for food at Fred Meyer this week, don't forget to download this special coupon offer! When you spend $20 or more on food, you'll save an EXTRA 50% off all Easter candy and Easter Seasonal Home Merchandise! This offer is valid for a limited time from 3/23-3/25.
Make Easter Baskets
Spread the spring cheer with Easter basket making! I don't think there's anything quite like bringing a smile to a child's face. And if you don't have children of your own like me, consider making them for kids in need. We try to find ways to give back on every holiday, and this year Easter won't be any different!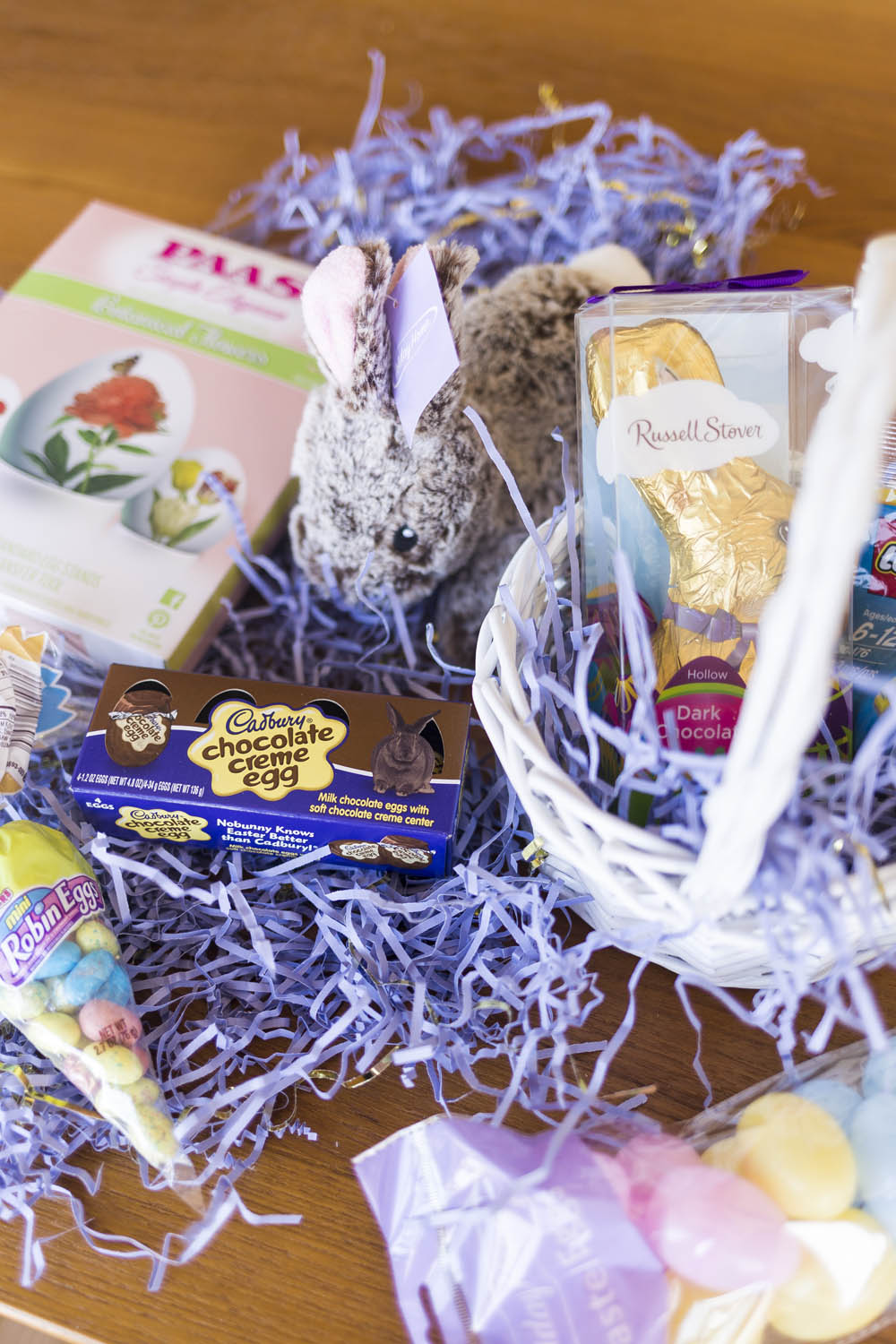 I filled my white Easter basket from Fred Meyer's Holiday Home line with a plush bunny, Lego Creator toy, and plenty of sweet treats. I couldn't help but grab some of my childhood (and adult) favorites like Cadbury Creme and Mini Eggs, Whoppers Mini Robin Eggs, and of course, I had to include a big chocolate bunny from Russell Stover! Fred Meyer is also the perfect place to pick up the Easter essentials too. I couldn't forget an Easter Egg Dye Kit (this one also comes with botanical stickers!), pastel Easter eggs to fill with treats, and some pretty faux Easter grass! All of these are conveniently located in the seasonal department of Fred Meyer for quick and easy shopping.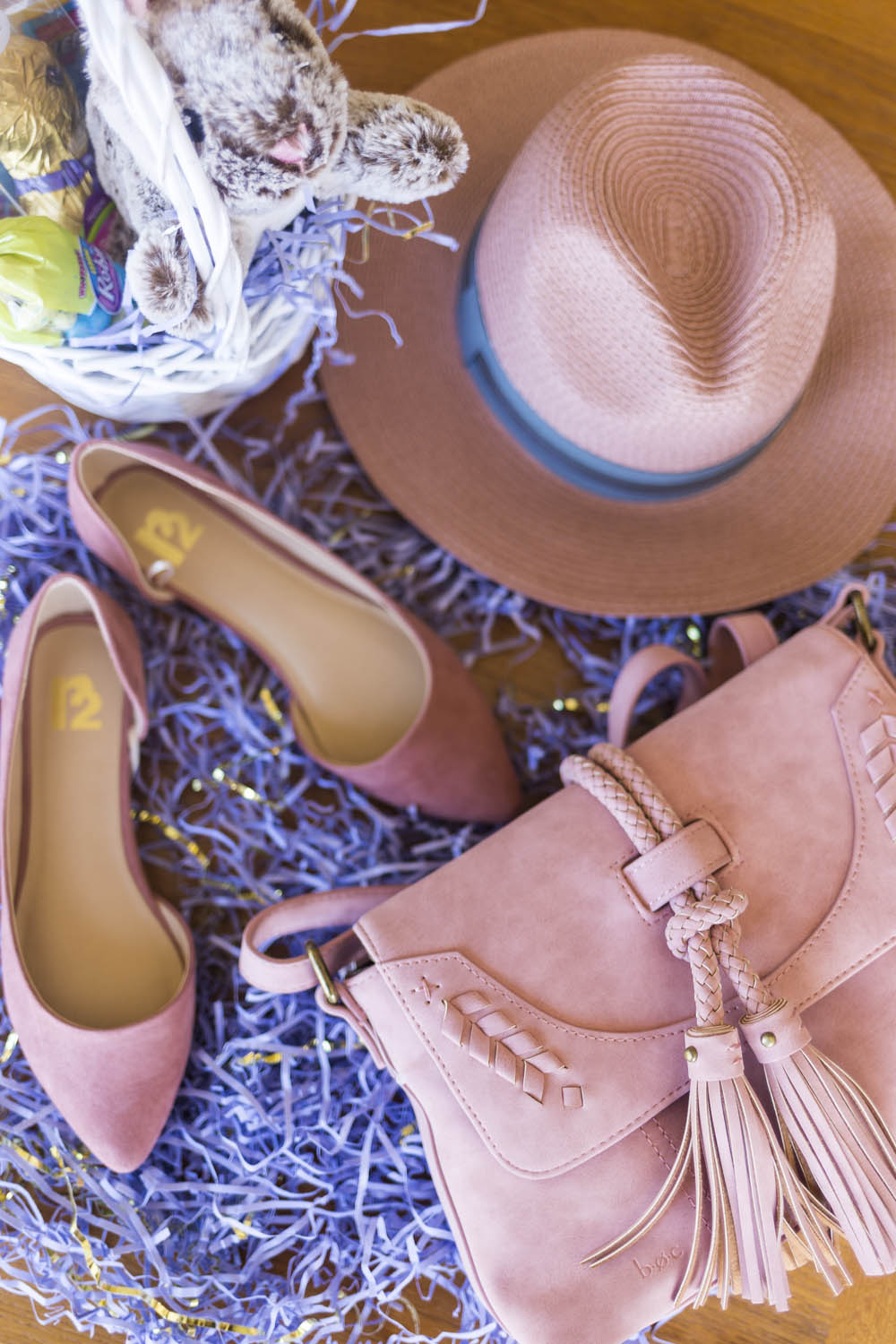 For filling Easter baskets, I opted for a casual outfit. This one features one of my favorite trends of the season: blush pink! The millennial pink tones are sticking around this spring, and that's reflected in this gorgeous lace shift dress from Fred Meyer's Juniors department. That's also where I found this cute little velvet kimono to wear on top. Finally, I completed the look with a pair of R2 almond toe flats, which you'll find on a round rack in the shoe department or on the wall as you enter the shoe department. (They also have cute sandals and sneakers here, too!) I also added a BOC shoulder bag and David and Young hat, also in blush tones, from the accessories department.
Host Brunch, Complete with Easter Drinks
I don't think it's a big secret that my claim to fame is not recipes. Fortunately, I don't have to be an expert in the kitchen to host an amazing brunch! Whenever we entertain friends and family, I always head to Fred Meyer. It saves me time and money (like with ClickList, or try some of my other time-saving grocery store hacks here!) and I don't have to worry about hitting a million different stores to get what I need.
Not only do they save me time on shopping, but they also have a convenient recipe database. Finding a recipe can be a challenge, so I've selected a few that I think will be perfect for your Easter Brunch.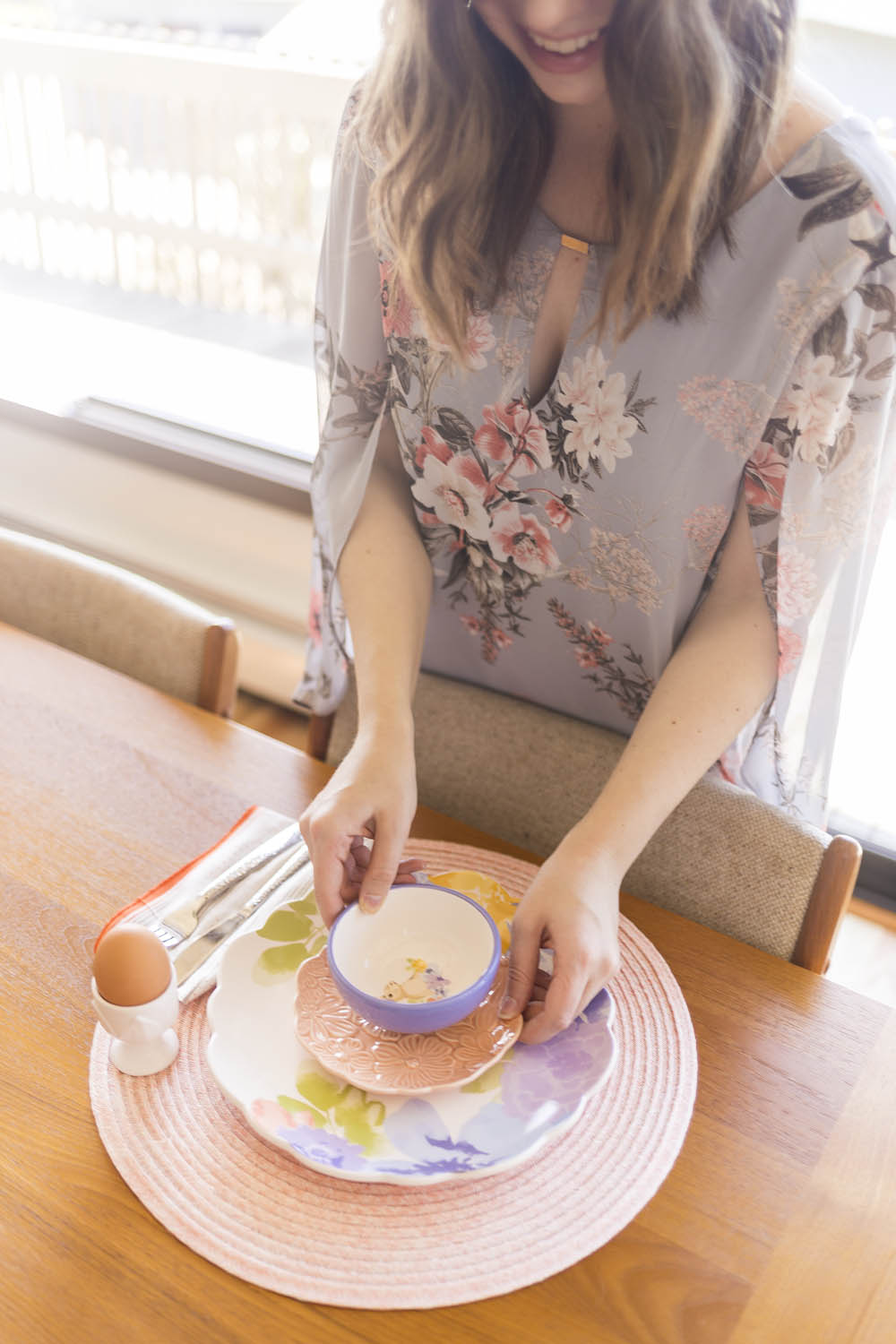 Recipe ideas:
– Glazed Baked Ham with Rosemary and Thyme
– Avocado Deviled Eggs
– Berry Lemonade Sparkling Sangria
– Easter Coconut Cake
– Lemon Mint Cooler
– Smoked Salmon and Cucumber Sandwiches
– Avocado Deviled Eggs
– Bunny Bark
…or pick a recipe here!
For cocktail hosting and brunching, a chic look is a must! I fell in love with this blue floral cape dress and blush pink topper from GNW. Both are from the Misses department and together create a spring look I just love! To complete the outfit, I would pair this dress and topper with the same bag from BOC and R2 flats from the last look. The only thing better than finding the perfect outfit is coordinating it with shoes and accessories you already own!
And with that, I hope these tips and tricks will have you shopping Fred Meyer and ready for Easter in no time. For 3 days, 3/23-3/25, you can SAVE an EXTRA 50% off on all Easter Candy and Easter Seasonal Home Merchandise when you purchase $20 worth of food in stores! You can download the coupon here and it is valid 3/23-3/25. Enjoy!
Do you have an Easter tradition with your family and friends? How do you celebrate? Let me know in the comments!