I'm not going to lie; I'm kind of a skeptic when it comes to hair tools that I've heard about from TV infomercials. I mean, remember that conditioner that apparently caused a lot of women to lose patches of hair? I never did hear the final outcome of that, but when it comes to things that might be too good to be true, it's best to proceed with caution.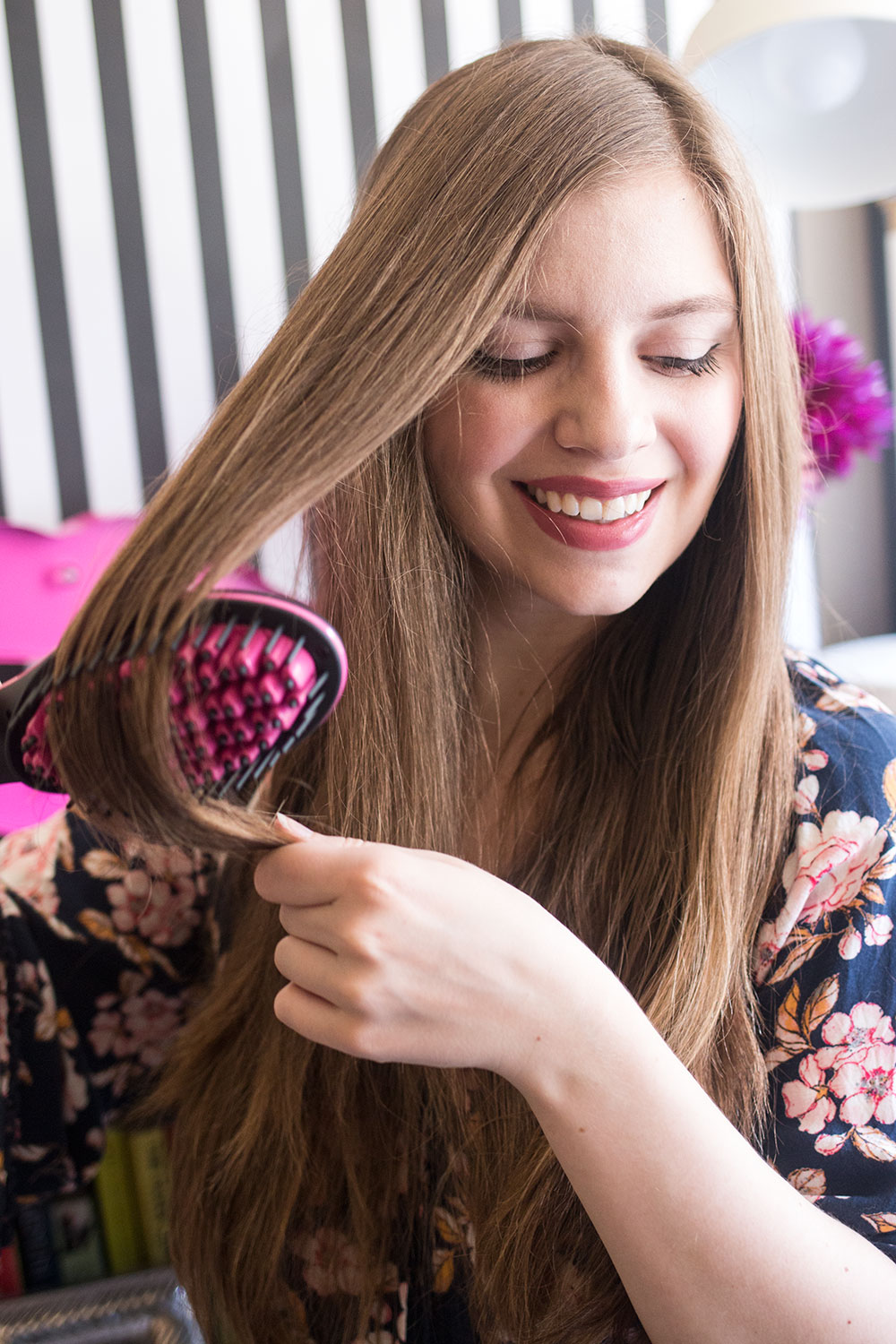 Disclosure: I received the Simply Straight™ Brush, gift, and product information in exchange for this review. All thoughts and opinions are my own! :)
With that said, I felt pretty safe about trying the Simply Straight™ Brush. I've seen some of my favorite YouTubers try it out, with mixed results as to be expected when it comes to hair products, but no one had a truly bad experience. With a lot of heat styling tools, you have to account for your hair texture and length. If you have extremely thick, curly hair, chances are something that promises to work for ALL types of hair may not truly work for everyone. After all, I was excited by the promise that the tool wouldn't flatten, fry, or damage my tresses.
So how did the straightening brush work out for me? Did it hold up to the claims or did it fall flat? (Pun totally intended.) Read on to find out!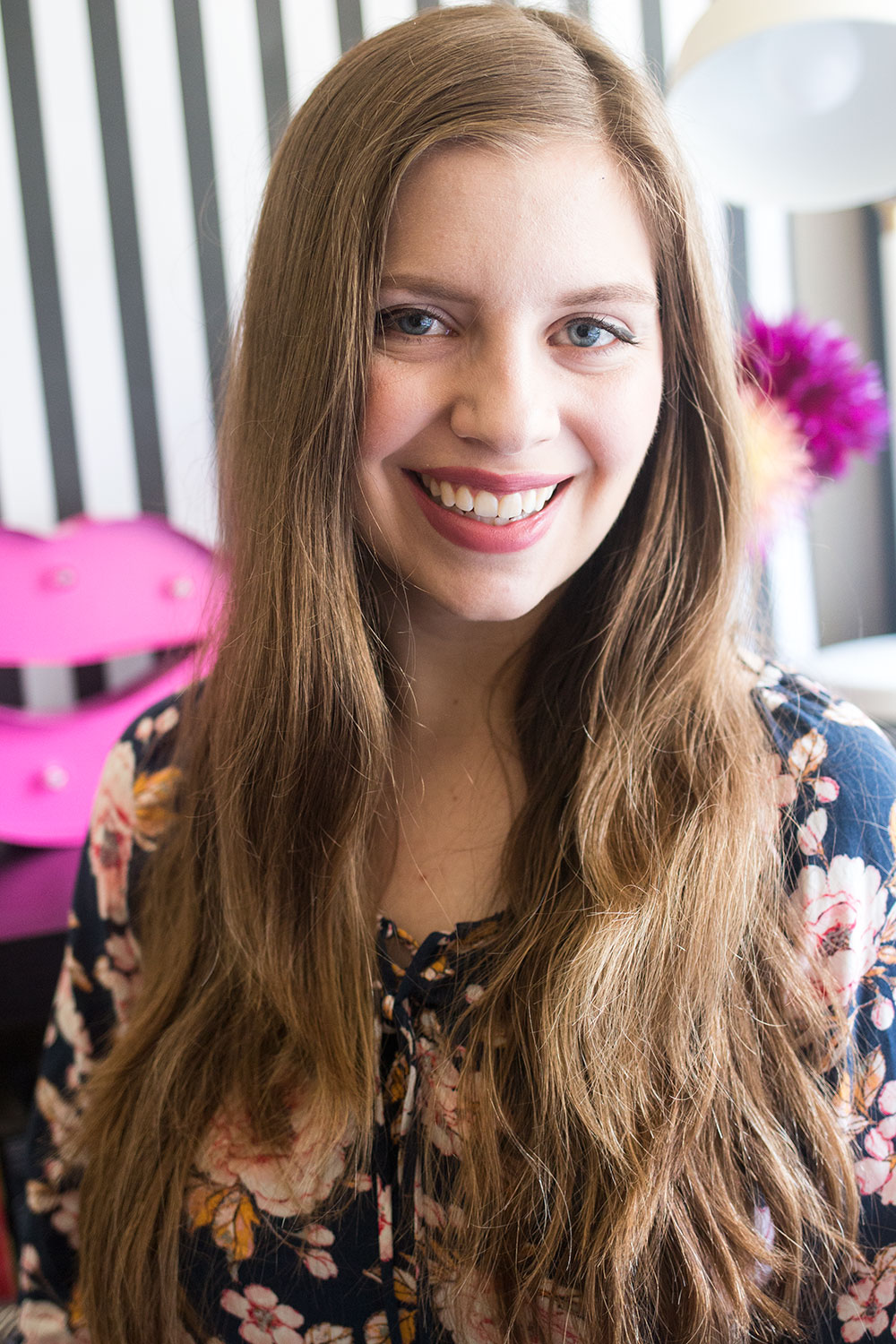 After turning on the Simply Straight™ to my desired temperature (normal hair; 410 degrees, however, the tool does go up to 450 degrees for even thicker hair types!), I sprayed my hair with thermal heat protectant spray. Reading the instructions, the Simply Straight says not to use any products on your hair (gels, creams, etc.) I prefer to not use heat tools without a barrier, and I did not see any ill effects from using the spray but proceed with caution as your mileage may vary.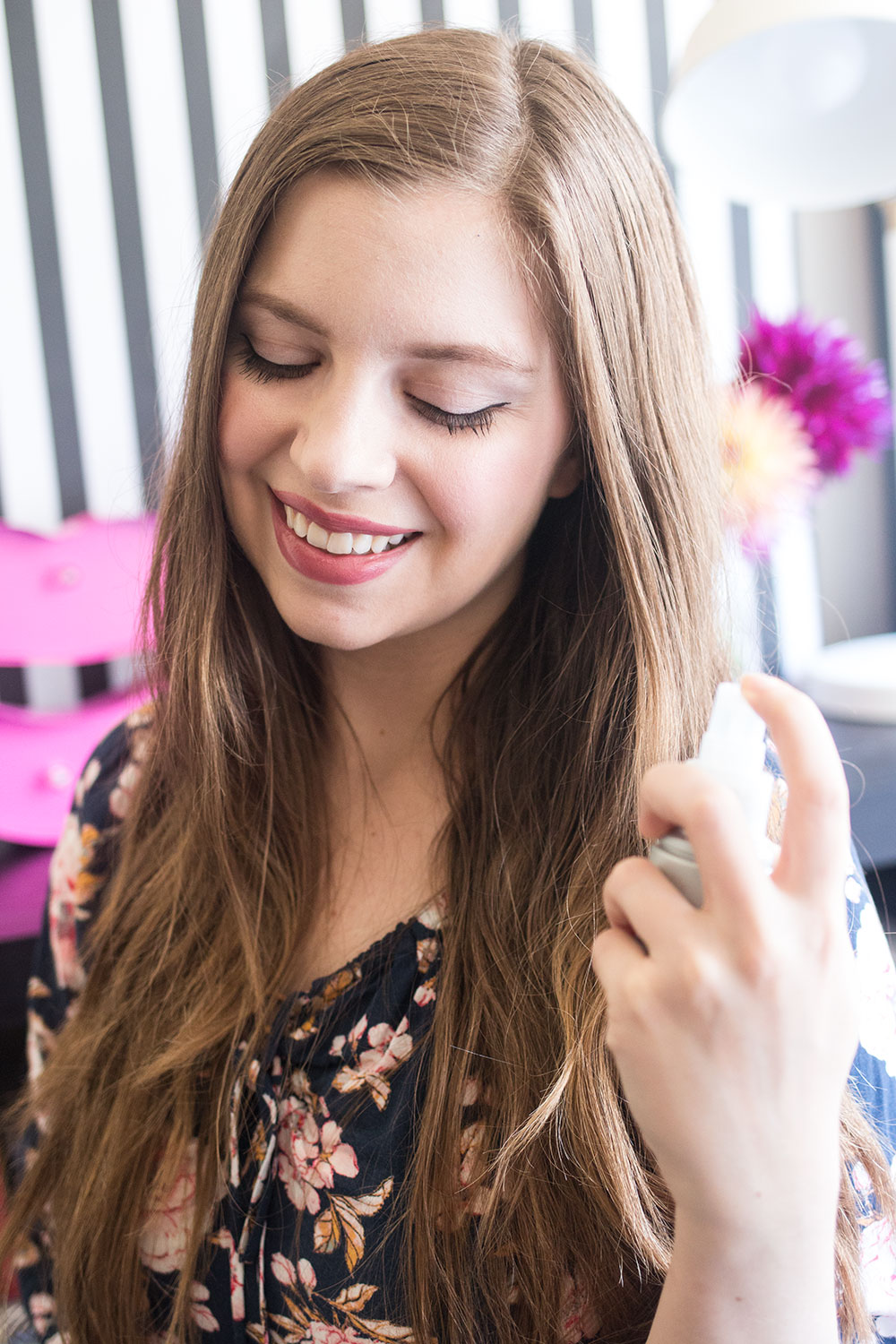 After spraying my hair with a heat protectant, I brushed out my hair thoroughly with a regular brush. The Simply Straight™ is not a traditional hair brush, even if it does look a bit like one. The teeth of the brush are very short and wide and do not go through tangles well at all, so you are going to want knot free hair to start with.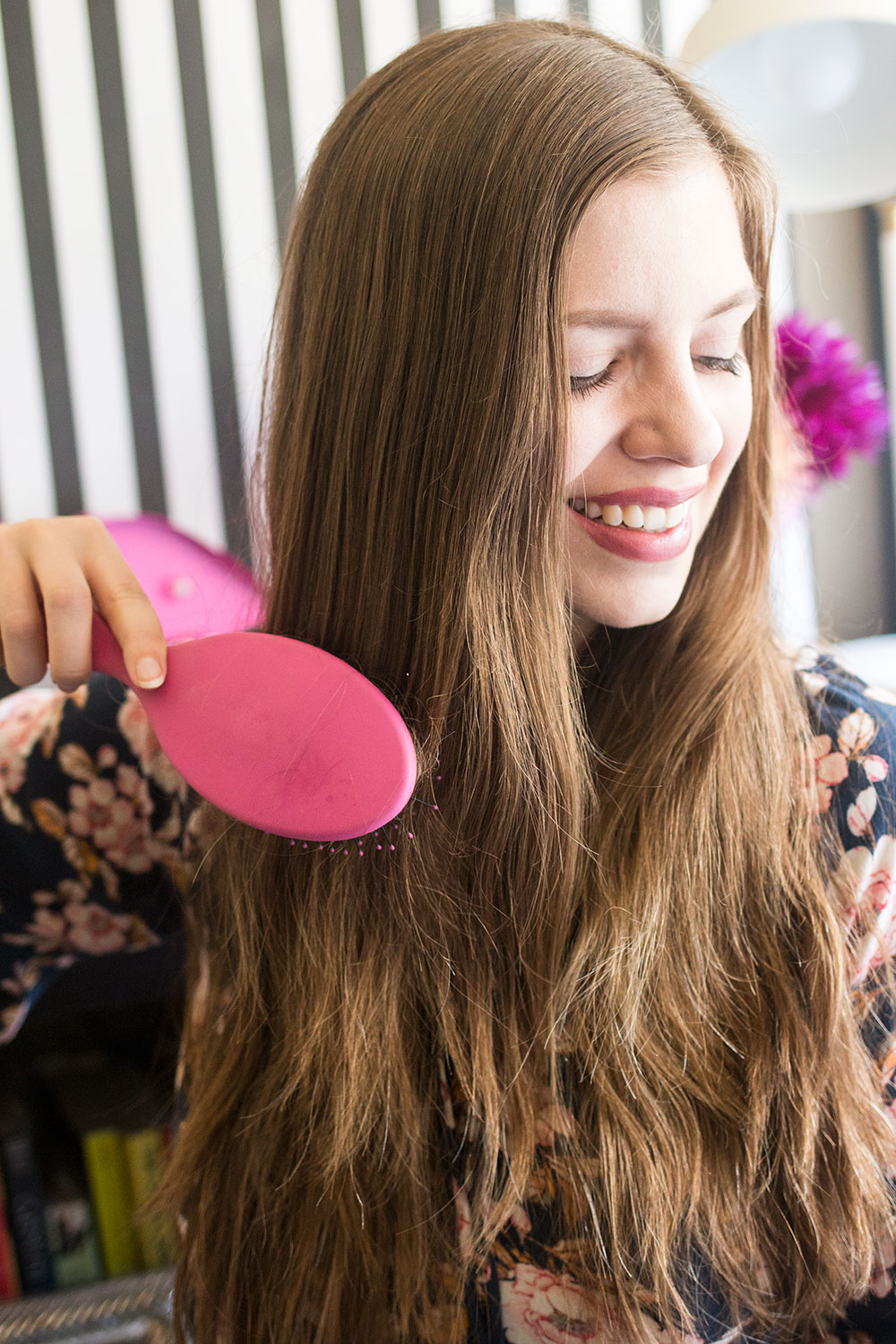 Next, I ran the Simply Straight™ through small sections of my hair. When I tried on sections larger than about 3″, I noticed that it took a few extra swipes. For best results, I'd recommend smaller sections of hair so that you don't have to keep the heat on the hair as long. Gently and slowly pull the Brush through your hair for best results.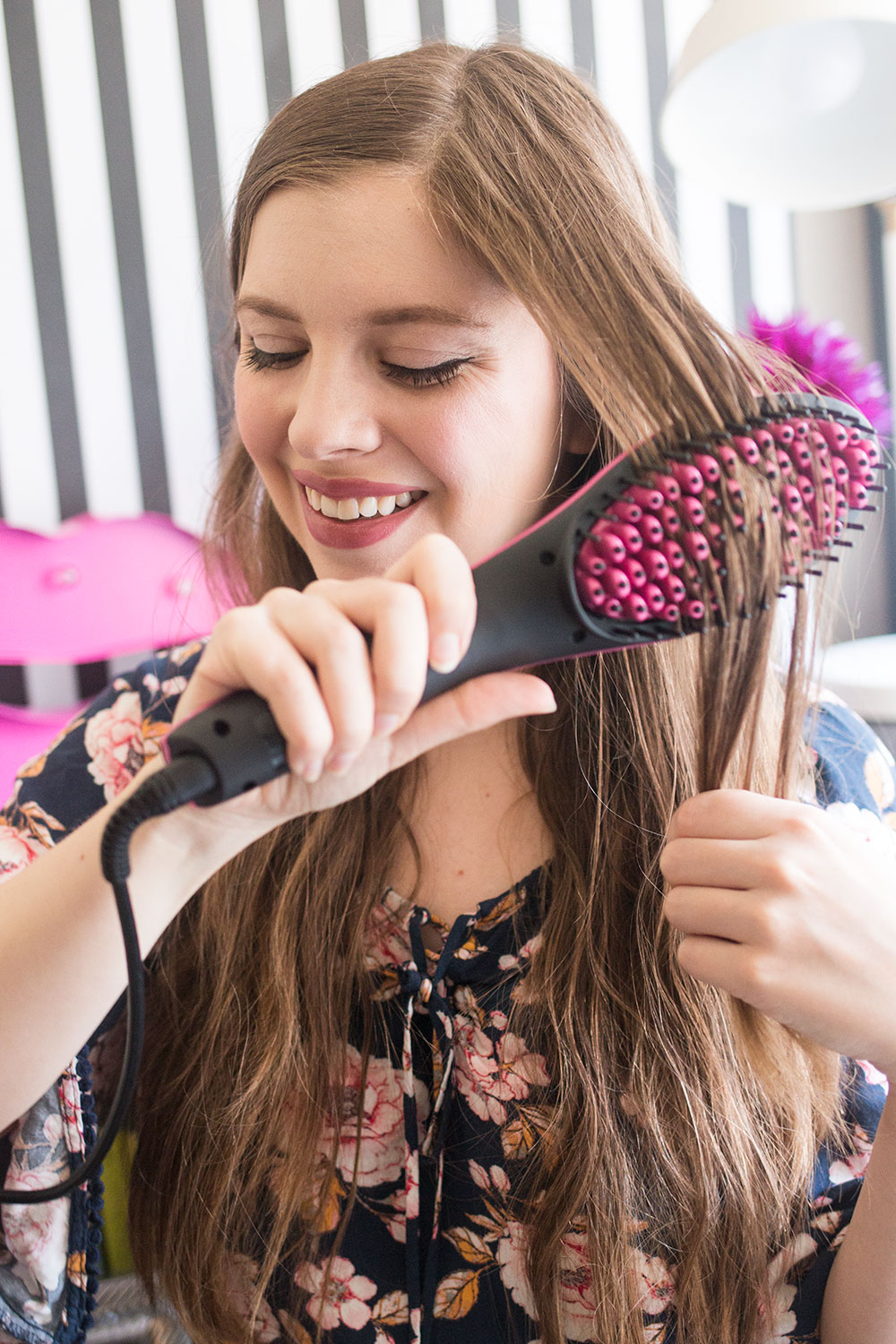 I repeated the last step around my head, and then finished off the front by running through the small sections that framed my face and finishing them by rolling the brush under so that the ends of my hair didn't flip outwards.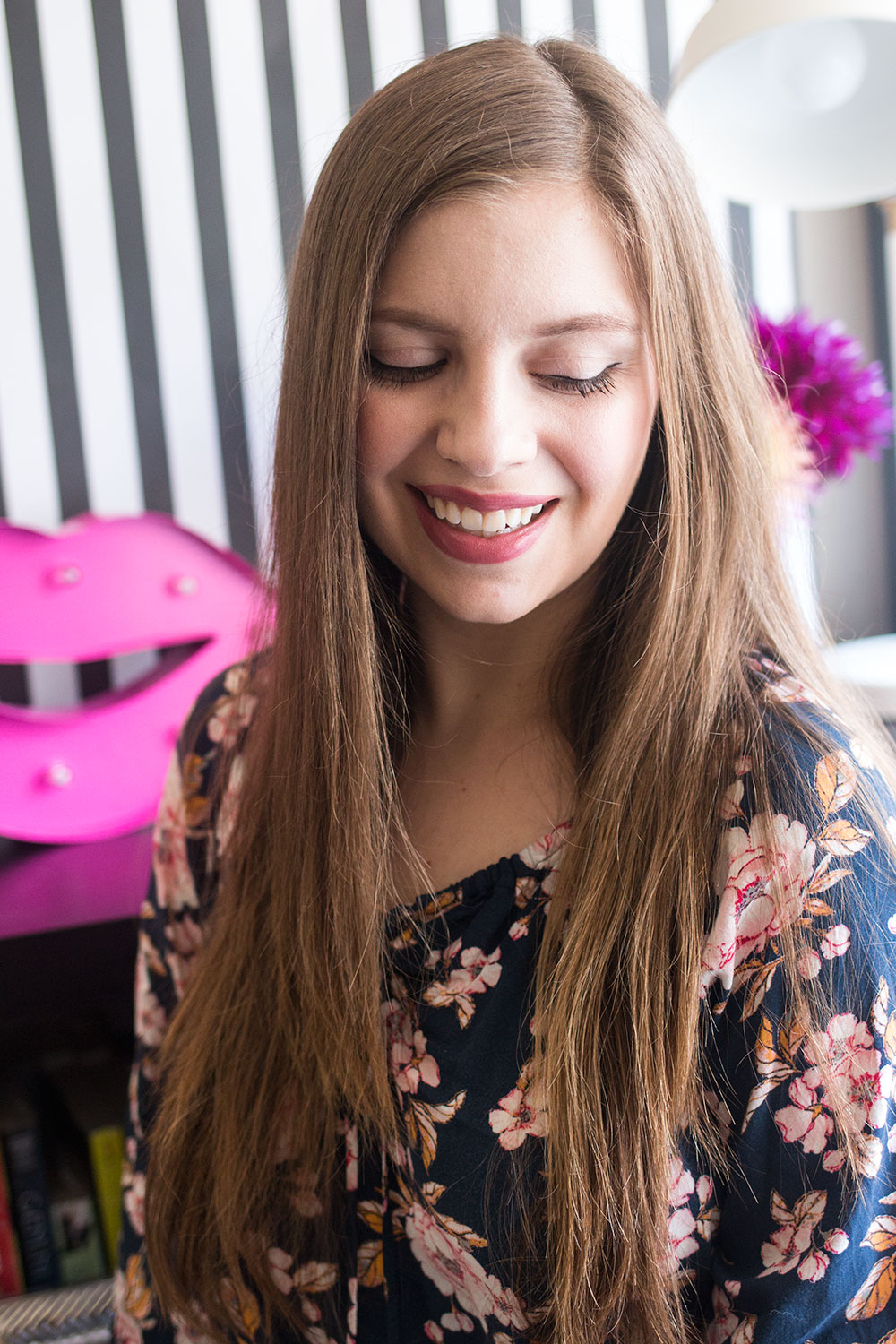 Overall, I found the Simply Straight™ to be effective at getting my hair nice and straight but not flat. What I dislike about many flat irons is that I totally lose volume and body, and my hair looks thin. With the Simply Straight, I found that it left my hair looking just as full, just without the funky kinks and waves that I had before. They say it is because of the unique ceramic-wrapped bristles that lift hair at the root to evenly deliver gentle heat around every strand. I also didn't notice that awful hair burning smell that usually comes with hot tools, and my hair didn't feel as hot to the touch either. Speaking of burning, Simply Straight™ also has a unique 60-minute auto shut off feature for everyone's safety.
When I finished using the Simply Straight™, I did not use a finishing spray or hairspray to hold the hair. Several hours later, I did notice that my hair was starting to "pop" back out into its natural state. I think the in the future, a light coat of hairspray and a final brush through of the product would prevent this.
Curious about the Simply Straight™? Lucky you! One winner will have the chance to try it for themselves. Just enter your details in the Rafflecopter widget below. Open to US only, ends 8/17 at 11:59 pm EST. Good luck!
Have you tried the Simply Straight™ Brush? Have you ever tried any other As Seen on TV products? I'd love to hear about your experiences, and let me know if there are any other products like this that you'd like to see me try out!