…Or I could title this seriously and call it "My Favorite Skin Care Products for Acne Prone Dry Skin." But that's less fun, so I'm leaving it.
And yeah, you read that right, this acne suffering chick has dry skin, not an oil slick. As my esthetician (the fancy name for Lexi, my girl at skoah where I get facials) tells me, its the dry skin that's at least partially responsible for my break outs and clogged pores. Awesome, right?
But in all seriousness, I thought it'd be fun to share my favorite skin care, because some of these items have saved my life (slight exaggeration) and made me much happier come that special time of the month.
Full disclosure, I did receive one of these items as a press sample, but I was not paid to write this post, just asked to review it. But because straight up product reviews are boring and I've had my daily skin care regimen in my drafts for awhile, I figured now was as good as time as any to share it. :)
A Few Products My Dry Acne Prone Skin Cannot Live Without
What I Put On My Eyes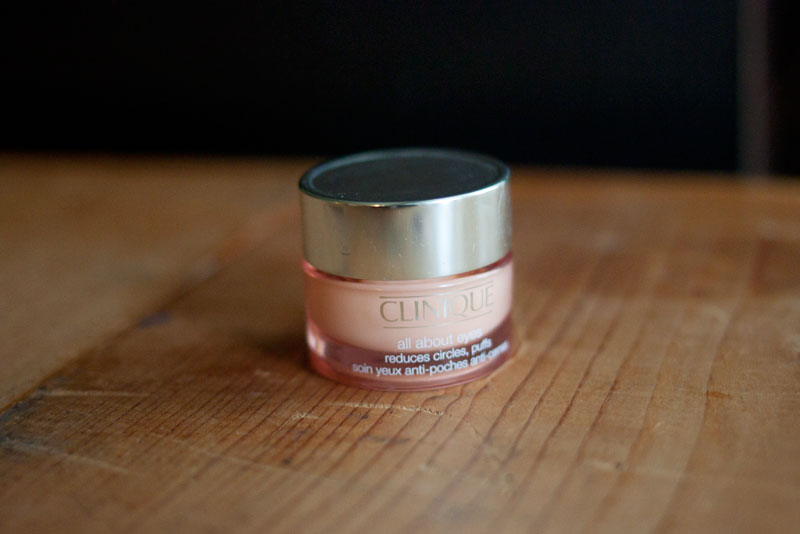 Clinique All About Eyes – Thanks to Liss for sending me this in my Pacific Northwest Box Swap because this stuff is great! It's super thick and helps plump up those slight fine lines beginning to appear around my eyes. At this point, it's more about prevention of eye wrinkles than anything else and keeping that area hydrated, which this product is perfect for. ($21, Sephora)
What I Put On My Lips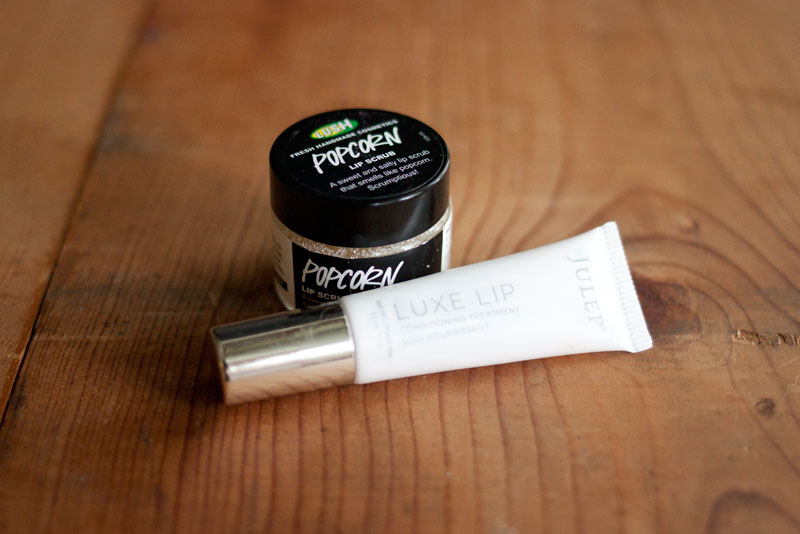 Lush Popcorn Lip Scrub – Kelly recommended this lip scrub from Lush a few months back, and of course I went and picked it up. I chose the popcorn flavor (salty and sweet, yum!) and its both edible AND works great to get those little dry flakes off of my lips. ($9.95, Lush)
Julep Luxe Lip Conditioning Treatment – Obsessed. I've written an entire post about Julep's Luxe Lip Treatment, and it's still my favorite thing to use on my lips. I apply it every night before bed and when I miss a night I definitely can tell. ($24, Julep)
What I Put On During the Day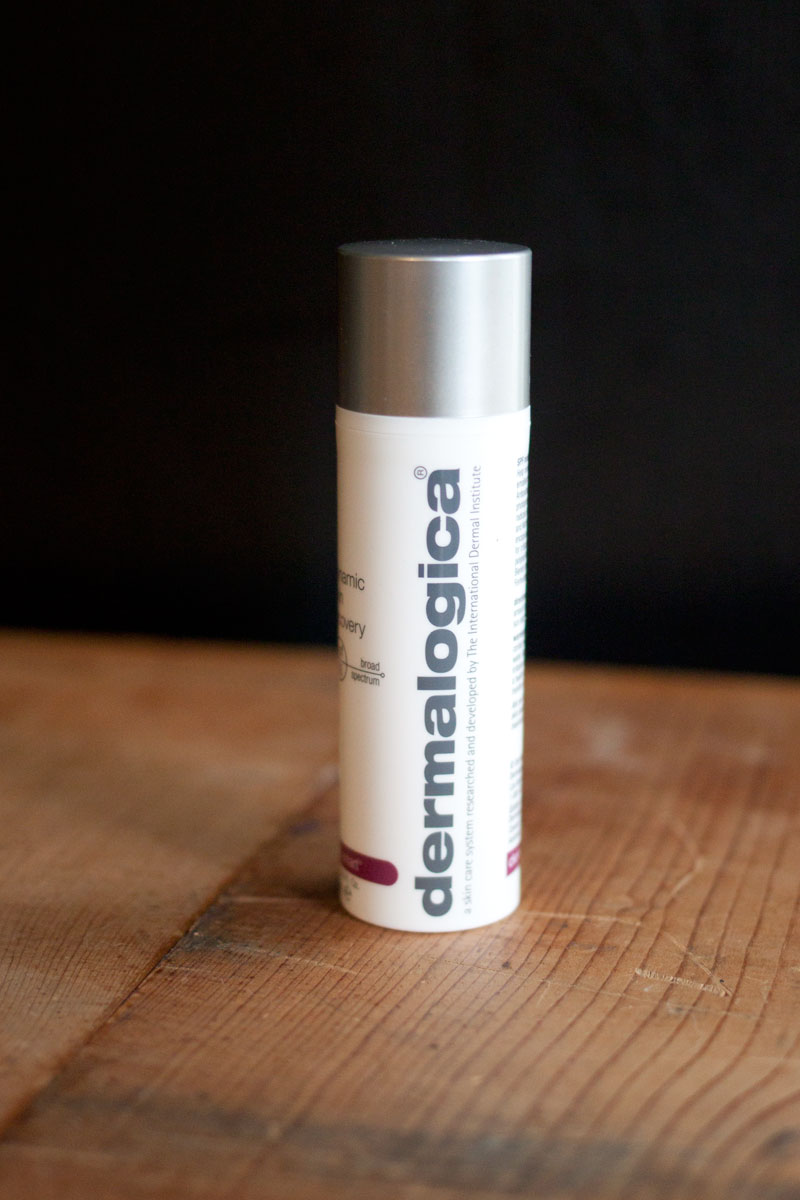 Dermologica Dynamic Skin Recovery SPF 50 Daily Moisturizer (press sample) – I've been using this under my makeup this past month and am loving it. I have a hard time with products with SPF in them, but this has yet to cause any new breakouts or skin irritation. (I sometimes will get contact dermatitis from sunscreens…the worst!) What I love about this is that you can slather it on and it will soak in and not peel off like I've experienced some SPF moisturizers. It also feels heavy enough to actually provide enough moisture, which is great for my dry skin. I will definitely purchase this one myself when I run out! ($65, Dermologica.com)
What I Put On To Take the Day Off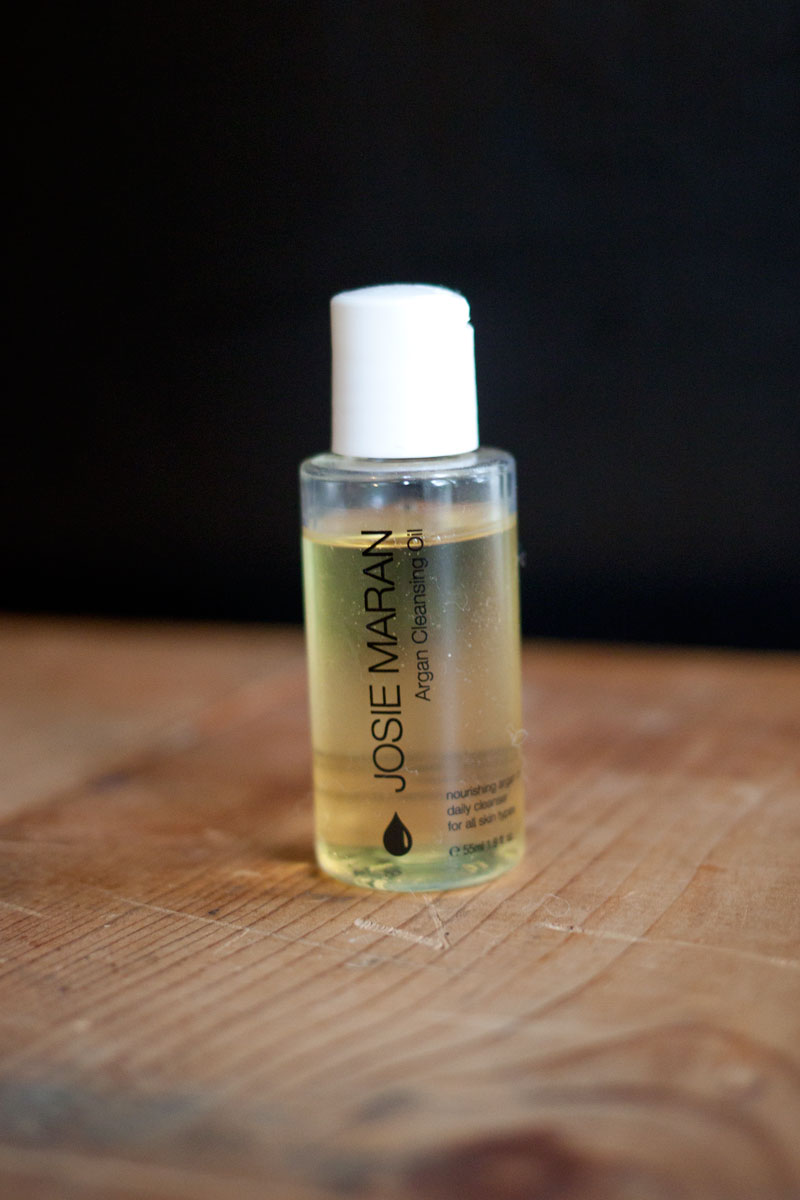 Josie Maran Argan Cleansing Oil – This is my second oil cleanser, the first I tried was the one by Julep. I like this one more because it really feels like you're really pulling off your makeup without having to use a ton of product. It's also very gentle and doesn't overcleanse like so many products that leave your skin feeling tight and dry after. ($32, Sephora)
What I Put On During the Night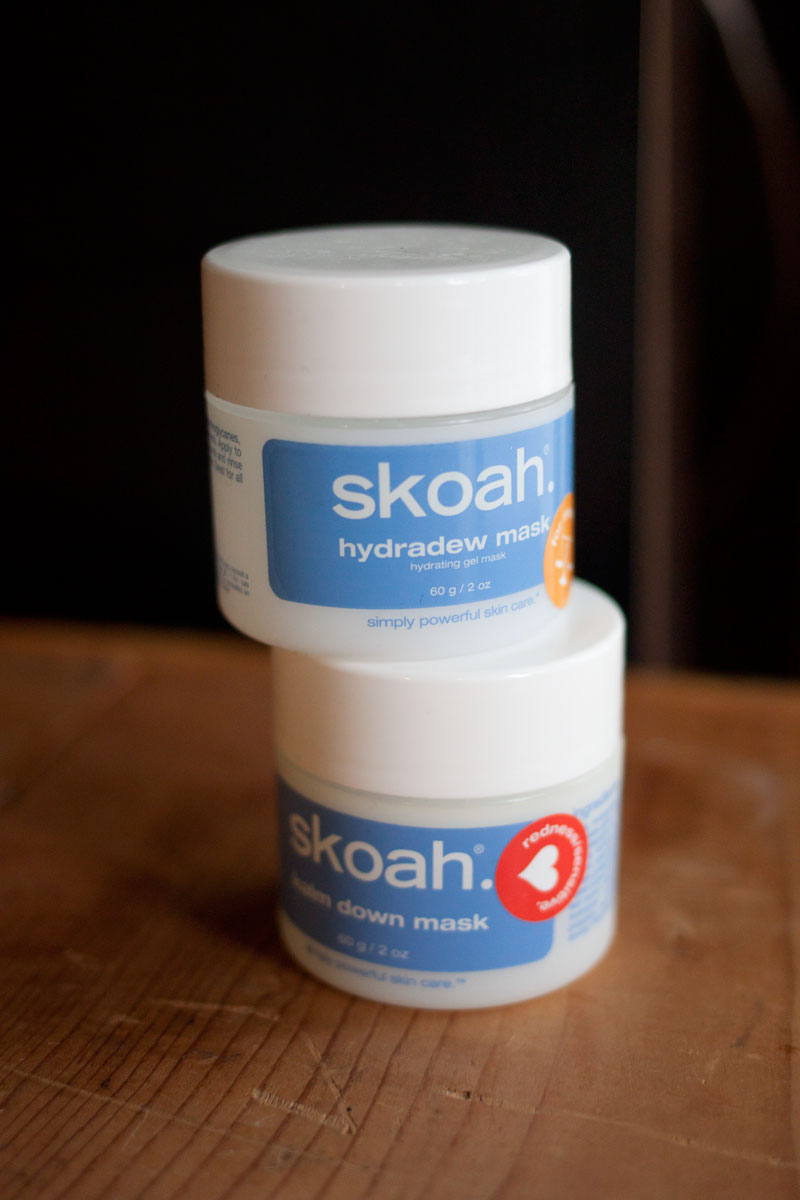 skoah Hydradew Moisturizing Mask –  This is probably my favorite product in my skin care arsenal. It smells like watermelon and feels amazing. It's cool and super hydrating, plumping up my skin almost immediately. The days when I don't use this, I feel like you can totally tell because you can see all two of my forehead wrinkles and my skin looks pretty dull. ($35, skoah)
skoah Kalm Down Mask – This is a newer find, and it seriously saved me after I came back from Disneyland. I didn't pack all of my usual treatments, and I had an awful break out post sugar-and-junk-food-bender. I tried to work overtime with this and it seriously helped so much with reducing the redness and inflammation in my troubled spots. While I can't say its going to magically cure all that ails you, it noticeably makes a difference. ($45, skoah)
What I Put On As Needed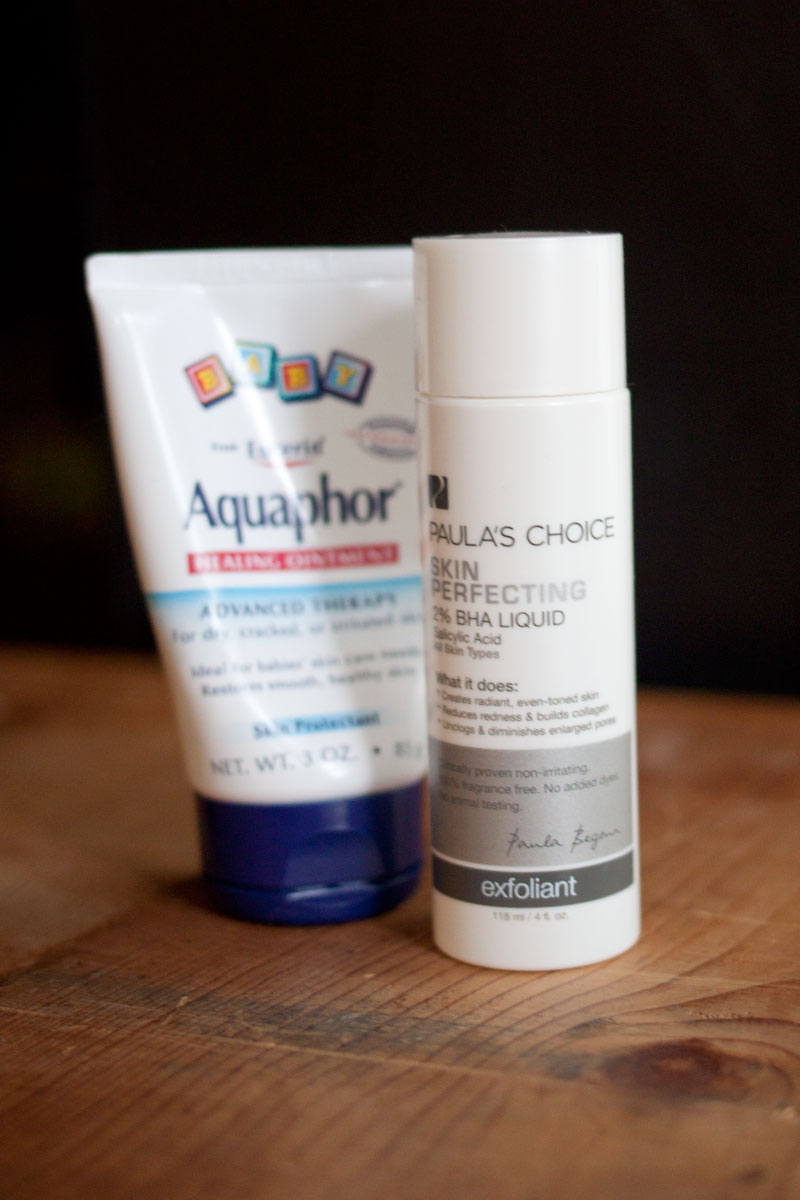 Paula's Choice Skin Perfecting 2% BHA Liquid – Rebecca recommended this a few months ago and like the good blogger shopping addict I am, I bought it immediately. I use this as a spot treatment, and it's seriously amazing at attacking those nasty under the skin, painful zits. It brings them out within a day or so and, well, the rest is TMI. A word of warning, if you have sensitive skin, don't go overboard with this, only dab it on single spots. ($22.10, Paula's Choice, use my referral link & get $10 off your first purchase!)
Eucerin Aquaphor – I suffer from sensitive skin and a little bit of eczema, so from time to time I'll get some weird reaction on my face or other body part and use this on it. (Like the contact dermatitis I get from certain sunscreens… this is a must have when I travel.) It's also great for helping to heal up burns and scrapes without leaving as much of a scar. ($5, Target)
What I Put on My Face Weekly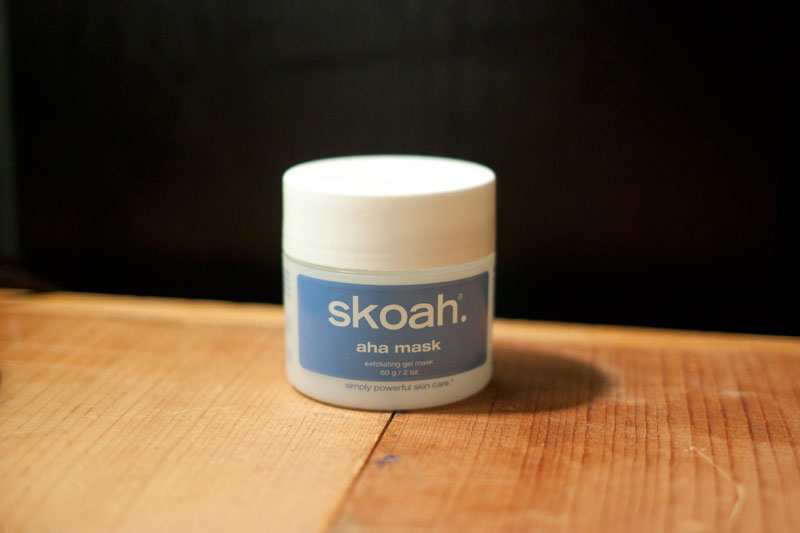 skoah AHA Mask – As I mentioned earlier, I learned a lot more about my dry skin from getting facials at skoah. One of those tidbits was that chemical exfoliation is much better for my skin type than the more "manual" type (scrubs that have beads or granules). This AHA mask is something I use once a week to help slough off dead skin and keep my skin as clear as possible.($35, skoah)
What I Splurge On
As I mentioned above, I splurge on a facial every other month at skoah. I wish I had done this sooner – I suffered for years with pretty bad acne (and still do, from time to time, get those nasty ones that really, really hurt). Seeing a "skin trainer" really helped me understand that keeping my skin hydrated and using gentler products would actually HELP my acne, not make it worse. I used to flood it with too many harsh scrubs (none of those bead ones for me), washes, and treatments and it really just made my skin more angry and thus exacerbated the problem.
So now that you've seen my skin regimen, what's yours like? I'd love to hear about your favorite skin products in the comments!