After buying our house and moving in, I learned very quickly that being a neat and tidy person doesn't come naturally to me. I'm not sure why I thought I was super organized (spoiler alert: I'm not! And it takes a lot of work to appear like I am.) For whatever reason, I had this idea about myself that I was. Maybe it was wishful thinking. Or maybe it was just trying to hide the truth.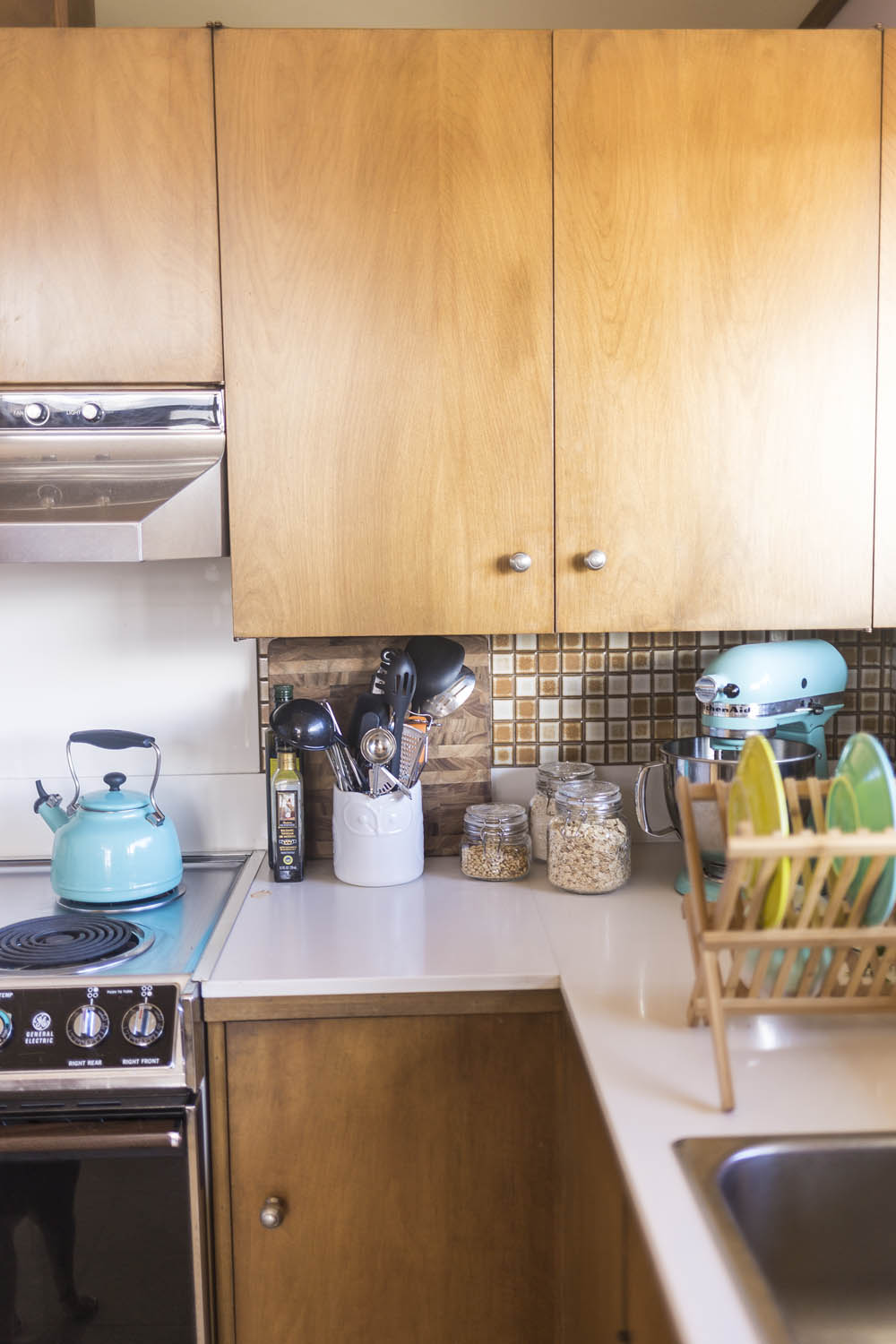 Disclosure: Thanks so much to Kroger Co. for sponsoring this post! All opinions are my own.
Either way, being tidy, organized, and keeping the dust bunnies away is just not my forte. I could try to blame it on Rigby. (After all, he does shed year round, and tufts of fur can often be seen blowing like tumbleweeds down our hallway!) I could also try to blame my small obsession with clothing, shoes, and accessories that often can be seen overflowing from my closet looking pristine. Or, I could just admit that I have a problem and find solutions to help me become organized.
Thank goodness my friends at Fred Meyer have a ton of organizational and cleaning solutions for every problem I faced in our new house, and so today I want to share what I've learned about getting our house in tip-top shape for spring. So read on for my spring cleaning and organizational tips for the messy girl!
Piles, be gone
When it comes to cleaning sins, mine is piles. I blame my dad because growing up, he was (and still is) a pile kind of guy. You know the piles I'm talking about… mail that needs to be recycled, paperwork you're supposed to hold onto for something important, stacks of magazines… the piles can be endless. Whether it's genetics or just good intentions (because if it's in a pile, it's better than just being scattered everywhere) piles are the first thing I tackle.
Typically, I have piles of mail, things I need to file, and things that are in one room that need to go to another. By eliminating my piles first, it makes it easier and clear to see what else needs to be cleaned, and what type of organizational solutions I might need.
Place a garbage can in every room
Speaking of piles, a lot of the time I find a lot of debris and small amounts of just plain garbage around. Tags to new clothing purchases, wrappers, and odds and ends seem to find their way onto side tables, dressers, and countertops. By placing a garbage can in every primary room, I have found that this has helped increase the likelihood of just taking care of the problem in the first place, so it doesn't hang around.
When it comes to garbage cans, I've found that they're not always created equal. I love the small Simple Human garbage cans with a lid that I found at Fred Meyer. We have one of these in each of our bathrooms and one in the kitchen. You can use them with or without a waste bag, and I love that I don't have to worry about my furry child poking his head in there and getting into something yucky!
Get everything up off the floor
Once I've tackled the piles of clutter and the litter, it's time to get anything that doesn't belong on the floor up and away. That means shoes in the hallway, laundry that needs to be put away, and anything else out of place needs to be up and away.
To make it easier to keep things off the floor in the first place, I've invested in several shoe racks for the closet as well as our entryway. I've also swapped out all of our old, bulky hanger for the velvet space saving version. By having plenty of room to hang my clothes, it means I'm less likely to leave things unhung and hanging around on the floor.
See ya later, fur tumbleweeds
Once everything is up and off the floor, I try to tackle the floors. It's no secret that Shiba Inus shed. A lot. Like, a lot a lot. I don't love to vacuum, which is why having a Roomba is pretty convenient. Unfortunately, the Roomba doesn't get everything (like the fur that goes under closet doors, in tight corners, or on walls) so I end up using a few other tools too.
The first is a Libbey Dust Mop. It comes with a huge tasseled microfiber cover that clings onto fur and dust bunnies. I use this to get larger pieces that go under doors and in closets. For spots that are especially sticky, like sofas and chairs, I opt for a lint roller. I recently found the best ones ever: the Evercare brand. These are in the organization section at Fred Meyer (where the hangers and storage bins are), and they're so sticky that I only need to use one sheet at a time.
After I've taken care of the pet hair and dust on the floor, I usually have to take care of it on the walls. This is the downside of having wood plank on the walls: fur get stuck to it! Fortunately, we quickly added a Dyson Animal to the mix and found the handheld portion to work amazingly well on the walls. The extension arm is also great for areas we can't reach, like corners of the walls to get cobwebs. Finally, after getting rid of the majority of the fur, I use the Swiffer WetJet Mop to sanitize and get any small particles of dust and grime off the floor, and then I follow up one last time with one of the Swiffer Dry cloths.
Storage solutions for the Fashionista
Clothing rules my life, and it rules my organization too. I've acquired quite the selection of shoes, accessories, handbags, and clothing over the years, which means that I have to be pretty creative about organizing it all so 1. I can see what I have to choose from, and 2. it doesn't end up all over the floor!
The first aisle I went down when I got to Fred Meyer was the organization aisle. This is where you'll find the space-saving hangers and the lint rollers I mentioned before, as well as my recent scarf hanger purchase. The scarf hanger has about 12 spots for scarves of different sizes and makes it super easy to see what you have to choose from. You could also use a hanger like this to store belts or men's ties too!
Another fun organizational find in this aisle was the eyeglass case! It's an acrylic box that is divided into five spots for sunglasses or eyeglass storage. I love that it will keep my lenses dust free, and let's be honest, it looks pretty darn cute in my closet!
Next to it is a gold wire basket that I found one aisle over, and it fits a few clutches and wallets perfectly. For my white shelf, I also picked up a few black storage cubes. These are perfect for soft accessories like gloves, mittens, and beanies, as well as odds and ends that just might not be super pretty to look at. In the other cubes, I keep things like blog-related packaging materials, photo shoot props, and items I'm holding on to for future giveaways.
Organization for the beauty queen
Other than fashion, my other passion is all things beauty. I have quite the stash of beauty products, which means that I've had to come up with some pretty creative ways to store them.
The first way I store them is inside my vanity, which is a built-in desk that's part of our home. Each cubby in the desk fits an acrylic tray or two perfectly. I use these to sort powders, blush, bronzer, lip products, eyeshadow, and more.
For beauty products that are just plain pretty (think fragrance and lipstick) I display these on a countertop of the same built in. I use acrylic organizers to organize these products as well – one bathroom tray for my perfumes and fragrances, and one lipstick organizer for lip colors. I also use decorative trays and boxes (also from Fred Meyer!) to showcase a few of my favorites and sort some of my jewelry pieces.
Don't forget about the bathroom
While the bathroom is not the most glamorous room in the house, it most definitely serves a purpose. When I know we have guests coming over, I like to give the bathroom a little extra decoration, so it's a fun place to be. Weird, maybe, but giving the bathroom some personality is easy but can make a significant improvement!
The first thing I picked up for the bathroom was a bamboo lazy susan. I knew I wanted to put a few products that guests might need, like makeup wipes, face cleanser, and moisturizer on it, as well as some cute things to give it pizazz like a candle, a wire sculpture, and some faux greenery. The monstera leaves and fern are faux, and along with the glass vase can be found at Fred Meyer in the aisle right next to the home decorations and candles!
Keep things fresh in the kitchen
While I think of the kitchen as a place to be productive (have I mentioned that I'm not much of a cook? I'm not…) I also think it's important to show off your personality there too. Our kitchen is very much from the 1960s (hello retro tile!), and I like to keep that vibe alive. For that reason, I've used pops of bright blue in the kitchen to contrast all of the brown and orange tones.
When it comes to organizing, I like to think of what fits the room's personality too. When I saw these Mason Jar storage containers, I knew they'd be perfect in our kitchen. They're not only super practical, but they also come in a variety of sizes for any storage need. I opted for the medium sizes for flour and oats, and a small size for pine nuts. Fred Meyer has some other great options for pantry storage and countertop storage too, like copper canisters, vacuum sealed containers, and floral ceramic jars.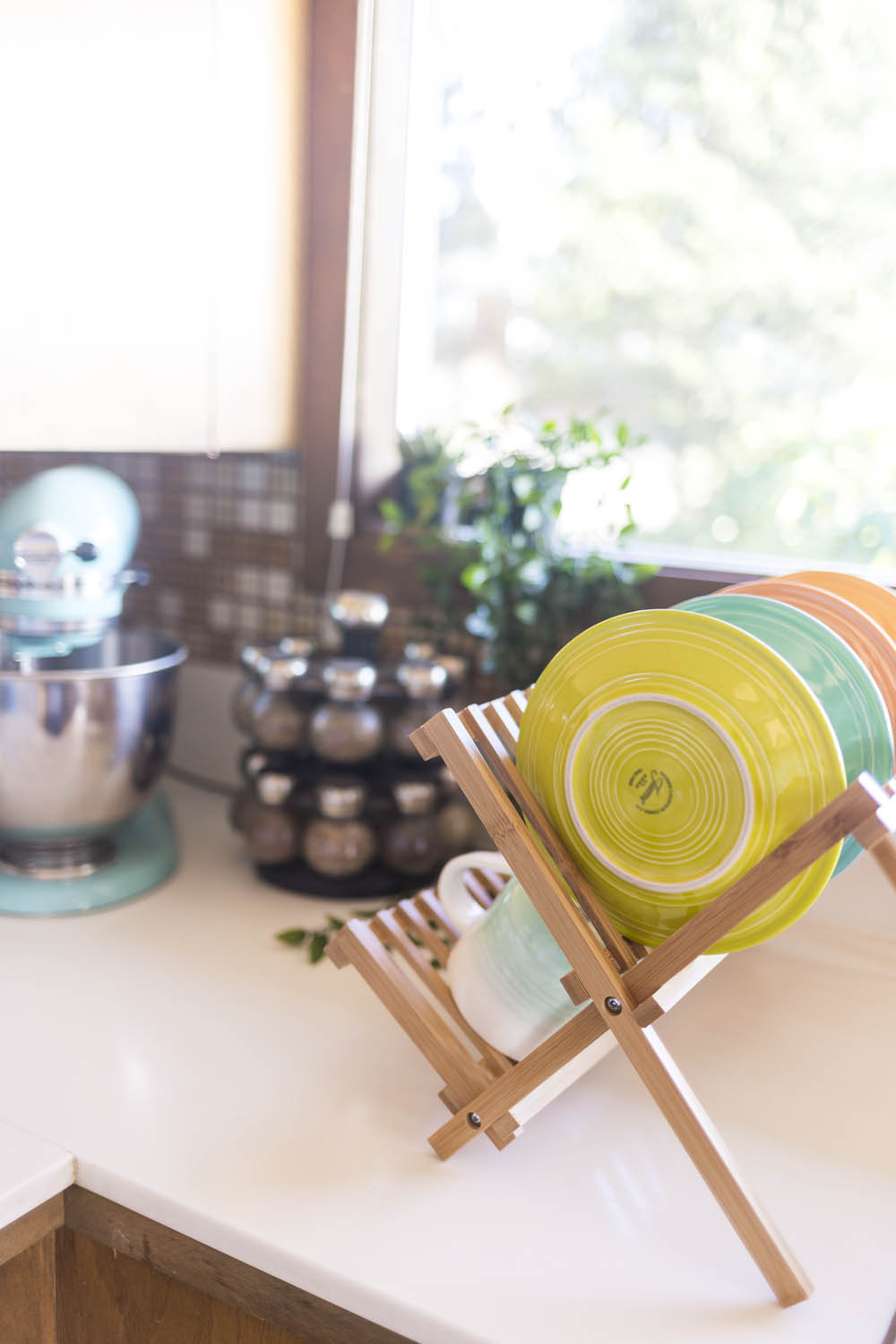 Finally, for the kitchen, a good drying rack is a lifesaver. We try to not put pots, pans, knives, or any delicate dish items like handwash-only mugs and utensils in the dishwasher, and instead of covering the kitchen with towels and drying dishes, a dish rack is a much simpler solution. I love this bamboo one because bamboo is notoriously durable, antimicrobial, and of course is naturally quite pretty to look at!
With a variety of storage solutions, cleaning supplies, and space-saving solutions, Fred Meyer is by far my top one-stop-shop recommendation for those of you ready to take on a little spring cleaning. If you're a self-described messy girl like me, I hope these tips and suggestions help you concur the mess and stress that can come from a disorganized home. Most of all, be sure to arm yourself with coffee, some good music, and some moral support from a partner, friend, or parent to get you through.
Are you a messy girl too? How do you tackle spring cleaning? I look forward to hearing your organizational and cleaning tips in the comments!