Affiliate Links // Some items were sent to me as samples, but it was up to me to share them or not. All opinions are my own.
Oh, hi, remember me? I used to blog here. Then life happened, and I had to take an unexpected hiatus from blog life. I don't think I've ever disappeared for that long, but honestly, it had to happen.
I might as well tell you now what's been going on. We've been moving. Early in May, I thought we should look into selling the condo. The condo market has finally rebounded in Seattle (unlike the housing market, which has been booming for awhile, and now with the housing shortage, there's a market for smaller properties again.) We interviewed several real estate agents, hired one, and moved forward. There were a lot of things that went wrong. Epically wrong. Hence why I had to give up blogging (mostly) for about two weeks. I had posts planned, but when your house looks like a construction zone, it's kind of hard to take photos or get any work done.
Anyway, I won't bore you too much with details here because the point of today's post is to be fun. With this week marking the first week of summer, I thought it was the perfect time to recap some of my favorite spring discoveries, and what I received in my beauty boxes the last month and a half or so. Plus, I collected some goodies from my arsenal to share with you, so be sure to enter that giveaway below!
End of Spring Digs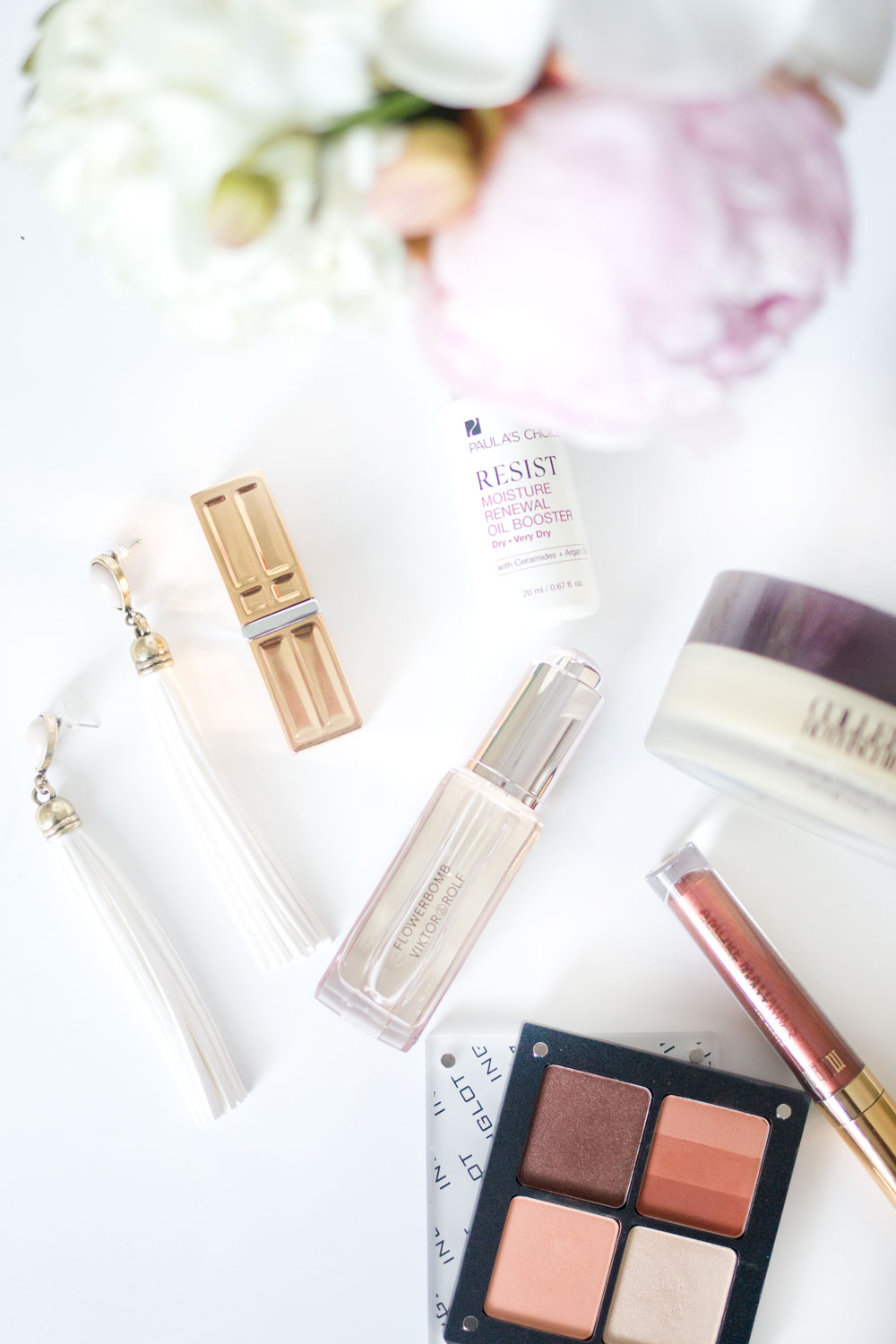 This was one of two lip colors I packed on my Vegas trip, and I absolutely fell in love with this pretty red-orange color. It's so summery and fun, and the formula is creamy and leaves my lips feeling comfortable and hydrating. It's not particularly long-wearing. However, I didn't have to reapply it that often and fortunately it's not they type to end up on my teeth either.

I mentioned this new product on my Instagram earlier this month, and it has been my go-to scent this month. It smells divine, and the layering the Precious Oil with the original Flowerbomb fragrance makes it last all day. Bonus points for making the fragrance even stronger on my skin, because who doesn't want to smell even better?!
The Oil Booster from Paula's Choice was a life saver in my spring skincare routine. My skin felt awfully dry going into spring and it didn't let up. With the oil booster, it was easy to mix it into any lotion or cream as well as my foundation for extra hydration. Depending on how dry your skin is, you can add as few or as many drops of oil as you need. This has been a long time favorite product for me, but even more so the last couple of months.
Even though I mentioned another lip color already, I couldn't share my beauty favorites without including these! The Milani Amore Metallic Lip Creams are the bomb. Seriously. I only wish they were easier to find at the drugstore here! I found mine at Fred Meyer, however sadly they were sold out of a few shades. I'm still on a quest to find it in the lightest shade, Chromattic Addict. I find them to be less drying than the regular Amore Lip Cremes, and the metallic sparkle makes for a fun topper or all over color depending on how you're feeling that day.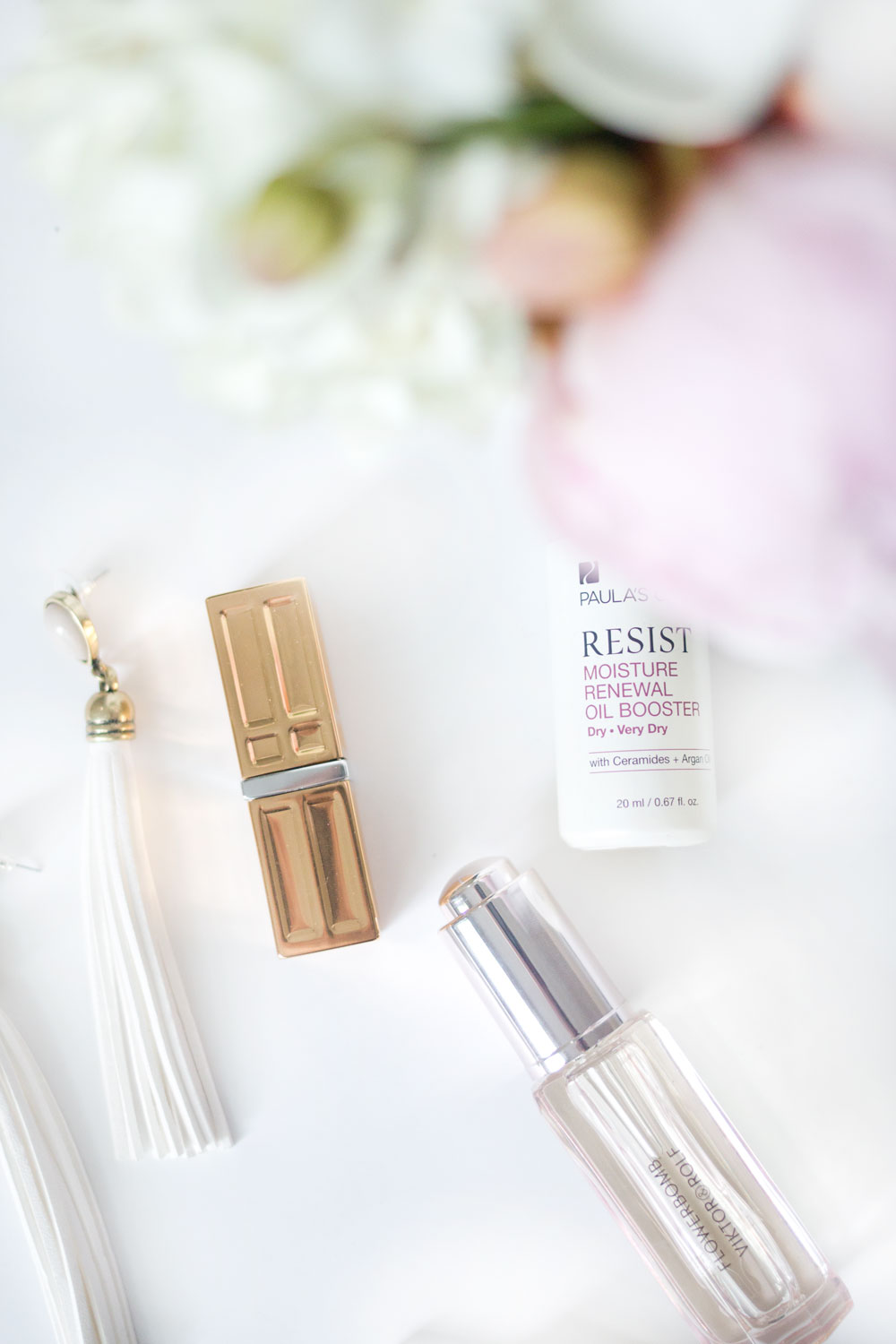 I purchased these at the end of last month and recently wore them to a couple of events and received several compliments. The pop of cream beneath my darker hair is fun, and I find they go with just about everything for summer. The tassel is a little bit preppy, but the stone and antiqued gold trimmings make them feel a little bohemian to me too which I love. Plus at $25, I feel like they're not too much of a splurge, but they're higher quality than something you'd find at a cheap mall store.
A new discovery this month was the Colleen Rothschild Cleansing Balm. If you have drier skin, you may find that cleansing your face leaves it super tight and uncomfortable. Not so with this Cleansing Balm, a solid oil that turns to liquid when warmed in your hand. I rub this all over my face and eyes to remove makeup quickly and easily, then use a warmed muslin cloth provided for a mini spa experience and to remove all traces of makeup. Thanks to Colleen Rothschild for sending this my way! If you're interested in trying it too, they've provided an exclusive coupon code RIGBY20, good for seven days from the date of posting! (So expires next Friday, July 1st, 2016. Not an affiliate code.)
You guys, Target is killing it in the spring and summer clothing department. My friend Grace was wearing the cutest off the shoulder top at an event recently, so it inspired me to pop into the women's department on my most recent Target run. I found the cutest cold shoulder crochet cream dress (wearing it in the video below!), pom pom crop top, and lightweight denim culottes. Kind of obsessed with all of it, and if I didn't have self-control I would have purchased many, many other items.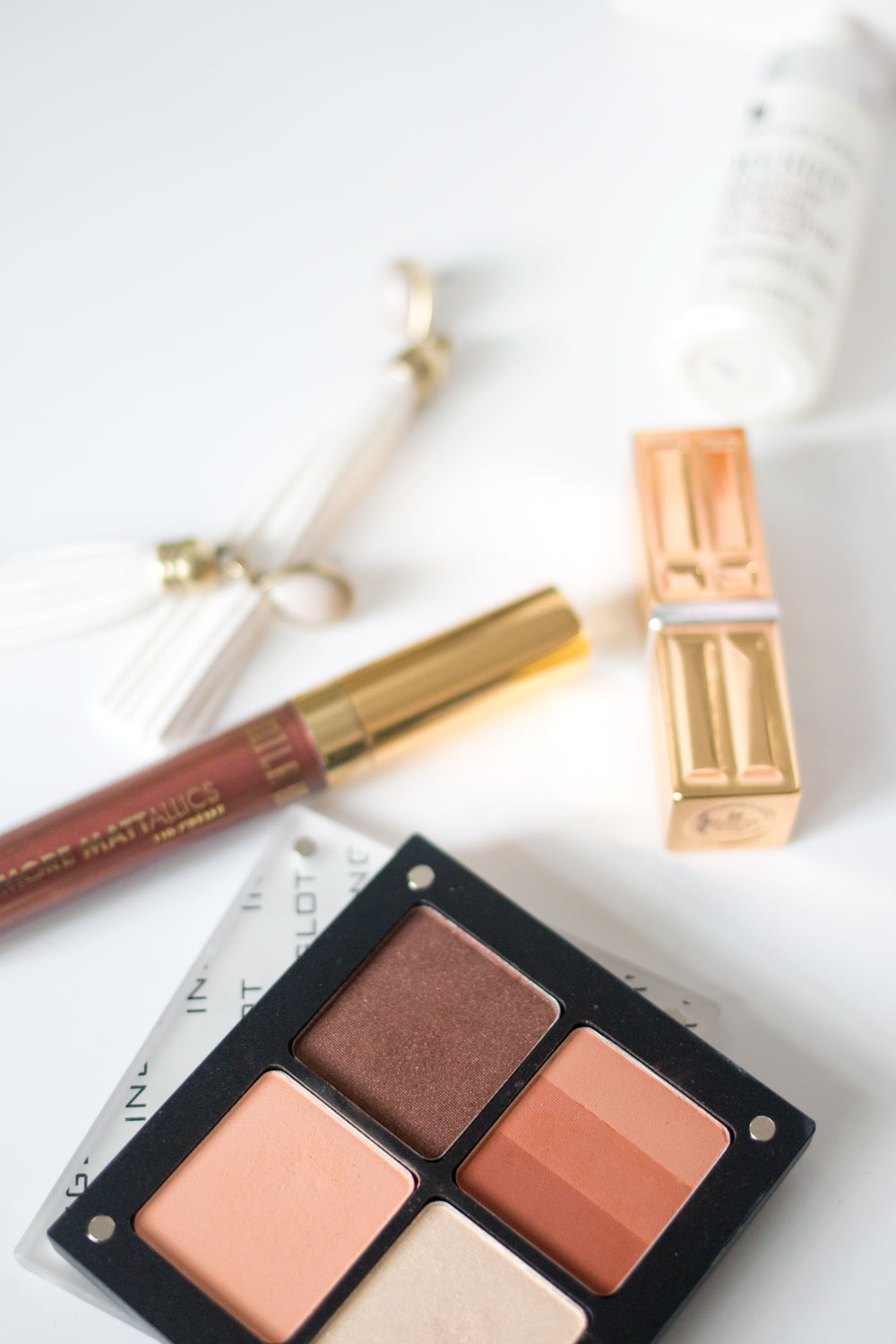 After using up the rest of my L'Oreal Extraordinary Oil Shampoo & Conditioner last month, I was on the hunt for something new for my hair. This arrived at my PO Box around that time, and I was so excited to try it. Eggs & cognac? For my hair? Color me intrigued!
If you've always wanted shiny hair but haven't been able to achieve it (even with products that claim to make your hair shiny) like me, then I'd recommend giving this collection from the Natural Hair Care line a try. It claims to give shine to dull, tired hair and I'd say it works. With that said, I do find that it feels like it's really cleansing your hair which means using it every few days versus daily would probably be recommended, and using it in conjunction with a product like their Macadamia Oil to add nutrition and hydration back to your strands is key.
My friend Sarah got married last weekend, and this concealer from Catrice saved the day. Okay, maybe a slight exaggeration, but when you wear heavy makeup for a few hours, sometimes things slip and slide around under the eye area, and I had to do a few touch ups on the bridal party with this concealer. It is so lightweight and the color works on a variety of skin tones Set with a powder, I noticed that this doesn't budge and gives enough coverage without looking cakey or heavy. The color is sheer enough to work on a variety of skin tones as well (I have the lightest shade, but it works on those with light to medium skin tones too.)
When I visited Vegas in May, I made it my mission to seek out the Inglot store. While we have Inglot in Macy's, we don't have a standalone store, and I've always been curious. I decided to make a custom quad while I was there and I'm so in love with it. It's my perfect everyday palette, and I've been using it a ton for that reason! I find the colors are nice and pigmented, and stay throughout most of the day even without primer. Plus, the shadows are about $7 for a pretty sizeable pan, so they're affordable too! I picked out shades 421, a deep shimmery brown, 368, a matte peach, 30, a shimmery champagne gold, and 102, a rainbow shadow with three shades of rust.
End of Spring Duds
Lush Rub Body Scrub
Not the worst product in the world, but I have to say, this one was a bit disappointing. I think very highly of Lush products, and this felt rather slimy and didn't exfoliate as I expected. Also wasn't a huge fan of the scent, so this will definitely not be purchased in the future. If you're on the hunt for a good body scrub, may I recommend this Soap & Glory Sugar Crush Scrub or this mango scented one by Tree Hut? Both give the best scrub down ever.
Moving
As mentioned above, we moved! We're in a rental for the time being until 1. our condo sells, and 2. we find a house we like and can get an offer accepted on. Let me just say; it's no joke preparing a condo for sale in the summer. We found it impossible to hire anyone to do any work on it, so we ended up scrambling and doing it ourselves. (Well, Dave and his dad, but you know, I was moral support, the house cleaner, and painter extraordinaire. Good times.)
Buying Concert Tickets
Does anyone actually enjoy buying concert tickets?! Ugh, I've had the worst luck recently on three different large concerts recently. I give up. Seriously. If you have the secret to buying concert tickets, send help.
Spring Beauty Boxes
It wouldn't be a monthly recap without a subscription box reveal, now would it? This month I'm unboxing Sephora's new subscription box PLAY, Boxycharm, Julep Maven, Amazon's beauty sample box (which I think was a one time deal, but who knows), Glossybox, and the Zoe Report Box of Style for Summer 2016! Let me know in the comments down below which subscription box you'd most like to try, and I'll do a giveaway for one next time!
End of Spring Beauty Giveaway
I have a few extras from my subscription boxes, an Elizabeth Arden Lipstick, and some more surprise goodies and I want to share them with you! If this sounds like something you'd like, enter below. Giveaway ends on July 11th at 11:59 pm PST and is open to the US only due to shipping restrictions.
What spring discoveries did you make? Any favorites I should check out? I'd love to hear all about them in the comments!