Affiliate Links: If you click a link below, I may receive a credit if you sign up. I pay for this subscription.
I decided to start receiving Stitch Fixes back in February after seeing some really cute clothes people were receiving. To me, it seems like they've stepped up their game in terms of supporting different styles other than a lot of the "mom" type button ups, drapey knit tees, and cardigans I had been seeing over and over. There's nothing wrong with that, it just wasn't what I was looking for.
Since my last Fix was pretty successful, I figured I'd try another one. I learned from my last Fix that pinning directly from their Polyvore account as well as keeping my fashion board full of looks that I liked really helps. I also left a few suggestions this month for my stylist, Kimberly, on what I'd like to see. I asked for boyfriend jeans or deconstructed skinny jeans. While they do their best to accommodate, they don't always have the inventory of every item you may see in your size, so she did her best.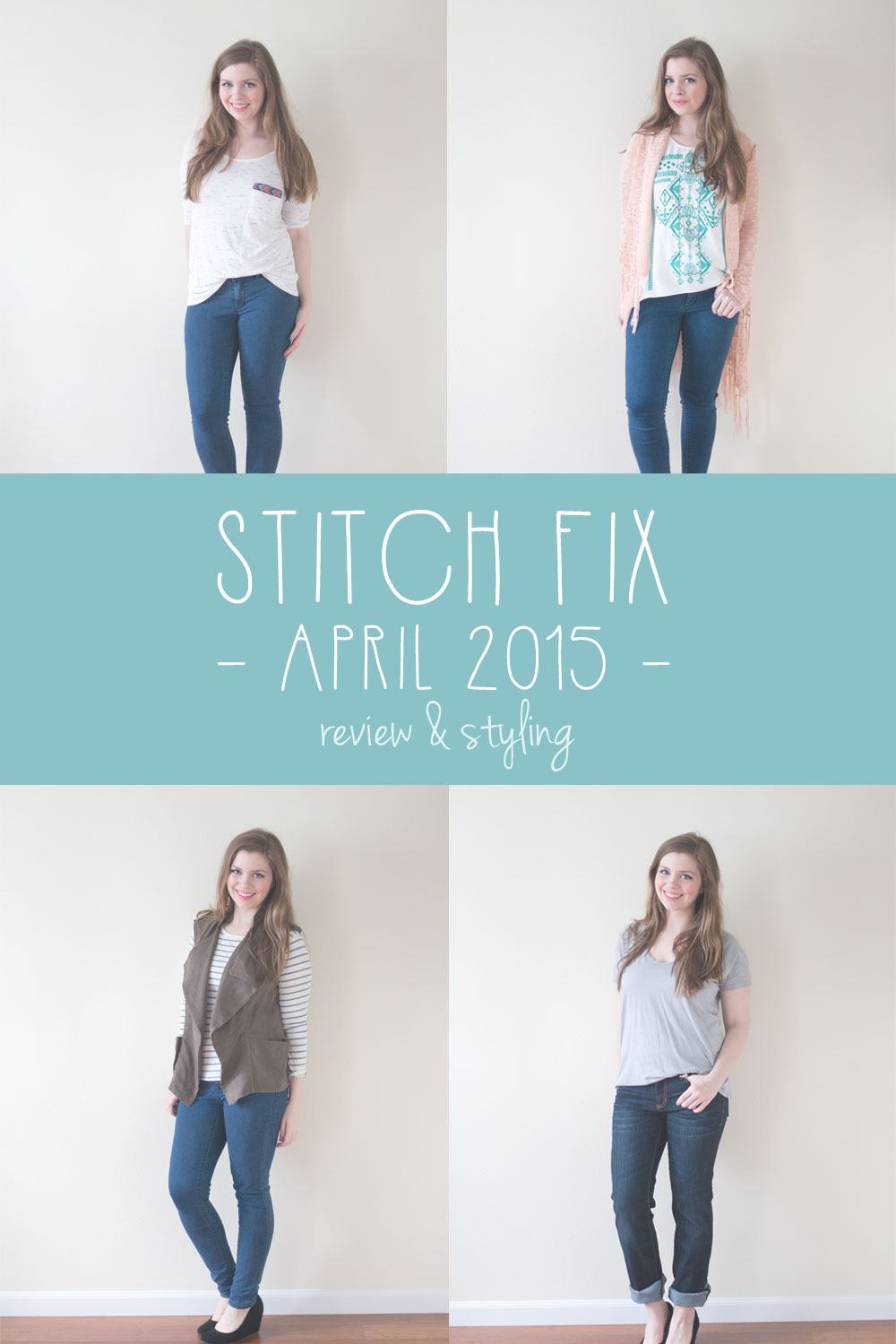 Stitch Fix April 2015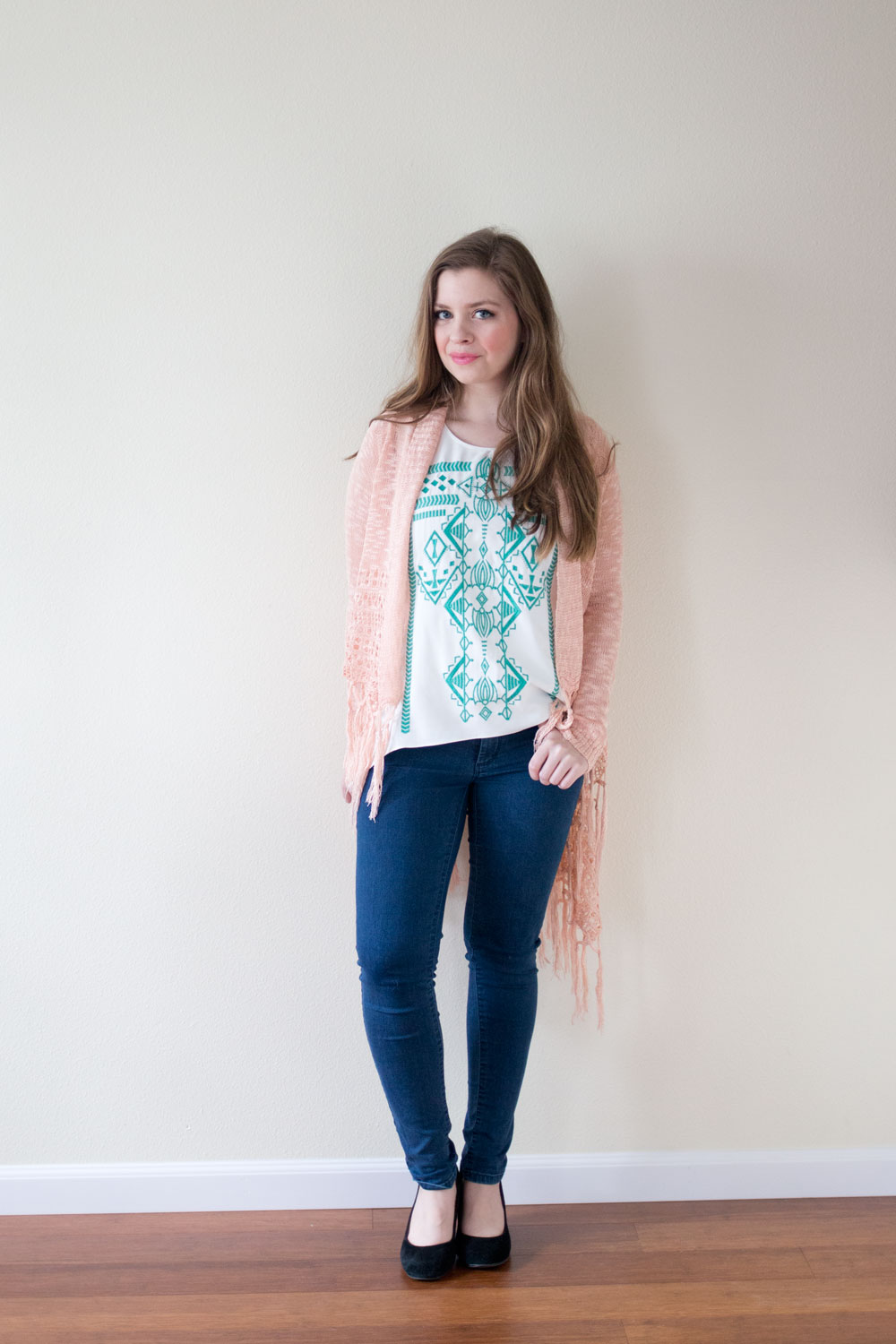 Sweet Rain Palma Cardigan in Peach, Size Small, $48 – Kept
I had pinned this from their Polyvore fairly recently after loving the fringe. The color is something I don't really have much of in my closet, but I think it's neutral enough to go with a lot of spring pieces. I could see pairing this with light wash denim and a white tee.
P.S. If you like this cardigan, I found the a very similar one at Forever 21, this one comes in the peach color above as well as beige! I've asked StitchFix if they will price match… will update when I hear back!
*Update: Stitch Fix declined the price match, stating that though similar, this is not the same cardigan. I can't compare since I haven't seen the Forever 21 version, but will take their word for it.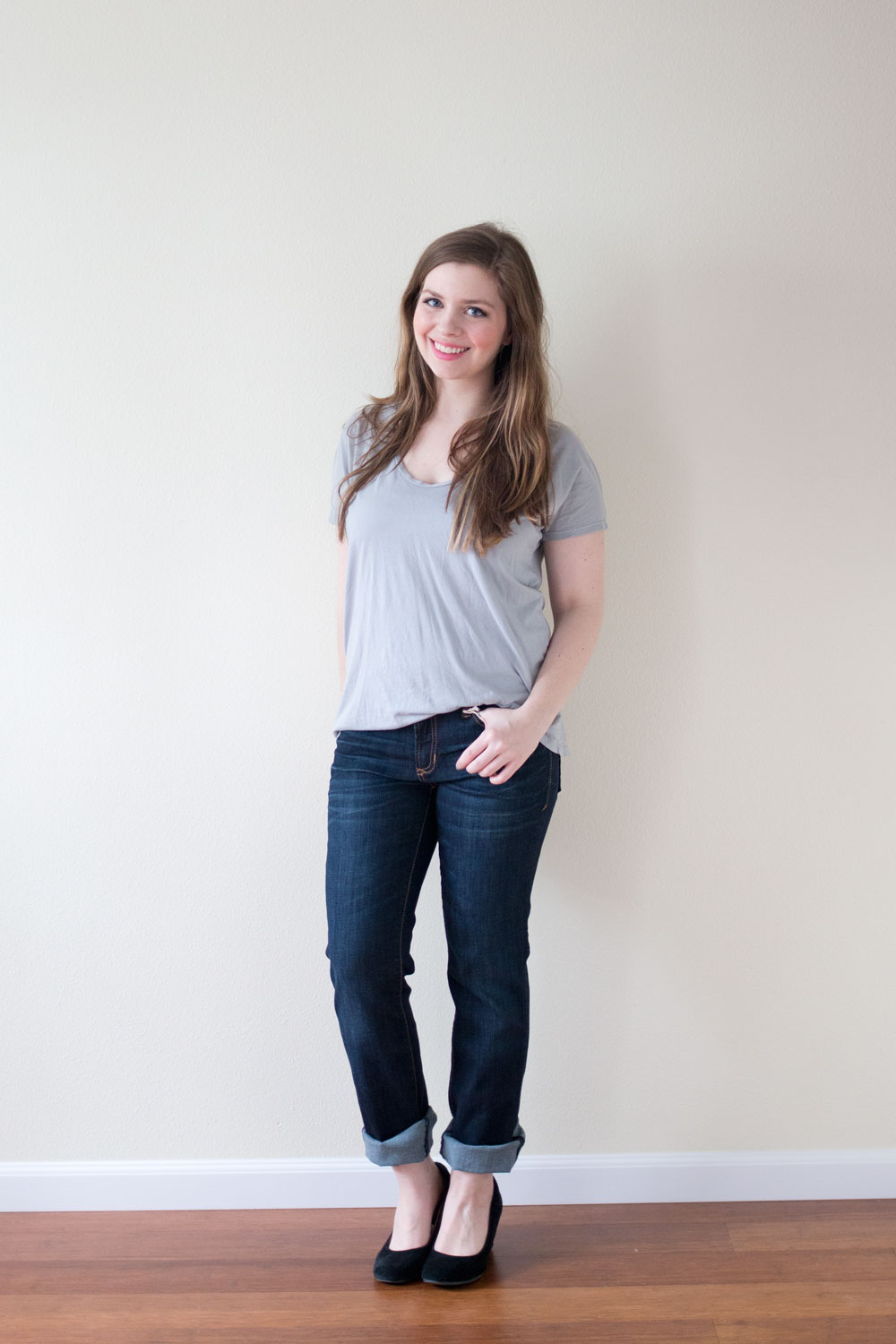 Dear John Kyleigh Straight Leg Jean, Size 27, $78 – Returned
While I think the cut and length of these was good (I loosely cuffed them for style, not because they were too long), they felt like the type of jeans that would stretch out way too much throughout the day and end up being too big. I've had this same issue with a lot of jeans, and it just drives me crazy. Plus, something about the whiskering and back pocket stitching bothered me.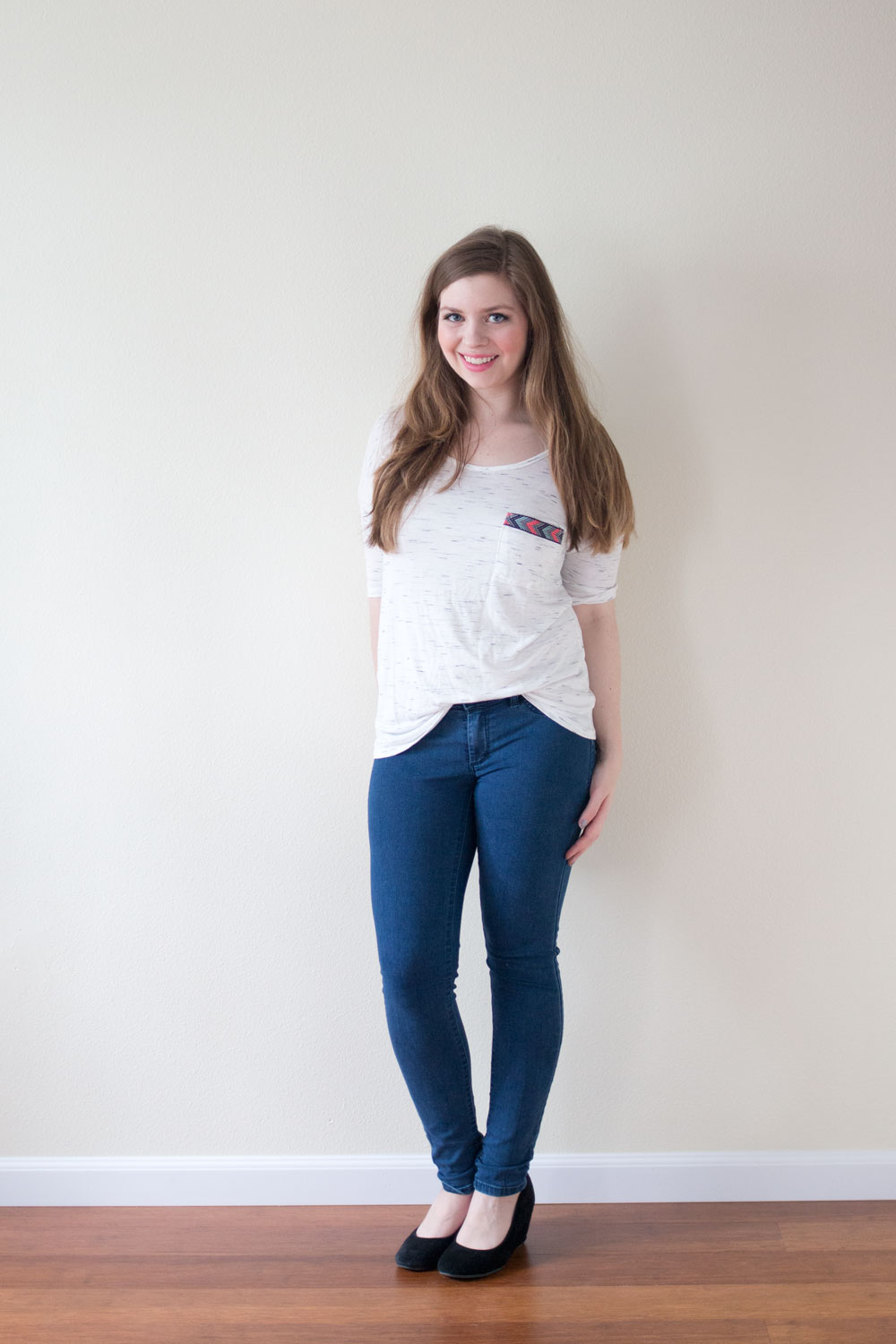 Papermoon Crissy Spacedye Cross-Back Knit Shirt, Size Small, $44 – Returned
This tee was actually pretty cute and fit nicely. I should have taken a photo of the back, which had criss-cross straps and was a bit open. The thing I didn't like was the pocket, which accentuates my boobs and just isn't my favorite place to draw attention. For $44, I just didn't love it that much.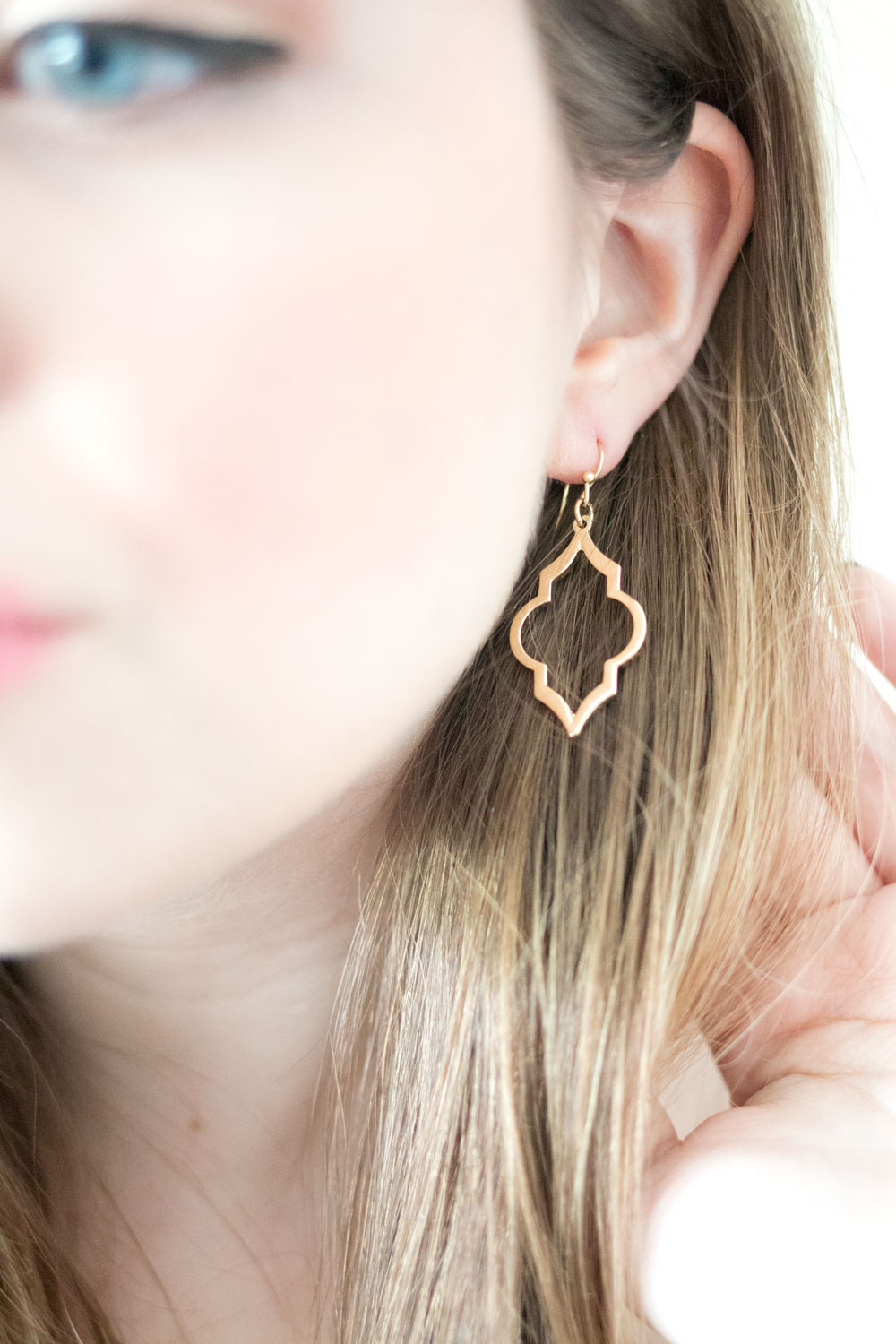 Bay to Baubles Aditi Spade Earrings in Gold, $28 – Returned
While pretty, these are a little too delicate and the shape isn't really my taste. I didn't really love the necklace from last month either for the same reason (the shape) and I'm not really sure what kind of jewelry I want to receive from Stitch Fix since I never see it on their Polyvore. I think before I receive my next fix I'll do a little research and pin from other people's fixes.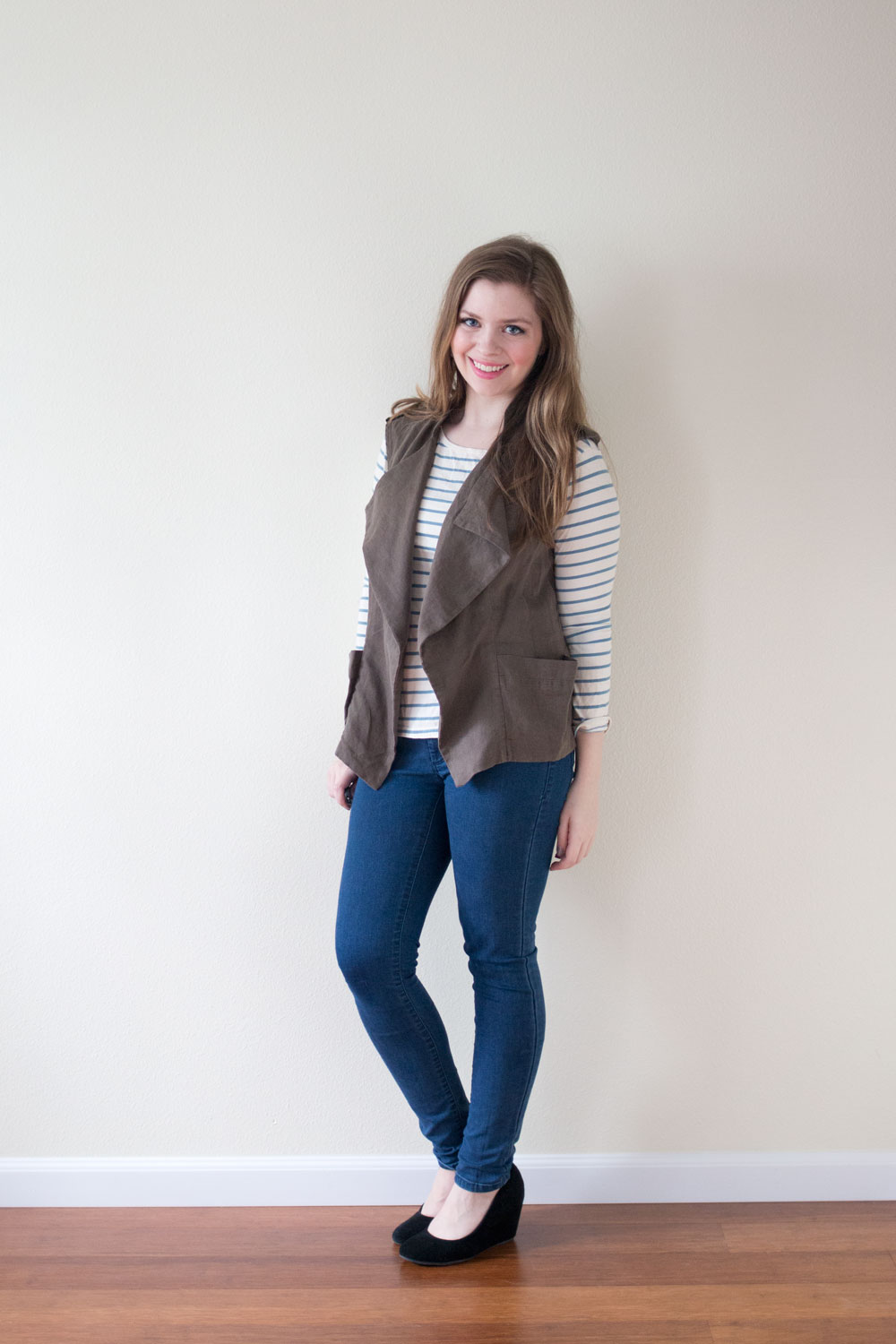 Kut from the Kloth Troy Drape Vest in Green, Size Small, $88 – Returned
I requested this piece after seeing these "fishermen" or "military" style vests making the rounds for spring. I don't know… I just don't think this is for me. I think it's really cute on other people, but like those puffy Houndstooth vests that were popular from J. Crew in the winter, I think this is another trend I will not be rocking.
For a point of reference, if I had kept everything in this month's shipment, it would have been $169 with 25% discount. I actually thought that was a pretty great value considering having a couple of pricier pieces in the shipment (vest and jeans). The only thing I was bummed about is not seeing a dress again this month! I'll be asking for one next shipment.
If you're interested in signing up for Stitch Fix, I'd love you forever if you used my affiliate link to help me bring more reviews like this to you! :)
What do you think about what I got? Did I send back a winner? I'd love to hear your thoughts! :)