Happy July! I hope you and yours had a wonderful Fourth of July. We spent the days leading up to the 4th in Victoria, BC with Dave's family. It was so nice to get away for a few days and then come home and still have a little time off of work. If you haven't been, Victoria is a beautiful city and I'll be sharing more about our trip later this week.
Until then, I have for you a new Stitch Fix! These posts always seem to be popular so I keep doing them. Plus, I can't lie, I love having a surprise box to open every month. There's something fun about having someone else find clothes for you that they think are your style. This month is probably my favorite Fix yet. Every piece in this Fix is something I could have seen myself wearing, and the only reason I didn't keep everything was that not everything fit just right. The struggle is real!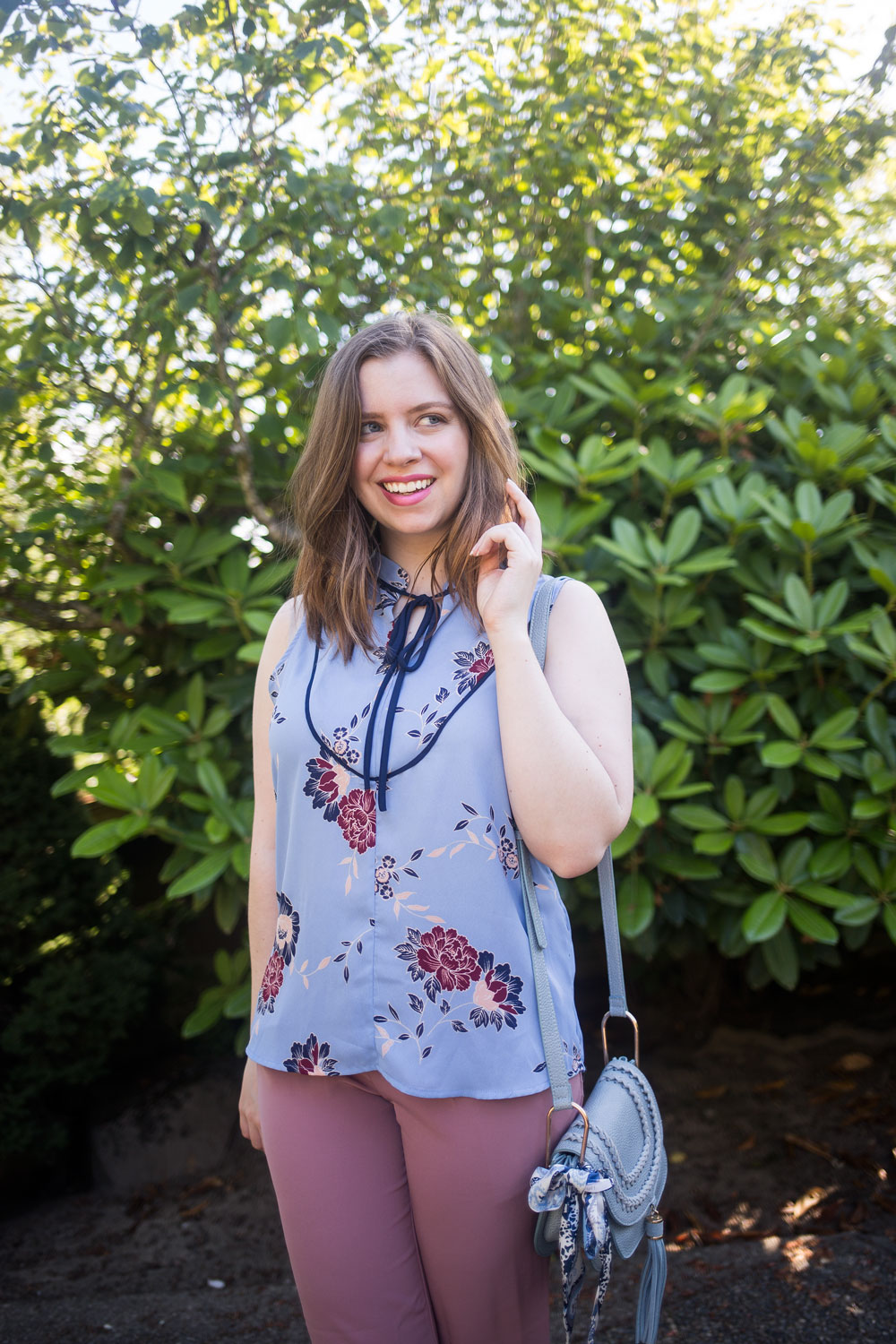 Disclosure: This post contains affiliate links. That means if you click a link, I may make a small commission from your purchase. I do pay for this subscription myself. :)
Stitch Fix July 2017 Review
If you're new to Stitch Fix, I'll break it down real quick. For a $20 styling fee, receive a box on your doorstep containing five items – anything from clothing to jewelry to handbags to shoes based on your style profile and Pinterest style board. Send back what you don't like, keep what you do, and your $20 styling fee will be deducted from the total. Keep all five items and receive an additional 25% off. If you sign up with my link, you'll receive $25 off your first Fix!
Stitch Fix also serves male clients too! Have a significant other or male relative in need of some shopping assistance? Send them over to Stitch Fix Men! It works the same way, and it's perfect for the man in your life because if we are being honest, most men hate shopping!
Additionally, Stitch Fix offers maternity and petite sizing, and plus sizes have made their debut as well. Stitch Fix is now offering over 90 brands for Plus Size clients in sizes 1X-3X or 14W-24W. Brands include ELOQUII, Junarosa, Slink Jeans, and more. You can sign up for Stitch Fix Plus here!
This time around, I asked for a Summer-themed Fix. I've been dying for some new styles that are summer friendly as I recently noticed my wardrobe was lacking in warm weather clothes, especially tops. And now with all the details out of the way, onto what came in my July Stitch Fix!
Alice Blue for Stitch Fix Elmhurst Tie Neck Blouse in Blue, Size Petite Small, $44
Shop Alice Blue here, or shop similar blouses below!

This top was right on top when I opened my up Stitch Fix, and I immediately gasped. I loved it! My mom was with me when I was opening it and she too thought this top was totally my style. I love the floral print, and the tie neck and yoke bib neckline makes this top unique.
To style this outfit, I paired the tie neck blouse with a pair of pink pants. I wanted to pull colors from the blouse itself, so the dusty pink pant was perfect. A pair of pointed-toe mules elongated my legs, and my Moda Luxe Nola bag is a favorite from a Stitch Fix last summer. It's such a versatile bag and I wear it all.the.time!
Shop this outfit:

Ginger G Stefania Knit Dress in Blue, Size Small, $34
Shop Ginger G here, or shop similar dresses below!

Next up was this adorable blue swing dress from Ginger G. Typically I don't like dropwasited styles, bu the flowiness and material of this one made it different. Plus, I've been on the hunt for interesting but simple dresses that I can wear with more bold accessories, so this was perfect. Also, imagine my surprise when I was checking out and noticed this dress was only $34! I think this is the least expensive dress I've ever received in a Fix. Score!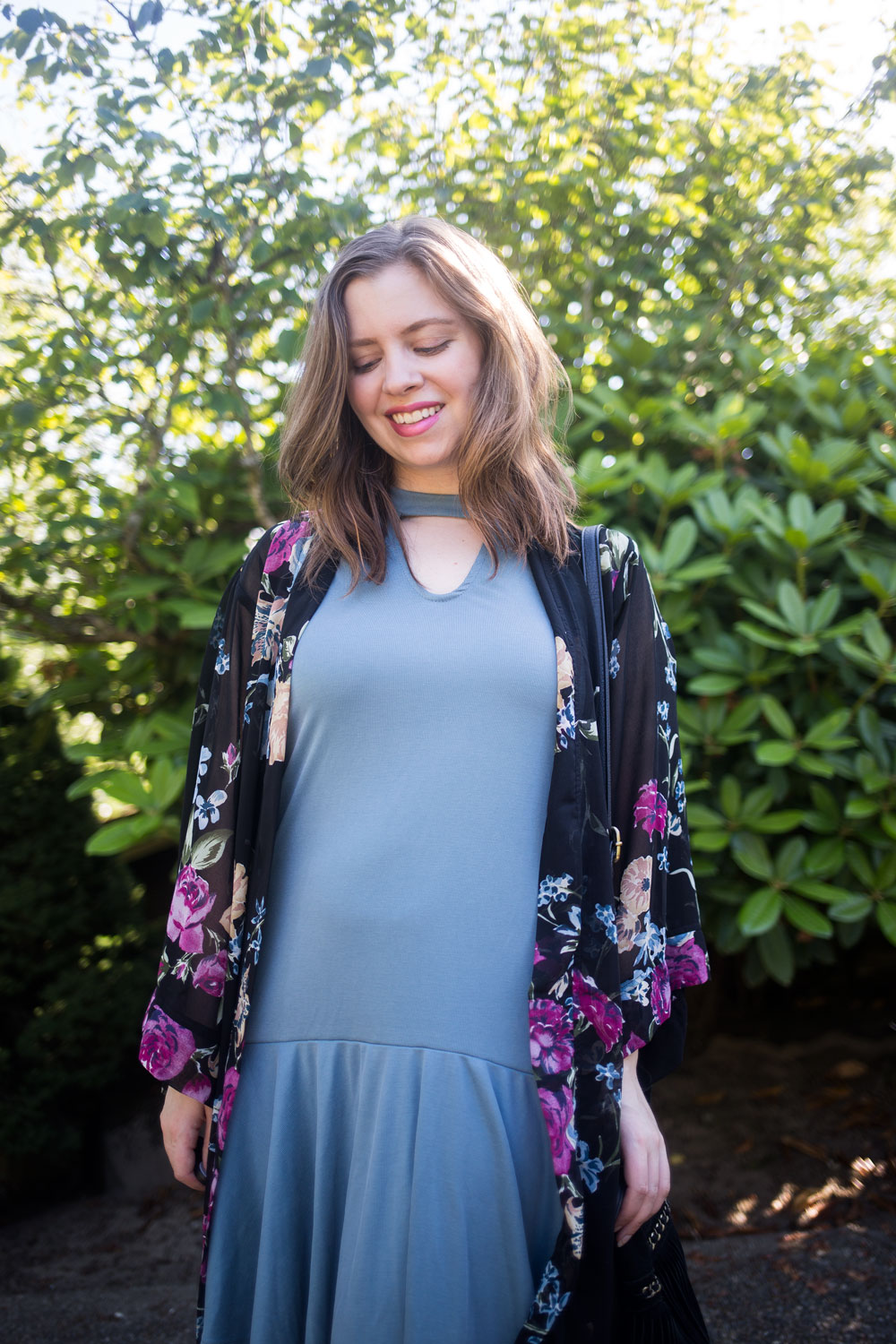 To style this dress, I instantly thought of my Helena Quinn Kimono from the Rachel Zoe CURATEUR Box. You may recognize it from my recent furniture shopping outfit, and I'll be honest and say I'm totally obsessed with this kimono! I've already worn it a ton and it's just one of those lightweight, pretty pieces that are great for summer. I also paired it with my fringey bucket bag and a pair of slip-on mules that are comfortable and flattering.
Shop this outfit:

   Tinsel Millicent Short in Burgundy, Size 4, $48
After that, I pulled out a pair of red shorts from my Stitch Fix box. These high-quality shorts were soft but structured. They would be perfect for those who want a shorter short without looking like a high schooler. For me, shorter shorts are more flattering then bermuda shorts, but I often feel like they are inappropriate as I approach my 30s. This style is perfect for those that wear a lot of shorts in summer!

I was inspired by red, white, and blue for this outfit, so I opted to style a 4th of July outfit (though really, this works anytime!) My trusty denim jacket paired well with a drapey white sleeveless top and fun accessories. I finished the look off with my comfy striped espadrille flats and a cute new crossbody bag.
Shop this outfit:


Everly Elena Crossfront Detail Blouse in White, Size Small $46
The last clothing item in my Fix was an adorable cross neck top from Everly. I really wanted this to work for me, but sadly it was a bit too tight across the chest and sleeves. It would look great with so many different outfits, and I love how the cross detail is high enough on the shirt so as not to reveal too much skin. I think this is edgy but still casual office appropriate.

To style this top, I instantly thought of a paterend short. This pair from the Marimekko for Target collection gives the top a bit more of a dressy vibe. The sandals I'm wearing are super comfortable and perfect for a day of exploring the city. Finally, my trusty past Fix Find crossbody bag finished off the look.
Shop this outfit:


The final piece in this month's Stitch Fix was this pretty mixed metal cuff bracelet from Zad. I love the 3 metal colors together and could see how this could be a great addition to anyone's wardrobe. Unfortunately, I'm not much of a bracelet wearer as my wrists are smaller than average and most bracelets fall off or move around all day, but I'm always in search of unique accessories.
And that's a wrap on this month's Stitch Fix review! I hope you enjoyed seeing my stylists take on summer style, and how I styled each of these pieces into my wardrobe. I'm looking forward to another Fix next month, as the summer heat has got me craving all sorts of cute new clothes and I could use a few new warm-weather pieces!
Out of all the pieces I received, which were your favorite? How would you style these pieces? I'd love to hear your thoughts about my Stitch Fix in the comments below!