Happy September! I can't believe how fast this summer has gone. As I write this, I hear rain pouring outside which means that Fall is most definitely on its way. Makes me a little sad, but at the same time, fall is most definitely my favorite fashion season so I guess I can look forward to that. Well, and Pumpkin Spice Lattes too. I do have a soft spot for those.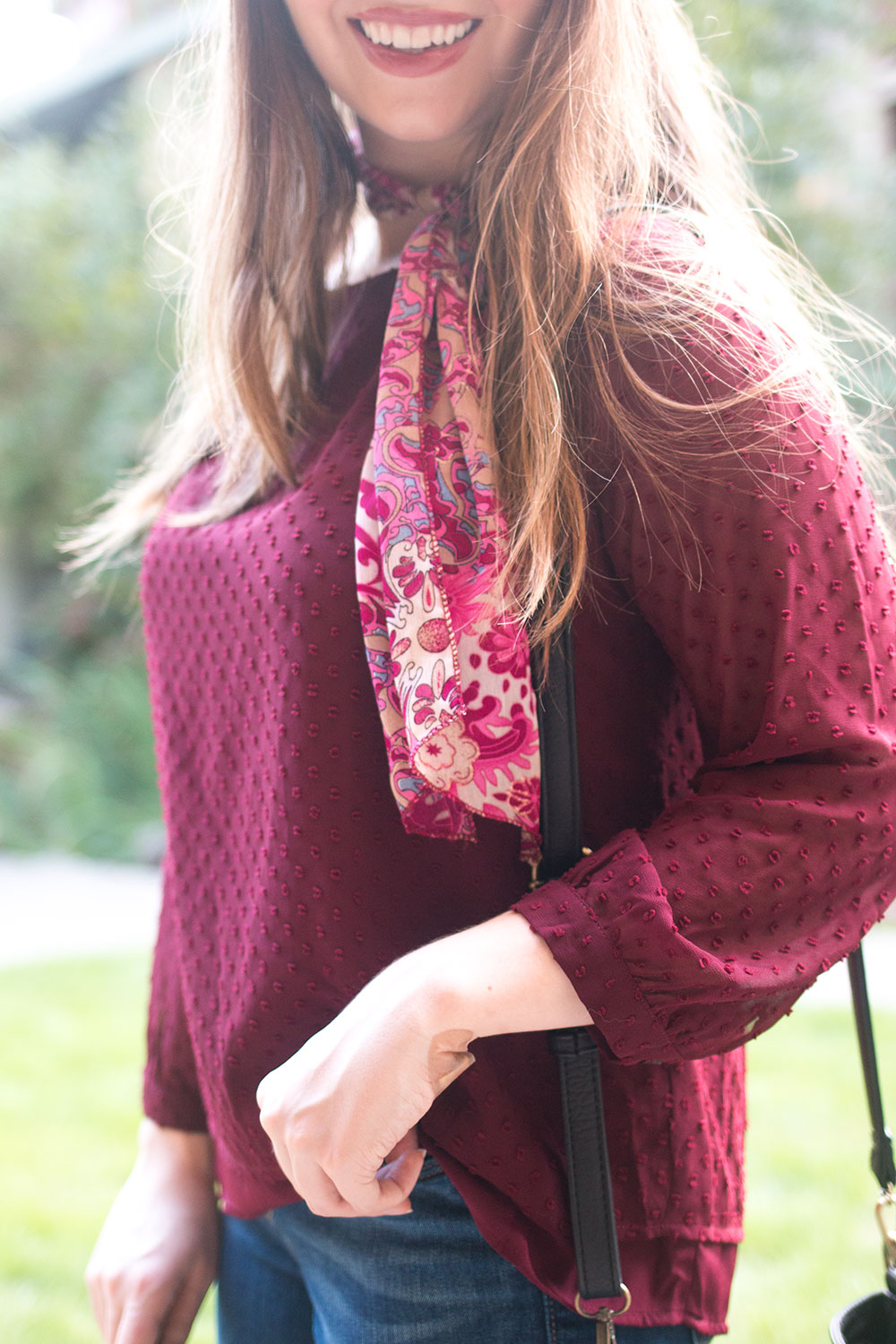 Disclosure: This Stitch Fix September 2016 post contains affiliate links. All opinions are my own, and I purchase this subscription myself.
Stitch Fix September 2016 Review
With all of that said, the beginning of a new month always brings me a new Stitch Fix package on my doorstep. It's always fun to see what my stylist, Lucy, has picked out for me. This month I couldn't think of anything, in particular, I had to have, so I let her decide what to send me. If you're new to Stitch Fix, Stitch Fix is a clothing subscription service that you schedule when you want to. For a $20 styling fee (that you can use towards anything in your "Fix") you'll receive a box of handpicked clothing, shoes, accessories, or handbags. Pin to your Pinterest board, leave a note for your stylist of what you're looking for and fill out your style profile to get the best possible results. It sometimes takes a few tries for your stylist to get your preferences and fit, but when they do, you will love it.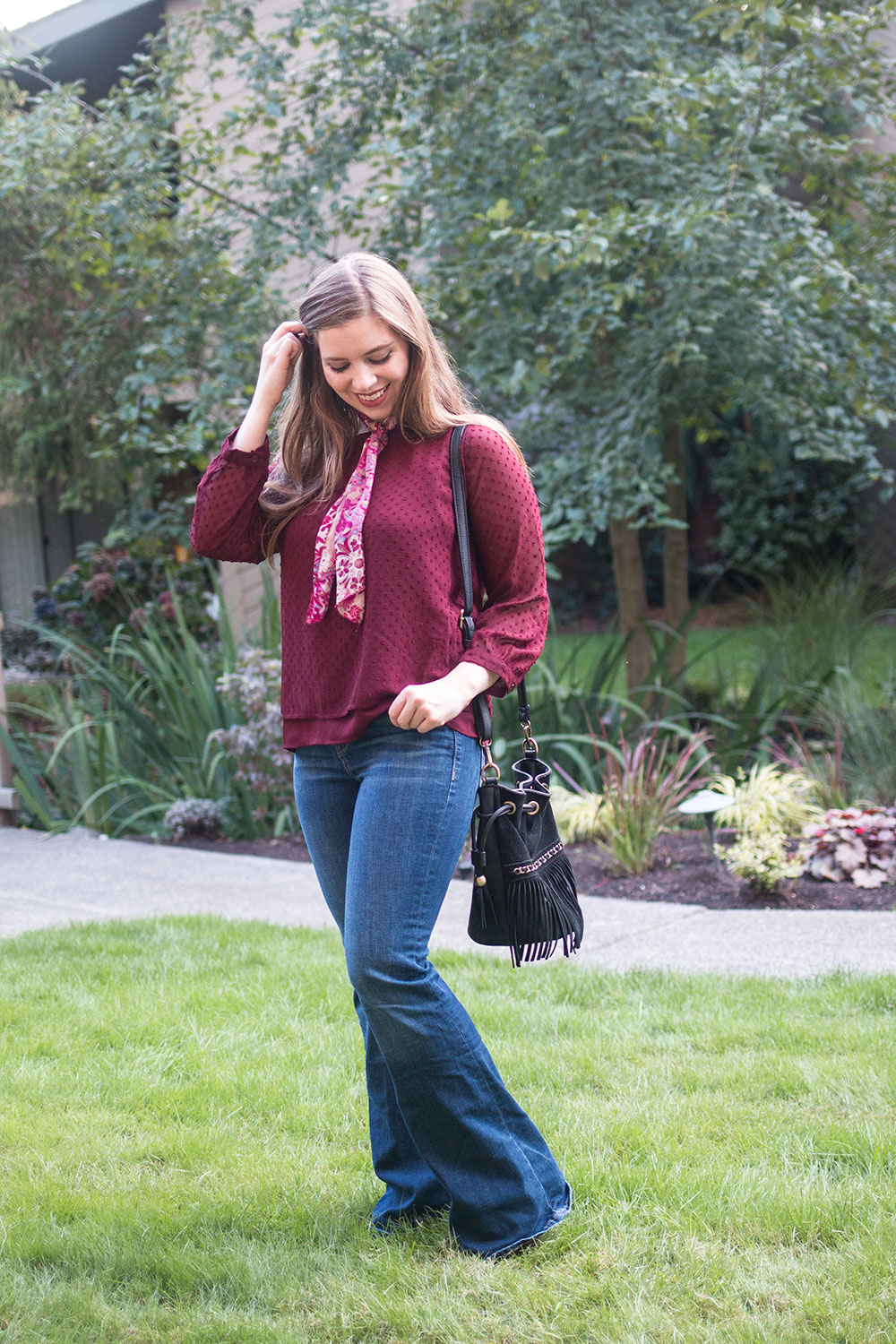 Collective Concepts Miguel Swiss Dot Detail Blouse in Burgundy, Size Small – $58
(Similar blouse from Daniel Rainn for less than $20!)
This top is super cute, and the perfect color for fall. If I had to choose, I would say burgundy shades are most definitely my go-to color once the weather starts cooling down. I thought this top was very cute, but overall opted to not keep it as I didn't feel that it did anything for my shape.
It's a boxy cut that was not quite long enough to tuck into these Old Navy Flare Jeans, so I opted to add a vintage neck scarf to up the 70s vibes. I finished the look with a pair of booties (that are kind of swimming underneath those flares in the grass!) and my favorite black fringe bucket bag.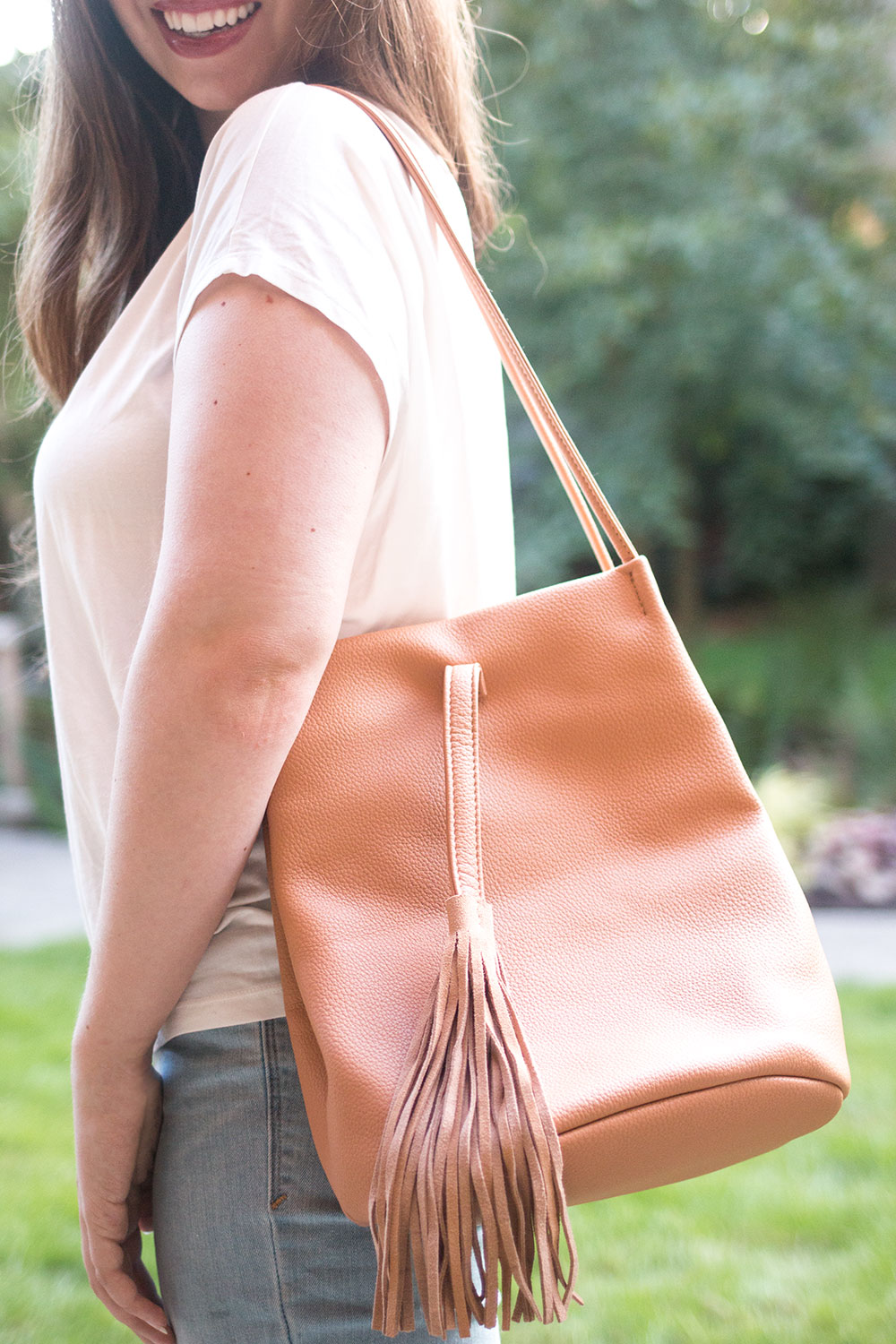 Street Level Mikoh Suede Tassel Tote in Tan – $58
(Crossbody style from Street Level for $21 or Tote style from Stree Level for $22.)
When I was shooting the photos of this purse, I couldn't help but notice that the tassel looks totally like an animal tail. Once I saw that, I couldn't unsee it. While the bag overall looked cute, I thought the tassel detail was just oddly placed and I couldn't see myself using this bag.
If I were to keep this, this bag would really go with any outfit. A simple draped t-shirt and cropped jeans was my pick for this particular shot. These Levi's Midrise Skinny Jeans are so comfortable, and I love the light wash for the end of summer (plus they're on mega sale!). The t-shirt I'm wearing is from Uniqlo, and the material is oh so soft and has the perfect draping to glide over some of the areas I'd rather not showcase. ;) I kind of want it in every color now!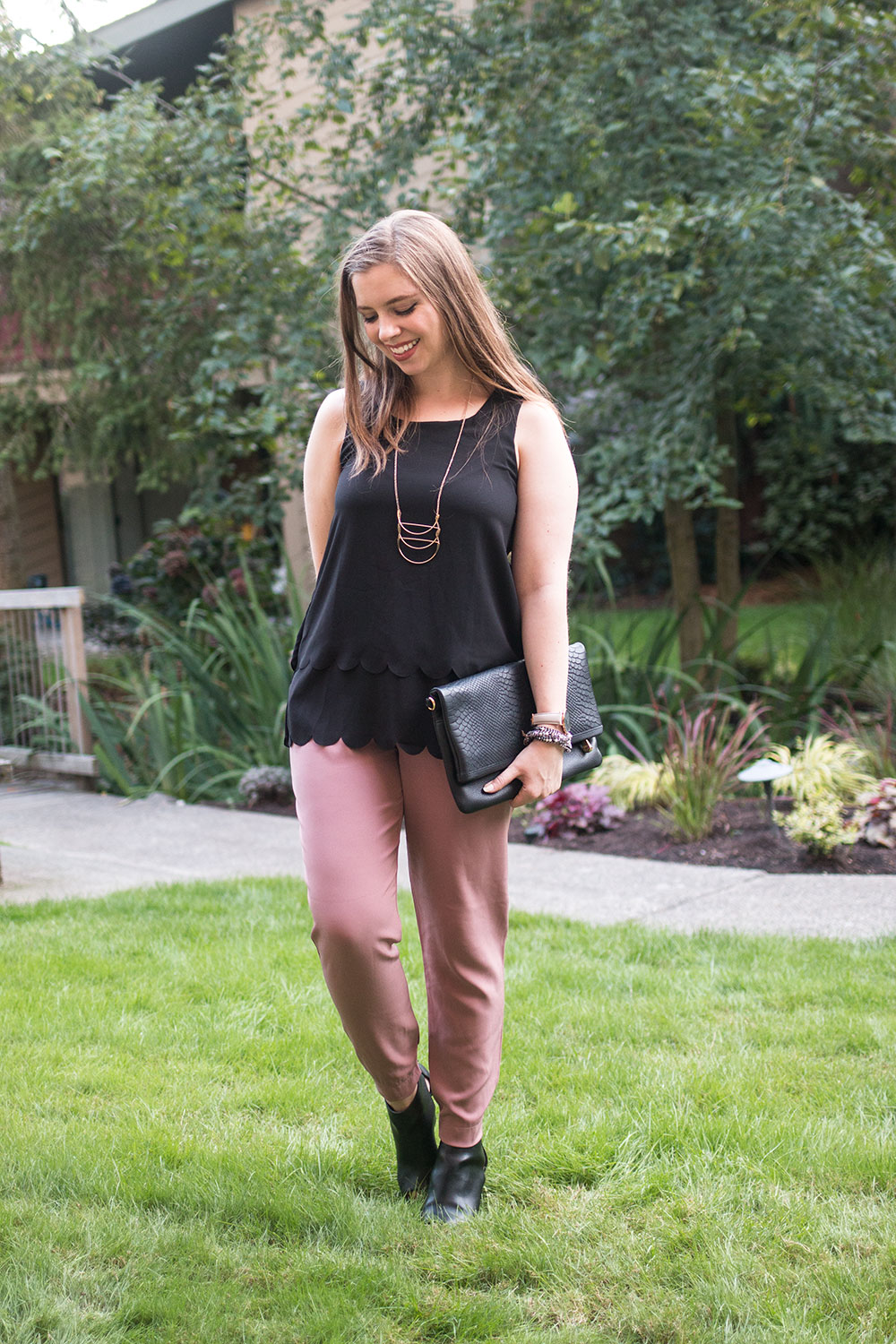 Papermoon for Stitch Fix Violeta Scallop Detail Blouse in Black, Size Small – $48
(Similar sleeveless scallop detail blouse and similar sleeveless scallop short sleeve top)
While I'm normally not one for scallop details, this blouse was by far my favorite in the entire Fix. Something about the double layers (and the back detail! I should have shot a photo of it, sorry!) made me want it. I'll be honest and say that I've found Papermoon for Stitch Fix to be lower quality than many other brands featured in my Fixes. This one had a few loose threads already, and I don't expect it to last forever, but I also know my way around a needle and thread. For the convenience and the fact that this isn't something I would have even thought to try on in a store, I'll take it.
For this blouse, I wanted to style it how I would wear it to work. (Well, I would add a jacket, so may this is the look after the office.) I purchased these blush jogger pants from Uniqlo last month that I love and are so comfortable. I also chose my peep toe booties because we're definitely out of sandal weather now but it's not quite bootie season either. To finish off the look, I opted for my Gigi New York Carly Convertible Clutch, Victoria Emerson Wrap Bracelet, geometric necklace, and gray Cluse Watch.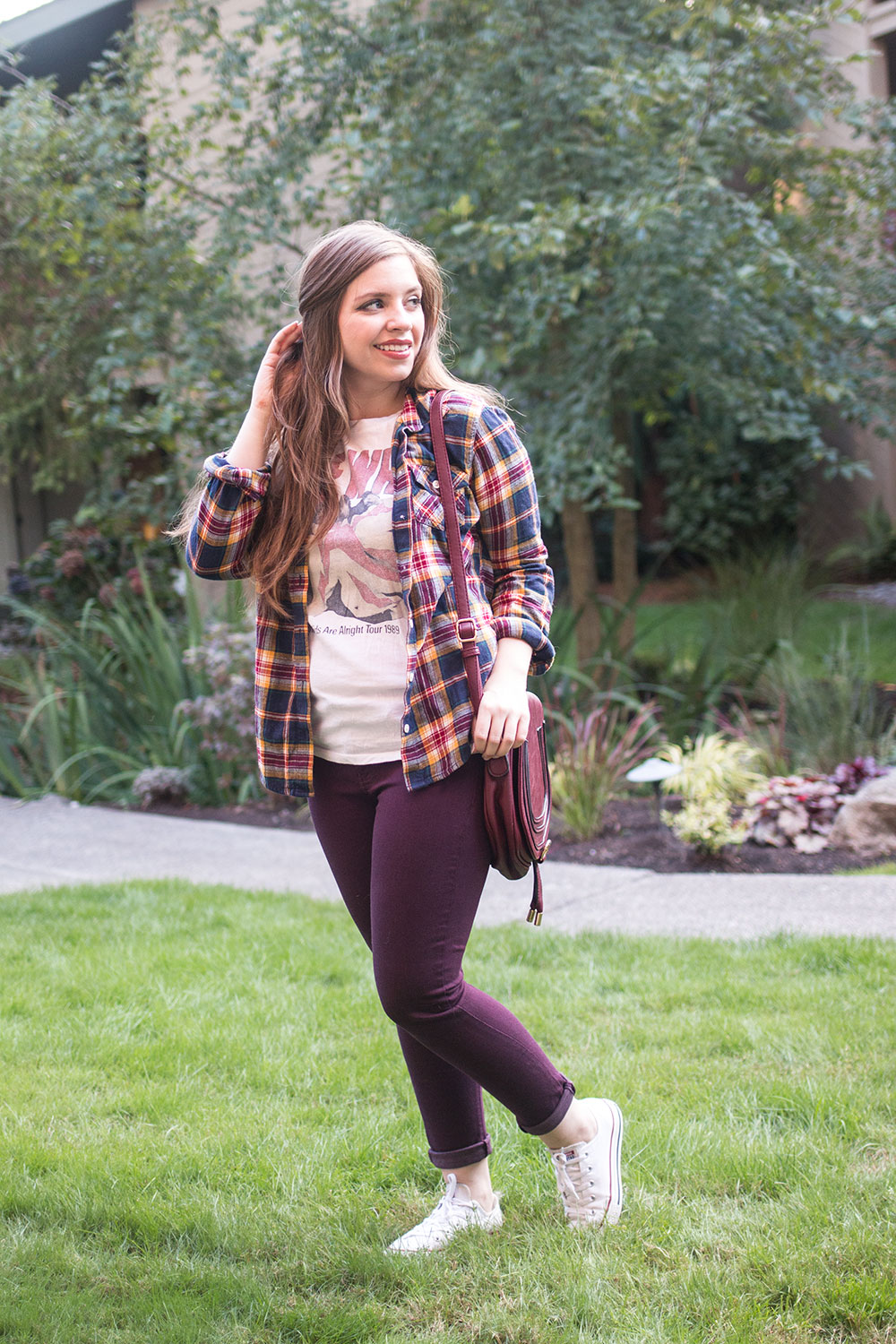 Just Black Addison Skinny Jean in Dark Purple, Size 27 Petite – $88
I was so excited to try these skinny jeans on as I've tried some from Just Black before that I absolutely loved but were the wrong size. These, however, have the opposite problem, at least in the waist area. They fit great in the legs, but they just don't feel very secure. As for describing them as a skinny jean… well, I think jegging would be a bit more accurate. They are more knit than a traditional skinny jean, and feel more akin to a legging. Very comfortable, but also very casual.
For this outfit, I upped the casual vibes with a graphic The Who band tee, flannel boyfriend long sleeve shirt, and a pair of white Converse low tops. I finished off the look with a burgundy cross body (similar style in black or cognac).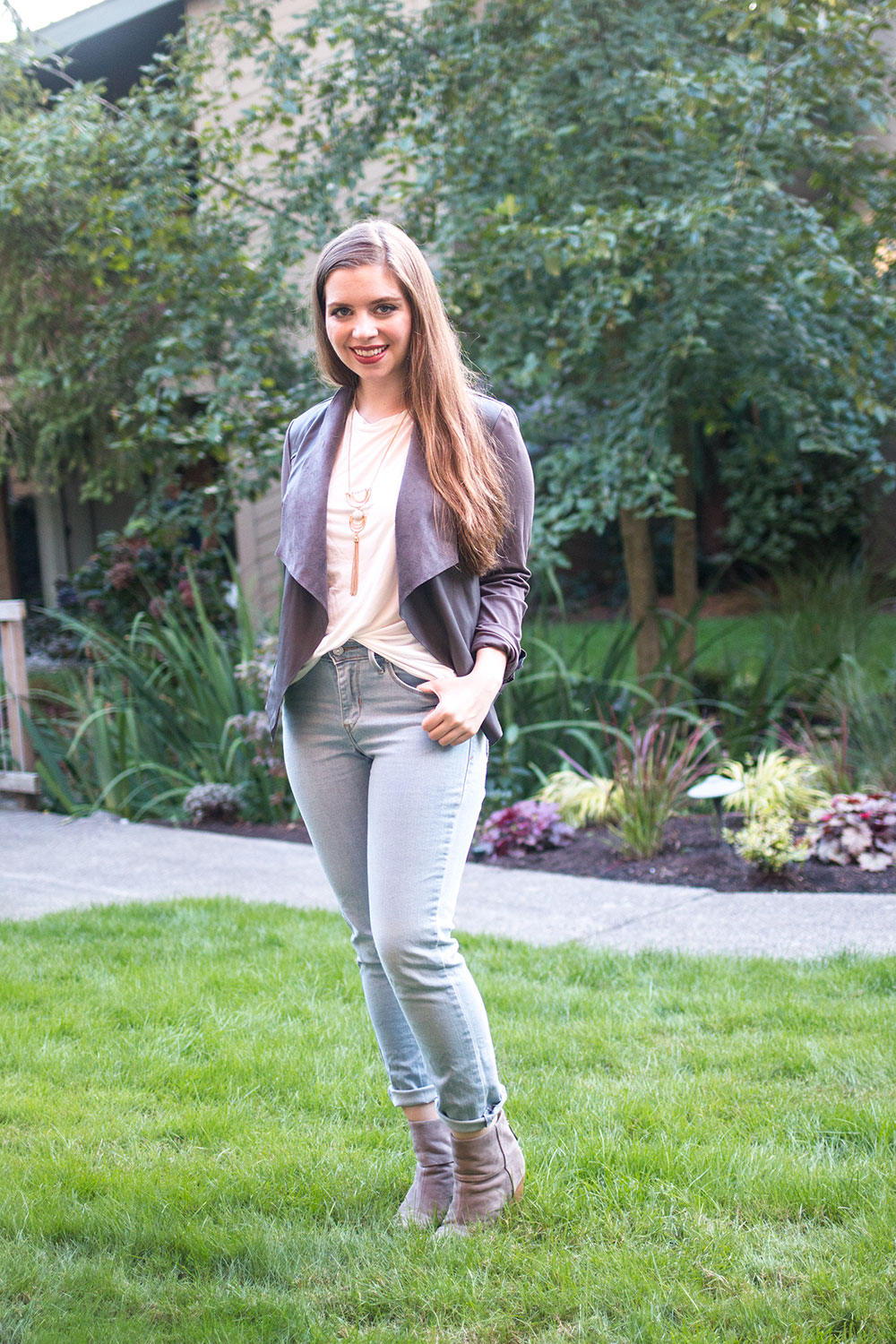 Edyson Maisha Ponte and Faux Leather Jacket in Grey, Size Small – $78
(Almost exact jacket from Kut from the Kloth in a variety of colors like grey, burgundy, and black for $88)
I used to own a very similar jacket to this one from Kut From the Kloth a few years back. If I'm honest, the reason I used to own it versus own it now is that the draping drove me absolutely insane. Every time I moved, one side of the jacket would end up across my chest, and it just looked silly. This one didn't seem to have the same issue as it only "draped" incorrectly once while wearing it for these photos. The other issue I have with it is that the sleeves are long so I could only wear it with the sleeves cuffed. It's a very cute jacket, but I believe it works best on someone taller.
With that said, the jacket works well in a variety outfits, from dressy to casual. I opted for a more casual outfit here. I paired it with my Rag & Bone Newbury Bootie in grey, the same pair of midrise Levi's skinnies and the same Uniqlo Draped Tee from above. I also opted to accessorize with a simple marble and gold geometric tassel necklace to finish off the look. I always love pairing long necklaces with simple tops as it helps to elongate the entire look. (Short people problems!)
Overall, I thought this month's Stitch Fix was fun as always, and I enjoyed trying on each of the pieces, even if I didn't love them all. I find that every month there's always at least one piece that I fall in love with and for me, Stitch Fix is a fun way to try on new styles that I may not normally choose for myself.
Have you received a Stitch Fix recently? What did you opt to keep, or what would you have kept from my Fix? I can't wait to hear your thoughts in the comments!