I'm pleased to introduce you to Breanne of Proper and Pink! She's a recent college grad, fashion lover, and fellow blogger who just loves to write! I love her helpful spin on fashion blogging, like this post about different lace styles to try and the post she has for you today. Without further ado, here's Breanne!
The interim between the end of winter and the true start of spring can be a tricky time for dressing. With the weather fluctuating from cold in the early morning to a hot midday and then back to cold in the evening, finding an outfit that is both fashionable and functional from day-to-night can be difficult. However, dressing during this transition does not have to cause stress. Simply follow these five tips to help you transition your winter wardrobe into spring.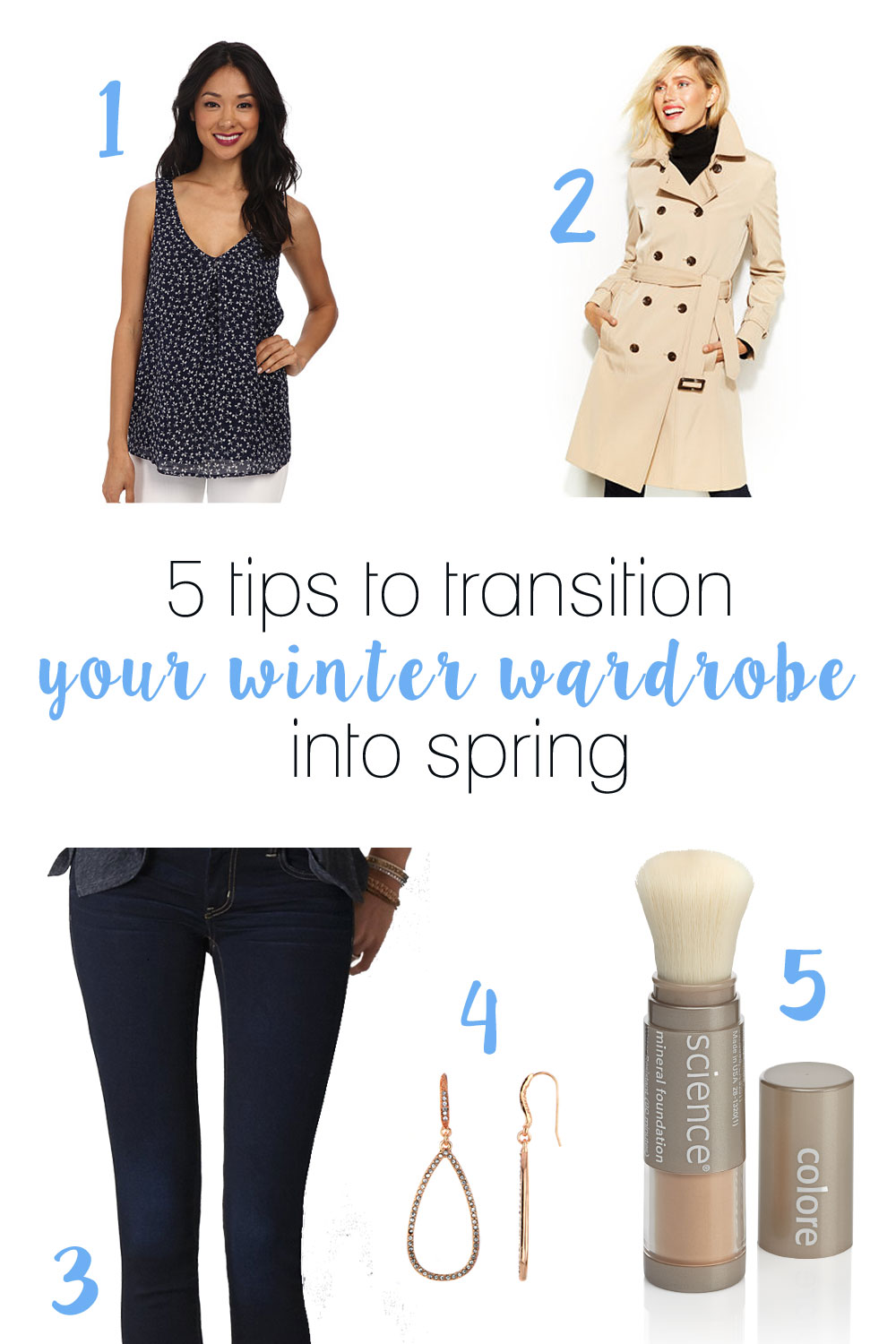 5 Tips to Transition Your Winter Wardrobe into Spring
Learn to Layer
Perhaps the most effective and fun way to start transitioning your winter wardrobe into spring is learning to layer your winter pieces with your spring items. For the office, a classic pair of pants can be the foundation for a perfect winter to spring look. Grab a sleeveless silk blouse and mix the gentle, flowing look of the silk with a more structured winter blazer. Classic pumps or flats are a perfect way to finish this look. The blazer is especially helpful for dealing with cooler mornings and evenings while the sleeveless silk blouse lets you find relief from the heat of the day in an office-appropriate way.
Get in the Trenches
One of the most versatile fashion items that a woman can own is a classic trench coat. A trench coat is a great transitional item because it provides added warmth, and style, but is still light enough to be worn comfortably when the weather warms up. A trench coat is helpful during major fashion transitions during the year such as summer to fall and again from winter to spring. To maximize the amount of style and mileage you will get out of your coat, invest in a well-made trench coat that will remain stylish year after year.
Stick With the Basics
Just like the trench coat, there are fashion pieces in your wardrobe that are eternally in style and that do not require a specific season for wear. As you would invest in a trench coat, these items are worth spending a little extra money. These items will carry you from season to season year after year. Items in this category include a perfect fitting piece of dark denim, a classic white button down blouse, a cardigan, and a structured blazer.
Add Accessories
Another way to help extend the life of your winter wardrobe into spring is to swap out accessories. Winter accessories tend to be in classic, neutral colors while spring accessories are more dainty, delicate and colorful. One of the most fun accessories, that's also practical given the weather, is a scarf. Switch your chunky knit winter scarf for a lightweight and brightly patterned scarf. Other accessories to help transition from winter to spring include feminine earrings or necklaces.
Freshen Your Makeup
Makeup, for some, is also a seasonal affair. Winter makeup trends often include red or deep, dark berry hued lips and gilded eyelids. Spring makeup tends to be softer and a bit lighter. Start, as always, with skin care including an item with SPF and a foundation that evens out your complexion. Use a lighter blush, such as a peach or nude pink shade and finish your face with a bright berry or pink lip.
The transition from winter to spring does not have to be an awkward one where your wardrobe is concerned. Choosing spring pieces to incorporate into your winter wardrobe now helps keep you comfortable and stylish.
Breanne is a recent college graduate and fashion blogger. You can find her over at her blog, Proper and Pink. Interested in guest posting on hellorigby.com? I'll be out of the country this summer and fall and would love to have you! Email me if interested.
How are you planning to transition your wardrobe from winter to spring?