Press Sample
It's not often that I do straight up product reviews anymore. In fact, I don't remember the last time I did a review that wasn't in some listicle type format. BUT, I'm finally a grown-up skin care lady – I've already adopted eye cream (last year) and now I've adopted serum too! I was one of those doubters… thinking eye cream was for "old people", and I lumped serums in there too.
What was I thinking. Eye cream and serum are to prevent you from looking old! Duh.
So, now I've brought serum into my skin care "wardrobe" if you will, and I don't know why I didn't try it sooner. Don't be fooled by the (low) price, this NeoCell Collagen Serum is pretty awesome. And the NeoCell Refreshing Herbal Mist is fantastic too. Read on to find out why I'll continue to use these items!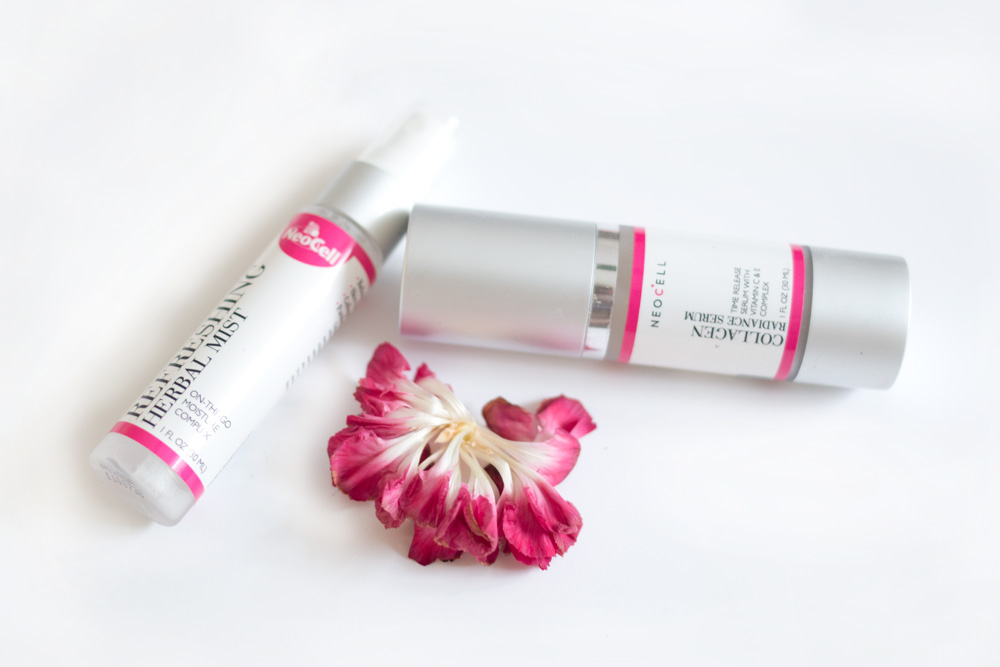 NeoCell Collagen Radiance Serum with Vitamin C
Whenever I see "collagen" on a product I instantly figure it's made for someone in their 40s or 50s. What I've learned is that my skin functions much like mature skin… because it's dry. Especially in the winter, I need the extra hydration boost that this serum provides, and the brightening Vitamin C helps to fade dark marks from old acne spots. Additionally, the collagen factor really plumps up my two wrinkles. Yes, two. They're on my forehead and they're evil. I'm hopeful that by continuing on my crazy person skin care regimen that they don't ever multiply. A girl can dream. (Buy at Amazon, $16)
NeoCell Refreshing Herbal Mist with Collagen
Did you know that you're supposed to re-hydrate your skin post-shower or face washing within 30-60 seconds? I read that online somewhere, and while I'm not sure it's 100% accurate, I try my best to get this face mist on my face as quickly as possible. Instead of that tight/dry feeling post-cleansing, this leaves my skin feeling nice and fresh. While I won't lie about it smelling like roses (it doesn't, I'm actually not a huge fan of the scent) it does the job it is meant for well. I especially appreciate how gentle it is – there's no alcohol, so this is perfect for sensitive and dry skin types. You can apparently also use this to set makeup, which I haven't tried but will now. (Buy at Amazon, 3 for $17)
Disclosure: NeoCell sent me these products for my review. Other than the samples, no compensation was received and as always, opinions are my own. If it sucks, I don't review it. ;)
Alright, tell me about your skin care routine! Are you a serum or face mist fan? Favorite products?