I'm not that new to Lush, I always buy a bath bomb before we take a trip somewhere with a soaking tub. BUT, I never really bought into the hype about most of the skin products. That is, until recently. I had the world's worst break out around Christmas. It had been brewing for awhile, but it really went psycho. I don't know if it was the stress of all the things going on around the holidays, my hormones playing mean tricks, or what, but a few things that found their way under the tree from Lush made a huge difference.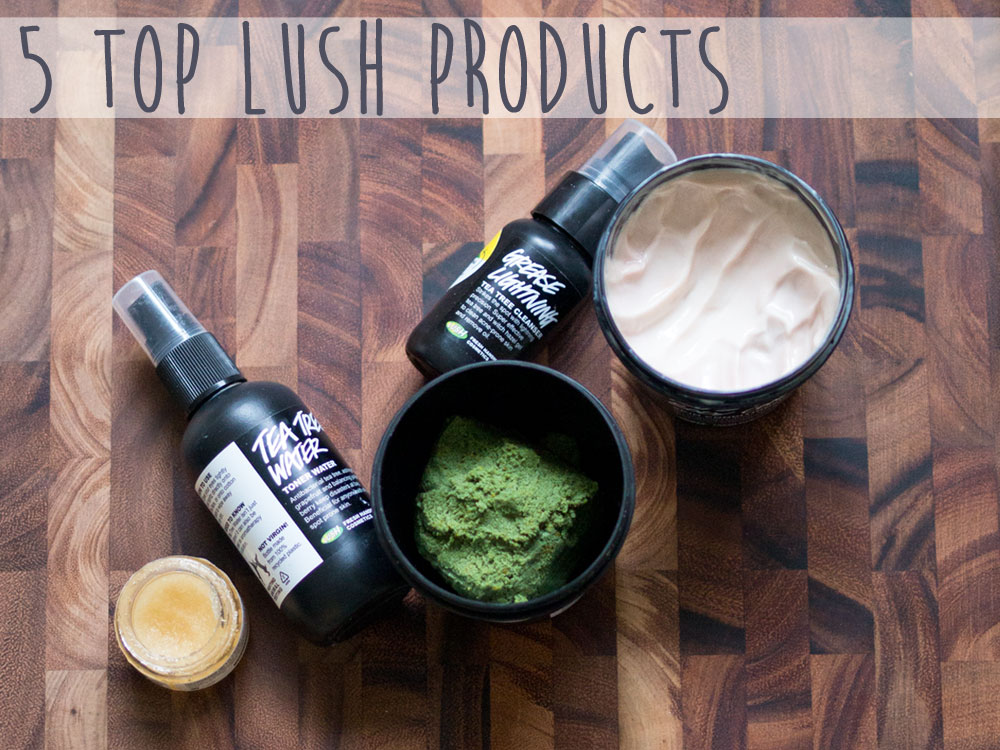 5 Top Lush Products
Herbalism Cleanser: I have dry skin, so I try to avoid using anything abrasive… but the almonds in this don't seem to irritate my skin. I wash my face once a day at night (you know, to remove makeup and all that fun stuff) and alternate this every other day with a gentle cream cleanser. Keeps the dry skin flakies at bay, and keeps my face nice a clear.
Tea Tree Toner Water: I use this as a preventative on areas where I tend to break out the most (especially around the jawline and lower cheek areas.) I find it's not as hydrating as the rest of my face needs, so I use a moisturizing toner elsewhere. I've heard that when you run out, you can mix the Tea Tree Toner Tabs with water and refill the bottle for much, much less and for the same benefits.
Grease Lightning Cleanser: This is supposed to be a cleanser, but I actually use it as a spot treatment. I really like it because it doesn't make my skin peel and flake like Salicylic Acid or Benzoyl Peroxide does. It seems to flatten blemishes and dry them up within a day or two, depending on the severity.
Ro's Argan Body Conditioner: Obsessed. This is a little splurgey for something I use in the shower, but I will definitely be buying this again. It smells so good (from what I understand it is the same scent as Rose Jam body wash, which I will also be picking up soon!) and it allows me to skip moisturizing post shower. My normally itchy dry winter skin is so much better this year, and I'm thinking it's all due to this product.
Popcorn Lip Scrub: I mentioned this in my what I put on my face post, but this deserves another mention. It's fabulous to use before priming your lips for lipstick, and I use it when I'm exfoliating my face with Herbalism. Plus, it tastes delicious and is actually edible (though I wouldn't plan on eating too much of it, I imagine that would give you a stomach ache.)
If you're new to Lush, I'm not the only blogger who's obsessed. Check out Cat's post on her favorite Lush masks or Kelly's post on her beauty favorites. I definitely have a few of their picks on my list for next time!
And for all of you Valentine's Lovers (or haters, I won't judge) I have a fun little giveaway to show my love for all of you. D'awwww. Get yourself entered below, this giveaway will be running for a week in hopes that it will make it to you before the 14th so you can treat yourself. If you're an international reader, I'll have to make it a PayPal payment so you can treat yourself in some other way. Good luck!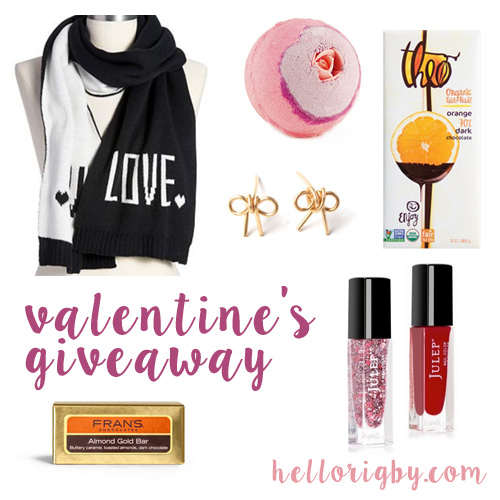 What's inside the "basket":
–
Lush Sex Bath Bomb
–
Theo Chocolate bar
–
Fran's Almond Bar
– Julep Valentine's Nail Polishes in
Hartleigh
and
Karissa
–
Bow Earrings from Fresh Tangerine
– LOVE scarf from Old Navy (now sold out)
Are you a Lush fan? What other products do I need to try?