Disclosure: Thanks to Northgate Mall for sending us to have photos with the Easter Bunny & to Barkworthies for sending Rigby some yummy treats!
Going to new places can be overwhelming. It may be loud; there could be funny smells, your personal space might be invaded if the place is busy, and depending on how comfortable you are, you may feel a bit panicky. Now imagine you're about 1/5th of your size and have to deal with all of the above, and things could be even more extreme. That's how your dog deals with public spaces every day.
Last weekend, we were invited to take photos with the Easter Bunny at Northgate Mall just north of Seattle. The first thought in my head was "Oh, I don't know about that…" I didn't want to pass the opportunity up because, to be honest, I was curious about how he would do in a potentially busy environment around other people, dogs, cats, and/or kids. It also gave me a unique opportunity to test out training and work with him on new scenarios. Socialization never ends, and who said you can't teach an old dog new tricks?!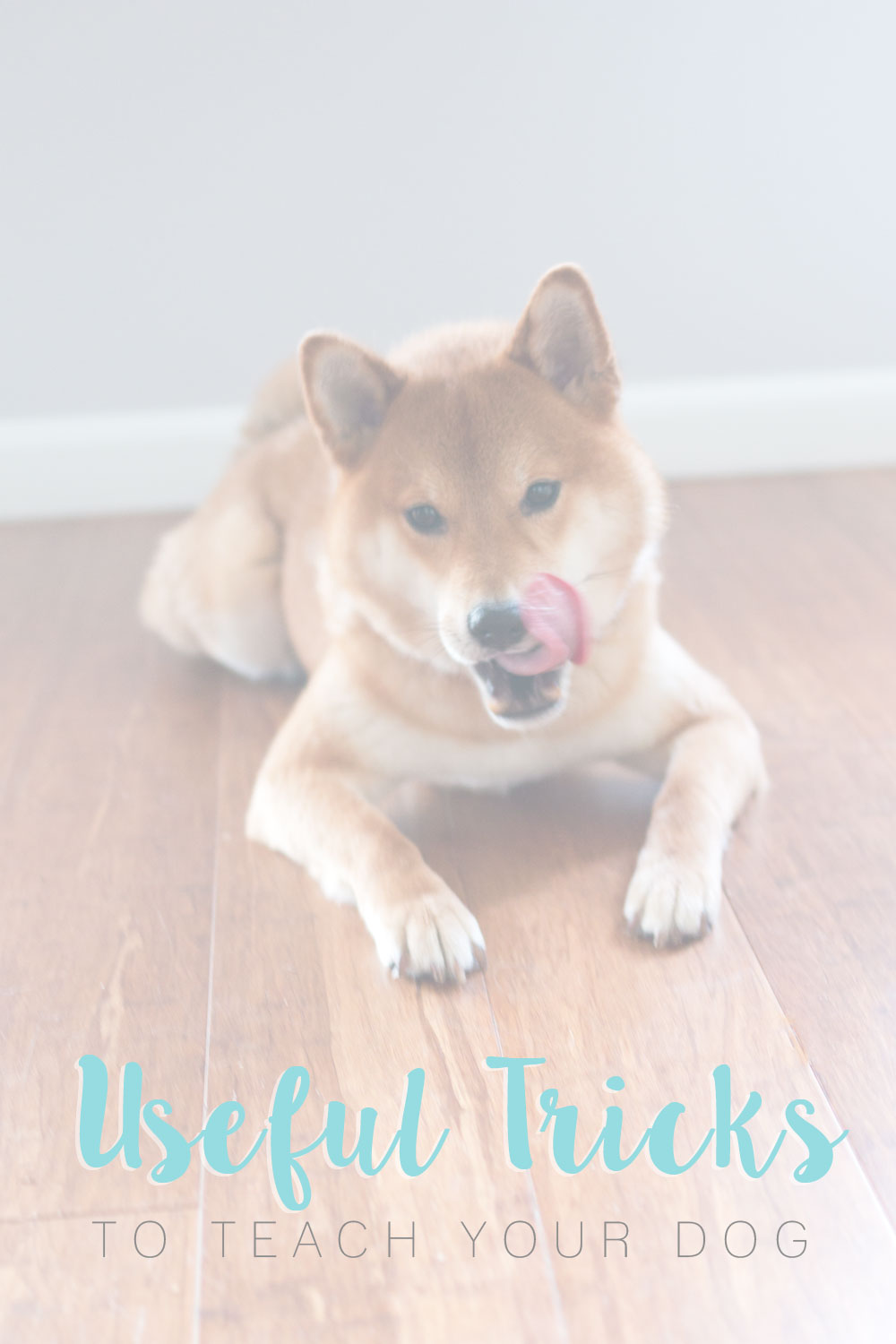 5 Useful Tricks to Teach Your Dog
The first thing I did to prepare was to brush up on some of my favorite tricks that Rigby knows. Some he's better at than others, but I used all of these while we were at the mall to ensure we were safe and he was kept occupied. Rigby tends to have leash frustration, so I manage it by engaging his mind through training.
Before we jump into things, just a disclaimer: I'm not a professional trainer, I don't even play one on TV. I'm sharing these teaching methods based on my personal experience as a pet owner in hopes of them being helpful. I do not condone positive punishment (i.e. alpha rolling, smacking your dog on the nose, etc.) if they do not perform the tricks correctly. Rewarding the good behavior and ignoring the mistakes is how to build a positive relationship with your pet. I'm also aware there are many ways to train your dog some of these tricks. That's awesome! Do whatever works best for you and your pet.
1. Watch
My #1 favorite trick, and probably the absolute easiest to train. If your dog is food motivated, take a high-value treat, move it to eye level, and then reward when your dog gives you eye contact. If you have a clicker, you can click the moment you receive eye contact and then provide the treat after. As you work through this exercise, you can begin pairing the word " watch", "look", or whatever you'd like really to the trick and begin removing the reward from your dog's sight line.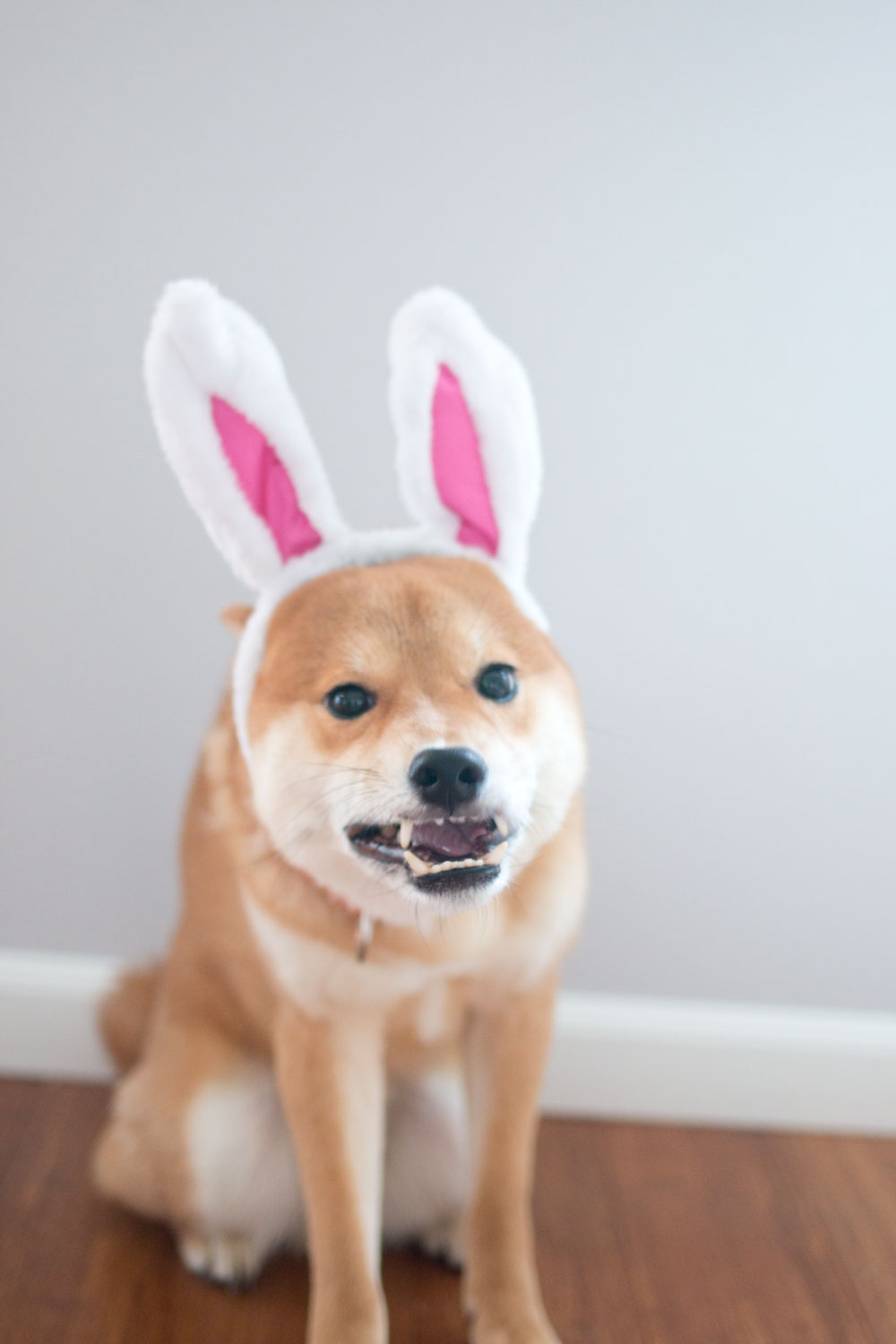 2. Settle
Having your dog know how and where to settle is key, especially while waiting in line, sitting down at an outdoor cafe or restaurant, or while visiting a friend or family member in their home. I like to have Rigby in a sit-stay or down-stay to the right of me. Rigby tends to be a bit of a wanderer, so I ask him for a sit, then a stay, and then I periodically reward him for staying in place, being calm, and for eye contact.
3. Stay
Wait, so how did I teach a stay? It's pretty easy as long as your dog already has "sit" or "down" mastered. Ask your dog for one of those tricks, then when they oblige, step backward once. If the dog follows you, no treat. If the dog stays, the dog is released (our word is "okay") and rewarded. Rinse and repeat, backing up more and more until your dog seems to be catching on. Then, you can start pairing the word "stay" before moving away from the dog.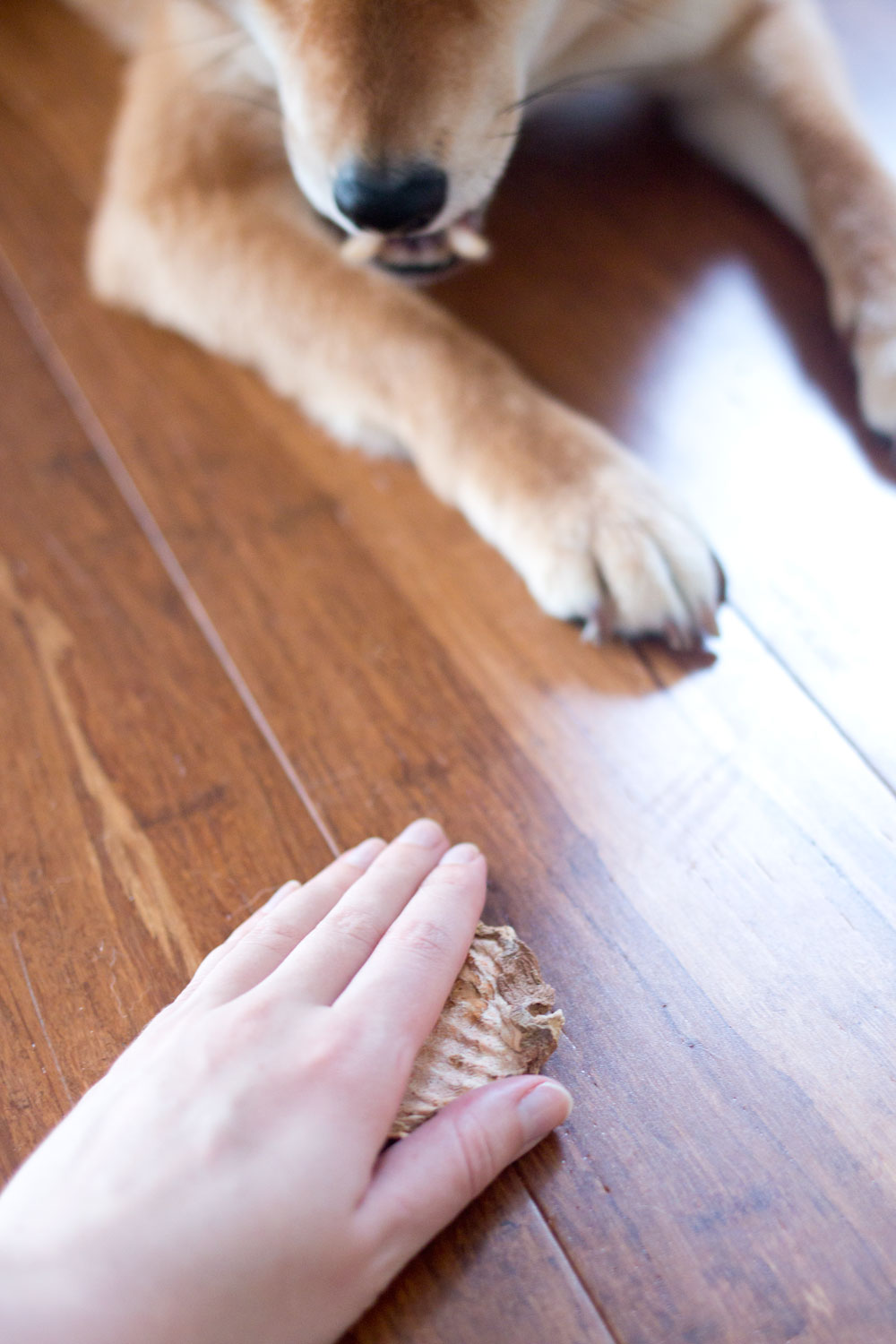 4. Leave it
When going to a new place, you never know how clean it is or isn't. I wasn't very worried about this inside the mall, but sometimes parking lots can have all sorts of goodies like half eaten pretzels, garbage, and who knows what else. Having a watchful eye on your pup in a new location is critical, but so is training leave it in case you happen to look away, and your dog nabs something funky.
The way I taught to leave it was to have a really tasty treat or a pile of small treats on the floor in front of the dog. In this example, I used a large Sweet Potato Chips from Barkworthies that I could break into smaller increments. If the reward is interesting, your pup is going to want to sniff it, lick it, and try to take it from you. When the dog gives up, you reward them with a piece of the treat. Rinse and repeat until the dog is consistently getting it, and then you can begin using "leave it" or whatever term you'd like to pair to the action.
5. Look At That (LAT)
Have a nervous pup? Look At That Training is a life saver. It's technically more of a game than a trick, but if you have to take your dog somewhere scary, such as the vet, or perhaps your dog is scared of certain loud noises, objects, or other animals, it's helpful to have taught this ahead of time. This article goes into even greater detail, but the premise is to reward your dog for looking at something scary. You start slowly at first and reward for a neutral (AKA none at all) reaction. If the dog reacts in a negative way, you've moved too quickly and neede to backtrack a bit.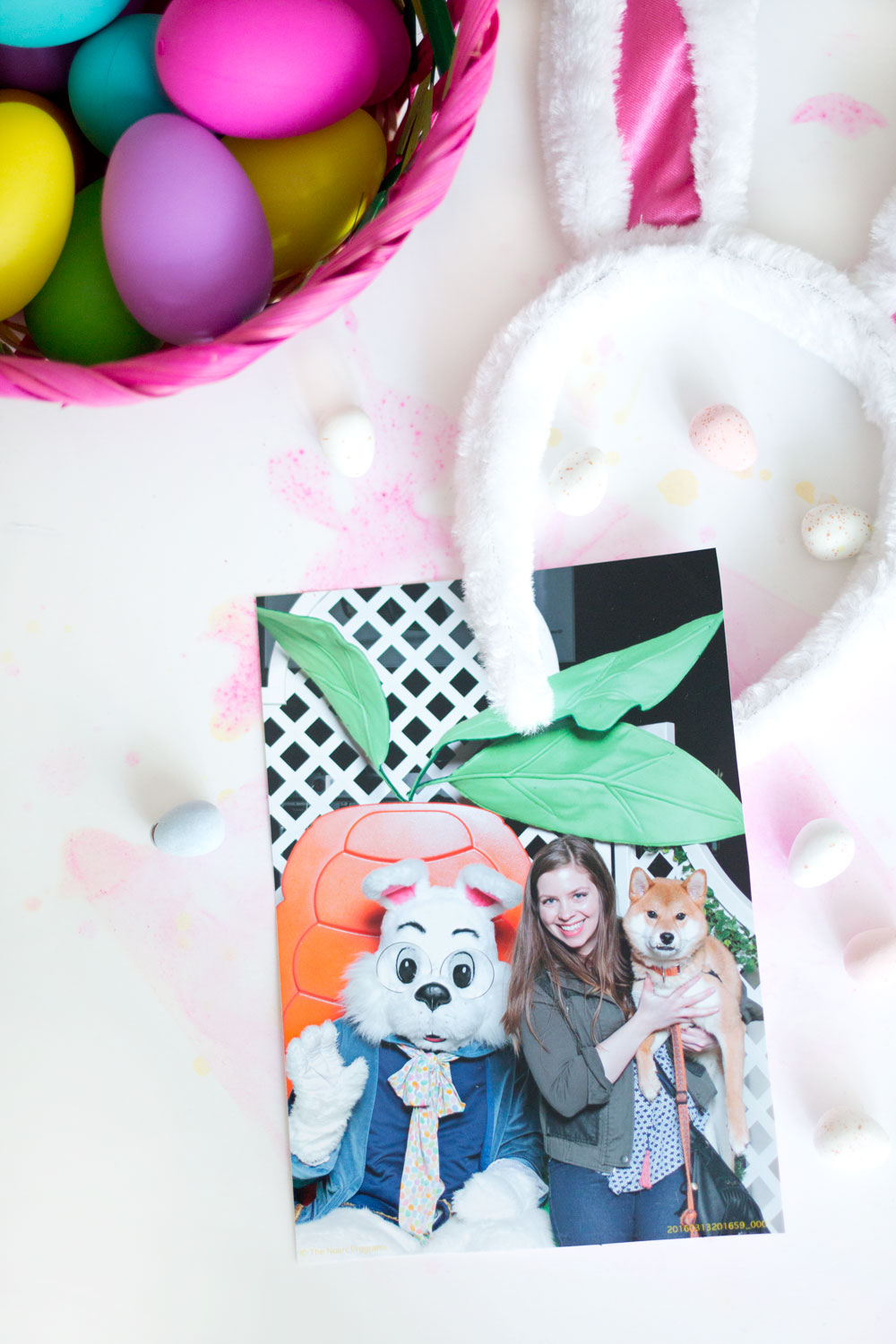 Despite my nerves in taking Rigby to pose with the Easter Bunny, he exceeded my expectations and was quite the little gentlemen to the strangers he met, including the Bunny himself. It only took 4 or 5 shots to get a winner, and I was so proud he wasn't that dog if you know what I mean. ;)  If you're in the local area, Northgate Mall's pet photos with the Easter Bunny is over, but you're more than welcome to get you  and your children's photo taken! They will be onsite until Saturday, March 26th at 8 pm. (Full schedule here.)
What tricks do you think are the most useful to teach your dog? Do you continue to work with your dog on tricks and training? I'd love to hear about your experiences with training your pup!