Affiliate Links / Product Sample: Starbucks sent me some products for review, but my coffee/chocolate addiction and thoughts are my own. Just Four Kicks also sent me a copy of their game as a gift.
What do you do when you have leftover Christmas candy, Valentine's candy, and a bunch of Starbucks Hot Cocoa calling your name? You create a DIY Hot Cocoa Bar, obviously. We have dinner with my side of the family every other Sunday, and I thought it would be fun to have a little hot cocoa over a new-to-me card game called Just Four Kicks. I'd kept seeing pins for these DIY hot cocoa bars, and while I did not create anything nearly as fancy, it probably tasted just as good!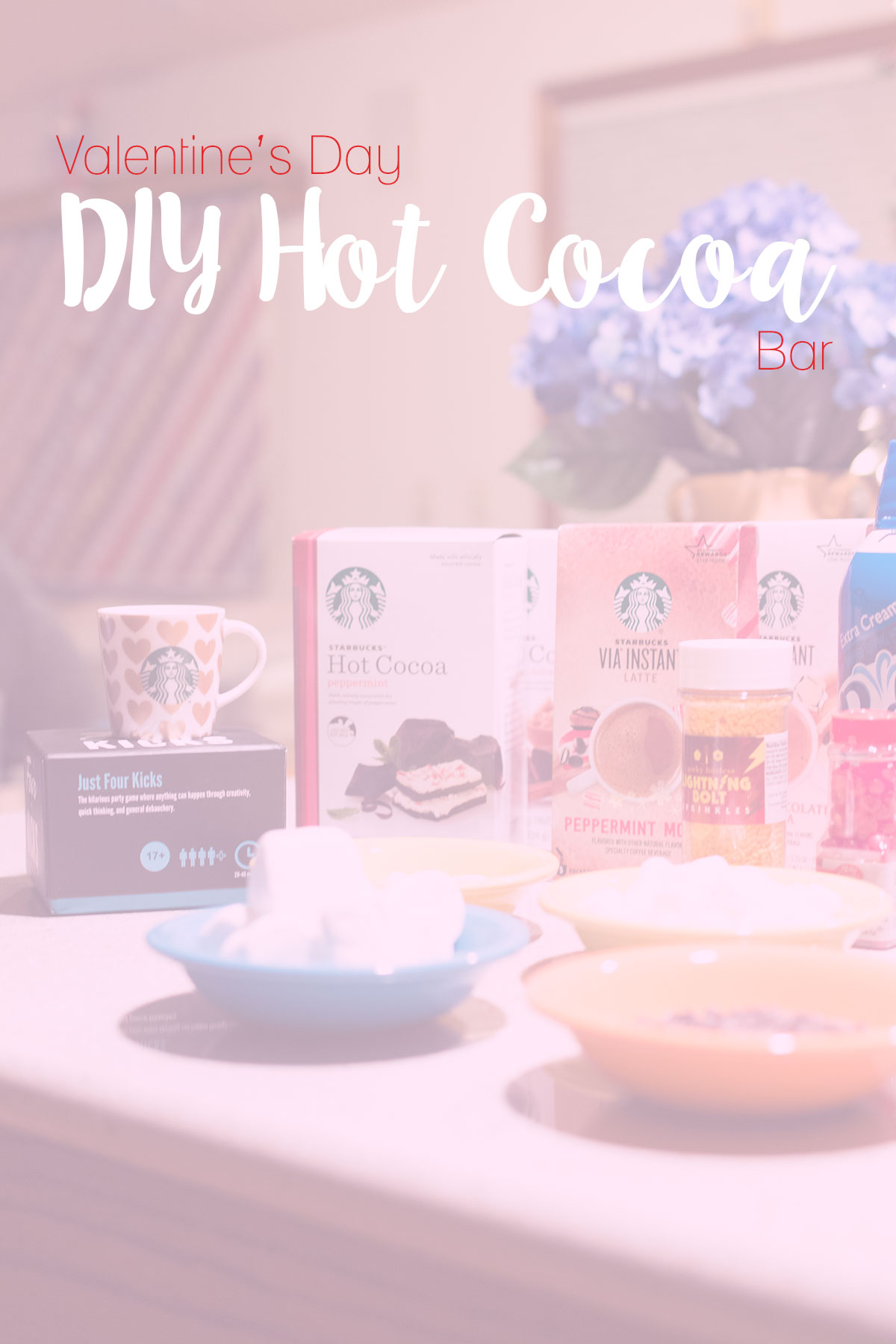 With a few boxes of Starbucks Hot Cocoa and VIA instant coffee for those with a craving for caffeine, we had the base for our bar. Add in a couple of handfuls of candy, some marshmallows, and your favorite whipped topping you can create a fun hot cocoa toppings bar for a special Valentine's Day treat. Obviously if everyone is of age, feel free to throw in some extra special ingredients if you get my drift. We opted to stick to keep it PG on this particular night, however. ;)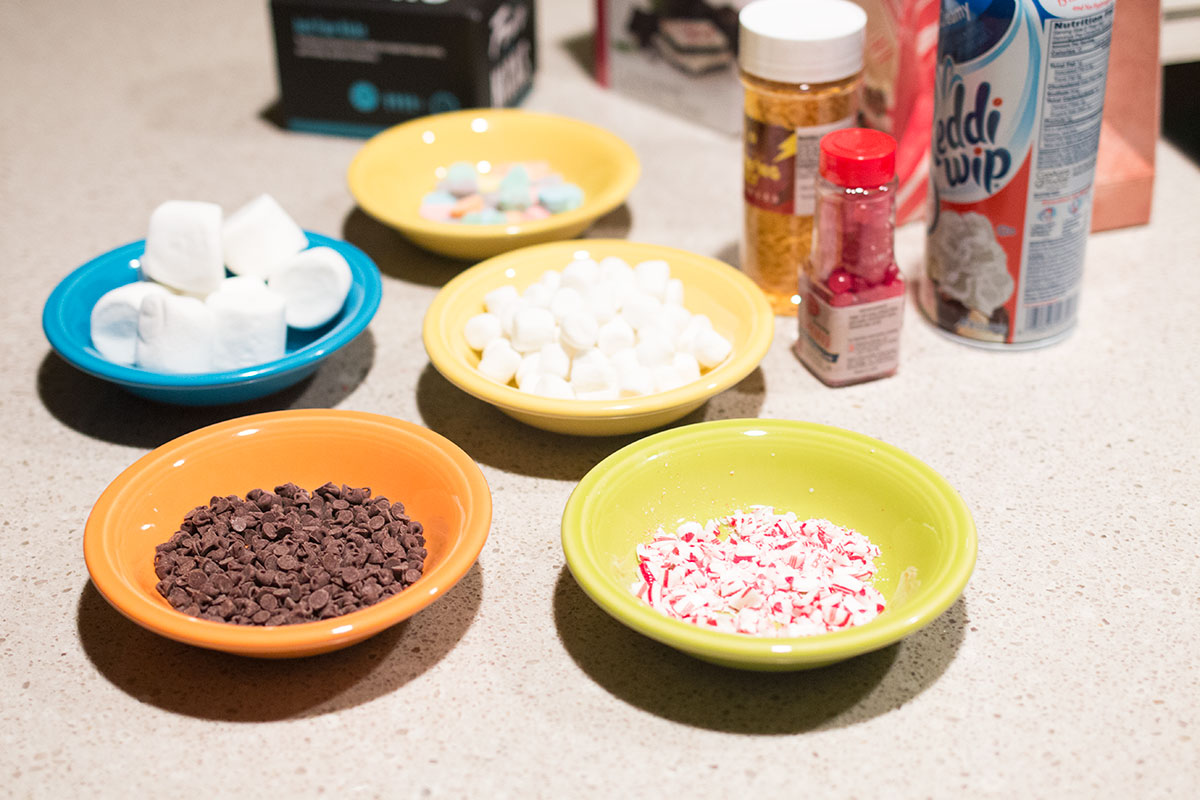 What You'll Need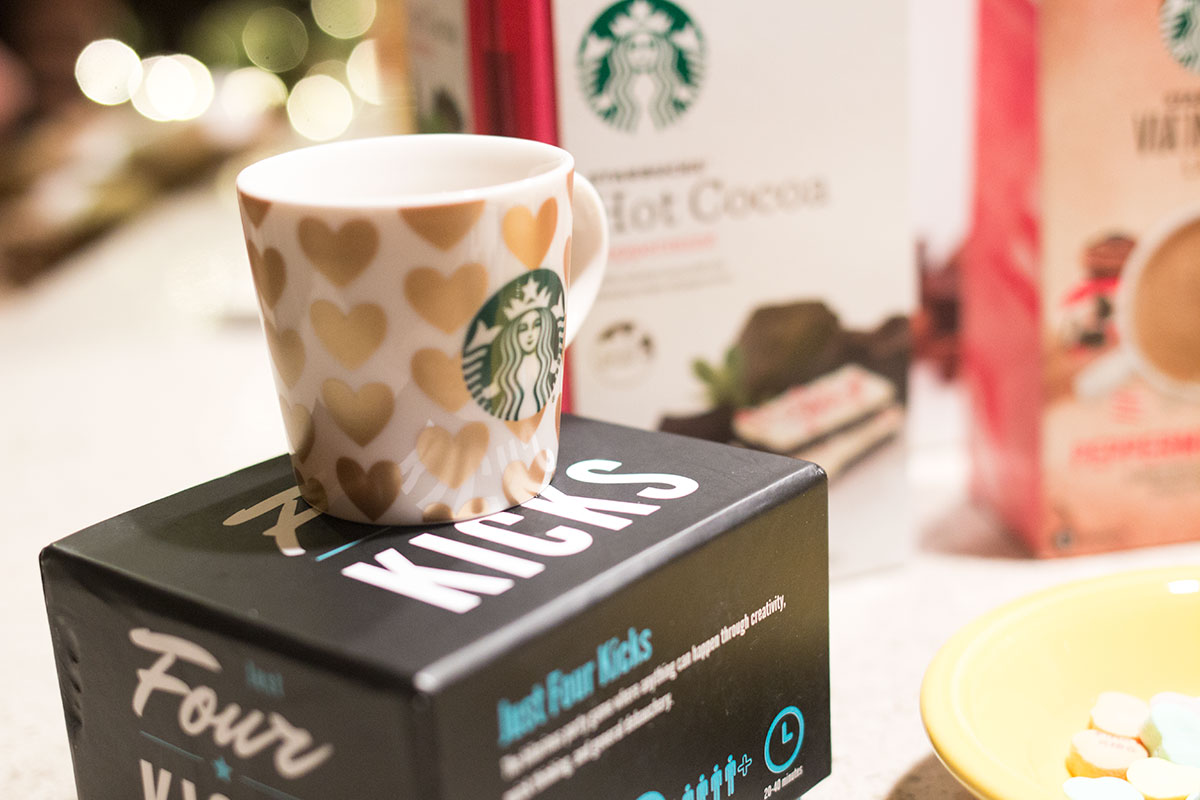 How to Make It
Heat milk according to hot cocoa package directions on the stove top
While milk is heating, crush up candy canes (and other candy, if applicable) in a plastic baggie
In your small serving dishes, place enough servings of candy and toppings for each guest
When milk is bubbling slightly, turn off heat and pour a serving into each mug for your guests
Allow your guests to go hog wild with the toppings, and of course, enjoy!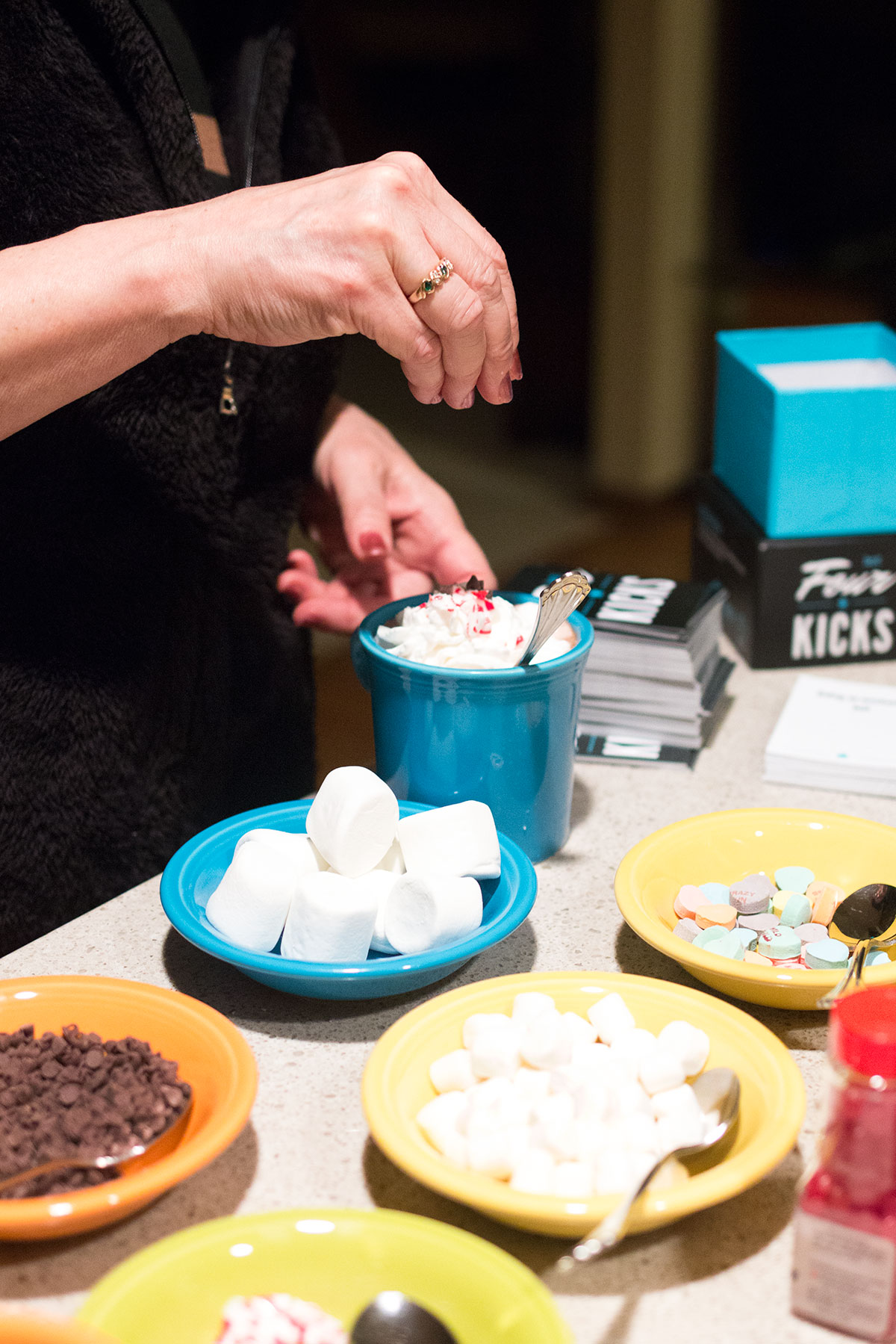 While we sipped our hot cocoa, we had fun playing a new-to-us game called Just Four Kicks. It reminded me of what it would be like if Head's Up and Cards Against Humanity were combined. Just Four Kicks is a multi-round game that involves embarrassing topics like farting during a yoga class, silly situations like being hangry, and pop culture references or slang like swag. Each round involves a different task. During round 1, you have to describe the phrase or word without using any of the words. In round 2, you need to act it out. Then in round 3, you're only able to use one word to describe your card. And in the final round, you're to do charades again but with a member of the opposing team as a prop.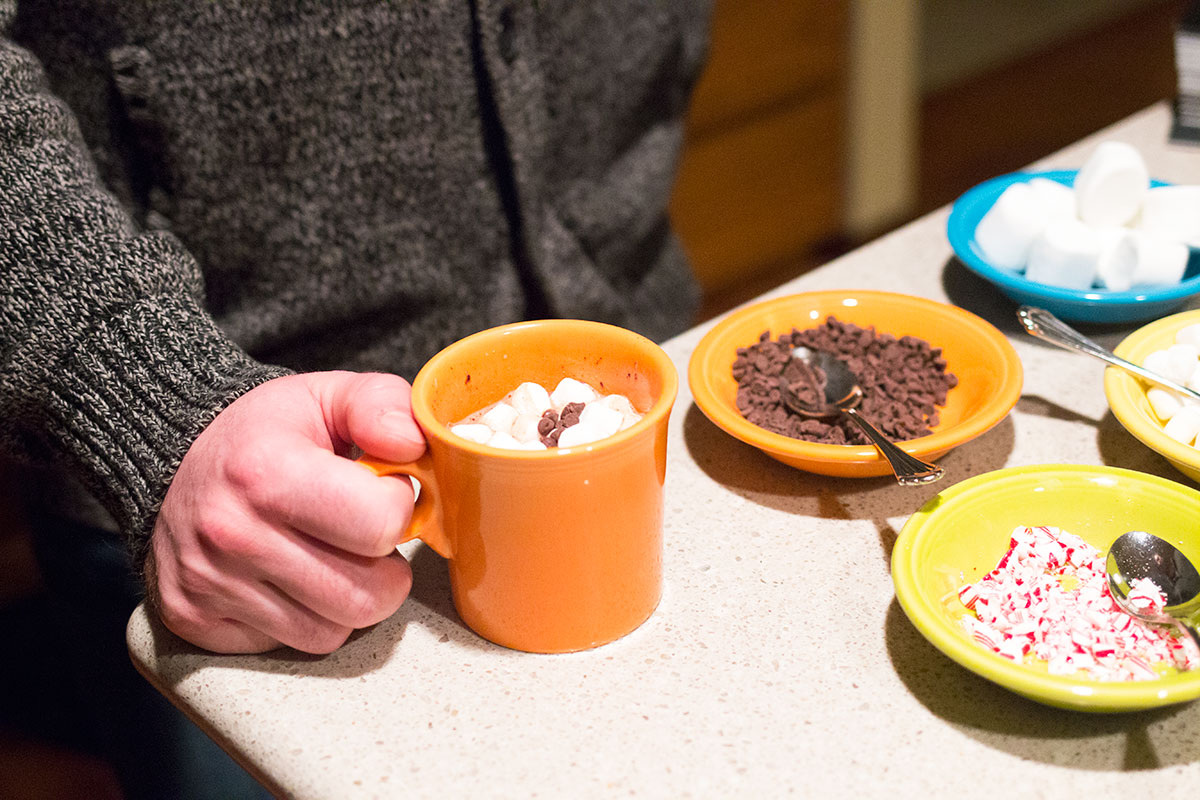 It's always fun to try playing a new game, and trying Just Four Kicks was no different. The rules were pretty simple and straight to the point. It didn't take long to read through the rules and understand them, plus since it's all card based, it was super easy to travel with.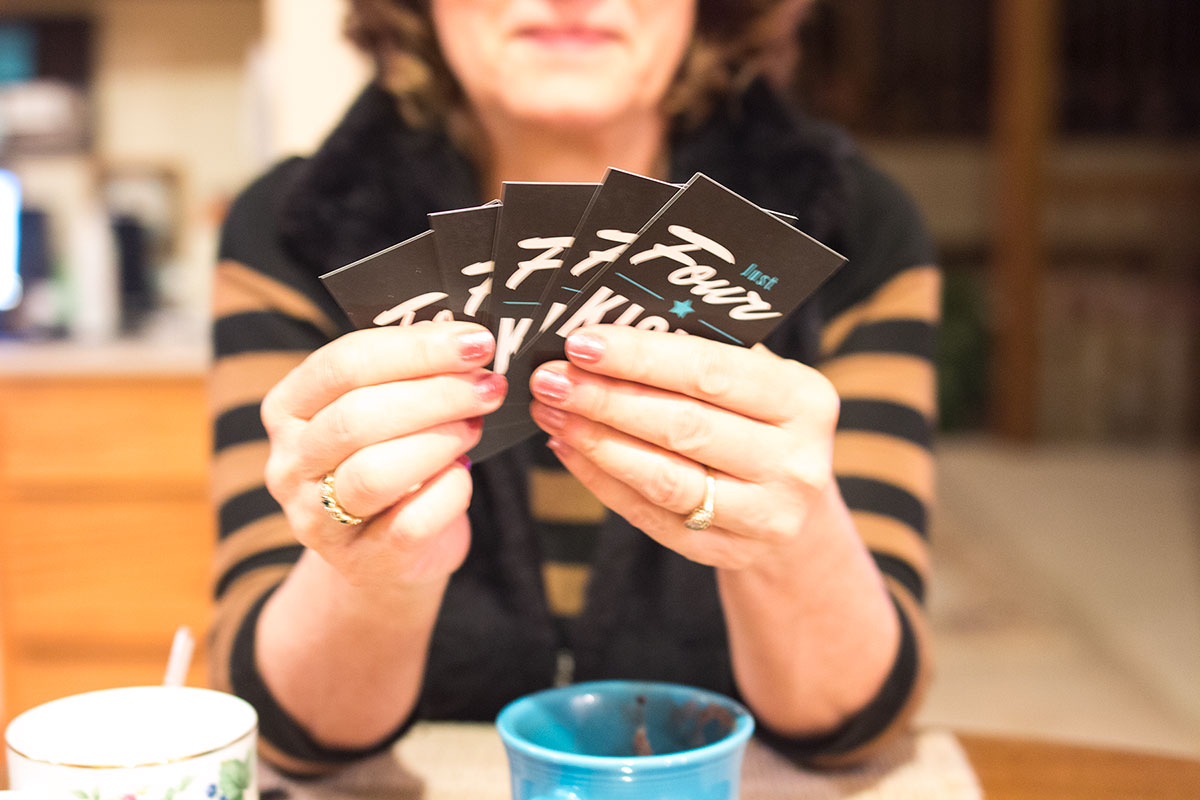 To be completely honest, however, we did find it was a bit challenging to play with my parents. While Dave and I knew the majority of the pop culture and slang phrases, playing it with an older generation like my parents was pretty hilarious to us, but unfortunately sometimes perplexing to them. My dad surprised me by knowing exactly what "swag" meant while my mom was a bit clueless. We'd recommend playing this with your millennial friends, and next time we have friends and Dave's siblings over we're going to be playing this again.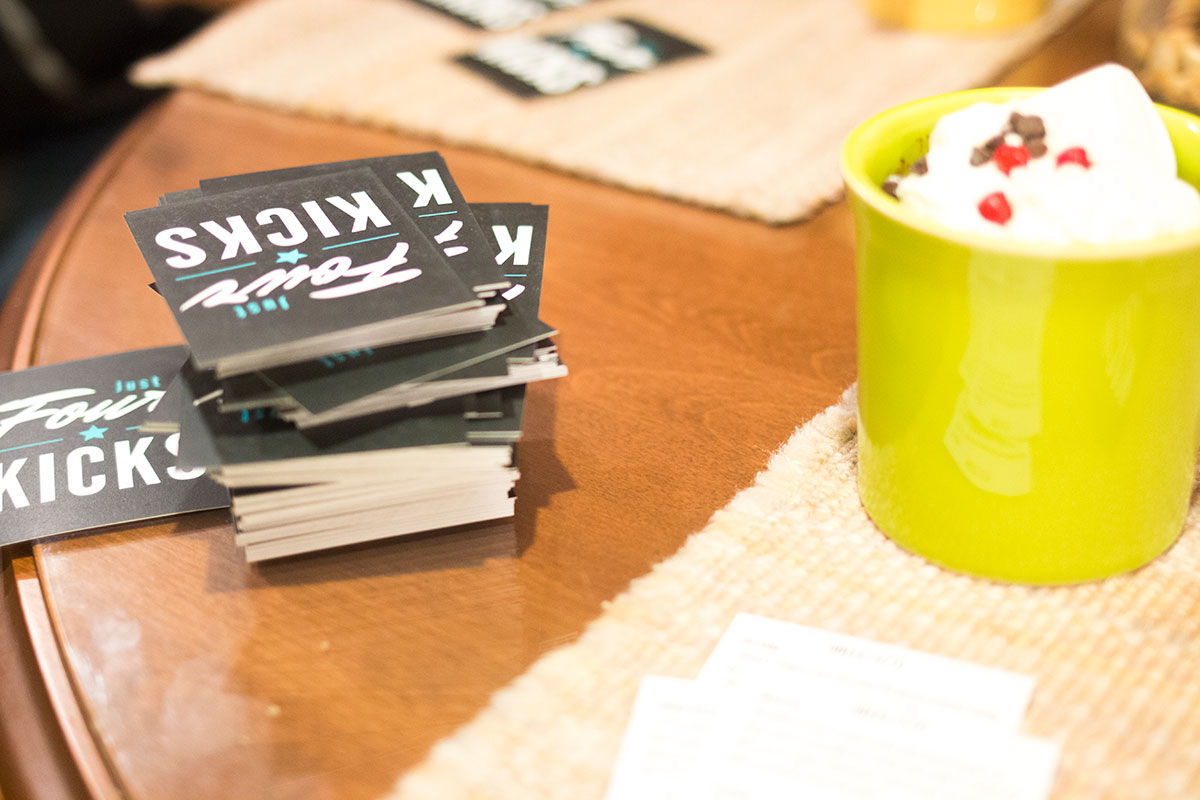 If you want to play more than one game, Dave and I have a few game recommendations that might fit your shindig. If card games are your thing, check out Cards Against Humanity (but only if you're playing with an open minded group), Dominion, Munchkin, or Apples to Apples. If it's a board game you're after, try Ticket to Ride, Settlers of Catan, Dixit, or Scattergories. All are fun to play in small to medium sized groups!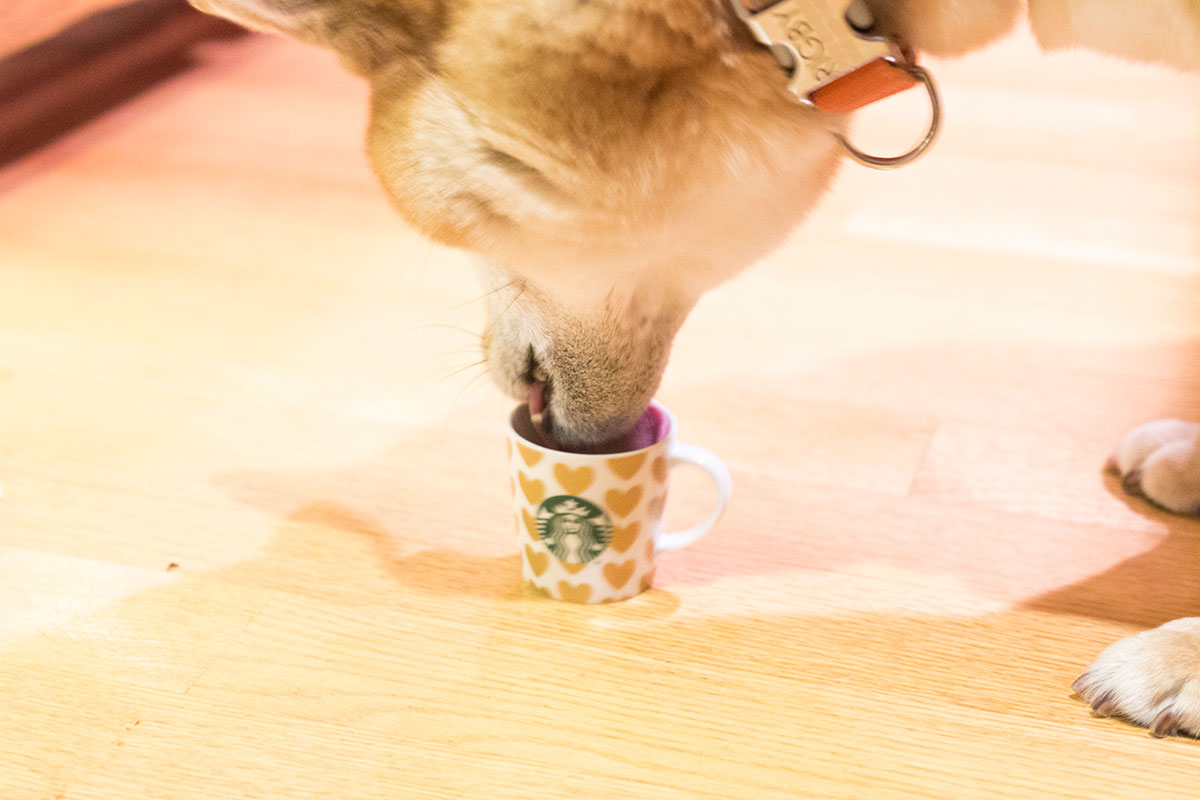 And now, because Valentine's Day is nearly upon us and I want to show you the love, I thought it was only fitting to throw a little giveaway! One lucky winner will receive a fun Valentine's Day Prize Package including a Burberry Kisses Lipstick in Military Red, a few beauty surprises, my favorite local chocolate (just let me know if you like dark or milk!), and of course, a little selection of my favorite Starbucks Goodies to try! Because I'll be shipping food, this giveaway will be open to the US only. I'll catch you next time international friends. Giveaway will end 2/10 at midnight EST. Good luck!
Have you set up a DIY Hot Cocoa bar before? What are your favorite toppings? And of course, I want to know if you've heard about Just Four Kicks and what your favorite board/card games are! I look forward to reading your comments below. :)