Sponsored Post: Today I'm partnering with Moroccanoil to share what's been working to keep dry tangled hair at bay this winter. All opinions are my own. :)
Am I the only one that struggles with dry tangled hair in the winter? Let's just say that any time the weather gets cooler and the air is drier, you can bet I'll be struggling with hair problems. It's been a constant battle since childhood. Back then, I was a swimmer, so you can bet the life of swim cap wearing and chlorine dipping wreaked all sorts of havoc on my strands.
My mom would painstakingly comb out the "ratties" as she called them while I screamed and writhed in pain. While it's no longer quite so dramatic, this year has particularly been hard on my poor little hairs. Cue me Googling like a maniac to try and figure out some way to get rid of my tangles once and for all.
Unfortunately, easier said than done. Dr. Google had all sorts of suggestions… but trying each idea individually never gave me lasting results. Instead, I had to figure out the perfect cocktail to keep my hair from becoming a rat's nest. Today, I'm going to share with you what has been working for me.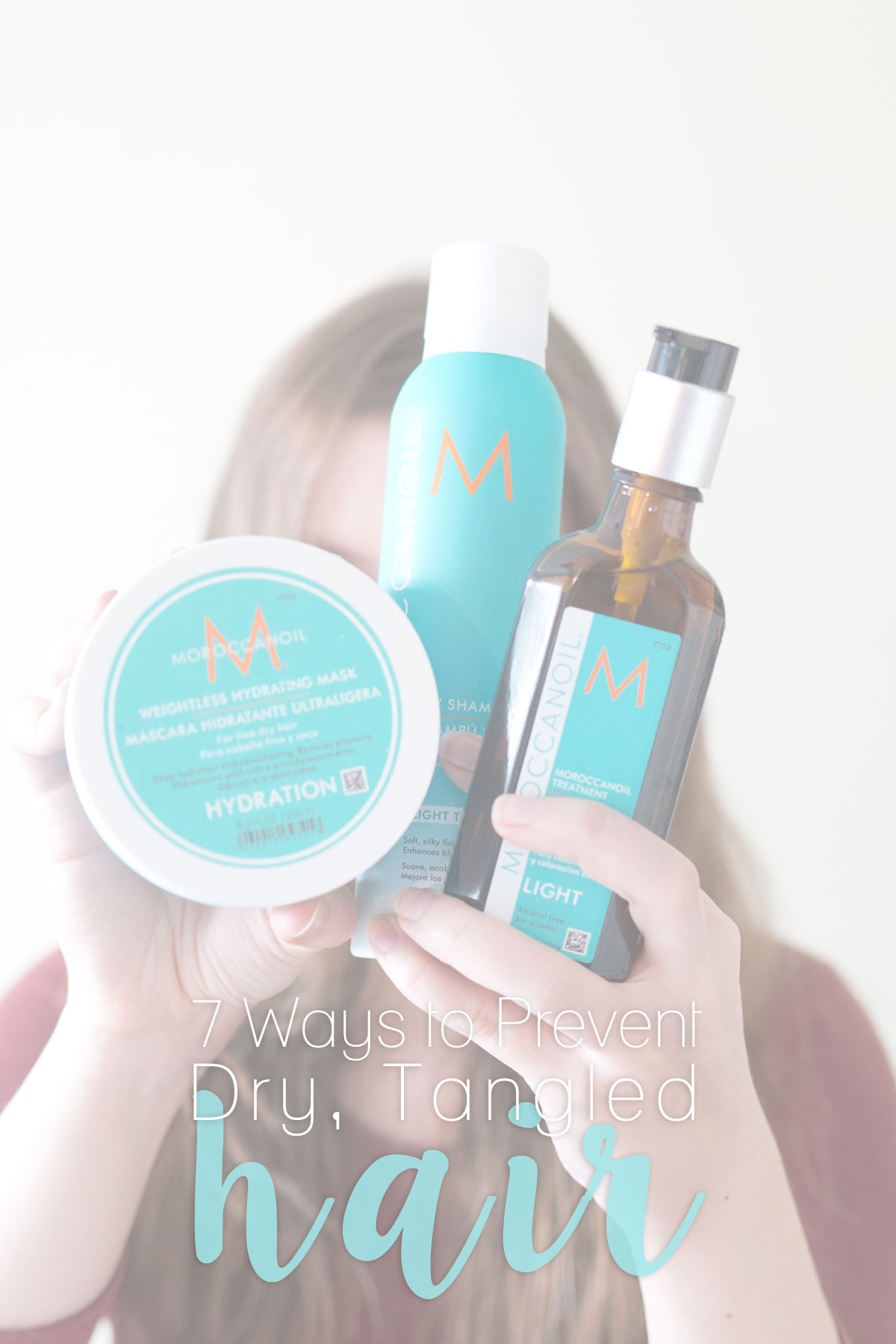 7 Ways to Prevent Dry Tangled Hair
1. Keep hair moisturized
The first thing I did was bring out the big guns: Moroccanoil Moisture Repair Shampoo & Conditioner. You may remember me mentioning this duo last year around this time, and while It's a little too hydrating for me in the warmer months, it is amazing come wintertime.
2. Shampoo, then shampoo again
If you use quite a bit of product in your hair (what can I say, I have an addiction to dry shampoo!) you may end up with a lot of product build up on your strands and your scalp. I've found that shampooing twice every few days helps reduce the build up, and I've noticed a huge improvement in the flakiness (or lack thereof) coming from my scalp. Since washing your hair twice could potentially be drying, I allow my hair a few days rest by using Moroccanoil Dry Shampoo for Light Tones on my off days. No more greasy roots, and it smells great too!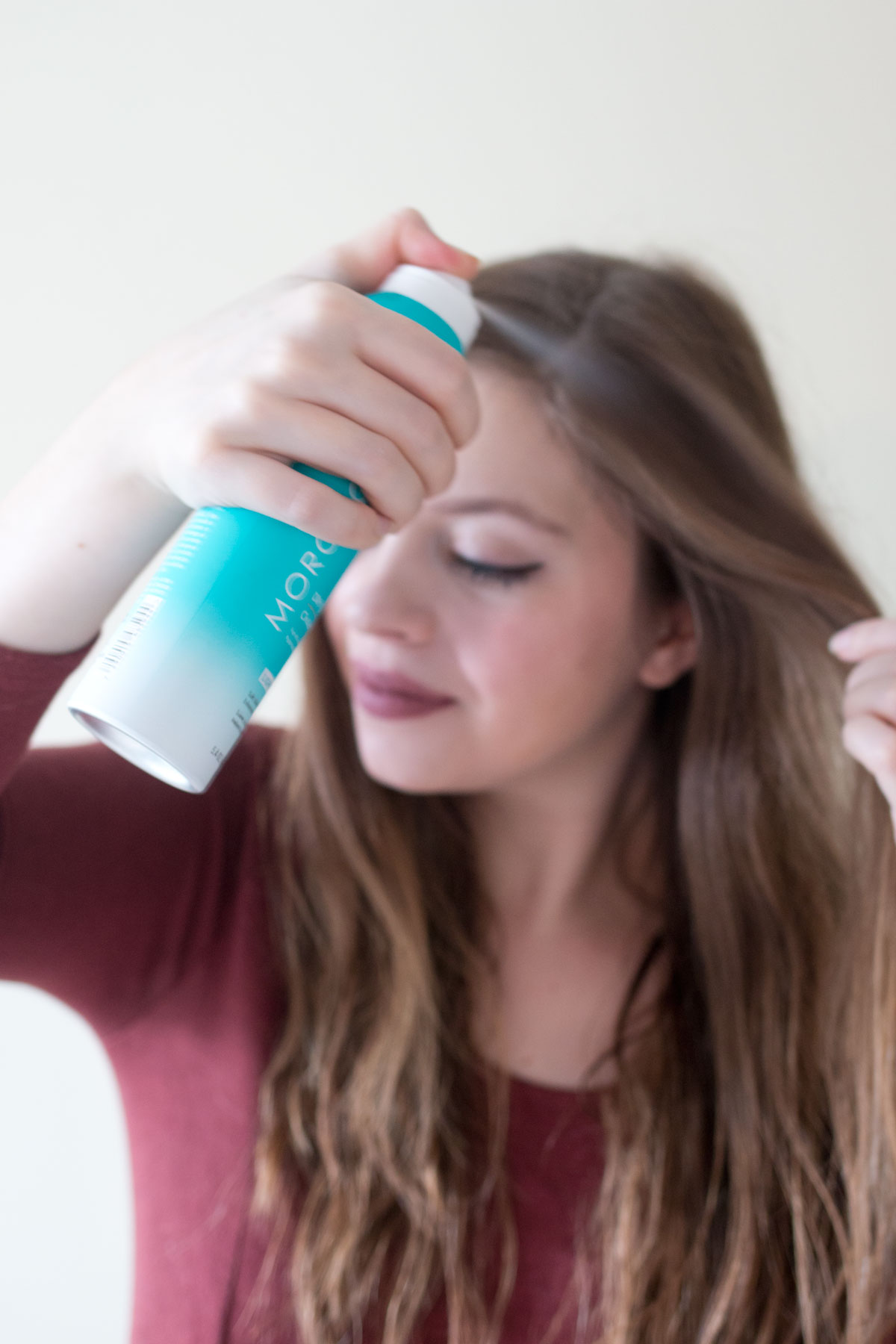 3. Conditioning UNDER the hair
While I'm pretty good about making sure my ends are getting plenty of conditioning love; I wasn't so good about the underside of my hair. The nape of my neck is my problem area, so I've been focusing on deep conditioning there, then down to the ends, with the Moroccanoil Weightless Hydrating Mask. I love that this product is infused with pure argan oil yet doesn't leave my hair looking flat and greasy like some oil-based deep conditioners. It really is weightless!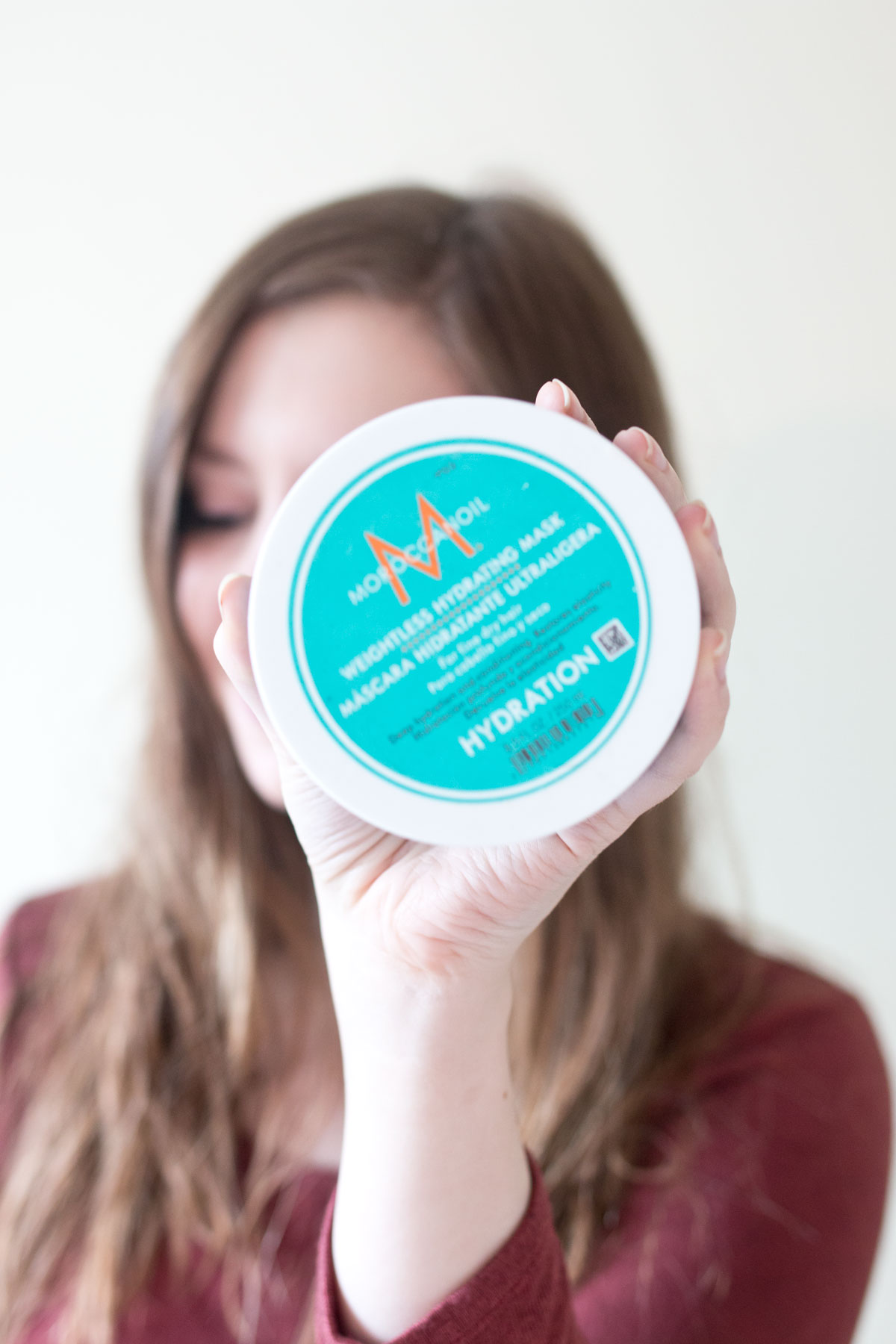 4. Brushing in the shower
After conditioning, I grab my Wet Brush and make sure I've dispersed the conditioner evenly and brushed any tangles out. I sometimes notice that when my hair is wet it will get kind of stuck together, so this prevents it from creating the beginning of any tangles.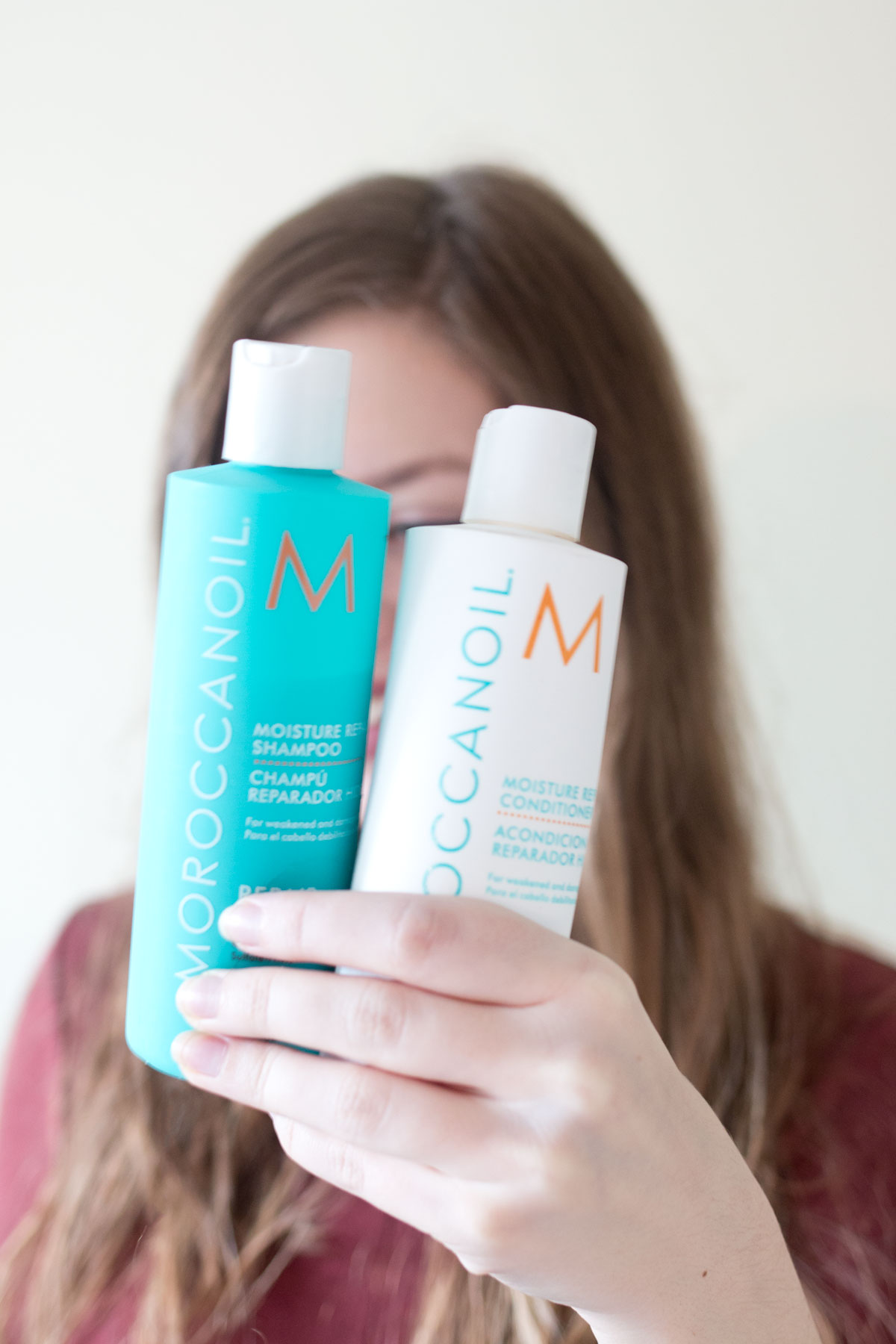 5. Patting the hair dry, not wrapping it up
I'd always heard to dry your hair in a t-shirt, but with the amount of hair I have, this has never worked well for me. Usually the t-shirt would become so wet that it felt useless. Instead, I've been using my regular towel but only to pat the water out of my hair. What I found was that wrapping my hair up turban-style created a breeding ground for tangles. Sneaky little tangles!
6. Sleep with your hair braided
At night, I would usually sleep with a low ponytail, but have found a braid works best. Before I braid, I'll add a little of the Moroccanoil Light Treatment to the palm of my hand, rub together, then comb it through my hair with my fingers. I find that the pure argan oil in this treatment really seals in the moisture and keeps my strands nice and lubricated so they don't end up tangled. This combined with the braiding also helps to create some nice hair texture for the next day if you're open to the second or third-day hair life. ;)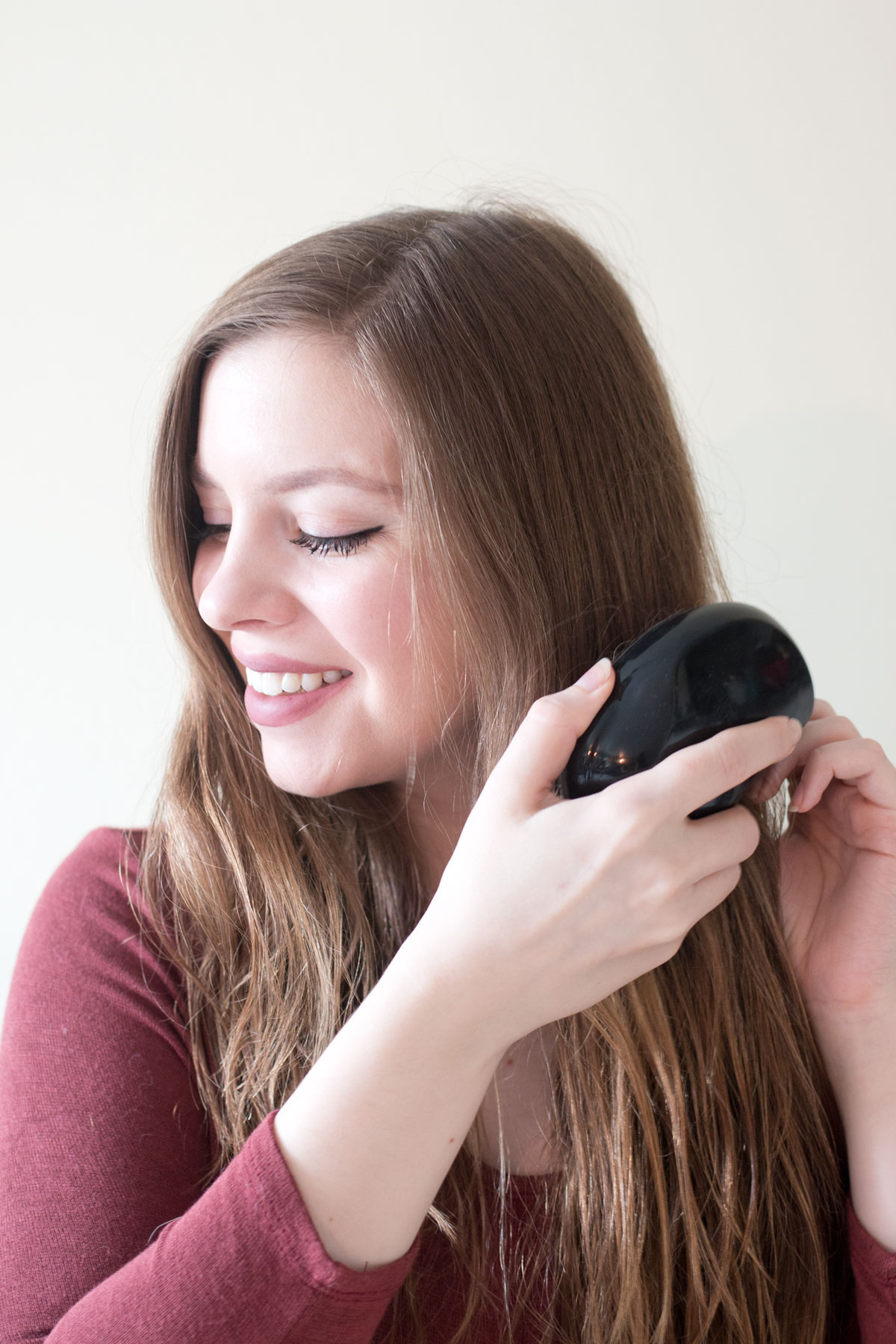 7. Brushing before bed and in the morning
Call me lazy, but I brush my hair as infrequently as possible. Don't get me wrong, I've always run a brush through my hair, but I'm talking about getting in there and brushing all the hair, back to front, bottom to top. It just has become such a painful chore that I avoided it at all costs. What I figured out, however, was that not brushing thoroughly first thing in the morning and right before bed meant that I was either 1. sleeping in the tangles and making them worse come morning, or 2. starting the day off with tangles only for it to worsen throughout the day. Combining all of steps 1-6 and the brushing, I hope to have kicked tangles to the curb for good.
Now please reassure me that I'm not the only one to battle these tangly demons! If you have, what has worked best to keep your strands looking supple in the winter? Do you have a favorite product from Moroccanoil that I should try? I'd love to hear about it! :)