Sponsored Post: This post is part of a social shopper marketing insight campaign with Pollinate Media Group® and Schick, but all my opinions are my own. #pmedia #pmgschick #7dayshavechallenge #ad http://my-disclosur.es/OBsstV
I have a long history of battling razor burn and shaving rash, so I'm sure I'm not the only one that gives shaving the side eye from time to time. A few years ago, I picked up the Schick Hydro Silk Razor on sale, and my life was forever altered. (Sounds dramatic, but it's true.) Since using it, I've not had a negative shaving experience. Sure, I've accidentally nicked myself here and there from not paying attention, but overall I've been able to successfully prevent razor burn.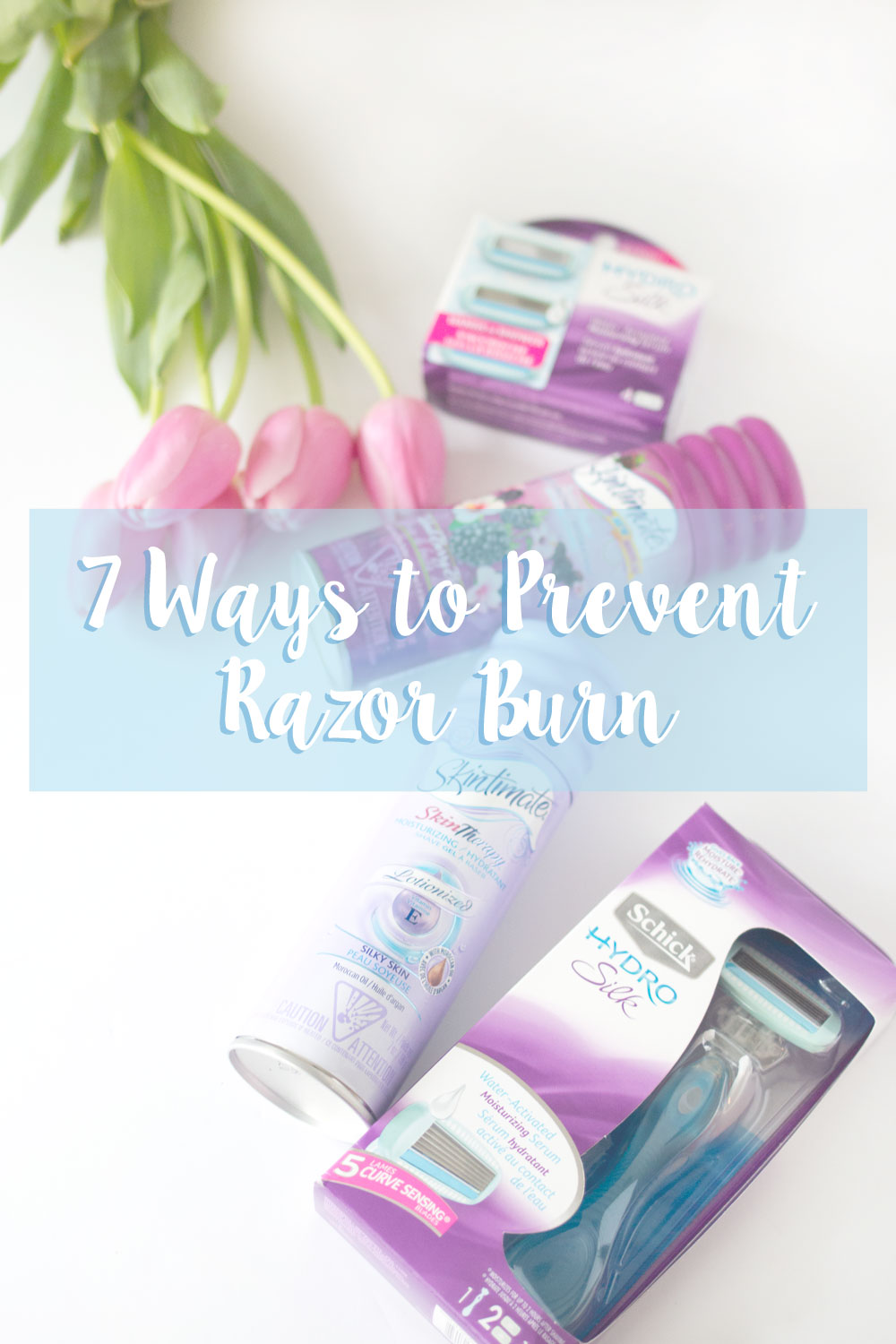 7 Ways to Prevent Razor Burn
Recently I partnered with Schick and Skintimate to take the 7 Day Shave Challenge, and I've successfully stayed irritation free. The Schick Hydro Silk Razor hydrates the skin like no other razor and has a built in moisturizer to keep the skin feeling softer and smoother after each shave. I've found over the years that there are a few other ingredients that you need for a perfect shave every time besides the right tools. I thought I'd share those tips and tricks with you today so you too can be razor bump free this spring!
Never, ever dry shave
I know it can be tempting to dry shave, even if it feels okay at first. Anytime I've ever attempted this; it has ended in disaster and very, very irritated skin. Trust me, use a barrier every time you shave. Your legs will thank you.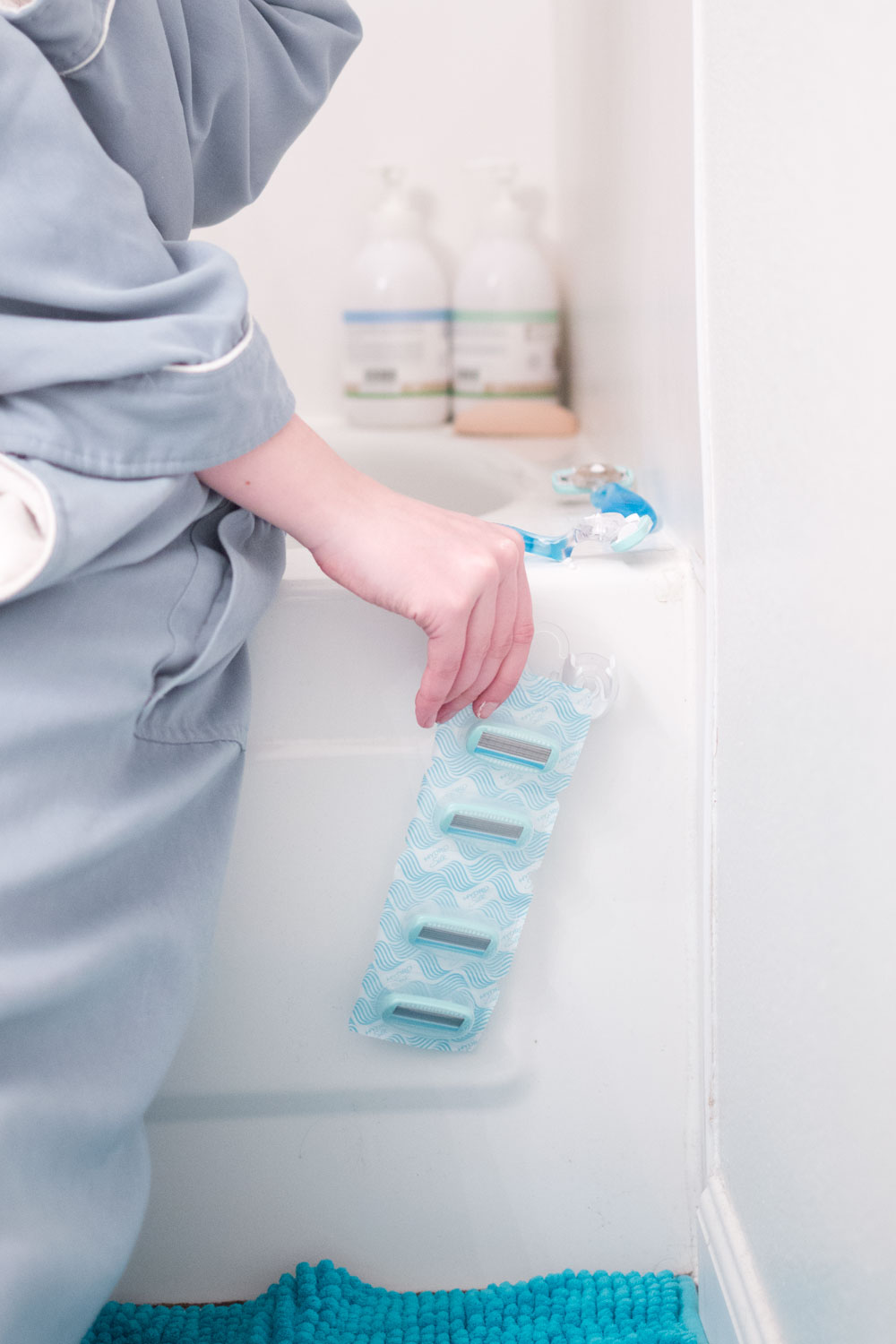 Check those blades out
I know razor blades are the most expensive part of shaving, but they do need to be frequently replaced to work their magic. The Shick Hydro Silk blades help tell you when they're ready for replacement because the hydrating strip will disappear. If you experience any tugging or discomfort, it may also be time to replace your razor blades. Schick also has introduced the new Schick Hydro Silk Shower Hanging Refills to make it easy to store refills in the shower. These can hang on any hook in your shower, so you never have to climb out soaking wet to get a replacement blade again!
Wait until the middle or end of your shower or bath to shave
Yes, yes I know you want to get your shaving out of the way, but honestly, waiting until you've been in the shower for a few minutes is best. The warm water hydrates the skin and softens the hair for easier shaving.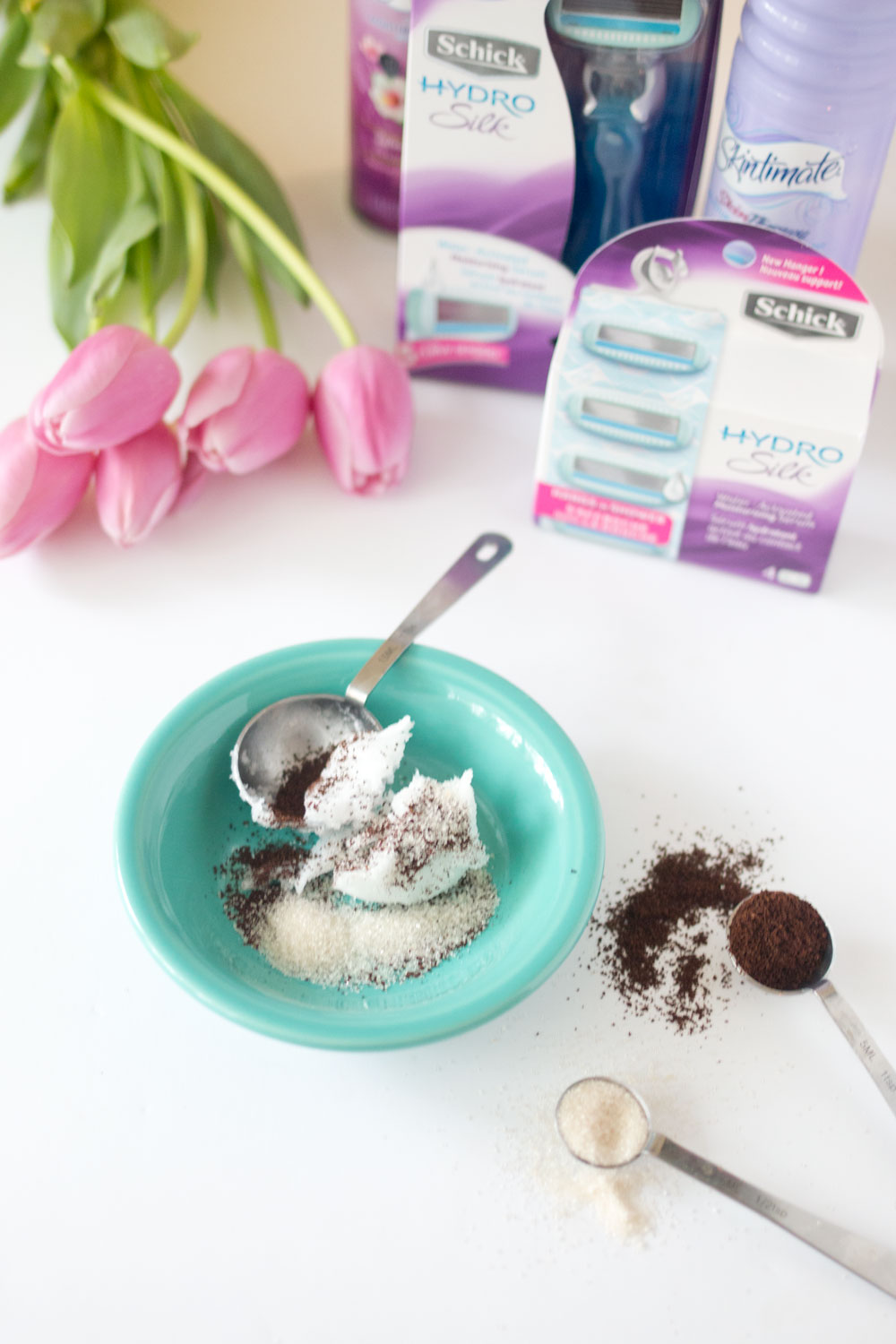 Exfoliate, exfoliate, exfoliate
I've heard people say that shaving is a great way to exfoliate your legs, and while this may be true, for my dry, sensitive skin, relying on this alone does not make my legs happy. If you have Keratosis Pilaris or dry skin, I highly recommend manually exfoliating gently before shaving.
If you don't already own a good body scrub, I have a simple DIY recipe for you. You can easily increase the amount of scrub to store in an airtight container, but this recipe is the perfect amount for an entire body application for one shower.
DIY Coconut Coffee Sugar Scrub
1 heaping TBSP Coconut Oil
1 tsp Ground Coffee
1/2 tsp Sugar
Combine ingredients in a shower safe bowl. While in the shower, warm the mixture in hands and apply to legs and body. After scrubbing, thoroughly rinse. You may need to use a little body wash to ensure all of the coffee makes it down the drain. ;)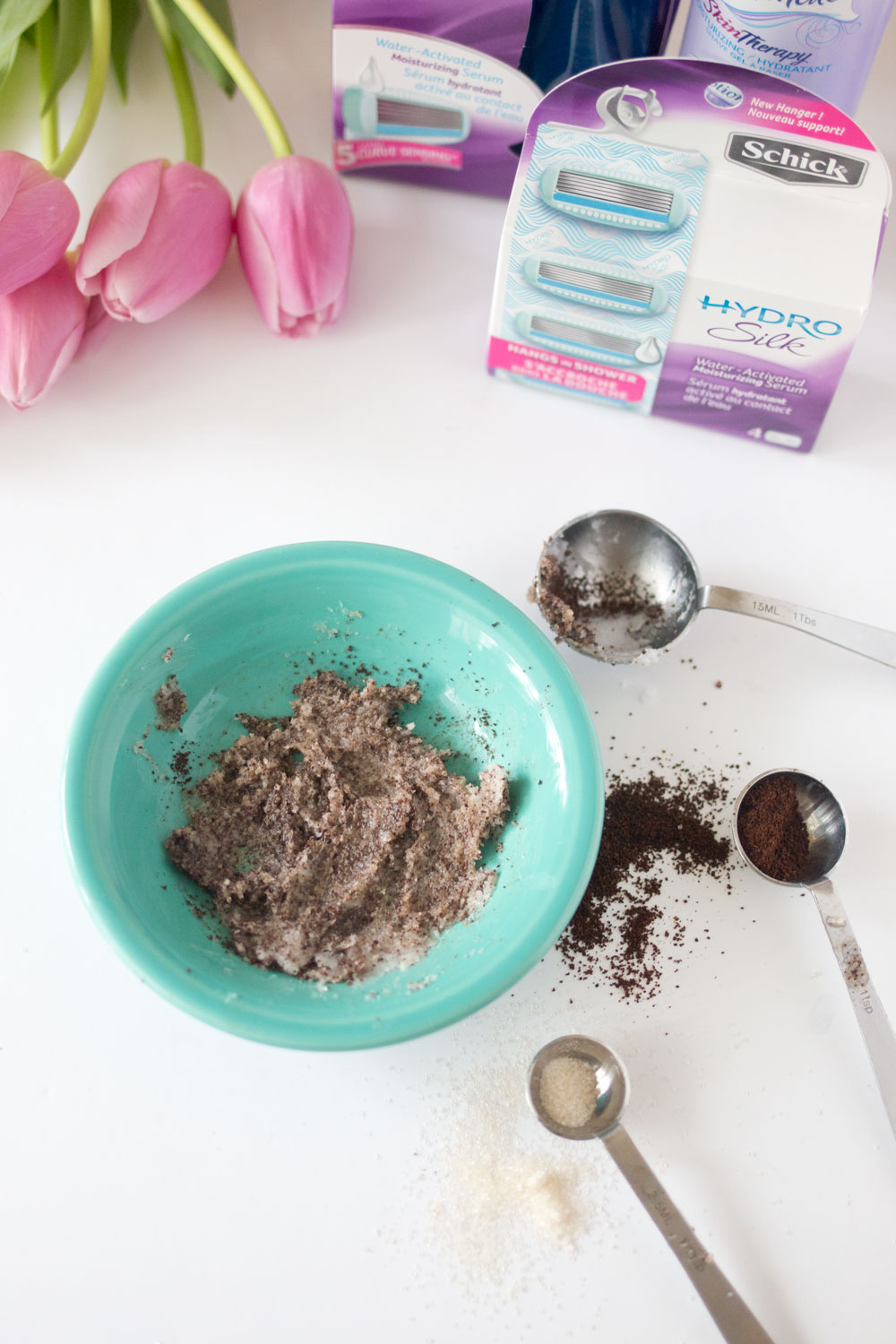 Use a good base
In addition to never dry shaving, I'd also say never to rely on water alone to shave. For those of us with sensitive skin, we need all the protection we can get while shaving. The Skintimate Island Berry Breeze Shaving Gel foams into a rich later and provides unbeatable razor protection for a close, comfortable shave. For those with even dryer skin, the Skintimate Silky Legs is a great option because it replenishes the skin's natural moisture with a blend of Moroccan Oil, Vitamin E, Olive Butter, and Sunflower Seed Oil. Either option smells great too!
Take it easy
And by take it easy, I mean slow down. I know you want to get your shaving out of the way as quickly as possible to get back to enjoying your shower, but trust me, if you move to fast your much more likely to get nicks and abrasions.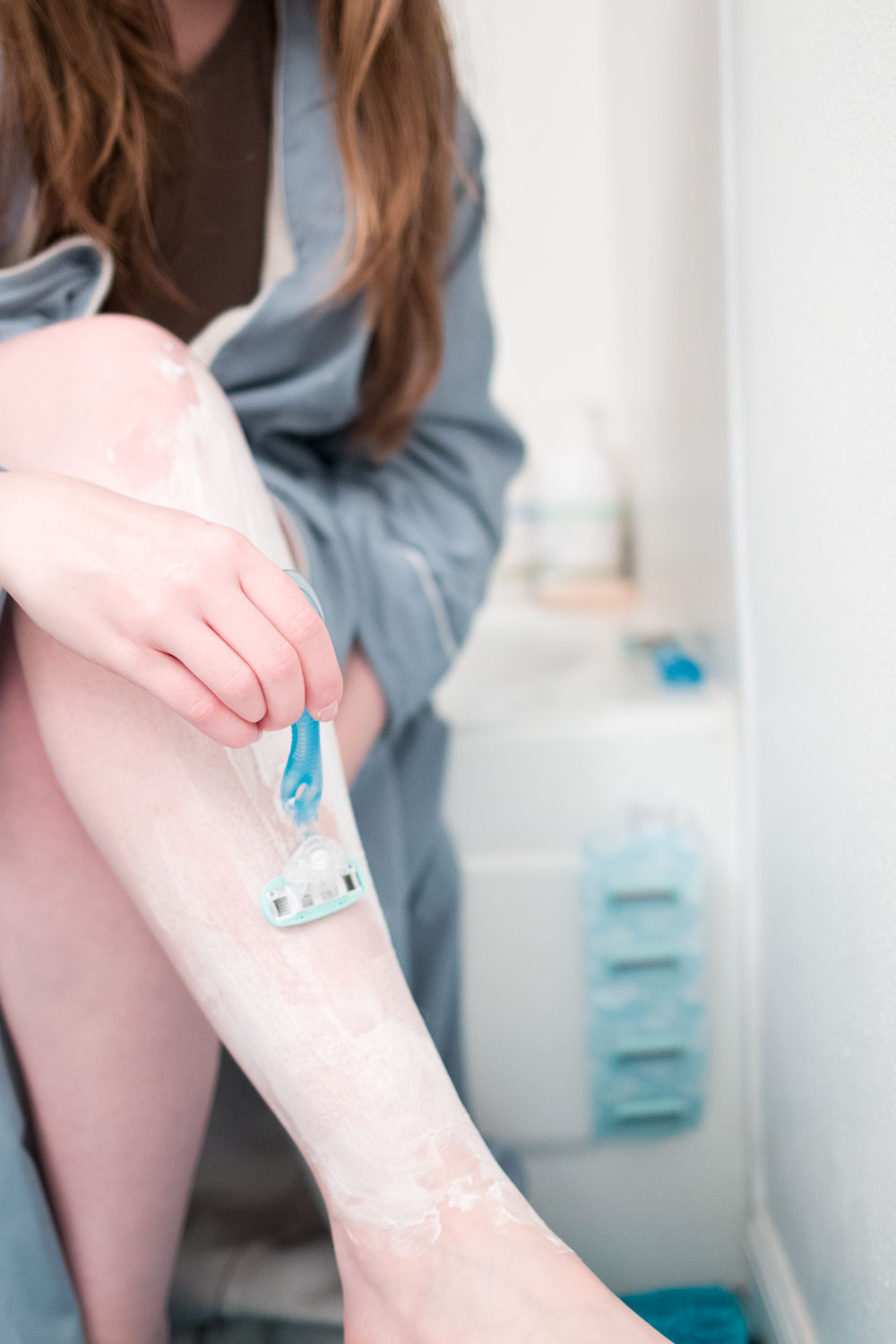 Moisturize and hydrate
For those with very dry skin, I love the Skintimate Silky Legs is the perfect in-shower first step. It provides a thick lather while shaving while also providing a lotion-like feel after. Once you've finished shaving, I always think that moisturizing with an in-shower treatment, lotion, or body butter can't hurt either.
Do you struggle with razor burn and shaving irritation? Have you taken the Schick 7 Day Shave Challenge yet? I'd love to hear what tips and tricks work for you!