It was about one year ago that I wrote my most popular post ever, innocently titled ten things you should probably know about Shiba Inus. I made a few Shiba owners angry, I had a lot of breeders write me messages thanking me and wanting to share with their pet clients, and I had even more people laugh along with me who own a dog just like mine. I also received a lot of emails from prospective owners wondering if I was exaggerating and if the Shiba Inu breed really might not be for them.
Now over a year later, I still get a lot of questions, so I thought it might be time to write 10 MORE things I think you should know about the Shiba Inu breed! Of course, not every Shiba is just like Rigby. Just like the humans that own them, each dog is a special snowflake with its own set of quirks, likes, and dislikes. However, at their core, Shibas tend to be pretty similar in that they are typically 1. aloof, 2. independent, and 3. irritatingly smart. These are the other things that I think you should definitely know before you consider getting a Shiba Inu for your family.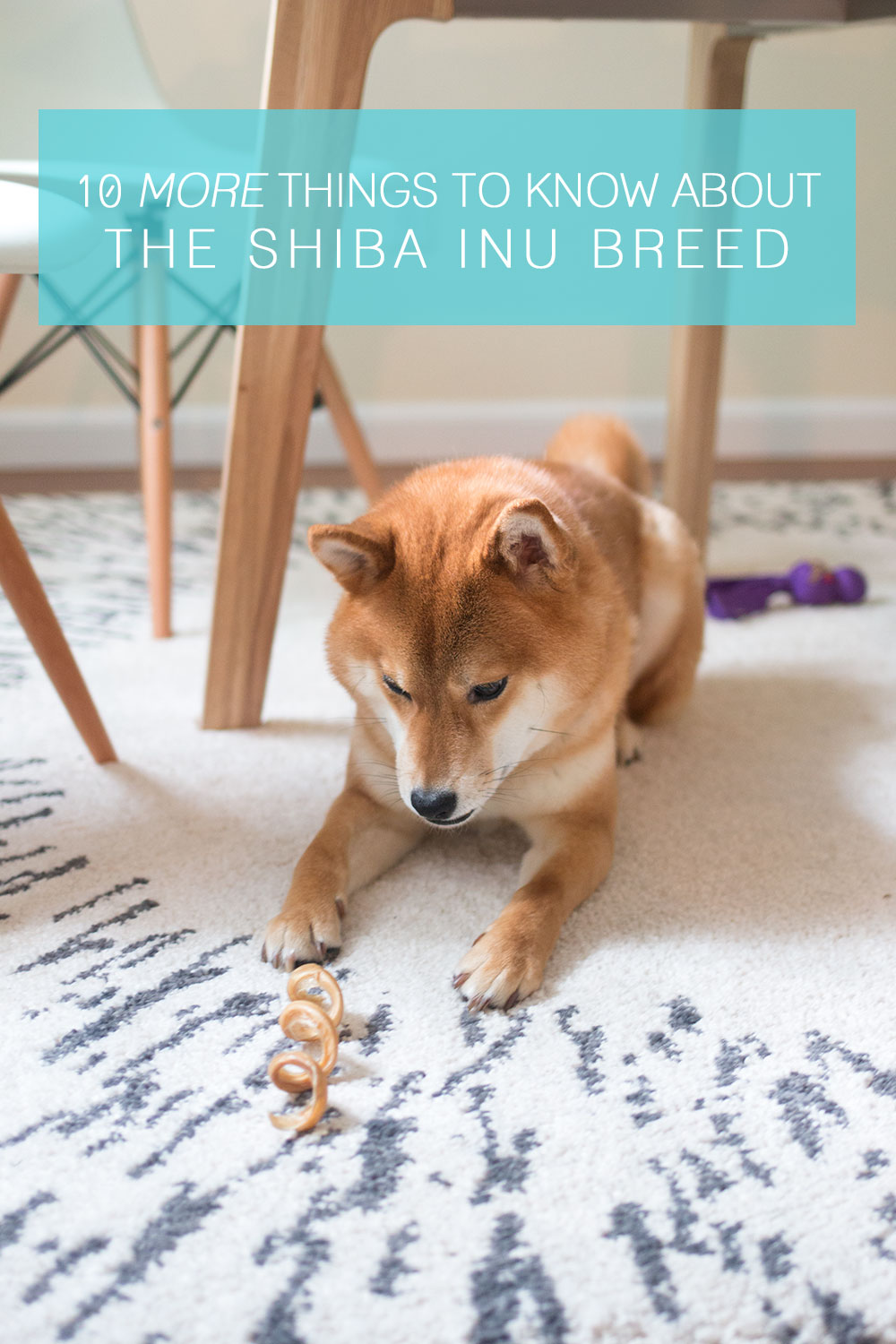 10 MORE Things to Know About the Shiba Inu Breed
The comparison to cats is real.
As much as I try to deny it, Rigby is really quite cat-like. He prefers to be high up, surveying his kingdom as often as possible. You'll often find him sitting on top of his crate, on the back of my parent's couch when we visit, or peeking out the window. He'll rub your legs to get noticed in the kitchen, clean himself after each of his meals, and let you know when he's had enough of your petting too, just like his feline counterpart.
Pouring rain? Blizzarding? Your dog will make you walk for 2 miles to find a decent spot to do their business.
I kind of wish I was kidding, but this has happened on multiple occasions. Shibas are dramatic and like to keep their area clean, including whatever they believe is part of their home. That means when we have inclement weather; it takes Rigby even longer to do his business, much to my dismay.
The escape artist description is not a joke.
I touched on this a bit in the last post. However, I do want to warn you that the "escape artist" descriptor you may have heard is very real. We almost had an escape happen accidentally not too long ago, and it honestly scared the you know what out of me.
One of Dave's friends (who happens to not be a pet owner) opened the front door right as Dave was grabbing Rigby's leash to take him outside. Rigby, thinking this was about to be a fun time, took off out the door and up the stairs, feet from a parking lot and very close to a busy road. Luckily, Rigby is whistle recall trained, so I blew my whistle, and he came running. Always, always, always practice recall training early and often with your dog, regardless of breed. Rigby doesn't usually go out the front door, but with an unfamiliar guest, he thought it was okay. You just never know!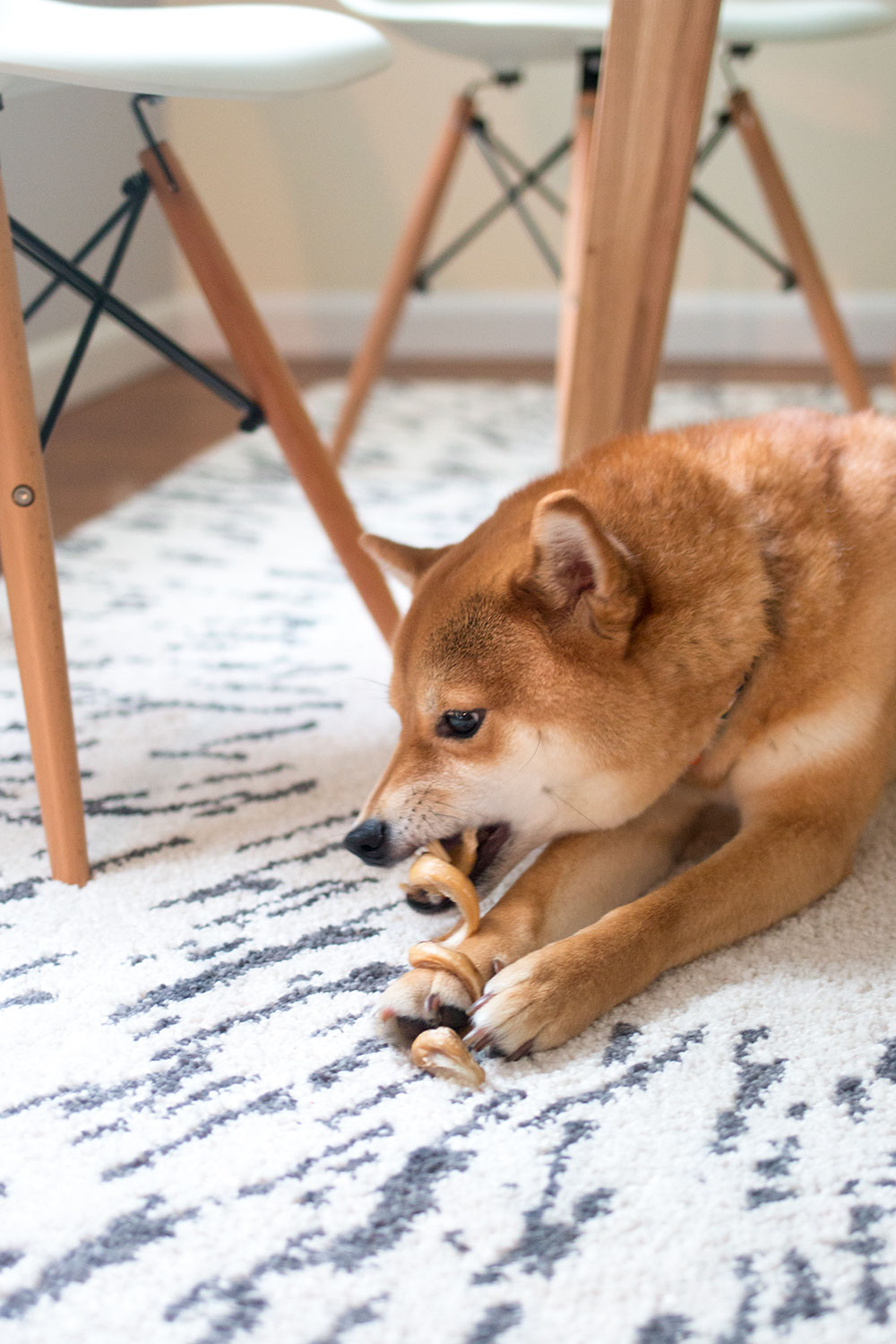 Loyalty, to the point of embarrassment.
I'm not sure if it is loyalty or if my dog is just broken, but Rigby gets very alarmed about certain situations. While not unique, the UPS driver, for instance, is cause for sounding the alarm. He also thinks it is very bizarre and uncool if a man walks too close behind me that is not someone we know. No matter how much we have worked on this, he's relentless. Perhaps he is protective and loyal to me in the way that he knows best, or maybe he is just special. The world will never know.
High prey drive: it will strike at the most inopportune times.
I'd always heard that some Shibas have a high prey drive, while others do not. I figured out early on that Rigby was one with a high drive and boy can it be annoying. The worst is his obsession with hunting things at my parent's house. And by hunting things, I mean him trying to dig out the cat toys he's not supposed to have from under the couch or in drawers. We also had a small rodent incident when he was a puppy that completely freaked my mom out. Yuck.
Constant need for stimulation, as puppies and young adults anyway.
I never realized how busy you need to keep an intelligent dog like a Shiba in their youth. I can recall working from home, expecting to get work done, and having a cute fluffy puppy barking at me, trying to get me to play every couple of minutes. I learned very quickly that games that challenged the mind were good for tuckering out the little pup.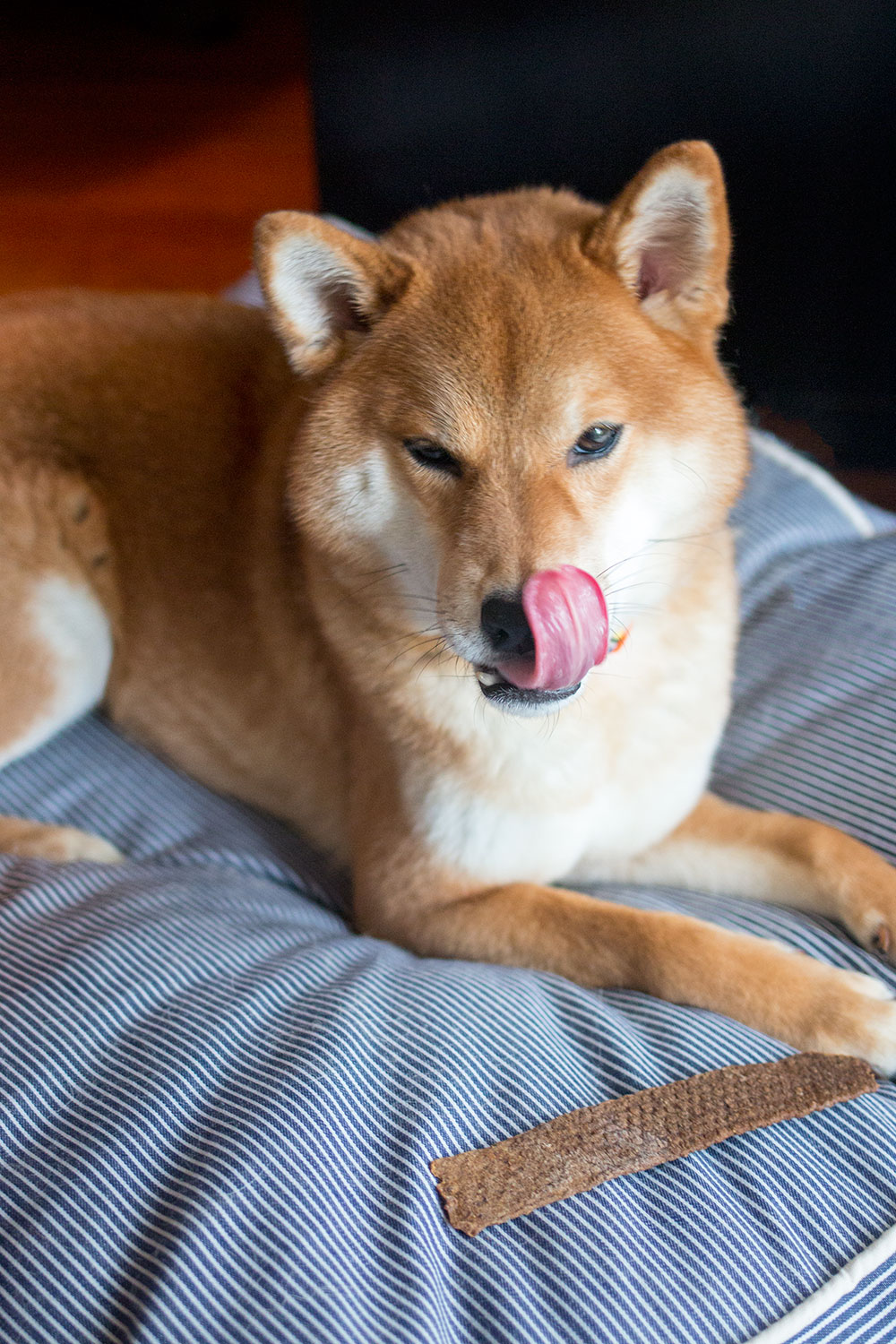 Another thing I never went without were a variety of chews. One of my favorite places to purchase safe chews is from Best Bully Sticks, which was the first place I ever bought bully sticks after a fellow Shiba owner recommended them to me. They were kind enough to send Rigby a few types of treats recently to try, and of course, he's enjoyed them all. My favorite, for him of course, has to be the 6″ odor-free bully sticks and curly bully sticks. These high-quality chews are good for their teeth, high in protein, and best of all, keep the energetic ones occupied for long enough to get at least one thing done around the house. They've also got you covered for training treats. I love the ease of tearing these Bison Jerky Strips into small pieces for training and treating, and the pack lasts for a long time for a small to medium-sized dog. If you want to check out Best Bully Sticks, they've offered my readers 10% off natural dog treats with code HELLORIGBY through July 31st, 2016. (Not an affiliate code.) If you're new to Best Bully Sticks, they also offer grab bags where you can try more than one type of treat for your pup at a discounted rate!
They're a huge time and monetary investment.
Speaking of buying things, have I mentioned how expensive dog ownership is? It's not just the purchase or adoption fee you pay, but all of the supplies you'll need to get right away, the food costs over the lifetime of the dog, any training you do with them, and all of their potential medical costs.
One thing that I recommend is looking into pet insurance before you get your puppy. It may not make sense for your family, but I like the piece of mind it provides me. (And, knock on wood, we haven't had to use it for anything more than some prescriptions from a minor injury.)
The time it takes to raise a dog is also not for the faint of heart. From puppy classes to training to exercising them daily, dogs are basically like toddlers for the first couple of years. That means you may not be able to stay out late, sleep over at a friend's when you get too tired to drive home, or take an impromptu vacation. Sure you can crate your dog for a couple of hours, but they'll still need to be fed and let out within a reasonable amount of time. It's more than worth it, but it's an important consideration depending on how much support you'll have and where you're at in life.
Not big on barking, but prepare for plenty of other racket.
The good news about Shibas is that they are not a dog that barks and barks all day when you leave them home. Rigby is pretty much silent unless someone knocks on the door.
On the other hand, while he may not be a barker, he has a vocabulary all his own. He howls, he yodels, he screams, growls, and cries. Try and clip his nails or touch his feet too much and he sounds like The Exorcist. (I wish I was kidding.) If you follow me on Snapchat (I'm hellorigby, by the way. Yes, shameless plug!), you'll also know he gets wound up and does the Shiba 500 fairly regularly which involves all sorts of noise from barks to yips to who knows what.
They're unique, and not for everyone.
The first question I ask anyone who emails me or asks me about the breed is, "have you met a Shiba yet?" Please, please, please, whatever dog breed you are interested in, go to a meetup and meet the breed! Meeting several will give you a good idea of the overall temperament and personality of that particular breed, as well as how they interact with other dogs and people. I'd always been fascinated by the Shiba Inu breed, and when I was able to watch them interact with each other and humans at a local Shiba meetup before we ever met Rigby, it cemented the fact that yes, this was the breed I wanted.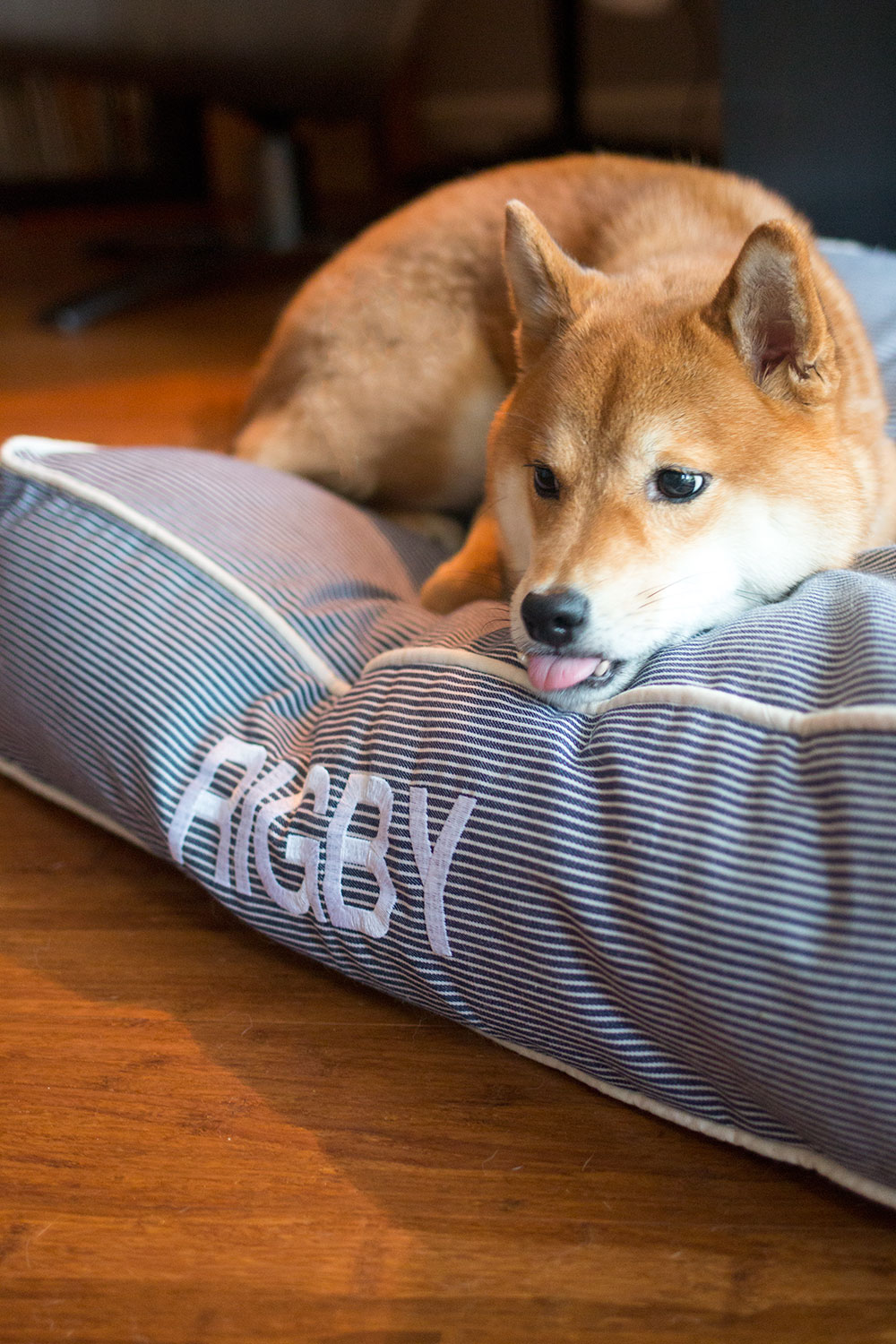 Be sure you're prepared.
My best advice to those interested in the Shiba Inu breed is be prepared for the unexpected. You can read 5024937 books and honestly still never be able to know it all. I read and read and read before I ever even met Rigby and I still was absolutely floored by some of his behavior. Not to mention, you'll think you're getting the hang of something, or he's growing out of some weird phase, and next thing you know he'll throw a new weird behavior curveball at you.
Now keep in mind, I don't write any of these things to scare you, only so that you don't run out and pick up a puppy without really thinking about it. Dogs are a commitment for life and owning one should not be taken lightly. It's the best thing I've ever done, but it's also one of the hardest.
Are you a fellow Shiba owner? What is one thing you think all prospective Shiba owners should know about the breed? If you own a different breed of dog, I'd love to hear some of the unique qualities your pup possesses too! :)