Product Sample: A complimentary copy of Make Up by Michelle Phan was provided to me from Blogging for Books in exchange for this review.
I can't believe it's already been another month since I updated what I've been reading. It seems like I didn't read that much last month, but apparently I did. I read a few good ones, and a few not so good ones. Seems like the usual pattern this year. So, onto what I've been reading!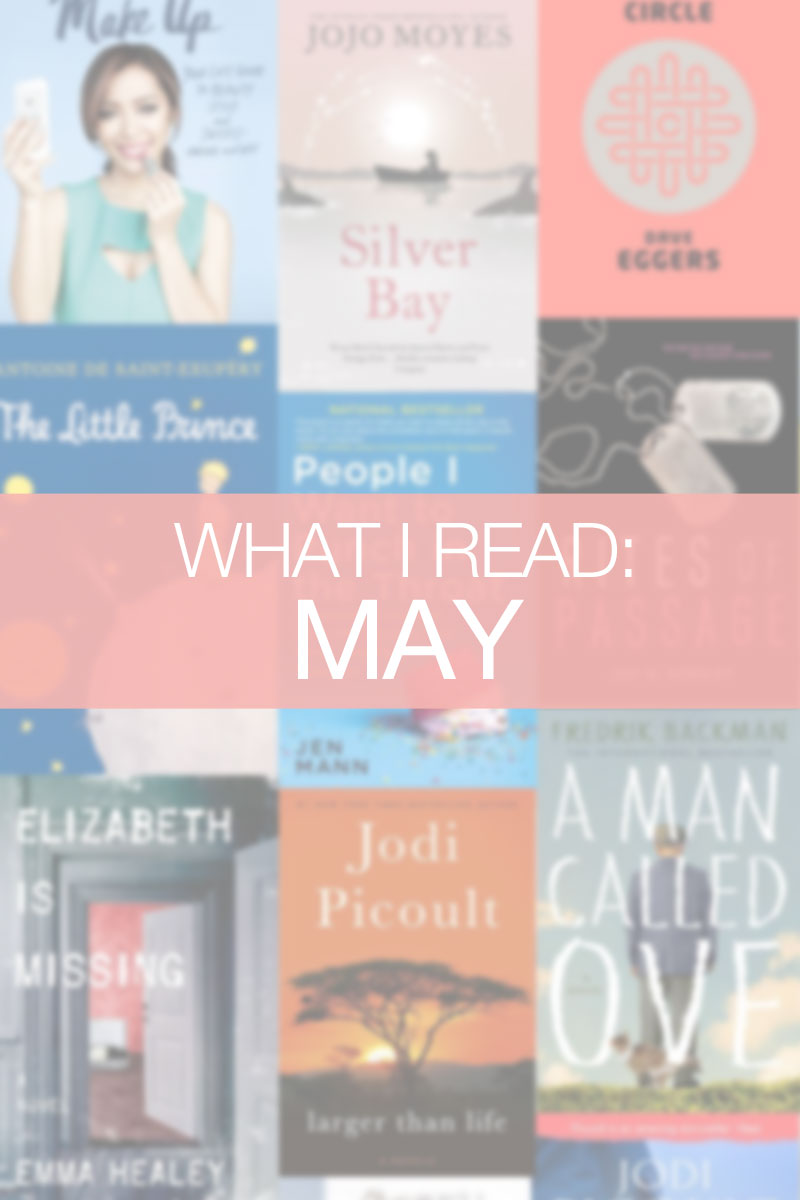 What I Read in May
Larger than Life by Jodi Picoult – ★★★ – This was a short story that was related to Leaving Time, a book I've read already. It was about more elephants, which apparently Picoult must be into. I can't say this was my favorite short story of hers.
Where There's Smoke by Jodi Picoult – ★★★★ – This short story of Picoult's was much more my speed, and I was disappointed that this was so much shorter than Larger Than Life. I thought this was much more engaging and interesting storyline (psychics and controversy) than Larger than Life and Leaving Time, which I felt both went way too into the elephant grief study. Oh well.
A Man Called Ove by Frederik Backman – ★★★★ – A grumpy old man's life is changed by chatty and accidentally-destructive new neighbors. This story is heartwarming and charming, and one I enjoyed.
People I Want to Punch in the Throat by Jen Mann – ★★★★ – Jen Mann is a fellow blogger of a completely different category – humor. She lacks on a filter and shares witty and humorous anecdotes around some of her favorite topics, including how she met "The Hubs," life in the burbs, marriage, and motherhood. I cracked up quite a few times throughout the book, even if it a lot of the topics (marriage and motherhood) don't relate to me.
Make Up: Your Life Guide to Beauty, Style, and Success — Online and Off by Michelle Phan -★★★ – I've obviously heard of Michelle Phan, but is it strange that I've actually never watched any of her videos? Most of her makeup looks are a little out there from what I prefer to wear, but I figured she'd have a lot to share in regards to her creating a YouTube empire. Surprisingly, I found a lot of this book to be pretty basic. I think it'd be great for 13-16-year-old girls who are just starting out with makeup, figuring out their personal style, and perhaps looking for a first job. However, for someone like me, this was just a little too juvenile.
c/o Blogging for Books
Elizabeth is Missing by Emma Healey – ★★ – I've heard it time and time again – if a book you're reading isn't captivating you, put it down. There are so many other books on my to be read list that I've been following this advice a lot this year, and, unfortunately, Elizabeth is Missing was another casualty. It just wasn't very engaging – an 80-year-old woman with dementia is trying to find her friend Elizabeth… and very little happens.
The Little Prince by Antoine de Saint-Exupery – ★★★★ – This was a re-read, I think the last time I had read this was in middle school. It went on sale on Audible, so I grabbed it. Unfortunately, the Audible version misses out on all the illustrations and visual content, which was a bit strange. For that reason, I wouldn't recommend listening to this one, but the book is a classic that should be enjoyed by all at least once!
Silver Bay by Jojo Moyes – ★★★ – This Moyes book is a bit older, and you can tell. It doesn't quite have the same character development or storyline as her more recent novels. For that reason, I can't say I'd highly recommend this one, but it is not a bad book either. Just a little longer and more drawn out than some of her more recent novels.
Rites of Passage by Joy N. Hensley – ★★★★ – This was one of those books that were hard to read because it dealt with such real issues. A young woman goes to Denmark Military Academy and is given hell through brutal hazing because she is a female, and a decades-old secret society wants her out. This book was both infuriating, and so good because it felt so real.
The Circle by Dave Eggers – ★★ – This book reminded me so much of another book I read awhile back, The Woman Who Stopped Traffic by Daniel Pembrey. Mae can't believe her good fortune that she gets to work at the most influential company in America. The Circle reminds me a bit of the Social Network mixed with your typical suspense novel. I just didn't think it was all that unique and didn't appreciate the slow pace of this novel either.
My Reading Challenge Updates
Total Books this month: 10
Total Books read this year: 62 / 150
Total Books Read for the Modern Mrs. Darcy Challenge: 5 / 12
Total Books Read for the e-Reader Challenge: 2 / 10 (Book Challenge has ended)
Total Books Read for the Semi-Charmed Summer Challenge: 1 / 12
Linking up with Modern Mrs. Darcy and Life According to Steph
What have you been reading lately? Anything you recommend or don't recommend? I'd love to hear about it!