Affiliate Links: If you click on a link in this post, I may make a very small commission.
Long time no blog! If you didn't hear via the social media, I took a little blog break last week while I got my wisdom teeth out. Prior to Thursday's surgery, you could say my week was interesting. Also TL;DR for those that need it: Last week sucked, I didn't die during surgery, and now I'm back. For those that do want to read, read on!
The night before surgery, my driver's seat in my car backed over a can that had rolled from the trunk and was rendered unusable. This means Dave had to drive me all cramped into the front seat (it got stuck between how I sit and how he sits) to the surgery appointment and back since I wasn't allowed to drive. He took it in after my surgery, and they diagnosed it as a computer issue and ordered a part. The next day we got a call that the part didn't fix it, and they had to keep it all weekend. Keep in mind, we share my car since we commute together, and since I can't eat normal food, we didn't have enough food stocked for the weekend. Needless to say we were freaking out a bit!
About an hour and a half later after trying to get a rental car and adjusting Dave's weekend plans, we got call back from the dealership that they'd fixed it after all. They didn't mention what the actual problem was though, which I thought was odd. Upon arrival to pick the car up, miss nosy over here had to know the problem. Can you guess what was wrong?
The seat was unplugged. Yes, really. Apparently it takes 2 days to figure that one out. Sigh.
Combine the car mishap and the fact that our house basically looks like hoarders live here since (our flooring was installed last weekend, then painters finished during the week), it just was not an awesome way to go into this surgery. And definitely not the most relaxing environment for recovery, but whatever. This is life and it's not always predictable.
I'm just glad I was able to take 2 days off work and had the weekend off to recover. I had 4 impacted wisdom teeth removed, and the bottom 2 were especially pleasant since they were in the bone. My jaw has basically been killing me, as the lower 2 are the ones hurting me the most. Luckily a little Ibuprofen has been enough to keep me sane, and I'm crossing my fingers I can make it through a full day of work tomorrow.
I thought I'd be able to get all sorts of blogging done during my "break" but I spent most of it watching Pretty Little Liars, YouTube, and taking naps. Who knew oral surgery would be so exhausting?
Anyways I won't bore you anymore, but speaking of YouTube, I have a video for you today! I filmed my beauty empties for the month of May and mini reviews of each product I used up. If you're interested, check it out below. Products mentioned are listed just in case you're interested in trying any of them yourself!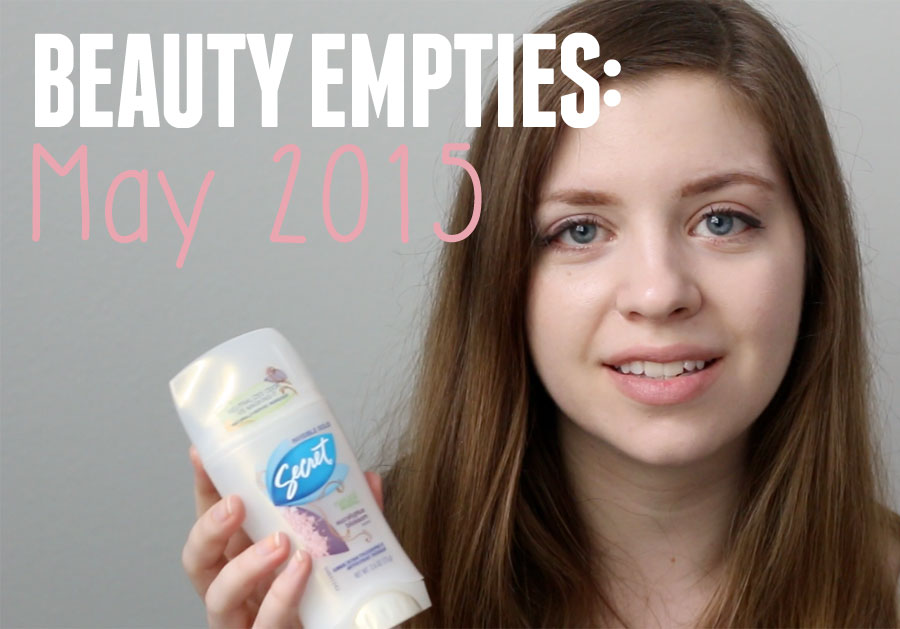 This is what happens when you forget to take a smiling shot during filming… so don't mind the sour puss face! ;)
May Beauty Empties
Products Mentioned:
Neocell Refreshing Mist (Full review here)
Origins Make a Difference+ Rejuvenating Treatment Lotion
Up & Up Exfoliating Cotton Rounds
Simple Exfoliating Cleansing Cloths (Travel Beauty post here and the wipes I was thinking of are the Radiance version! D'oh!)
Toni & Guy Sea Salt Texturizing Spray (Davines Sea Salt Spray that I prefer)
Honest Mouthwash in Sweet Mint
Alba Botanica Hawaiian Sunscreen SPF 45
Clinique Moisture Surge
Batiste Dry Shampoo in Clean & Classic Fragrance
Dr. Bronner's Pure Castille Soap in Baby/Mild
Secret Natural Mineral Deodorant in Eucalyptus
Josie Maran Pure Argan Milk
CoverFX BB Gel Mattifying Anti-Blemish Treatment
Benefit They're Real Eye Makeup Remover
Harvey Prince Ageless Body Cream
Gilchrist & Soames PH-Balanced Shampoo
Gilchrist & Soames Oil-Free Conditioner
Briogeo Don't Despair Repair
Ole Henriksen Invigorating Night Gel
Have you had your wisdom teeth out? I'd love to hear your story, or what your favorite beauty products have been lately!
P.S. I finally signed up for Snapchat! Snap me @hellorigby! :)