As you guys know, I'm no professional or even remotely famous fashion blogger. But a year ago, I was absolutely terrified to even post one outfit photo. Jana from Life Could be a Dream and I are sharing what we've learned from fashion blogging thus far, and I hope it inspires you to feel comfortable sharing your own #ootds!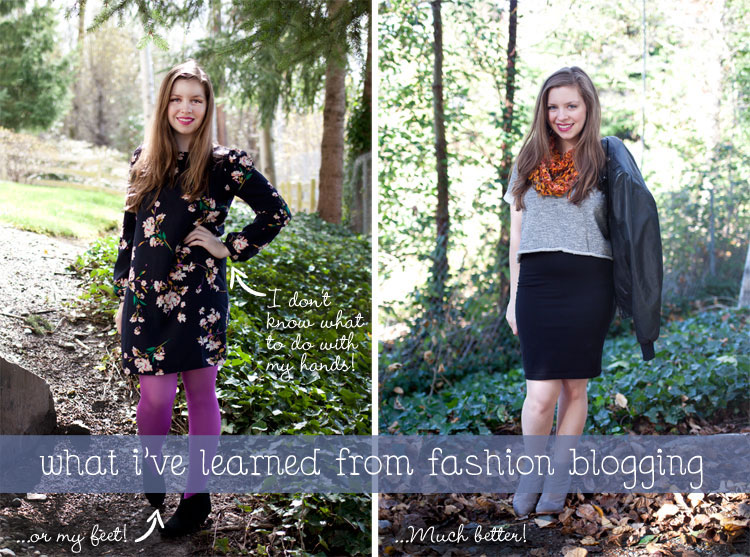 While I'm not a "famous" fashion blogger, I do like to share outfit posts at least once a week on my fashion and lifestyle blog. If you're new to the whole concept of fashion blogging or #OOTD shots, don't worry, we've all been there. The most terrifying post I've ever published was my very first outfit. I'm excited to share a few tips and tricks I've learned along the way in my year of blogging.
Jenn: Don't be afraid of failure
My first outfit I posted was pretty terrible, in retrospect. But even if it didn't make me Pinterest famous (well, actually none of them have!) it was worth it to "fail". Why do you ask? Because things could only go up from there. We all post some stinkers from time to time, but failing only helps you learn what works and what doesn't for you and your blog.
Jana: Be yourself!
I know that is the most cliche advice ever, but when it comes to fashion blogging nothing is more important than being true to yourself. The quickest way for you to fail at fashion blogging would be to try and do what someone else is doing. For one, your readers would see right through it. Secondly, people would get bored with what you're posting because they've seen it before somewhere else! Lastly, you wouldn't feel the satisfaction of sharing your own personal story of style–because honestly, that's what makes fashion blogging so awesome! Every single person in this world has their own unique sense of style and something a little different that they bring to the table. So own that part of yourself and show it off!
Jenn: Look for inspiration and watch those hands & feet!
My first handful of outfit photos were bad. So bad. I had my feet in all sorts of crazy poses, my hands didn't know where to go… You get the picture. But, what's important here is to take a ton of photos so you can see what you're doing wrong, what you like and don't like, and what poses best flatter your body. I sometimes will pin an outfit shot, not because I like the outfit, but because I like the set up – a particular pose, interesting setting or just the overall aesthetics.
Jana: Consider your social media platforms
I've said a few times that different social media platforms are better geared for different things. When it comes to fashion blogging, Instagram and Pinterest are king because they are visual platforms. I think it's really important to be active on both platforms and grow yourself a strong community there. Pinterest is an awesome tool for getting your posts in front of a large audience (especially if you have stellar photos that get repinned a ton!) and Instagram is so important for building relationships with your followers! Set some goals for where you want your Pinterest and Instagram profiles to be in the next year and how you plan to accomplish that.
Jenn: Try a tripod & remote
Whether you have a point and shoot or a DSLR, I really can't recommend a tripod and remote combo enough. I initially said no way, thinking that it would ruin the "charm" of some of my photos. Instead, it took away a lot of the stresses and pressures of finding time to shoot outfit photos, and my boyfriend is much happier that he doesn't have to shoot all of my outfits anymore.
See this full outfit post here!
Jana: Stick with one photographer (whether it's you or someone else!)
I'll just come out and say that I am not talented enough to handle being both the model and the photographer of my fashion shoots. A tripod and remote is the perfect tool for some bloggers (like Jenn!), but it would be a disaster for me. What has worked best for me is having my husband take my photos. Lucky for me he does enjoy photography, and thanks to a few classes in college, he's pretty good at it.
When I first started doing fashion posts, I cycled through having a couple different friends shoot photos for me. The issue I ran into was consistency. Everyone has a different idea of what looks good when they're taking photos, so to have 3 or 4 different people shooting my blog photos was not working for me. Having my husband be my photographer has been a game changer for me–not only because I feel like I can tell him if I don't like a certain shot, but he feels comfortable directing my poses if I'm looking weird–something I personally need.
If you don't have the luxury of being married to a good photographer, you have other options that don't involve forking out tons of cash. Search for up and coming photographers in your area who would love the extra exposure of having you give them a photo credit on your blog and social media. Or find someone you can do a skilled trade with. For example, I shoot product photography for my friend's Etsy shop whenever she needs it and she cuts and colors my hair for free. See if you can work out a trade with a photographer whose work you love based on skills you have.
I love how my husband makes me laugh when we shoot photos together!
Jenn: Slow & steady wins the race
This doesn't necessarily just apply to fashion blogging, but blogging in general. I see a lot of new bloggers overdoing it – trying to take on a ton of collaborations with brands and other bloggers, trying to get famous on Instagram or Pinterest, and then get burnt out and walk away from their blog. If I can recommend anything to you, it's to take it slow. If you can only post one outfit a month, that's okay! Do what works best for you and your schedule. And if you start getting emails about collaborations, the same rule applies there too. Take the offers that fit you and your schedule best. There will always be more opportunities later!
Do you fashion blog? What is one thing you've learned since you started? If you don't fashion blog, is it something you want to do in the future? Why or why not?