With a trip to New Orleans fresh in my mind, I can't help but think about my next adventure. While I love traveling, the whole "getting there" part isn't usually so much fun. Waiting in the airport, a noisy plane ride, spotty WiFi, and long layovers can make travel feel more like a chore than something enjoyable. If you're flying across the country this summer, knowing what to pack in a carry on for long flight is the key to making long flights less stressful!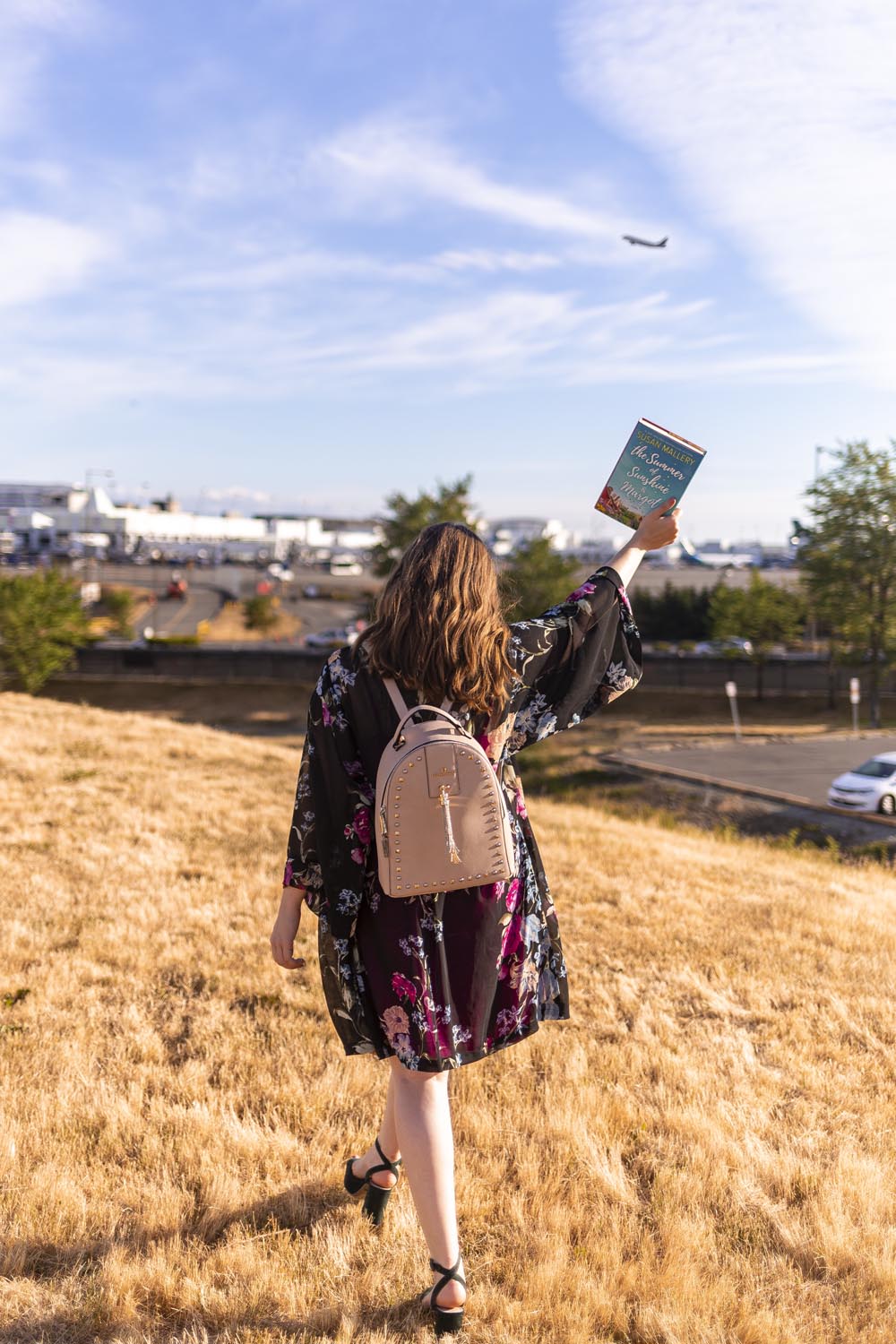 Disclosure: This post is sponsored by BabbleBoxx.com on behalf Harlequin Books

Fortunately, I've learned a few tips and tricks over the years taking many trips and long plane rides that make it more enjoyable. It starts by planning ahead when packing so that you know exactly what to pack in a carry on and when you arrive at the airport, you know you have everything you need! From an exciting new summer book to all of the tech gear to make sure you're charged and powered up, it's pretty simple once you get the hang of the whole packing thing.
Today, I thought I'd share some of the tips and tricks I use to pack the perfect carry on bag for a long flight!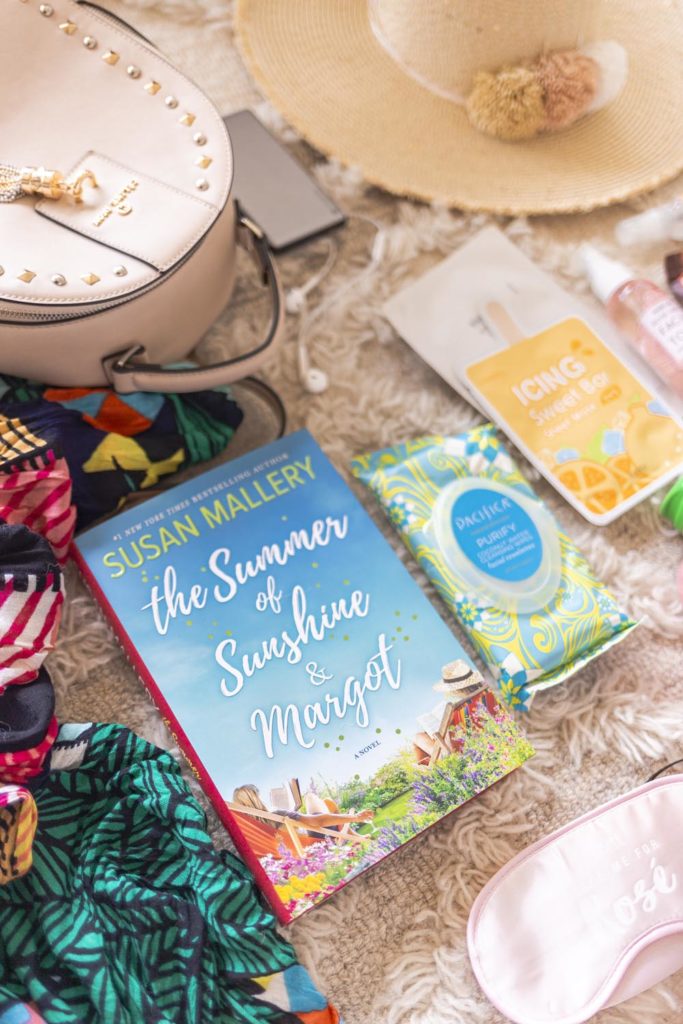 Stay entertained in-flight with a new summer read
If you ask me, a summer trip is a perfect excuse to grab a new book! This summer, I'm reading The Summer of Sunshine and Margot by #1 New York Times bestselling author Susan Mallery. Known for her novels about the relationships that define women's lives; family, friendship, and romance, Mallery weaves an enjoyable and upbeat story that's perfect for a long flight, or to read while relaxing on vacation!
So what's The Summer of Sunshine and Margot about? This must-read book of the summer tells the story of the Baxter sisters, Sunshine and Margot. While they typically have disastrous luck when it comes to love, especially "love at first sight", this summer things are going to be different. Sunshine and Margot turn disasters into destiny when they meet Declan and Alec in this perfect beach read! Grab your copy here to enjoy master storyteller Susan Mallery's family drama, humor, romance, and a wish-you-were-there setting one of the best summer reads!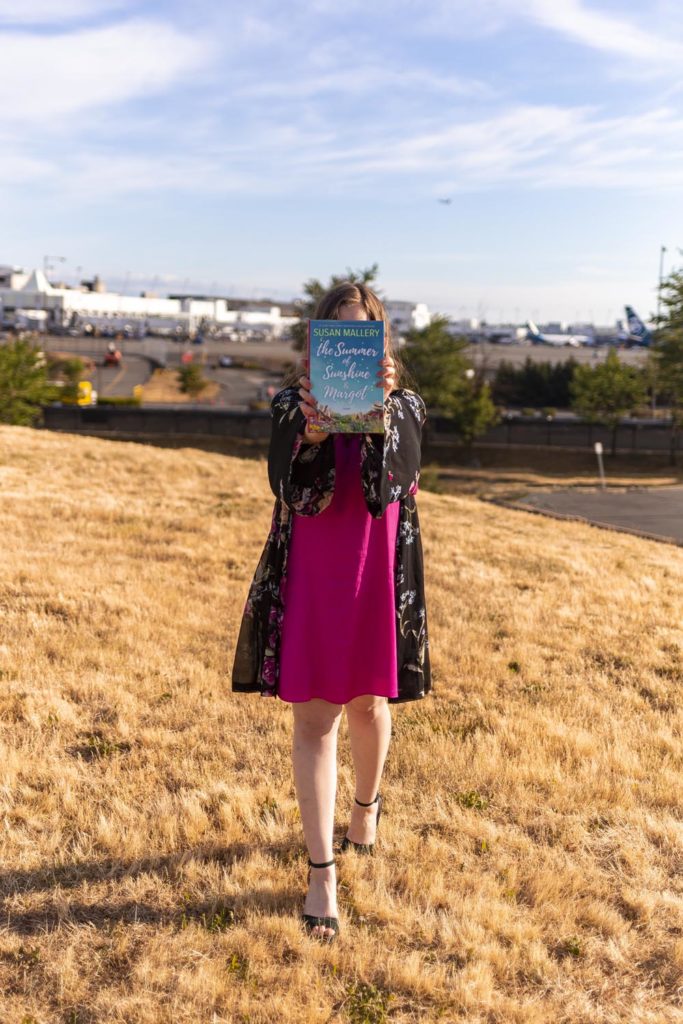 If you haven't read a book by Susan Mallery before, chances are you've seen or heard about her book-turned-movie on the Hallmark channel, Marry Me at Christmas. Her stories are perfect for those who love women's fiction, or who crave humor, love, and a great romance all in one! Now is the ideal time to give one of her novels a try, so be sure to add The Summer of Sunshine and Margot to your Goodreads reading list here!
And, if you're in the Seattle area like me, then you're in luck! Susan Mallery will be at the University Book Store in the U District signing copies of The Summer of Sunshine and Margot this coming Saturday, June 22 at 3 pm. The address is 4326 University Way NE. See you there!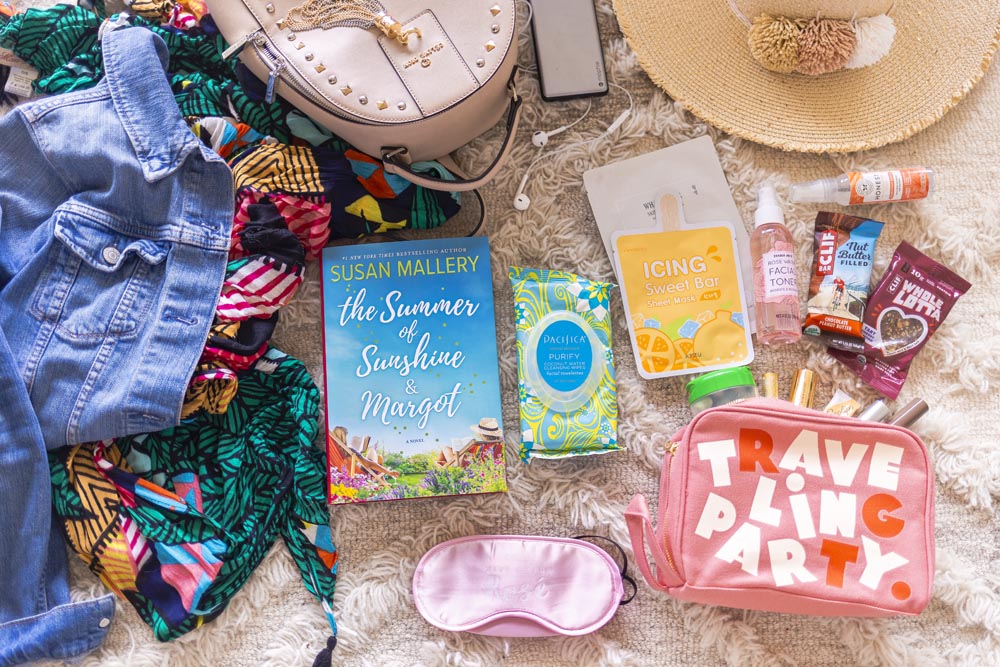 Keep the "hanger" at bay with healthy snacks
When it comes to travel, I'm often rushing around so much before I have to leave the house that I forget to eat a real meal. Because of this, I always pack a healthy snack that's sure to keep those "hanger" mood swings at bay. I love packing a healthy fruit and nut bar, or a protein bar, to get a quick boost of energy while flying or traveling!
Don't forget the hand sanitizer
Before cracking into any of your airplane snacks, don't forget to spray down your tray table and hands with a hand sanitizer spray or wet wipe! Let's be honest, the amount of cleaning that occurs between flights is fairly minimal, and anything you can do to prevent the spread of cold and flu germs in-flight is a win. Getting sick during your vacation, or even when you get home, is such a bummer! For bonus points, pack your multivitamins and Vitamin C to keep your immune system healthy and performing at its best throughout your trip.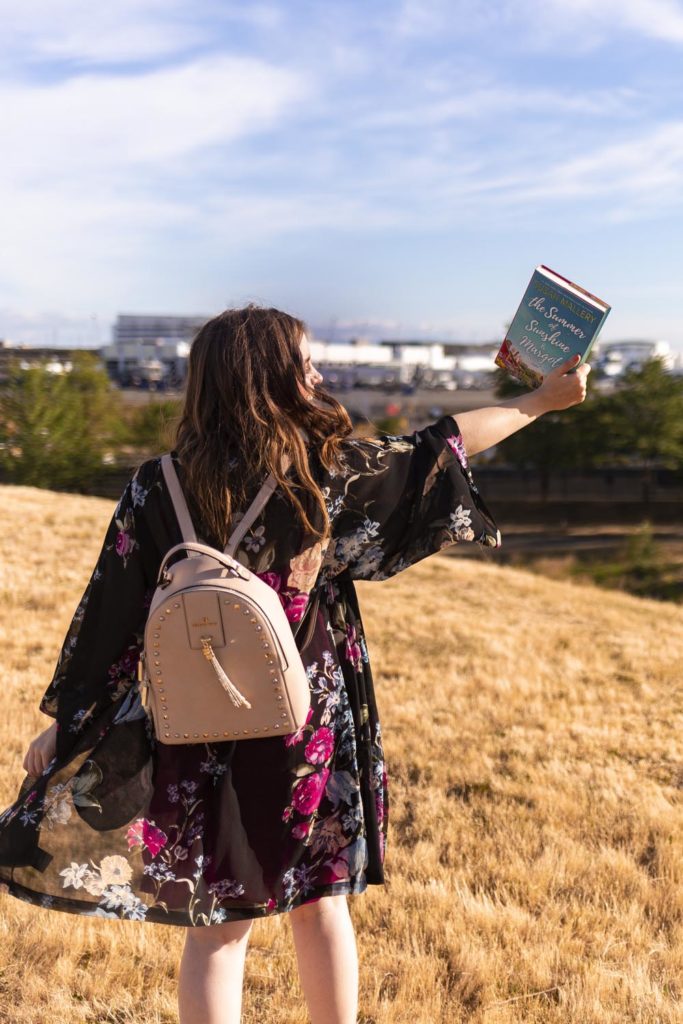 Get charged up with your tech accessories
You know what's the worst? Finding yourself in-flight with a dying cell phone. Never find yourself in this predicament again by packing not only your phone charger, but a portable power bank in your carry on bag. A power bank allows your phone (and other tech accessories like an iPad or other tablet) to charge up multiple times without access to a power plug.
Beyond a power bank and charger, I recommend bringing a pair of ear buds or headphones. Even if you don't want to listen to anything in-flight, they can still be helpful tools to drown out some of the noise on your flight.
Keep skin hydrated with in-flight skincare
Yes, it's okay to be that extra girl or guy who packs in-flight skincare! My go-to is a sheet mask. While not ideal, you can apply these right over your makeup for a boost of hydration. If you have the space for it, however, I recommend packing makeup wipes to remove your makeup, then apply your sheet mask. No sheet mask? No problem! Instead, use a facial spray or toner right over your makeup for a boost of hydration in-flight. Don't forget a hydrating lip balm, too! Lips can get super dried out from stale cabin air.
Additionally, I always pack under eye masks for the morning after a long flight. When you arrive at your destination, pop the under eye masks into the fridge and apply them when you wake up in the morning before you apply your makeup. See you later under eye bags and dark circles!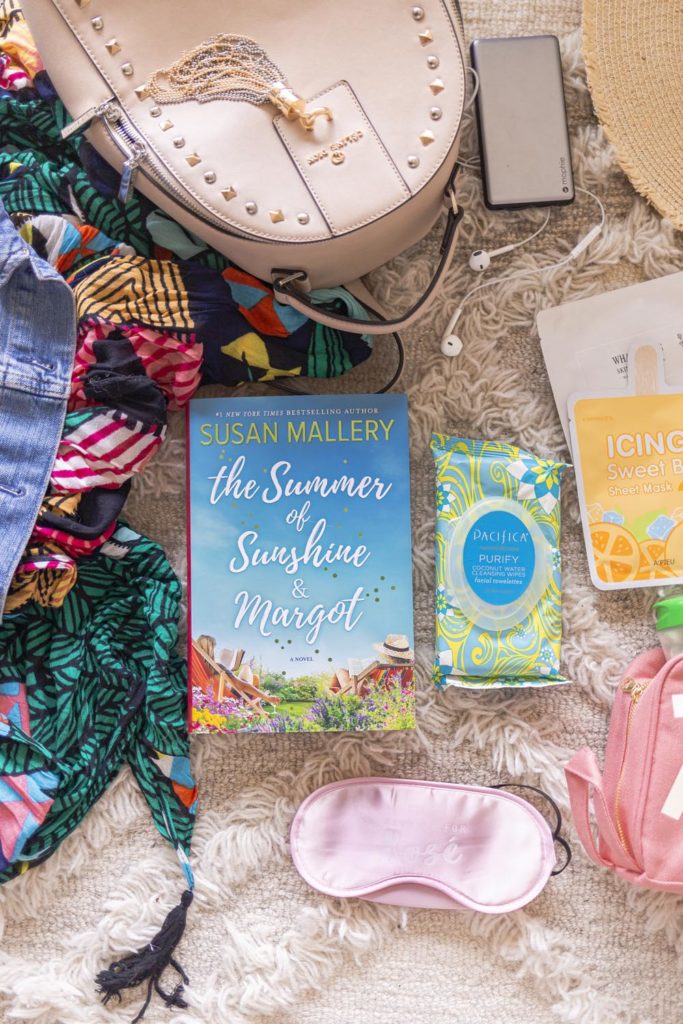 Tuck away important docs, valuables, and medications
While your carry on bag might be filling up, it is important to keep any documents, valuables (like your laptop, expensive camera gear, etc.) and medications on you that you'll need immediately once you arrive, especially if you have checked your bag. You never know when you might end up with a missing bag, so it's good to always have important documents, valuables, and medications on your person, just in case!
Carry on your bulky jackets and hats
Fun fact: jackets and hats don't count as personal items when flying, so load yourself up! I tend to wear my bulkiest items on the plane. In summer, that means I wear my heaviest blouse and jeans, despite temperatures at both ends of my flight. I usually wear a denim jacket or a moto jacket, which can be draped over your carry on bag or shoulder when in the airport or boarding your flight.
Additionally, I hate packing my large hats in my suitcase because they often get misshapen, no matter how carefully I stuff and pack them. I typically pack small hats like berets and baker boy caps in my checked or overhead luggage, and wear larger straw hats on board the plane. When I sit down, I just place my hat on top of my carry on bag under the seat in front of me.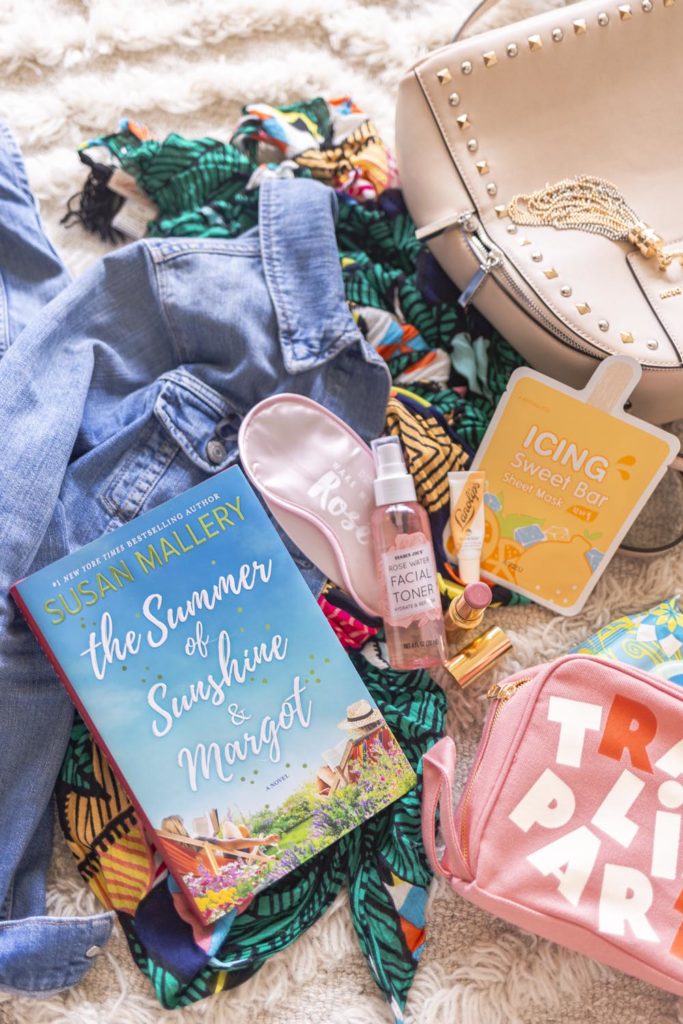 Grab your toiletry essentials
Just like important documents, valuables, and medications, I like to have my toiletry bag in my carry-on, too. This is often why my carry on bag is a large tote bag stuffed to the brim or a backpack. With that said, in case your suitcase doesn't make it to your final destination, you'll still be able to brush your teeth and hair, get ready for the day, and have your tried-and-true favorites. Replacing makeup at your end destination is costly and a pain, so make it easier by having it on you throughout your travel day!
Cozy up in-flight
Finally, there's nothing that makes flying easier than feeling cozy! If your goal is to sleep on your flight, a pair of cozy slipper socks and an eye mask can do wonders. Other great items to keep you comfortable during the flight? Ear plugs, slippers, and a large scarf, which can double as a sarong at your end destination and a blanket in-flight!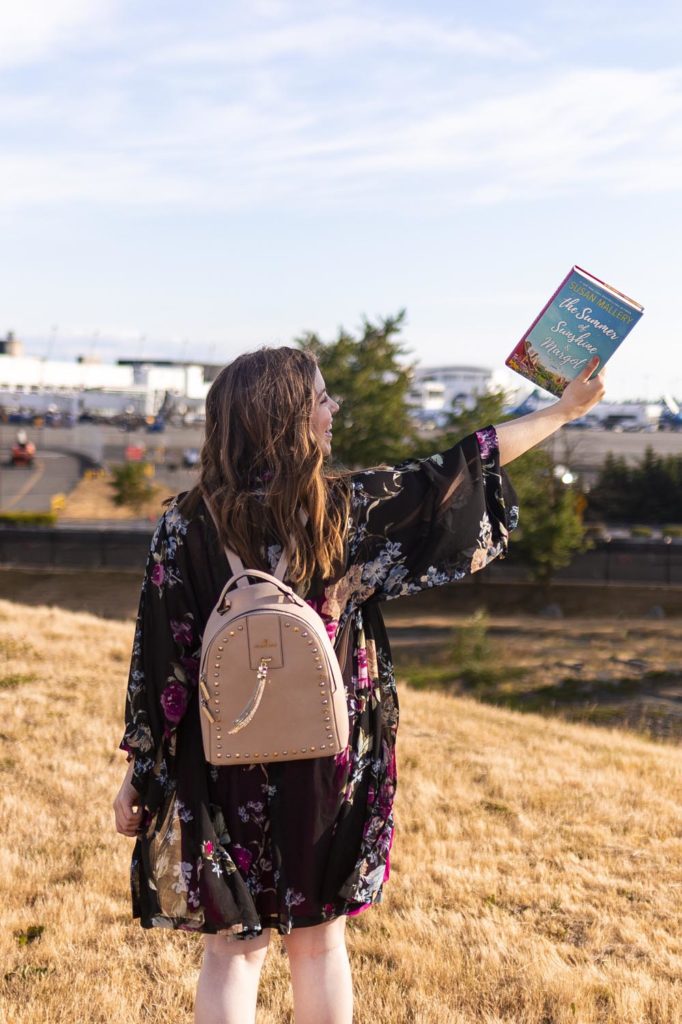 With that said, I hope you have a wonderful trip and enjoy a summer of sunshine at your end destination! Don't forget to grab the must-read of the summer, The Summer of Sunshine and Margot by Susan Mallery before your flight. After all, a long flight is a perfect time to get lost in a good book!
Are you taking any trips this summer? What summer read is on your to-be-read list this year? I'd love to hear about it in the comments!