Happy July! Who can believe the 4th of July is this week?! As usual, the holiday has snuck up on me and I've found myself scrambling around for cute 4th of July outfit ideas. Fortunately, after a quick scroll through my Instagram feed, I realized I actually wear red, white and blue outfits on a fairly regular basis. And hey, you might too!

That's why I thought I'd round up 15+ of my favorite stylish red, white, and blue outfit ideas to give you some inspiration for your own in time for the 4th of July this week!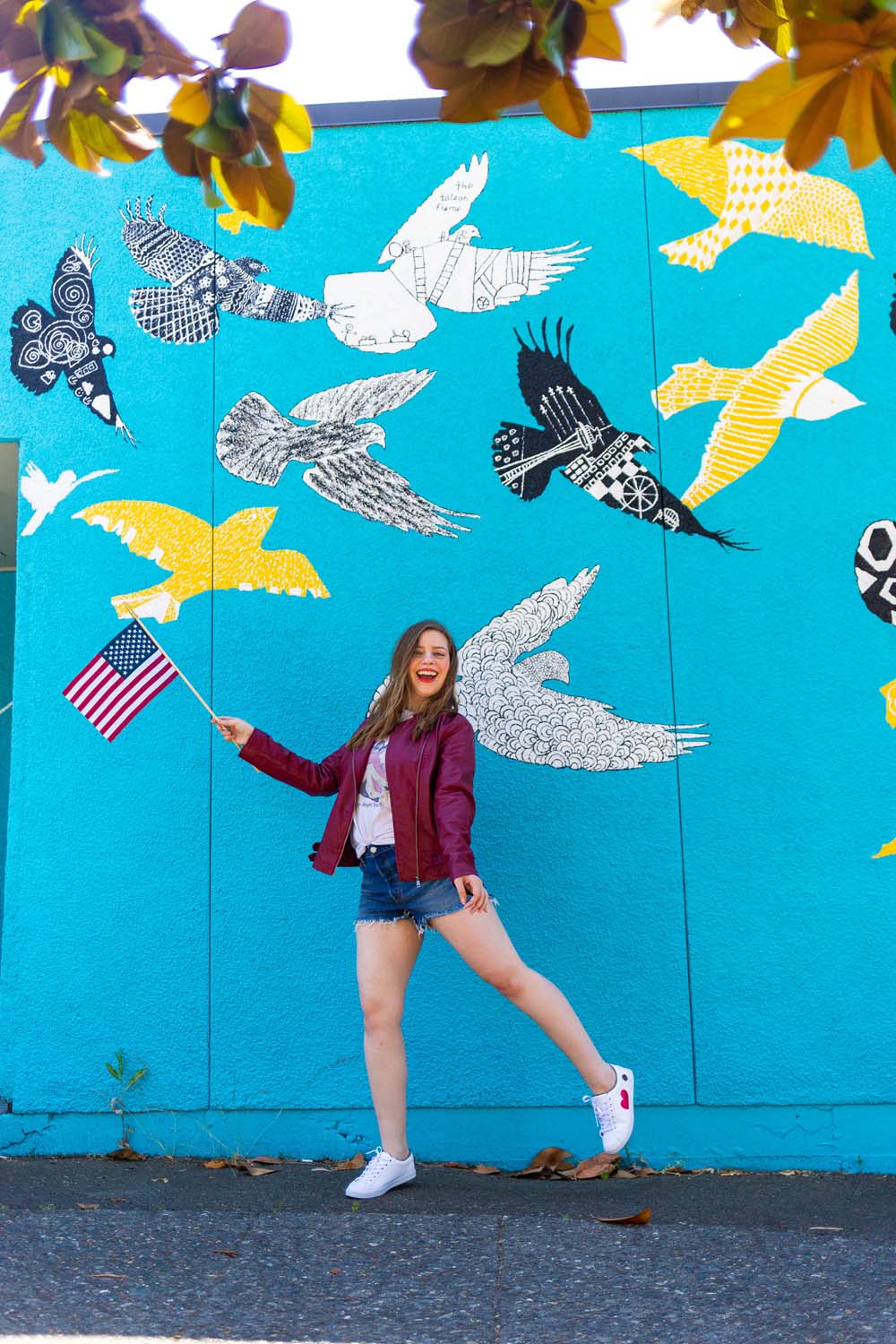 Disclosure: This post contains affiliate links which means that if you click a link and make a purchase, I may make a small commission at no cost to you. Thanks for your support!
Don't worry; you won't see any Flag tees, stars and stripes, or silly Americana slogan t-shirts here. Sorry not sorry, that's just not my style. And if that's not yours either, then read on for more than a dozen cute 4th of July outfit ideas. Just swap in your own pieces from your closet and take on your backyard BBQ, fireworks show, bonfire, or parade on in style this week!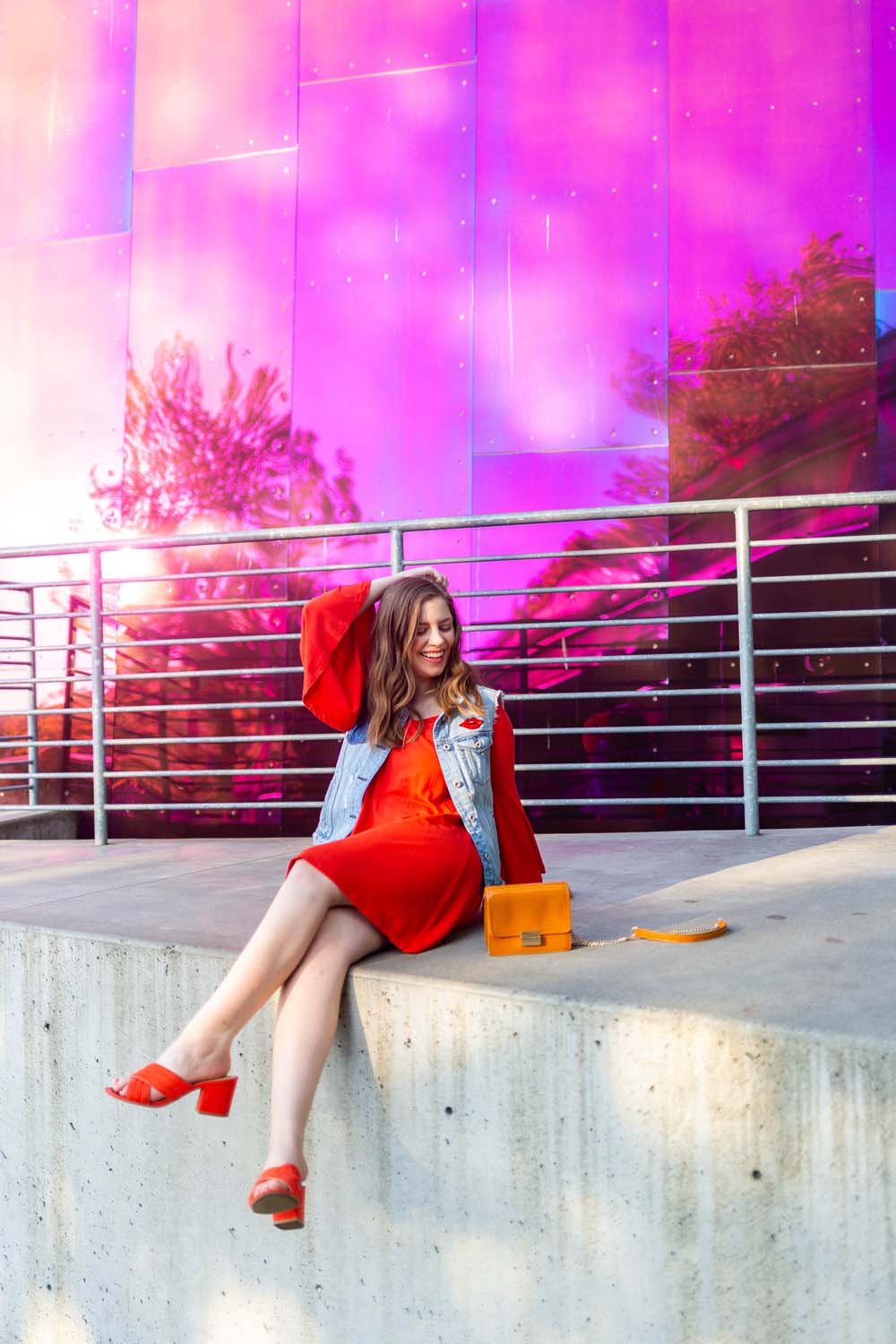 Dress down a red dress with denim
On a recent trip to the MoPop Museum, I rocked a cute little red knit dress paired with a fun denim vest with patches and red slides. An oversized denim jacket and a pair of sandals would look equally as cute for your 4th of July celebration!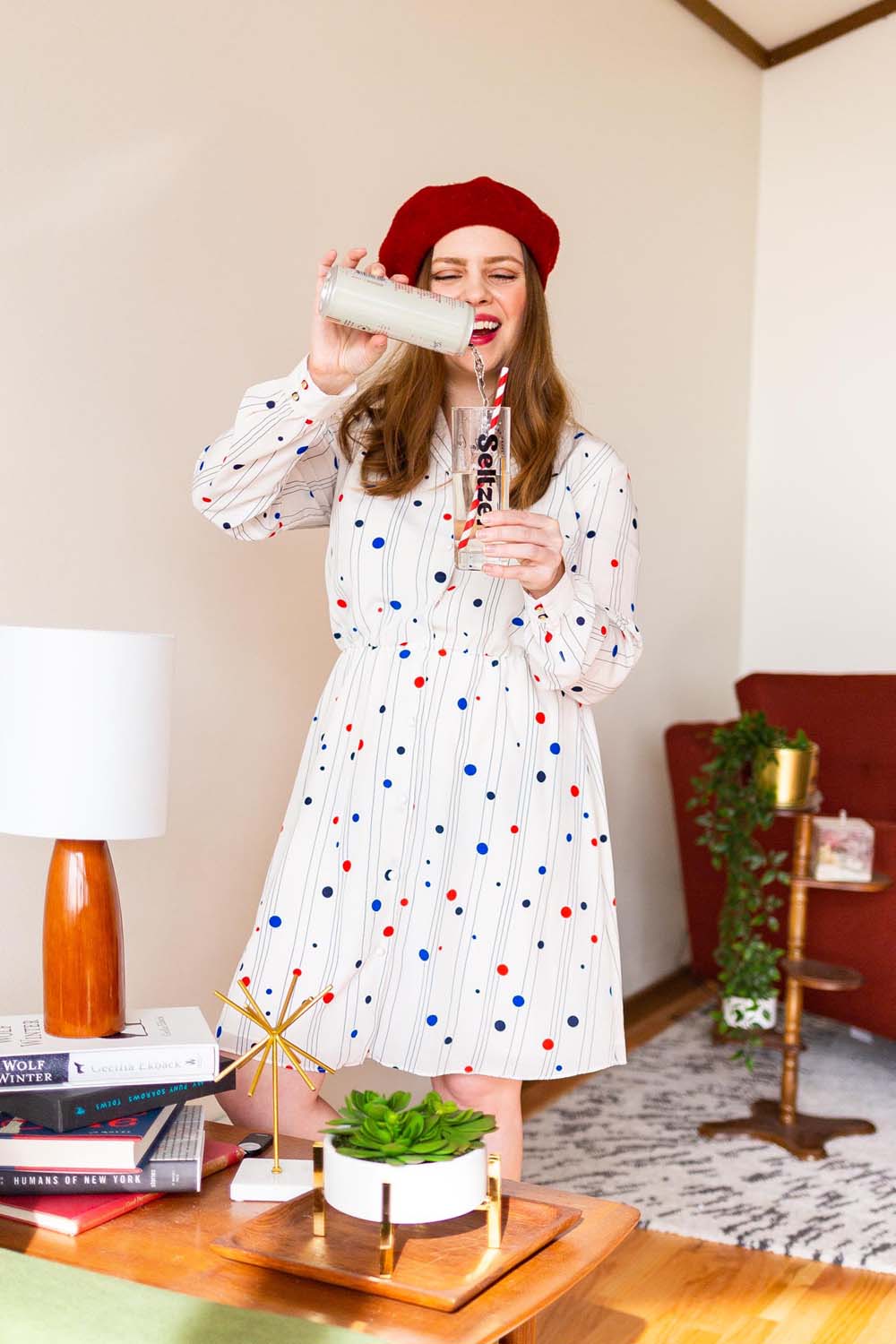 Or dress things up with a red beret
Love to dress up for the holidays? I feel you! A dress like this one with red and blue polka dots would be perfect for the occasion. I've added a beret on top to really tie it all together, too!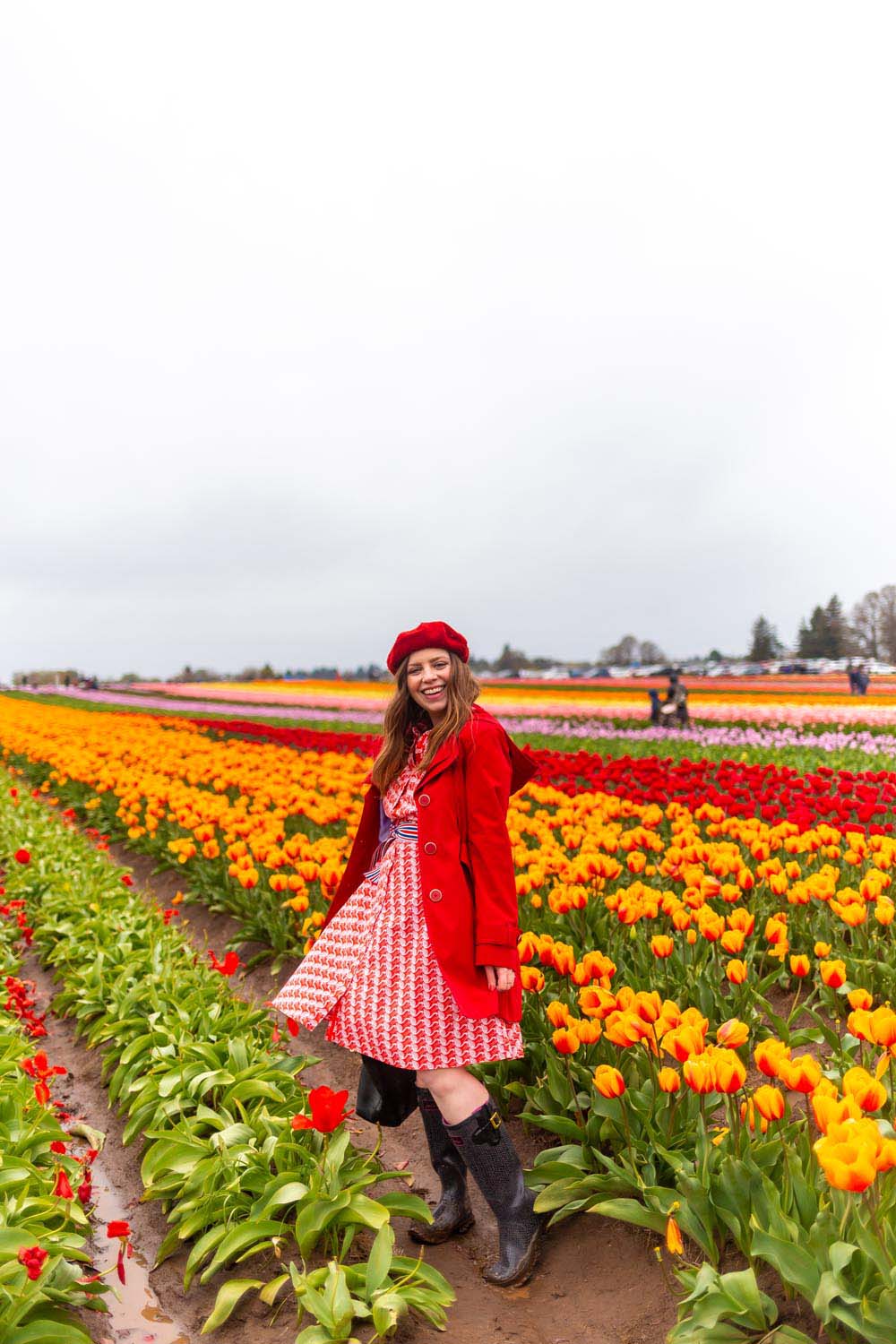 Rainy day? Don't let it get in the way
Seattle is notorious for raining on the 4th of July. With that in mind, why not be prepared with a red raincoat? I think it goes perfectly with this printed shirt dress and coordinating red, white, and blue ribbon belt. A pair of rainboots might be a little unnecessary, but a pair of white or blue sneakers would be perfect to keep your feet dry!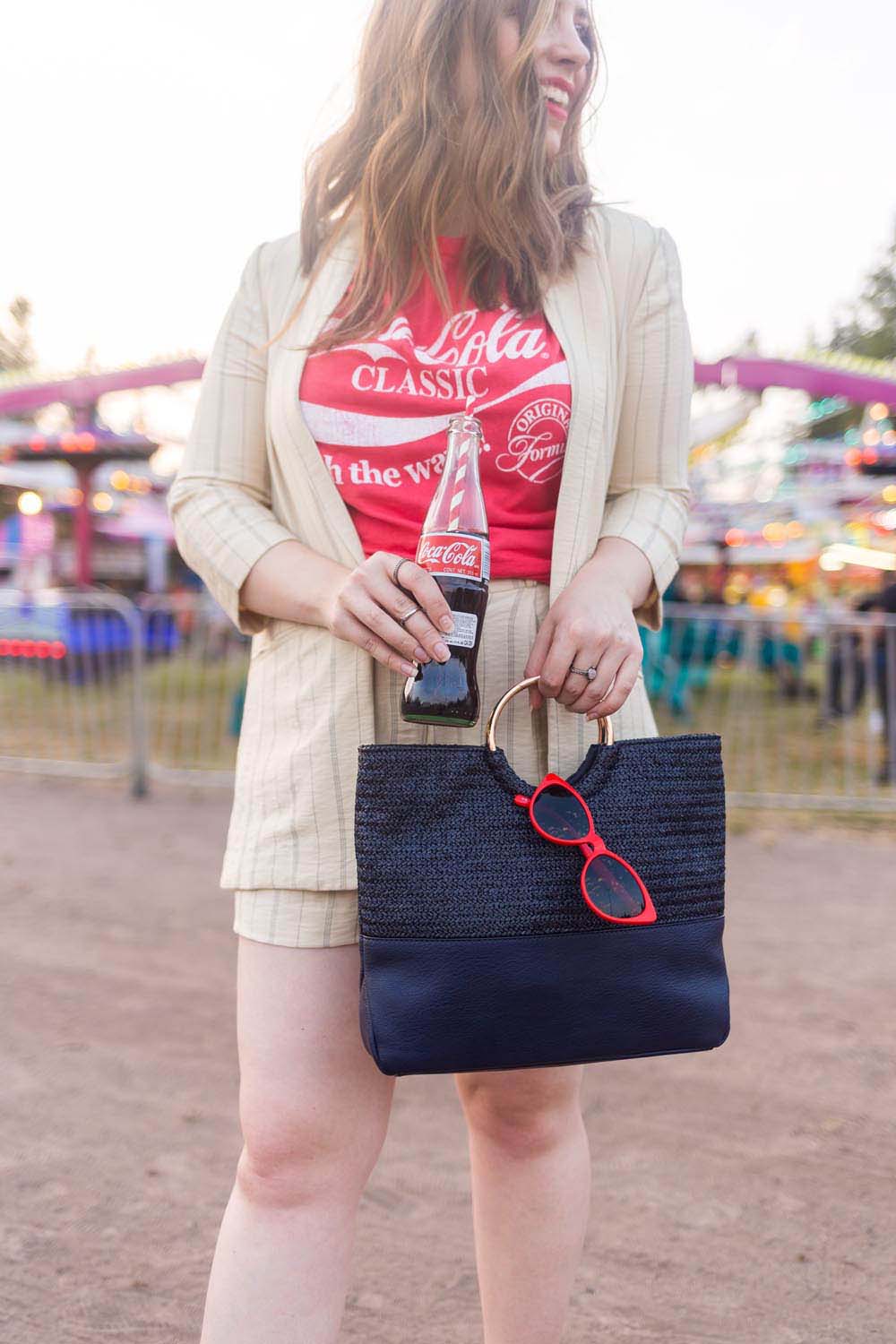 Have a Coke and smile
What's more American than a Coca-Cola? When I saw this coke t-shirt, I knew it would be a summer staple! I paired it with a cute little blazer and short set that I found last summer, but also look great with a pair of shorts and a denim jacket for the 4th of July, too!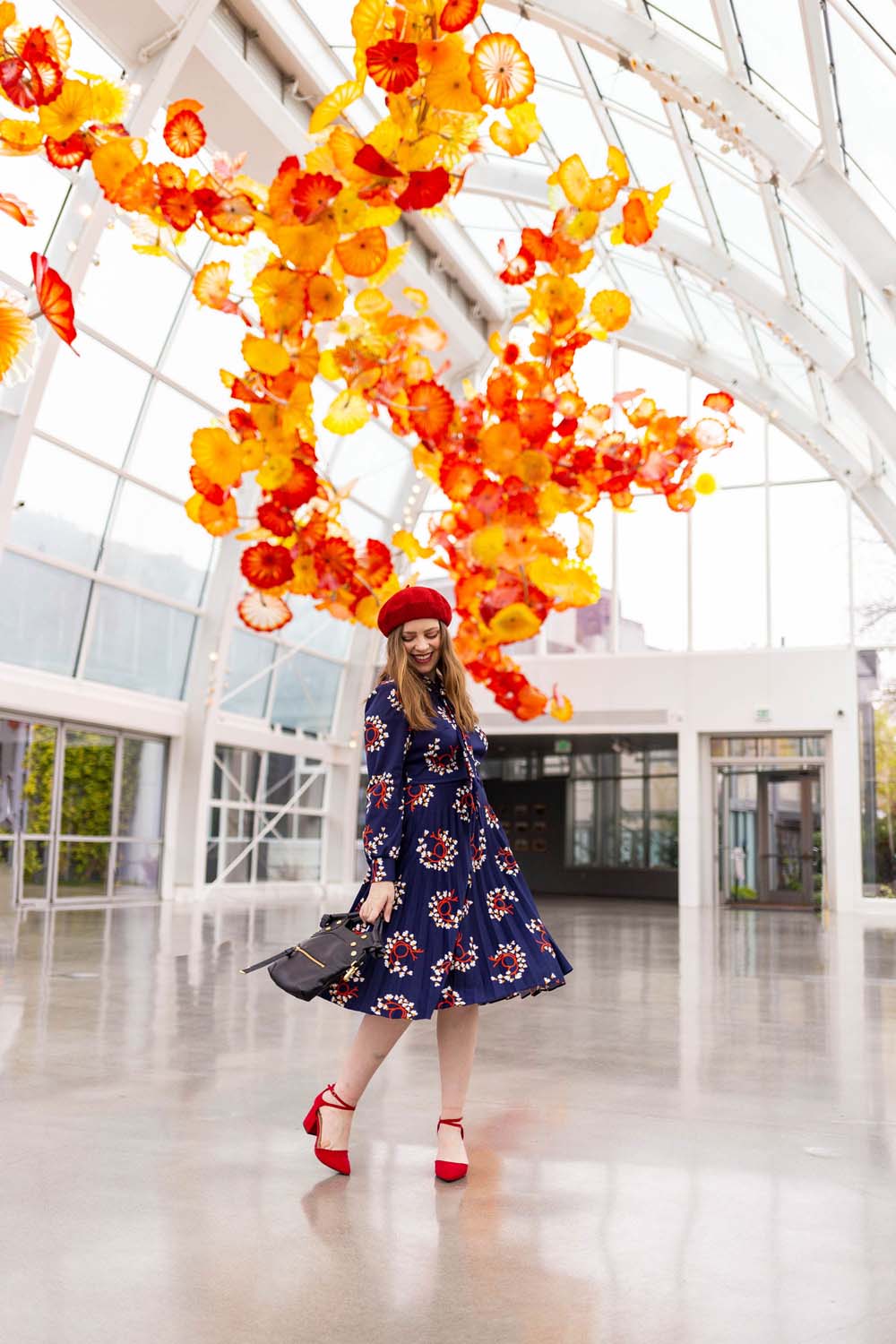 Twirl into the 4th
When looking for a cute 4th of July outfit, don't rule out vintage! This fun navy dress that I thrifted during Goodwill's Glitter Sale is the perfect, subtle amount of red, white, and blue. Pick your favorite red accessories from your wardrobe to really make it pop and twirl the day away!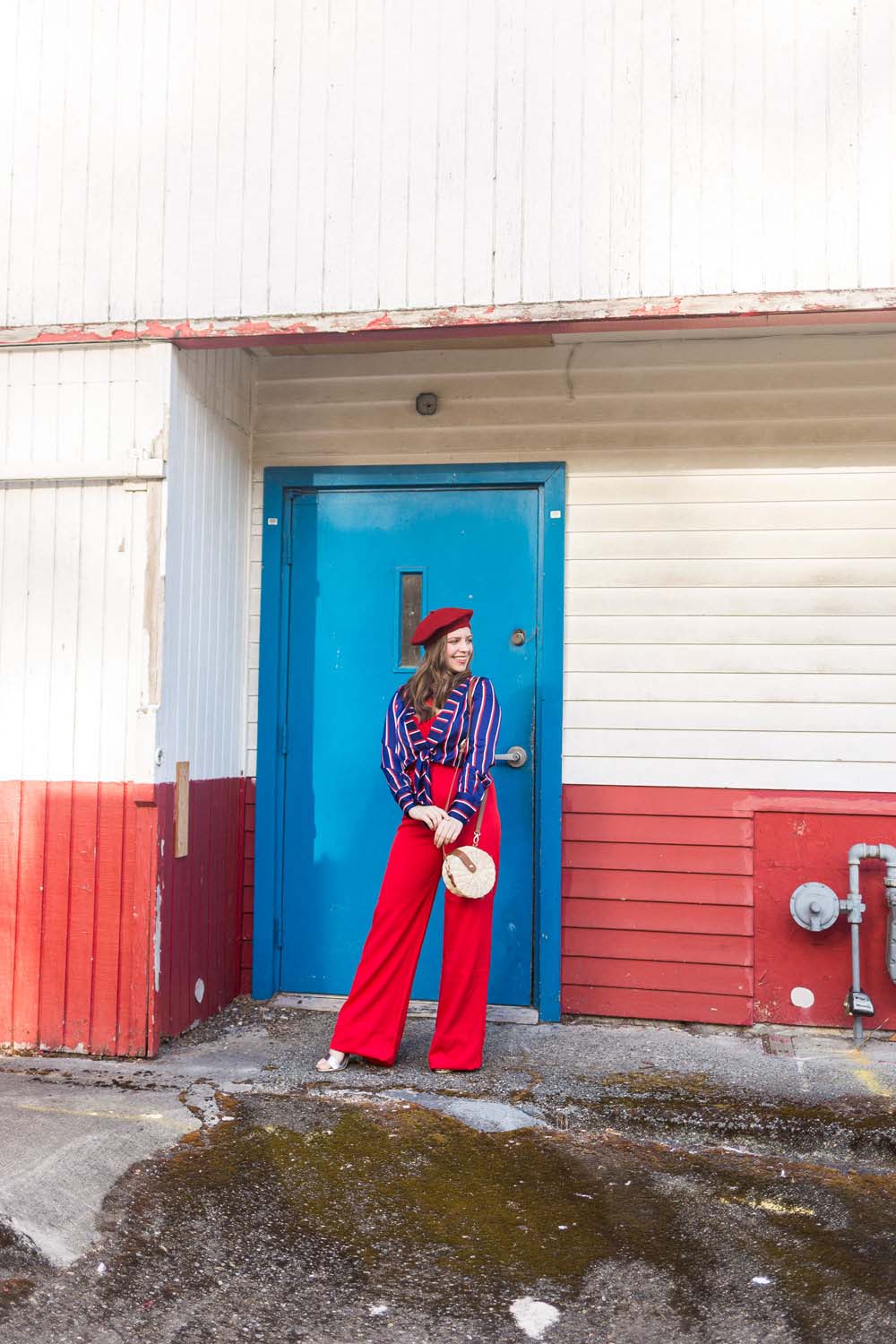 Go for a classy red, white and blue outfit
Go bold for the 4th of July with a classy pair of red wide leg pants, dressy sandals, and a coordinating navy blouse. I love how chic this look is, and while it's patriotic, it's most definitely stylish! See more details about this outfit here.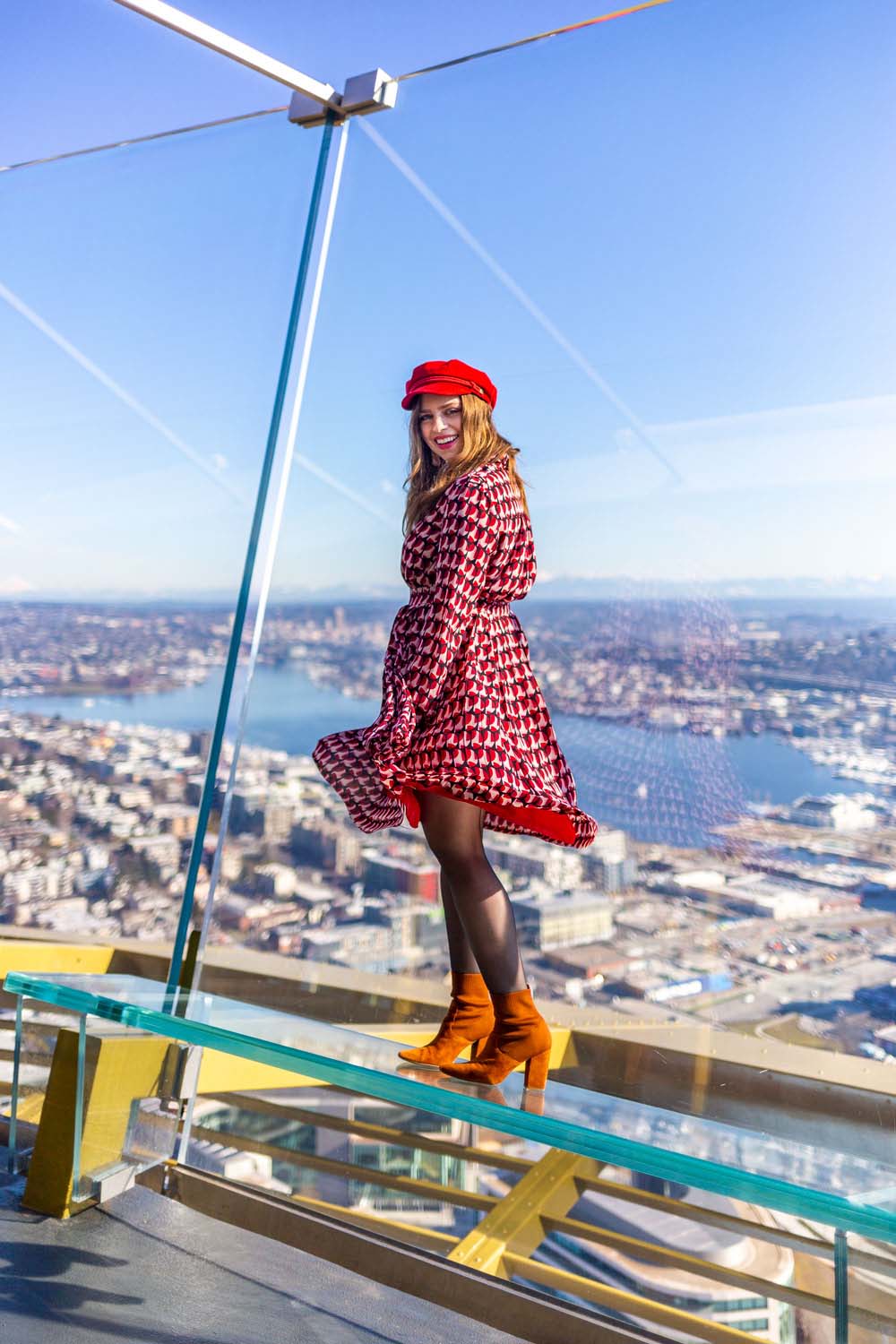 Wear a festive print
Prints have all the fun! But really, look through your closet – you might have more red, white, and blue prints than you think. I can pull out a few right away, and I bet you can too! Just pop red, white, and blue accessories on to complete your look.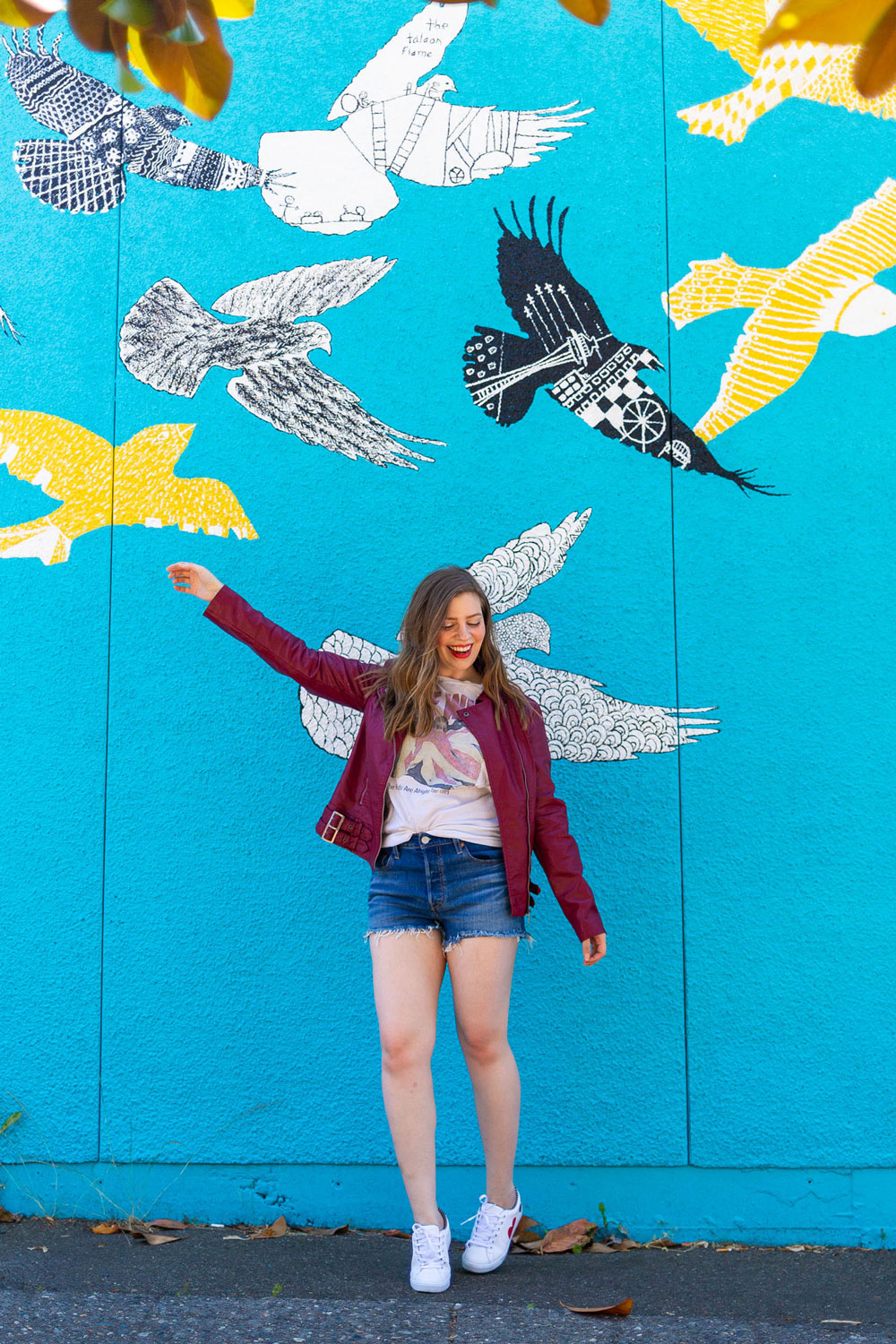 Rock a band tee and cutoffs
Get your rock and roll on this 4th of July with a band tee, your favorite cut-offs, and Coalition LA faux leather jacket. A pair of white sneakers is the perfect finish to this casual 4th of July outfit!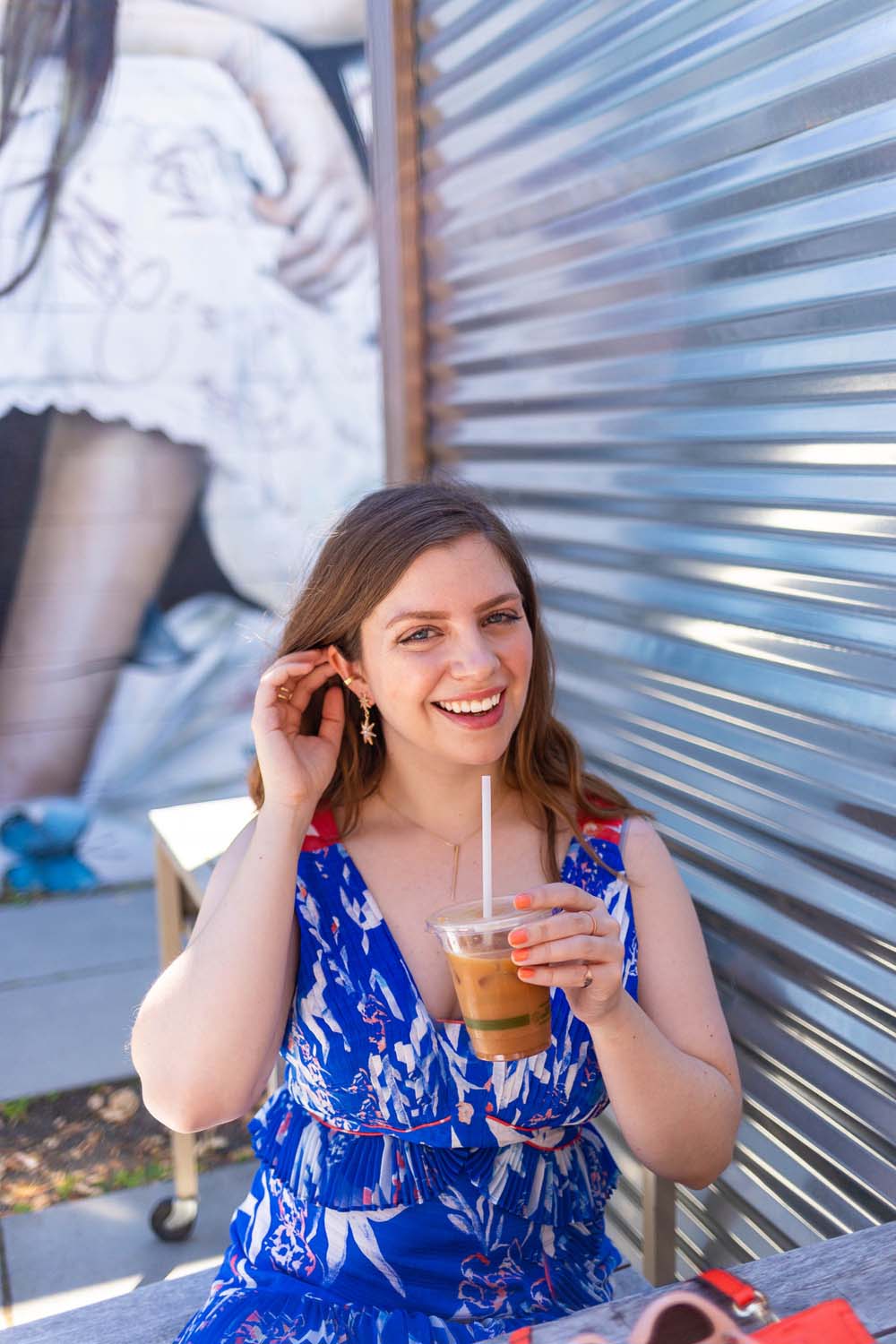 Dress up and add some sparkle
A cute red, white, and blue dress is perfect for the 4th of July! Even better? Adding a little sparkle! These star earrings would be perfect. See more details about this outfit here.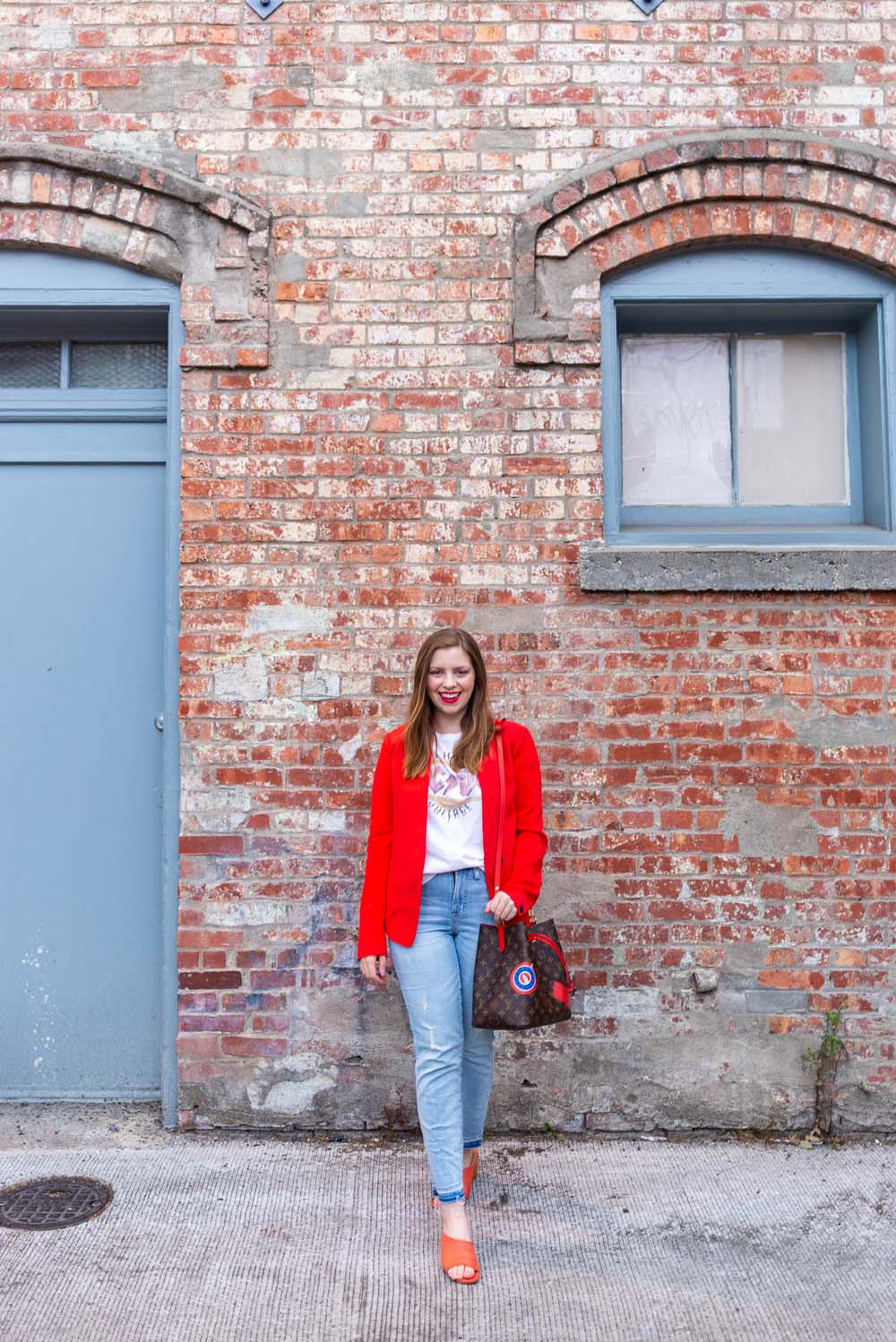 Throw a blazer on it
Throwing a blazer on top of an otherwise simple t-shirt-and-jeans type of outfit is the perfect way to take it up a notch. Even better if that blazer happens to be red for the 4th of July!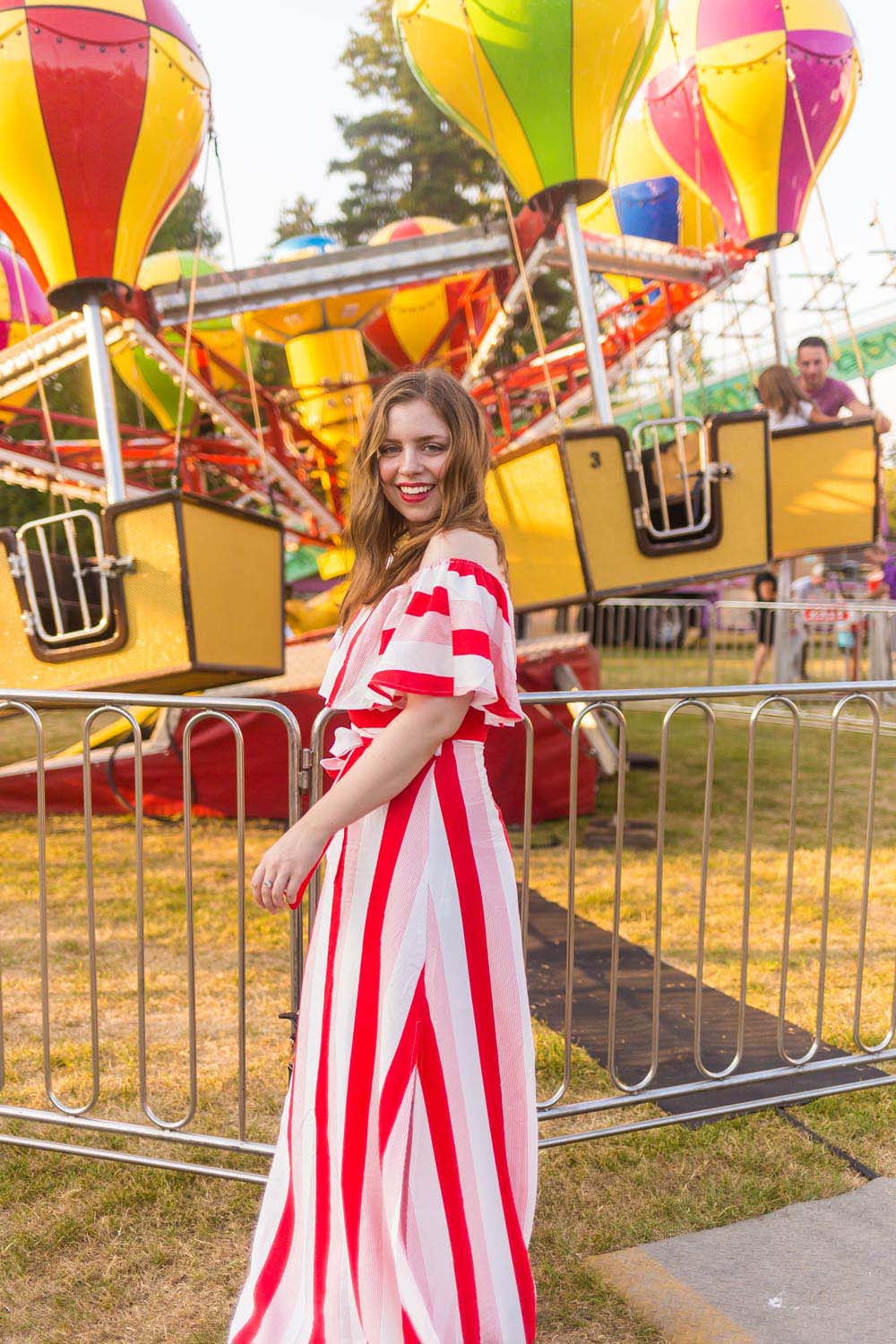 Wear red and white stripes
Make a statement on the 4th of July with a red and white stripe maxi dress. This dress would also be perfectly flowy and comfortable for a beach party or throw a denim jacket over top for a bonfire!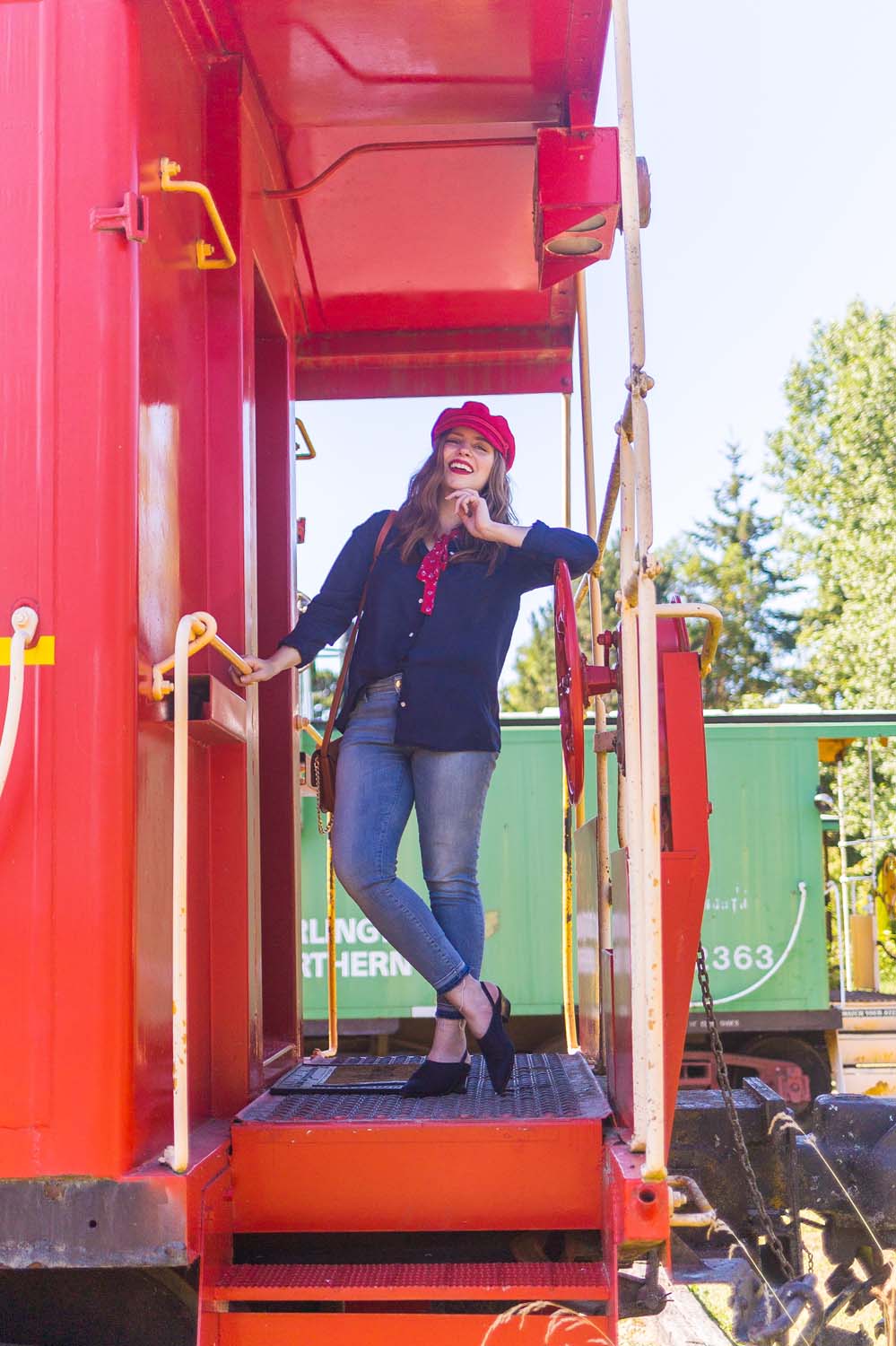 Go for a casual red, white, and blue outfit
Pair your favorite navy button-up with a pair of jeans and red accessories for a casual-cool vibe on the 4th of July. I love my red baker boy cap that keeps this outfit from looking too monochromatic!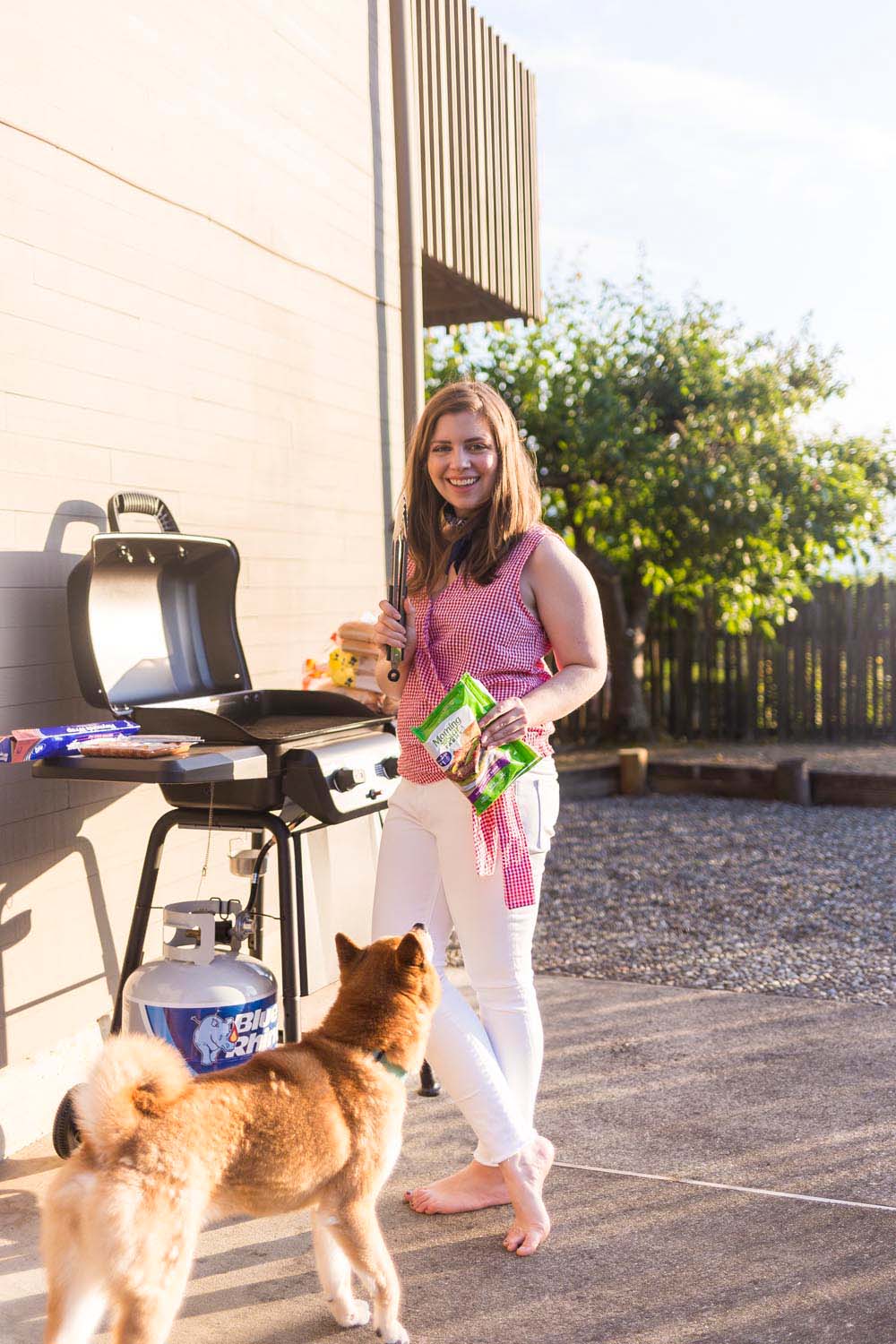 Get comfy for a backyard BBQ
Gingham couldn't be more summery if it tried! That's why it's the perfect print to wear to a backyard BBQ. I paired this gingham blouse with a pair of white jeans for the 4th of July BBQ that I hosted for some friends last year. See this post for a couple of other style ideas and quick 4th of July recipes, too!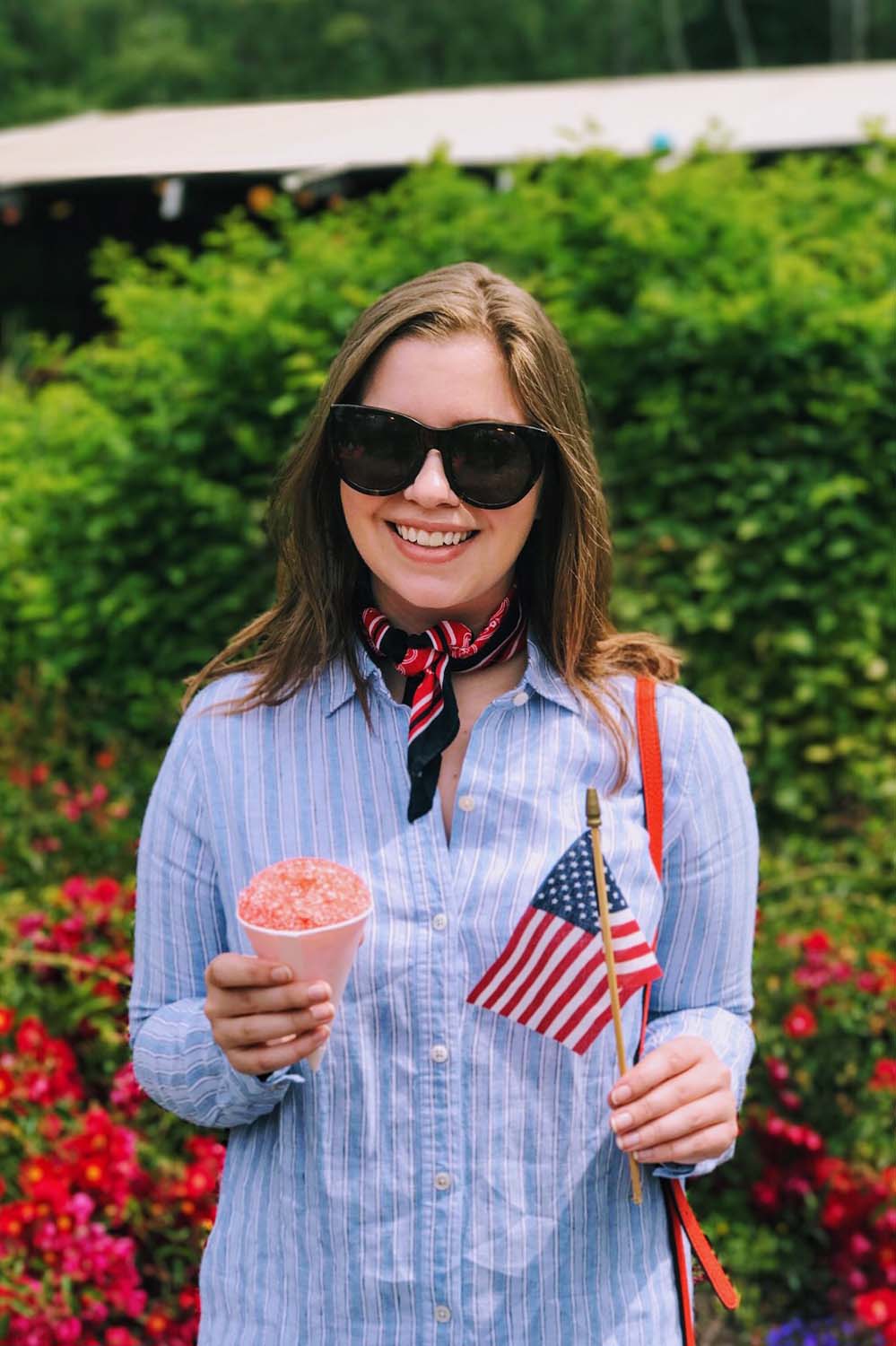 Add some Americana for a 4th of July parade
Heading off to a parade or festival on the Fourth? Add a little subtle Americana to your outfit! A flag bandana is my go-to, but a fun pair of red, white and blue earrings, scarf, or even a fun bag would be the perfect nod to the holiday!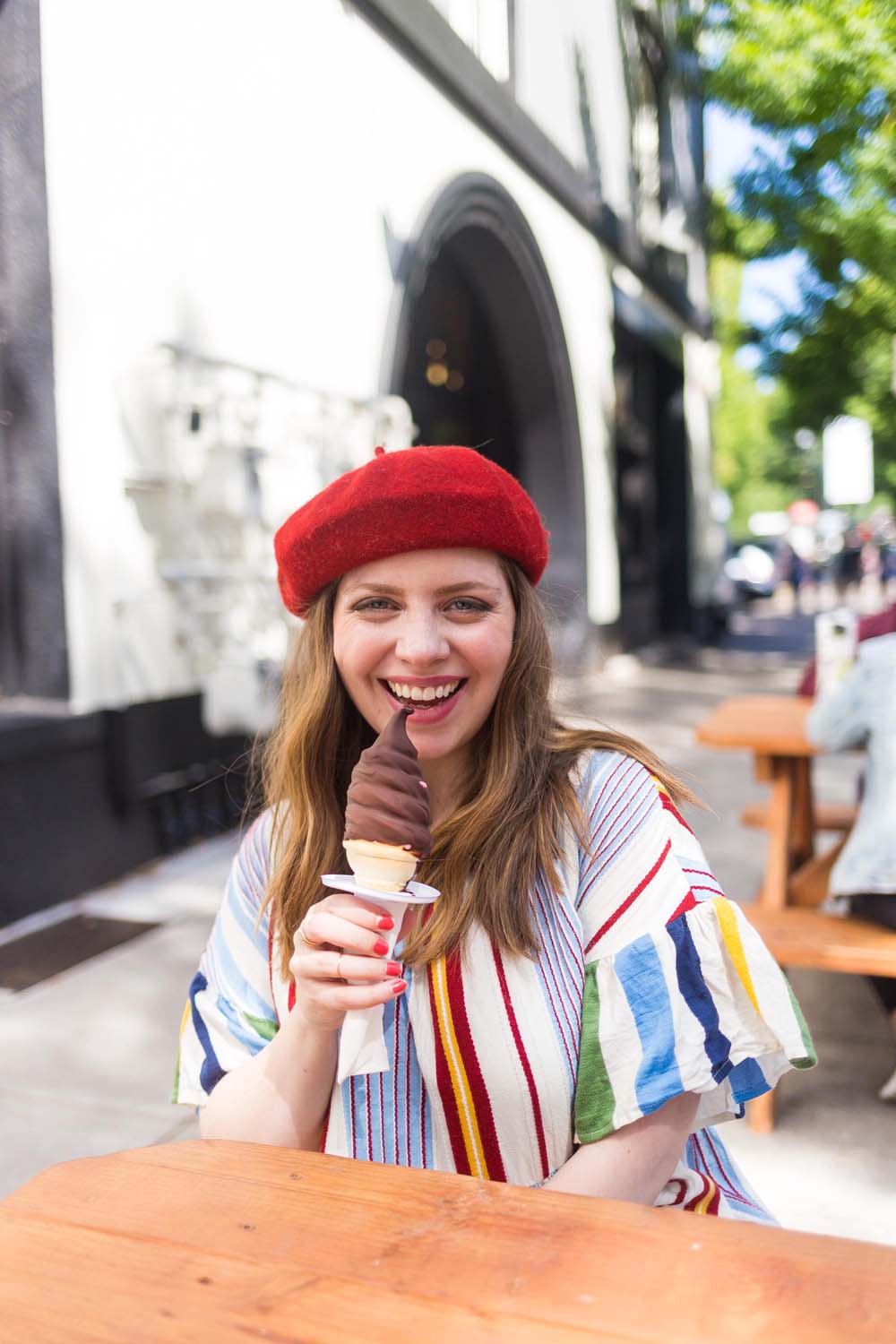 Celebrate with the colors of the rainbow
Who says you have to wear strictly red, white, and blue for the 4th of July? How about throwing some other colors into the mix and going for a rainbow outfit? A comfortable rainbow stripe dress would be perfect and still festive.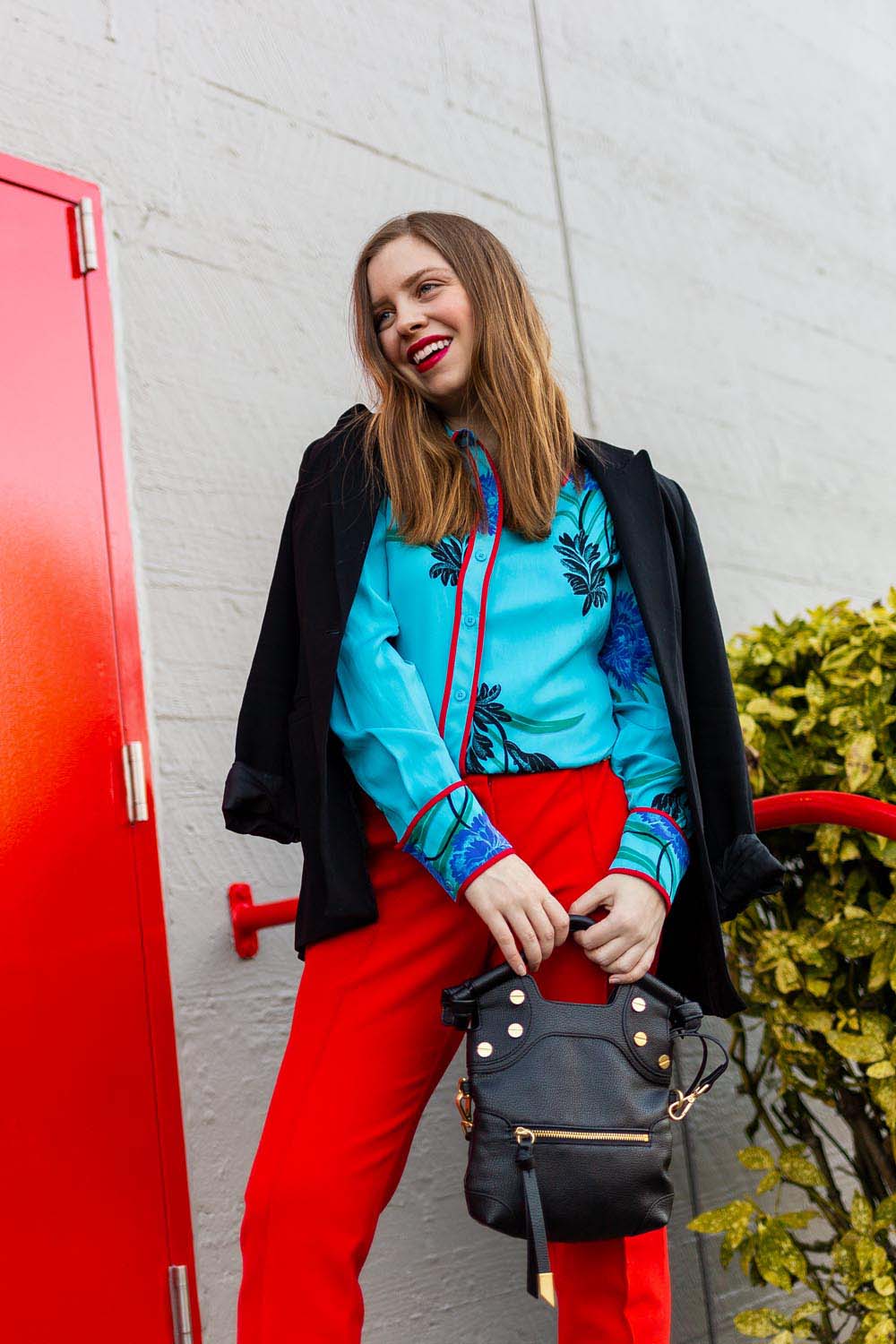 A red white and blue outfit for work
Have to work on the 4th of July? Don't feel too bad, I probably will be too. While I don't have to head into the office, if I did, this is what I would wear. A red pant, blue button-up blouse with pops of red, and a blazer to tie it all together. Colorful, fun, slightly patriotic, and work-appropriate; check, check, check, and check!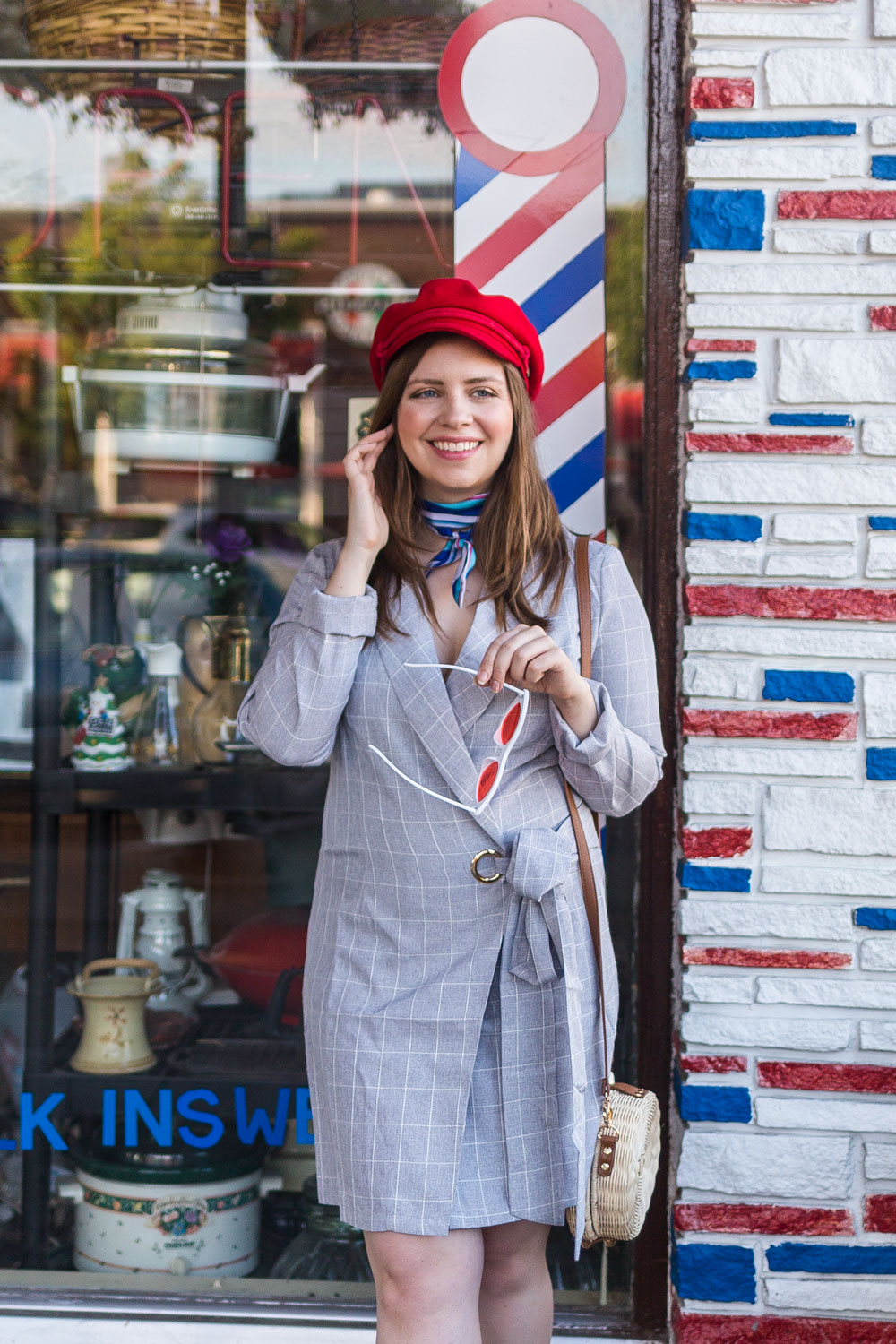 Keep it chic with red white and blue accessories
Who says you have to wear a head to toe red, white, and blue outfit for the 4th of July? Keep things neutral everywhere else and then add one pop of color! A neck scarf featuring red white, and blue is perfectly chic. Or, stick with another accessory like a red hat, blue scarf, or multi-color bag to keep things festive!

I hope all of these 4th of July outfit ideas will encourage you to get creative in your closet this week for the holiday. You might be surprised by all of the red, white, and blue you can find! If you're still struggling, there's no shame in the tried-and-true flag t-shirt and denim shorts game, either. ;)
And with that, I hope you have a fun (and safe!) 4th of July this week. How are you celebrating the 4th of July? What will you be wearing?