Product Sample: A beauty bag sample was provided to me in exchange for this honest review.
I'm pretty sure everyone knows about my beauty subscription addiction by now, so when I heard about the Whole Body Weekender Travel Bag from Whole Foods, you know I had to have it. Luckily, Whole Foods gave me a sneak peek before it launched and offered two to a couple of lucky winners!
For $6.99 starting today, you can snag one of these guys at your local Whole Foods. (Find your nearest store via their store locator.) With six deluxe samples, a travel bag, and coupons, it's more than worth the value. I had a few days to test the products out, so while I can't provide a full review, I thought I'd share my first impressions and thoughts on each of the samples inside.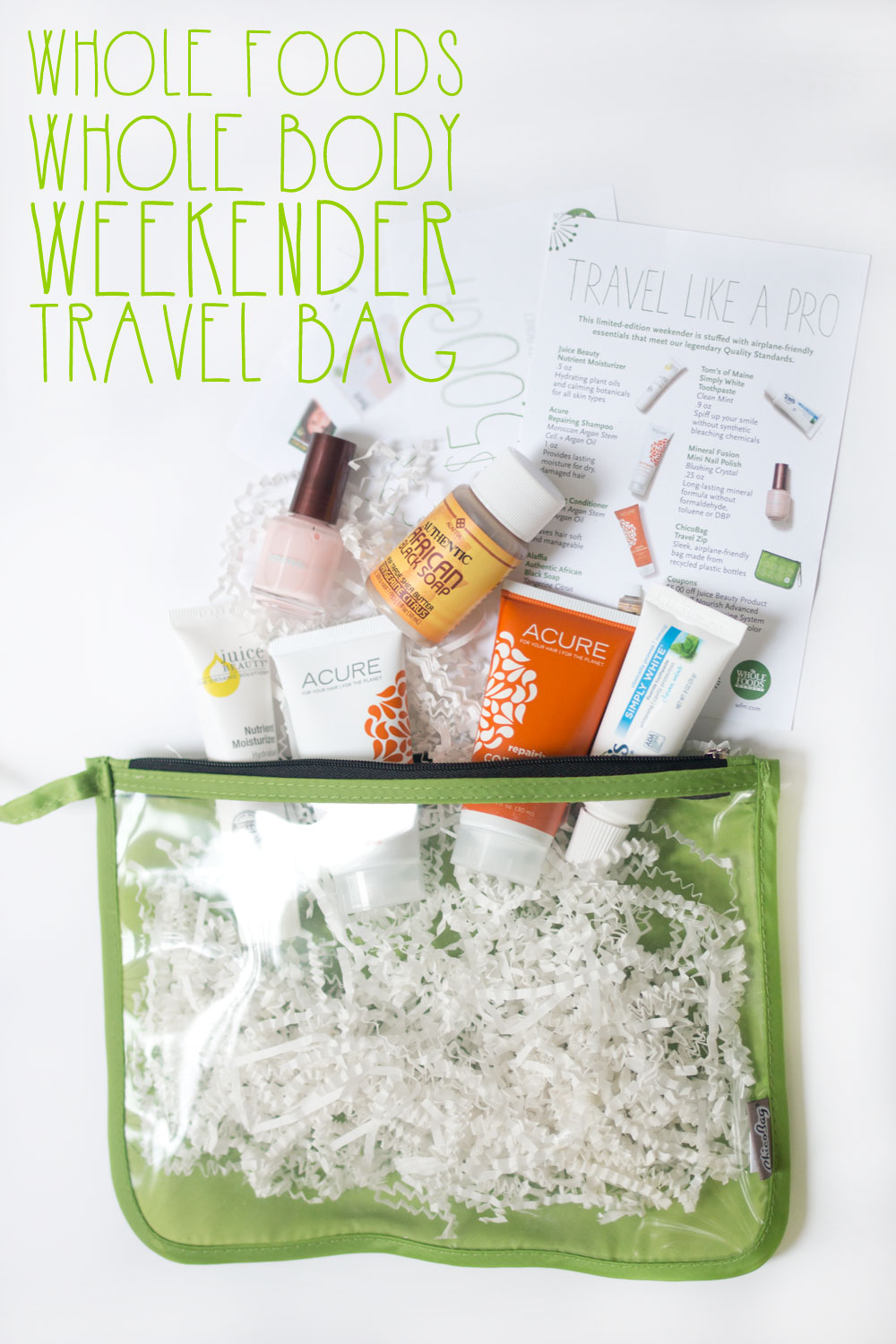 Whole Body Weekender Travel Bag & First Impressions
Juice Beauty Nutrient Moisturizer (.5 oz) – This thick moisturizer feels both soothing and hydrating. The scent is a little on the herbal/essential oil spectrum, but I don't mind it. This left my skin feeling nice and hydrated, which is always welcome when you have dry skin year round. ;)
Acure Repairing Shampoo (1 oz) – This smells just like marzipan, which if you aren't familiar, is a candy made from almond paste. Yum! While this doesn't suds up as much as normal shampoo, I found it to be sufficient to leave my hair feeling cleansed.
Acure Repairing Conditioner (1 oz) – Like the shampoo, this one also smells like marzipan. Double yum! If you're not an almond fan, I wouldn't worry too much as I didn't notice that the smell lingered. This conditioner left my hair feeling silky, soft, and shiny, which is just how I like it to feel after a shower!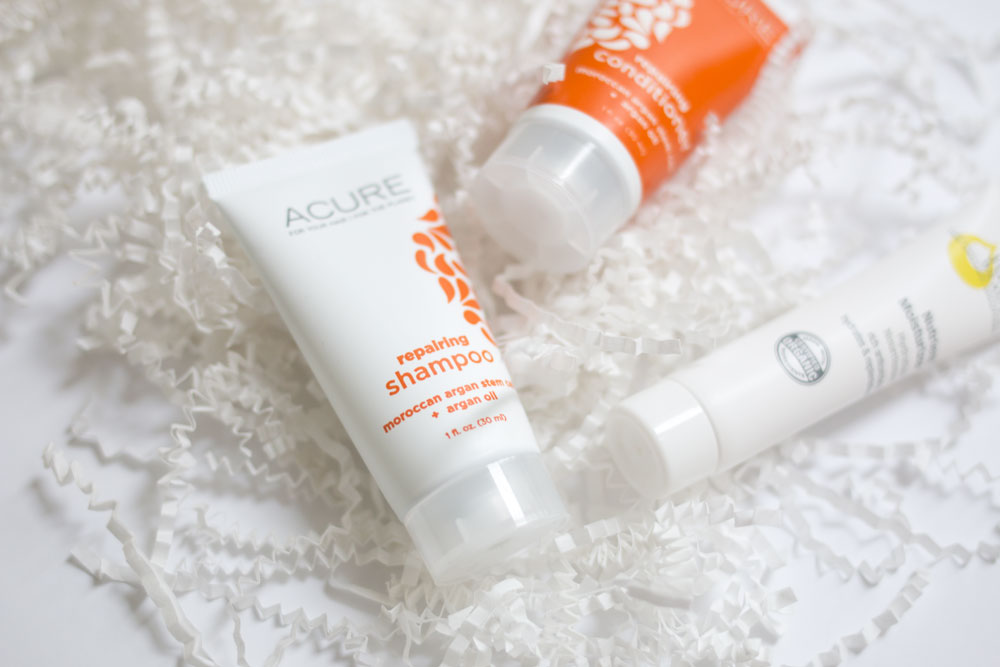 Alaffia Authentic African Black Soap in Tangerine Citrus (2 oz) – To be perfectly honest, I don't think Tangerine Citrus is quite the right scent description. I'd say it almost smells more like lemongrass. While I can't say it's my favorite scent ever, I did like the texture and hydrating qualities, and the fact that it's made in Olympia, WA.
Tom's of Maine Simply White Toothpaste in Clean Mint (.9 oz) – This is my first time using a Tom's of Maine product, and I'm loving this toothpaste! It left my teeth feeling nice and clean, and I love the non-artificial-tasting mint flavor.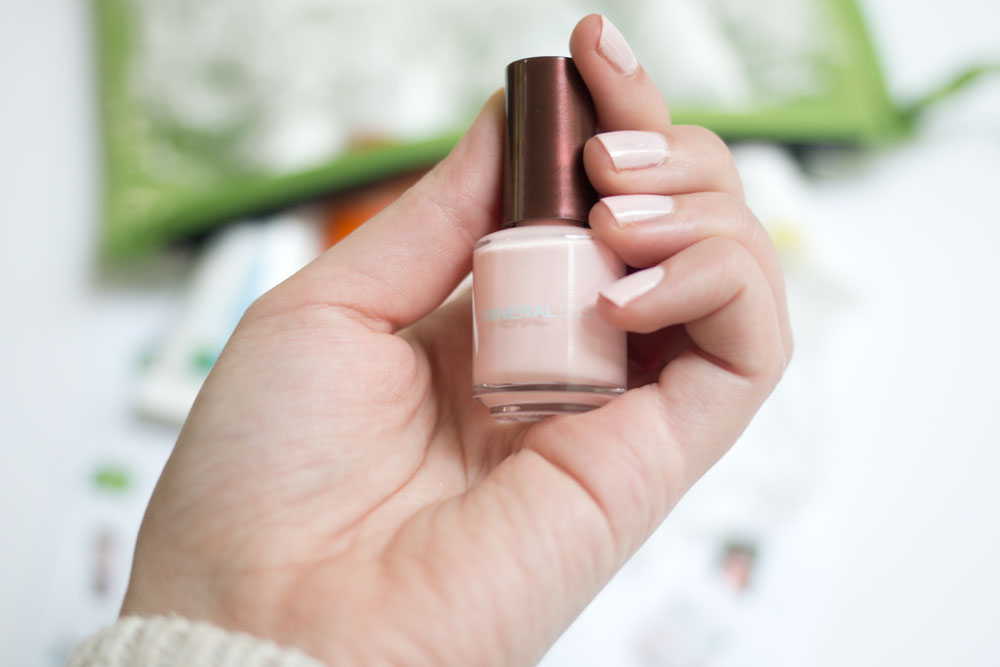 Mineral Fusion Mini Nail Polish in Blushing Crystal (.25 oz) – I was most excited for this nail polish, as I'm forever in search of a pale pink nail polish that is opaque. Considering it doesn't have any of the nasties (no formaldehyde, toluene, or DBP) AND is opaque after two coats, I'd say this is a winner!
ChicoBag Travel Zip TSA Friendly Pouch – I am so excited about this bag! I know that sounds nerdy, but when we were traveling to Europe, I realized I didn't have a good bag for liquids and my plastic baggies were not cutting it. Of course when I needed a bag like this none could be found anywhere!
Also Included:
– Coupon for $5 off Juice Beauty Product
– Coupon for $5 off Nourish Advanced Facial Cleansing System
– Coupon for $1 off Naturtint Hair Color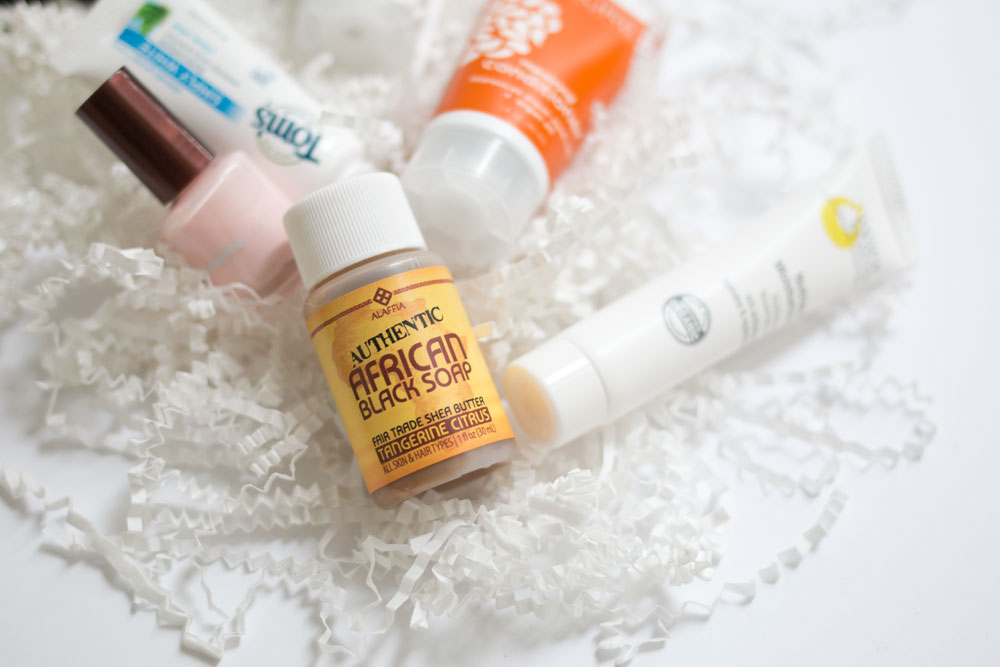 And now a chance to win your own! This one's open to those 18+ and residing within the United States due to shipping restrictions. Thanks so much for understanding.
P.S. A second bag giveaway will be posted on my Instagram this weekend, so be sure to follow along & enter there too!
Which product would you want to try from the bag? Are you going to pick this up at Whole Foods?