Last year, I recapped my reading with my favorite book each month. This year, because I read so many more books in 2015, I tried to look at the year as a whole and then pick the ones that stood out to me the most. I had several months last year where I read a lot of books I just wasn't crazy about, but it was still a tough to choice to narrow it down!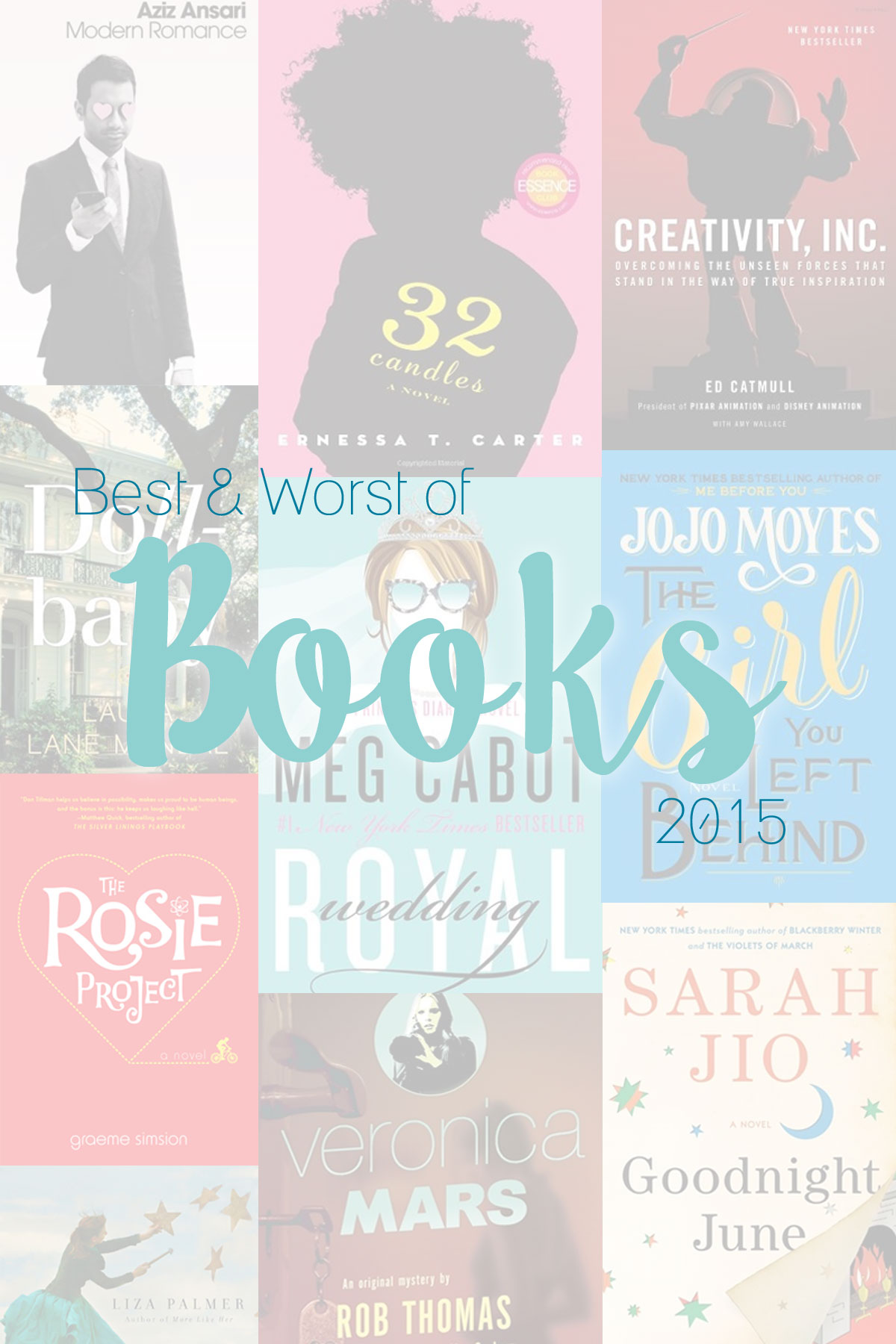 Best Books I Read in 2015
Creativity Inc. by Ed Catmull: It's no secret that I'm a fan of business/tech books, and this was my favorite one we listened to last year. I loved hearing about the inner workings of Pixar and some of the behind-the-scenes stories of how certain films and shorts came to be.
Goodnight June by Sarah Jio: For fans of The Storied Life of A.J. Fikry, and books about book lovers/stores, Goodnight June is an excellent pick. I grew up with the children's book, Goodnight Moon, and thought the storyline was so creative!
The Girl You Left Behind by Jojo Moyes: My absolute favorite book by Jojo Moyes… even more than Me Before You! (Though completely different in subject and style.) This blended a modern day story with a historical one, and I loved how she went back and forth between them. I ended up preferring the historical story and wish there was more of that, however. It was a little slow at times, but worth it.
The Rosie Project by Graeme Simsion: I had wanted to read this forever and finally packed it for vacation last January. It was so good – full of social awkwardness and humor – and now I need to read the sequel!
Nowhere But Home by Liza Palmer: I honestly have no idea why this book was on my to-read list because I didn't recognize it, but I'm glad it was! I ended up being shocked by how much I enjoyed this book. I'm not normally drawn into Southern settings, however, this book drew me in, and I'm interested in reading more from Liza Palmer!
Mr. Kiss & Tell (Veronica Mars #2) by Rob Thomas: I featured Veronica Mars last year, and it's no surprise I had to feature the sequel this year! Do I need to explain and allure and charm of Veronica Mars anymore? I don't think so, but if you have yet to fall down the hole of Veronica Mars the tv show, movie, and books, I highly recommend you do so! Hopefully, I'll be able to feature the 3rd one in 2016's reading favorites… nudge, nudge Rob Thomas!
Dollbaby by Laura Lane McNeal: This reminded me a lot of The Help, however, I do want to mention I listened to this on audiobook and sometimes stories can read better out loud than when written. Many reviews say the writing was too simplistic, but either way, I still enjoyed this and would recommend giving it a try.
The Royal Wedding (Princess Diaries #11) by Meg Cabot: I remember reading my first Princess Diaries book a longggg longgg time ago, and yes, at 26 I decided to re-read the series. That's because, in 2015, she released book #11 after seven years of being MIA. I was a little nervous, but this was just as good as the previous book, Forever Princess. If you're feeling sentimental, I recommend giving this a read.
Modern Romance by Aziz Ansari: Probably the most surprising book I read this year, Ansari did not disappoint. I was expecting a silly light-hearted tale based around the author (kind of like Mindy Kaling's books, or Amy Poehler's). Not quite, this one is much more fact based with humor sprinkled in. Who knew I'd enjoy a nonfiction so much?!
32 Candles by Ernessa T. Carter: I was scrolling through available audiobooks from my library on Overdrive, and the name caught my attention. I'm a huge fan of the movie Sixteen Candles, so I was curious about this book. Turns out the main character has a thing for the movie, and it was a theme running throughout, even though her story couldn't be more different from the classic film. Highly recommend.
Worst Books I Read in 2015
The Life-Changing Magic of Tidying Up by Marie Kondo: While not a bad book, I think 200+ pages of the same message over and over was overkill. I enjoyed the thoughts of keeping items that bring joy and some of the ideas for organization but thought it could have easily been half the page count and more to the point. For an author who organizes for a living and is now writing about tidying up, this book could have used some of the KonMari Method.
The Girl on the Train by Paula Hawkins: Worst may be too strong a term for my feelings on this one. Disappointment would be more accurate, only because it was built up to be the next Gone Girl, and that it was not. Somewhat suspenseful, but overall just wasn't my favorite this year.
When to Rob a Bank by Steven Levitt & Stephen Dubner (Freakonomics #4) : Unfortunately I think the Freakonomics series is starting to get a little old.  Progressively I've seen a decline in the anecdotes and storytelling, and this is the weakest of them yet. Save your money and check this out from the library if you're curious.
Guy in Real Life by Steve Brezenoff: It's amazing how much terminology can change in 10 years, but the author apparently hasn't caught up. Using slang like "that's so gay" and referring to people as " homo" right off the bat just immediately turned me off from this book.
Beauty by Frederick Dillen: Described as "intriguing" and "deeply moving"…. this book is not. I made it about half way through before I couldn't listen anymore. The build up was just so snooze worthy, and I didn't want to have to read the entire book before something happened.
What I Learned about Reading Challenges in 2015
In all of the reading I did last year, (over 150 books, to be exact!) I've learned that I'm done with reading challenges. While I do think they're awesome for most, I just hate the pressure to read shorter books or skip through books I maybe should have given more of a chance to finish. (Specifically the Goodreads challenge, which focuses solely on the number of books.) I'm a competitive person and hate not finishing things, so the pressure I put on myself at the end of last year to finish my challenge just made me realize I wasn't enjoying it anymore. It's the same reason I've taken a break from writing more about books. When a task feels too overwhelming to want to do, why put the pressure on yourself to do it?
What I'm saying is that while I think reading challenges are a fun way to get yourself reading something new, I was using it in a way that made it less enjoyable. My former stress-relieving hobby wasn't so relaxing anymore, and for that reason, I'm not doing it this year. I set my Goodreads "challenge" to 50 books, and if I read more, great. If I read less, whatever. My goal, instead, this year is to read more books that I want to read, not books that are appealing because they are short, mindless, or easy to read.
What were your favorite and least favorite books you read in 2015? Did you complete any reading challenges? I'd love to hear about what you've been reading lately in the comments!