Affiliate Links: If you click on a link in this post, I may make a very small commission. All items were purchased by me.
Last week I started off the Halloween celebration with silly pet costumes. This week, it's the humans turn with this DIY Flapper Costume! This isn't your typical DIY costume… I'm not actually making anything, but I am DIY-ing this by skipping the packaged costumes! I'm keeping it budget-friendly at under $25 (below the average price of one of those lame-o pre-packaged versions.) The nice thing about the costumes I have planned? It's likely you'll already own a lot of the pieces I'm repurposing, and after Halloween you won't have to dump the entire costume!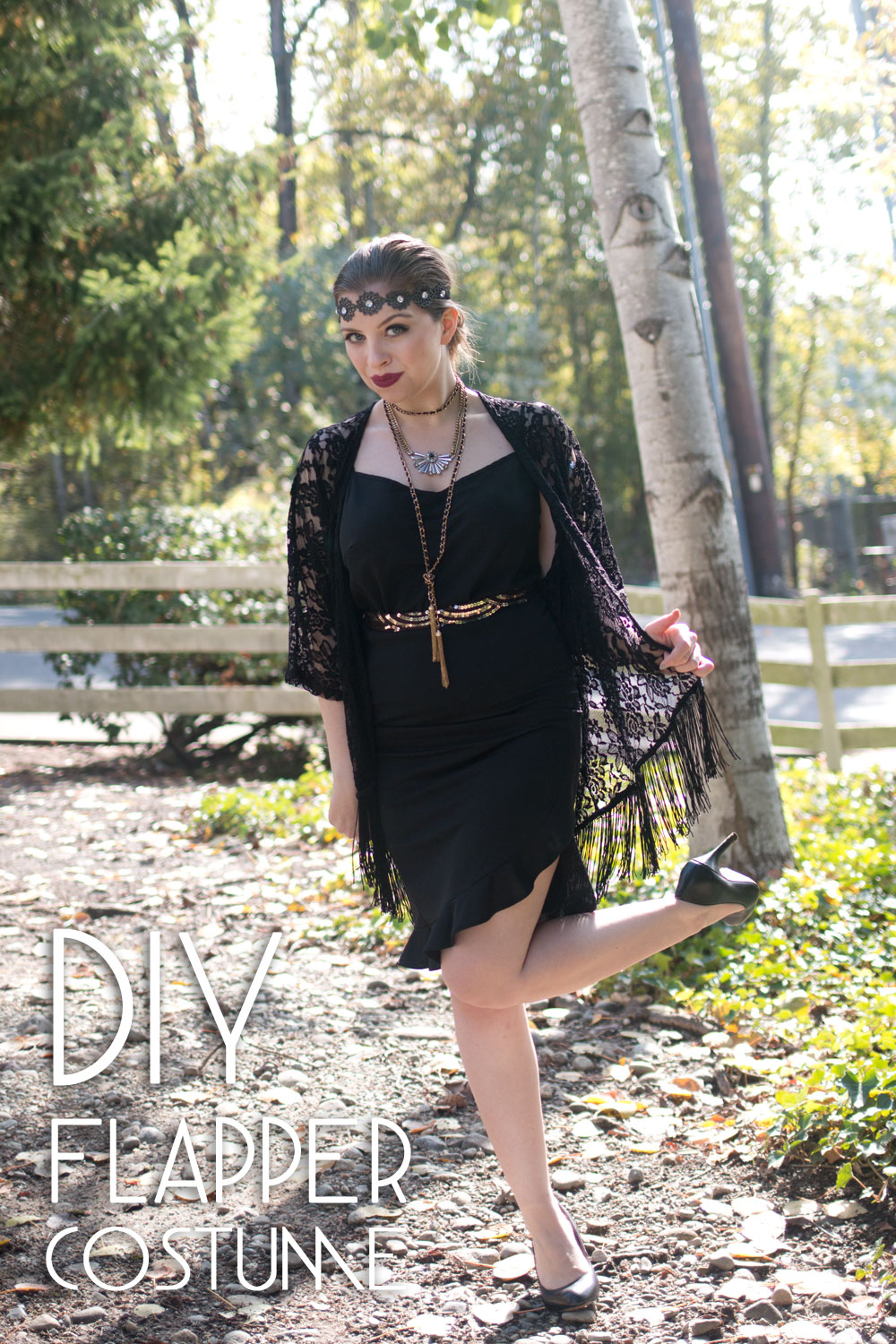 DIY Flapper Costume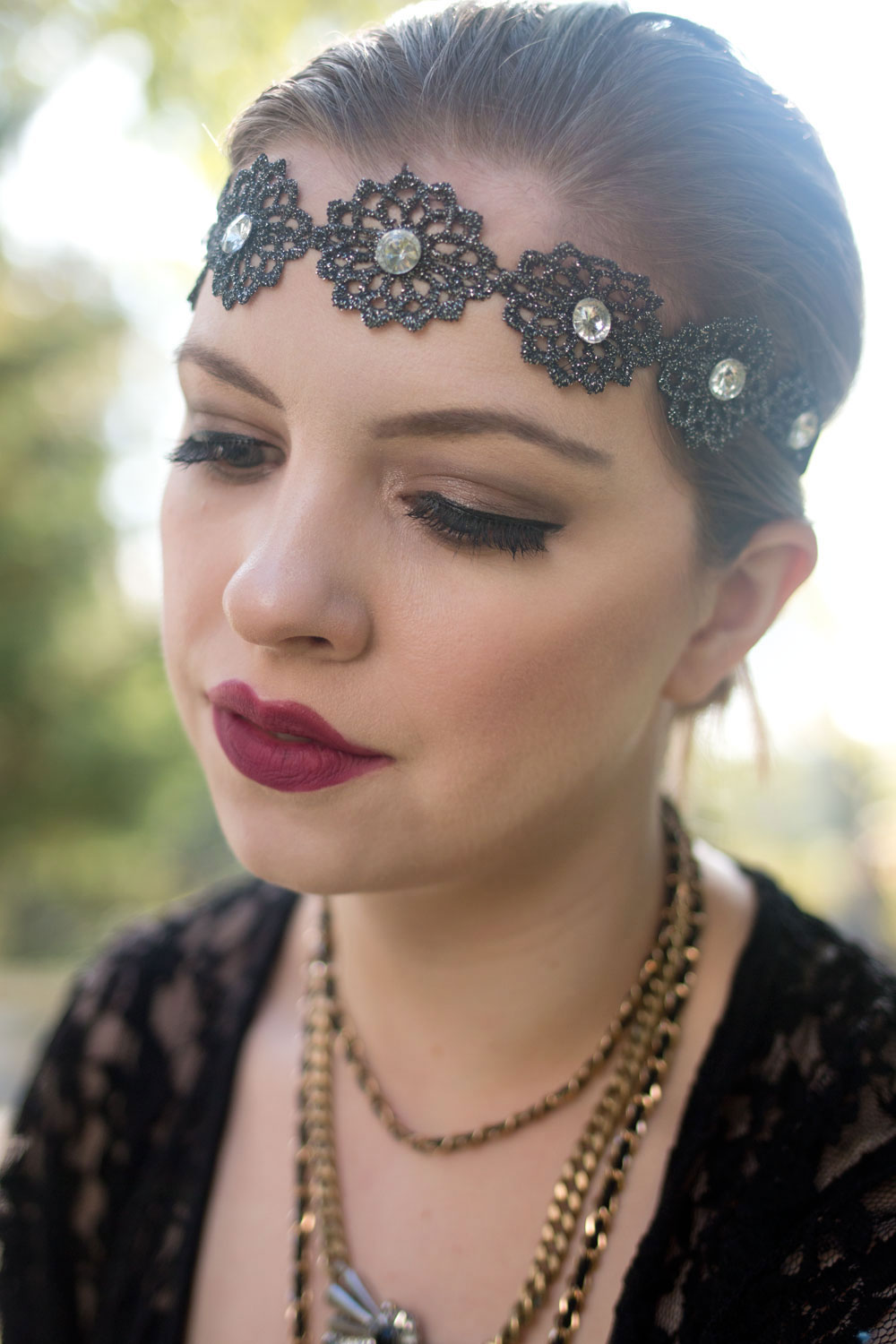 What You'll Need: Makeup
I opted to grab my Urban Decay Naked Smoky palette for this light smokey eye look, but you can easily recreate this look with any nude, medium gray, and black shadows you own. (Same goes for the rest of the look – I used what I had on hand!)
I swept the nude shadow (Combust) all over the lid. Then, I used the medium gray (Dagger) in my crease. I darkened up the outer corners with the black shadow (Black Market) and smudged it across my lower lashline with a little purple (Smolder). I used Ardell Natural 110 Lashes for a little extra volume and liquid liner to tie the eye look together.
For my face, I used IT Cosmetics CC Cream in Fair, NYX HD Blush in Taupe to contour, and Tarte Blush in Dollface on my cheeks for a little pop of color. I made my brows appear thinner by using NYX HD Concealer, concealing a small amount of my upper and lower brow, then blending it out with a small, flat foundation brush. Then I defined the rest of the brow with the Anastasia Beverly Hills Perfect Brow Pencil in Dark Brown. To finish off the look, I used NYX Soft Lip Cream in Copenhagen.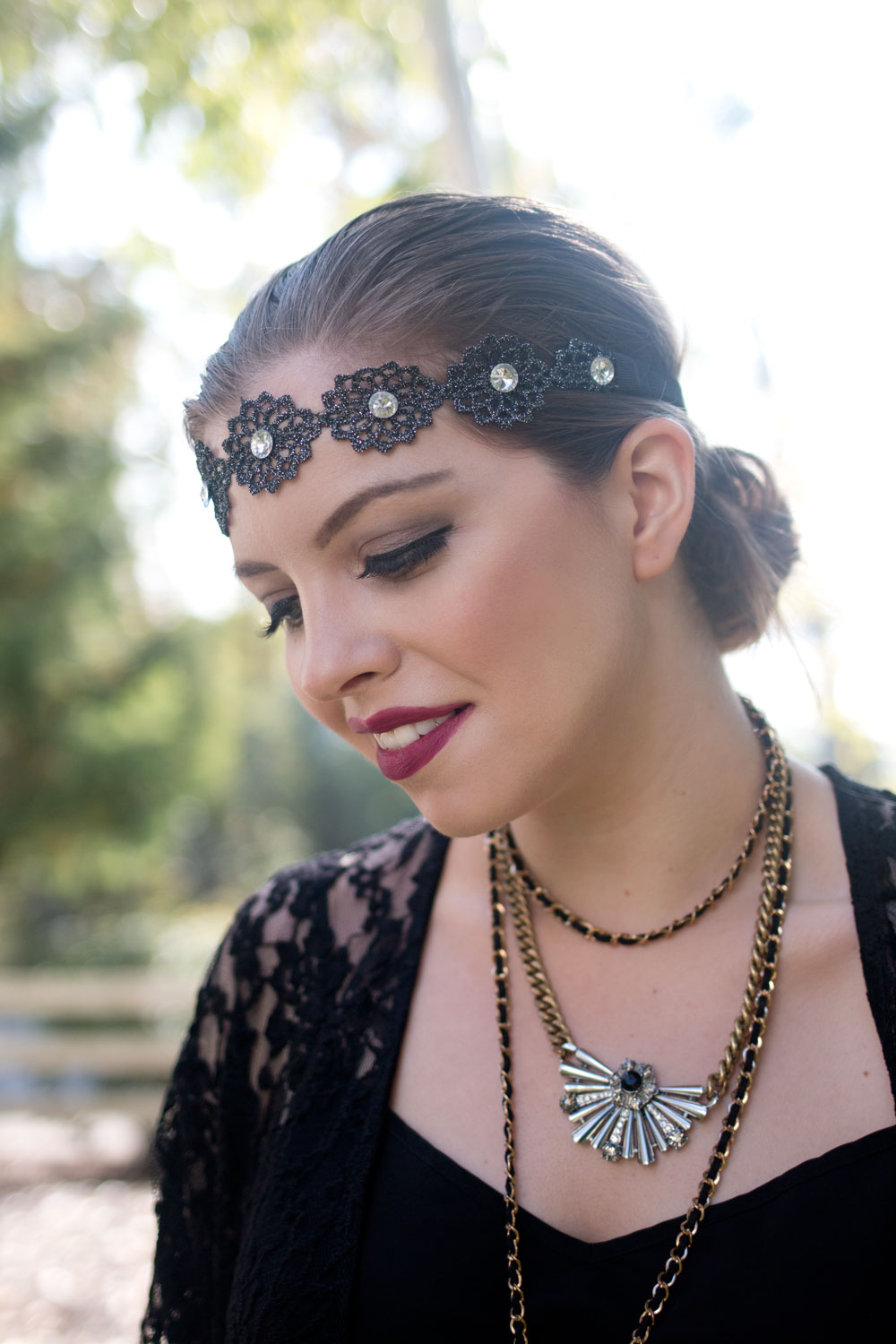 What You'll Need: Hair
This is going to be the easiest hair style ever if you have short hair – just a little tousle and you're good! If you have long hair like me, I recommend pinning it into a bun and slicking it back (I used hairspray to do this, as I didn't want my hairs blowing away in the breeze!) I picked up a lace headband at Ross (Cost $3.49) and I liked how it stood out with my hair pulled back. It feels very "Gibson Girl" to me. For this look, I simply twisted it into the typical bun shape and strategically placed 6 bobby pins. (My hair is heavy!)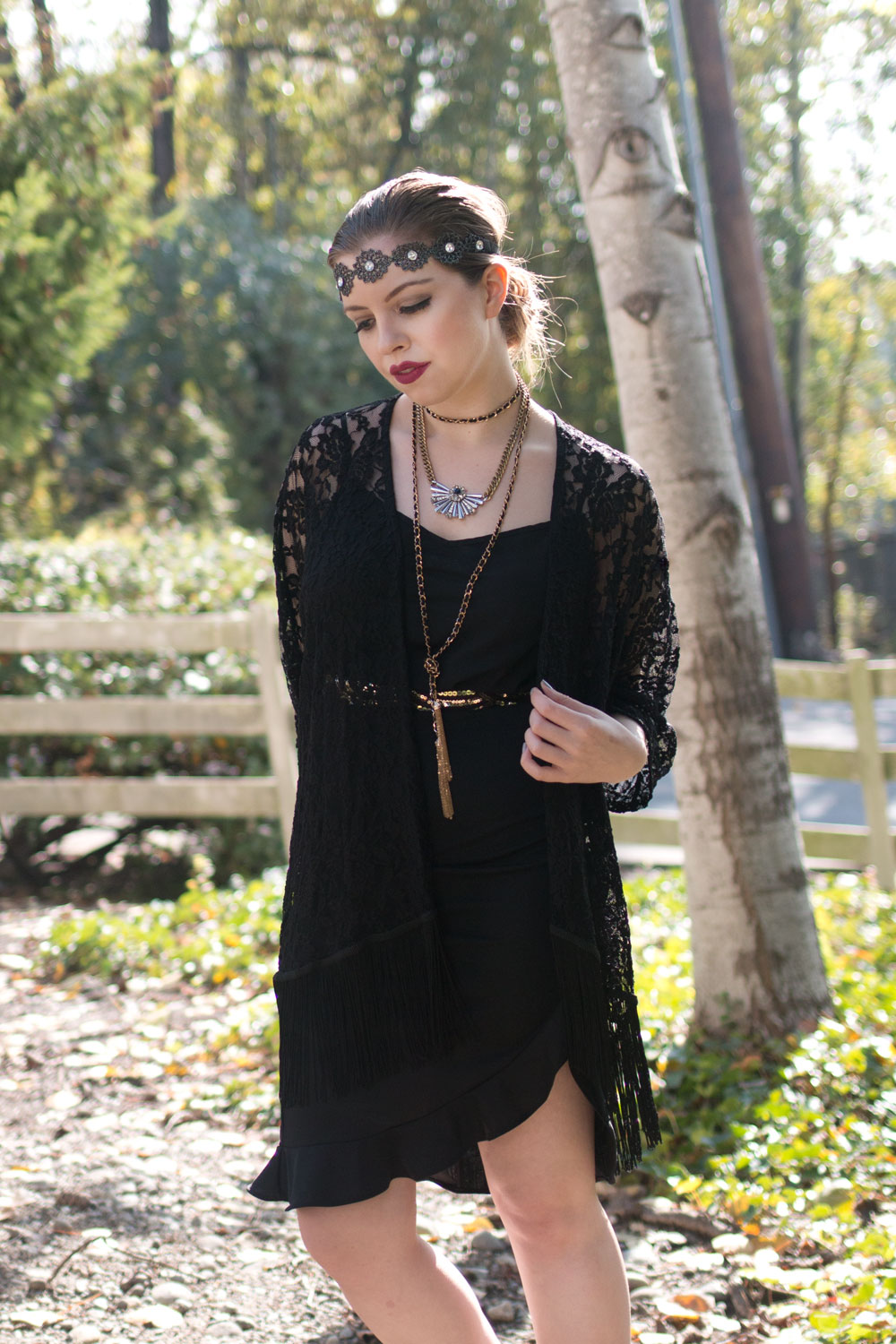 What You'll Need: Flapper Costume
After doing a little Googling, it seemed like I could easily save a bunch of money by skipping the stereotypical fringe dress and going for something more simple. I originally had wanted to find a black lace slip dress, but when my local thrift shops didn't have what I wanted, I settled on a ruffle trim skirt (Cost: $.99). I paired it with a silk tank top (Cost: $0) I already had and used a yard of decorative ribbon from my local fabric & trim shop (Cost: $3).
Since I felt like I was missing the fringe, I picked up a lace kimono with fringe trim at my local Ross (Cost: $10.99). Finally, I grabbed some simple black pumps I own (Cost: $0) and I accessorized with necklaces I already owned as well – a chain tassel necklace and an art deco inspired statement necklace (Cost $0). You could also try layering varying short and long necklaces, anything with a little bling, or strands of beads. If you don't own anything that you think would work, try picking up some inexpensive fake pearls like these.
Total Cost of Costume: $18.47
Have you decided what you're going to be for Halloween? I'd love to hear about it in the comments, and stay tuned for next week's costume. I'm a little excited about it! :)