Product Sample: A complimentary tank top was provided to me in exchange for this styling & review. Affiliate Links: If you click on a link in this post, I may make a very small commission.
Something I love about other fashion blogs is finding inspiration. Something I hate? How rarely it seems that the same piece ever is styled again in a new way. Have you noticed that? To be fair, I know I'm guilty of this too. With a sometimes overwhelming closet, a higher budget than what is average, and the fact that I don't post a new outfit every day, I could probably go awhile before actually repeating a major piece in an outfit. When Legit Tees offered to send me a few tanks to style a few months ago (last seen here), I thought it would be a fun challenge to share how to wear graphic tees in different outfits.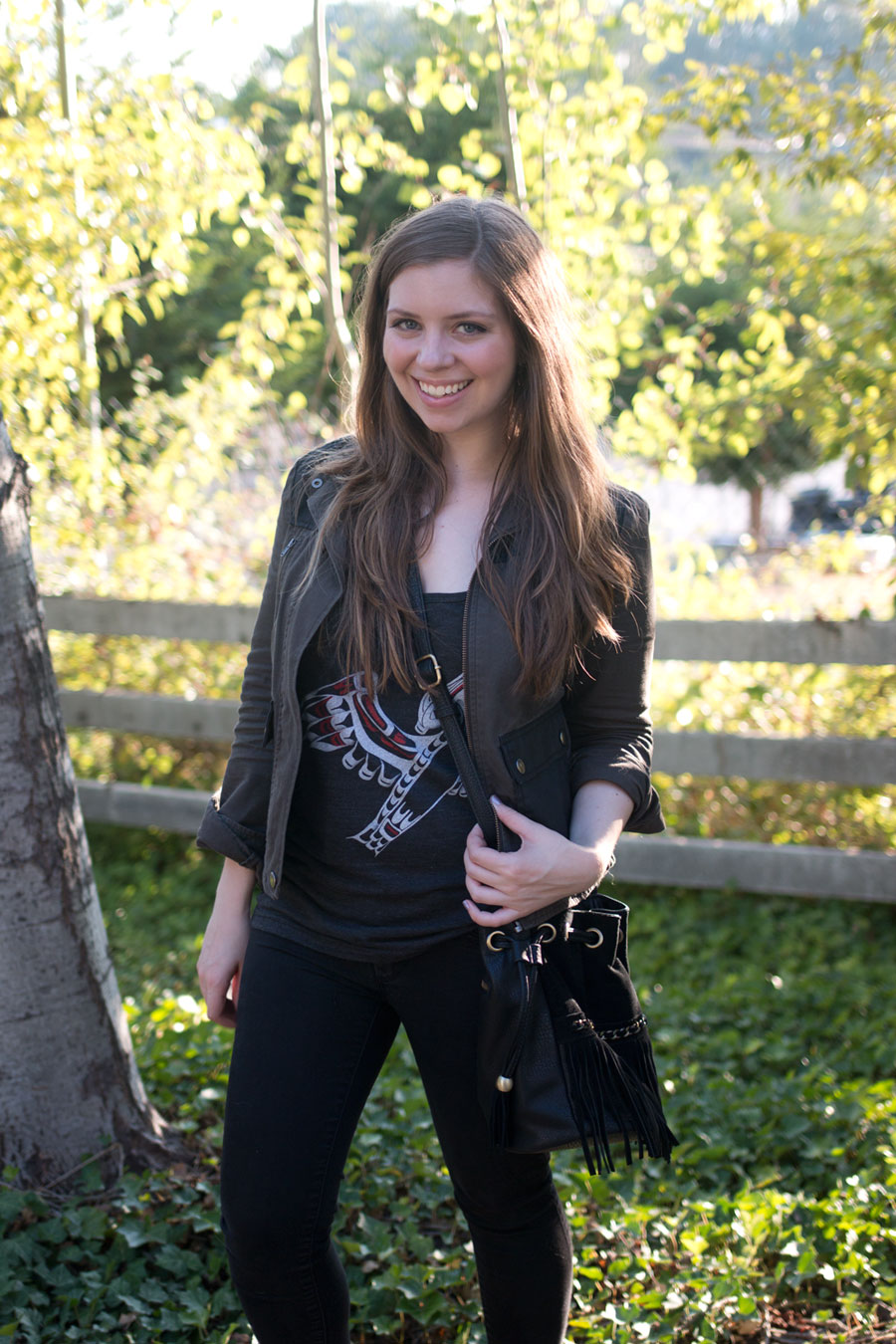 What I'm Wearing
Jacket: Rubbish (similar)
Tank: c/o Legit Tees
Jeans: LC Lauren Conrad Jeggings
Shoes: Sole Society (similar)
Bag: Dailylook Sinatra Fringe Bucket Bag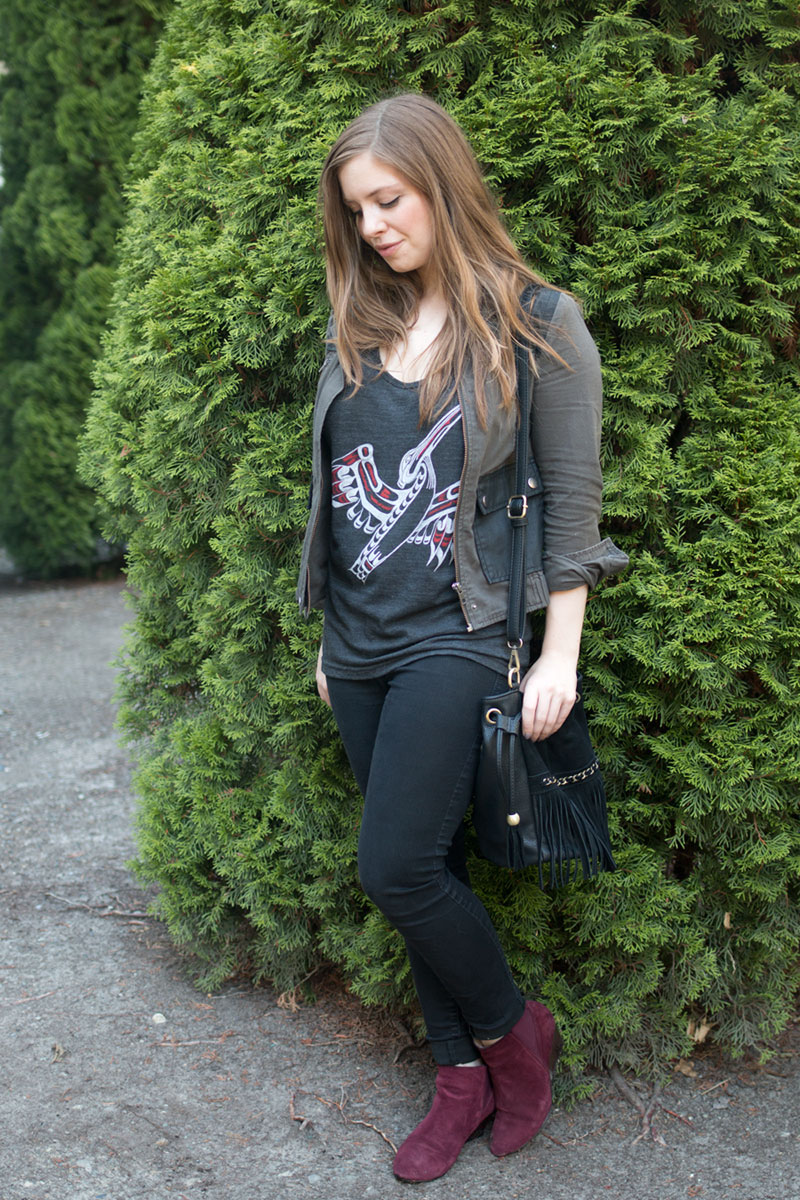 Something I've been trying to consciously do is restyling and sharing my favorite pieces in new ways to prove that you don't have to have a crazy high budget or expensive pieces to get a ton of wear out them. While this graphic tee is slightly different than the last one I posted, the idea remains the same and is easily applicable to any graphic tee you have in your closet. I liked this one with a military jacket (yes, I know it may not be weather friendly yet, but this would be a great outfit for fall!) and loved how the burgundy booties made the red accents pop. My new fringe bucket bag from my recent Dailylook Elite box added a little bohemian vibe which I love.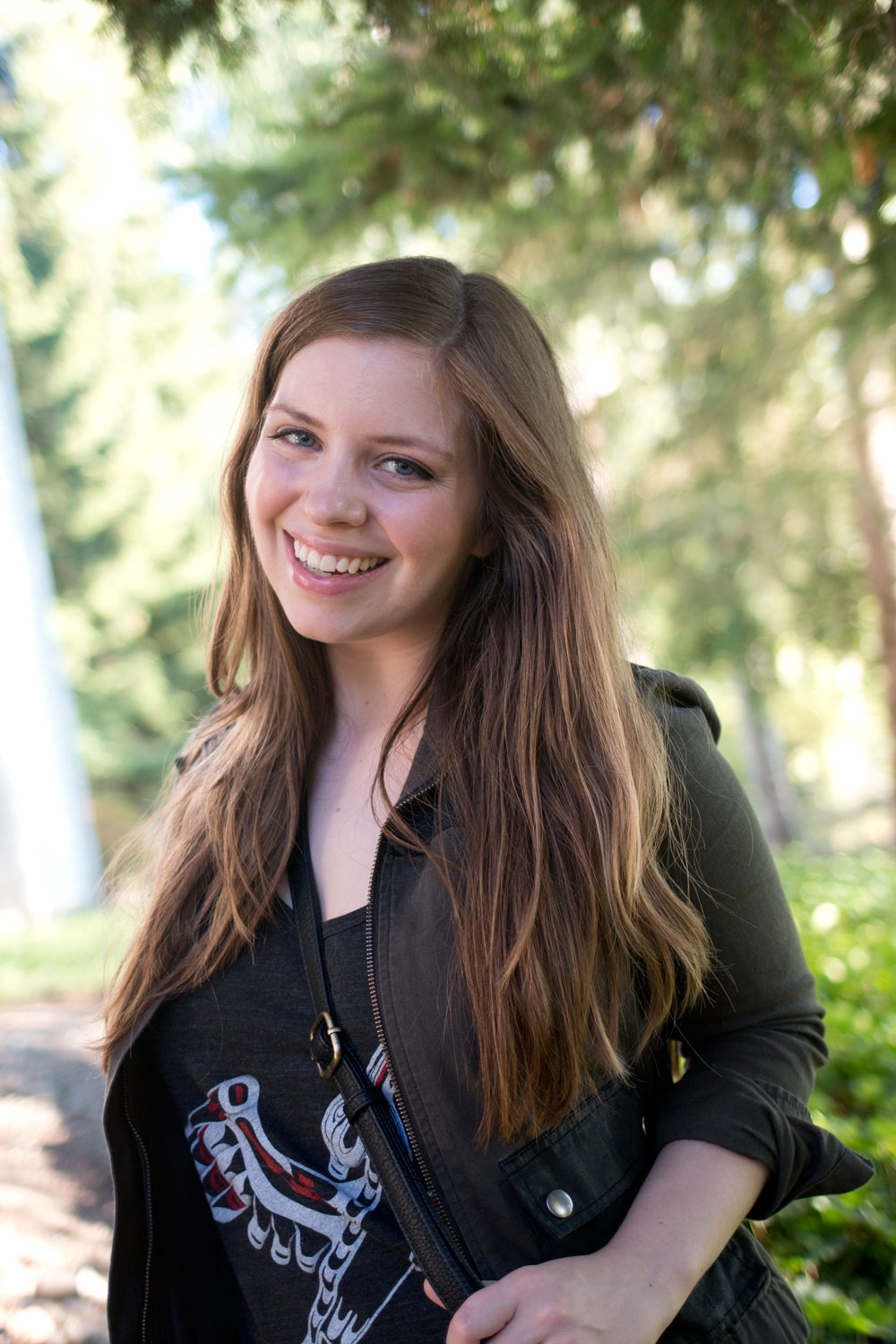 To be fair, I have the luxury of working in a very casual office. So casual that wearing a graphic tee to work is not weird in the slightest. I think one of my biggest worries about getting a "grown up" job was having to not wear more than half of my closet. I'm admittedly a casual dresser on the regular, on the prospect of having to get buttoned up every day really doesn't appeal to me. So this outfit is something that I wore to work, however this could easily be weekend wear instead. And even if you don't have all of these pieces (i.e. no military jacket? Maybe try denim instead!) the idea remains the same: try styling
Can you get away with a graphic tee at work? How do you like to style your graphic tees? I'd love to hear all about it in the comments!