When it comes to putting together outfits, some days jewelry is the last thing I think about. While not an afterthought, I just go for my usual suspects; a few rings, layered dainty necklaces, and maybe simple studs if I'm wanting to feel particularly put together. Other days, I want to wear a killer statement jewelry piece, so I start the outfit with that piece. How to wear statement earrings, for example, means building an outfit up starting with that piece so the focus is really on that!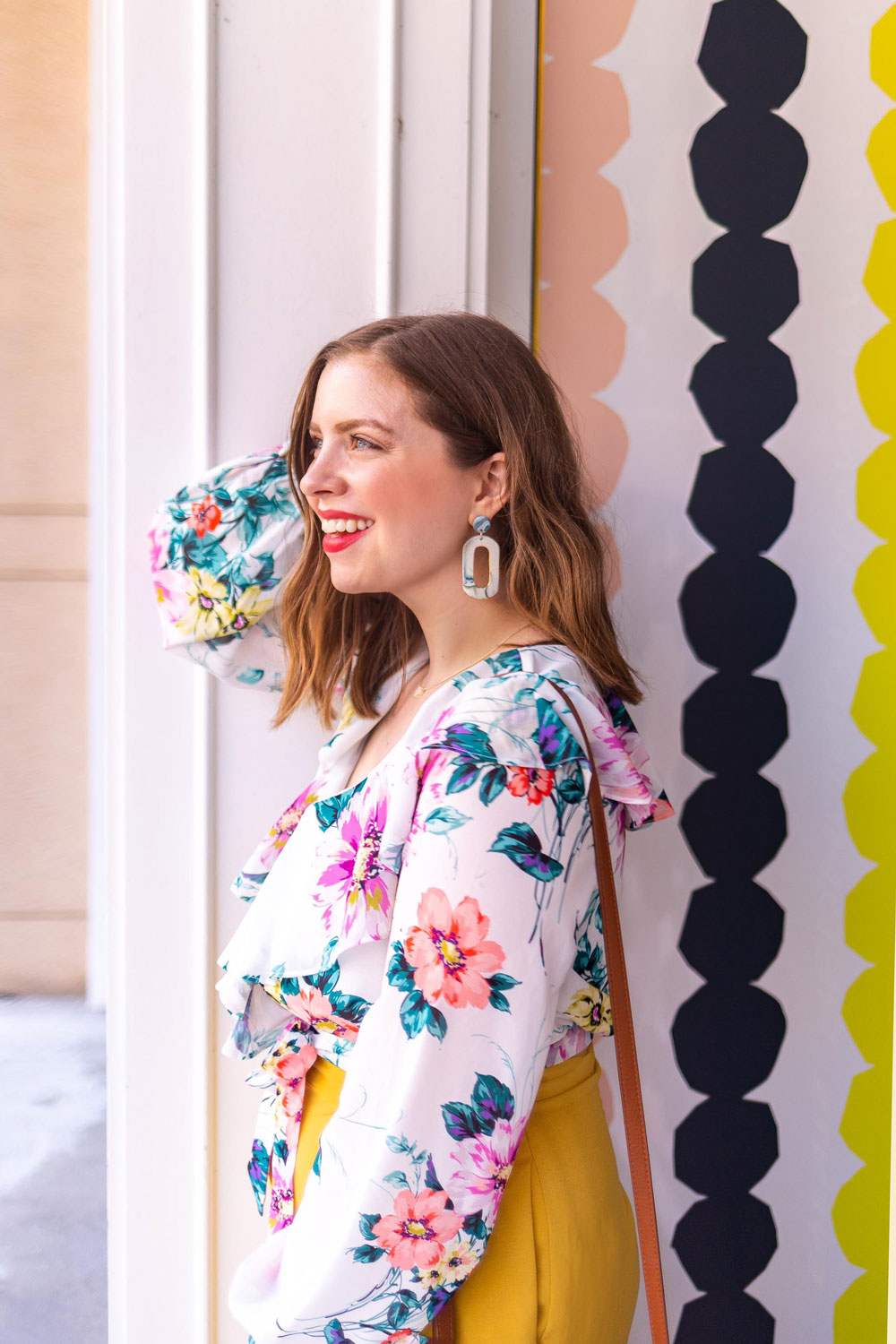 Disclosure: This post may contain affiliate links and gifted items. If you click a link in this post and make a purchase, I may make a small commission at no cost to you.
But just because you're wearing a pair of statement earrings doesn't mean the rest of your outfit has to be boring! Keep it casual with an easy graphic tee and jeans with your hair tucked behind your ear, or get fancy with a monochromatic sleek dress. Or play up your statement earrings by using the colors in your outfit to really make them pop!
How to Wear Statement Earrings
With some of these ideas in mind, I thought it would be fun to share 5 outfits with you that showcase how to wear statement earrings!
In today's post, I'll be sharing how to wear these fun earrings that I was gifted by Amber E Lea. While they look heavy, don't let looks deceive you! The Jupiter Earrings are made from a lightweight material and the cut-out center allows them to not weigh down your ears, even if you'll be wearing them all day and night! I've recently enjoyed wearing them with all sorts of different outfits, which is the inspiration behind today's blog post.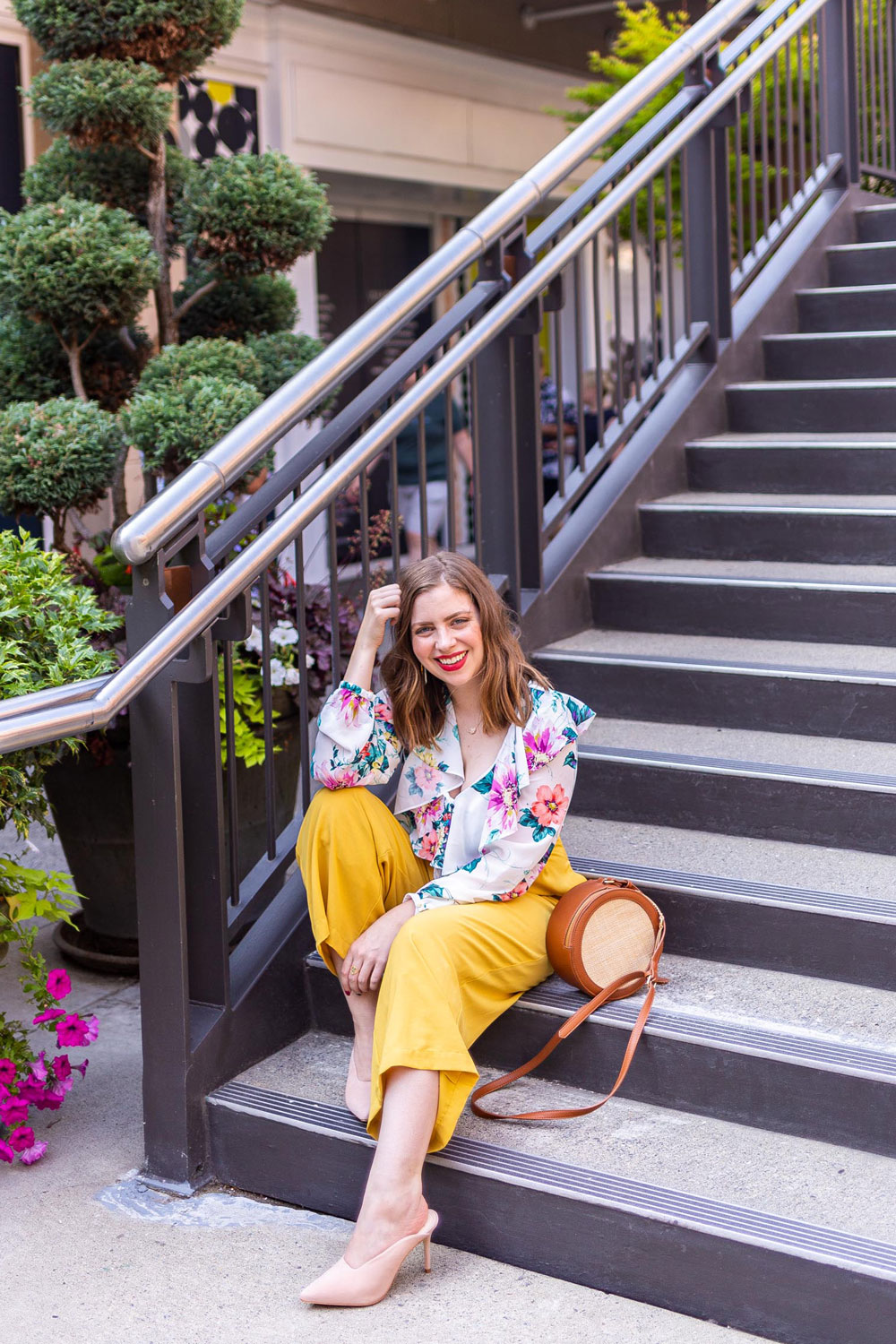 Style statement earrings with complementary colors
If the thought of wearing lots of color overwhelms you, then here's a trick: find a patterned piece you like and pull the colors in your outfit from there! That's exactly what I did when I borrowed this cute Yumi Kim Blouse from Armoire, a clothing rental subscription service that I've mentioned a few times previously.
Utilizing the colors in the floral print, I coordinated my statement earrings perfectly. I also utilized the small pop of yellow in the blouse by pairing it with these yellow cropped pants. I opted to keep my shoes and my bag fairly simple as to not overwhelm the look.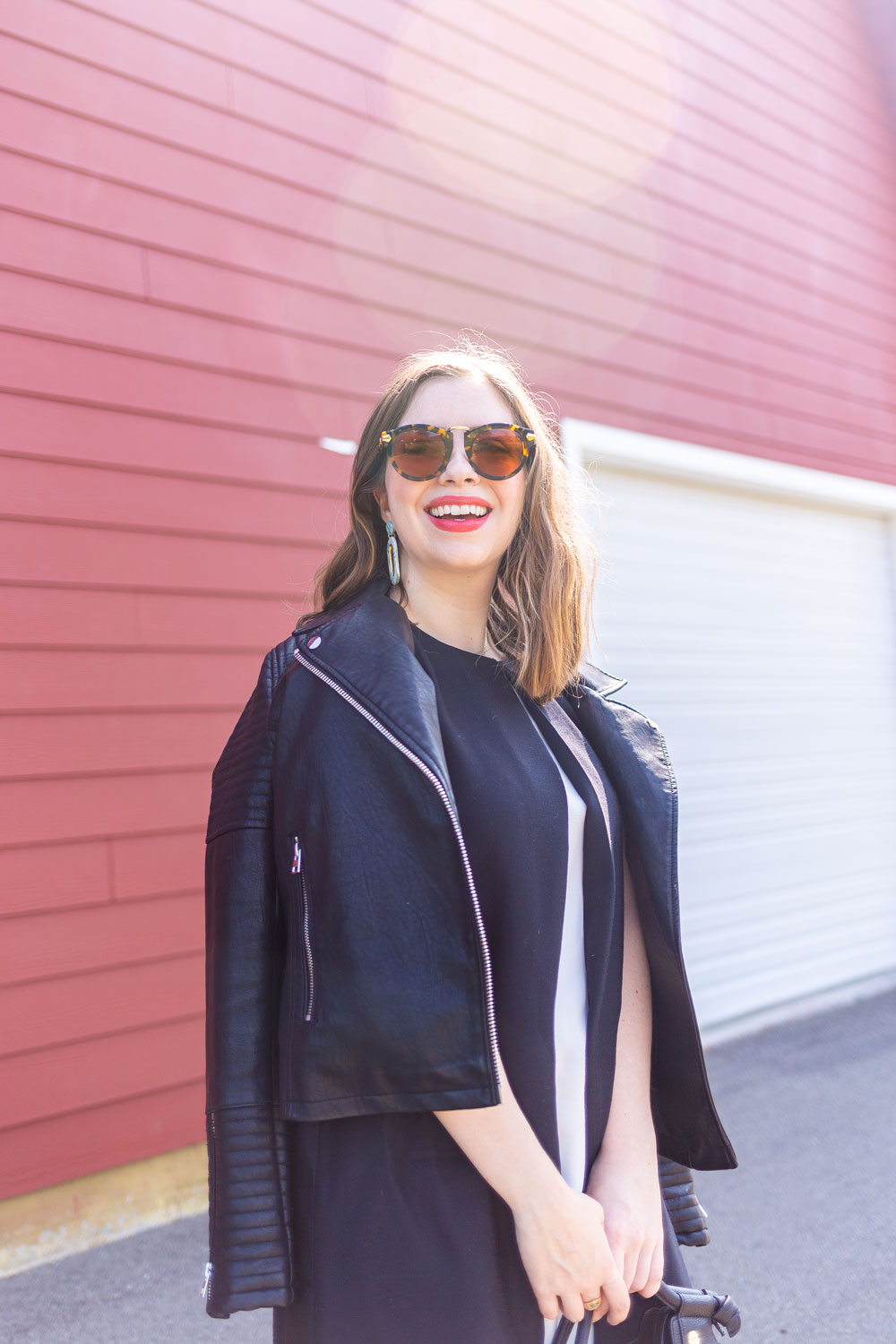 Soften an edgy black and white look with statement earrings
While I tend to be someone who goes for color, sometimes I crave a simple monochromatic or black and white look. When thinking about my statement earrings, the fun green color really pops against the black and white. And there's nothing better than adding an edgy element like a leather jacket!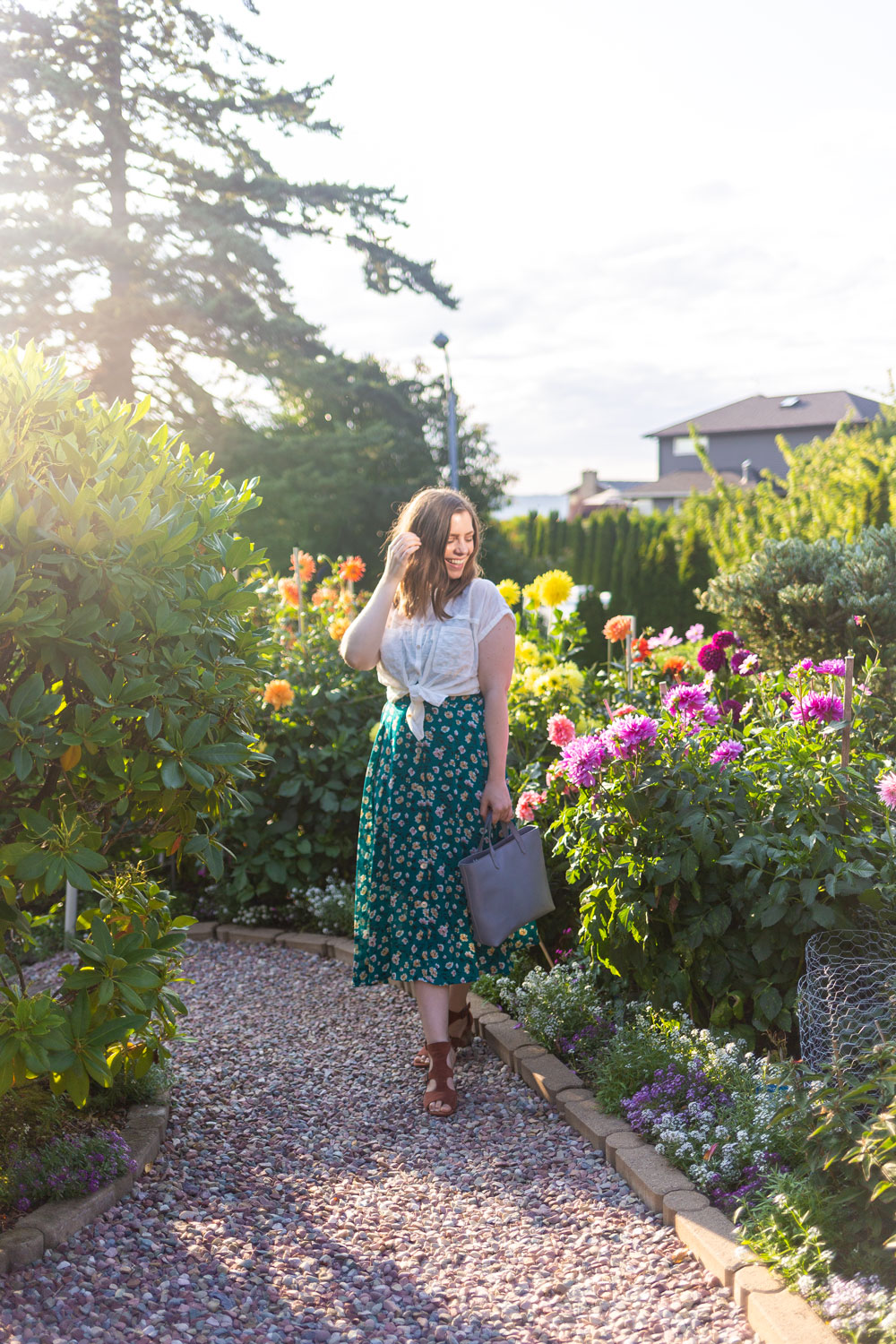 Color coordinate your entire look with statement earrings
When thinking about statement jewelry, I often gravitate to keeping it all in the family. The color family, that is! I love how it looks when colors in your accessories are repeated throughout the outfit. The green tones in this colorful dress (worn as a skirt) was a great match for the green in my statement earrings.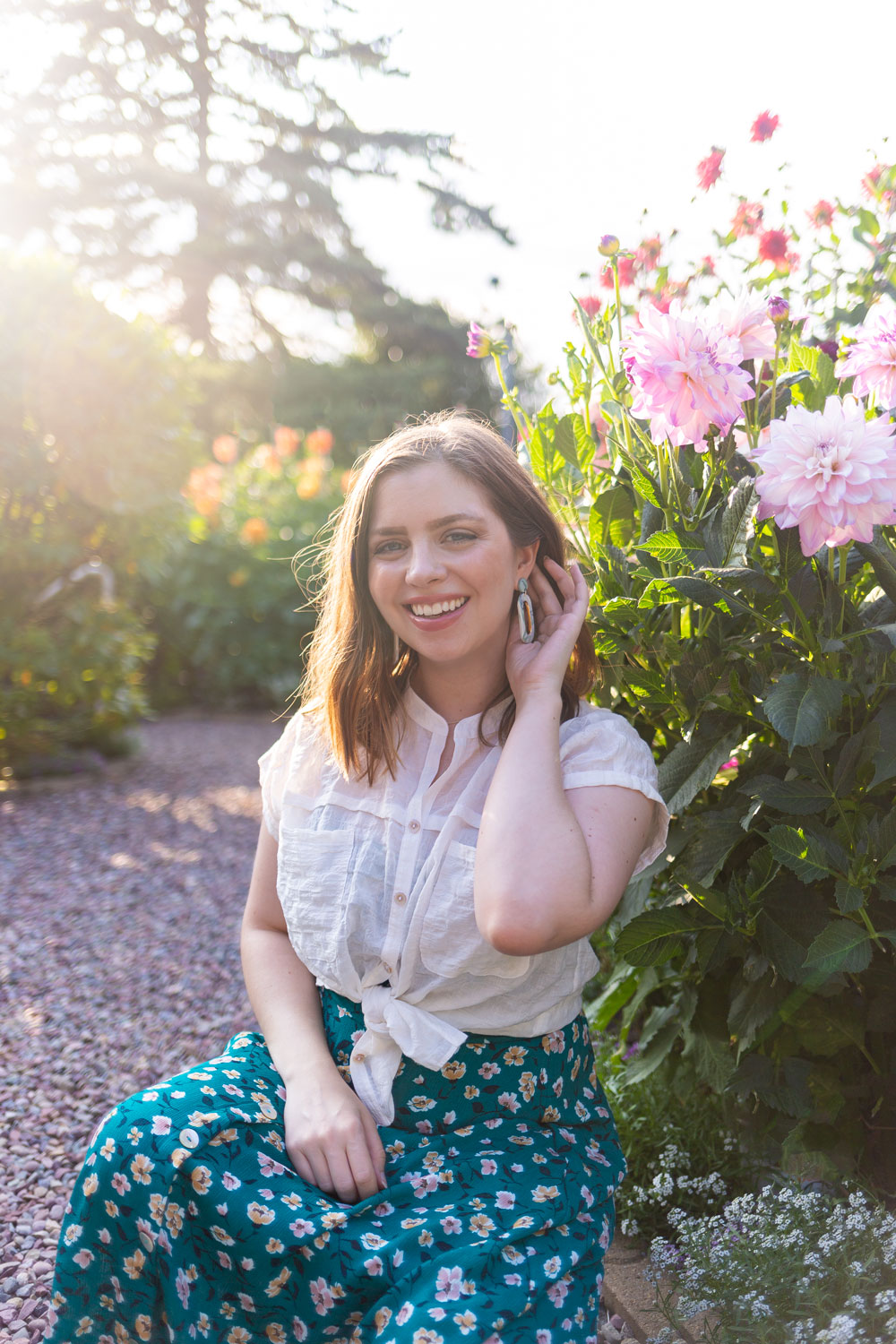 To break up the color blocking, however, I tied a lightweight linen blouse at the waist and grabbed a pair of contrasting sandals. After all, while we want to stay in the same color family, we're not necessarily going for monochrome!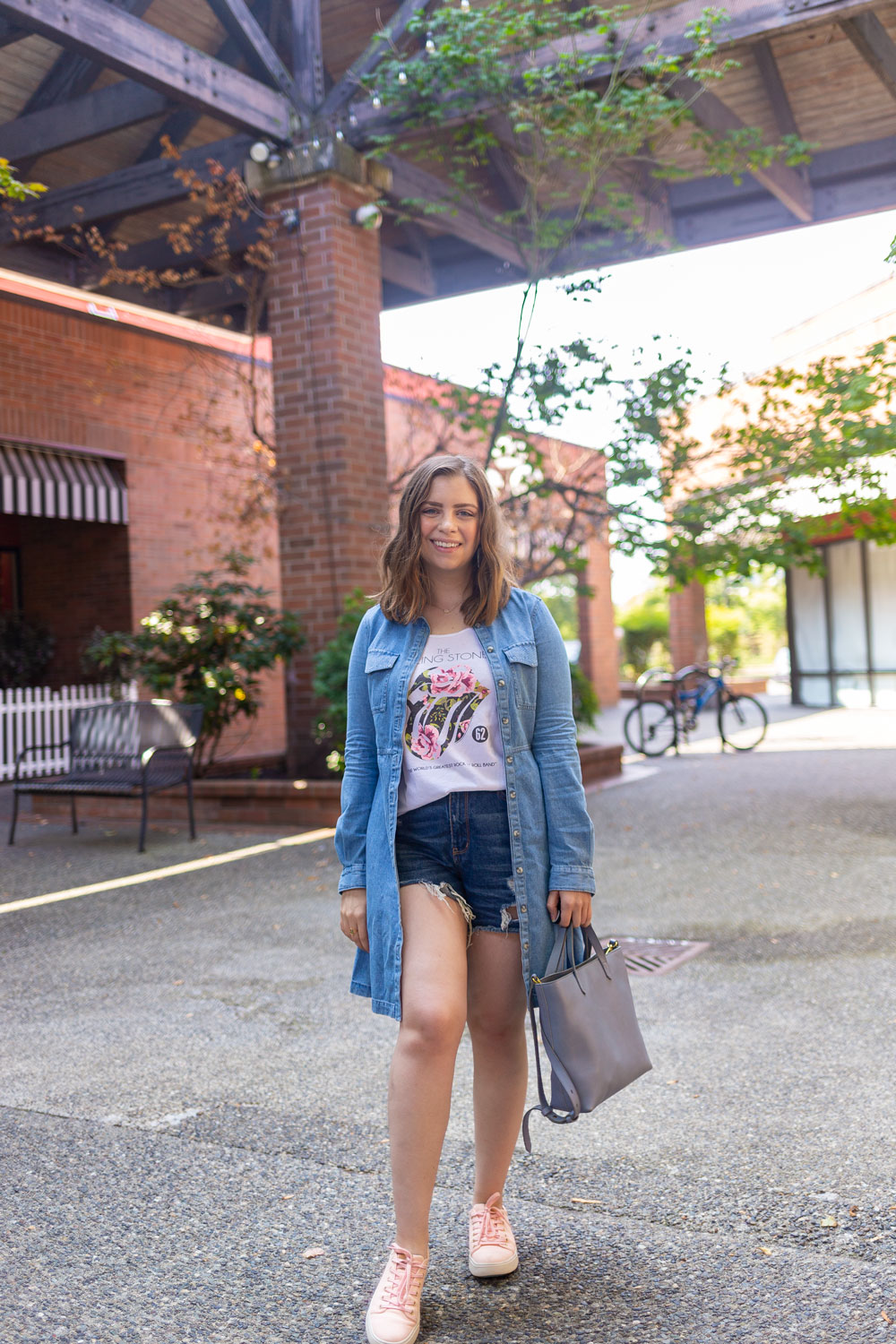 Spice up a t-shirt and jeans with statement earrings
Who says a t-shirt and jeans are boring? Depending on how you style them, denim and a graphic tee can be a lot of fun! I styled this cute Rolling Stones tee with a denim dress-turned-jacket and a pair of distressed shorts. If you didn't know, Seattle has been experiencing a heatwave over the past several weeks. We've had days in the 80s and even in the 90s, so I like layers that I can peel off as it heats up if needed.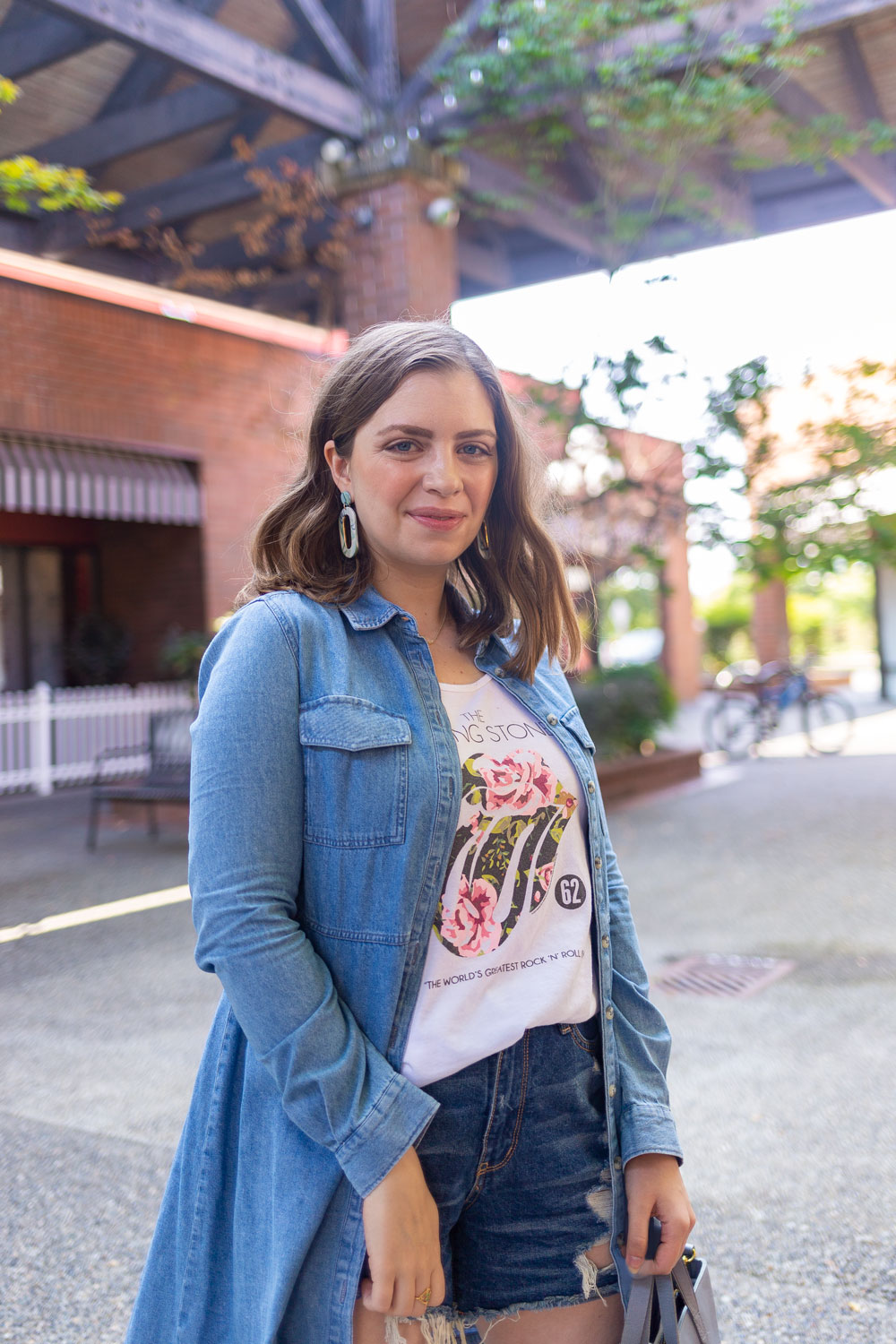 I kept things colorful yet casual with my sneakers, wearing these cute lightweight ones that are perfect for travel, or just running errands. I let my fun statement earrings peek through my hair!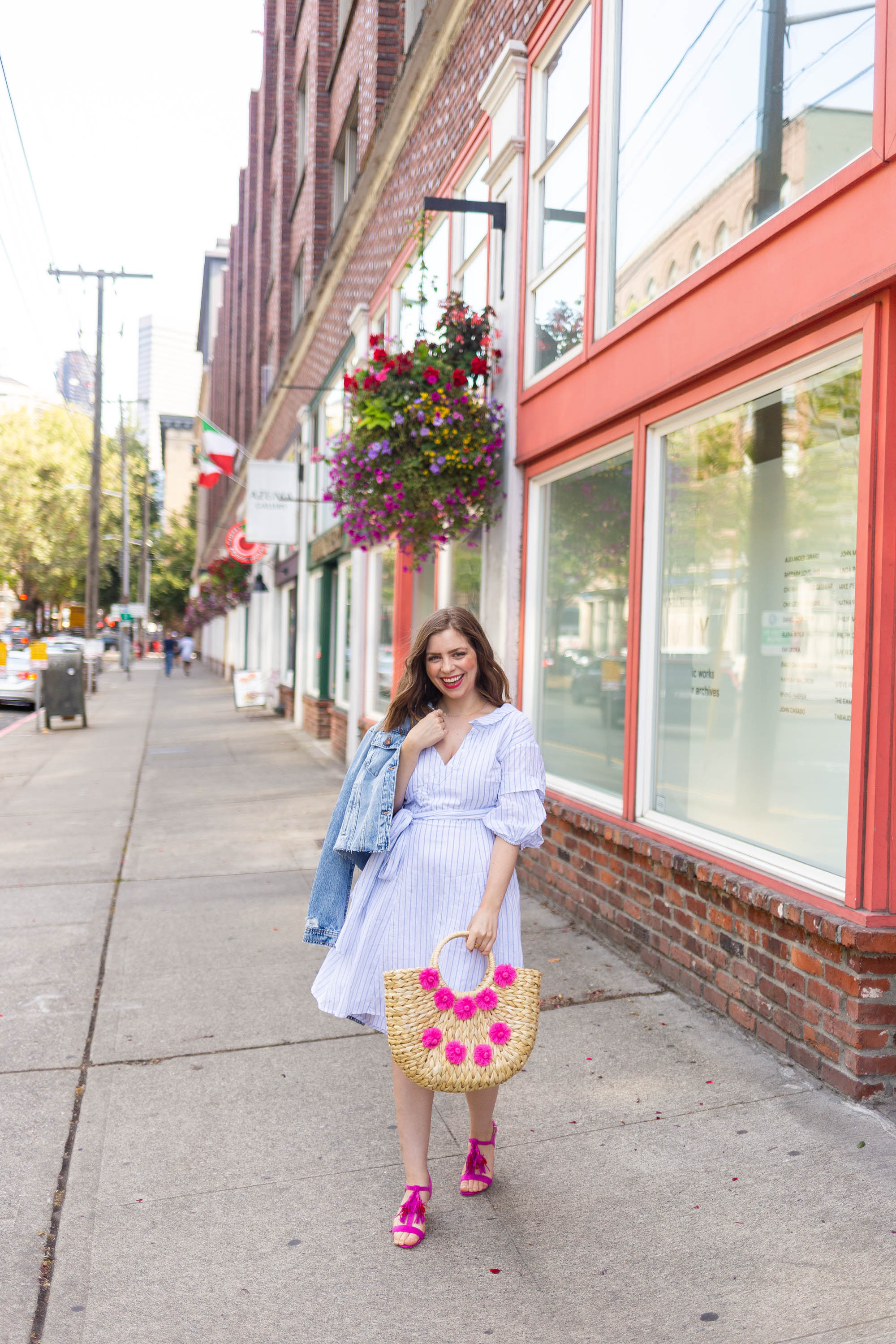 Add a pop of color with statement earrings
I saved the best for last and my personal favorite, especially for summer: the pop of color styling. I love taking a pretty neutral outfit like this blue and white striped dress with a denim jacket, then styling it with pops of color! The green of these statement earrings is a surprise when I tuck my hair back, as the rest of the outfit has pops of pink.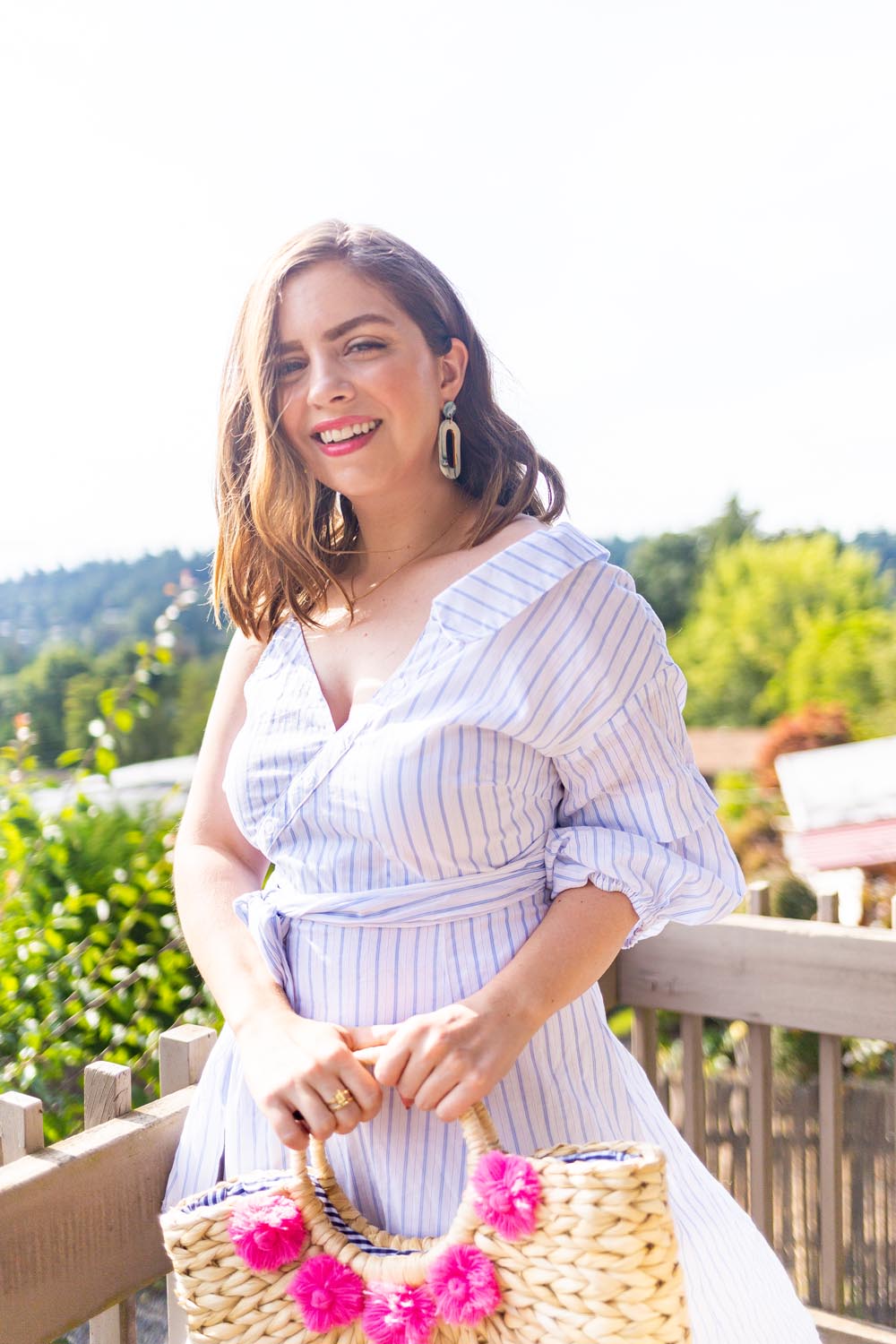 What I love about adding pops of color to your outfit is that there is no wrong way to do it. Jewelry is the easiest way to accomplish it, however, you can play with your shoes, bag, scarves, and hair accessories, too!
When it comes to wearing statement earrings, the rule is the same for personal style: there are none! I personally love wearing statement earrings with all sorts of different outfits, but these are 5 ways I have worn statement earrings recently that I really loved. I hope this has inspired you to not only add statement earrings to your wardrobe (here are mine, if you want to twin with me!) but to also style them with all sorts of pieces in your wardrobe!
How do you like to style your statement earrings? Which look is your favorite? I'd love to hear about it in the comments!