It's become a tradition to go to the flowers come spring and summer. Over the years, my friends and I have visited the Skagit Valley Tulip Festival in Mount Vernon, the Lavender Festival in Sequim, the Cherry Blossoms at the University of Washington, and more. This year's pick was a peony farm! Flowers are finicky, so we only had a few weeks to hit the blooms before they were gone.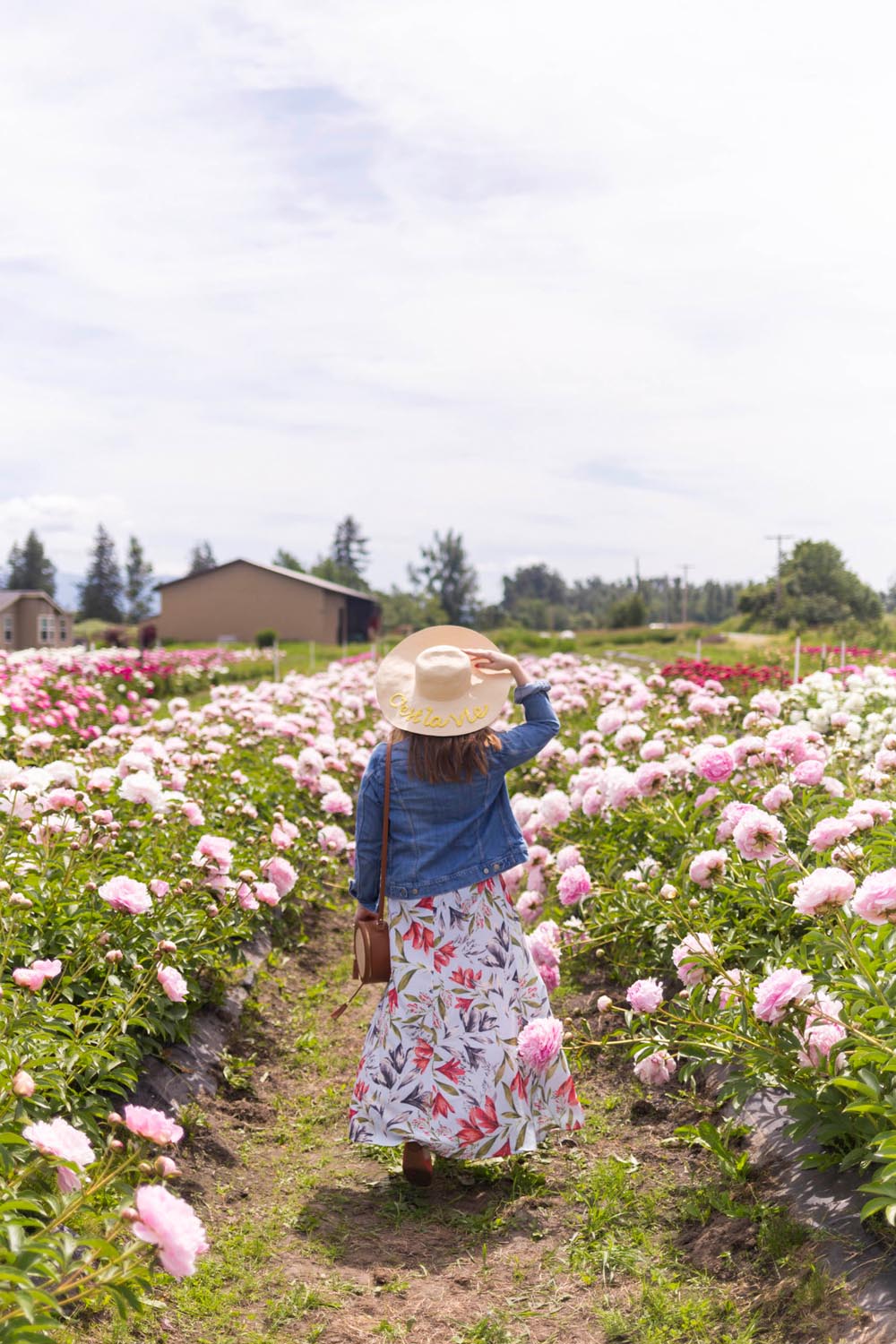 Disclosure: While this post is not sponsored, Toyota graciously provided a vehicle loaner for our trip. All opinions are my own!
And like all good travel stories, this one didn't quite work out as initially planned. Originally, we had planned a day trip to the peninsula to visit a peony farm in Sequim that we had heard about on Instagram. Then, tragedy nearly struck when I discovered it had closed since last year! Thinking it was the only peony farm in the state of Washington, I really panicked. Had we missed our opportunity to frolic amongst the gorgeous blooms?!
Fortunately, a little Googling landed me on Pure Peonies website, where I was excited to see that they are indeed open to the public for a short window each year. Starting in early May to mid-June, Pure Peonies, a Washington peony farm, opens their beautiful garden to the public for admiring as well as taking home fresh cut peonies for yourself.
For everything you need to know about visiting the best peony farm in Washington, just keep reading!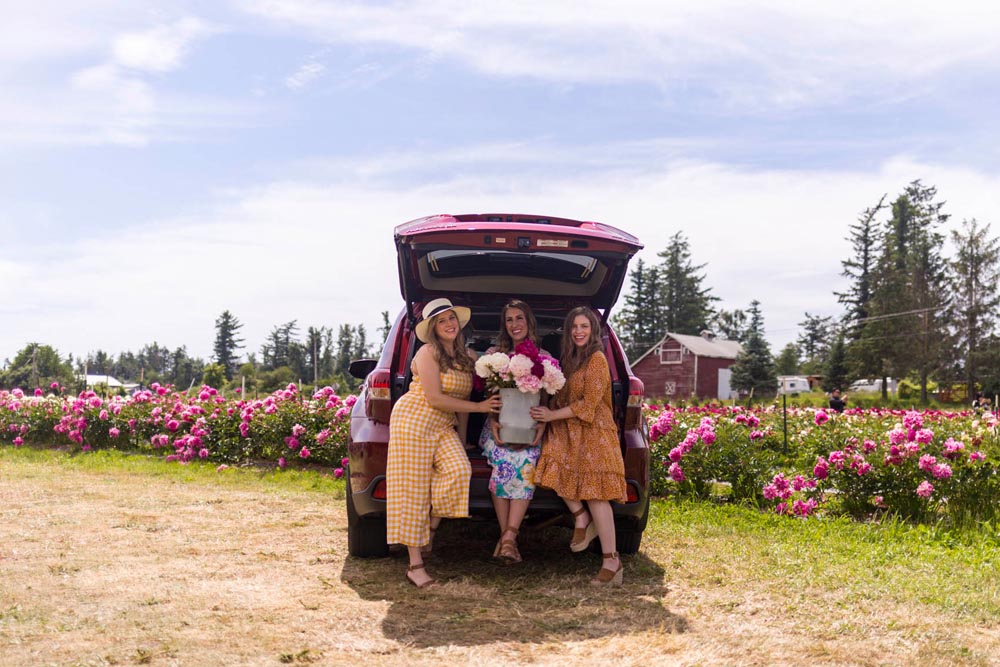 It was a beautiful Sunday morning when I picked up my friends Ana Luiza and Megan north of the city in a 2019 Toyota Highlander, graciously lent to us by Toyota for our day trip adventure. There's nothing like having a comfortable car for road tripping! From the radar cruise control that kept me from having to pump the brakes continuously in I-5 traffic to the spacious, comfortable back seats, perfect for napping and outfit changes, we couldn't have had a better ride. ;) Plus, we can't forget about the ample trunk space for all of our outfits.
We stopped for coffee, hit the road, and just shy of 2 hours later, we found ourselves pulling up at Pure Peonies in Everson, WA, just outside of Bellingham.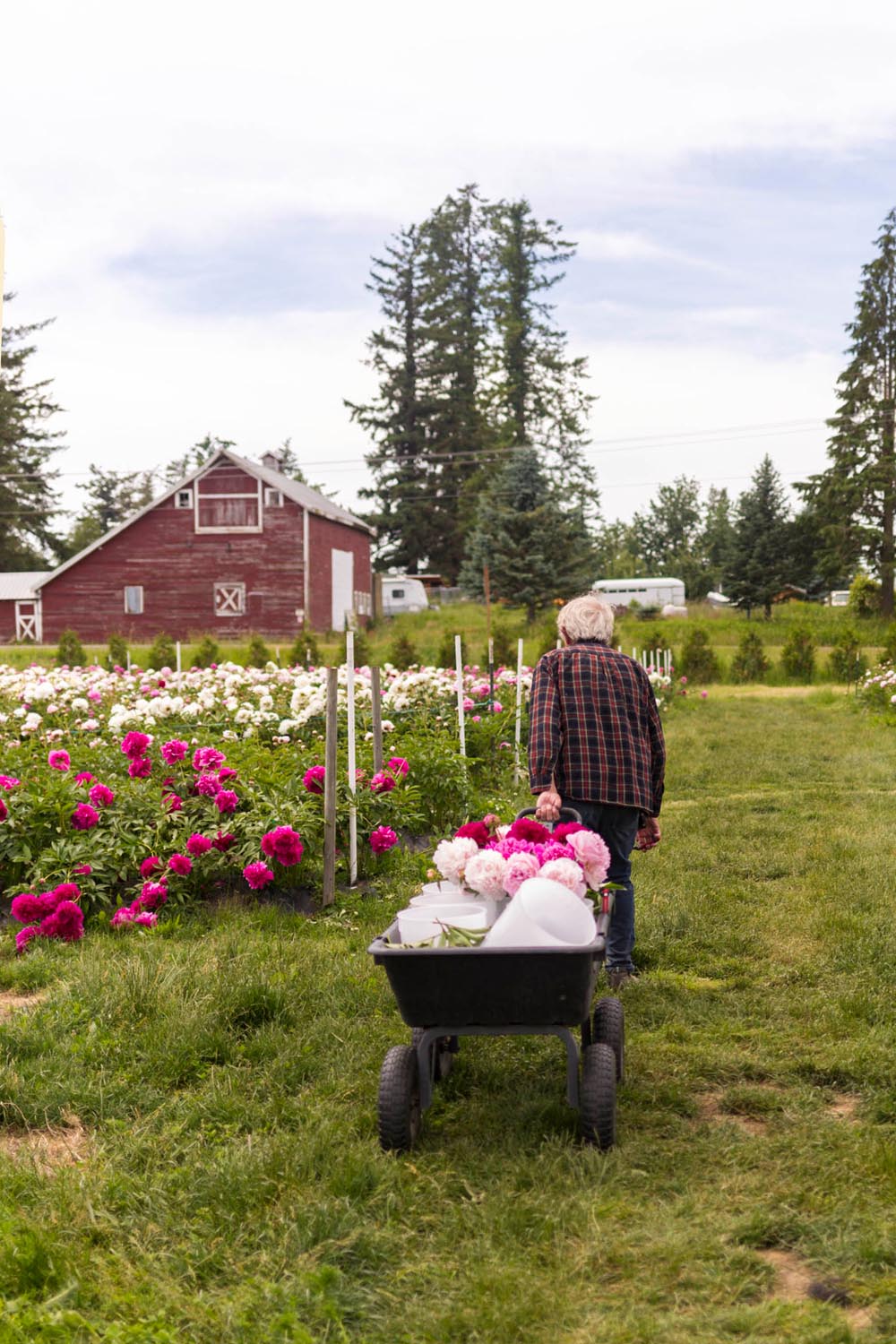 Where to Find the Best Peony Farm in Washington
Head north on Interstate 5 towards Bellingham, then head northeast to Everson, WA. You'll wind through sprawling fields and lots of farmland before you arrive at Pure Peonies peony farm. Pure Peonies is open annually beginning on May 1st and ending in mid-June. Cut flowers can be purchased and picked up through July 1st.
You can find Pure Peonies at:
2949 E Badger Rd, Everson, WA 98247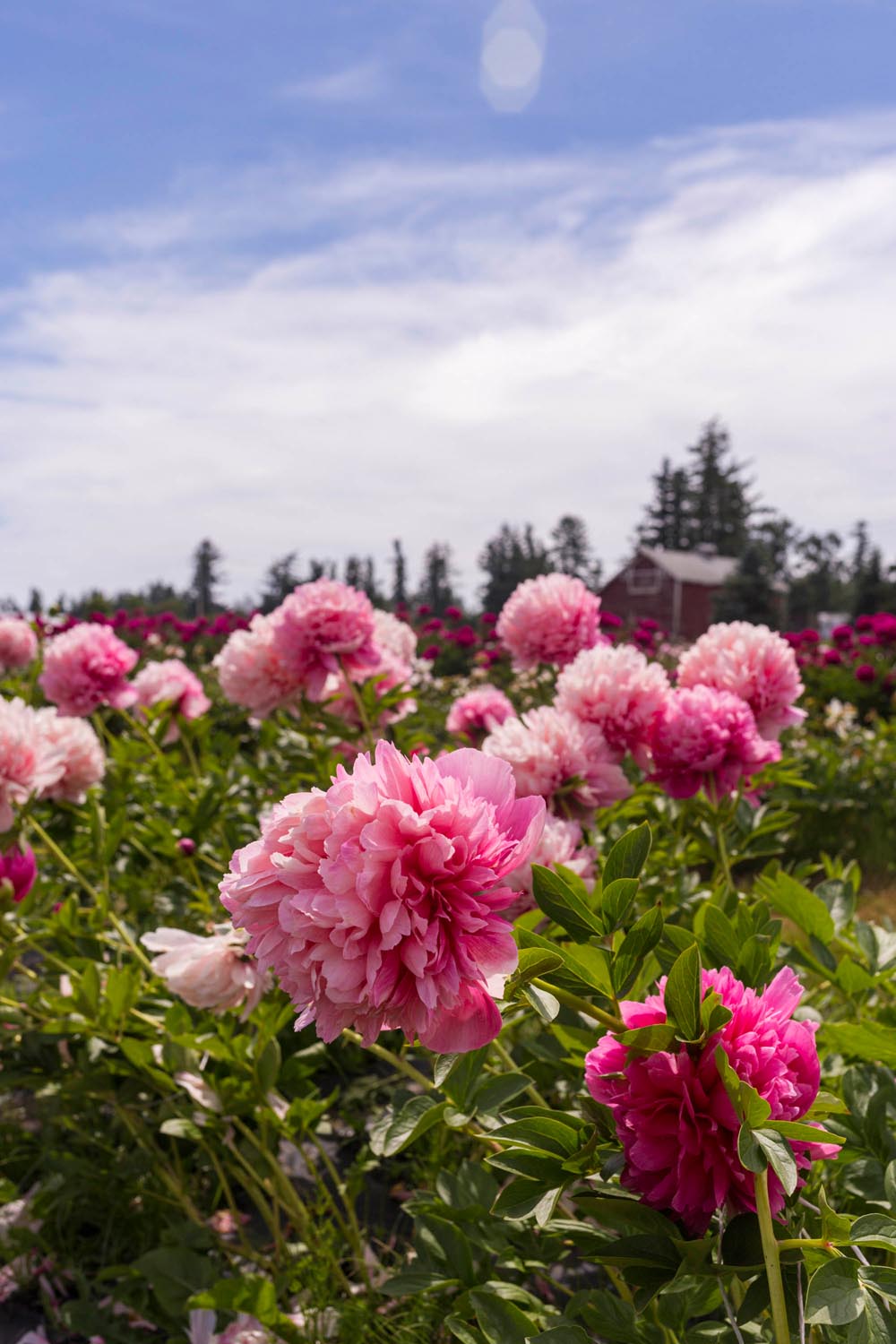 About Pure Peonies Farm
Pure Peonies is a chemical-free peony farm that began in Everson, Washington in 2010. It started with a small garden, and in 2011, they expanded to the field. The owners are a husband and wife team, Jim and Renel. Both are first-time farmers and previously had careers in mechanical engineering and finance, respectively. When we asked Jim why peonies, he mentioned Renel loved them. With a chuckle, he told us he "didn't know she loved them this much!"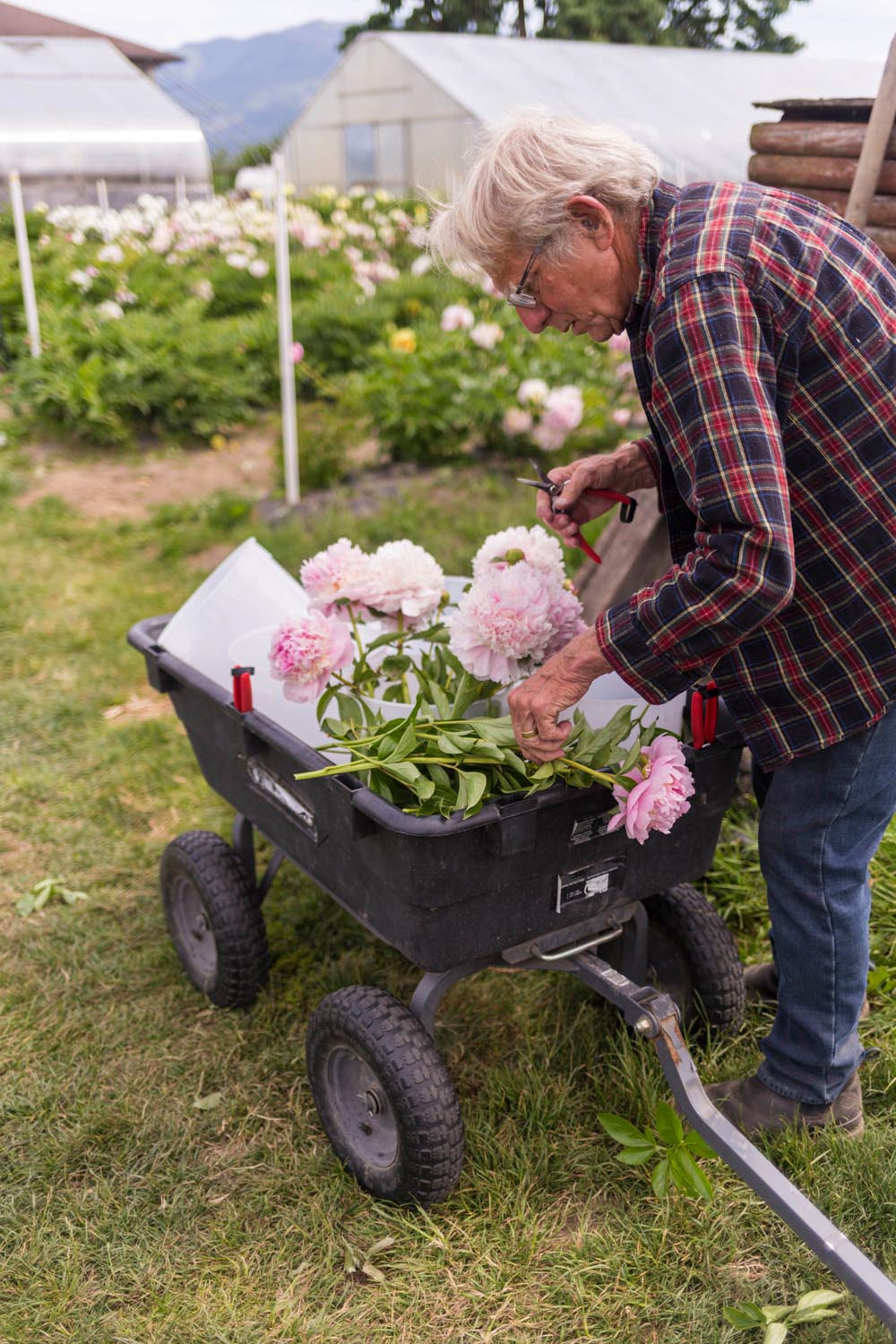 Pure Peonies has over 200 varieties in the garden, greenhouse, and field. But did you know there are over 6,000 varieties in the world?! Peonies come in a wide range of colors, petal shapes, and even fragrance. They have a reasonably short bloom window — first, the greenhouse blooms in late April. Then, 2-3 weeks later, the rest bloom with corals being the first to go.
As of Spring 2019, Pure Peonies sell buckets of about 30 single stems for $30, which are hand-cut by farm staff. Individual stems that have bloomed are $1, and bud stems are $2 each. Additional bouquets can be purchased from $20-25. The farm is cash-only.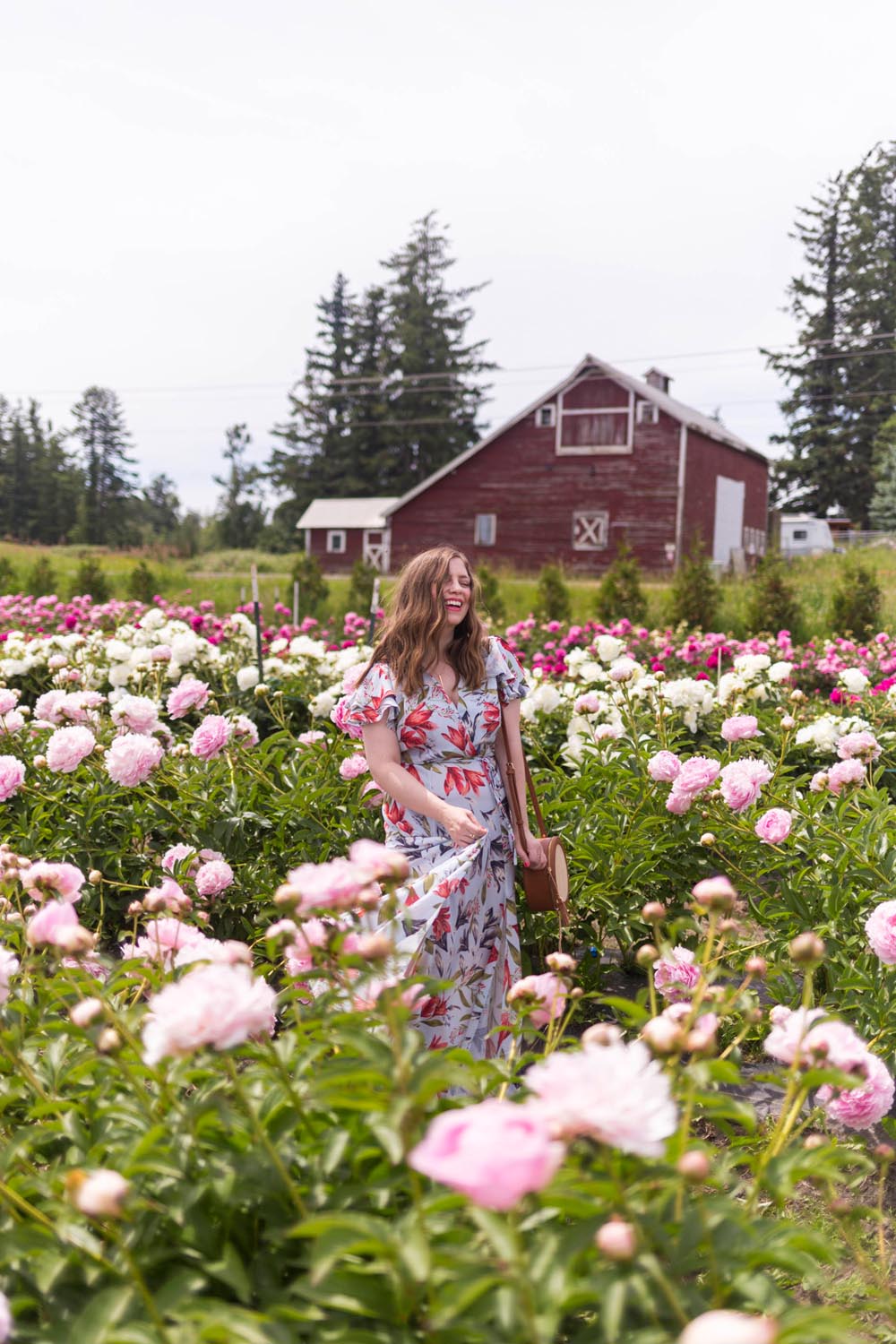 What to Bring to the Peony Farm
Planning a day at the peony farm? Why not pack a picnic! If I were to make our trip over again, I definitely would have brought a small cooler filled with cold beverages, sandwiches, and sides to enjoy on a blanket right at the farm. There's plenty of space to not be in anyone's way while still enjoying your time there.
If you're going with a group, don't forget a tripod! (I like this one for using your phone.) Or ask a fellow farm visitor to take one! I took several photos for other groups while I was there.
Are you planning to bring home peonies? Be sure to bring cash! Price estimates are listed above.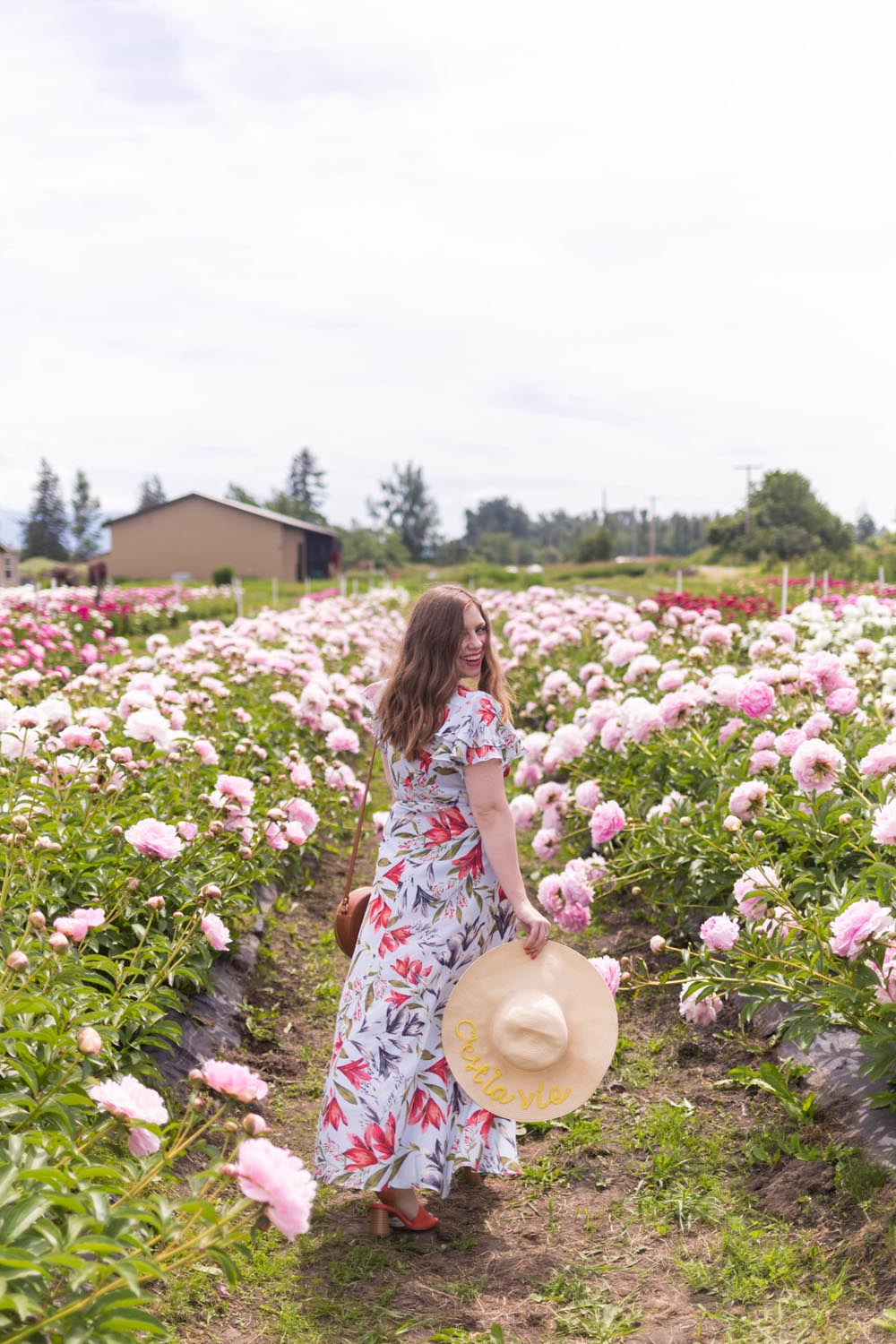 What to Wear to a Peony Farm
For those that don't love bees, here's your warning! There are lots of them, especially around the deeper and brighter blooms. We shot our photos in the lighter color flowers for this reason. (And really, this could have just been a coincidence, but there seemed to be fewer bees to dodge.)
For this reason, wearing florals and super bright colors might not be your best bet. My floral dress didn't seem to be a bee magnet, however. Additionally, wear shoes that are comfortable and won't get stuck in the uneven grass. (Basically, no stilettos!) ​​​​​​​I'd also recommend packing some sunglasses (since there's no shade it can be pretty bright!) and sunscreen to reapply as needed.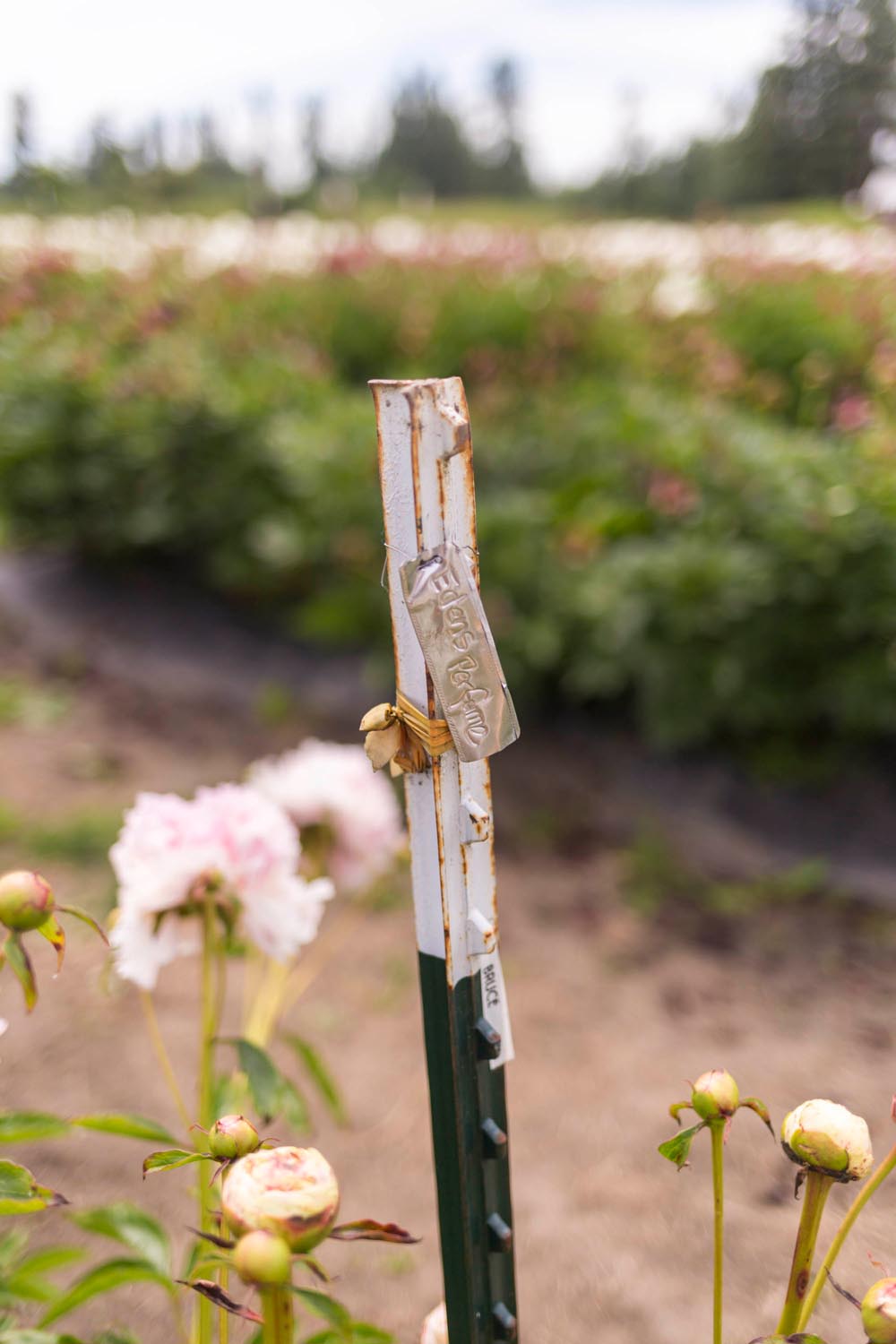 Best Varieties of Peonies for your Bouquets
When it comes time to pick peonies for your bouquets or buckets, here are the ones recommended to us by farmer Jim. We found these to be the most fragrant and eye-catching blooms of all!
Myrtle Gentry (Light pink with a powerful sweet fragrance)
Eden's Perfume (Large pink blooms with a gorgeous fragrance)
Shirley Temple (Double white flowers with a hint of pink)
Shawnee Chief (Gorgeous bold red)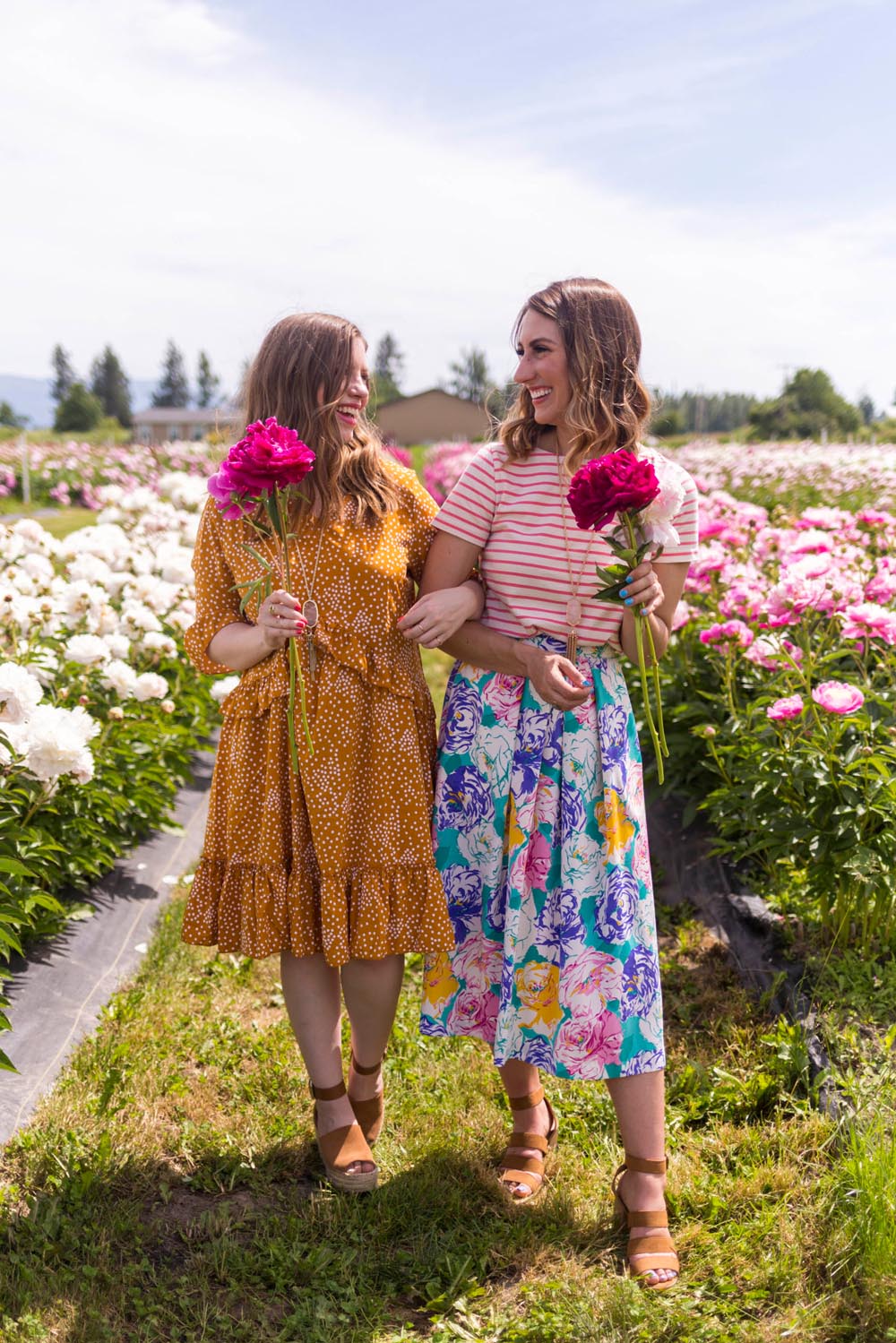 How to Care for your Cut Peonies
To make sure your cut peonies last, here are some tips from the farmer himself!
Cut peony stems at about 20 inches
After cutting, place them in ICE water
Keep cut peonies out of the sun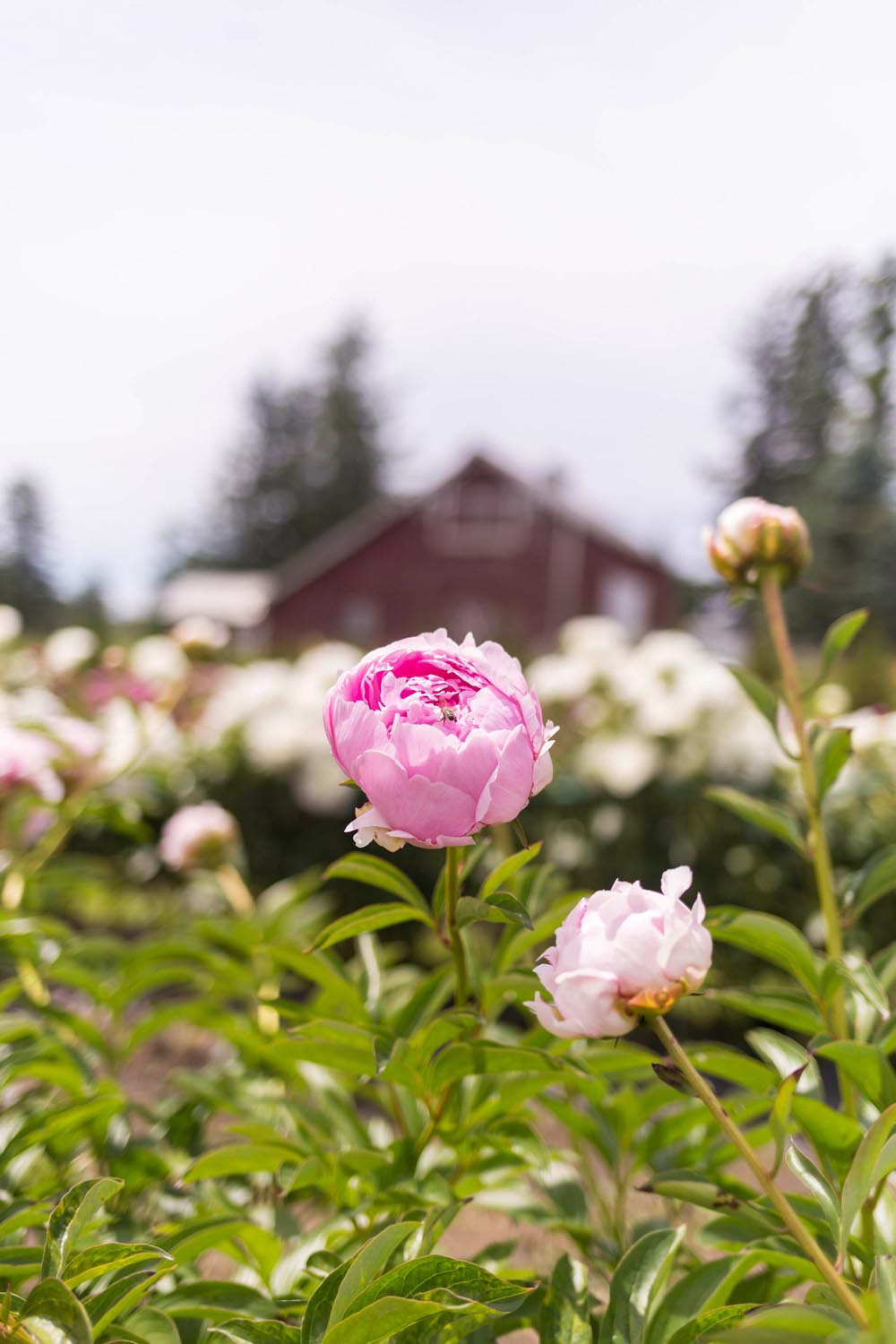 If you are flower lovers like my friends and me, then I can't recommend a visit to the best peony farm in Washington with you more! Be sure to catch the peonies during their blooming season, May through Mid-June next year. And, don't forget to stop in Bellingham on your way back home. There are a ton of great local restaurants, breweries, and coffee shops to satisfy your needs before you road trip back home!
Have you visited a peony farm? What are your favorite spots to visit in Washington in the spring and summer? I'd love to hear about it in the comments!