When it comes to fashion advice, I've received a lot of it from so-called style experts. Especially as a petite person (I'm about 5'3″), these experts love to tell me what short people can and cannot pull off. I recently remembered the time I was told maxi dresses for short girls was a style to be avoided. The reasoning? Maxi dresses were made for tall people, and the amount of fabric would swallow my frame.
Oh, okay.
Not only is this type of advice terribly confusing and often ends up contradicting what other "experts" say, but it's also often pretty laughable. Why should my height dictate whether or not I try to wear a trend, or an entire category of clothing for that matter?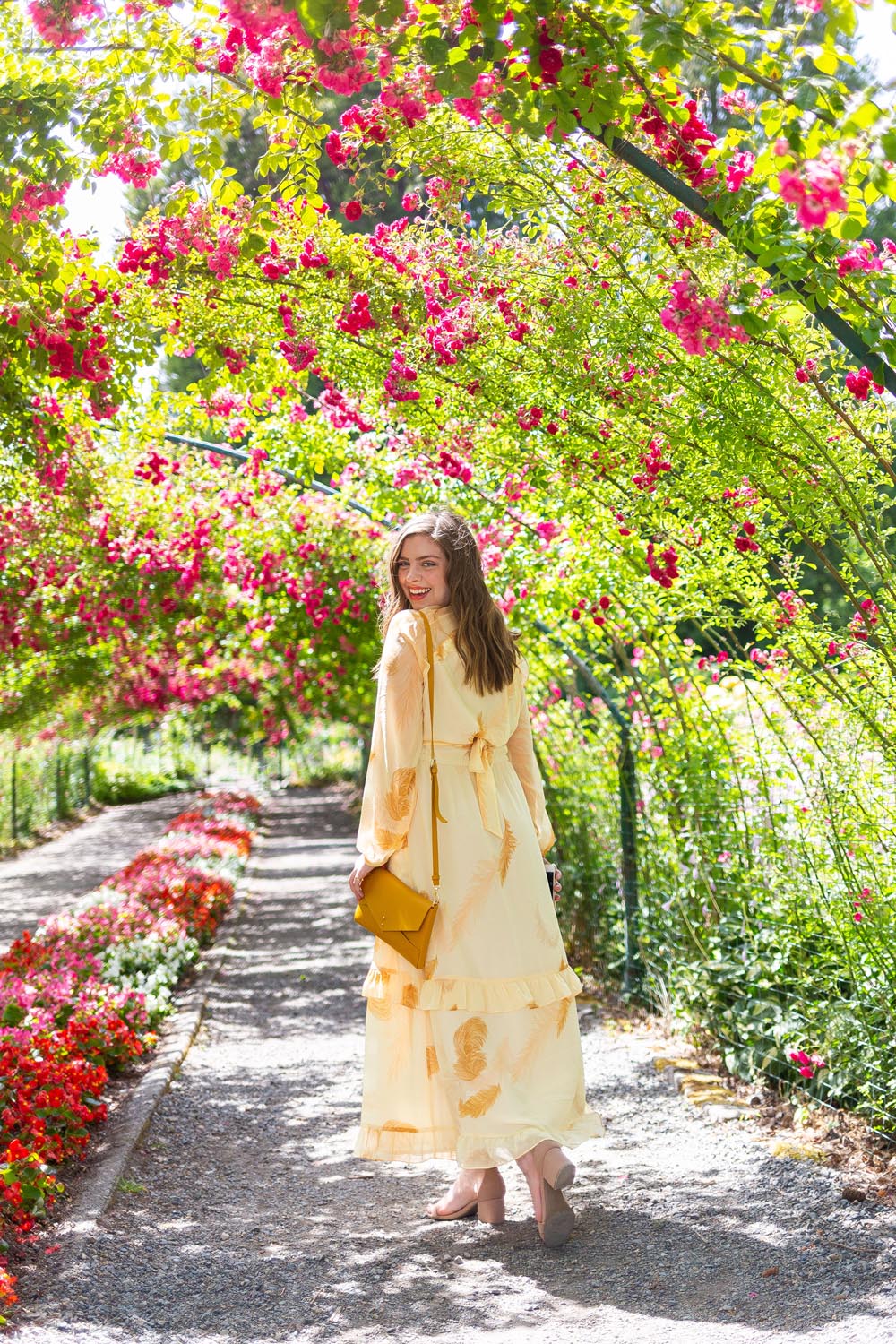 Disclosure: This post contains affiliate links. If you click a link and make a purchase, I may make a small commission. Some of the clothing items in this post have been gifted by the brand. All opinions are my own!
As it turns out, of course, as the style has continued to be popular, there are many options when it comes to maxi dresses for short girls. In fact, some of these styles can actually make you look taller, not to mention they make a great wardrobe staple since they can be styled for year-round wear.
Today, I thought I'd dive deeper into this topic and share the best maxi dresses for petites, a few suggestions on how to wear long dresses when you're short, and how to style a maxi dress for summer!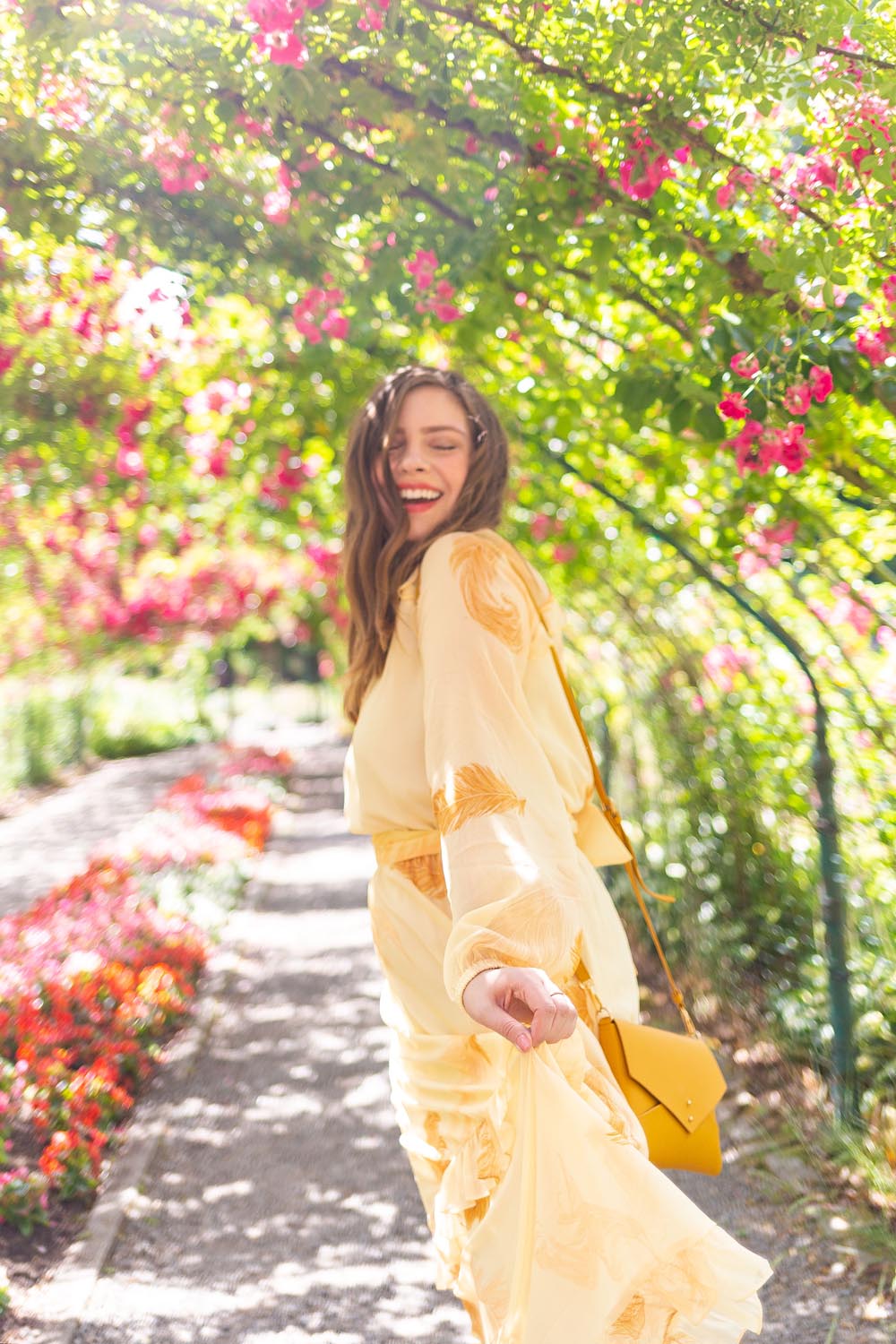 How to find the perfect petite length maxi dress
When it comes to finding maxi dresses that are a petite length, there are a few tricks that have helped me not be disappointed when my purchase arrives at my house. Often, fit models are 5'8″ and taller, so how it fits their body is most definitely going to be different than how it fits yours.
My best advice is to look for a maxi dress that skims above the model's ankle bone. Often, if it hits just above the ankle on a taller model, it will just barely skim the floor on a petite frame. This is how I knew my new favorite maxi dress would be a great length on me!
If the website you're shopping gives a total length, even better! You can now make a much better-educated guess about how the dress will fit when it comes to overall length. Overall length is typically measured from shoulder to hem, so grab your measuring tape and see what your measurements are! My sweet spot on maxi dresses at 5'3″ is usually around 54-56″ in total length. Be warned, many websites don't give total length and instead give the height of the model.
If you're shopping a brand that offers petite sizing, definitely check out their maxi dress options! An ideal scenario would be purchasing a petite length maxi dress so the cut fits your shorter frame from the start. Another option, of course, is to buy a long dress and have it hemmed. This can end up being a costly endeavor, so I recommend factoring this cost when you're making a purchase. As an example, I had a maxi dress tailored for a wedding and it ran about $75 after tax due to the double lining and material. Obviously, your market may vary in terms of pricing. However, it might be a good idea to call your local seamstress or tailor before deciding whether or not the dress is worth keeping!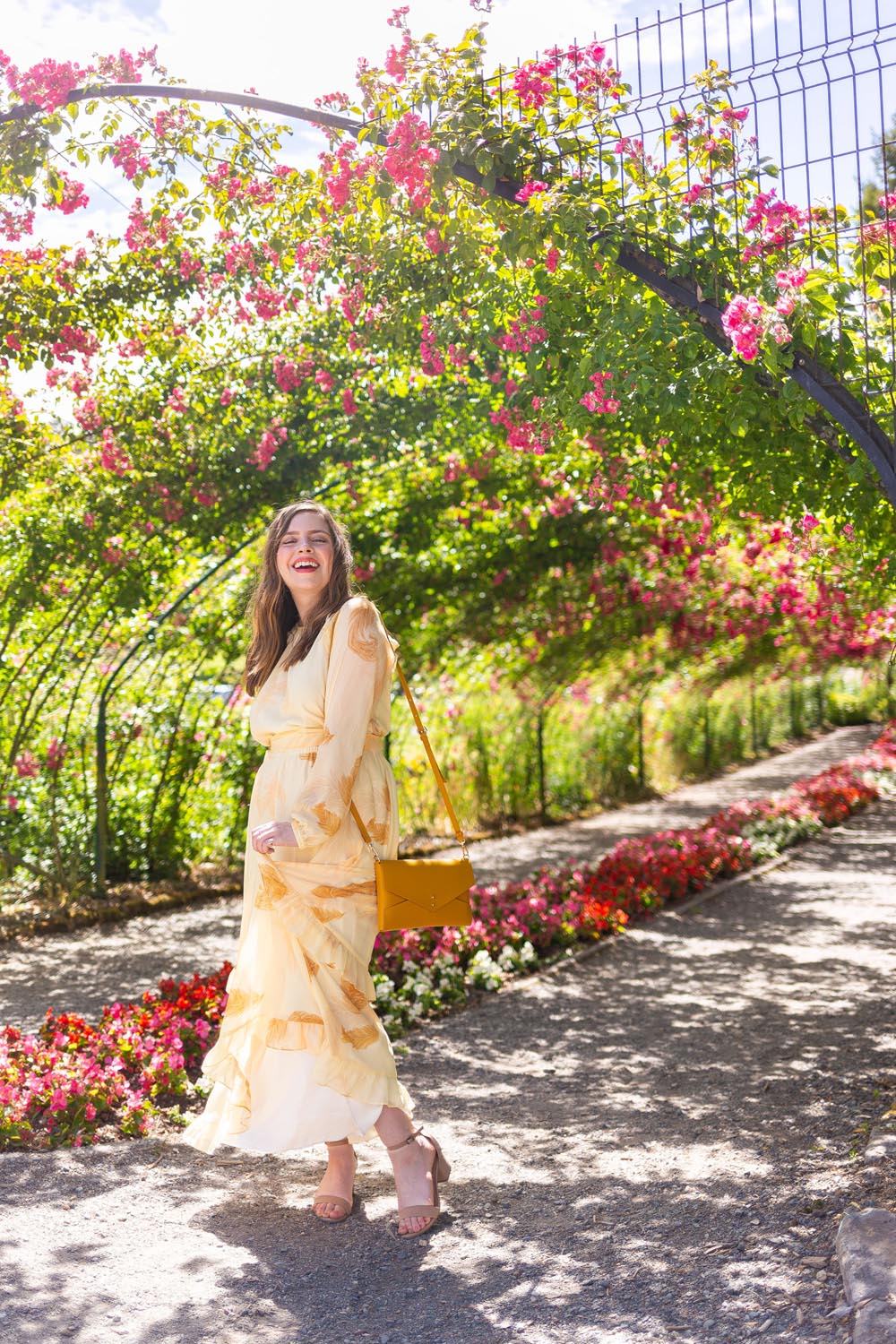 How to select maxi dresses for short girls
When it comes to finding a flattering maxi dress for short girls, it's all about proportions. Obviously, this is a lot about personal preferences. Ultimately, I believe you should wear what you feel the best in not what I or some other "expert" has to say.
But when it comes to my personal advice, I find that oversized and loud patterns tend to be less flattering than medium to small size patterns on petite frames. Look for dresses with small to medium size prints with more white space, like this yellow printed maxi dress. While the pattern is medium-to-large in size, it's balanced by plenty of white space, is the same tone as the rest of the garment, and isn't too distracting. Of course, I'm known to break the rules and wear a loud print so if you love it, don't be afraid to rock it!
Additionally, ruffles are gorgeous, but too many ruffles and you might appear larger than you actually are. Be cognizant of the placement of ruffles, seams, wraps, and hemlines, too. Often, garments are created for fit models with different proportions than many petite women.
Want to look even taller? Go for a solid or vertical striped dress! Both flatter every figure and elongate the frame. See this post for how this striped maxi dress makes me look much taller.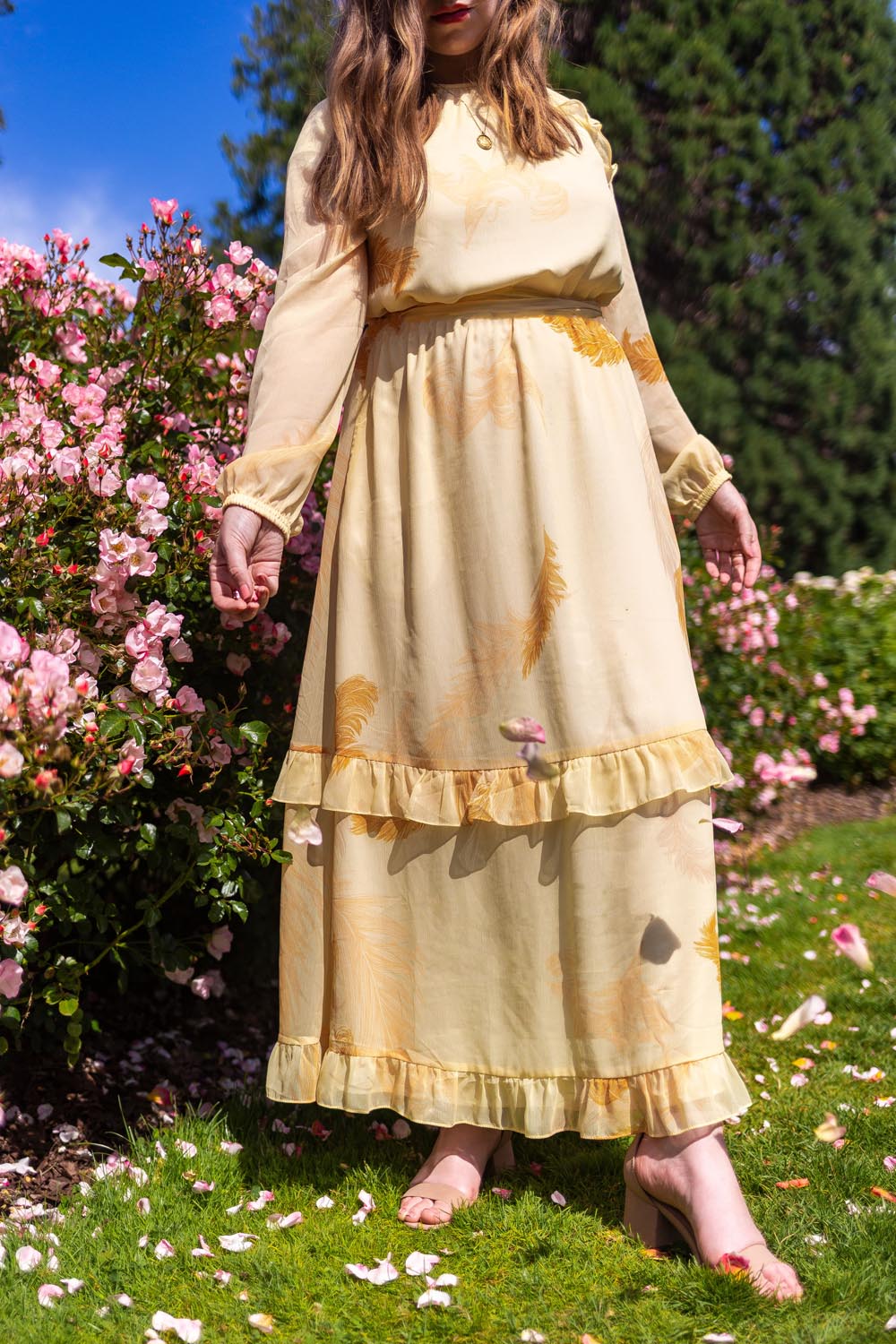 How to wear long dresses when you're short
Now that you have a few of my tips and tricks to find the best maxi dresses for short girls, the next question, of course, is how to wear them! The options are truly endless, but I've included a few of my favorite ways to wear them below!
If you found the perfect length maxi dress, then just add a pair of comfortable sandals or ballet flats
If your dress is a smidge too long, go for a short heel or sandal, like this one
If your dress is pretty long and drags on the floor, opt for a sky-high wedge, like this one
If your dress is way too long, try tying it in a knot on the side! This can look chic and keep you from tripping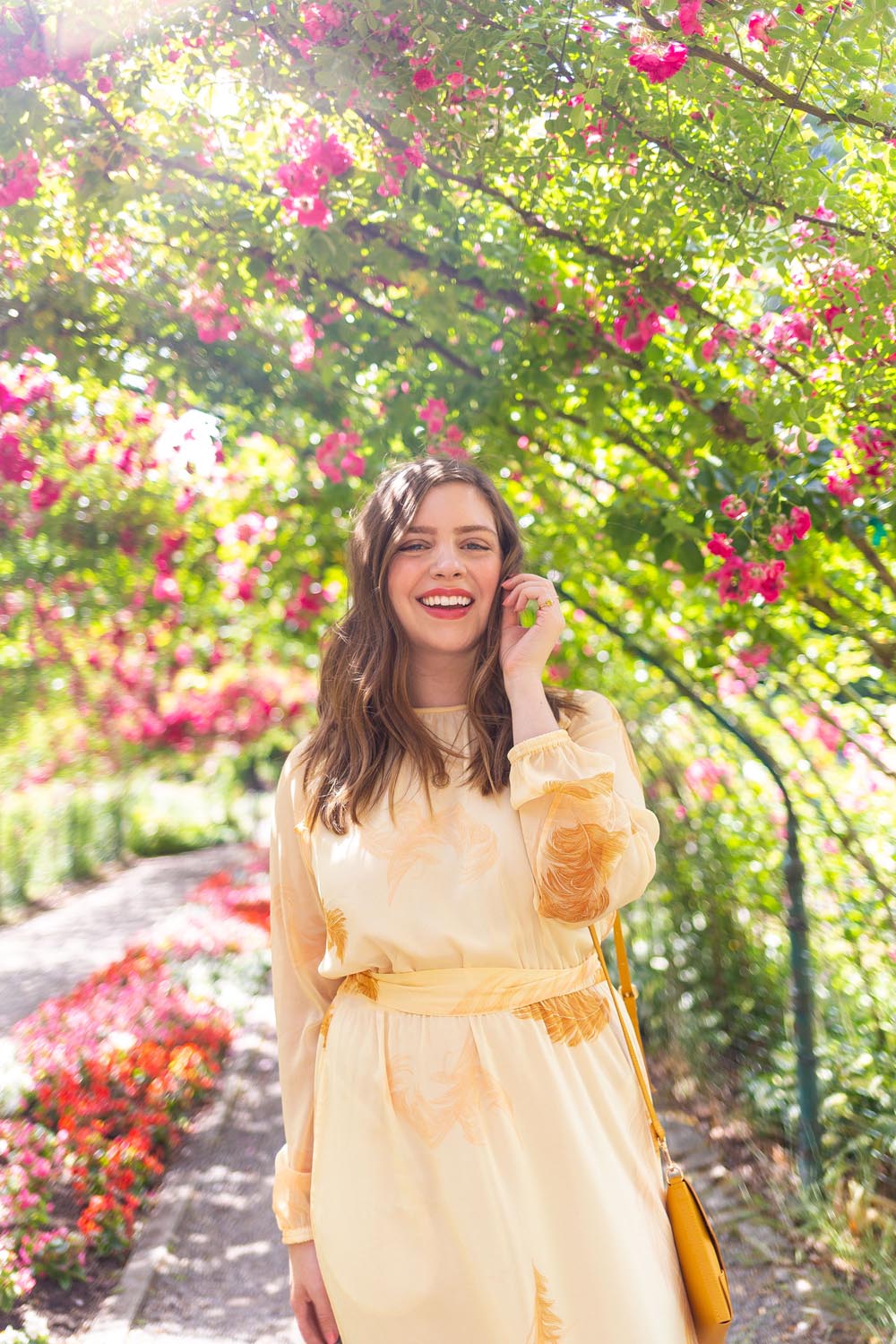 How to style your maxi dress for summer
What's the best season to wear a maxi dress? I think they're perfect all year round, but summer is when I get the most wear out of mine. I love pairing my maxi dress with flat sandals, a big floppy hat, and a straw bag for a day at the beach, traveling, or for a picnic.
To dress up maxi dress for a date night or other special occasion, I love elevating the dress with a chic moto jacket or a classy blazer. Add a pair of block heels or wedges and a long pendant necklace and you'll be ready in no time.
For a day of shopping or brunch with the girls, I love wearing my maxi with a pair of dressy slides or sandals, a denim jacket if it's cool out, and a coordinating clutch or crossbody bag, like in these photos!

If you're taking your maxi dress into cooler weather, then check out my tips for how to wear your maxi dress this fall!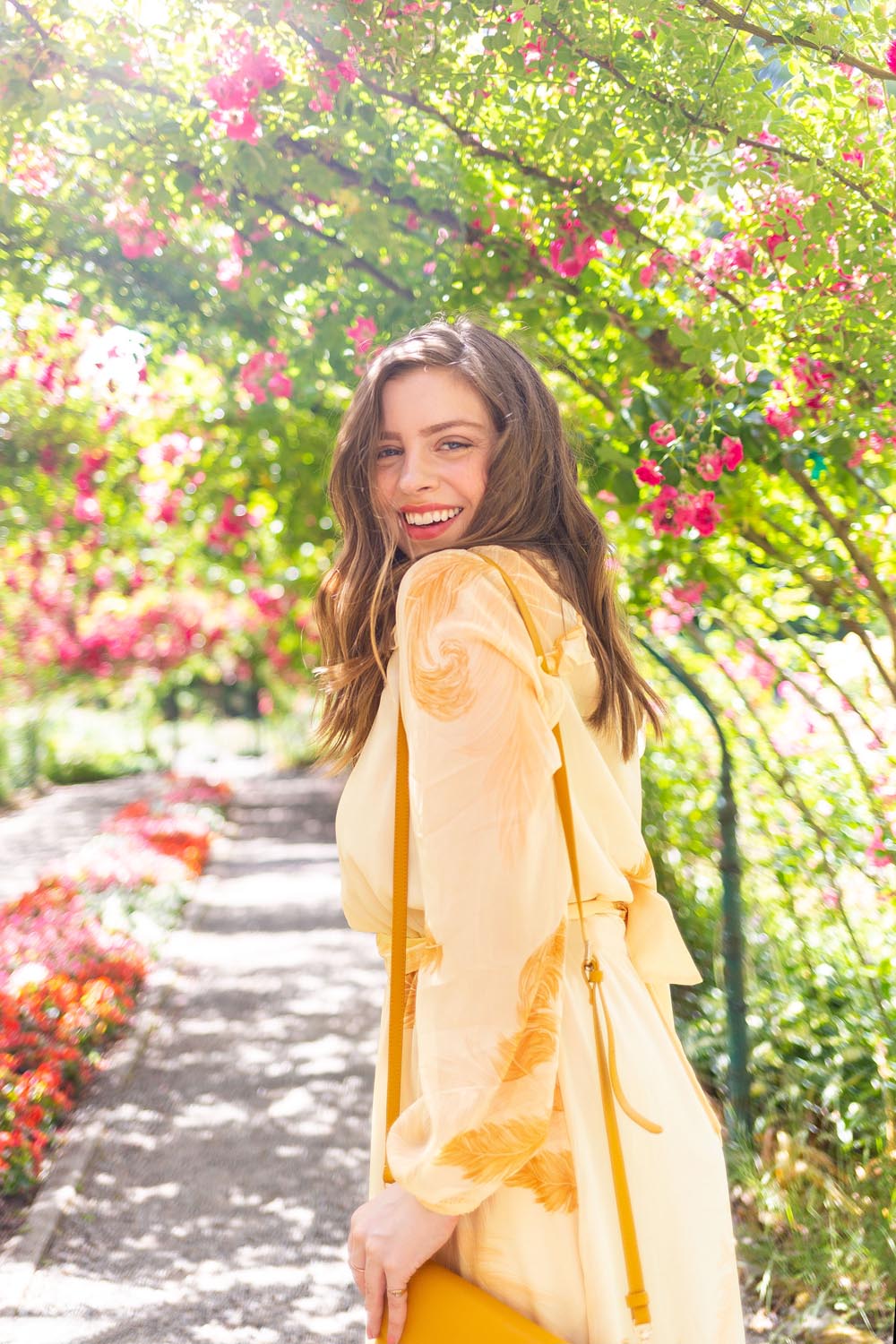 If you take one thing away from then just know that there's the perfect maxi dress out there for you, regardless of your shape, size, or height! With a variety of prints, patterns, and embellishments, I'm confident that you will be pleasantly surprised by the maxi dress options that will work for your petite stature, no matter where you might be shopping! Hopefully, these tips will have you on your way to the perfect maxi dress outfit in no time.
Do you have a favorite maxi dress? How do you like to wear this style? I'd love to hear all about your maxi dress tips (or questions!) in the comments!