I was reminded when writing about my #FaceForward and future goals that I never wanted to work in technology. Not really, anyway. I had dreams of going to New York and being a fashion designer. Mind you, this was before the Project Runway days so I truly had a very limited picture of what the grueling behind-the-scenes life of a fashion designer looked like, but still, that's what I was convinced I wanted to do.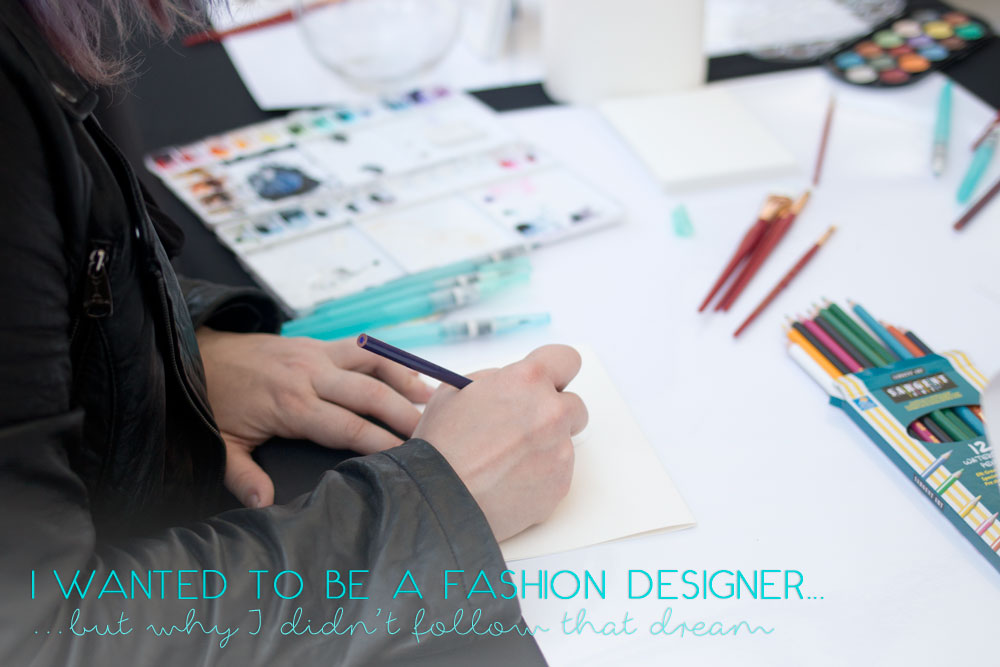 I wouldn't say that my parents particularly discouraged it, but my mom definitely did not encourage me to move so far away. For most of my childhood, my mom was known as the "quilt lady." To say that sewing was in my blood is an understatement. I spent most of my childhood either wrapped in a quilt my mom made, or someone else she met along the way had made. I learned to sew when I was about 5 or 6 and entered my first quilt in the local state fair. (Nerd alert!) I ended up taking home multiple ribbons, including Best in Show (for my age category… not the big leagues!), first place, and a few other awards.
With that said, quilting doesn't exactly translate to clothes-making. My first time trying to create something from a pattern was a nightmare. I have no idea what it was, I just remember it wasn't quite what I had imagined. Not enjoying following directions too much, I eventually started making clothes from recycling old ones. I'd hit up Goodwill and Value Village for odd men's t-shirts and the craft store for blank tote bags and fabric. Freebie tees were my jam as they were prime for cutting up without worrying about ruining a beloved top. I'd tear seams, rip them up, cut off sleeves, and Frankenstein them back together.
My favorite creation ever was my Audrey Hepburn tote bag. I took a tote bag that had a logo on it and covered it up with a piece of white fabric. Then, I stenciled the famous photo of cigarette-holding Audrey Hepburn from Breakfast at Tiffany's on it. Then, I decorated the edges of the fabric with lace, buttons, and trim. It was my most complimented piece in high school, and I basically used it until the seams gave way and it was beyond salvageable. I really wish I had photos of this and my other "creations" but after looking through all of my photos throughout my high school years I've come up with nothing. Keep in mind, these were the days before usable cell phone cameras!
At some point, my dream of becoming a fashion designer faded away. I think it was a combination of things: First, my parents mostly refused to pay for me to go to school in New York. (Because hello, expensive! To the tune of $45,000+ a year not including room and board!) Second, I think I just came to the realization that it wasn't practical. I don't do well with a huge amount of stress and instability (hi, anxiety!), nor did I really want to be so far away and on my own. So, I stuck around Washington, went to school for communications in a tiny Eastern Washington town, changed my mind again when I got there, enrolled in a different program, graduated, started a job, and here I am.
I was also reminded about these dreams when I was invited to speak and run a workshop at a local college for 175+ high school students… who, like little 15 year old me, have an interest in fashion. If I'm being honest, I had no idea what to say to them. I kind of felt like a fraud considering I didn't follow my original dream. But at the same time, I don't feel bad that I didn't go to New York. A lot of people I went to high school with did, and then proceeded to come home 6 months to a year later and go back to their retail jobs. In some ways, I'm jealous that they followed that dream, even if it didn't pan out. The practical side of me says otherwise.
I guess what I'm getting at is just because I gave up on my dreams doesn't mean that anyone else should. So what I told those teens and young adults is that sometimes dreams don't work out the way you originally planned, but they might turn into something you never imagined. For me, my fashion "career" is here on this blog where I can explore it my own way.
Did you have any dreams that you gave up on or didn't follow? Do you regret that or did you end up somewhere better instead?