Affiliate Links
So remember last month when I was a very bad, no good shopaholic? Welp. This shopaholic's gotta be real this month. It was hard. But I did it!
Let's get down to business. I set a goal of $150 for June because I went way too crazy at the sight of summer weather and the Nordstrom sale in May. Whoopsies. I am very happy to report that I spent $102.50. Yep, I went WAY under budget, and that doesn't include the whole $5 I made selling at Plato's. (Side note, why do I even bother with that place? Seriously, $5 is less than I probably spent in gas to get there. Clearly this is the reason I started the Shop My Closet group.)
Anyways, now what you actually care about.
Here's what I spent my June Budget on: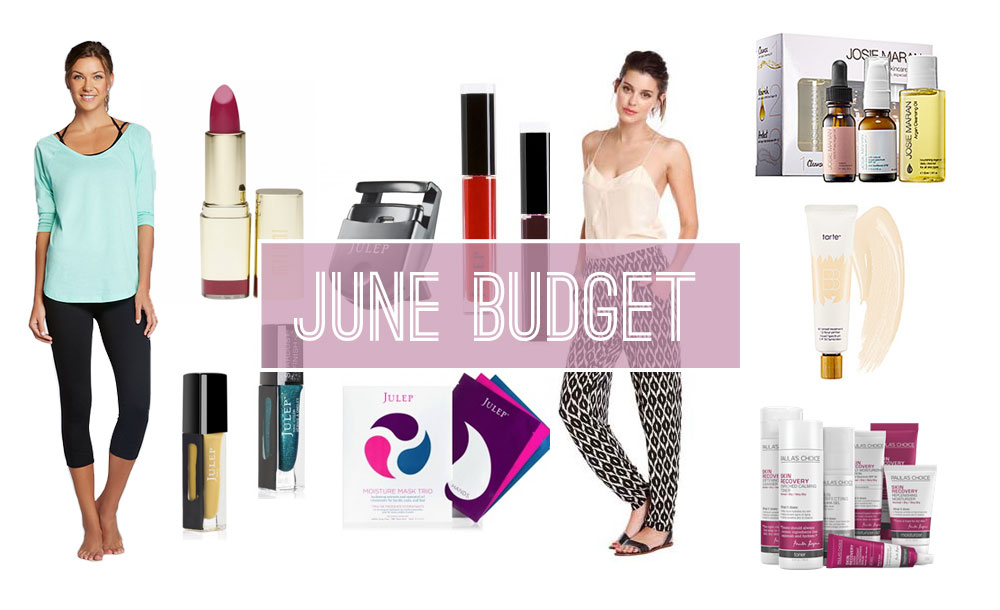 Fabletics: I bought a new workout outfit for all my gym days… that never happened. Oops. I got the Entrechat for $60, but sent the top back (too big) for a credit of $18.
Drugstore.com: Milani lipstick in Uptown Mauve for $5.50
Julep: I indulged at the Julep Red Marker sale, but skipped my monthly box. I picked up the Glosstini Bold set, Moisture Mask Trio, Eyelash Curler, Jennine, Emerson, and Stella for a cool $16 (+$19.99 credit for box skipping)
Golden Tote: I skipped the monthly tote, but fell in love with the slouchy pant surprise item. I bought them off someone in the trading group for $30 instead.
Sephora: I've been dying to try the Josie Maran Argan cleansing oil and 100% Argan Oil, so I picked up Josie Maran Argan Skincare Ritual Set for $24. I'm trying to purge some yucky ingredients from my skin routine, and liked the ingredients in this Tarte BB Tinted Treatment for $35. I had a gift card, so all of this ended up being $9.
Paula's Choice: I'm trying to find something new for preventing breakouts as well as a moisturizer that is a bit more hydrating, so I picked up a billion samples for $9.
…and that's all! Way better than last month, am I right? So for next month, I have some extra cash to spend from this month, but I'm trying to stick to a budget of $200.
Are you on a shopping budget? What did you get this month?