Have you heard of Le Diner en Blanc, the infamous all white party that pops up in a mysterious location in your city for just one night? I'd heard about it when Nancy of Spiffykerms attended a Le Diner En Blanc inspired dinner a few years back and had been curious ever since. From photos, it looked to be such a glamorous affair and how fun to eat with friends and strangers in one of your city's most beautiful outdoor spaces, right?
Well, kind of. Look, you guys know I'm not going to lie and say it was perfect if it wasn't. And it wasn't. So instead, I'm going to tell you about the good (which there was lots of!), the bad, and the ugly, and what I wished I had known about Diner en Blanc as a first timer. You know, the things they don't really tell you in the initial literature about the event.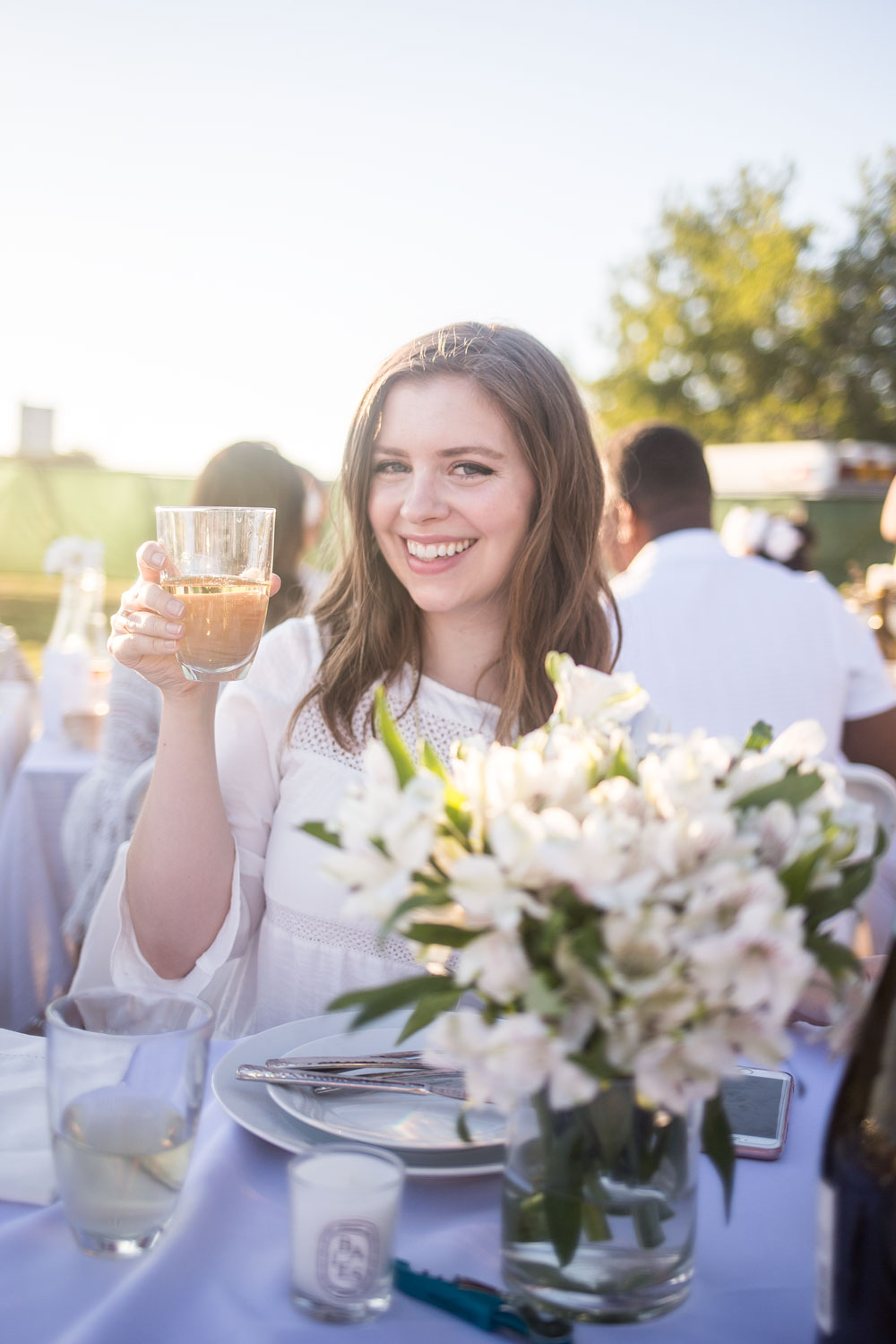 Disclosure: Nothing to disclose here! All items mentioned in this post were purchased by me.
Le Diner en Blanc: What to Know About this Mysterious Event Before You Go
Before I jump into the good and bad of the event, I thought I'd cover exactly what Le Diner en Blanc is. Dîner en Blanc is a worldwide event, spanning six continents, in which people flash-gather in a public space and set up a temporary, chic dining area. Guests come dressed in white to enjoy food, wine, and conversation with 1,000 or more of their "closest" friends. Other cities include Paris, Vancouver, B.C., New York City, Montreal, and many more. The first Diner en Blanc was held in Paris near the Eifel Tower over 30 years ago, and has since grown to over 10,000 participants and unique events around the world.
This year's Diner en Blanc was the first ever in Seattle. Held in Myrtle Edwards Park, right on the water, the location was beautiful and a total secret up until we set off on foot! My friend Hilary of The Cutie Life was my "date" for the event, and we couldn't wait to see the night unfold.
So what do I wear to this thing?
Diner en Blanc is all about the white. White everything; from your outfit to your tablecloth. Hilary and I initially set out to thrift our outfit, since neither of us owns too much white, but that was an epic fail as seen in her vlog here.
Instead, I ended up going with something I already had in my closet. A Who What Wear ruffled dress from a few seasons ago (a similar style from Topshop for $50 here), my nude Report Laurel Sandals from my June Stitch Fix, a white blazer from H&M that I found at a Value Village in Victoria, B.C. and a white quilted clutch that I borrowed from Hilary made for a comfortable and fitting #OOTD. I kept my makeup simple, wearing a lip liner from Rimmel in Eastend Snob, black winged liner, and glowy skin.
Honestly, all of the materials say to wear strictly white, but I would say wear what you're comfortable in that is in a shade of white and you will be totally fine. If I were to do it over again, I would agonize way less about finding the perfect white outfit! (Because in retrospect, I wasted way too much time on that. My bad!)
…And I should eat what?
Guests are instructed to either purchasing catered meals, or pack their own. With the event not being free and catered meals starting around $100, I decided to go the DIY route. I opted to put together our own meal, mostly comprised of things that could be found at Trader Joe's or I already had in my fridge. We ate baguette and cheese, a salad made with arugula, cherries, blue cheese, and balsamic vinaigrette, Quiche Lorraine that I cooked the day of, and finished with a dessert Hilary picked up from Met Market.
Don't forget you're also bringing your own serving and eating utensils! I had to go out and buy white dinner and dessert plates, glasses (because I didn't want our personal glasses to potentially get damaged), white napkins, and a white tablecloth (which Hilary picked up for us!). I brought silverware as well, though you could definitely use the compostable variety. If you're looking for a reasonable price on these items, I'd suggest IKEA or your local Dollar Store. Either way, don't forget to wash and dry them before you go! :)
Wait, I have to bring everything?
Yep, other than food and serve ware, you'll also need to pack quite a few other items to set up your space. You'll need a folding table and two white chairs too. I packed a vintage metal folding table from my mom that was incredibly heavy, so if I was doing it over, I would get a camping table that is lightweight. I also picked up a push cart from IKEA to put the table and chairs on, which honestly was still incredibly heavy and awkward because I forgot to pack a bungee cord. Oops! We saw someone with a foldable wagon type of cart like this that I think would have been an excellent investment.
Additionally, you'll need a picnic basket for all of your food. That thing ended up so heavy also, so I would recommend a cooler bag or an ice chest on wheels. I was scared off by the fact that it said everything needed to be white, however, I saw plenty of people toting bags and coolers that were definitely not white.
And a few other things to keep in mind about Diner en Blanc…
Diner en Blanc isn't inexpensive
The first thing that surprised me was the price. For myself and Hilary to attend, I paid $90. That included a $10 "membership fee" that gives us access to future events. The fee was supposed to cover our transportation to the venue, permits and licenses, and other expenses like hiring a DJ, security, and providing restrooms.
We actually ended up not receiving transportation to the venue, as our meeting spot was close enough to walk. And when I say close enough, it sure didn't feel close! What the fee didn't include was all supplies mentioned above that we would need for our dinner like plates and utensils, a table, folding chairs, a picnic basket, our food, champagne, and more.
There's no white police
I honestly was terrified someone was going to call me out for wearing something "not white enough" based on everything I had read about! But really, you don't technically have to wear "white" white to attend. This was the second surprise, because all of the literature leading up to the event stressed the importance of white and not off-white like cream, ecru, or ivory. Honestly, I could tell when people were wearing off-white but there was plenty of it. Had I known this, I probably wouldn't have spent so many hours in search of the perfect "white" white outfit.
On top of that, while I didn't see color, I did see plenty of neutrals. I ended up wearing a nude pair of sandals as I knew they'd be more comfortable than the one pair of white ones I found. I noticed others doing the same, and plenty of off colored bags like beige, blush, and metallics like silver and gold. Stress less about your outfit being the right white and spend more time on having fun with it, or coming up with an over the top centerpiece for your table!
Prepping for the event is tough work
If you're looking for a casual show up type of dinner, this isn't it. From packing all of the items needed for your evening to coordinating with your party to get to the busy meeting location to setting everything up during the event, I definitely would not say this is easy. I was sweaty and hot from packing everything on foot from Queen Anne to Myrtle Edwards, and by the time I got there I was exhausted. Then I had a glass of Champagne, baguette, and cheese and felt a heck of a lot better!
You can also get as into it as you want. The table next to ours had clearly attended a DEB before, as their centerpiece was wild and their serve ware was on point. They had tiers of cheese, fruit, cupcakes, and sweets that I honestly was a little bit jealous of. Our table looked a bit simple in comparison, but there's no shame in my game. I didn't know what to expect and I definitely didn't think too much about our table decor!
You'll meet new people
We had fun lamenting of the struggles of getting all of our stuff to the meeting place in one piece with our new friends Staci and Gana. It just so ended up we were in the same group and ended up setting up our tables next to each other. What we found was that Diner en Blanc is best enjoyed in a group. It would have been much easier to pack all of our things had there been more of us (and maybe some strong significant others with us too!), but meeting new friends was one of the best parts of the experience!

You'll have a night you'll never forget
Ultimately for me, Diner en Blanc was a once in a lifetime experience. I will probably not attend in the future, however, I've definitely been inspired by the event and hope to recreate the same type of experience in my own backyard! How fun would it be to host your own Diner en Blanc with friends and family from the comfort of home?! That's my kind of party. ;)
Have you ever attended Diner en Blanc or a similar event in your city? Any things I missed, or questions you have about future events? Feel free to leave them in the comments below!