I know, I know. I say this every month, but how is November already almost over? Next week is Thanksgiving, and of course my favorite shopping day of the year, Black Friday! I'm excited, but it's all coming too fast for me. I still haven't even figured out what I'm making to take to Thanksgiving yet! Eek.
But anyways, since it's that time of month, I thought I'd update on my reading progress (or lack thereof!) If you remember, I'm trying to read 100 books this year, and that's not looking so good for me right now. I'm hoping I can kick my reading up a notch over the holidays though. We shall see. But without further ado, here's What I Read in November: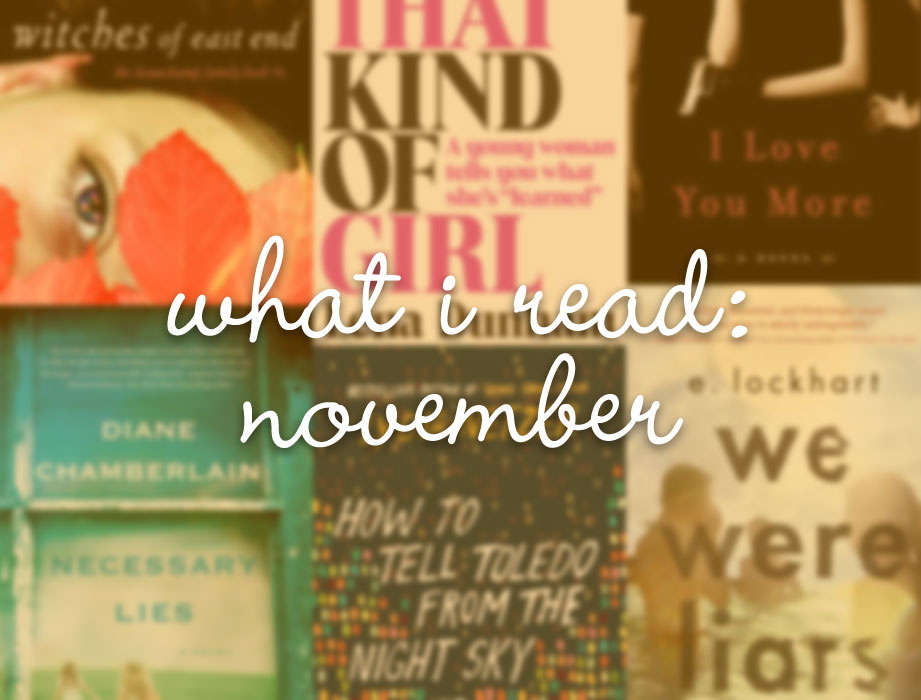 Witches of East End by Melissa de la Cruz – ★★★ – Honestly, this was pretty boring. I really loved the pilot episode of the TV  show which aired on Lifetime a few years ago, so I thought for sure I'd love the book. Meh. Not my favorite, but if you're really into the show, I'd say reading the book isn't a bad idea.
How To Tell Toledo from the Night Sky by Lydia Netzer -★★ – So I can't say this was bad, because I don't think it was necessarily, but it was just not for me. There was some really awkward sex scenes that had me feeling a little squeamish and I just wasn't really into the writing style of this one. Give it a shot if you think the plot sounds interesting, otherwise I can't say I recommend it.
c/o Netgalley
I Love You More by Jennifer Murphy – ★★★★ (3.5) – Kind of a bizarre tale, a young girl's father is murdered and her mother is the main suspect… until her father's second and third wives are discovered. Detective Kyle Kennedy is left trying to make sense of it all, while Picasso, the young girl, recounts some of her past spying on what was really going on in her father's life. I appreciated the interesting story line, though I did find some parts were a little slow.
c/o Netgalley
Not That Kind of Girl by Lena Dunham – ★★★★ – Apparently this was a controversial choice this month. If you haven't heard about this book, Lena details an "incident" as a child where she inappropriately touched her younger sister. Lots of scandal ensued, mostly around how she described the situation, regardless of her and her sister's age at the time. While personally this did make me feel a bit weird, I never had siblings so I can't say one way or the other how I feel about it. Beyond that, I enjoyed the book. I think Lena is sarcastic and is famous for  being off-beat. Love her or hate her, it's a decently entertaining read.
We Were Liars by E. Lockhart – ★★★ – While I'm sure to the right person, this book is beautifully written…. to me it was not. It just didn't float my boat and I was pleased to be done reading it. You'll see from other reviews that it's kind of a love-it-or-hate-it book. The nice thing is, it's not long, so if you don't like it, it's not the end of the world.
c/o Netgalley
The Fever by Megan Abbott – ★★★ – I suppose I read this at a good time, a thriller/horror novel around Halloween was a timely choice, though I can't say I loved this one. One reviewer described it as a lesser Mean Girls, and I can see that. Definitely a lot of high school drama to be had in this one, but I think the problem was there was no "good" or likable character.
c/o Netgalley
Necessary Lies by Diane Chamberlain – ★★★★★ – Can I just tell everyone to do yourself a favor and read this? Seriously, it was really, really good. It deals with a lot of really interesting social, political, and women's rights issues in the 60s, and I really loved the way the story was woven into it.
My Reading Updates
Total Books this month: 7
Total Books read this year: 80 / 100
Total Books read for the Reading Pile Challenge: 40 / 40 Completed in October!
Total Books read for the Semi-Charmed Winter Book Challenge: 1 / 13