Last week I shared the first few fashion shows and events I went to in September, which was basically my whirlwind month. It was fun, but I've been so happy to have my nights and weekends back!
Bellevue Fashion Week Seven Salon Illuminssence Show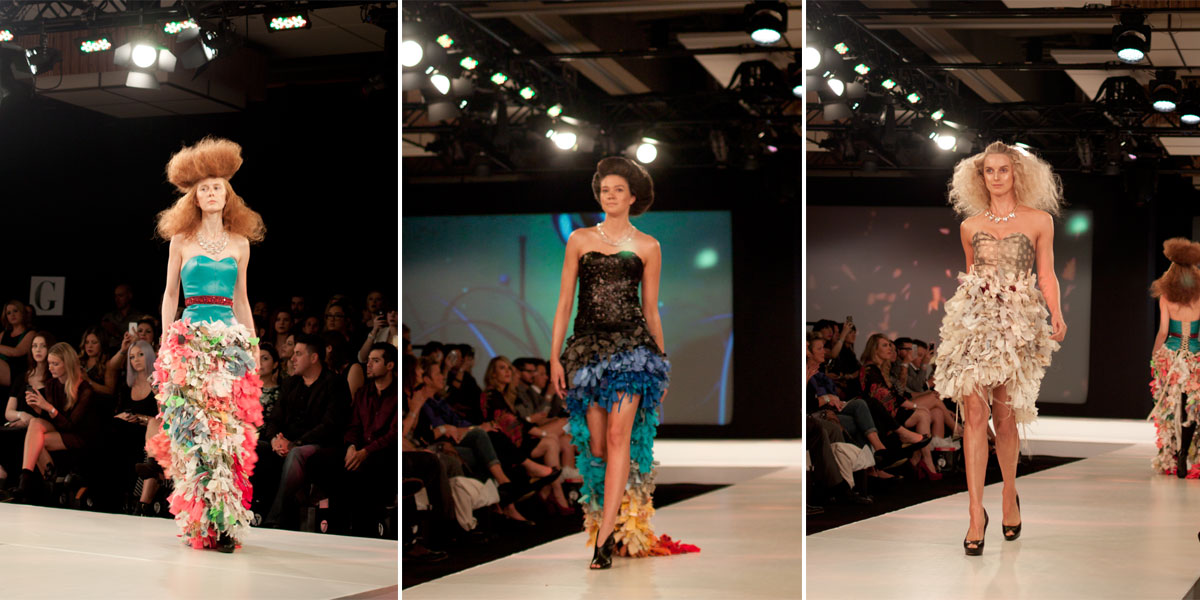 Wrapping up my fashion week experience was the Seven Salon Illuminessence Show. This show was absolutely amazing – I would say this is much more creative than any of the other shows, with intricate hair styles, unique and beautifully crafted outfits, and fast paced music.
Obviously I can't have runway-ready hair on an everyday basis, or even ever, which is why I was excited to speak with Seven the Salon's Creative Team and stylist, Jaclyn Beith about what's in this season for off-the-runway looks.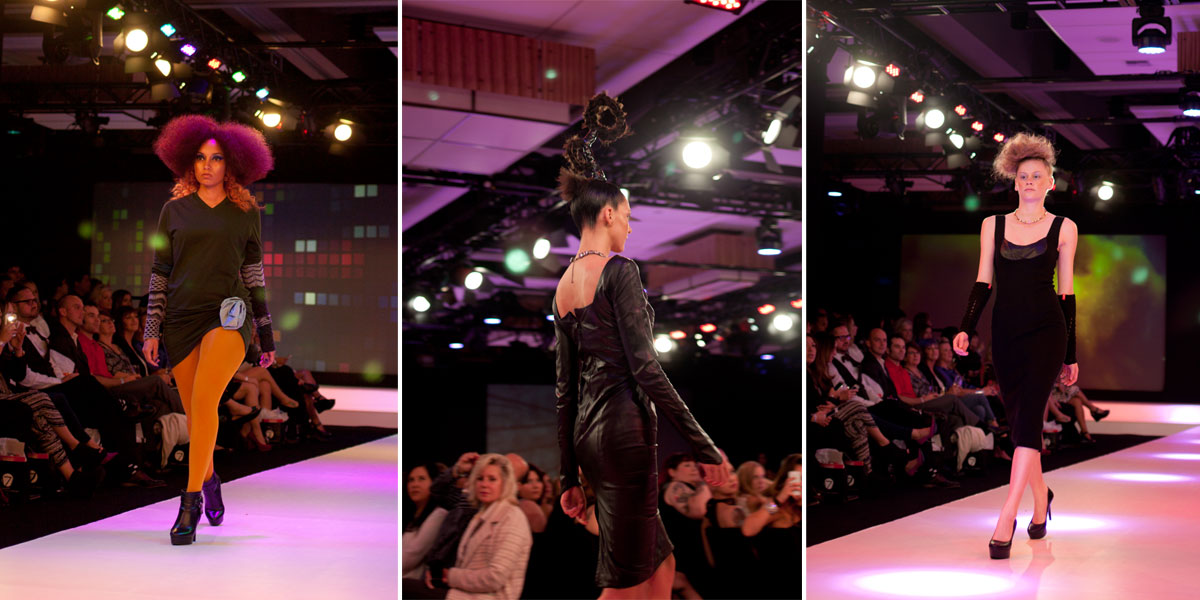 Jenn (J): What is your favorite trend to hit the runway this season?
Jaclyn, Seven the Salon Creative Team (JSS): I love a great deep side part. It doesn't matter if it's paired with a pony or if you have your hair wavy and tousled. A deep side part can glam up your look in seconds.
J: What is the best trend for the average person to try?
JSS: One of the easiest trends people can try, especially to change things up for the new season, is to play with color. For the fall, go darker or warmer with your color. Even a few shades darker (if you don't feel comfortable making a drastic change) will help freshen things up. If you decide to color your hair for the fall, one of the most important things to help keep your hair looking bright and vivid is to use the right washing agents. SEVEN luxury haircare's COLOR Shampoo and Conditioner is great for preserving hair color. This line has avocado oil, antioxidants and Chromaveil technology to reduce color fading.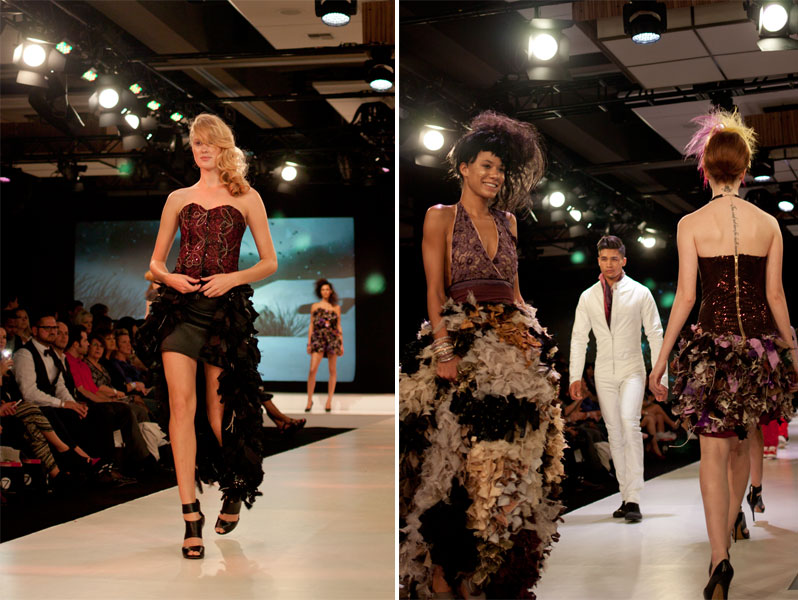 J: In terms of cut and color, what are some of the hot looks?
JSS: One of my favorite styles is the "lob." This cut has been around for a little while now – you might recall Karlie Kloss making her "lob" debut last year – but it's a style that still looks fresh. It's a great cut for someone who wants to go a bit shorter but doesn't want to make a drastic move with the more traditional bob. Add even more texture to this cut by adding layers. So chic with a chunky sweater or big cozy scarf!
In terms of color, again this style isn't super new but it's a style that I still love and that you can change-up a bit in order to keep it looking "fresh" – it's the ombré. What I'm loving for the fall is more subtle colors. This past summer, there was a lot of really drastic ombré – where the top would be dark and the ends would be super light. I think this particular look is trending out and what you're seeing for the fall is the slightly warmer tones all the way through.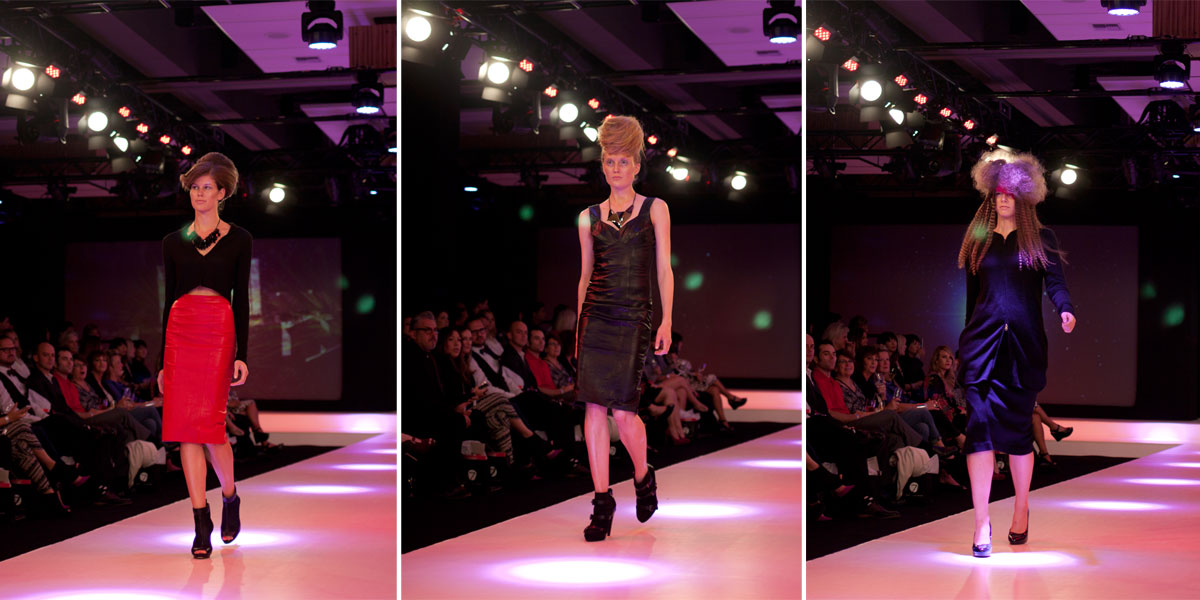 J: Which trend(s) from last season is/are on its way out?
JSS: The DIY ombré is definitely on its way out. I know I just said ombré is still a hot style – but what isn't hot is the ombré that people are doing at home with bleach. Please leave it to the professionals. Again, leaving the color a bit warmer and making it more subtle – in my opinion – is a better look for the fall. You could pull off the super bleached ends in the summer because the sun naturally bleaches your hair, but as the weather gets colder, leaving it subtle is more flattering.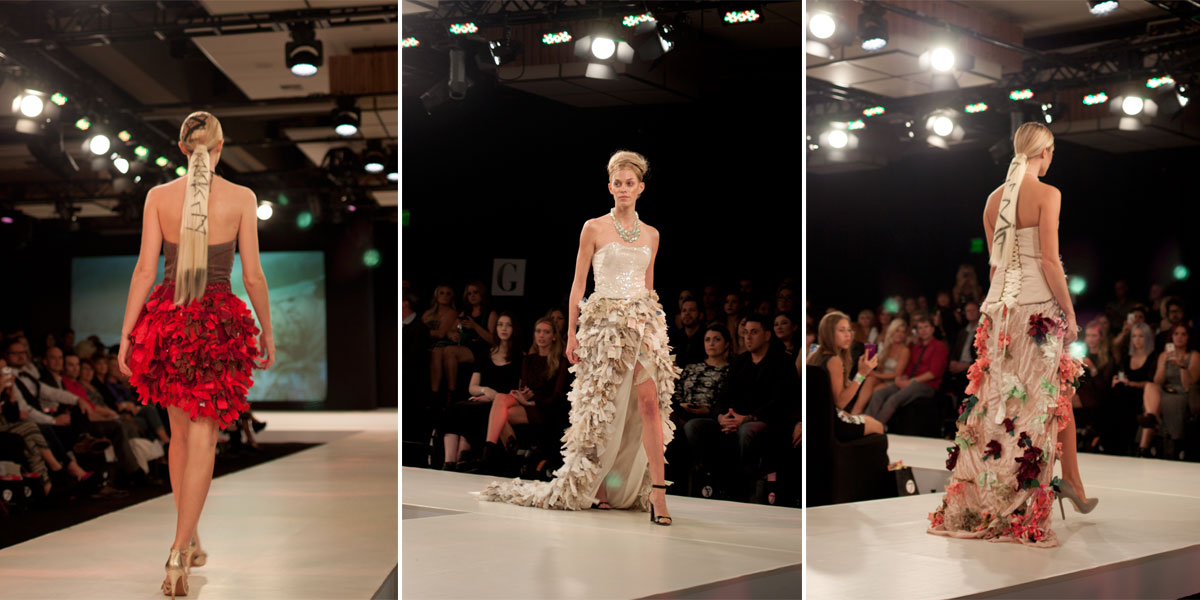 J: The top knot is one of my favorite hair styles, is there a new way to wear it this season?JSS: I'm also a big fan of the top knot. Two ways to switch it up a bit is to braid your pony and then wrap it into a bun. This will give your bun a little more visual texture. Another way to change things up is to back brush your pony so it has a messy texture and full body. Wrap the pony into a bun and you'll get the messy ballerina look.
Thanks so much to the Seven the Salon Team for the press tickets to the show, and to Jaclyn for a fabulous interview!
Demi Lovato World Tour at Comcast Arena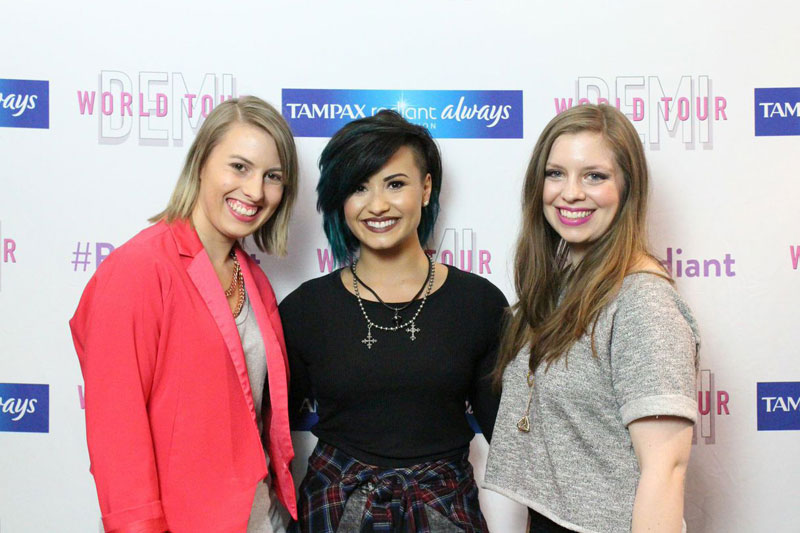 October started off with a bang at the Demi Lovato World tour, sponsored by Tampax. I was so excited to be contacted by Tampax on behalf of the #BeRadiant campaign. Demi's tour is celebrating #BeRadiant, and is all about feeling good about yourself, your body, and wearing whatever makes you feel your best. Love that positivity, and I hope the young girls who look up to her are able to get that message! I can remember being that age and feeling a lot of self-doubt. It's really awesome to see so many celebrities openly talking about their struggles and self doubts. No one is exempt.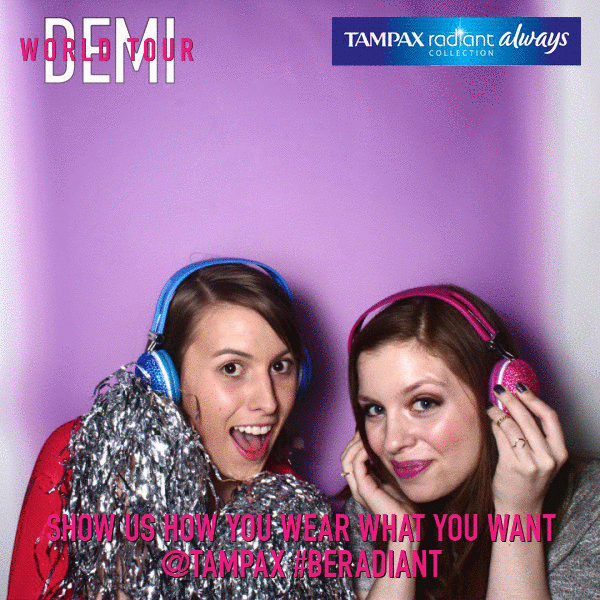 Neither Sarah nor I had been a part of a "VIP" experience at a concert before, so the whole thing was a little foreign to us. I wish I could say the pre-show experience was amazing, but thanks to the rude personnel at the Comcast Arena, they made the Tampax team's job kind of a nightmare. We arrived a few minutes late and they almost didn't let us in to the meet and greet. We finally were let in, and the meet and greet was a "hurry up and wait" kind of ordeal, and we met Demi for about 30 seconds, had a photo snapped, and said "Hi, bye!" I'm sure she's very nice, but obviously they had a lot of greeting to do and on a limited time schedule. No biggie.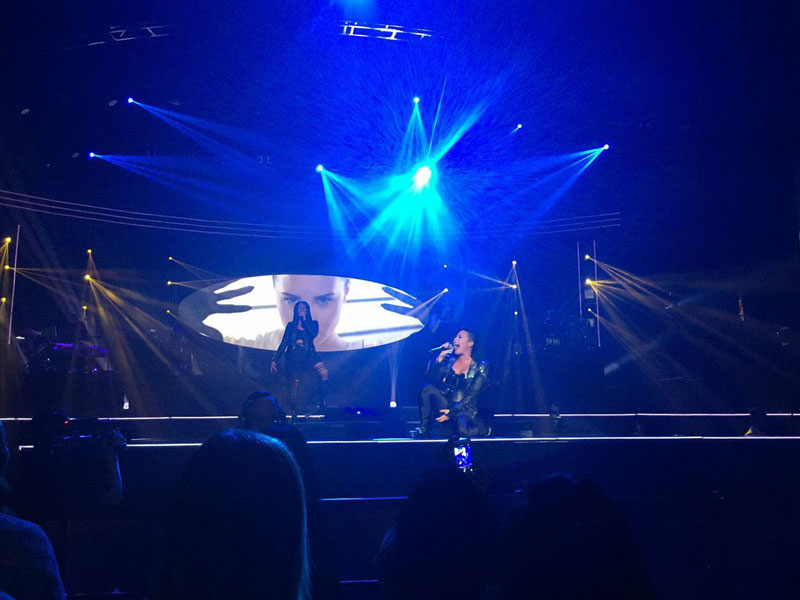 Once we were done, we met the rest of the Tampax team, took some selfies, and got to see some of Demi's outfits. We had time to grab a bite to eat, so Sarah and I trekked around the arena looking for the best bet. A "grill" on the 3rd floor sounded good, but when we finally got upstairs it was actually a buffet. Then the rude Comcast personnel struck again, and we were trapped on the third floor and not allowed back down. I gotta say, the security there is a bit confused about life and made it really hard to spend our hard-earned dollars on their food.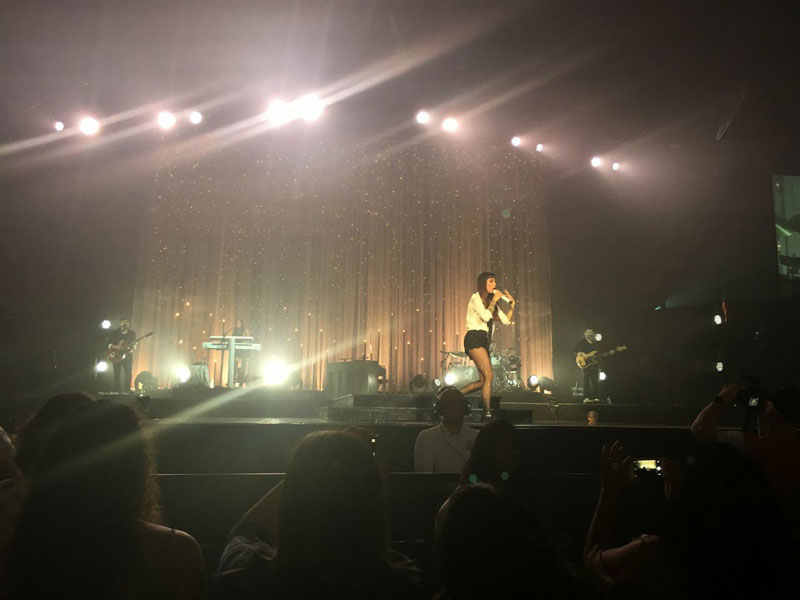 Luckily, they finally let us back downstairs, we got our food, and we made it down to the floor to find our seats. The show was a lot of fun, very high energy, and very loud from the um, interesting, pre-teen fans behind us. Opening for Demi was MKTO and Christina Perri. I really enjoyed Christina Perri, and of course MKTO's Classic is a good one. My personal favorite of the night was Demi's "Let It Go" because, Frozen, duh.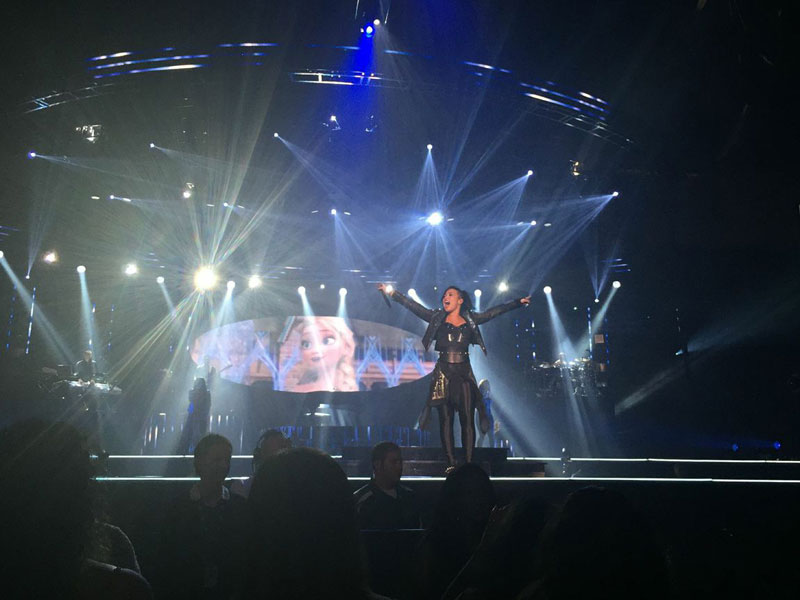 All in all, it was a fun experience, and the craziness we ran into just made for a silly story. No harm, no foul, right? It's been a wild month, and I love blogging even more for introducing me to some things I probably would have never done before!
What have you done recently that was a little out of your comfort zone?