Affiliate Links // I pay for this subscription.
I can't believe we're already into March! February always flies by, but even with the extra day, it still felt extra short. But, with another new month comes another Stitch Fix! I'm sure you know the drill by now, but if you're new to my blog or Stitch Fix, it's a clothing styling service that you can set up to receive monthly, or at your leisure. You are charged $20 as a styling fee that you can put towards anything you keep from your Fix. You can plan to receive five items – typically four clothing items and one accessory (jewelry or bags, typically) though I have seen people receive shoes!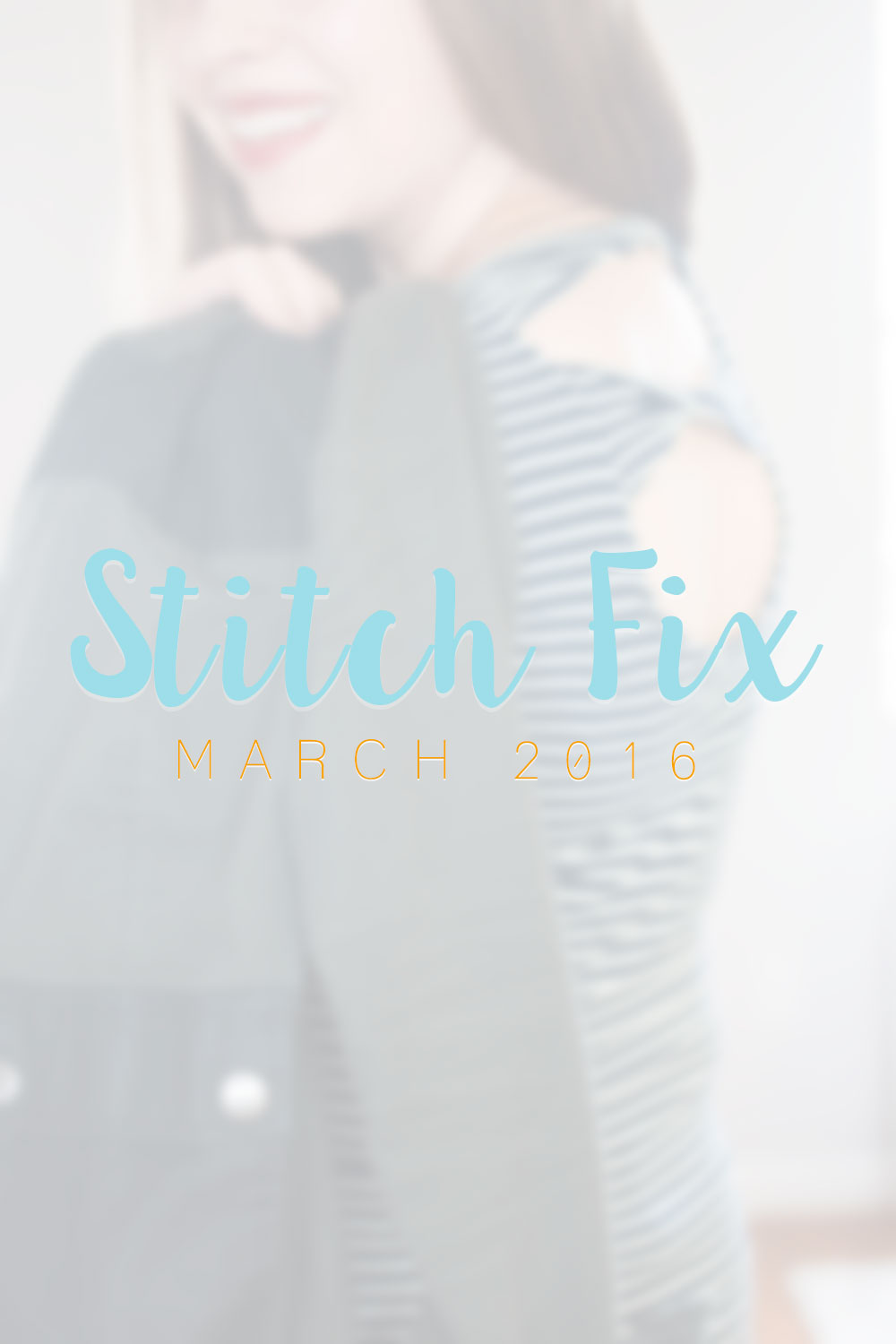 Stitch Fix March 2016 Review & Styling
I'm always excited to receive my monthly Fix, and I loved the dress I kept from February's Fix last month. Obviously, I couldn't wait to bust into my box either! I forgot to leave my stylist a note. However, I think even despite the lack of information she did an excellent job at picking out some transitional spring options!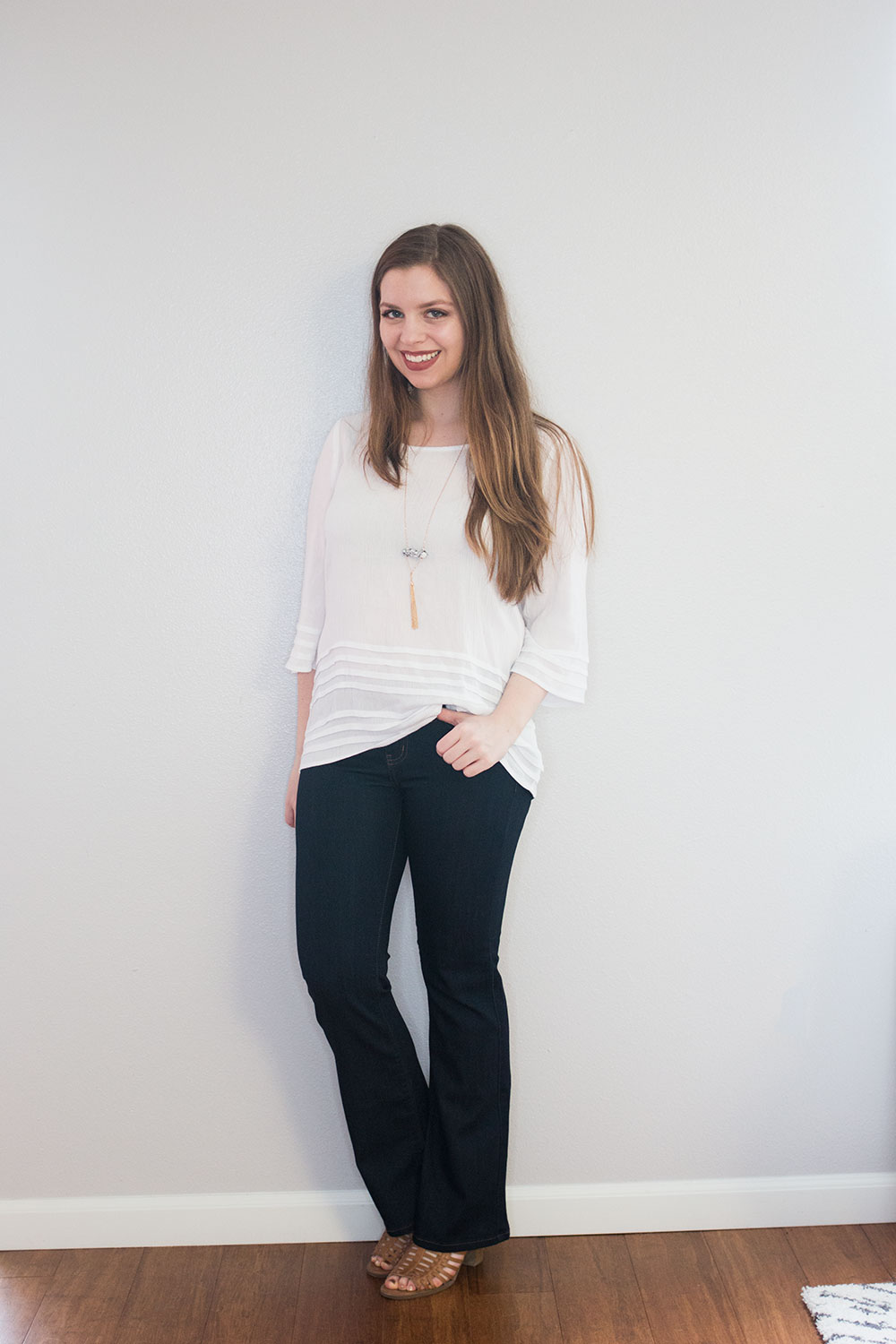 Market & Spruce Levant Tiered Ruffle Top in White, Size Small $64 – Returned
Just Black Dolce Bootcut Jean, size 4P, $78 – Returned
My stylist, Lucy, sent me this top and jeans to wear together for a bohemian feel. I definitely can see that, though I have to be honest, and say that I wasn't feeling the jeans. The material was very comfortable, but bootcut isn't my favorite cut (I prefer a flare, which tapers starting at the knee and then down the leg) and the rise was a bit awkward. Not quite a mid rise, but not a low rise either. They also were just a bit too short to skim the ground in my favorite cage heel sandals. You may remember these made the rotations quite a few times last summer, and I think they'll be back again this spring.
The top was beautiful, however as much as I love white, I rarely wear it. I have a couple of white tops in my closet that don't get very much love. I think I need to give those some more attention this spring before I add anything else to my closet, particularly at the $64 price point.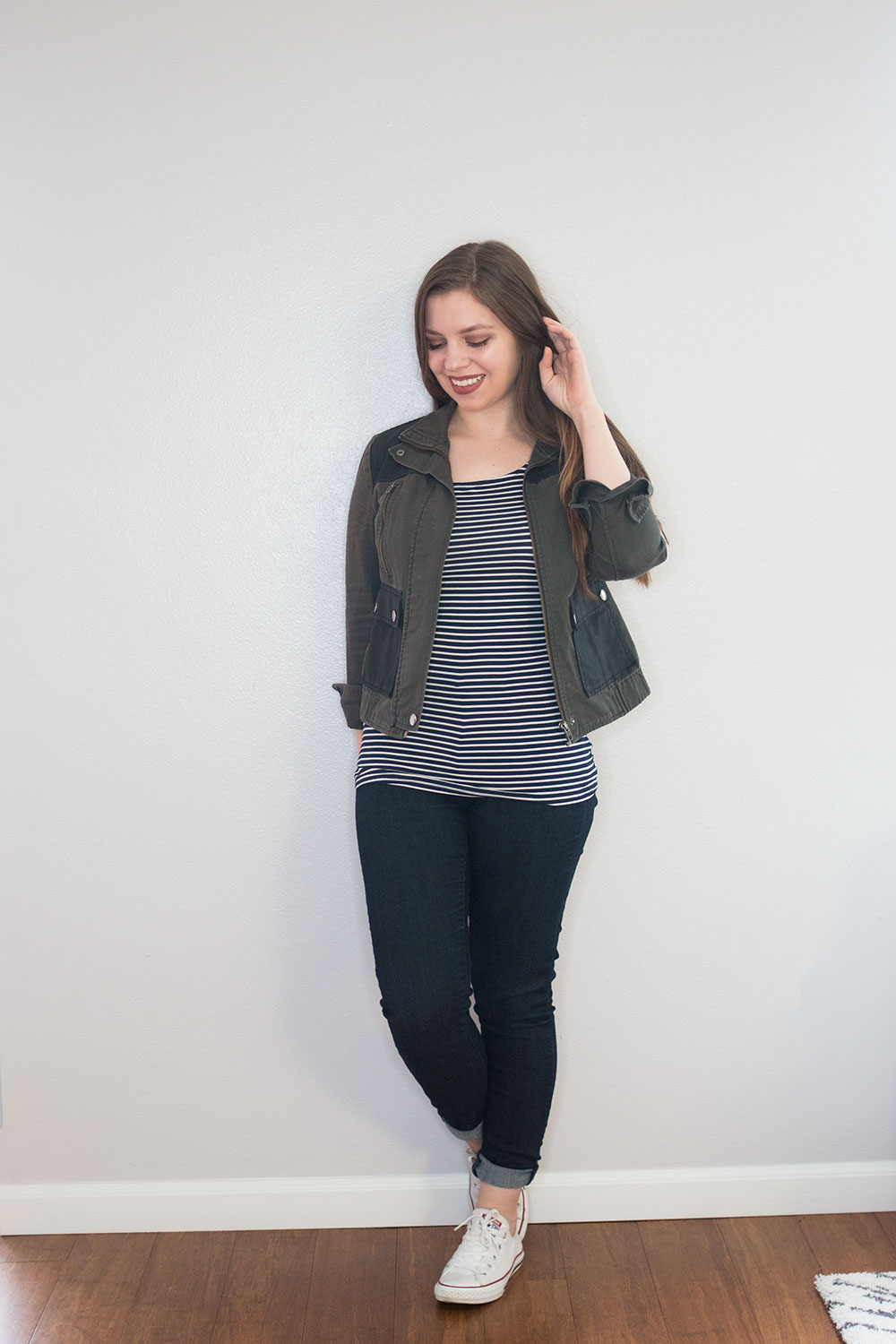 Market & Spruce Abberley Cut Out Detail Knit Top in Navy/White Stripe, Size Small, $48 – Returned
I love striped tops. However, this one missed the mark for me. It's super cute in theory, but I don't like fitted knit tops. I prefer a straight or loose cut on t-shirts, and this one showed every lump and bump, from both myself and the finishes of the jeans. ;) The back detail was adorable but unfortunately not enough to make me want to keep this top.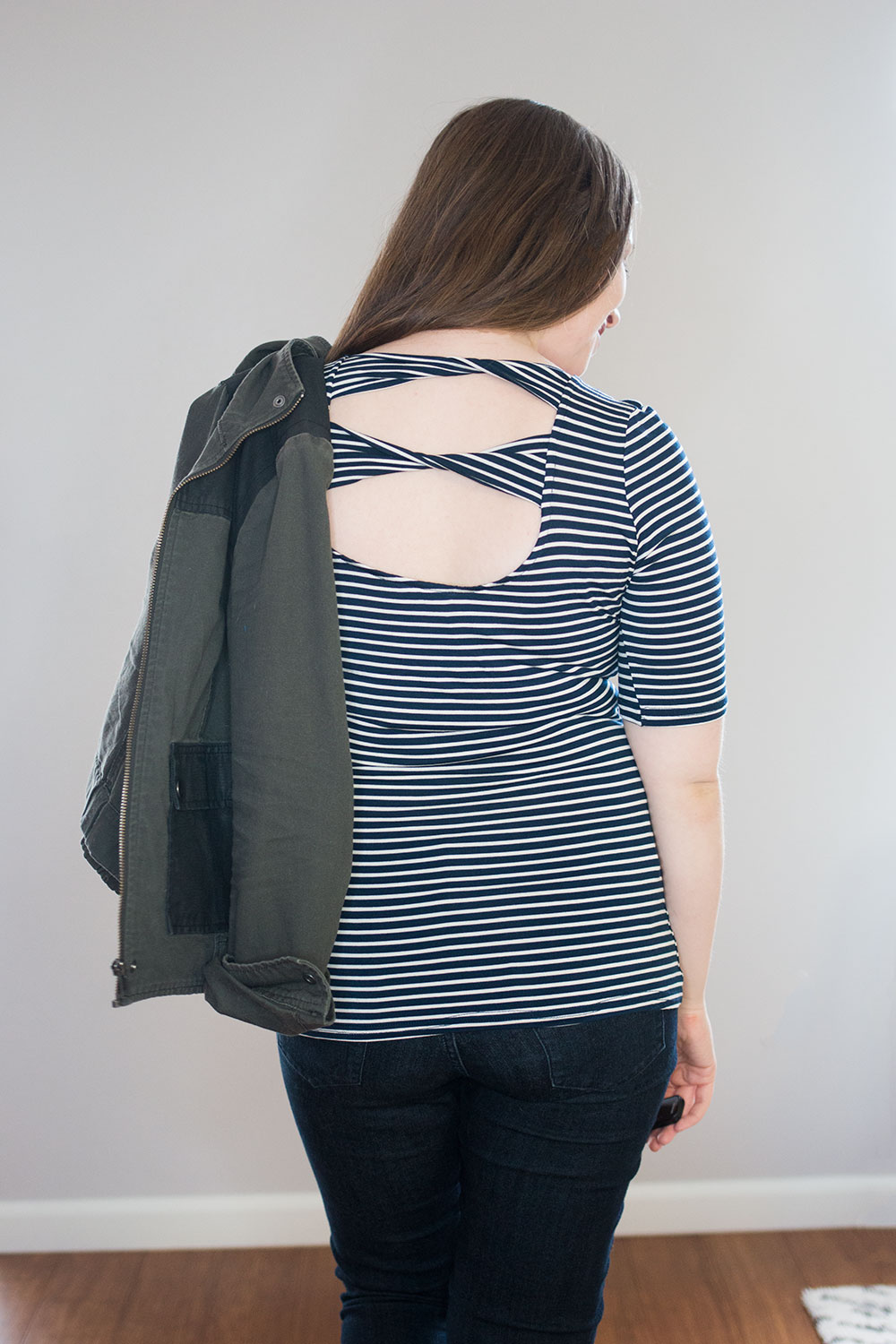 I often wear striped tops with my cargo jacket. Something about the olive green and stripes feels like a natural outfit. I kept with the casual vibe with this outfit and paired it with my Articles of Society skinny jeans and white Converse Low Tops. I'll definitely be recreating this outfit with a striped top I already own!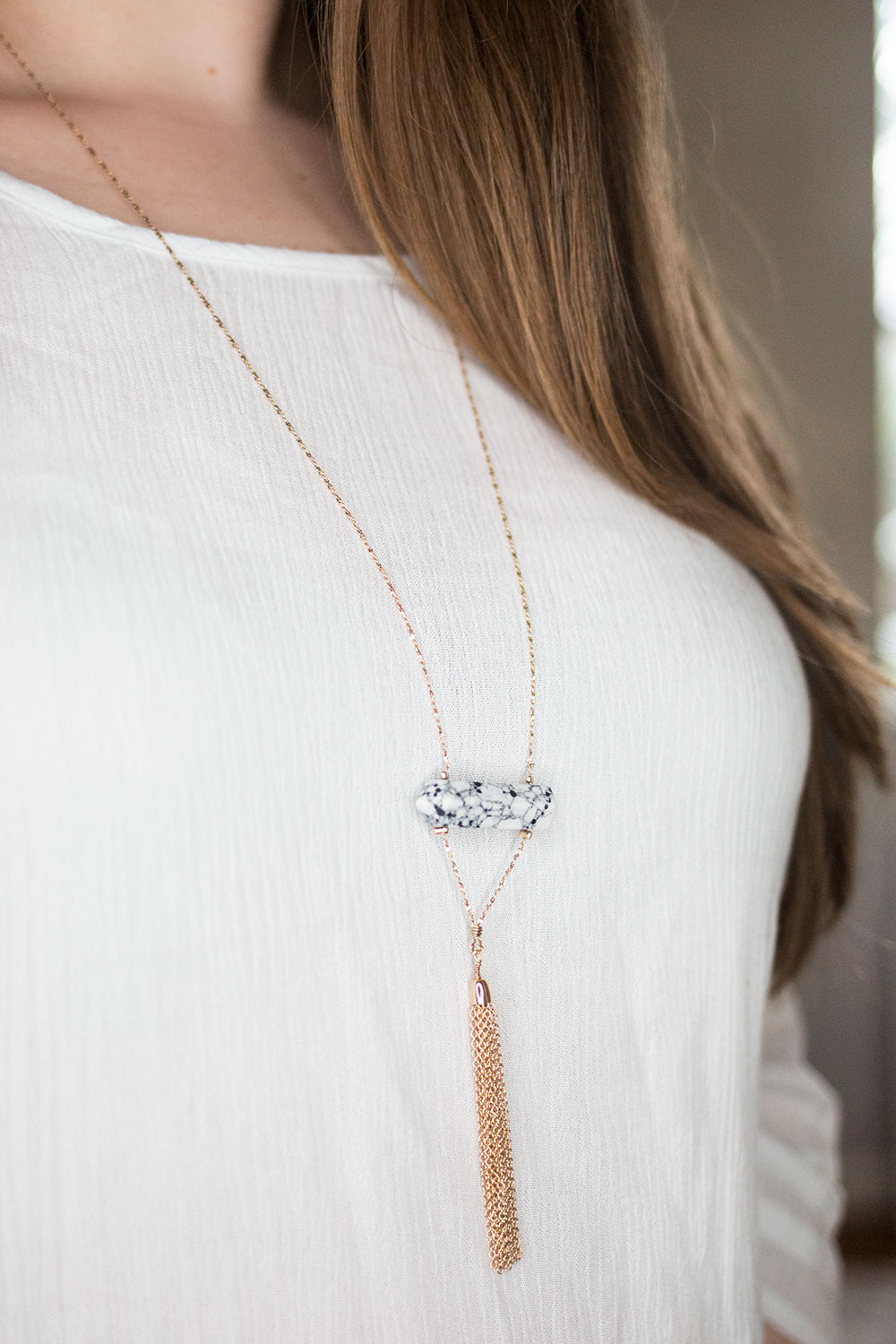 Romolo Isaac Marble Stone Tassel Pendant Necklace in White, $28 – Kept
When I opened this package, I was so excited to try this on! It's been awhile since I've received any jewelry from Stitch Fix and Lucy totally nailed my style on this one. I love the versatile colors in the stone pendant, and since most of my bags have gold hardware, I find myself wearing gold jewelry the most. Is it weird to match the hardware of my bags to my jewelry? If it's wrong, then I'm okay with not being right. ;)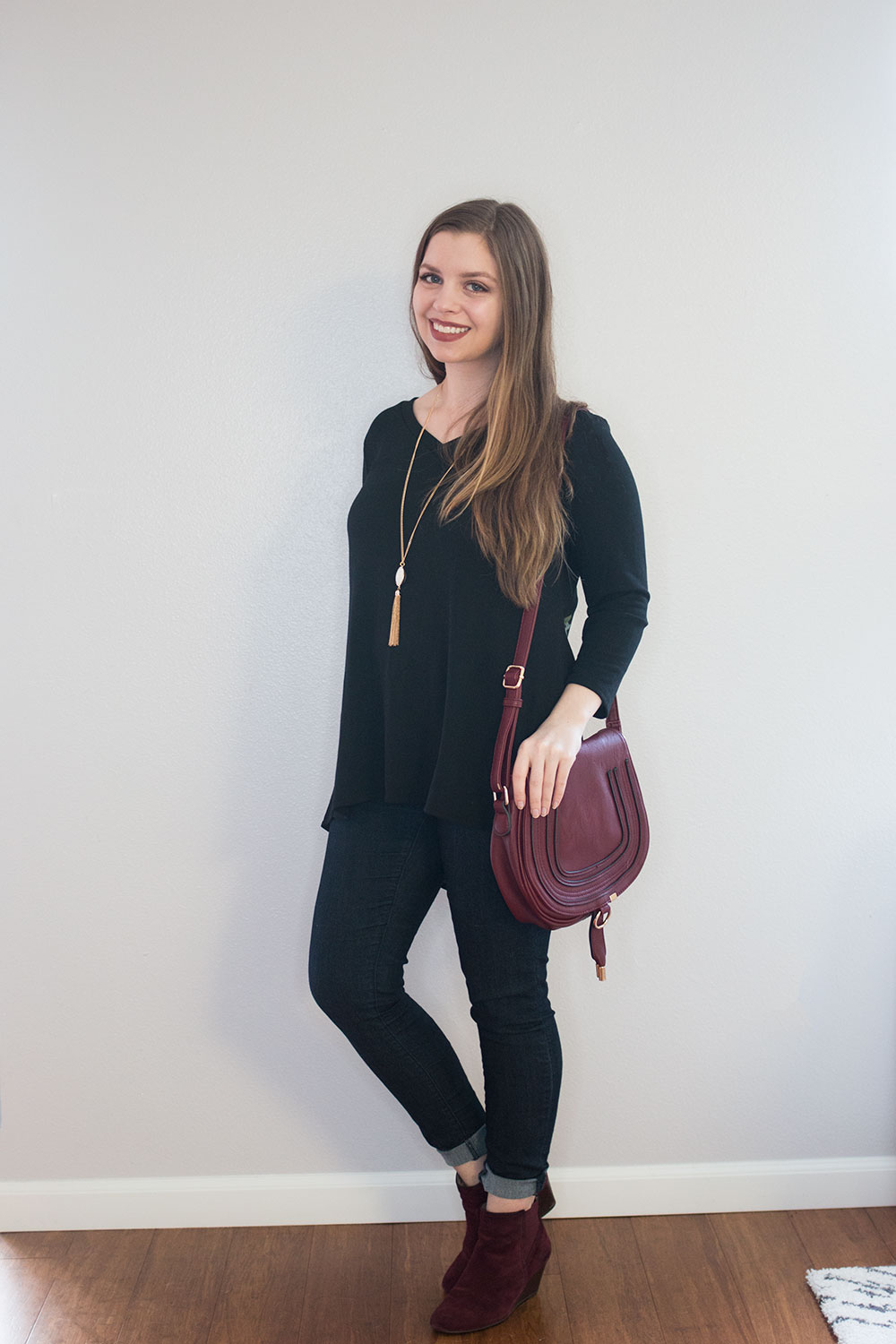 Le Lis Alante 3/4 Woven Back Knit Top in Black, Size Small, $54 – Returned (shop similar style)
When I first pulled this out of the box, I was a bit confused. The rest of this fix was so spring-y that a black knit top didn't seem very exciting. Then I realized there was more to this top – the pop of floral on the back!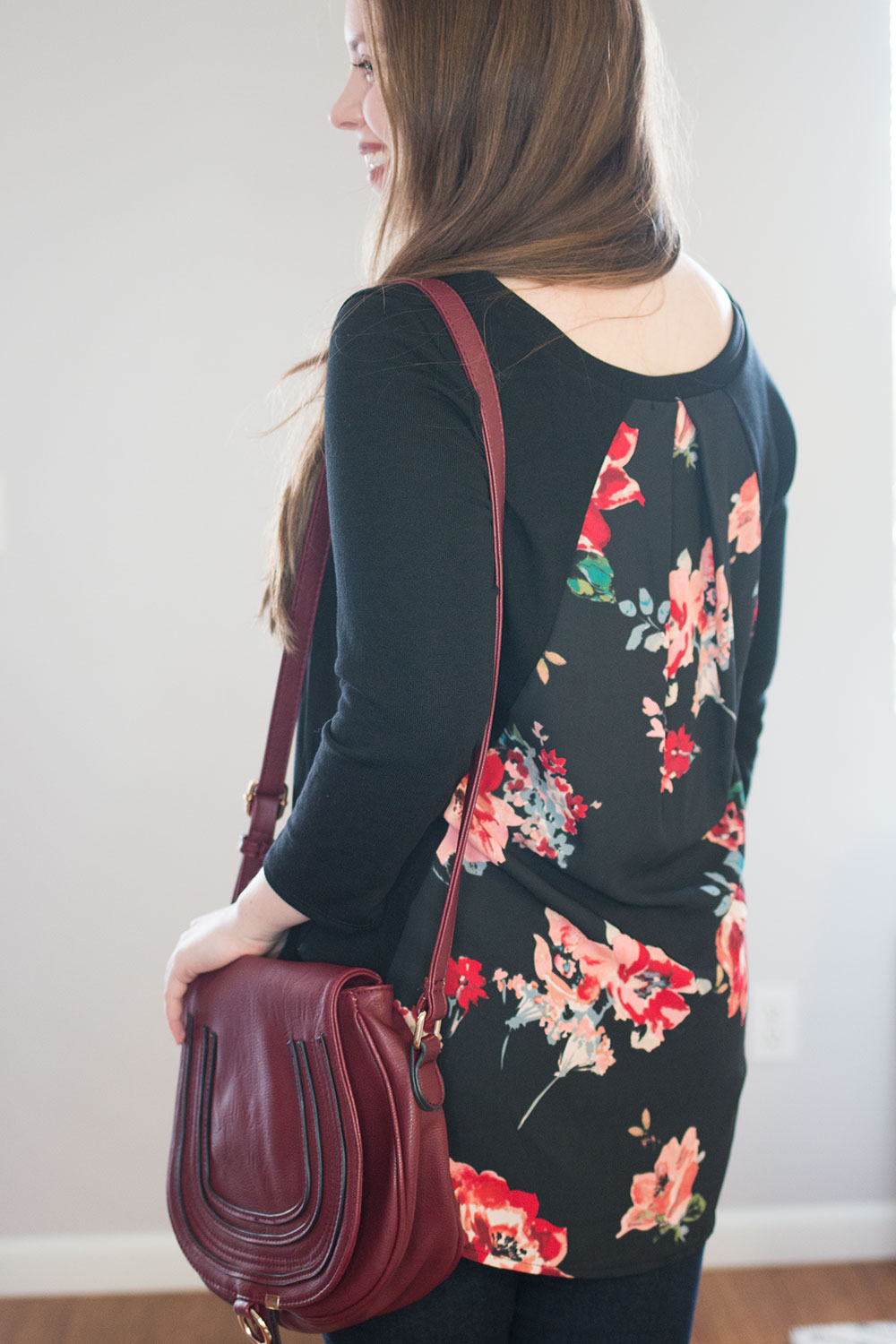 I paired this with my tried and true Articles of Society skinny jeans, and the burgundy, pink and red tones made me want to grab my burgundy saddle bag (shop similar) and wedge booties (shop similar). Since the front of the top is pretty simple, I added a tassel necklace I picked up at Forever 21 (shop similar) last summer. Overall I was pleased with this top and the outfit I created with it, but I just wasn't totally in love, so I opted to send it back.
And that's a wrap for my March Stitch Fix! Overall I enjoyed trying some new styles – I think Lucy did a great job getting my style. However, I'm a self-admitted picky shopper so sometimes things don't work out 100% for me. With that said, if you're looking to get out of your comfort zone, don't have time to shop, or just want someone to pick things out for you for fun, Stitch Fix is a great option.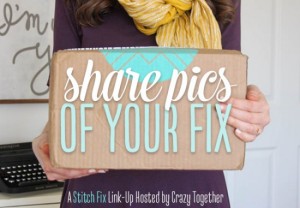 Have you received a Stitch Fix lately? What did you think of the pieces I received this month? I'd love to hear your thoughts in the comments!