Product Sample: OrganicGirl provided greens to participate in their Green Beauty Challenge. We've been buying OrganicGirl Greens for years so I can truly recommend them. :)
I took a different approach this year when it came to setting New Year's Resolutions. Instead of picking goals and things I would do, I chose to determine things that I was going to stop doing. While I haven't 100% stopped doing those five things completely, I have learned a lot about myself, how I work best, and the ways in which I am motivated to complete tasks.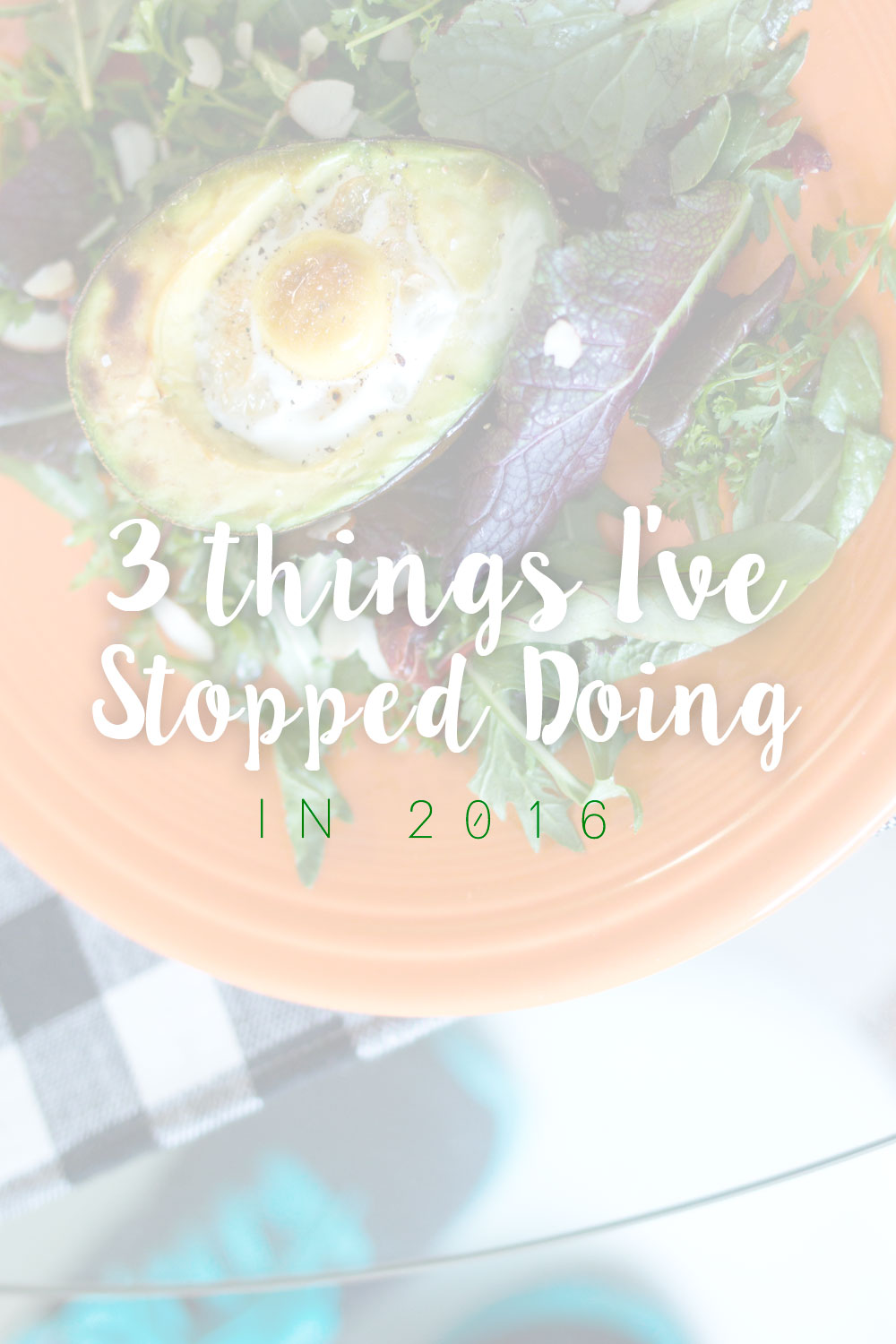 Now that we're into the third month of the year, the sun is back out, and it feels like spring is nearly here, it feels like enough time has passed to reflect on those thoughts. While I may not have 100% stuck to my anti-resolutions, I've identified three things that I feel like I have been able to stop doing this year.
1. Making myself feel guilty
Living a balanced life is hard. I find myself often feeling like something has to give between work, blogging, and personal commitments. I can't even begin to imagine how those with children do it all.
Dave and I joined the gym at the end of December and had been attempting to keep to a schedule which has thrown our weeknight routines for a loop. What that means for us is some nights, we get take out. Some nights, we eat breakfast for dinner. Some nights, we just eat a salad. And some nights, well, we just skip the gym.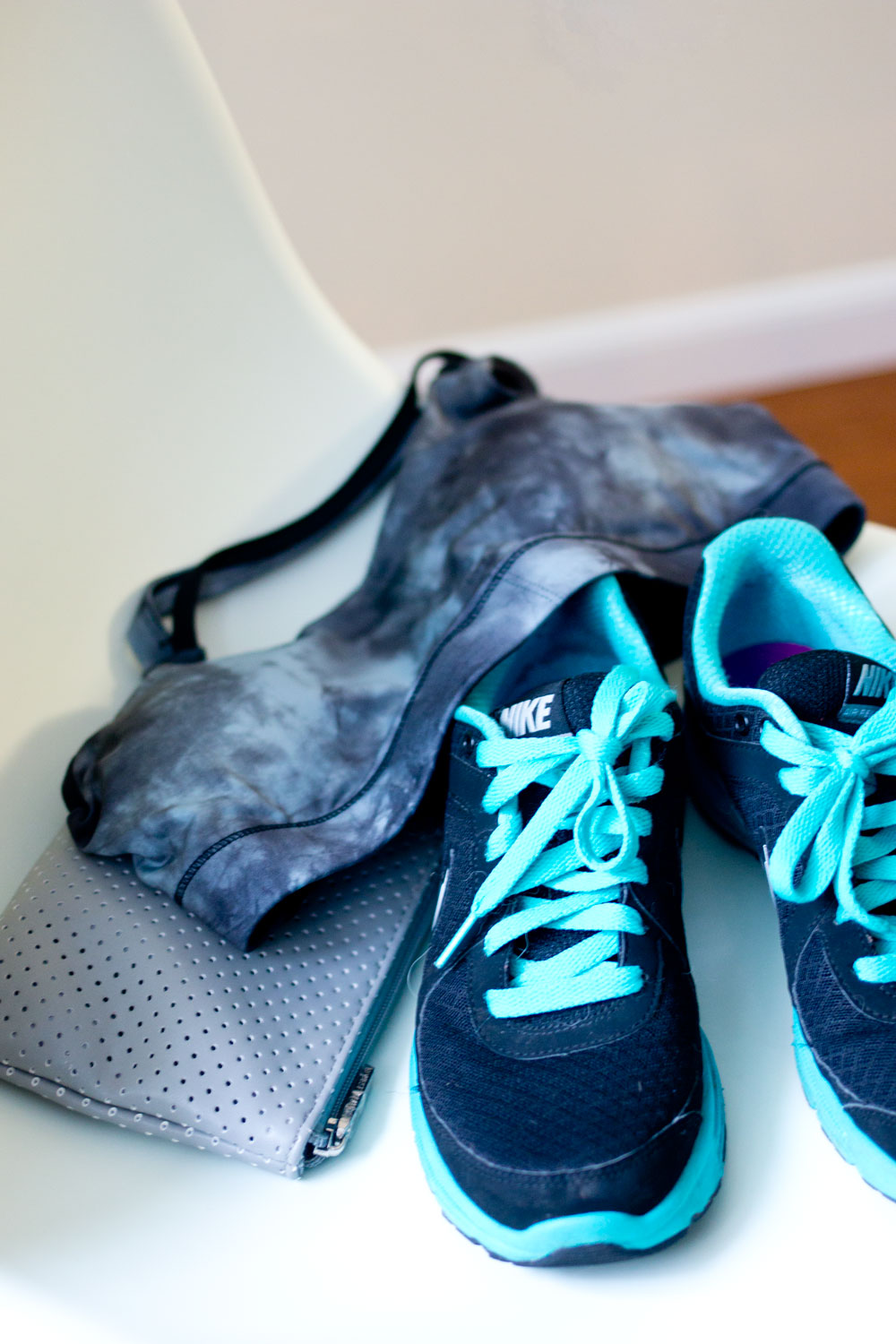 We only have 24 hours in the day, and there's only so much you can do. I used to feel guilty when we'd get take out because I didn't have time to cook, but I realized that I shouldn't feel sorry that I can't always do it. I also used to feel bad if I didn't blog every weekday because I knew others who cranked out posts like nobody's business. I found that when I cut down on how often I was posting, I was able to spend time on trying new things like posting more videos to my YouTube channel, getting more done around the house, and well, actually going to bed at a reasonable hour. Making the effort is what counts – not how many blog posts you publish or the amount of home cooked meals you make every week.
2. Set small goals and reward yourself as you complete them
Setting goals and rewarding ourselves has been the #1 motivator for getting us to the gym. Dave and I both love food (a little too much, probably, but that's another topic for another day) so every week that we hit our time goal at the gym; we get to pick a splurge-worthy meal out.
That means during the week; we eat at home. Lately, we've had additional commitments after work that means our time is even shorter, so I've been preparing quick dishes like pasta or thin crust pizzas and a big salad made with organicgirl greens. The great thing about organicgirl greens is that they've been washed three times already and are ready to be eaten immediately. There's nothing worse than finding creepy crawlies in your produce, or having to waste time salad spinning to get them dry!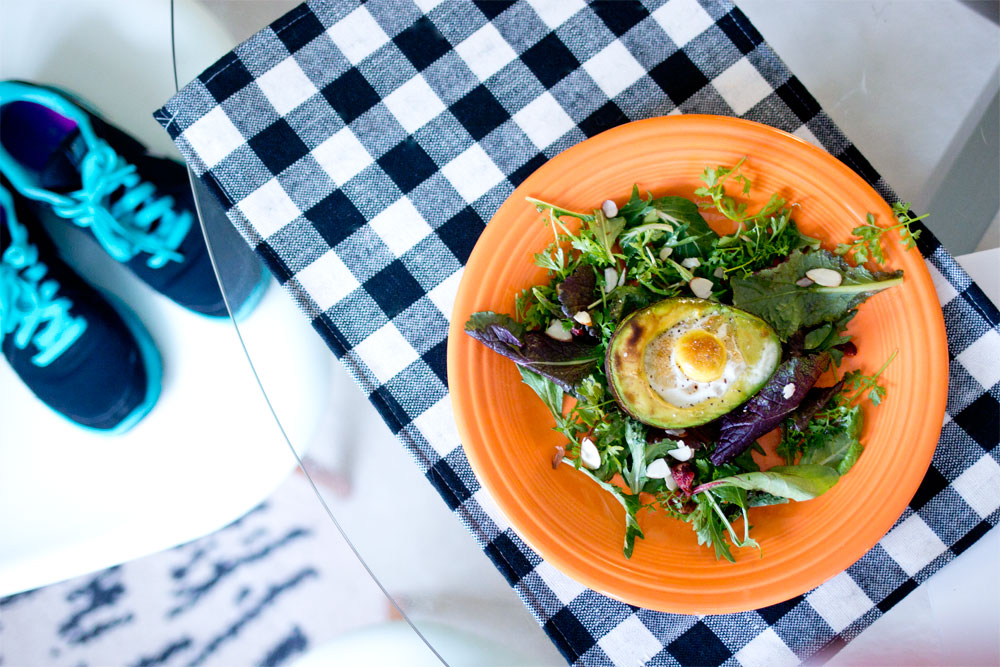 I've been doing my best to incorporate more greens into our breakfasts, like using spinach in smoothies, or as the main entree, like my favorite dish lately. It's comprised of organicgirl PEPPERGREENS, organicgirl Pomegranate Balsamic Dressing, sliced almonds, and dried cranberries, then topped with an avocado baked egg. The spicyness of the greens contrasts the creaminess of the avocado and egg, and the dried cranberries add some sweetness. A little crunch from the greens and almonds and you've got a nice well-rounded breakfast or lunch! It's also great to make when I work from home because it means that I won't feel the urge to snack as often. ;)
Besides helping meet my goals of eating healthy, I look and feel better too. We all have heard that dark leafy greens are great for preventing inflammation, multiple types of cancers and diseases like Heart and Diabetes, but did you know it also is good for your skin? I have dry, dull skin most of the year, and I've already noticed a difference in its luminosity after only a few tweaks to our dinner and breakfast plates. My friends at organicgirl want you to be able to look and feel better too by incorporating more greens into your diet, so they've offered one month's worth of greens to one lucky winner! Enter below if you'd be interested in getting a little salad lovin'. Must live in the US to be able to redeem coupons, giveaway ends on March 14, 2016, at midnight EST.
a Rafflecopter giveaway

To cut my cravings for sweets, we've tried to incorporate more fresh fruit into our meals too. Bananas are excellent after workouts (and can also help prevent muscle soreness too!). When the sweet cravings really get to me, I've started combining bananas, oats, chocolate chips, cinnamon, and a pinch of sea salt, then baking in the oven on 350 for about 15 minutes to make a healthy alternative to a cookie! (Though let's be real, I still want some Girl Scout cookies every so often…)
3. Avoiding temptation
When I wrote my anti-resolutions post, I was concerned that I would have a hard time not overbuying. Honestly, I think I've been doing a lot better and the biggest way I've made a change is by avoiding temptation. I used to watch a ton of haul videos on YouTube, and I've done my best to skip the ones that I think might make me want to buy things. I've also cleaned out my closet recently and realizing how many things I have that didn't or don't get worn often was eye-opening. Now when I go shopping, I'm even more critical of my purchases. If I'm not planning an outfit to wear with it as soon as it walks in the door, I return it. If I'm not 100% in love with it, like some of the pieces I receive in my Stitch Fixes or pick up in designer collaborations, I return them.
When it comes to beauty products, I've been working on dropping my subscription services (see why I canceled my Birchbox here) in favor of using up what I already own. Now instead of buying the latest and greatest palettes and products online as they launch, I've been forcing myself to try them out in store, then add them to my wishlist, and if I still want them after about a month or so, I'll allow myself to purchase it.
Food is another place of temptation. Because I enjoy it so much, I do let myself splurge every so often (a naughty Starbucks breakfast and lunch out here and there isn't going to kill me) and find that if I allow myself the splurges, I won't feel like I'm missing out. That was the hardest part every time I've ever attempted a diet – FOMO.
Now if only I could get my chocolate cravings to vanish… ;)
What are some resolutions or anti-resolutions you've stuck to this year? What areas are you working on improving? How do you balance health, wellness, and fun?