Affiliate Links / Product Samples
If last week's softer pink hued makeup and pop of red wasn't for you, how about it's edgier, grayer cousin? I will say, this can easily be glammed up with a red lip, and I promise you won't get any judgement from me. (In fact, I may or may not have worn a red lip with this to my holiday brunch. I'll never tell.) But this makeup look makes a statement all its own.
I've had the Urban Decay Naked Smoky Palette since it came out but hadn't been feeling much like doing a cool toned smoky look until recently. Maybe now that the weather is getting chilly and it feels like winter is truly upon us that is cause for me embracing the cooler hues. Not to say I don't love the palette (I really do, actually! It's full of a ton of great matte and shimmer shades that I've really enjoyed working with. The one glitter shade, Armor, I could live without though.), it just hasn't been getting much love as of late.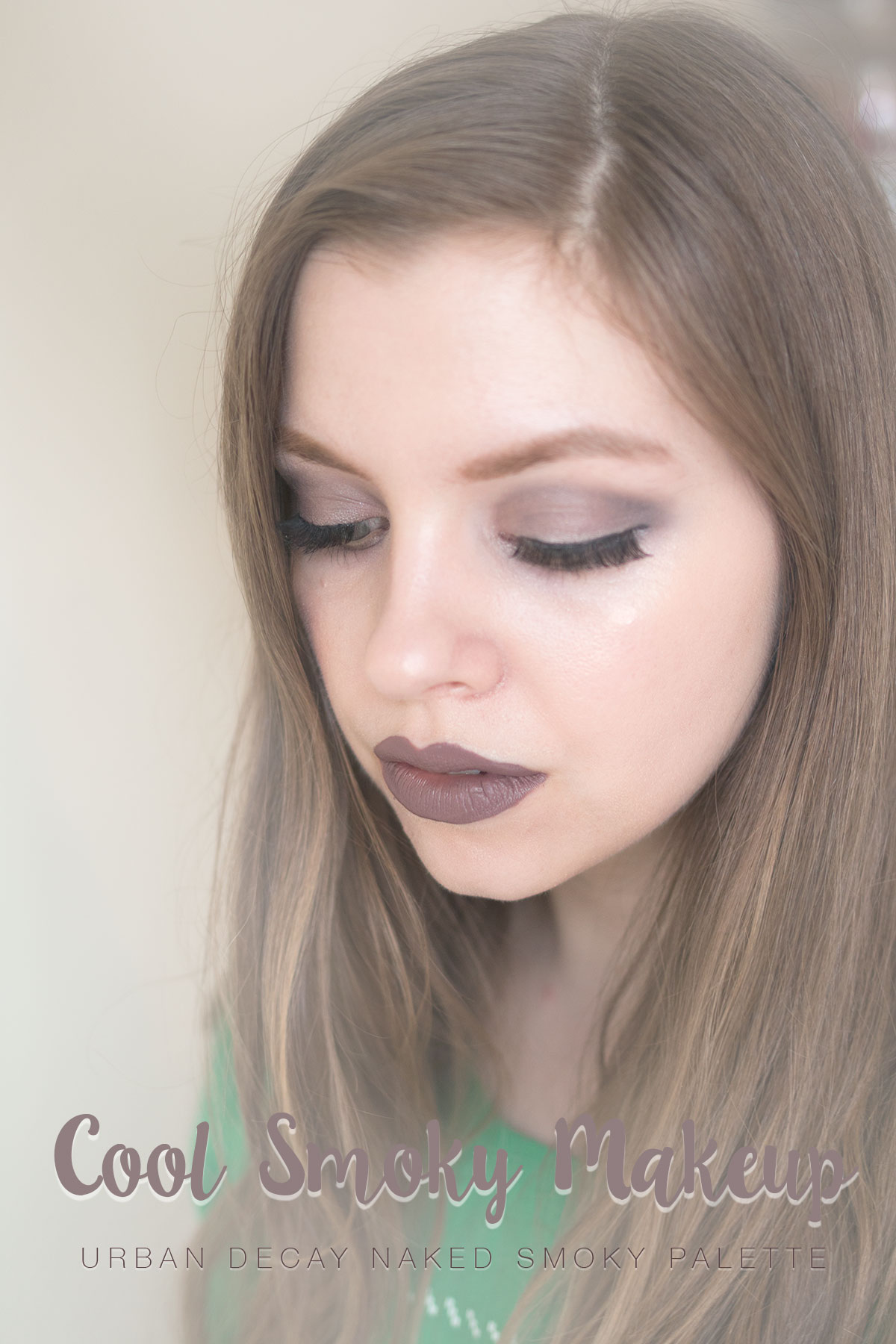 But, no more. Below I'm sharing my Naked Smoky Tutorial of how I got this cool toned look AND I'm giving one Urban Decay Naked Smoky Palette away so you can create this look too! I'll also be throwing in a LeSportSac Makeup Bag & some other goodies to go with your new palette. All the details at the bottom.
Cool Toned Smoky Makeup with the Urban Decay Naked Smoky Palette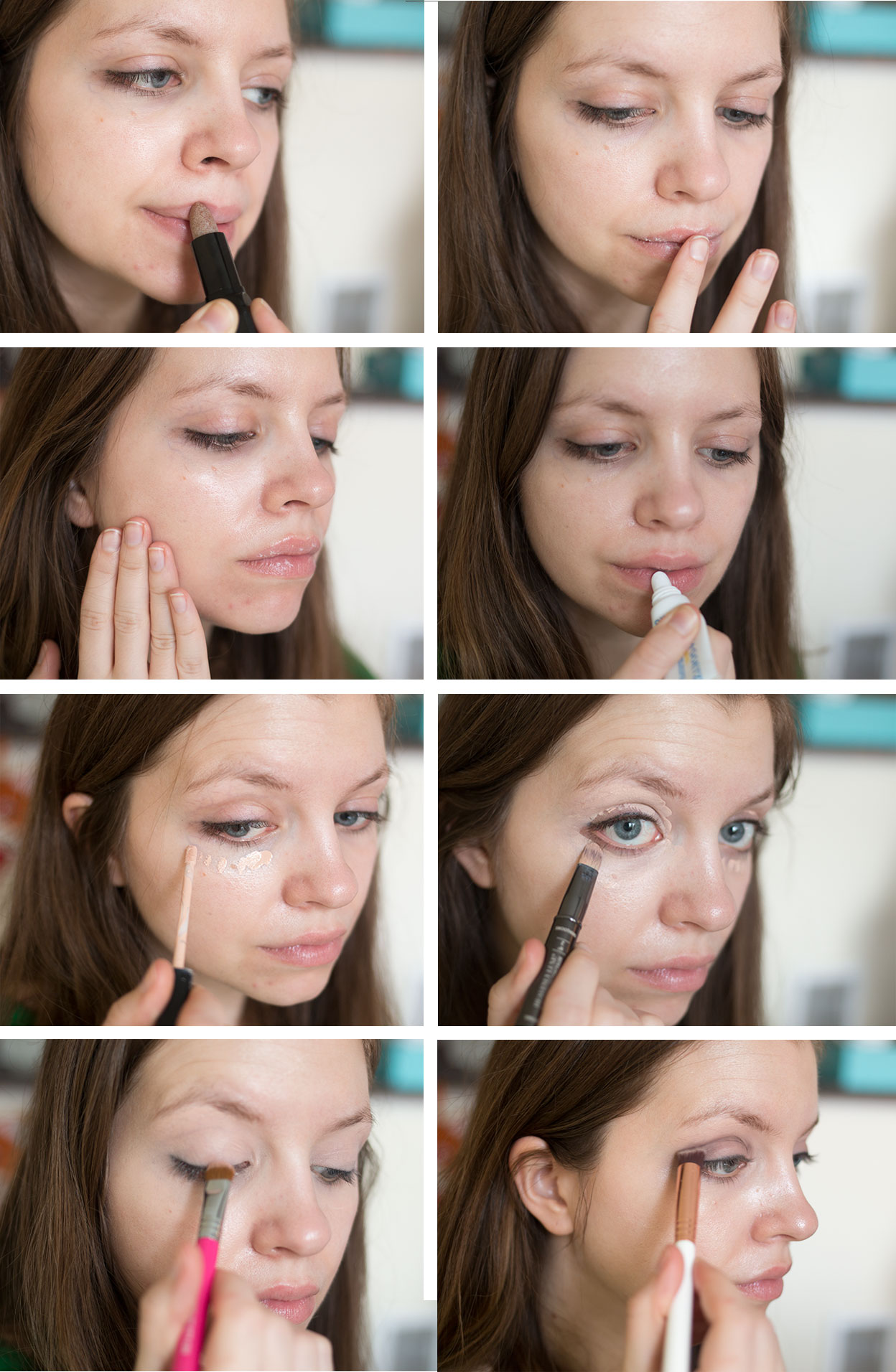 1. I'm starting off this tutorial by exfoliating my lips. This is important for me this time of year because my lips are incredibly dry and peeling, and I'm going to be wearing a matte lipstick. First I used the exfoliating balm from ELF Cosmetics to get off flakes.
2. Next, I'm applying a Lip Mask from Kaplan MD to chemically exfoliate and remove more dead skin. I'm leaving this on for 2-3 minutes while I start my makeup.
3. While I'm waiting for my lip mask to work its magic, I'm applying Burberry Beauty Fresh Glow in No. 1 Nude Radiance to my skin. I picked up the full size (AKA total splurge!) at the Nordstrom Beauty Trend Show because I just love how it makes my skin feel and look. It ends up taking the place of 3 products – moisturizer, primer, and luminizer.
4. At this point it's probably time to blot the lip mask off, wipe away any additional dead skin, and then apply a hydrating lip balm. I'm using MALIN + GOETZ Mojito Lip Balm which I discovered through my Ipsy Bag a few month ago and subsequently fell in love with.
5. Next up, it's time to hide those dark under eyes. I haven't been getting much sleep lately (the struggle is real) so I'm dotting a little more of my Maybelline Fit Me! Concealer than usual to brighten up the area.
6. Then, with my double-sided IT Cosmetics! Dual Ended Airbrush Concealer Brush (so good!), I'm blending it out and buffing it in to the under eye and lid area. I'm using my concealer as my eye primer today because… well, because I can! Feel free to apply an eye primer instead.
7. Now it's time to bring out the big guns: the Naked Smoky Palette. With my Sigma E55 Brush, I'm blending Combust all over the lid. I think I missed a photo here, but with the same brush, I picked up a little Password to use as a transition shade in the crease.
8. With the flat end of my Sigma 3DHD Precision Brush, I'm blending Dagger into the crease and to the outer corner of the eye.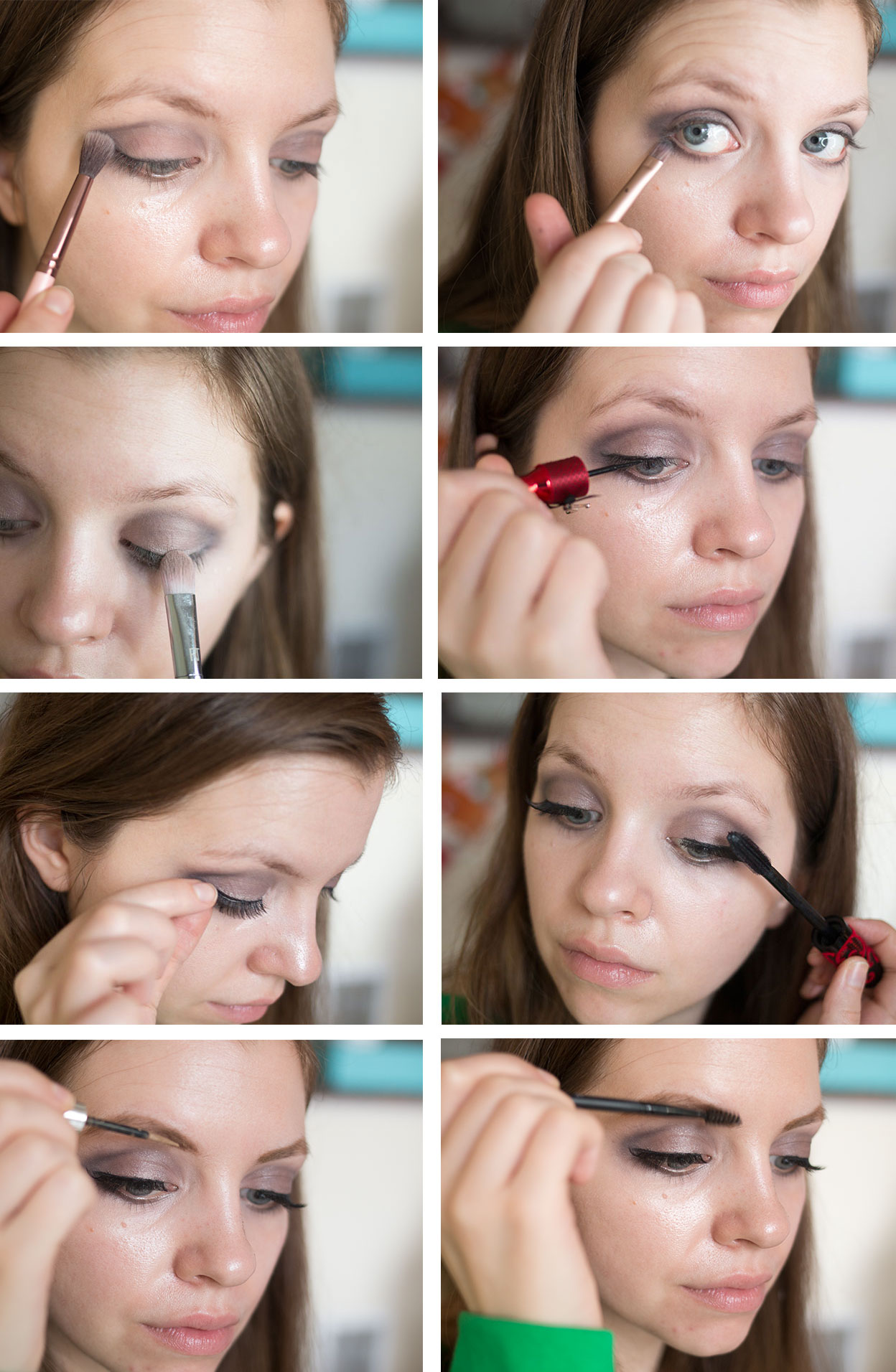 9. With a fluffy blending brush, blend Dagger into the crease area.
10. With a flat shader brush, pat a small amount of Black Market into the outer corner then drag along the lower lash line. Then, blend out with your fluffy blending brush.
11. I wanted to add a little shimmer, so I first patted Armor onto the lid. I ended up with glitter everywhere except my lid, so scrapped that and then patted High across the lid with my Real Techniques Oval Shadow Brush, focusing close to the lash line and in the center of the lid.
12. Now it's time to get your liner on! Today I'm trying out this new one from Physician's Formula called Sexy Booster Cat Eye Collection Liquid Eyeliner. I'm actually really digging it – the brush tip applicator usually isn't my favorite because I find them too flimsy, but this one is firmer so it's much more precise. It'll need more testing when it comes to staying power, but so far I'm digging it.
13. Now that the liner is on and dried, it's time to get your falsies on. Feel free to skip this step if you're going for a more subtle look, but I wanted to bring the dramaz. I'm using Noir Lash Lounge Lashes in Foreign A-Flares. Be sure to enter my giveaway with them for an $85 gift certificate!
14. I know, I know, this is getting a little long. But I promise all of these steps are worth it! I'm using Physician's Formula Sexy Booster Cat Eye Collection Va Va Volume Mascara, another new product, to blend my real lashes with the falsies. The wand on this mascara is ginormous, so it definitely picks up every single lash. While my first impression is that it's not my holy grail, it isn't terrible either. So far I'm liking it, but am not convinced it will dethrone my holy grail mascaras.
15. Now that the eyes are good to go, it's time to fill in those brows. I've been testing out Pur Cosmetics' latest brow product called Browder. To me, it's a little messier than I prefer, however it does seem to give my brows a nice natural look and the product does stay put once it's there. Luckily the fall out from the product has been easy to wipe off and has yet to cause a smeary mess on my face. The product also doesn't have a spoolie of any kind, so I'm using my double-sided brow brush/spoolie from ELF Cosmetics to blend the product it.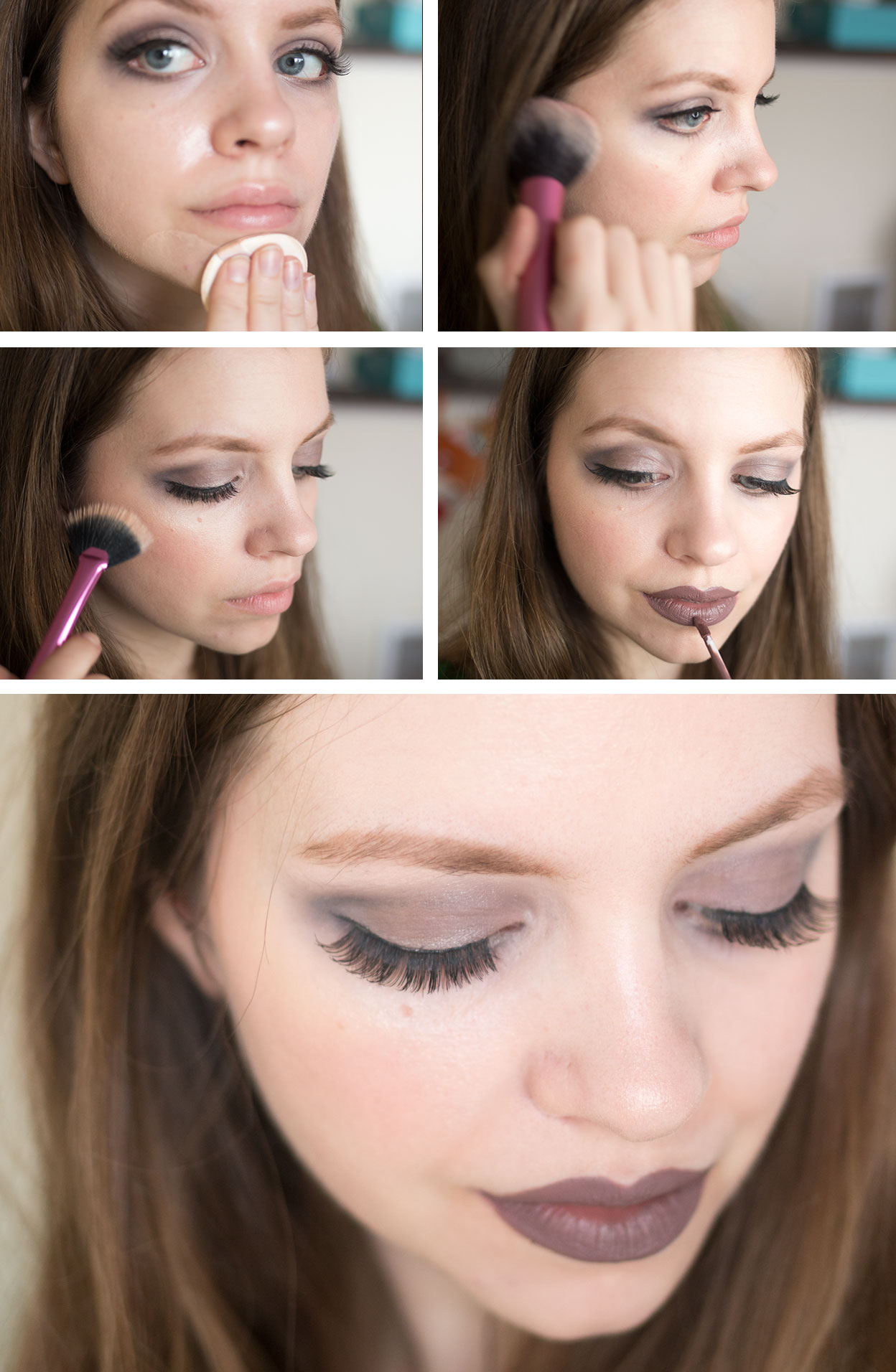 16. In the home stretch now: it's foundation time! I'm using the new L'Oreal True Match Lumi Cushion and it's amazing. I never thought I'd love a drugstore foundation so much, but I haven't stopped using this since I cracked the package open about a month ago. It's really, really good guys. Buildable, blendable, doesn't make me break out or bring out any dry patches. In fact, it was the first foundation in a while to make my skin look dewy instead of like the Sahara.
17. Next I'm grabbing my favorite blush from Tarte Cosmetics, Prim, and sweeping it across my cheeks using my Real Techniques Blush Brush. You can win a deluxe size of this blush (plus more goodies from Tarte) in my giveaway on Facebook page right now too!
18. My look wouldn't be complete without a little shimmer, and today I'm using theBalm's Mary-Lou Minizer and my Real Techniques Fan Brush to run it across the tops of my cheek bones, down the bridge of my nose, to the tip of my nose, and to my cupid's bow.
19. And with that, we come to the end! For the last step, I'm applying Colour Pop's Ultra Matte Liquid Lipstick in Kapow.
And now, it's your turn to create this smoky look by winning your own Urban Decay Naked Smoky Palette and some other goodies! Open worldwide through 12/31.
a Rafflecopter giveaway

Which shade(s) are you digging in the Urban Decay Naked Smoky Palette? What types of makeup looks would you create with it? I'd love to hear about it in the comments! :)