I know that I just wrote a post about saying yes more often… but along with that comes the important skill of knowing when to say no too. When it comes to blogging, I say no a lot more often than I say yes. I've found, over time, that it's easy to get overbooked, overcommit, and overdo it. About the worse thing you can do is overcommit and find yourself so emotionally spent that you don't have the energy to write the post you committed to. I've found myself there a few times – mostly when the deadline is self-imposed, but regardless it sucks.
And don't get me wrong. I overcommit all the time still. I have a full-time job. I blog at night. And even those nights are limited because I'm usually attending an event after work and/or on the weekends. Luckily, I love all of it, otherwise I wouldn't even be writing this post.
SO! If you're a new blogger, I'm going to be real with you: sometimes blogging is hard. You may want to say yes to everything because it sounds new and fun and exciting… but sometimes saying no is the right choice. And if you're not new, well then I'm probably preaching to the choir. Here are the times I've learned to say no when it comes to blogging opportunities.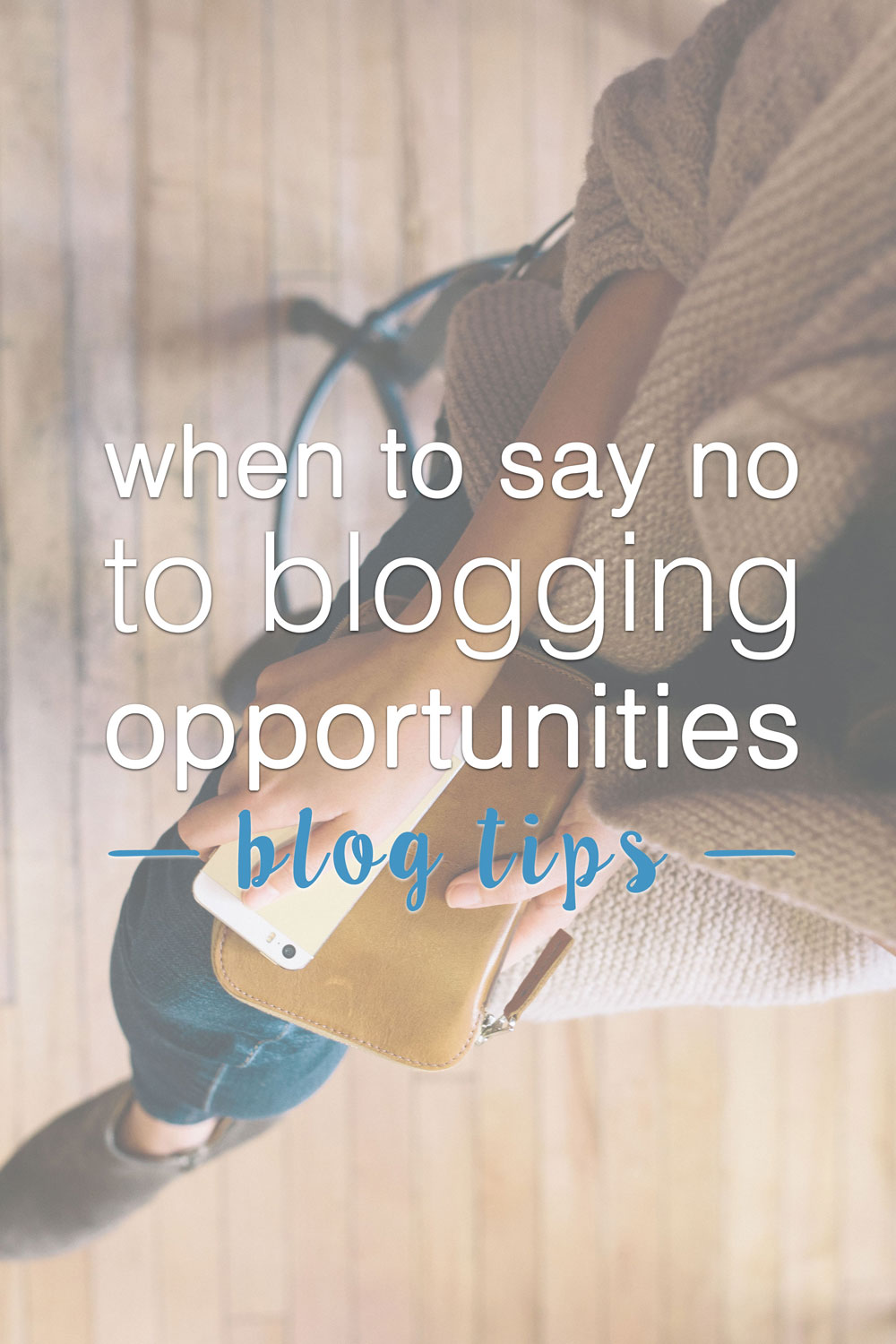 When to Say No To Blogging Opportunities
1. When it doesn't align with your core values
There are many things that I believe passionately in that I'd love to help promote. There are other things that I don't believe in at all. For instance, you'd never seeing me tout the benefits of just any old dog food because I honestly don't feel comfortable feeding it to Rigby. Just because it's for dogs doesn't mean it should be fed.
2. When you can't commit to the terms and/or don't want to
I haven't had this happen too frequently, but some brands are pushy and expect you to guarantee them new followers, subscribers, purchases, or clicks to their website. If you're not comfortable with the terms, don't do it. Bloggers are not direct sales people.
3. When something feels off
Every once in a while I'll get a really strangely worded email that will make me wonder. Googling the brand name plus the term "blog" or "blogger" or the niche they are targeting will sometimes bring up results. If the blogs that are also promoting the company don't align with mine, I generally will pass.
4. When you've never heard of the company
I'm all about introducing new brands to the world, but if you haven't heard of the company, tried the Googling from above, and can't find them anywhere on the web, I'd say pass. Sometimes being a guinea pig isn't all it's cracked up to be.
5. When it sounds even remotely spammy
If they aren't spelling your name correctly or using language that doesn't remotely make sense, move along. Save yourself the trouble; this is probably just a spammy inquiry.
6. When you don't think you're going to like the product or service
I'm all about saying yes to trying new products and services. BUT, if it's something that isn't something you'd normally use, or you think there's a chance you may not like it based on other reviews, I say skip it. Sharing negative reviews with a brand is all sorts of awkward, and why promote something on your blog that is a bummer? Unless you've been burned and want to share that experience, I say leave the negative reviews for Amazon and the like.
7. When you have no need for the product or service, or can't think of an organic way to incorporate it into a post or review
As much as I love trying new products and reviewing them, I find that a review post about a single product doesn't go over too well. I still write one every once in a while, but usually I try to incorporate them into a list or in another creative way.  And if it's something you've never used before and have never considering purchasing yourself, you may want to skip it. Just because it's free doesn't mean you need to try it.
8. When they're asking for too much information
I'm not crazy about brands who ask for a lot of information or have a lot of requirements. Once upon a time, a brand tried to get all of the email addresses of those who entered a giveaway I ran for them, and they had never asked for permission beforehand or for this to be one of the giveaway entry options. Be very careful of the information that you disclose not only about yourself, but also about your readers.
9. When they don't provide you with a product or service to review, yet that is their business
I refuse to write about brands that won't provide a product or service to try. (And here's how I respond to those types of brand email inquiries) It makes absolutely no sense to promote something for a brand that you don't have any personal experience with. Unless you're doing a favor for a friend or someone who's trying to get their business off the ground, I say pass.
Obviously these are not steadfast rules – there's always exceptions and be open to them! But, as a blogger, your readers trust you at face value and if you break that trust you can do a lot more damage. Is it really worth a potential free product or a little bit of cash? If it's not, say no and move along. I promise more opportunities will come knocking.
When do you say no to opportunities? What are some lessons you've learned from working with brands, businesses, or other bloggers?