As bloggers, we've all received these. Sometimes 5 a day, sometimes none. You know what I'm talking about… the infamous, ambiguous brand email inquiry.
I remember the first email from a brand I got. I was so excited until I got to the bottom of the email, and there was still no mention of compensation. Not a free product sample, no gift card, and definitely no cash. You mean they want me to go out and buy, write about, photograph, and sell my readers their product for free? Of course I said no.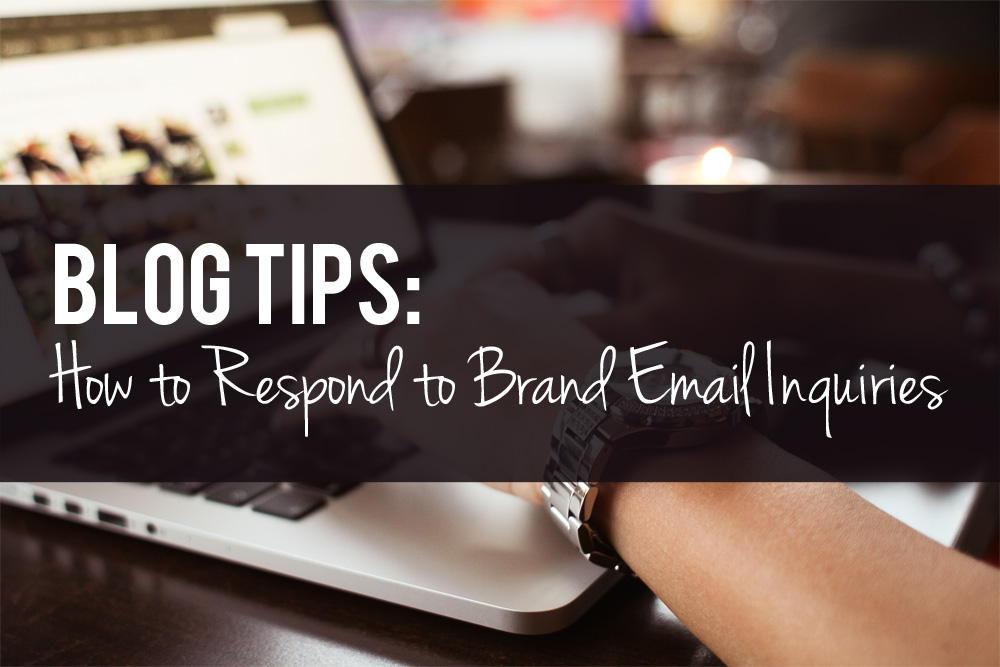 You know I post about brands all the time. I share what's in my beauty bag, what my skincare routine is, and my outfits contain clothing from many different brands. Most of the time, these brands have no idea who I am. Sure, I get free products once in awhile, but the majority of the content here is sourced by my own research and shopping prowess.
Now, over a year after receiving that very first brand inquiry, I think I've finally gathered a few tips that might help you navigate how to respond to those brand emails instead of just hitting the archive button.
*Please note, the following are all real emails that I have received, but personal details have been modified to protect the offending (or awesome!) parties.
The Good Brand Emails That I Love To Get
Hi Jenn,
How are you? My name is Jane Doe and I'm the co-founder of XYZ Company. We're just about to launch a new product, and I was wondering if I could send you one?
Let me know if you're interested and I can have it shipped this week.
Thanks,
Jane
Why I Love These & How I Responded
They have no requirements, they just want you to try their product, love it, and share it in an organic way. I responded with my thanks (trying to hide my surprise for the simple request, I mean really!) and accepted the offer. When I posted about it, I sent her the post link. Now I recommend her company all the time and feel good about doing so.
The Ambiguous Emails I Don't Love So Much
Hi Jenn,
My name is Jane and I own XYZ Company in Somewhere, USA. (Here she gives me more details about her company and what products and services they offer.)
Anyways I came across your blog and love it! I see that you offer advertising and would love to find out more.
Could you please send me your advertising package? I'd love to work with you.
Jane
Why These Aren't My Favorite & How I Respond
I don't love these types of emails because there's not much information to go off of. What type of advertising does she mean? Does she want me to try her product and post about it, or is this inquiry just trying to get me to post a link or banner type of ad? With these, they are so ambiguous and awkward to respond to.
My response went something like this:
Hi Jane,
Thanks so much for reaching out and your interest in my blog! I'd definitely be interested in speaking further about a collaboration.
Some of the past collaborations I have done have been in exchange for product or store credit, here is an example. I also offer sponsored posts, starting at (current rate) which means the entire post is dedicated to your products and services, 3-5 unique photographs, and social media promotion across all of my channels (Pinterest, Twitter, Facebook, and Instagram) the day of the post. Rates go up from there depending on further requests such as additional social promotion, videos, or multiple posts. This is an example of a sponsored post.
If you have any other ideas, I'm always open to new things as well, just let me know!
Thanks!
Jenn
The Ugly Emails I Absolutely Abhor
Hi Jenn,
Spring is finally here! The sun is shining and flowers are blooming, but here at Really Big Company we are finding ourselves most excited about one thing: the start of brunch season!
We've put together a few checklist items for the ultimate brunch event. Now we want to know what makes your perfect brunch. We'd love for you to create a post telling us your best brunch tip: whether it's a recipe, an outfit, or just your own favorite must haves to make your brunch the best in town.
You can check out our post here: (URL here)
Please let me know if you have any questions, and I look forward to hearing from you!
Happy brunching,
Jane Doe
Why I Hate These & How I Respond
The thing I hate about these types of inquiries is they are not totally transparent with you. They obviously want you to share their post (for free) in something you've crafted based on their guidelines about whatever post topic they've come up with, but they don't say that, and they don't mention anything about compensation. Sometimes they'll also promise to feature you on their social media channels – but I wouldn't count on it. A retweet should never be currency for the time and energy it takes to write a post like this.
My response generally goes like this:
Hi Jane,
Thanks so much for your inquiry! I absolutely love brunch, in fact I host one for my family every holiday. I'd love to work with you on a special brunch post, what does your marketing budget allow for a post like this?
Thanks!
Jenn
Generally, I will never hear back, or they'll let me know they have no budget. Often they'll promise social sharing or "good karma" (yes really) for your post. I either then archive it, or politely say thanks but no thanks.
I hope these suggestions are helpful. I know these replies won't work in every case, but tailor them to what works for you. And if you ever have any questions about how to respond to an inquiry, feel free to comment here or send me an email. I'll do my best to send suggestions your way!
Linking up with Treasure Tromp
How do you deal with ambiguous or not-so-awesome brand inquiries?