If I had to guess the most frequently asked question about blogging that I get, I'd take a not-so-wild guess and say that it's about how to take your own outfit photos. To be fair, I'm very lucky to have been able to wrangle Dave, my mom, or work with a photographer from time to time, but sometimes it's just not possible. I don't expect their lives to revolve around my blog, so a girl's gotta get a little creative.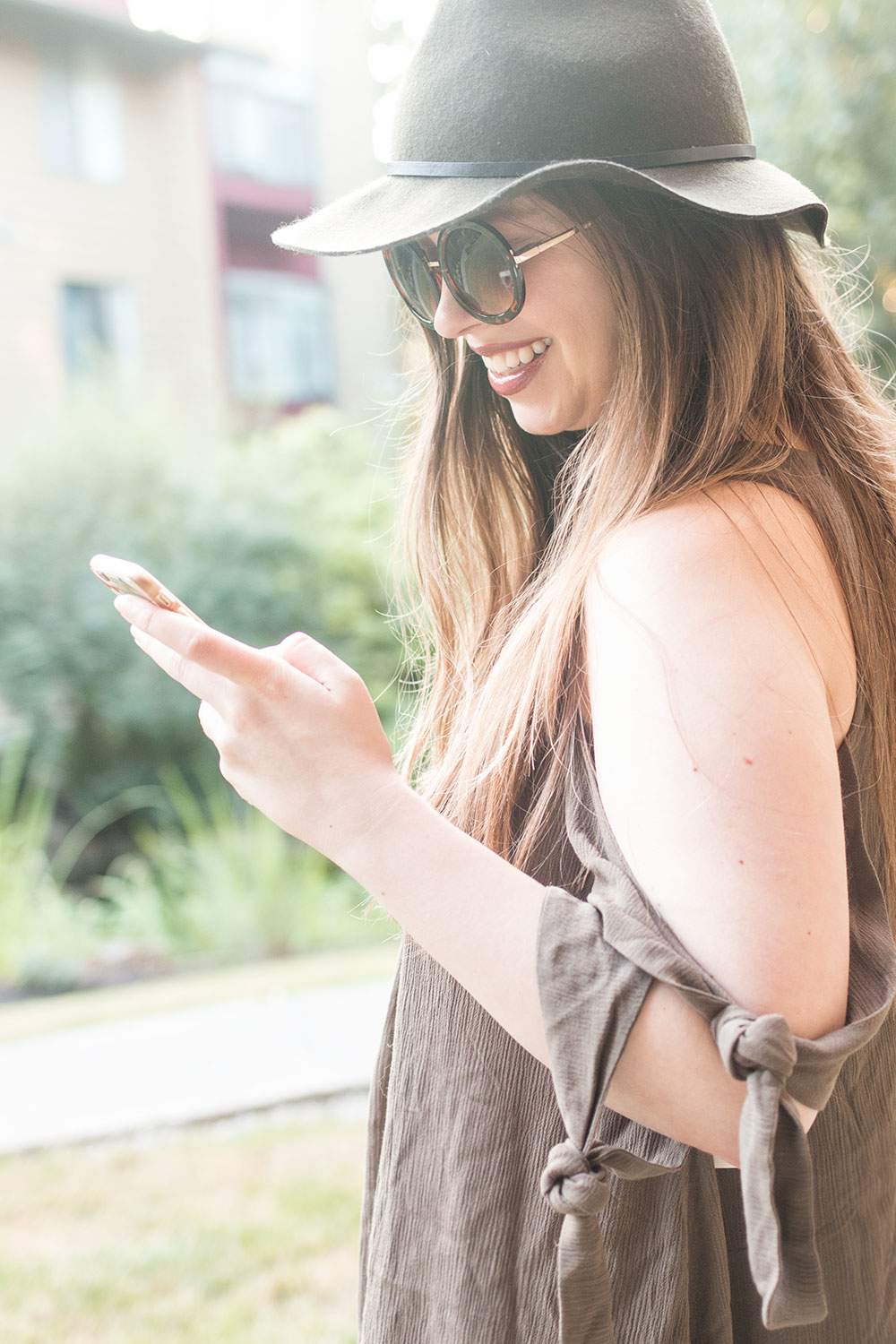 Disclosure: Affiliate Links are used in this post and some items were sent to me by the brand and are marked by "c/o". All opinions are my own, of course! ;)
What I'm Wearing
Outfit #1
Dress: Have My Money Cold Shoulder Dress c/o Tobi
(Shop more high low dresses, trench jackets,mint green dresses, pencil skirts,black dresses from Tobi! You can save 50% off your first purchase.)
Sandals: Mossimo Supply Co. Lakitia Quarter Strap Sandals via Target
Hat: Topshop Classic Fedora (similar for under $40)
Sunglasses: Betsey Johnson (similar)
How to Take Your Own Outfit Photos for Your Blog
So how exactly am I able to shoot a variety of shots all by myself? It takes a decent amount of equipment, trial and error, and even some embarrassment, but I promise you too can your own outfit photos. Luckily I've done some of the hard work by already using my recommendations, so if you like the pictures I'm able to take of myself in posts like my latest Stitch Fix, this post about Fall Fashion Trends, or any of my makeup tutorials, then read on for all the details!
Get the Equipment
I'd always heard about the how amazing tripods and remotes are, so I ordered two reasonably priced options from Amazon. The Amazon Basics remote for Canon (also similar remotes available for Nikon, Sony, Olympus, and Pentax) is golden. I've been using it for 2+ years at this point, and I have yet to have to change the batteries. I've also recently discovered that Canon has their own app for remote shooting. This means you can see yourself on your phone, edit your settings, then snap the photo right on your phone. You can also preview each shot after you've taken it to see if it looks right. This can save so much time and energy, however, it's a lot harder to hide a bulky phone in a shot which is why I still shoot via remote on all full body shots.
I also picked up a reasonably priced ($25!) tripod from the brand Ravelli. It's not the most high-end tripod in the world, however, for someone on a budget who wants to know if they'll even use it, it's perfect. When picking the perfect tripod, make sure you are getting one that is at least close in height to you. I'm 62.5″ tall, so I picked one that is 61 inches. You're going to most likely be shooting with the camera at chest level most of the time, but it's good to have the option to shoot higher as well.

As for the camera, I shoot with a Canon 70D, and I'd highly recommend it after you've started with a base model like the Canon Rebel t6i. My very first SLR was a film camera that I shot with in college. I went digital before my blog days when I was working on a freelance web project for a client, and when I started my blog, my Canon t1i came in handy.
The reason I recommend starting with a Canon Rebel t6i over the 70D (or the newer 80D) is that it's more reasonably priced, and it still has some great features like the flip out screen, burst shooting, and video that you need. The entry level models also go on sale quite often, so there's a high likelihood that you'll get an even better deal. They often also are bundled together with other items like additional lenses, printers, and accessories like tripods and camera bags that may be helpful for someone just starting out. Keep in mind; sometimes these deals are just a bunch of junk added on to make it look like a steal. Be sure to read reviews about the particular items that are being bundled to see if it's a good deal.
When you've gotten the hang of your first DSLR, then you can think about upgrading. I highly recommend upgrading around the holidays and buying only the camera body to save. Also, consider buying a refurbished model straight from the manufacturer. That's what I did, and I ended up getting my Canon 70D body at $300 below retail directly from Canon during a Black Friday sale.
Finally, it's time to talk lenses. Your camera body can only do so much; the real magic is in the glass. Lenses are an investment that you can take with you as you upgrade, but I recommend starting off with the basics: a Canon 50mm prime lens (or Nikon 50mm) and a Canon 35mm (or Nikon 35mm) wide angle lens. These are the two I use the most. If you take a lot of portraits, you might also want to check out the Canon 85mm (or Nikon 85mm). I also own this, but I haven't used it a whole lot (yet). For me, the 50mm is what I shoot all my videos with because it has a silent mechanism when auto focusing. The 35mm is what I shoot everything else with, as I like that I don't have to be super far away from the subject to shoot.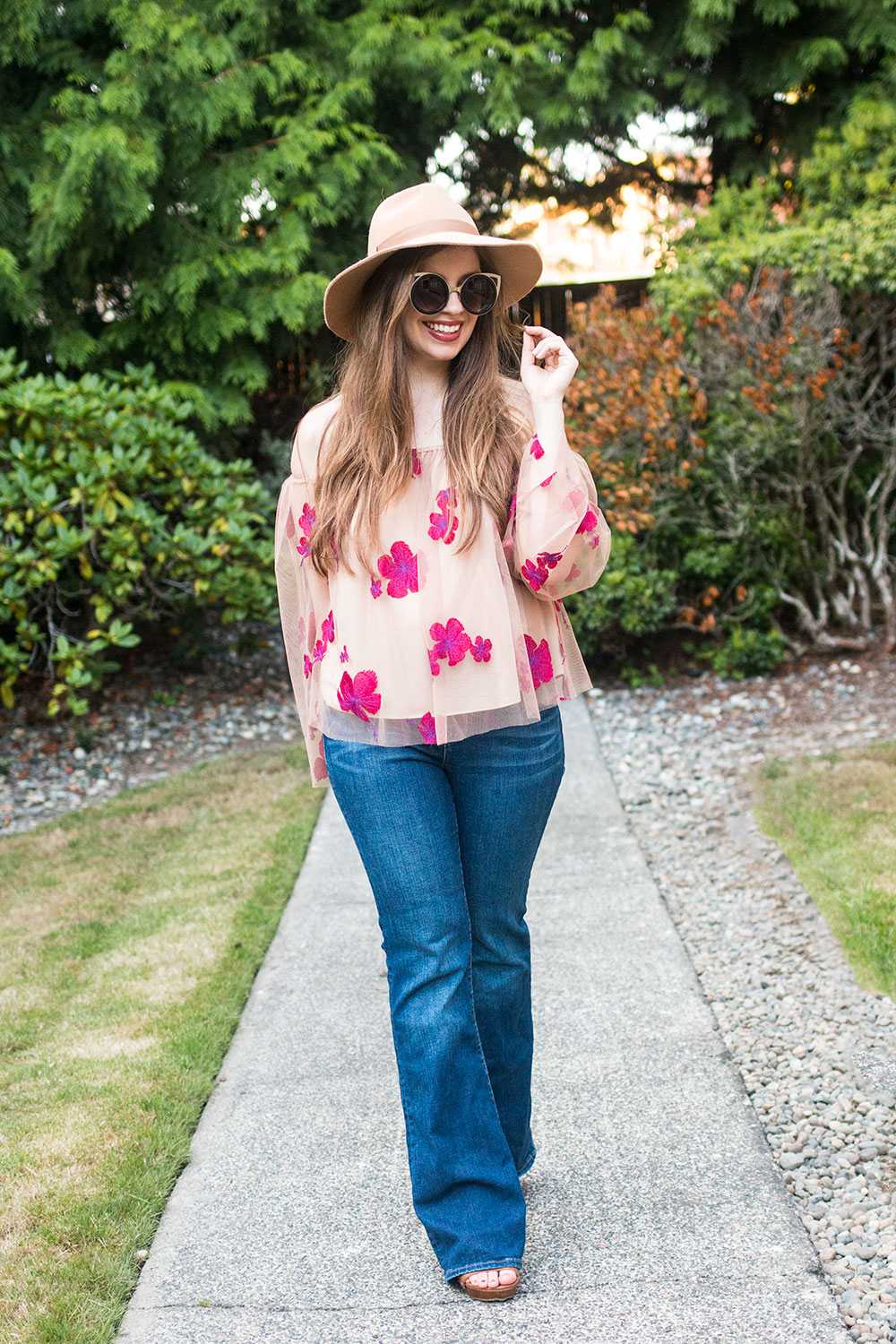 What I'm Wearing
Outfit #2
Top: Gem Off Shoulder Embroidered Top c/o Tobi
Denim: High Rise Vintage Flare Jeans via Old Navy
Hat: Tan Fedora c/o Fred Meyer (similar from Nordstrom's Anniversary sale for just $20! Hurry!)
Sandals: Joure c/o Fred Meyer (Shop nude heels from Tobi)
Sunglasses: Aerin Sunglasses c/o Moorea Seal
Tweak the Settings
Now that you've got your gear, it's time to start shooting! If you're new to shooting, take some test shots with a friend or family member to get the hang of how photos turn out in different lighting situations. It will come in handy to be able to clearly see the results you get on your screen as you take the photos.
As for the settings that I use on my camera most often, I pretty much only shoot in Aperture Priority mode (indicated by the A on the dial). It prioritizes whatever I set the aperture to, which is usually the smallest number possible. Then, based on a couple of test shots, I'll set the ISO between 100-800 depending on how much light I have. For bright sunny photoshoots, that's 100, and for shooting in the shade, that would be on the higher end, 600-800. The camera will take care of the shutter speed, so you won't need to worry about that.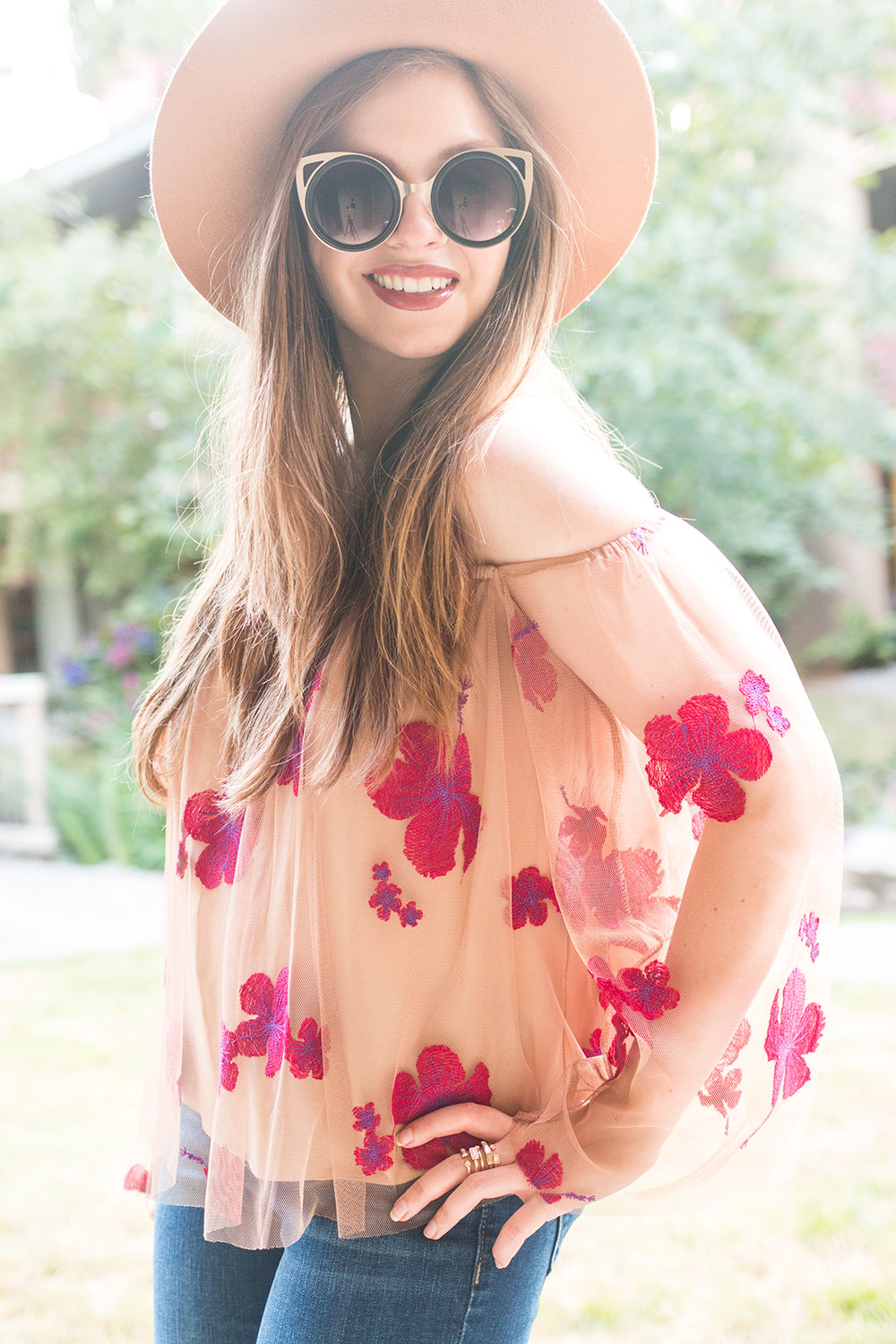 Practice Your Poses
Sounds dorky, but honestly, practicing posing in the mirror helps a lot. When you're wearing different outfits, you'll notice some photograph better than others. From certain angles, exaggerated sleeves and certain clothing styles like off the shoulder can make you look wider. Finding the angles that work best in the mirror before you start shooting will save you time and frustration. Sometimes, taking phone selfies in the mirror can also help if you find a pose you like that you want to recreate.
Don't have any poses in mind? Try searching Pinterest for fashion outfit photos that you like and then emulate what they're doing. Once you find a few poses you feel comfortable with, recycle these over and over in your various photoshoots, turning at different angles, modifying your hand placement, and moving your feet to get the perfect shot. The more you move, the more shots you'll be able to take and the more material you will have to work with when it comes time to post.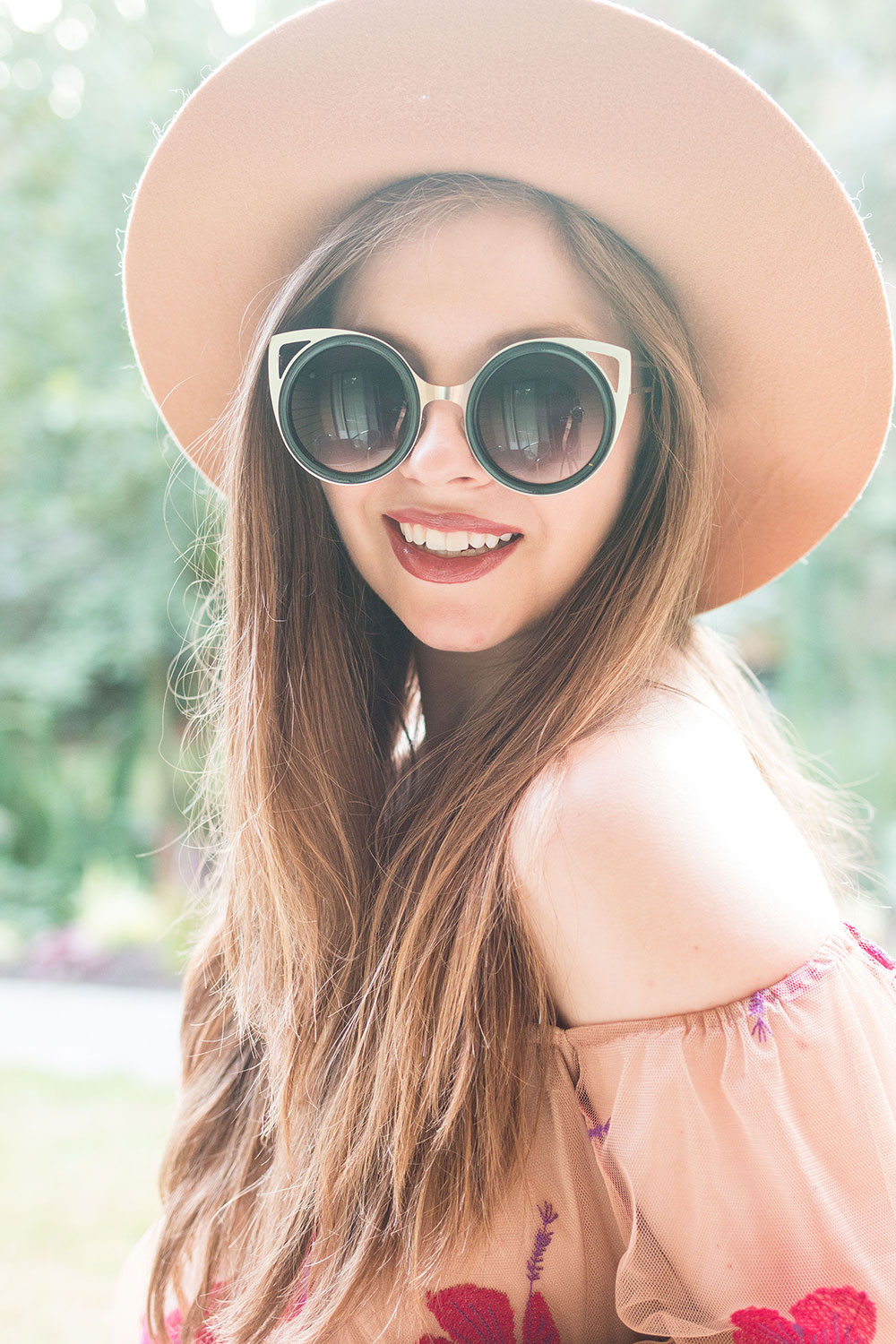 When and Where to Shoot
For me, my biggest consideration is my work schedule. I only have time before and after work or weekends to shoot, so I sometimes have to get creative. The best time to shoot photos is during the golden hour – the hour before the sun goes down or the hour after the sun goes up.
I prefer to shoot with my back to the sun to get that pretty glow behind my head. I also like to shoot under cover or in the shade if I only can shoot when the sun is high in the sky. The other big consideration for me is the weather. Seattle is notorious for its rain, so it's nice to know of a few places you can shoot that are fully covered yet still get decent light. Good places to think of are business parks that are closed on weekends or nearby schools and churches that are also vacant in the evening or on weekends.
I also like scouting fun locations for certain outfits, like my outfit with the HSN x Alice Through the Looking Glass collection. Shooting with blog friends is also really helpful as they'll often want to find cool places to shoot, so if you haven't tried shooting with others who blog, I highly recommend it! :) Ultimately, the essential part of any outfit photo is the outfit, so if you don't feel comfortable shooting in public yet, shooting in your yard or close to your house is totally okay. I've had to do that a lot recently due to having a busy summer schedule, and honestly, the photos turn out just fine. ;)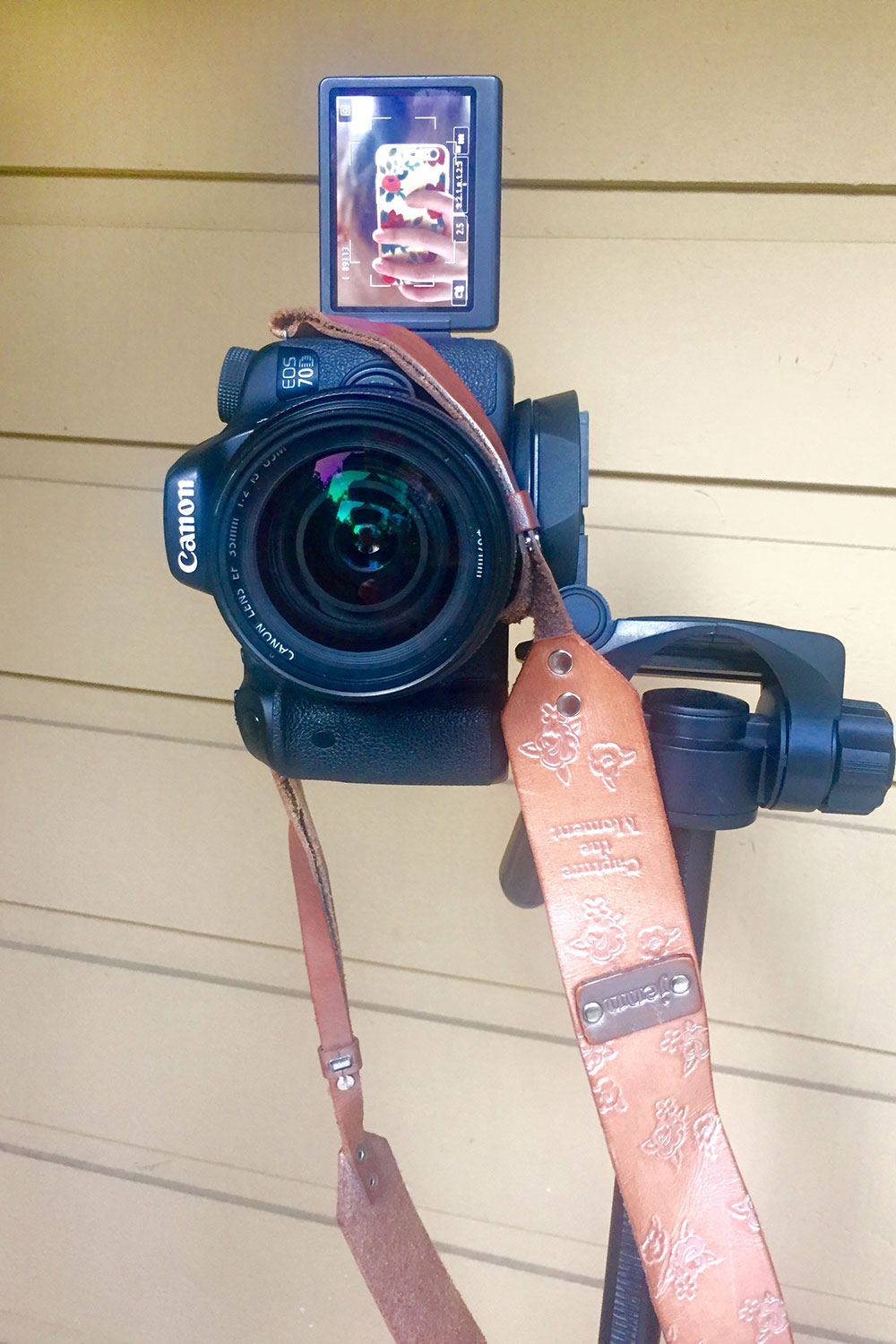 Other Must Haves
Other than yourself, your camera, a tripod, a good lens, and a remote, there are a few nice to have things I thought I would share what I use to get all of my outfit and blog photos done.
Adobe Photoshop or Lightroom: I use Photoshop for work, so it's my go-to for photo editing as well. For $10/month, you can get both Photoshop and Lightroom from Adobe Creative Cloud. It's not cheap, but I couldn't work without it.
External Hard Drive: My External Hard Drive is the bomb. I use it to back everything up, so I'm never without access to my photos and videos. I highly recommend this one from Western Digital. It's cost efficient and works well. You can also get a portable external drive if you travel a lot or want to store more files that you can take everywhere.
Lens Filter: A lens filter saved my camera lens' life. I'm not kidding. I was traveling to Dallas and accidentally dropped my camera bag on the escalator. After a momentary panic, I was relieved to find the lens filter ruined, but my beautiful (and pricey) lens was just fine. Phew. Buy 2 of these for every lens you own (just be sure to get the right size!).
Camera Bag Insert: I purchased mine on Etsy, and it allows me to turn any large handbag or backpack into a camera bag. Perfect for the style inclined who hate the look of camera bags like I do. ;)
Camera Strap: Another Etsy purchase, mine is leather with my name and embossed with a cute floral pattern from RSVP Handcrafted. You'll love having one that looks a little different from the boring ones that come with the camera.
Memory Cards: Buy many of these, because they will (eventually) fail and you'll be upset if you're caught without a spare. I only purchase the high-speed ones (look for a tiny number with a circle around it on the card, I only buy a speed of 10 with the highest per MB/S reading that is affordable). I love shooting in burst mode, which makes speed necessary, and I only buy 32GB or higher now because of how much video I shoot.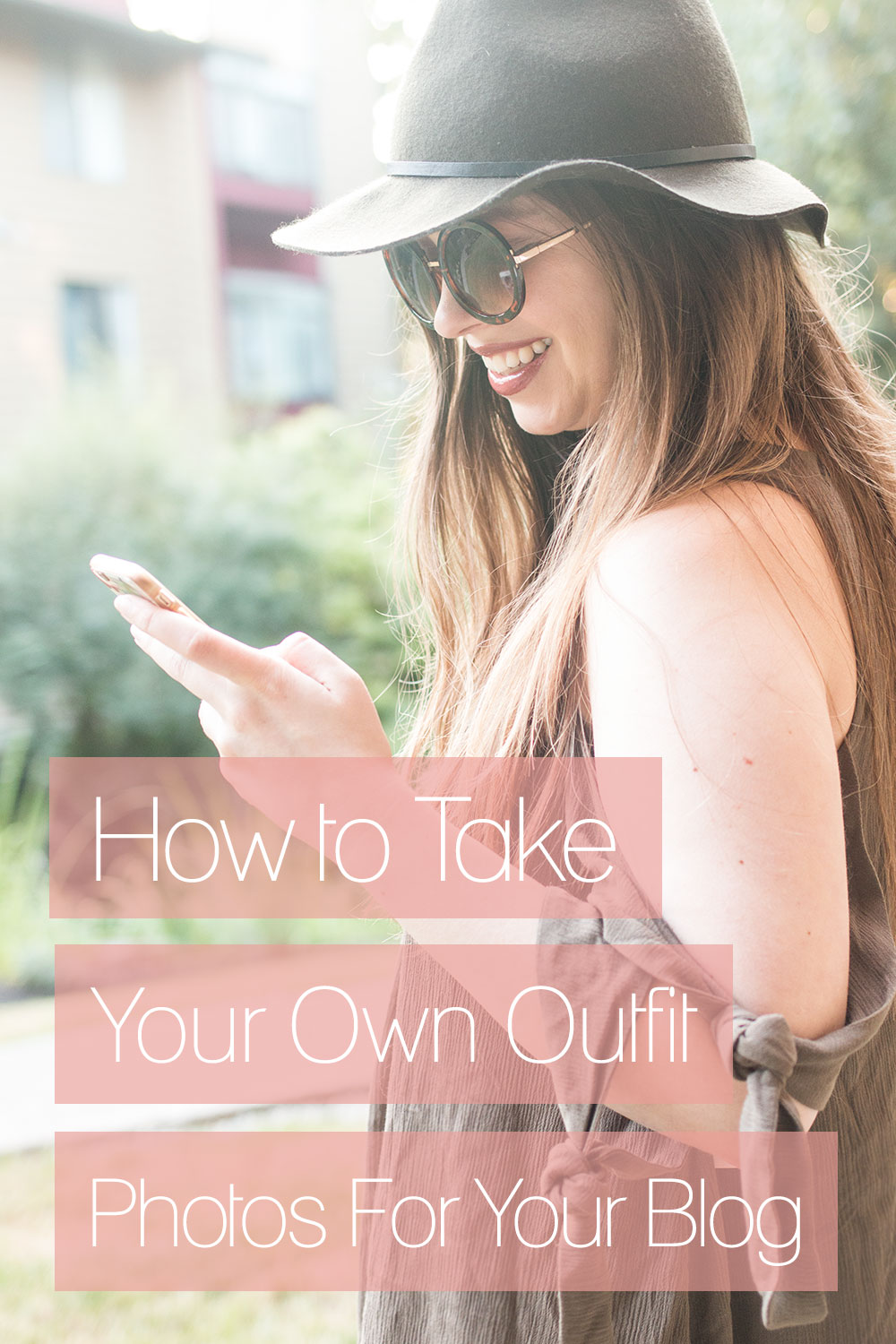 I hope that my tips and advice for how to take your own outfit photos is helpful. Ultimately, it takes a lot of practice and time to get the perfect shot. I wish you luck on your shooting endeavors, and if you have any questions, I'm happy to answer them in the comments below. If you liked this post, please consider pinning the above graphic and share it with your blog or Instagram friends! :)
Do you take our own blog or outfit photos? Do you have any tried and true methods that work for you? I'd love to hear about how you make it work in the comments below!