Affiliate Links: If you click on a link in this post, I may make a very small commission. Dedra Beauty also sent product for consideration, but I'm sharing them because I like & use them. :)
With Halloween just a few days away, I planned one last costume that you could throw together at the last possible second, or use for a future themed costume party! It's a Twiggy-inspired 60s mod makeup look, topped off with a couple of key pieces that you can either quickly make or already own.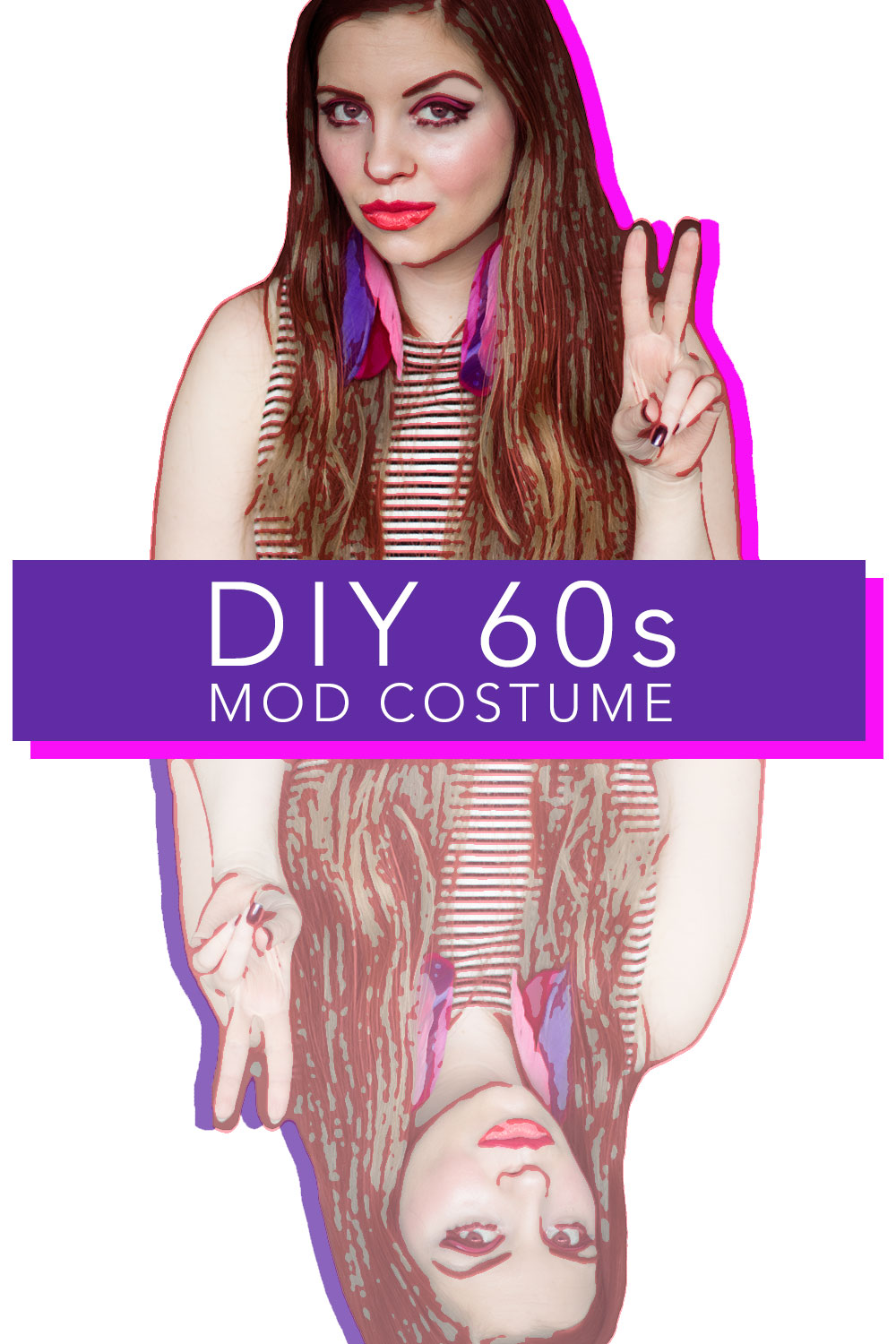 DIY 60s Mod Makeup Tutorial & Costume
With no time to waste, let's jump into the makeup look! When googling images of Twiggy, I noticed that her makeup often looked a bit messy and unblended. The  good news? Any skill level can create this look! There are a lot of steps you can leave out depending on what products you already own too.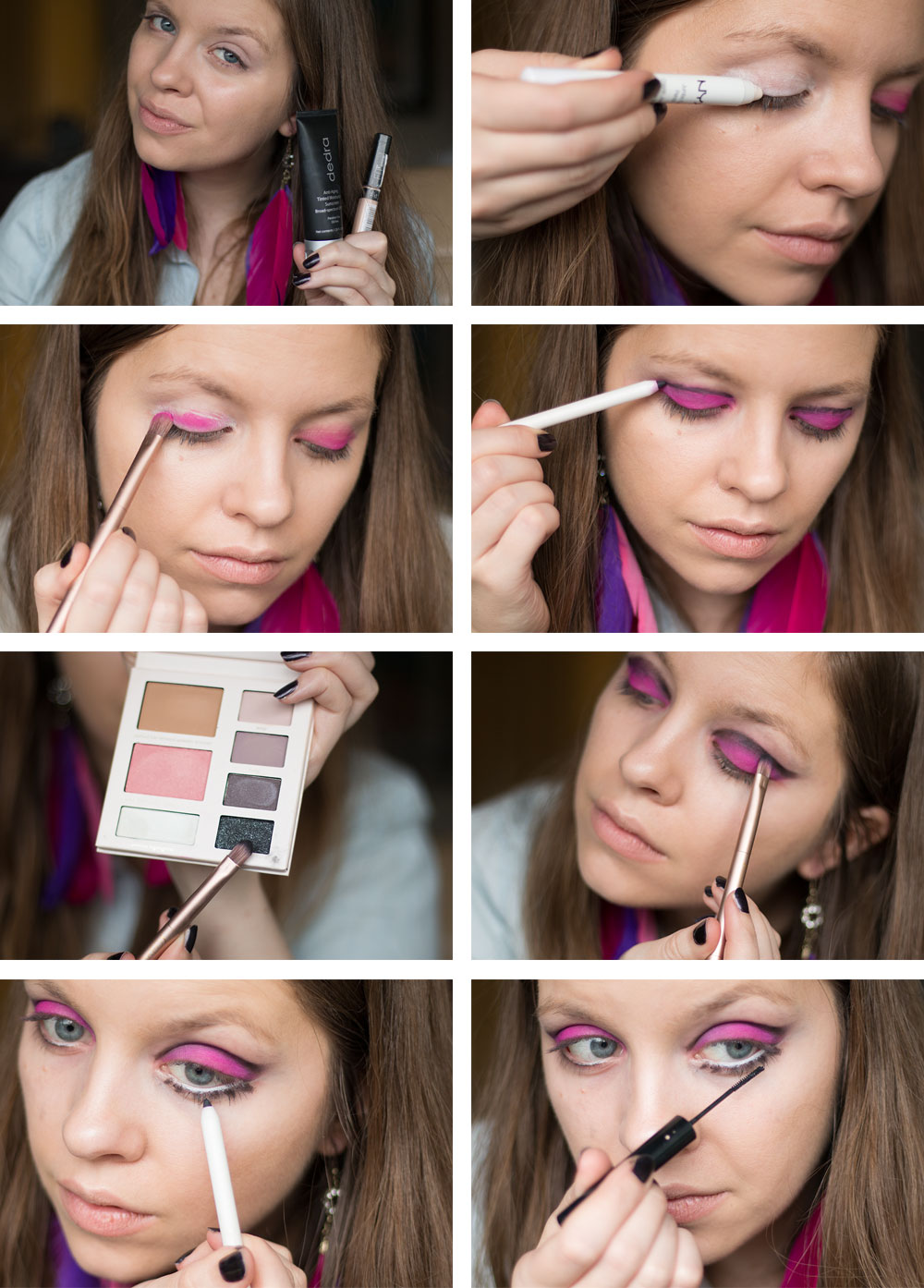 1. The first step in any makeup look is a good base. I'm using Dedra Beauty Anti-Aging Tinted Moisturizer in Light to even out my skin tone, and Maybelline Fit Me Concealer in 15 to hide redness and discoloration.
2. Next up I'm prepping my eyes. Since I'm going to use a bold eyeshadow, I grabbed my NYX Eye Crayon in Milk to use as a base. This is slightly tacky which allows the shadow to adhere and pop.
3. Because I'm playing on the colors in my earrings, I chose a pink eyeshadow. Feel free to use whatever shadow color is calling your name and pack this on all over both eyelids.
4. With a black eyeliner pencil, run a line across your crease. Don't worry if this is messy, we're going to be blending it out in the next step.
5. Next, grab a black eyeshadow to blend into the crease. I'm using Havana from the Jouer Ready to Wear Palette. (Coming soon, I received this in my Le Matchbox for Fall!)
6. Blend the shadow into your crease following the line we drew with liner. I used a flat brush since it was easier to control where the shadow was being placed.
7. Using the black eyeliner pencil, we're going to draw in some "eyelashes" along the lower lash line. I initially attempted this with liquid liner with little success. I found a messy but planned execution looked best. Basically, I just drew a small line every few lashes and smudged them out with very small brush.
8. Then, add mascara to bottom and top lashes. Feel free to apply false lashes as well, which is something I forgot to do. D'oh!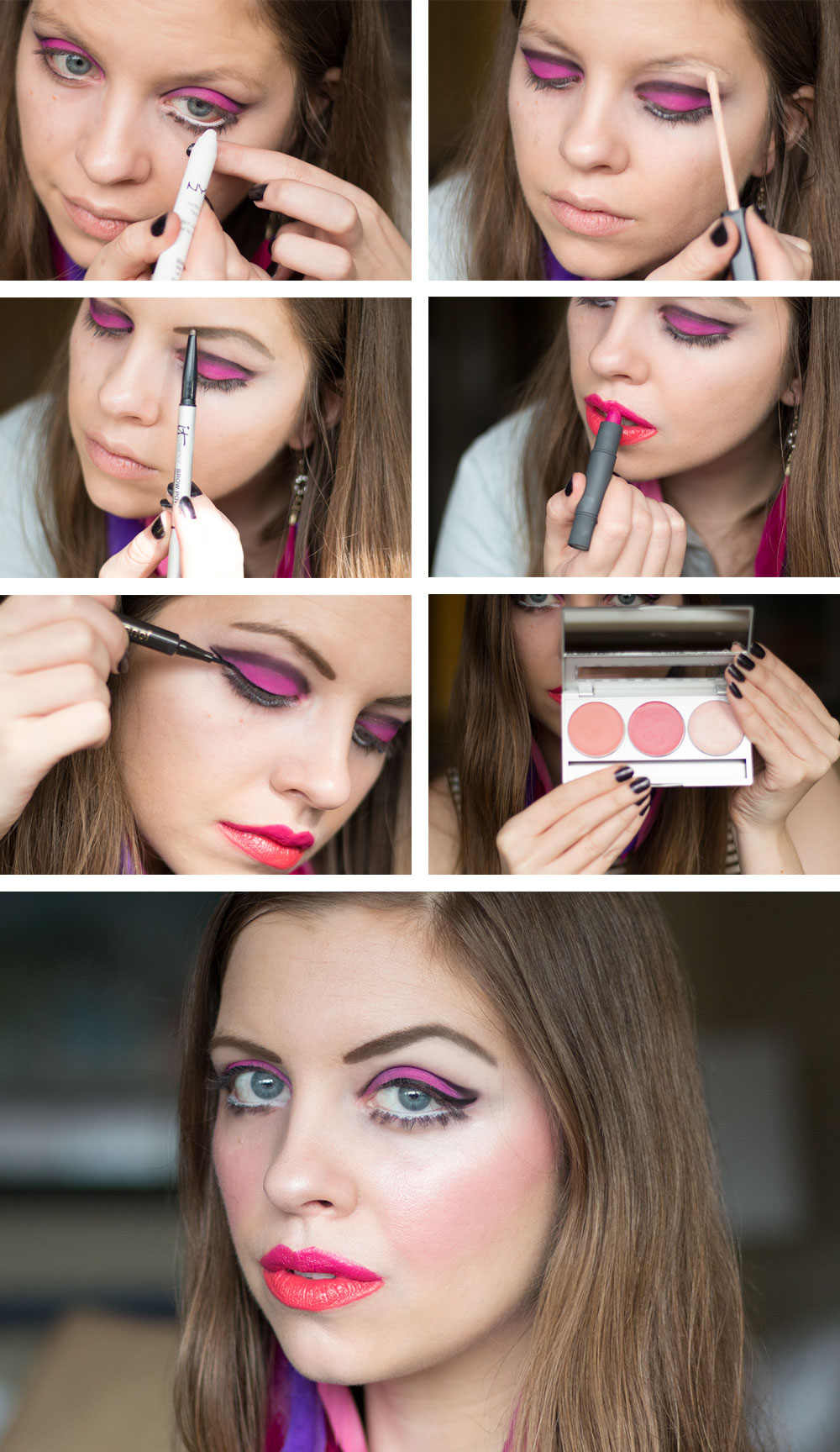 9. To make the eyes really pop, add your white eye crayon onto the waterline.
10. Switching gears, I grabbed my concealer again to cover up my brows. 60s brows were a bit thinner than the modern brow with a higher arch than mine, so I covered mine a bit.
11. Grab your favorite pencil (mine is the It Cosmetics! Brow Power) and draw 'em in. Twiggy's 60s look featured very dark brows so I opted to leave mine unblended.
12. I loved a few editorial shoots that featured two toned lips. I used my Bite Beauty Luminous Creme Lipstick Duo in Tangerine & Lingonberry to get this look.
13. I finished off the eye look with a dramatic wing using Jouer's Kitten Liner.
14. Finally, I used my Dedra Beauty Bright Eyes Lips and Cheek Palette. I used the center color (Embrace) for blush and the far right shade to highlight (Aura) – adding color right below the brow bone, across the cheek bones, on the tip of my nose, on my upper lip, and in the inner corner of my eyes.
15. And that's a wrap! Finish off with some setting spray (I love Urban Decay's All Nighter Setting Spray) and you'll be good to party all night long.
For the costume, as mentioned I used a pair of feather earrings I bought for a hippie costume years ago at Forever 21, and my striped dress from my last Golden Tote. Don't own something similar? What about a basic shift dress in any color, swing or trapeze dress shapes, flare jeans, or anything else you own with stripes! For earrings, you can always DIY them – this tutorial looks super simple!
Want some more costume ideas? Don't forget my female Willy Wonka and my 1920s flapper costumes!
With just a few days to go to Halloween, what are you dressing up as? Any fun plans?