My absolute favorite thing about blogging is you. Seriously. I get the biggest rush from sharing something that makes your life easier – whether it's sharing how I respond to brand email inquiries, a way to style something semi-challenging like turtlenecks, or where to find free books.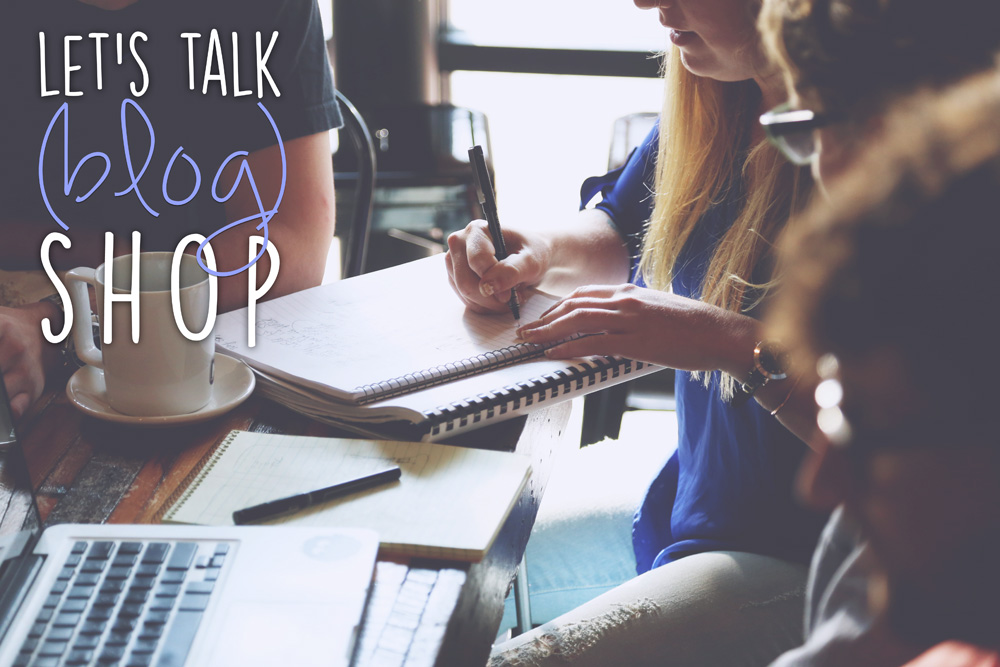 So I then started thinking. How can I contribute more to this community? I am not an expert. I'm just a girl who happened about this crazy thing called blogging, loved it, made some friends, and now love talking about it since it's how I spend about half of my life these days.
I asked on Twitter last week if anyone would be interested in some sort of blogger e-meetup and I heard a resounding yes. With lots of exclamation points and all caps in some cases. I dig the enthusiasm, guys.
So let's do this.
Introducing… Let's Talk (Blog) Shop! My goal with Let's Talk (Blog) Shop* is to facilitate an online meeting of the minds. You send me questions, I will compile them and moderate the online meetup, and the rest is up to you. Bring your mind, BYOB (bring your own beverage), fire up your favorite note-taking app, and let's get it started. And really, you don't have to be a blogger. Maybe you're thinking about starting a blog, want to learn how to better work with bloggers for your business, or maybe you're more into social media. You're more than welcome!
The first e-meeting of the minds will be on Saturday, February 28th at 3pm PST/6pm EST. The session will be about an hour-long, and I will try to lead discussion on as many topics and questions as possible.
I'm going to limit the first session to the first 10 participants. Once I reach 10 total participants, the remainder will be on the wait list in case anyone drops out. If all goes well, the wait-listers will be first in line for the next one. All I ask is that if you are do sign up that you show up or give 24 hours notice so I can notify someone on the wait list. That's just the nice thing to do. ;)
Oh, and did I mention this is free? Because it is. I hope you'll join us! Submit your name, email, and question or topic requests in the Google Form below.
Not a fan of crowds? That's cool! Shoot me an email and let's chat.
*Not to be confused with BlogShop. This has absolutely nothing to do with Photoshop for bloggers. Well, unless that's what you guys want to ask questions about. I'm not picky, but I'm not doing live tutorials. ;)
I hope you'll consider joining the fun, and I can't wait to e-meet you all! Happy Friday!