I hope you guys have been enjoying the vlogs because I have had fun making them! Honestly, I thought it was going to be such a pain to compile all the video I took but it's been a fun way to relive our trip. I secretly think Dave is enjoying that I made them now too. He wasn't into the idea of filming it at all and thought it was the most terribly embarrassing thing… but I think seeing the final product may have him thinking differently.
I think something interesting about vlogging is that because I focused on only filming short clips, I didn't miss out on any part of our trip. My goal was just to create short snippets of our days, and not long monologs of me talking to the camera. While I do enjoy watching those sometimes, I just can't imagine that it's a great way to really experience travel.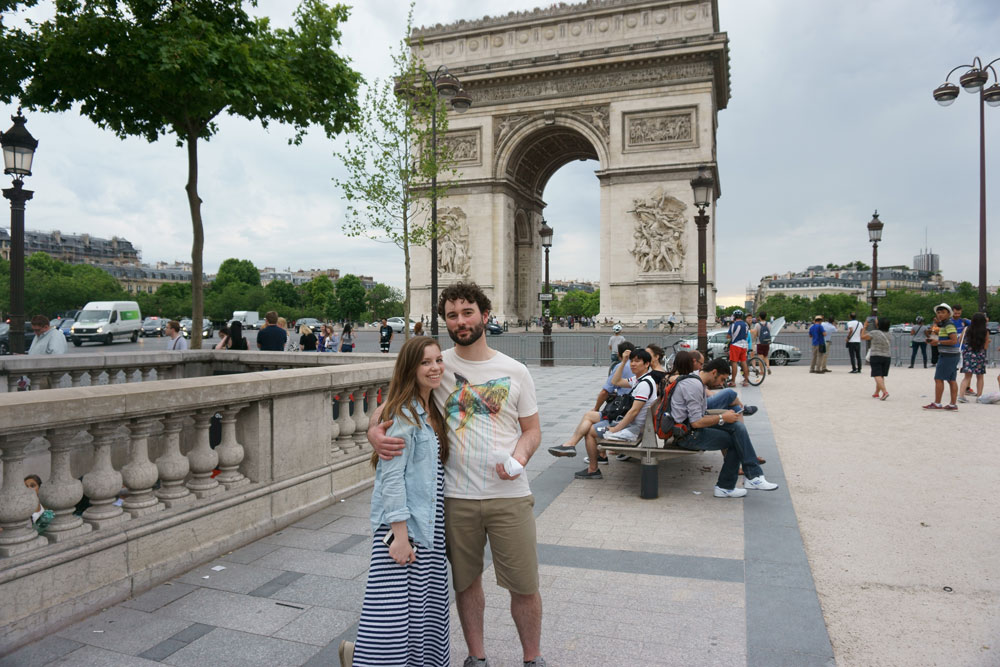 Please note the bag in Dave's hand contained a coffee eclair, and it was damn delicious. It was from the little pâtisserie in the second video. ;)
Because I was taking so much video, I didn't take that many photos on our trip. I've often found that after vacations, I don't do much with photos anyways, so I can't say I'm too terribly disappointed about it. Plus, I think my computer's hard drive is much happier over the 500+ plus photos I have from my last trip to Miami and the Bahamas cruise. ;)  I do have one this time around though! Yay, one whole photo.
We actually stayed right near the Arc de Triomphe, so we saw a lot of it during our trip. We did spend our first evening exploring it since it was so close. We were all pretty jet lagged that day, despite taking a cat nap and sleeping on the plane, so our first day was pretty relaxed and mostly involved eating.
We also had a busy day two as we hopped a plane to London. We wanted to spend a couple of days in another city, and we chose London. It was an added bonus that Jack, Dave's co-worker, and his fiance Madeline had the same intentions, so we flew together and stayed in hotels within quick walking distance from each other.
Anyways, more on London next week! What has been your favorite travel destination?